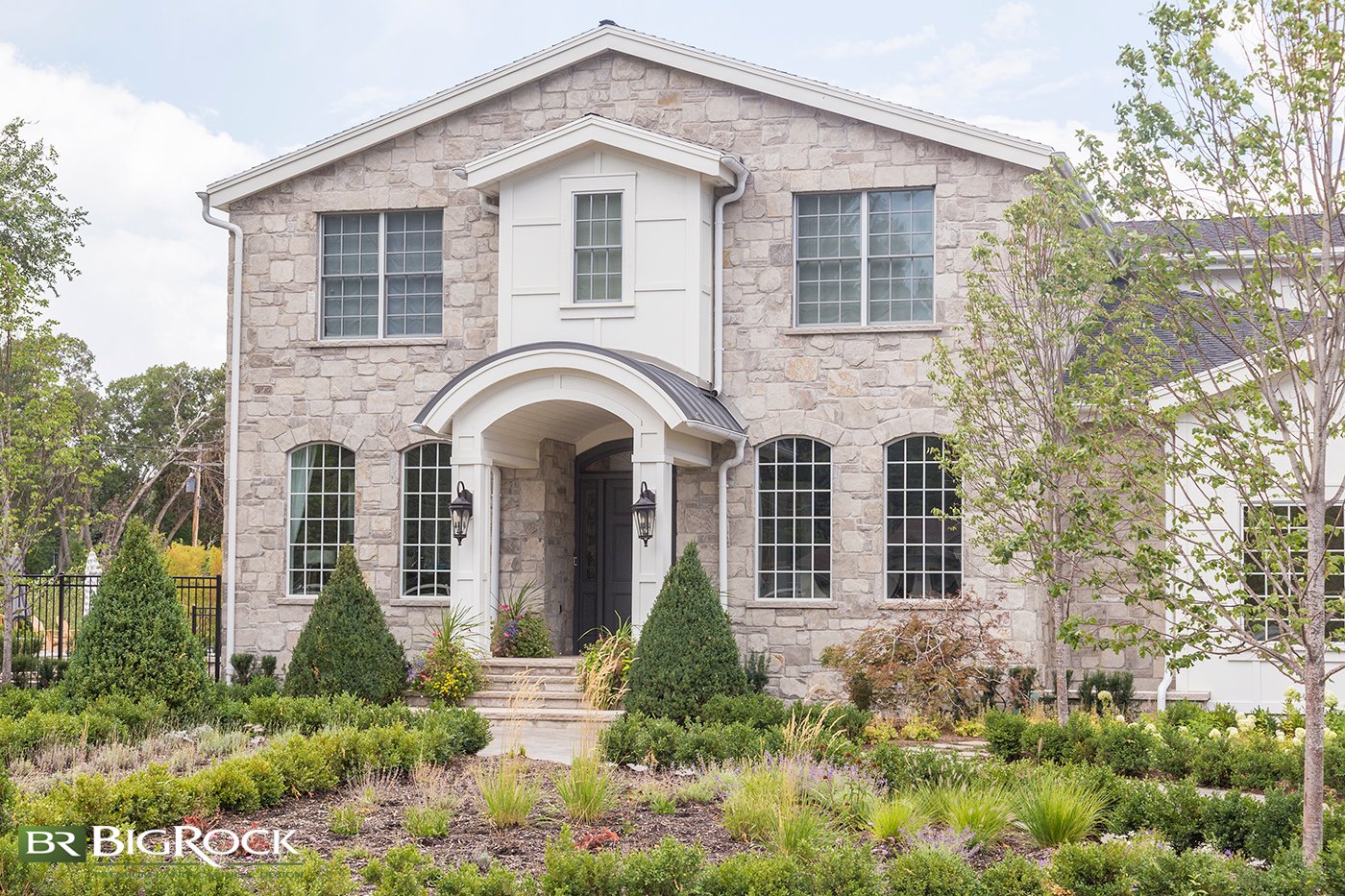 Low Maintenance Landscaping And How To Achieve It
Improve your home's curb appeal and save time with low-maintenance landscaping. A beautiful landscape can not only add property value, but it can also add personal value, as a beautifully landscaped yard can be an integral part of a homeowner's sense of pride and enjoyment. And while it's true that a crisply-edged lawn can give your home great curb appeal, there are also many types of low-maintenance landscapes (not to be confused with lazy landscapes!) that includes elements like hardscape, natural landscaping, and xeriscape, which require little maintenance, but still look great. 
LEARN: Xeriscaping Ideas For Your Utah Home
What You Need To Know About Low-Maintenance Landscaping
It doesn't take hours of your time every week to maintain a beautiful yard! There are ways you can incorporate different textures, colors, and plant types without having the responsibility of a huge time commitment. And while we love the look of a low-maintenance yard, there are plenty of other benefits to designing a low-maintenance yard. You'll save money on hiring help to care for it, you'll get more time on the weekends to do what you love, and oftentimes a low-maintenance yard is also a reasonably drought-tolerant yard, meaning you'll save on water. 
One way to start with your low-maintenance yard would be choosing plants that fit into what kind of landscape that will look good in sun or shade depending on their size as well as how much care they need. If you want an evergreen but aren't sure whether it should go near flowers (which also require watering), then there may very likely turn out to be too many problems with it down the road. Deciding how to design your low-maintenance yard requires a little planning, starting with deciding your budget, watching the sun in your yard, considering your existing watering system, and spending time at a nursery to figure out what plants will thrive in your yard. If it sounds overwhelming, don't worry, we have tons of ideas to help you on your way to a low-maintenance yard. If that's still not enough help, don't worry, that is where Big Rock Landscaping can save the day and your yard! Our team of experts can help answer any questions, help you design a low-maintenance landscape, or take care of the entire project for you.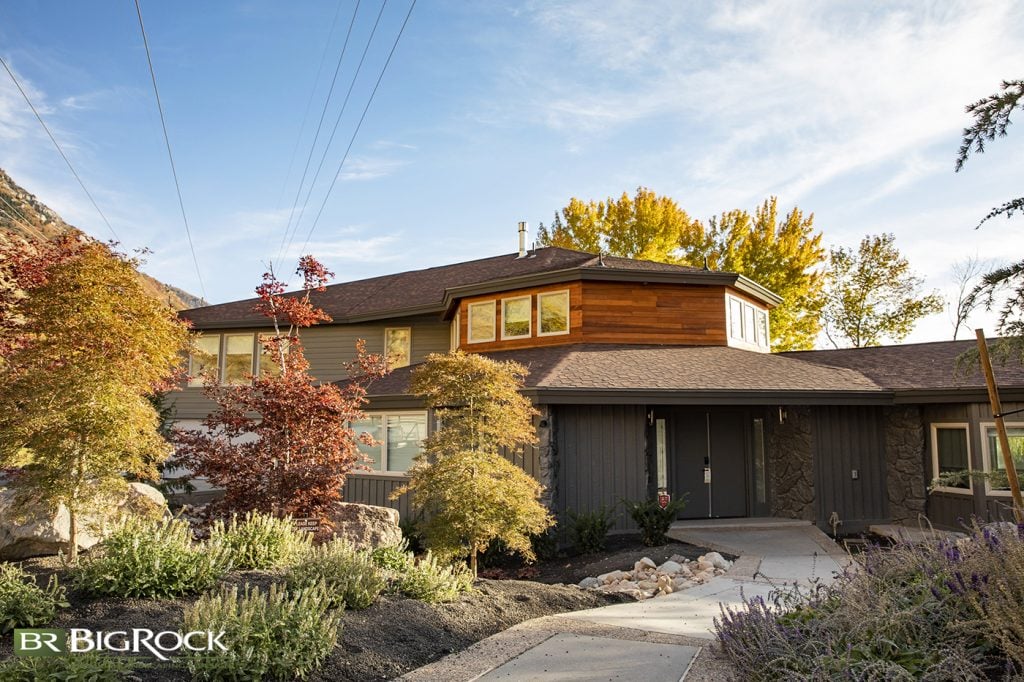 Tips And Tricks For Easy Low-Maintenance Landscaping
Low maintenance landscaping is a great way to keep your yard looking its best with minimal effort. There are a few simple things you can do to ensure your low-maintenance landscaping remains low maintenance.
First, choose native plants. Native plants are adapted to your local climate and soil, so they will require less watering and fertilizer. Second, use mulch. Mulch helps to suppress weeds and retain moisture in the soil. Third, consider using drought-tolerant plants. These plants are designed to withstand periods of low rainfall, so they will require less watering overall. Xeriscaping is a great way to incorporate your natural environment into your landscape without being hard on your water usage, your time, or your wallet. 
DISCOVER: Our Xeriscaping Portfolio
Second, use mulch. Mulch helps to suppress weeds and retain moisture in the soil. Lay your mulch 2-3 inches thick using your hands to spread it evenly over the area.
Third, consider using drought-tolerant plants. These plants are designed to withstand periods of low rainfall, so they will require less watering overall. Xeriscaping is a great way to incorporate your natural environment into your landscape without being hard on your water usage, your time, or your wallet. 
Fourth, consider adding a weed barrier before you plant, and if you can't do that, keep up with your weeds before they go to seed. Weeding is a part of maintaining your yard, even a low-maintenance one, and the best way to keep your weeds from getting out of control is to make sure you pull them before they start spreading. Fifth, efficiently pruning and trimming your yard once or twice during the warm seasons will prevent you from doing this chore every week. Generally speaking, trees and shrubs like to be pruned in the early spring or late winter, while anything that flowers will do better with pruning after they've bloomed. If you want to keep your pruning to a minimum, opt for plants that won't require much, like evergreen trees, forsythia, birch trees, cacti, yucca, and salvia. 
Another key to low-maintenance landscaping is to create a simple design. A simple, well-organized landscape will be much easier to care for than one with a complex design. Stick to symmetrical clean lines and use repetition to create a cohesive look. When it comes to hardscape features like pathways and patios, choose low-maintenance materials like concrete or stone. By following these simple tips, you can enjoy a beautiful low-maintenance landscape all year long. Our experts here at Big Rock Landscaping can help you plan the best low-maintenance landscape or even install it for you!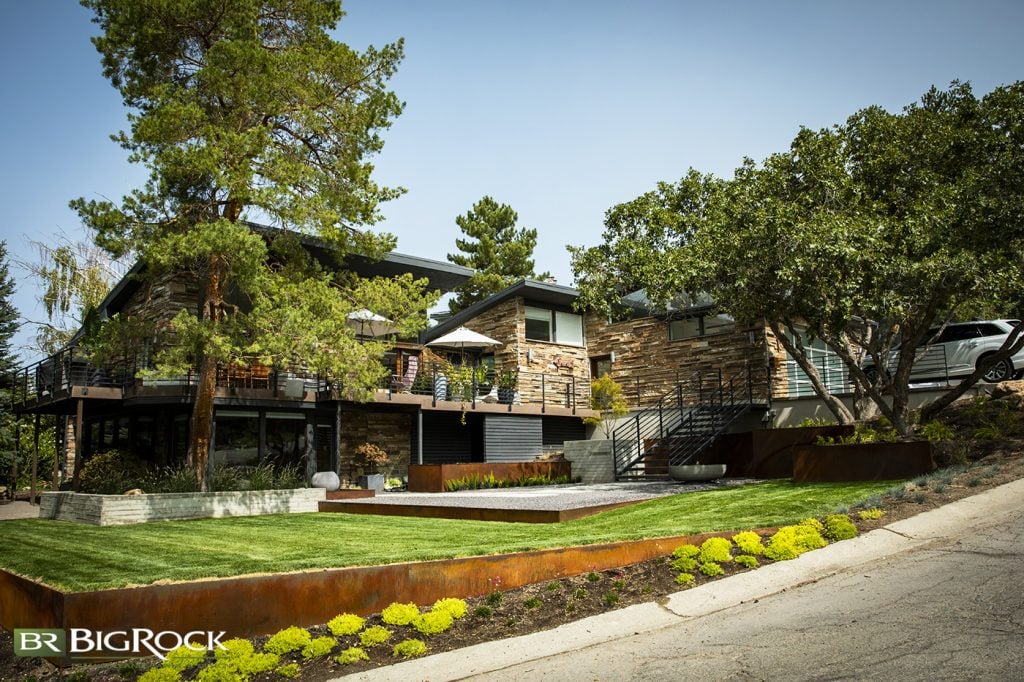 Low-Maintenance Landscaping Ideas
There are a number of low-maintenance landscaping options that can be used to create a stunning yard with minimal effort. Parking strips are one of the most popular low-maintenance landscaping options for the front yard. Parking strips are the area of grass between the sidewalk and the street. They are typically much smaller than traditional yards, making them easier to care for. In addition, parking strips often receive more sunlight than other areas of the yard, making them ideal for plants that require more sun. As a result, parking strips are an excellent low-maintenance option for people who live in drought-prone areas and are often overlooked as a potential landscaping space, but they can actually be quite beautiful. Parking strips can be planted with drought-tolerant plants or covered with mulch or gravel.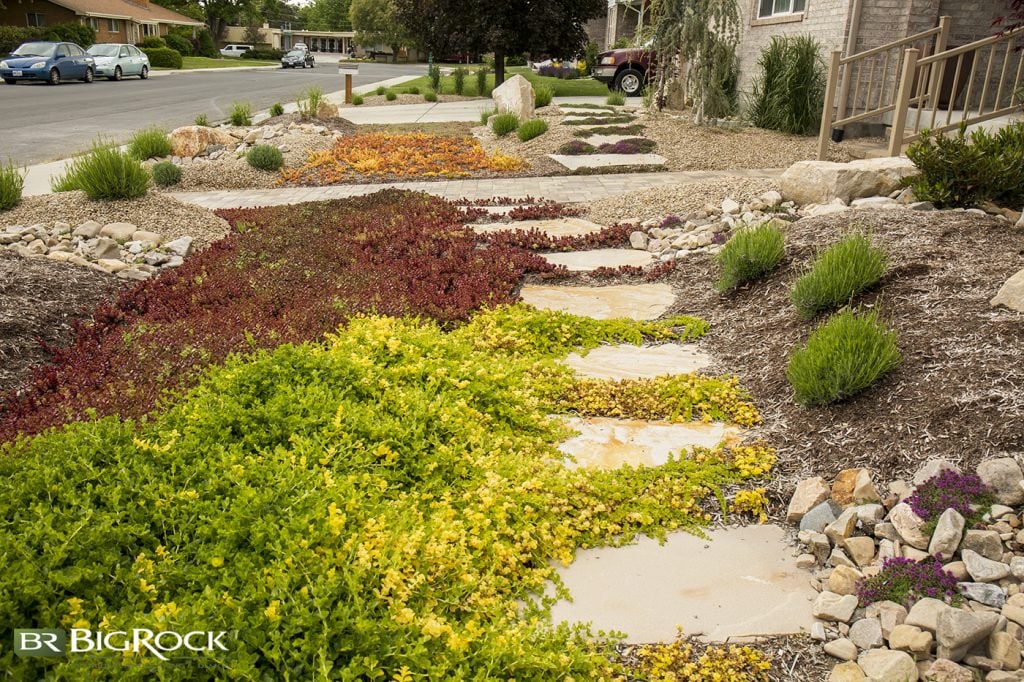 Another idea for a low-maintenance landscape is using pavers, gravel, natural stone, decorative stone, or brick in areas that make sense instead of grass. Creating a durable space that does not require watering or weeding also provides a solid surface for outdoor furniture and a spot for gathering. Hardscape options like this make your mowing area smaller while still providing usable space in your yard. Creating usable space for outdoor living makes your low-maintenance yard a great place to relax, not only because you created the space for outdoor furniture but because you won't look around your yard feeling overwhelmed with everything that needs to be done. 
Opting for native plants also helps reduce the time you'll spend in the yard. Often, native plants to Utah and areas like it are also drought tolerant, making them an excellent choice not only for conserving water but ensuring your weekends aren't spent watering, weeding, and mowing your landscape. 
For the ultimate low-maintenance yard, consider xeriscaping the space. Of course, there is a huge spectrum of xeriscaping, from adding a small section of xeriscape to your yard to a complete overhaul where you completely remove everything that isn't drought friendly. Our preference is a healthy mix of both in most landscape designs, but for those looking for almost no maintenance, xeriscape is the way to go. 
Low-maintenance landscaping options help to reduce the amount of water needed to keep your yard looking its best.
Achieving A Low Maintenance Front Yard: Tips and Ideas
Creating a low-maintenance front yard is as easy as incorporating fundamental design principles to minimize upkeep while maximizing the space's aesthetic appeal. First and foremost, incorporating simplicity and functionality is essential to ensuring you won't have too much long-term maintenance in your yard. Opting for a simple color palette, repeating the same basic plants in new arrangements, and installing outdoor living spaces created with hardscape reduces the need for constant attention and upkeep. Selecting low-maintenance plants is crucial for a low-maintenance yard.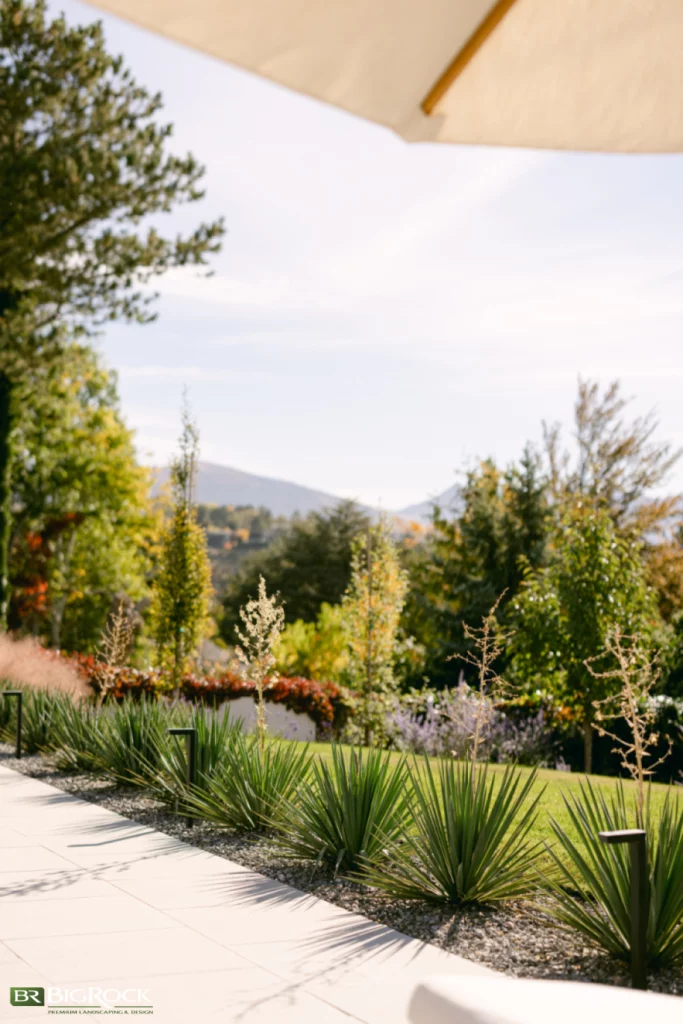 Drought-tolerant and native plants well-suited to the local climate require less watering and weeding. Additionally, incorporating efficient irrigation options such as drip irrigation or smart sprinkler systems ensures water is used wisely and effectively. Smart sprinkler systems even reduce how often you need to turn sprinklers off and on, as most smart systems track the weather and don't water on rainy or windy days. 
To boost curb appeal and create focal points, strategic placement of hardscape features like pathways, patios, or eye-catching planters can draw attention while requiring minimal maintenance. 
Exploring creative ideas like rock features, ornamental grasses, raised garden beds, or retaining walls adds visual interest and texture to the front yard, all while reducing the need for frequent maintenance.
Let Big Rock Help With Your Low-Maintenance Landscaping
At Big Rock Landscaping, we pride ourselves on being the experts when it comes to low-maintenance landscaping. We have a tried and tested process that has been perfected over years of experience in the industry. Our process is simple: we start with a consultation where we assess your needs and come up with a plan. Then, our team of skilled professionals will get to work creating the perfect low-maintenance landscape for your home or business. We only use the highest quality materials and take careful attention to detail, so you can rest assured that you're getting the best possible service. If you're looking for award winning landscape ideas and a landscaper you can trust, look no further than Big Rock Landscaping. Contact us today–we guarantee that you won't be disappointed.