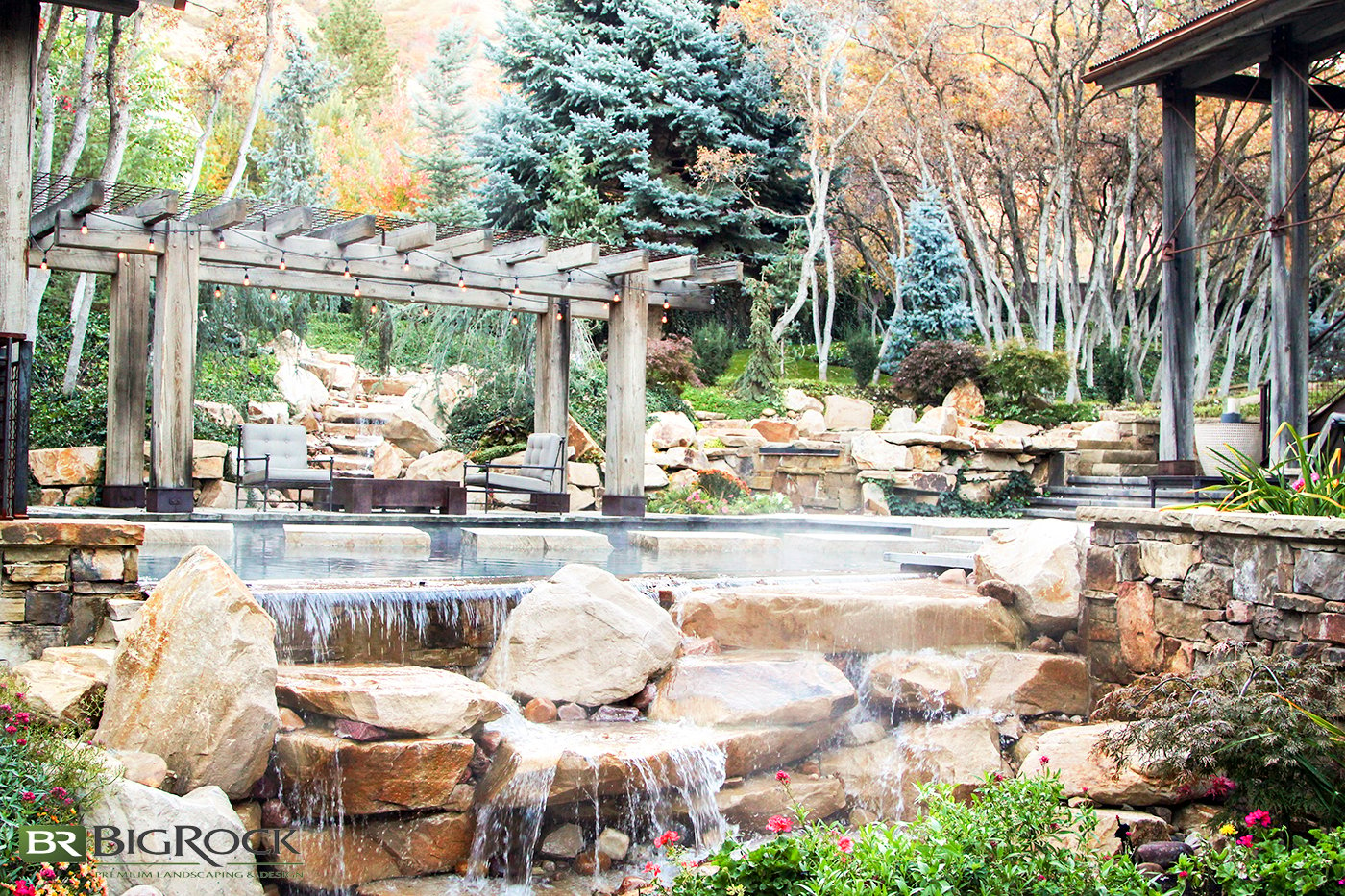 Spruce Up Your Outdoor Space With Rock Landscaping
When most people think of landscaping, they think of lush green lawns and neatly trimmed shrubs. But what if you want something a little more unique? It's time to think outside the box. Why not try creating a rock landscape? Rocks are low maintenance, require no water, and add interest and texture to any yard. With a little creativity, you can create a stunning rock garden that will be the envy of your neighborhood.
Let's Talk Rock Landscaping
You've made the big decision to disconnect the sprinkler and landscape with rocks! It's time to get familiar with the basics about all things rocks.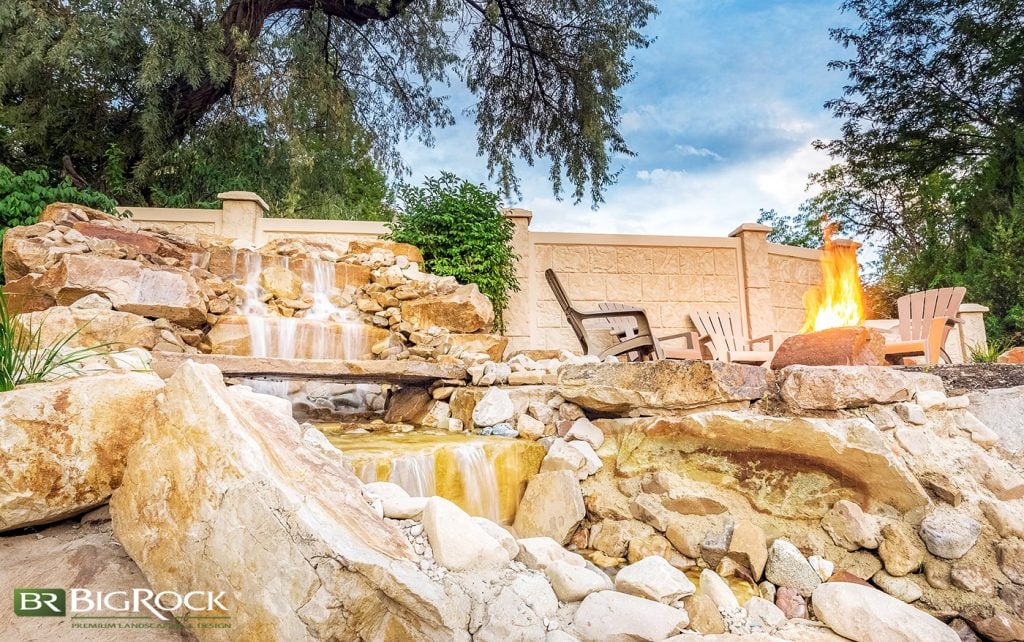 Why Should You Consider Landscaping With Rocks?
Rocks are magic when it comes to landscaping. Not only are they non flammable which is a relief for anyone living in an area prone to wildfires, but they also keep weeds away longer. Rocks are also wind-resistant which prevents soil erosion in exceptionally windy areas. They are also durable and weather resistant. Nothing can get much lower maintenance than a rock. Did we mention the aesthetics? Well-placed rocks can add a great deal, aesthetically speaking, to a property.
CHECK OUT: Our Rock Wall Portfolio
How Can You Use Rocks In Your Yard?
You may be wondering the best way to use rocks in your yard. The options are endless starting with a stone patio or a simple set of stepping stones. Take it up a notch by including rocks in walls, water features, or simply add a rock garden. Rocks are also an incredibly durable alternative to mulch, and rocks don't need to be replaced each year. Rocks are an excellent substitute for grassy ground cover. 
JUST IN: Our Award-Winning Landscape Design Ideas
How Do You Choose the Right Landscaping Rock?
Which rock is right for you? The perfect rock for your yard depends on what your plans are for the rock and the space. There are many different landscaping rocks including bricks, flagstone, cobblestone, boulders, river rock, lava rock, beach pebbles, pea gravel, or crushed granite. When using rocks for landscaping, it's important to install a landscape fabric underneath the rock. 
Different thicknesses are available, but the fabric will prevent future weed growth. Also, when preparing to place rock features like stepping stones or pathways, the area needs to be dug deep enough that the rocks will be level with all surrounding surfaces. Depending on the type of rock that you select, rock can be used effectively in walls or borders, patios, or even as ground covering under plants and shrubs.
Transform Your Yard With These Amazing Rock Landscaping Ideas  
Still trying to figure out the best place to showcase rocks in your landscaping? Keep reading for a list of the best ways to incorporate rocks, whether big or small, into your space.
Rock Wall
Remember the story of The Three Little Pigs? Well, the first little pig didn't do so well with his hay house, and the second little pig wasn't much of a success story with his sticks. But the third pig had the right idea with his house made of bricks. If you're looking for a lower rock wall, or even a high rock wall to border your lawn, keep out the neighbors, or add a dimensional tier in your yard, a rock wall is the way to go.
TRENDING: Landscaping Projects To Increase Curb Appeal
Flower Garden
You've probably visited Home Depot and left with thirty bags of mulch. They are heavy, they smell weird, and they are usually kind of damp, but guess what? You get to do it all again the next year. Mulch will fade, scatter, and is easily moved around by digging critters or a windy day. Let's face it: you always need more mulch. Instead of mulch, try using rocks around your flower garden and shrubs. They add texture and color, are visually appealing, and will last a lot longer than a year.
Pond
Are Koi fish your thing? Do you have a pond in your front or back yard? Consider using stones to create a border around your pond. This will not only make the pond stand out more, but it will also give it an element of beauty that a border of lawn just can't provide.
Waterfall
Is a backyard water feature bringing you peace? Surround the waterfall with rocks for a natural look or better yet, use rocks as a significant part of the actual waterfall. Small outcroppings of rocks thoughtfully placed through your yard will help your yard meld into its natural environment and create visual continuity. You might just feel like you are hiking through Yosemite versus sitting at your back patio on a Thursday afternoon.
Lawn Border
We have all seen lawn borders that are made of some sort of material that can warp after time and sunshine have had their way. You know what doesn't do that? Rock! Create a gorgeous lawn border for your yard and keep the flowers safe from being swiped by the mower.
Dry Creek Beds
How's the drainage around your house? If the answer is not good, rocks just might be the solution to your drainage problem. Dry creek beds are a gorgeous addition to any yard, but additionally they can help stop any drainage issues, soggy spots, and prevent water ruts and soil erosion. 
Rock Garden
Plant a rock! Create your very own rock garden by selecting an area with plenty of sun. Add a few small boulders and carefully surround with closely placed flowers, or cacti, or succulents. Any gaps can be filled in with smaller stones for additional texture and interest.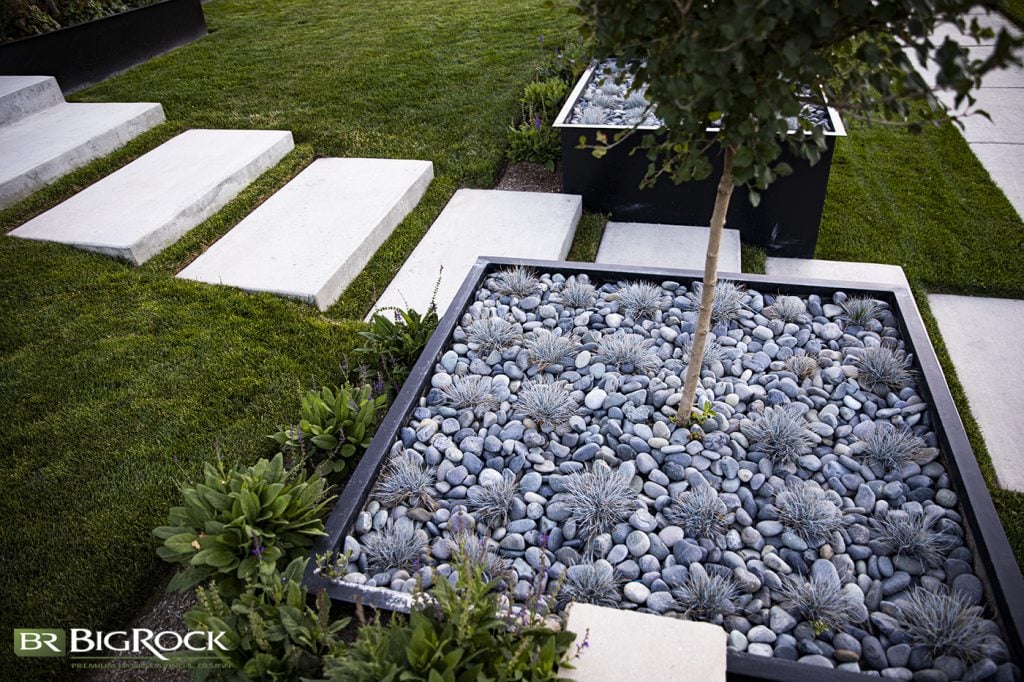 Plant An Herb Garden
Have you ever assembled a plastic mail order garden bed before you got busy planting your spring tomatoes? That's one way to do it; however, for a more natural look in your space, try cornerstones to create raised beds crafted from natural stone. Plant away for years to come!
Create A Fire Pit
Looking for a place to sit around this summer? Are the kids asking nonstop for smores? Get going on creating the perfect fire pit to lounge by on a chilly summer evening. It's the perfect addition to any outdoor entertaining space.
Poolscape
If you're looking to give your pool a more organic look, you can add stacked stones and natural rocks around your swimming pool, creating an organic and natural outdoor design. Dive in!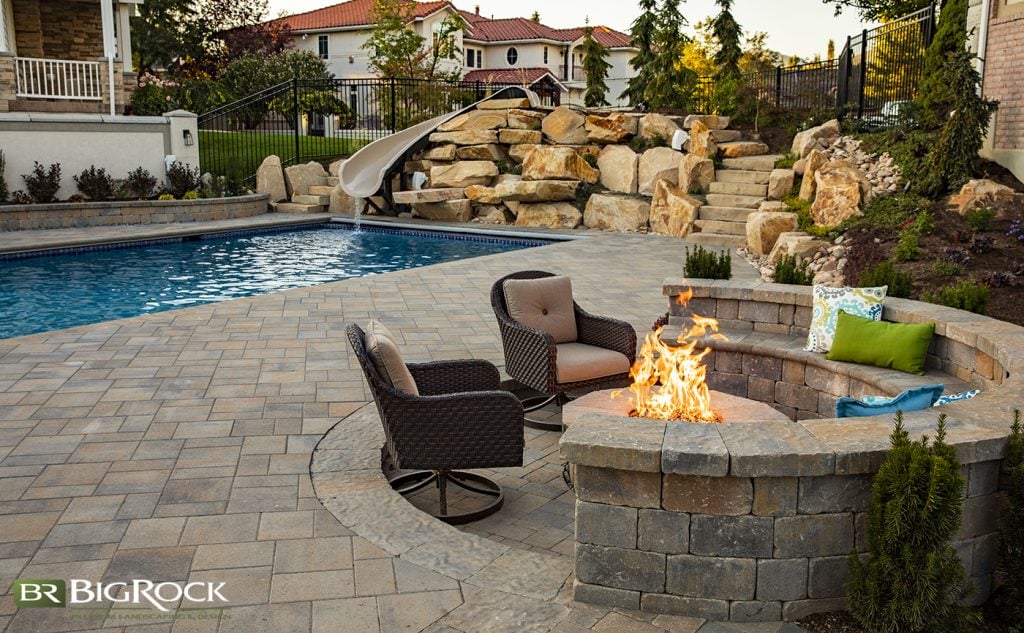 Feeling Inspired? Contact Big Rock For Your Rock Landscaping Needs
Not only can Big Rock Landscaping help you select the perfect rocks for your outdoor space, but we can help you place them as well as. We have an unparalleled level of commitment to designing and creating beautiful and liveable spaces in a natural outdoor environment.
The team at Big Rock Landscaping has a passion for developing the outdoor space of your dreams. With the help of an industry expert like Big Rock Landscaping, you can have confidence that the rocks you put in the front of your home will be aesthetically pleasing and part of your space for years to come.
Starting with the initial design concepts, Big Rock Landscaping works tirelessly to develop and maintain your perfect landscape. We have the best artistic tools, professional resources, and design expertise as well as installation and maintenance services in both commercial and residential areas across the Wasatch Front. Our professionalism, artistic eye, and attention to detail can help with every stage of the landscaping process. Whatever your vision, Big Rock Landscaping offers the best landscaping services. 
Contact Big Rock Landscaping today to bring your outdoor dreams to reality.