Weber County Landscaping And Design Services
Are you looking for landscaping services in Weber County? Look no further than Big Rock Premium Landscaping to design and install your next landscaping project.
Why Choose Big Rock Premium Landscaping?
As Utah's premier commercial and residential landscaping company, our team of landscape professionals is uniquely qualified to take on any project you have in mind. With decades of experience, 15 plus design awards, 250 completed projects, and dozens of 5-star reviews, our team has the accolades to show our exceptional landscape and design skills. But, even with a hefty resume boasting all our awards and accomplishments, ultimately, the reason we are the best choice for landscaping in Utah is that our team genuinely loves what we do.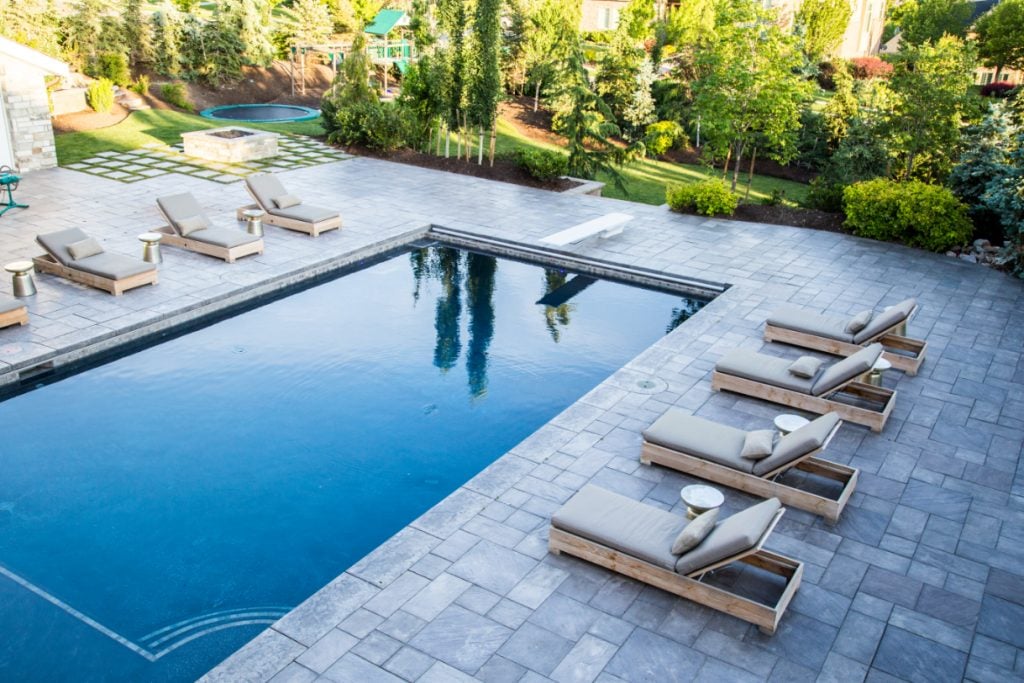 From the designers to the installers, to the maintenance crew, our team loves to bring landscapes to life. And in Weber county, one of the secret pockets of beauty along the Wasatch front, your landscape deserves special attention. Whether you are a long-time resident of the area, or you are building your dream home in the lap of the beautiful Wasatch range, our team can create a landscape design that honors the beauty of the area and matches the aesthetics of your home.
When you are wondering "is there landscaping near me?" look no further than our team of passionate experts and Big Rock Landscaping.
Services Offered In Weber County
Full service means full service, especially when it comes to the offerings at Big Rock Landscaping. From a full design from the ground up to adding small features that complete your yard, we'll create a space you are sure to love and enjoy for years to come.
Pool Design & Landscaping
Be the best house on the block with a custom pool or hot tub. With more and more options for pools and pool accessories, our team can curate and design your pool to your exact specifications.
Outdoor Lighting
Whether you need to light a path from your front yard to your back yard or you are looking for a full outdoor lighting solution, we are the team that can help your yard shine. 
Decking
Adding more livable space to your backyard not only increases the value of the home but adds value to your lived experience in your home. Choose Big Rock Landscaping to design and install your deck for a durable, beautiful deck. 
Fire Features
A custom fire feature for your yard is more than just a fire feature. It becomes the gathering place where memories are made all year round. 
Landscaping Design & Install
If you are ready for a full redesign or your yard, or you are building your dream home and need a yard to match the beauty of your house, our team can take your dreams and turn them into a stunning reality. 
Water Features
Water features add a focal point and beauty to your space, but they can be a nightmare if they aren't installed correctly. That's why your best bet for a water feature from ponds to rivers to waterfalls is to hire Big Rock Landscaping. 
Pergolas
Add livable space to your yard with a custom pergola designed and installed by Big Rock Landscaping. Whether you need an expansive covered space or you need a small, cozy nook, our team can design a pergola you will love. 
Rock Walls
Rock walls serve so many purposes in your yard, from being a beautiful addition to your sloped yard to adding depth to a retaining wall. Finding a team that can design and install a beautiful and safe rock wall is essential for your backyard. 
Structures
Any structure for your backyard, from a playground to a jumping platform to a greenhouse, should be designed and built with care.  Our team has designed it all, so leave your outdoor structure to us!
Landscaping Services
If you spend your time and resources making your yard look exactly how you want it, but then you let amateurs care for the plants, trees, and lawn, you are not going to get the same results as a professional landscaping company. Opt for Big Rock Landscaping's maintenance team to care for your property. 
Weber County Landscaping Services
Call or contact Big Rock Premium Landscaping And Design for more information. Request a free estimate by submitting your information.
Award Winning Landscaping
We're honored to be a part of an exclusive group of Utah professionals to have won both Design and Service Houzz awards, multiple years running.
Where We Service In Weber County
Serving all cities in Weber County Utah including:
Ogden

South Ogden

North Ogden

Eden

Far West

West Haven
Plain City

Pleasant View

Roy

Huntsville

Washington Terrace

Harrisville
Bringing Beauty To Weber County One Yard At A Time
One of Utah's undiscovered gems, Weber county is nestled along the Wasatch Range north of Salt Lake City. With one of the State's universities and home to many of the trade schools in the area, this county has a small-town feel with the amenities (and access to) big cities. 
Weber county also has incredible outdoor recreation, from the snow capped mountains with the best snow on earth to plenty of hiking trails. And if you love community arts, Weber county is home to many of the state's theaters and art galleries run by local community members. 
As Utah continues to grow, we know that thoughtful landscape design that maximizes space and honors the natural beauty of the area matters, which is why our team is the best choice for landscaping in Weber county. Whether you live on the bench and need a full yard overhaul or you are in one of the up-and-coming communities in Weber county, our team can create a yard you will love. Our portfolio showcases the spectrum of our design skills and offers inspiration for our future clients.
Awards And Accolades
We honestly aren't ones to brag, but we can't help it when others brag on us. And truly, we're proud to be recognized as a standout company in Weber County Utah for both service and achievements in the industry. It also pushes us to maintain our high standards and strive for excellence in every way.
"When you are looking to invest this much time and money into a project, Big Rock should be your choice. I have zero hesitation in recommending Big Rock to all of our friends and neighbors."
"They are comfortable with the big stuff (retaining walls, masonry, pools, electrical, concrete, decks) and meticulous with the details to make it look perfect. I have found that's a rare find and we are grateful we did! We are very much looking forward to many years in our awesome Big Rock space!"
"Big Rock is an excellent company to work with. They are helpful, creative, and professional. I am very satisfied with the work they provided for me. Thank you!"
Make Weber County Beautiful
Our mission is to make Weber County a beautiful place to live, one yard at a time. This is accomplished by using the best available materials and technologies in the industry.
The Professionals For Your Weber County Living Space
Whatever your vision and whatever your purpose, we have the design expertise, artistic tools, and professional resources. We are committed to providing an unparalleled level of service and professionalism as we craft beautiful, livable spaces in all of Weber County Utah. From design to installation, we do it all.
15+ Design Awards
Based on image popularity and actual customer reviews, these awards speak to two parts of the jobs we love most: impeccable landscaping and you.
10K+ Planted Trees
We've planted just about every tree and shrub known to mankind. We know what thrives and grows in the regions we serve.
250+ Projects Finished
Everything from pools to pavers and simple designs to high-end luxury landscaping projects, there isn't a single project we can't do.
25+ Team Members
Our amazing team will be with you at every step of your landscaping project. With multiple certifications and accolades, you won't find a more experienced team in Intermountain West.
Call or contact Big Rock Premium Landscaping And Design for more information.