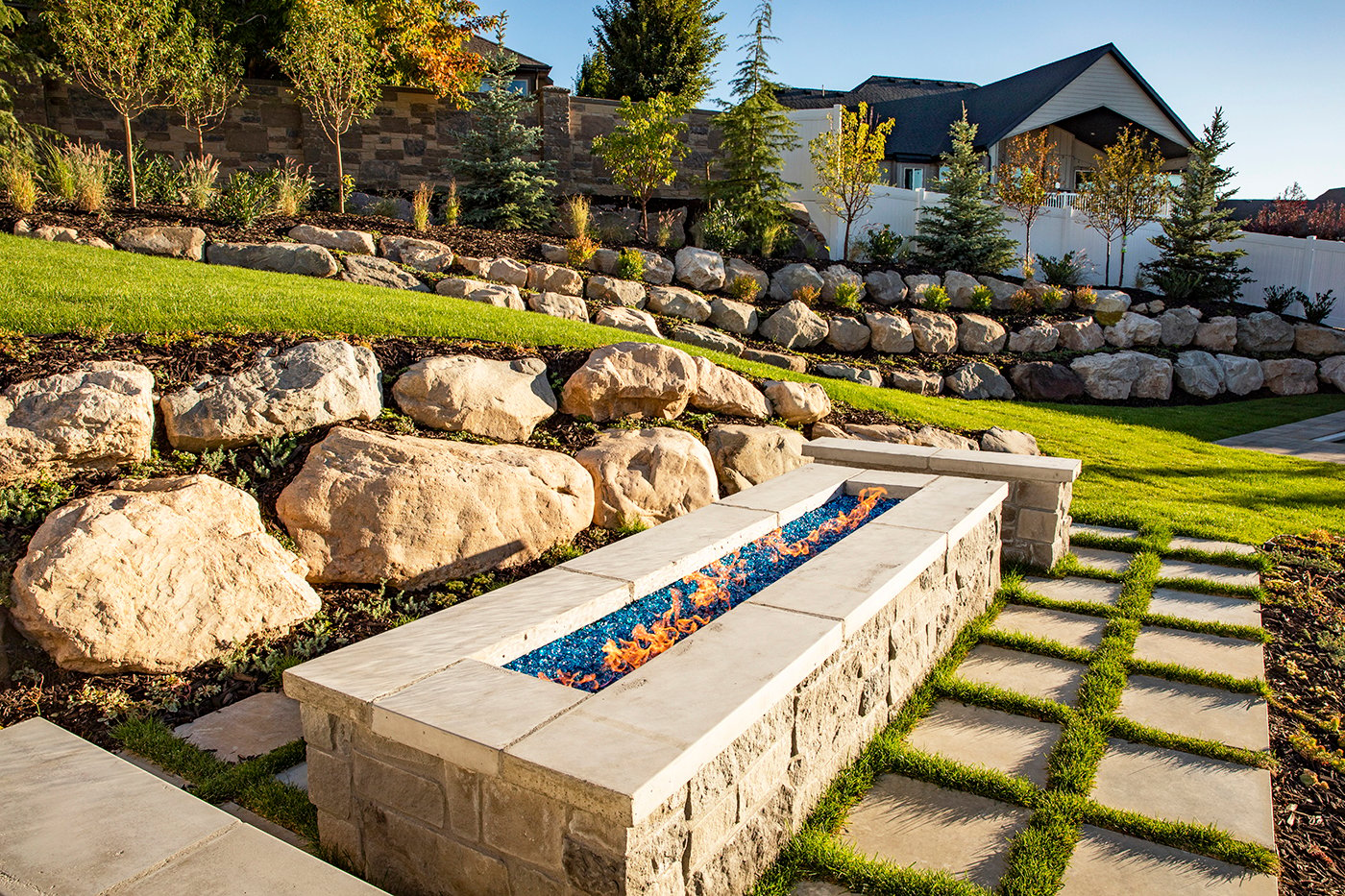 Landscaping With Big Rocks: How To Design Your Yard With Rock
If you love a natural vibe around your property, there is no better way to achieve this than landscaping with big rocks. The idea is that you can create a natural look that seems to say, "I've been here all along." When boulders are augmented with mossy plants, groundcovers, and wildflowers, you'd never guess your landscape was professionally curated just two months ago–it will look as if nature did all the work. Nature has some of the finest natural landscaping, so it seems fitting that we would borrow from Mother Nature's landscaping portfolio to bring nature right up to your back door.
Why Use Big Rocks In Your Landscaping?
In recent years, natural landscaping has really picked up steam, as modern homeowners have found creative ways to use rocks in their landscaping designs. The answer to why homeowners are using big rocks in their landscaping is because they realize that boulders are a beautiful way to bring color and character to any landscape, whether big or small. In addition, landscaping with boulders is often low-maintenance (or in some cases completely maintenance-free) and environmentally friendly. 
As with any landscaping project, there are a few things to consider before you break ground on your project: 
Size
Size does matter. The size will impact everything from placement to drainage. If you plan to landscape with larger boulders, you'll need an engineering plan–a drawing based on the boulder's height, depth, and placement. This is where a landscaping professional can help. They can help you plan, move, and execute your boulder landscaping plans.
Drainage
Drainage is an important part of the planning, too. When it rains, you don't want your landscape to become displaced, so planning for how water will drain around your boulder landscaping will help keep the dirt where it was originally placed. 
Placement
While basically, anything goes, there are a few unspoken rules about designing landscapes around big rocks. Landscaping professionals suggest that you place boulders in clusters, slightly or mostly buried (you'll lose some of the rock's mass or presence when this is done, so take that into account), and positioned in interesting ways.
Installation
Large boulders will require the use of a crane or a forklift for installation.  A rock is considered a boulder if it measures about a foot or more in diameter, or is simply too heavy to move without the aid of machinery. Smaller boulders can be moved using a dolly.
What Type Of Big Rocks Are Best For Landscaping
When it comes down to what types of big rocks are best to use in your landscaping, you must consider your answers to the following questions: How will the boulders be used? What aesthetic are you going for? What is your budget? The answers to these questions will largely drive your decisions. 
In our opinion, the type of rock you use is less important than how the rock will look and interact with your existing landscape. Rocks come in a variety of different colors, from pinks, blues, and greens to natural browns, golds, whites, and grays. Pick a color that compliments your natural surroundings and the color palette and tone of your home. We also recommend choosing local rock if budget is a concern. Local quarries are almost always less expensive than shipping boulders from afar, with the added bonus that they will reflect the natural rock of your region. 
Boulders come in all shapes and sizes and can have rounded or flat sides. There are many different types of rock for landscaping, but in general, big rocks or boulders are typically cut from granite, limestone, marble, and quartzite. 
7 Ways To Use Big Rocks In Your Landscaping Design
There are many ways to use big rocks to augment many different landscaping styles. The best rocks for landscaping are always those that combine function with aesthetic beauty while complementing your home and general surroundings. We love to share how we've used big rocks to really elevate an outdoor space. Here are some of our favorite ideas from our current portfolio.
Extra Seating Around Fire Pits
Boulders are a practical, yet lovely way to provide extra seating around the fire pit. Bonus! Not only will they bring a natural elegance to your surroundings, but these seats will withstand any jumping or roughhousing, as well as any wear or tear the elements might throw at them. And you don't have to store them inside for the winter. Boulders bring their A game for every season come rain, snow, or sunshine.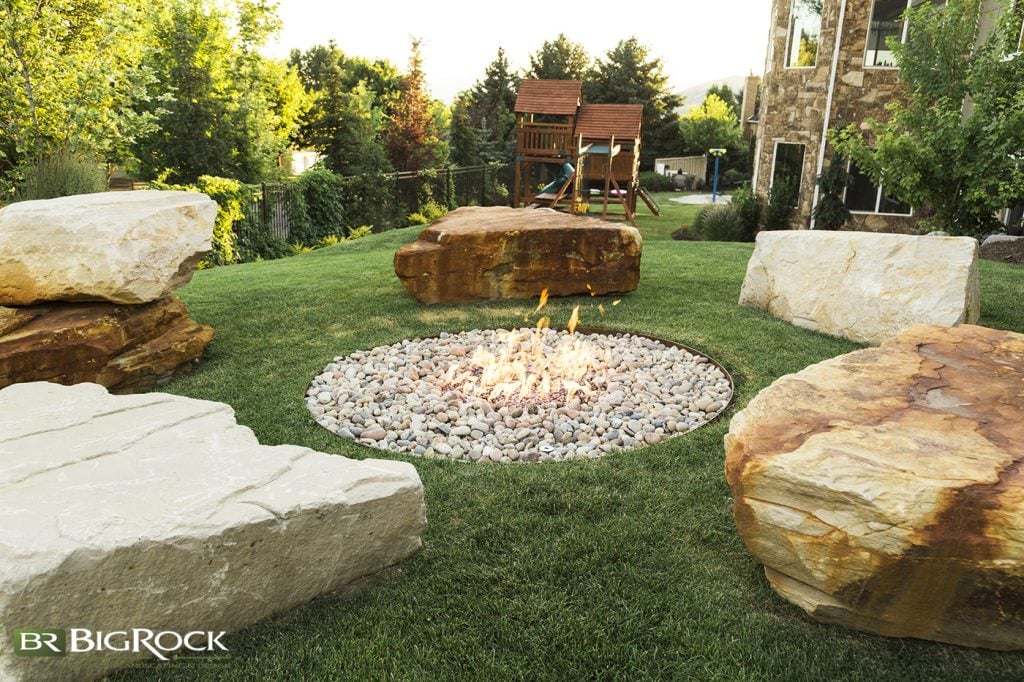 Use As A Natural Focal Point
Give your landscape natural dimension and style with artfully placed boulders that instantly elevate your yard while bringing nature right up to your front door.
Stack As Retaining Walls
Big boulders really hold their own when used as retaining walls. With more elegance than a brick wall, these boulders can be placed linearly or artistically to achieve the same effect. Boulders are extremely heavy and durable. Once these babies are in place, they are there to stay. Boulders are stronger than any chemically engineered material, bar none.
Water Features
There is nothing more natural around water than boulders. Use large or medium-sized boulders in your water feature to create a park-life feel.
Natural Ornamentation
Boulders come in all shapes and sizes and are extremely versatile if you want to incorporate natural elements within your landscaping. Use them to bring your landscape to life with their stately stance.
Creative Borders
Boulders are commonly used as borders between different levels or areas of landscaping. Make a big impression by lining your driveway with rounded or flat boulders for that grand entrance, or use them as nature intended–as the perfect border for streams or rivers if your property is home to one of these amazing outdoor water features.
Why We're The Big Rock Landscaping Experts
It's no accident that we can handle all types of rock, even big rocks, with ease and style. After all, we are Big Rock Landscaping! You can expect only the best in landscaping design and installation services. We offer full-service landscaping, which means we work hard to deliver top-level expertise in every aspect of premium landscaping craftsmanship. 
When it comes to installing rock, let us do the heavy lifting. Contact our award-winning customer service professionals to get started on your new landscaping project. From start to finish, we are with you every step of the way.