Utah County Landscaping And Design Services
Are you looking for landscaping services in Utah county? Look no further than Big Rock Premium Landscaping to design and install your next landscaping project.
Why Choose Big Rock Premium Landscaping?
When it comes to landscaping in Utah county, our team has won multiple awards that prove that our team of experts is the best choice for landscaping. We've won the Best In Orem award, Best In Utah Valley award, and Beautification Award for Pleasant Grove.
Clearly, our team knows Utah county's geography, climate, and characteristics. We've completed dozens of premium landscaping projects in the Utah county area using our decades of experience and expert design and installation team.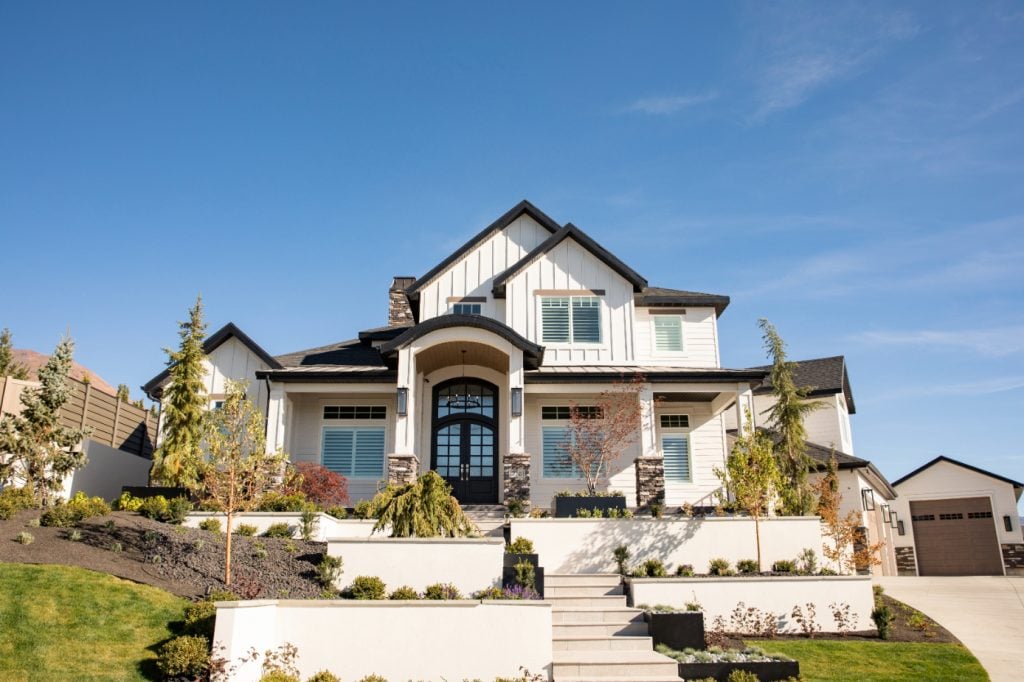 Whether you are planning a new build in one of Utah county's up-and-coming neighborhoods like Vineyard, Eagle Mountain, or Lehi, and need landscape plans from the ground up, or you are in an established neighborhood and you're ready to finally install that dream pool, our team is ready to bring our best design skills to your home. Next time you think "is there landscaping near me?" in Utah county, call our team of experts to help you create a yard you will love.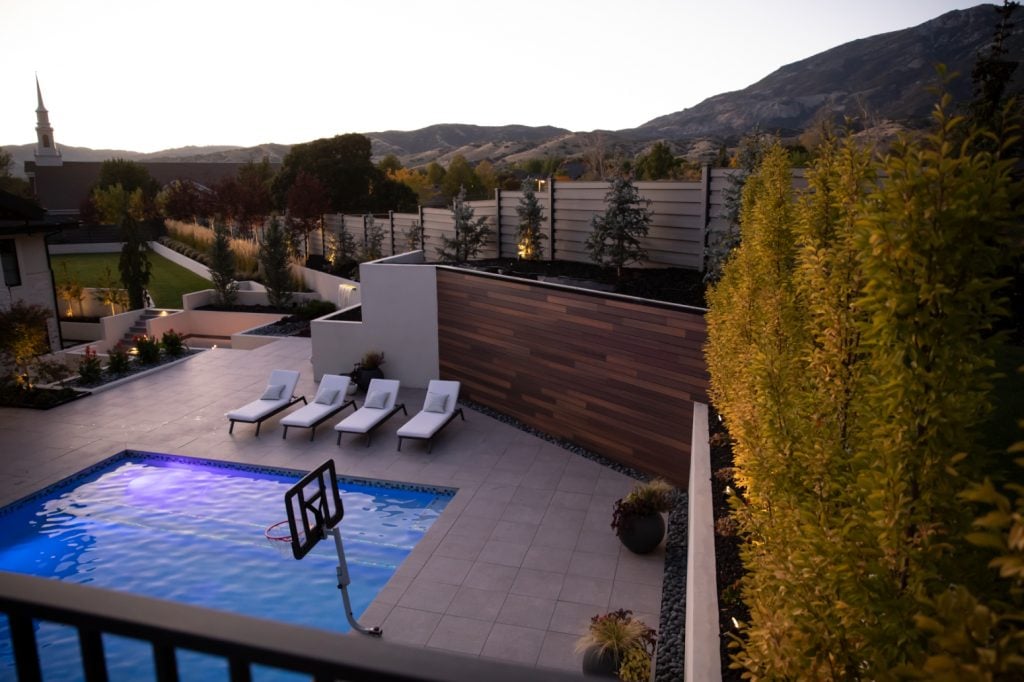 Services Offered In Utah County
As a full-service landscaping company, our team is uniquely qualified to create beautiful landscapes in Utah county. From residential to commercial landscapes, we've completed dozens of projects in Utah county that have earned us awards throughout the area. When you choose Big Rock Landscaping for your next landscape project, you are choosing expertise focused on the unique needs of Utah county residents and business owners. 
Landscaping Design & Install
When we say full-service landscaping, we mean it. We can take your yard from a blank canvas to a masterpiece, designing a space that not only meets your needs but exceeds your expectations. 
Pool Design & Landscaping
Pool design isn't as simple as pouring concrete, it's an artistic endeavor that, when executed correctly, creates a beautiful space that is cohesive with the home and other landscaping elements in your yard. 
Landscaping Services
This isn't your neighborhood teenager running a mower over your lawn, this is elite landscaping care focused on every detail of managing your yard. 
Outdoor Lighting
Custom, integrated, outdoor lighting can add hours of enjoyment to your backyard, and it can add ambiance and focal points to the space that otherwise would be missed. 
Decking
A comfortable outdoor space is crucial for the overall functionality of your backyard, which is why selecting and installing durable and beautiful decking is crucial for your space.
Fire Features
Thinking about adding a run-of-the-mill fire feature to your backyard? Think again. Let our team of experts design and install custom firepits, fire features, and fireplaces in your backyard. 
Structures
Regardless of the landscape structure you need, our team will design and install your outdoor structure using the best materials on the market.
Water Features
Bring the calming vibes of a waterfall, pond, river, or fountain to your backyard when you choose Big Rock Landscaping for your water feature design and installation. 
Pergolas
Your new favorite outdoor space could be your pergola, with all the benefits of an indoor space but all the beauty and calm of the great outdoors. 
Rock Walls
If there is one area you want to ensure is secure in your yard, it's a rock wall. From retaining walls to block walls to boulder walls, you want to make sure that the structures are designed and installed by professionals with decades of experience.
Utah County Landscaping Services
Call or contact Big Rock Premium Landscaping And Design for more information. Request a free estimate by submitting your information.
Award Winning Landscaping
We're honored to be a part of an exclusive group of Utah professionals to have won both Design and Service Houzz awards, multiple years running.
Where We Service In Utah County
Proudly serving all of Utah County, including:
Provo

Orem

Highland

Lehi

Eagle Mountain

Vineyard

Alpine
Lindon

Mapleton

Pleasant Grove

American Fork

Spanish Fork

Springville
Helping Utah County Bloom: Big Rock Landscaping
Located in Utah, Utah County is home to two of the state's universities, Utah Lake, Mount Timpanogos, and the ever-growing Silicon Slopes, the heart of Utah's startup and tech community.  As the second largest county in the state, and home to some of the fastest-growing cities in the country, this idyllic valley is truly one of the most spectacular places to live in Utah. 
With so much growth and innovation comes the need for thoughtful, carefully designed outdoor spaces, and our dedication to ensuring this county remains a lush, welcoming place is evidenced by our dedication to excellent landscaping. Our portfolio showcases some of our projects in Utah county and our love of this stunning valley. If you need commercial or residential landscaping in Utah county, Big Rock Landscaping is the only choice for your project.
Awards And Accolades
We honestly aren't ones to brag, but we can't help it when others brag on us. And truly, we're proud to be recognized as a standout company in Utah County for both service and achievements in the industry. It also pushes us to maintain our high standards and strive for excellence in every way.
"When you are looking to invest this much time and money into a project, Big Rock should be your choice. I have zero hesitation in recommending Big Rock to all of our friends and neighbors."
"They are comfortable with the big stuff (retaining walls, masonry, pools, electrical, concrete, decks) and meticulous with the details to make it look perfect. I have found that's a rare find and we are grateful we did! We are very much looking forward to many years in our awesome Big Rock space!"
"Big Rock is an excellent company to work with. They are helpful, creative, and professional. I am very satisfied with the work they provided for me. Thank you!"
Make Utah County Beautiful
Our mission is to make Utah County a beautiful place to live, one yard at a time. This is accomplished by using the best available materials and technologies in the industry.
The Professionals For Your Utah County Living Space
Whatever your vision and whatever your purpose, we have the design expertise, artistic tools, and professional resources. We are committed to providing an unparalleled level of service and professionalism as we craft beautiful, livable spaces in all of Utah County. From design to installation, we do it all.
15+ Design Awards
Based on image popularity and actual customer reviews, these awards speak to two parts of the jobs we love most: impeccable landscaping and you.
10K+ Planted Trees
We've planted just about every tree and shrub known to mankind. We know what thrives and grows in the regions we serve.
250+ Projects Finished
Everything from pools to pavers and simple designs to high-end luxury landscaping projects, there isn't a single project we can't do.
25+ Team Members
Our amazing team will be with you at every step of your landscaping project. With multiple certifications and accolades, you won't find a more experienced team in Intermountain West.
Call or contact Big Rock Premium Landscaping And Design for more information.