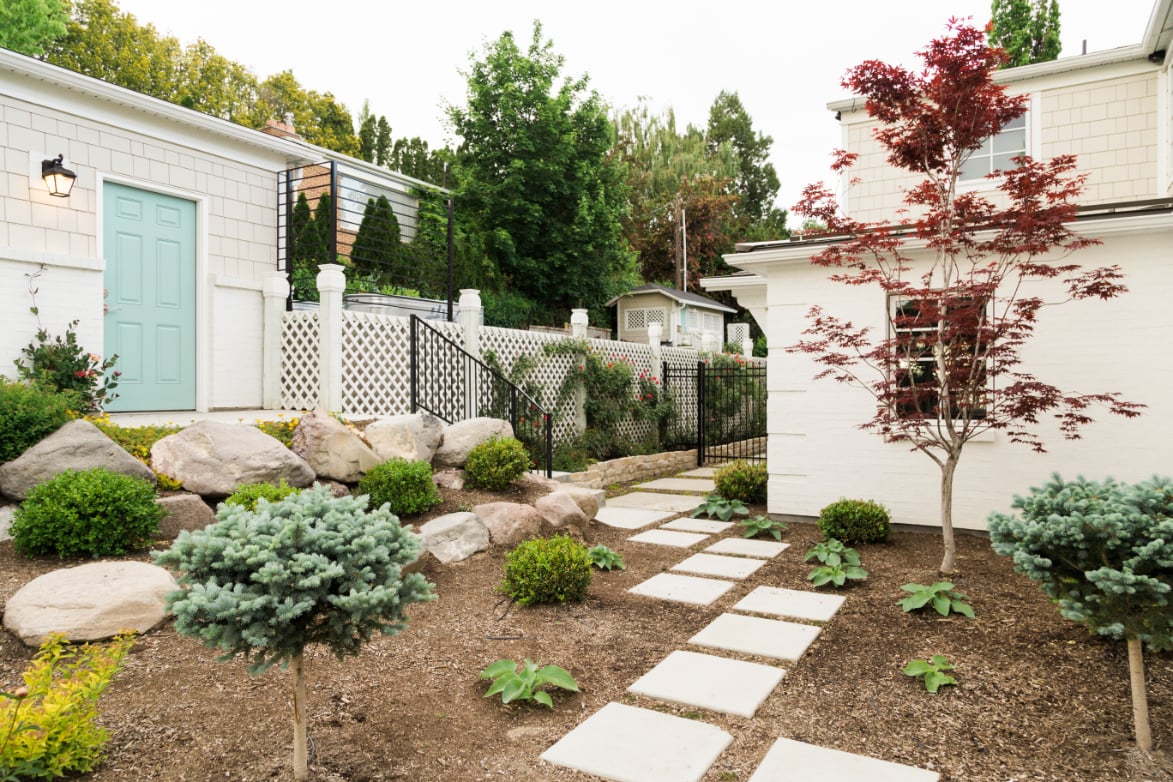 Xeriscaping Ideas For Your Utah Home
If your landscape is looking for a refresh, or you're just starting to create your dream home, consider adding the landscaping trend of xeriscape design. Xeriscaping has won the interest of many homeowners who are looking to conserve water, save some money and make a valuable impact on the environment.
Xeriscaping 101 In Utah
In North America alone, over 50% of residential water is used on landscapes and lawns. That is a lot of drinkable water that could be used for human consumption if we're willing to adjust our landscaping designs.
Xeriscaping is a type of landscape design that dramatically decreases the amount of water needed to maintain a beautiful front or back yard landscape. A well-designed xeriscape can decrease your water usage anywhere from 50 to 75 percent. Utah is a great region for homeowners to consider using xeriscape. While it seems as though Utah may be full of natural water flow because of its snow-capped mountains, it's actually considered a desert. Statistically, Utah is the 2nd driest state in the nation! With an average of 8-11 inches of rain annually, this makes Utah an ideal place to try a xeriscaped yard.
Utah's natural plant life and shrubs offer a wide range of color, texture, and interest to any xeriscaping design. When deciding if you'll enjoy a xeriscape design in your yard, take a drive around your local nature reserves, or walk through a nature trail to see what your environment has to offer for vegetation. Whatever you see in the wild will thrive within your xeriscape design.
A well-designed xeriscape can not only significantly reduce water consumption, but will also save you money on your water bill. In an effort to promote water efficiency, many local governments are offering incentives to move to a more water-conscious landscaping design. Utah Water Savers shares that Utah residents can receive up to $1.25 per square foot of lawn that is replaced with a water-efficient design.
We cover more Xeriscaping basics in the video below.
Xeriscaping vs Hardscaping
In the world of landscape design, there is a lot of "scapes" terminology that gets tossed about, but they really each have their own purpose and benefit. Because of xeriscaping's reduced use of lawn and water, it can sometimes be confused with hardscaping. However, these two methods are very different. While xeriscaping is reduced greenery that requires manual watering, hardscaping is the non-living element within a landscape design. Hardscaping usually consists of any hard landscape materials such as bricks, wood, walkways, pavers, walls, driveways, fountains, pools, or ponds.
If you choose to implement a xeriscape design you may have hardscaping elements that you include within the landscape. Both serve a specific purpose and add elements of interest, texture, and design to your overall design.
DIY Xeriscaping Design vs Professional
The internet is full of beautiful xeriscaping ideas. It's common to fill your Pinterest board with xeriscaping ideas and talk yourself into taking on this project on your own. We are fans of the DIY'er, but we also know most people get in over their heads with landscaping projects.
Xeriscaping seems like an easy project–no lawn, no sprinklers, lots of rock. However, there is an art to xeriscape. There are specific, and necessary, steps that need to be taken when creating a simple xeriscape design to ensure your yard and home look spectacular for many years to come.
For a truly functional xeriscape, vast knowledge of native plants is key. Knowledge of native vegetation's sun and water needs, cold hardiness, heat tolerance, and more will help ensure your design will be successful. For example, if you place a native plant without proper sun exposure, even though it's native, it likely won't survive. This simple, yet crucial mistake can impact the overall look of your xeriscape and create more maintenance than necessary.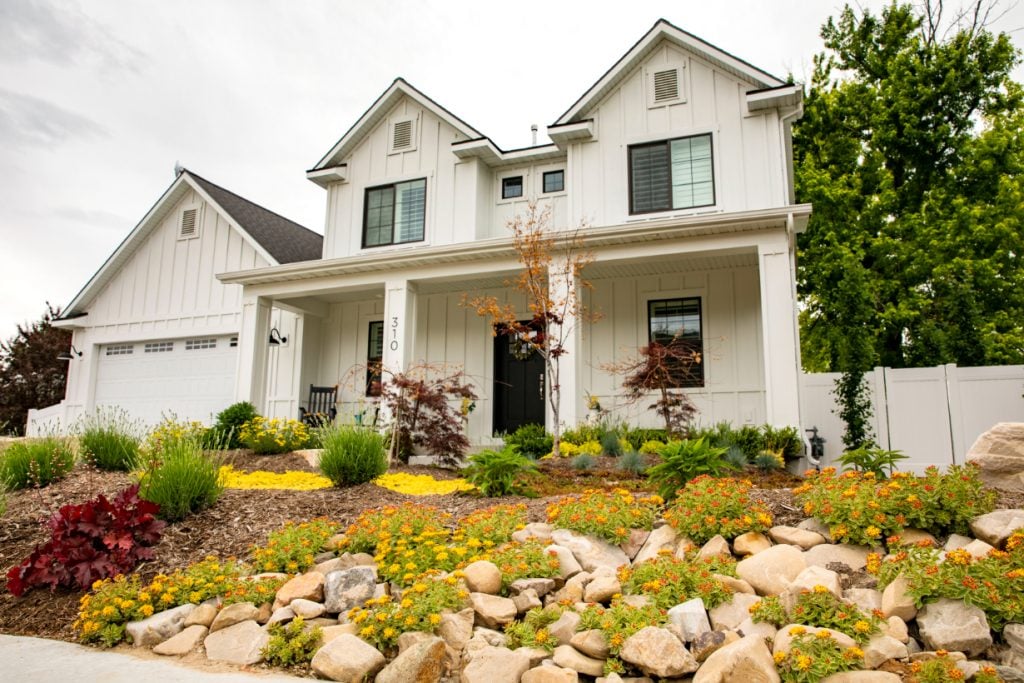 If you already have a landscape design that includes sprinklers or irrigation of any kind, there will be additional steps needed to ensure you properly seal off water lines that will no longer be used. You may even need to completely remove them. And while some experienced DIY'ers may be able to take on such a massive project, it won't be quite as easy for the everyday homeowner.
For a large-scale project, it is best to call a professional. A professional will take care of every step, no matter how time-consuming, to ensure your overall project is sustainable, luxurious and will serve your home for years.
5 Things You Should Know About Xeriscaping
If you are looking at xeriscaping ideas for your home, or want to redesign your current landscape to a xeriscape, here are 5 things you should know.
Zeroscape Is Not Xeriscape
Zeroscape is a complete reduction in any type of vegetation. It's usually large gravel or rock-covered areas with minimal plants. Xeriscaping on the other hand can be lush designs, but with a dramatically reduced water requirement. You may not even see gravel coverage, but if you do, it won't be the focus of the xeriscape design.
Xeriscaping Isn't Just For Desert Climates
A common xeriscape design people think of is large spaces with a rock covering and a large cactus sitting in the sun. Sure some desert regions may have a look similar to this, but Xeriscape does not mean empty or no landscaping nor is this design only for harsh deserts. Xeriscaping means using native plants, trees, and shrubs to allow for a design that can survive with what nature provides.
Xeriscaping Will Pay You Back
Replacing your lawn with a properly designed xeriscape can save you up to 5,000-8,000 gallons of water each year. Some local governments will give you rebates for water-saving landscape designs. We explain in more detail how xeriscaping saves you water and money.
Knowledge Of Your Native Land Is Essential
The proper choice of plants, shrubs, and trees are essential to a beautiful xeriscape. An understanding of what will thrive in your local region and ensuring it is added to the design in a way that is healthy, and beautiful is essential to a successful xeriscape and will prevent extensive maintenance.
Permits? You May Need Them.
Some local governments, or even local HOAs, may have requirements regarding your landscape designs.  Be sure you check with your local government to see if there are permits required for structures, storm runoff adjustments, sidewalk adjustments, etc. Or better yet, call Big Rock Landscaping and we'll take care of this part for you!
Benefits Of Xeriscaping For Your Utah Home
As we've covered already, Xeriscaping offers a plethora of benefits to the Utah homeowner. However, when it comes to Xeriscaping, these are the top five benefits you can enjoy. 
Water Conservation
Because we live in a dry, arid climate, Utah has its share of drought conditions, and it's fair to say that water conversation will continue to be an ongoing hot topic among homeowners in Utah. To avoid the emotional roller coaster (and to get a yard that always looks nice regardless of the weather!) try a bit of Xeriscaping. With all the amazing benefits such as low cost and long-term savings, it's worth every penny. We promise–you won't miss the grass.
Low Maintenance
Without a doubt, Xeriscape is the perfect low-maintenance landscape. Filled with natural hardscaping materials like wood, stone, brick, and rock, these landscapes don't need constant pruning and edging. Flower beds are usually filled with rock rather than mulch, and the plants used in Xeriscaping are usually very hardy and drought tolerant. Do you know what this means? More time spent enjoying your yard and less time maintaining it. 
Cost Savings
Because Xeriscape landscaping is naturally drought tolerant and is usually installed with natural materials, the costs to upkeep and install Xeriscaping are minimal when compared to traditional landscaping. Especially when considering the long-term cost savings. With materials that don't biodegrade easily and plants that require less water, you will enjoy significant long-term cost savings.
Eco-Friendly
It almost goes without saying that using native plants and natural materials would be more eco-friendly, but just in case you have any reservations, let's just clear that up right now. Natural materials are always more eco-friendly. Not only are they timeless in their appearance, but they weather the elements better than their non-eco-friendly counterparts. Their carbon footprint is small because they don't take much water and maintenance to maintain, looking just as good as the day your Xeriscape was installed, year after year.
Aesthetically Pleasing
While we love a lush, perfectly edged lawn, Xeriscape still holds a special place in our hearts. With its beautiful shapes and simplicity, Xeriscapes can be wonderfully aesthetically pleasing. You might question whether you can get color, texture, and "green" from a Xeriscape landscape, and we promise you, not only can it be done, we've done it! And they look amazing–by using native plants and natural materials, your Xeriscaping will look right at home in its surroundings. Well-manicured lawns are a dime a dozen. Good xeriscaping landscape designs are show stoppers. 
Choosing The Right Plants For Your Xeriscape Design
When it comes to choosing the right plants for your xeriscape, follow these basic design principles to get a design that's aesthetically pleasing and eco-friendly.
Native Plants
Without fail, native plants are the best plants to use for Xeriscape design. Not only will they thrive in their natural habitat, but they are intrinsically suited to living on friendly terms with the environment. Often drought-tolerant, native plants in Utah will weather hot, dry summers amazingly well. They will resist damage from freezing, drought, local pests, diseases, and herbivores. For plants that do well in a Xeriscape landscape designed for Utah, go for grasses like Little Bluestem or Karl Foerester for a bit of color, or try lavender.
Water Requirements
Typically plants that do well in Xeriscape design are ones that don't need frequent watering. Due to deep root systems, native plants need less external water. They also help maintain healthy soil by preventing soil erosion and compaction–a constant concern in a naturally sloped topography like Utah. If shrubs are what you are looking for, try Utah Honeysuckle, Little Ollie, or Purple Sage. 
Color And Texture
It may surprise you that in Xeriscape design, you're not just limited to cacti and succulents. There are many plants that thrive in hot, dry climates. And many of them produce wonderful flowers multiple times during the year. Try to mix different growing habits so that there is a variety in the plant's shape (whether it grows upright, vertically, or rounded), its leaf structure, and colorful blooms during the season. 
Maintenance 
Because native plants are already suited for Utah's climate, they don't need all the attention that more delicate plants require. They are built to last in harsh climates and actually thrive with little to no maintenance, soil amendments, or fertilizer. 
Incorporating Hardscaping Into Your Xeriscaping Layout
If you're scratching your head a bit when it comes to how to transform your yard with hardscaping and xeriscaping without it seeming like a rock garden, this section is for you. Xeriscaping in Utah is becoming an increasingly popular way to landscape, and we have worked with many of our Utah clients to develop functional, yet beautiful hardscaping ideas that will work well in many different xeriscape designs. 
Hardscaping is an important element of any good xeriscape design. Hardscaping should do the following:
1. Have a purpose
Are you creating a walkway, a patio, or a retaining wall? Each hardscaping element should have a different function and require a different design approach. When incorporating hardscaping elements into your xeriscape design, it's important to consider their purpose. 
2. Be composed of natural materials
The choice of material for your hardscaping elements is also important. In xeriscape design, you'll want to choose materials that are durable, low-maintenance, and complement the natural landscape. Natural materials such as natural stone, gravel, or concrete pavers are all great hardscape options.
3. Be functional and aesthetically pleasing
The placement of hardscaping elements within your xeriscape design should be carefully considered to ensure they complement the natural landscape and don't detract from the overall aesthetic. For example, a walkway should be placed in a logical and functional location, while a retaining wall should be designed to blend in with the surrounding terrain.
4. Help with drainage
When incorporating hardscaping elements into your xeriscape design, it's important to consider drainage. You want to ensure that water flows away from your home and towards plants, shrubs, and trees that require more moisture. Proper drainage will also help prevent erosion and protect your hardscaping elements.
5. Be easy to maintain
Finally, it's important to consider the maintenance requirements of your hardscaping elements. You want to choose materials and designs that are low-maintenance and can withstand the harsh Utah climate, like natural rock and stone. Regular maintenance such as cleaning and sealing will also help ensure your hardscaping elements remain in good condition for years to come.
Xeriscaping Ideas For Utah That We Love
Big Rock Landscaping is your Utah landscaping expert. We have the knowledge of the Utah region and what plants, shrubs, trees, and flowers will thrive in your xeriscape. Here are a few Big Rock Landscaping projects that incorporated xeriscaping ideas within Utah and the Wasatch front.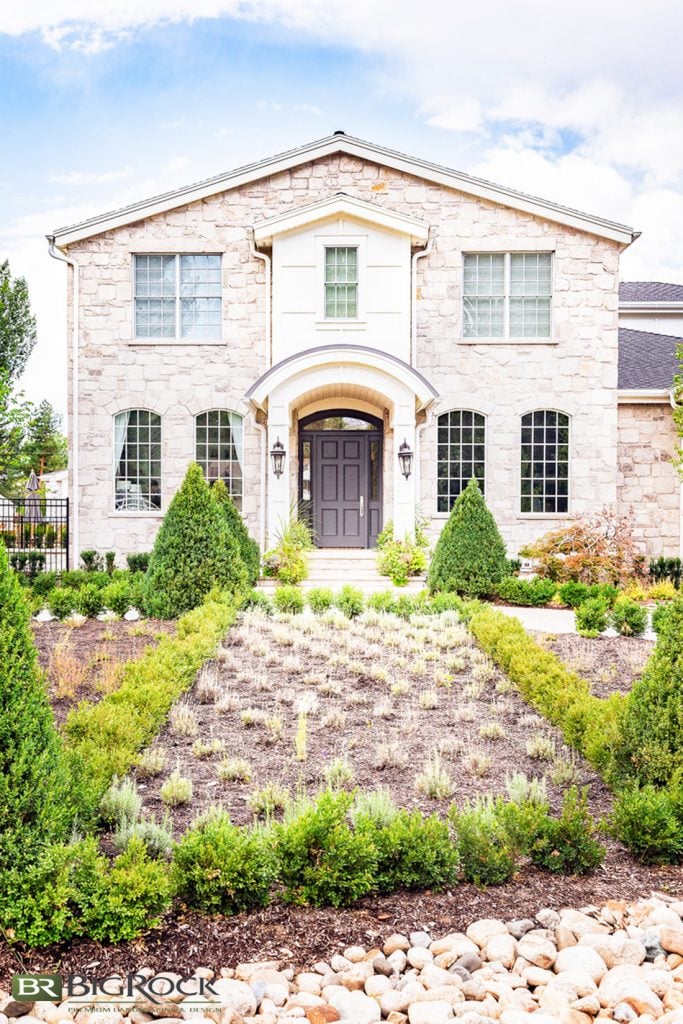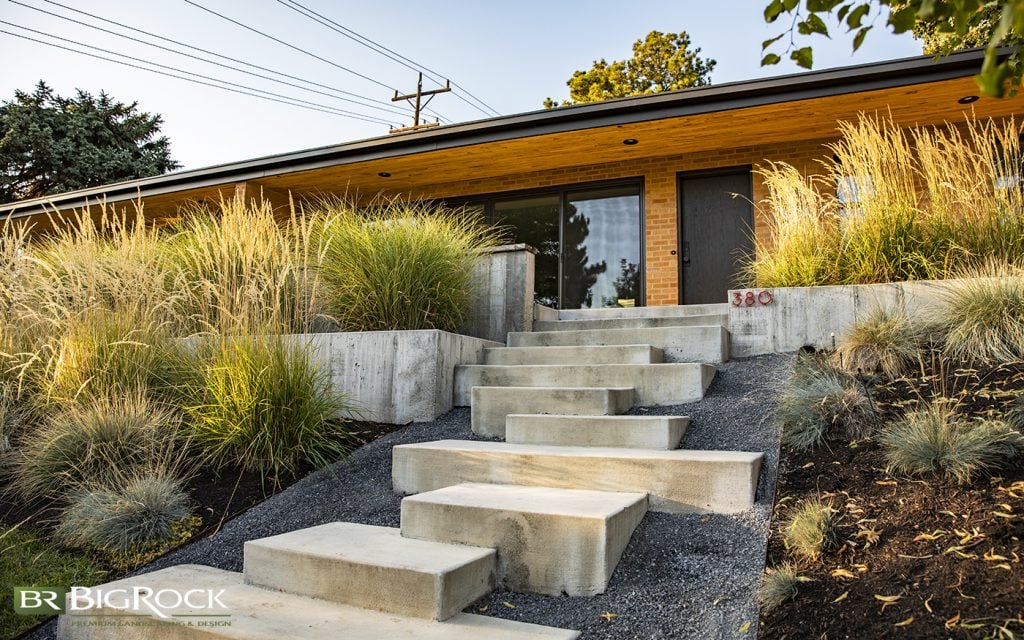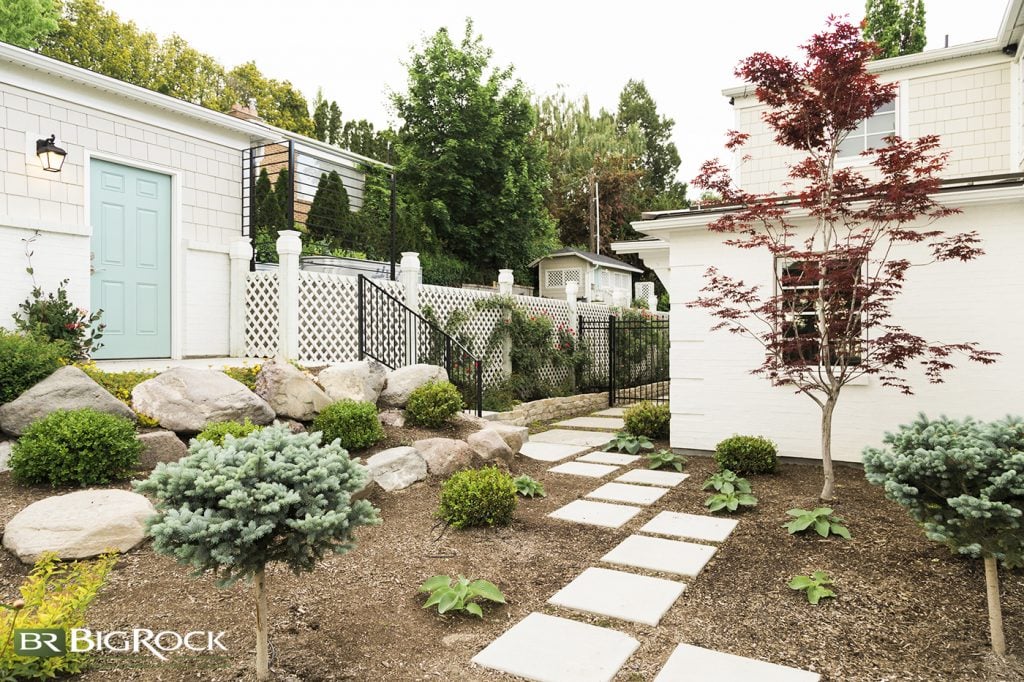 Big Rock Landscaping: Your Utah Xeriscaping Experts
Don't overwhelm yourself with a difficult landscaping project when you can call Big Rock Landscaping to handle the dirty work. Our team includes experts in landscape design, landscape installation, project management, certified arborists, and even a local government liaison who takes the pain and guesswork out of permits and local requirements.
No xeriscaping project is too big or too small for Big Rock Landscaping. Whether your home is a new build with fresh land to design, or a landscape remodeling project, Big Rock is your landscape champion. We will make sure your project is completed in a timely manner with expert care and craftsmanship.
Reach out to Big Rock Landscaping today to discuss your needs, xeriscaping design dreams, and let's get started! We've also created a Xeriscaping Guide designed just for Utah homes in this YouTube series.