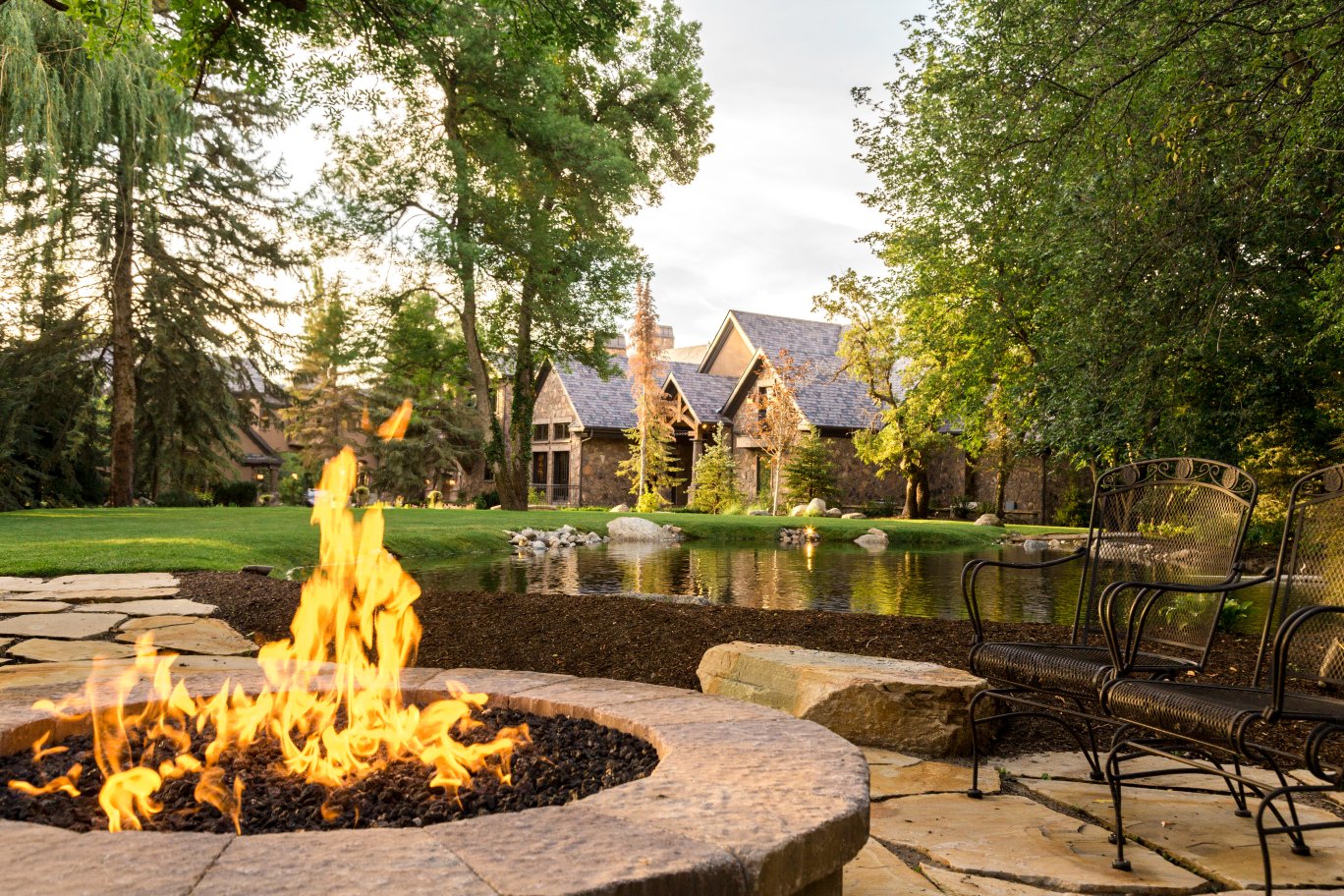 Award-Winning Landscape Design Ideas
You may have never considered the idea that your own outdoor space could be worthy of, let alone considered for, an award of excellence. But what if it was? What would your dream backyard or garden or front walkway look like? What are the landscape design ideas that make you swoon and wish it was your home's beautiful landscaping that neighbors were drooling over…even if it meant soaking up the puddles after they left? What does an award-winning landscape look like to you?
Great landscape design ideas come big and small, vividly colorful and demurely muted, extremely elaborate and sophisticatedly simple. But no matter which direction your landscape design ideas take you, there are a few key rules to follow in order for the result to be an inviting and beautiful place (even if no one is leaving blue ribbons on your front gate). Plus, we've got 7 tips for how to follow those rules and make the most of your own outdoor living space.
What Makes Great Landscape Design?
All across the world, talented landscape designers have innumerable and wildly disparate landscape design ideas, all with gorgeous portfolios full of living proof that, no matter the style, level of grandeur, or ultimate purpose of the space, all of their different visions are somehow right. So what is it that ultimately makes landscape design great?
We believe that great landscape design ideas require the following three essential rules. Without them, the project has failed in one way or another and the result will be disappointing landscape design that can usually be both seen and felt.
To help ensure award-winning landscape design, make these three ideas a non-negotiable part of your landscaping process:
1. Make It Yours
Whether we're talking to an individual at a personal residence or the owner of a commercial building, the landscape design has to fit you. And that includes everything from style preferences to location and weather to budget and maintenance to the ultimate purpose of your space. So while you may have loved the hedge mazes you wandered through on vacation at Versailles, they may not play a part in your own backyard or as part of your business park where people need to get to their appointments without meeting a Sphinx along the way (any Harry Potter fans here?). But it doesn't mean you can't take inspiration from those mazes and somehow incorporate their essence into your own unique landscape. Just make it yours.
2. Create A Focal Point And Then Play
While nature is inherently wild, it also rigidly follows a certain set of laws that are required to bring it to life. One of the laws of landscape design is the idea that a focal point should exist in all things—it brings a grounding comfort to observers, even if they don't realize it. But once you've settled on your landscape's pièce de résistance—be it a pergola, pool, or bust of Prince Harry, have some fun! Play with proportions, textures, forms, and colors of a variety of plants. Keep an open mind to something you may never have considered in order to add visual interest, variety, and a little bit of fun to your outdoor landscape.
3. Enjoy The Process
From rough sketches to purchasing plants to digging holes to watching everything come into its own and firmly plant you within nature's sweet embrace, every part of the landscape design and installation process can bring joy. It may not happen exactly as you imagined, but keeping an open mind and seeing your once-only-dreamed-of landscape design ideas come to life is a gift to be enjoyed. (And if you find yourself hating it, we know some people who can help…but more on that later.)
7 Tips For An Award-Winning Landscape Design
There are plenty of theories and principles of landscape design that can help guide you through coming up with your own ultimate landscape design ideas. We've found that these 7 tips for the best landscape design have never led us astray and will give you a key framework to build from.
Repetition Is Key
Using repetition in design creates a comfortable rhythm that draws people in. You see this in everything from the consistency of the pillars at the Parthenon to regularly spaced trees planted along the walkway in Hyde Park. Without a little variety outside this, any landscape design idea would get ultra boring. But a foundation of rhythmic repetition gives you something to build on and anchor to in your design.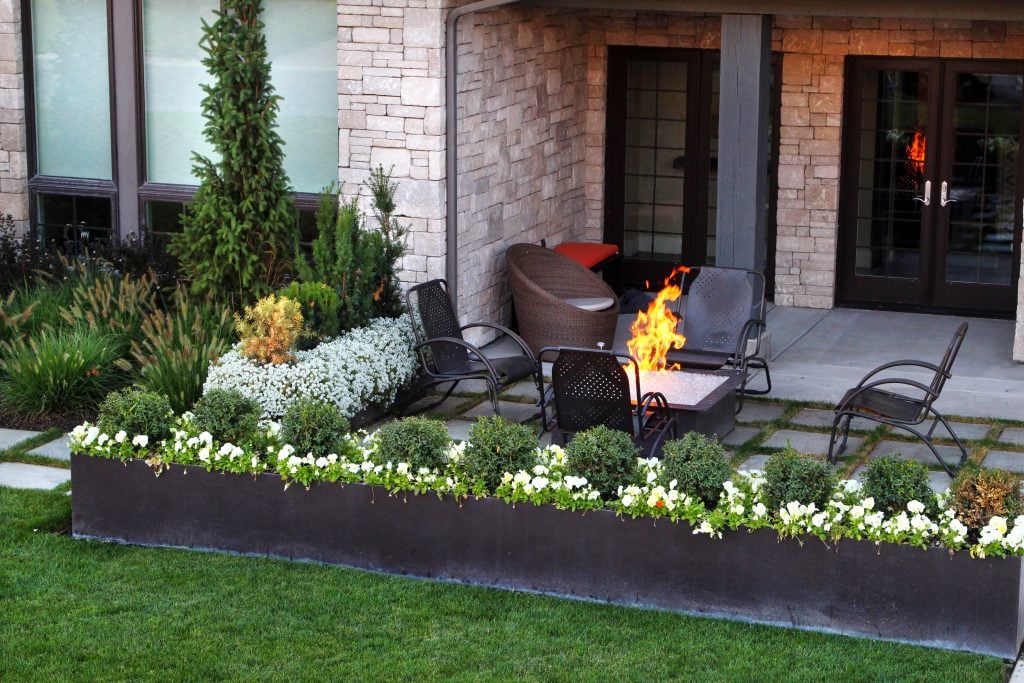 Go Big
If you're ever in doubt about whether to increase or decrease the size of some major part of your landscape design idea, opt for going big. Within reason, it's rarely regrettable to have to enjoy a slightly larger patio or taller hedgerow. Especially in time as the bulk of your landscape elements fully grow into their own, the gods of proportion will smile upon you, and you won't be kicking yourself later.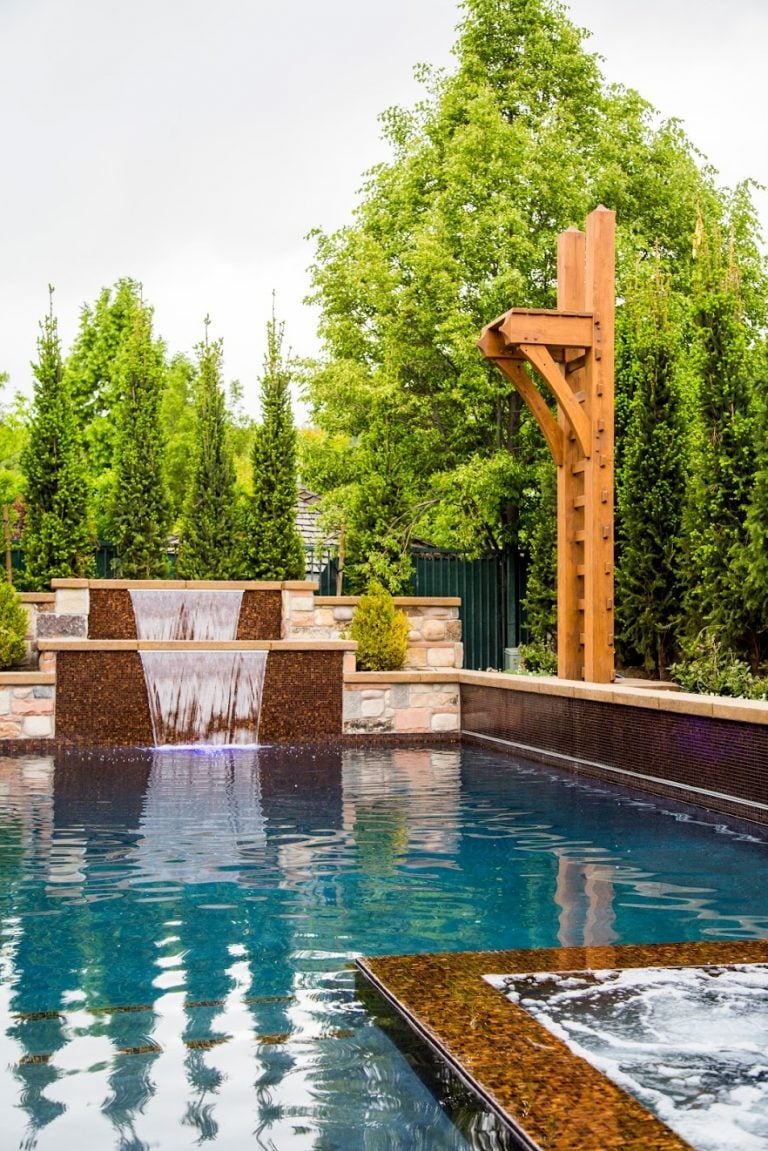 Practice Proportions
Speaking of proportions, let's talk about the golden rules. No, not about treating others how you'd want to be treated—though we do agree that's solid advice and we practice it daily. We're talking about the Golden Ratio and Golden Rectangle as they relate to award-winning landscape design. The Golden Ratio is also known as divine proportion. It's inherently pleasing and something about it speaks to our souls. So when you're designing a great landscape, keep a 1:1.618 (ish) ratio in mind for everything from garden boxes and decorative benches to fountains and ground cover. It doesn't mean you don't ever go outside those bounds, just that they're another powerful design rule you'd do well to follow.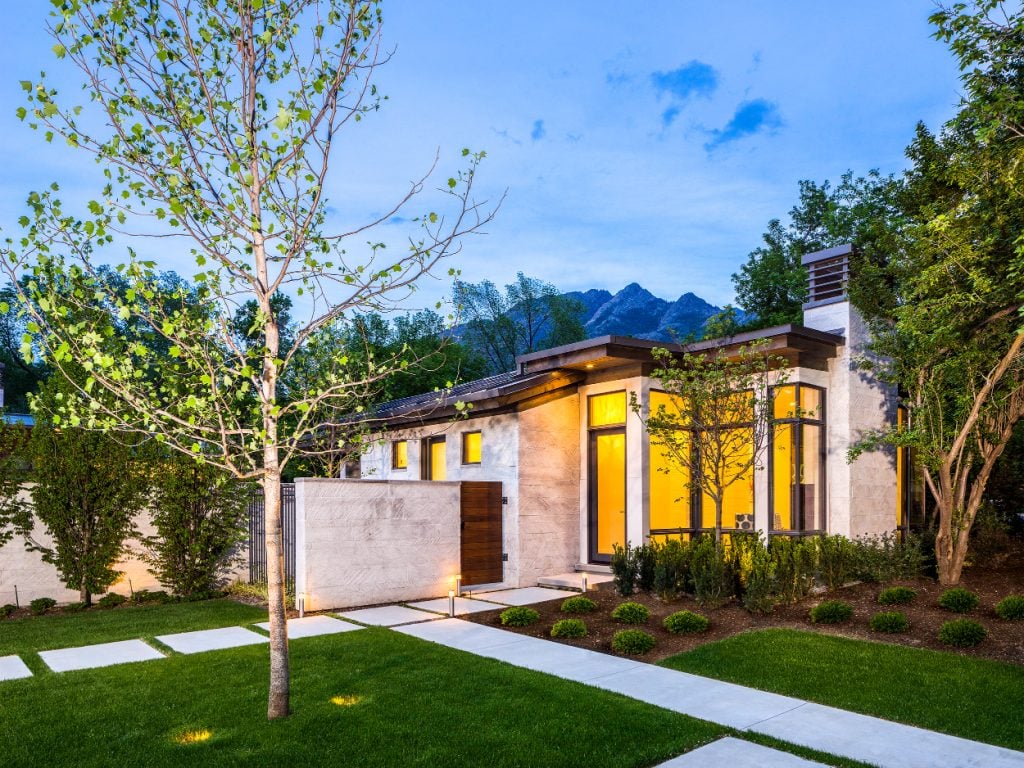 Play With Color & Texture
Every plant, stone, wood, or manmade object in your landscape design lends its own unique qualities to the overall effect of your space. Using a well-curated variety of coarse and fine foliage, bright and neutral florals, and saturated and muted tones in any structural elements will create a dynamic and interesting space. You should also play with seasonal color and texture opportunities. For instance, which blossoming flowers will look best as the leaves on your autumnal trees change and fall? Or how could you make the topography of your landscape exciting even (or especially) when blanketed in snow?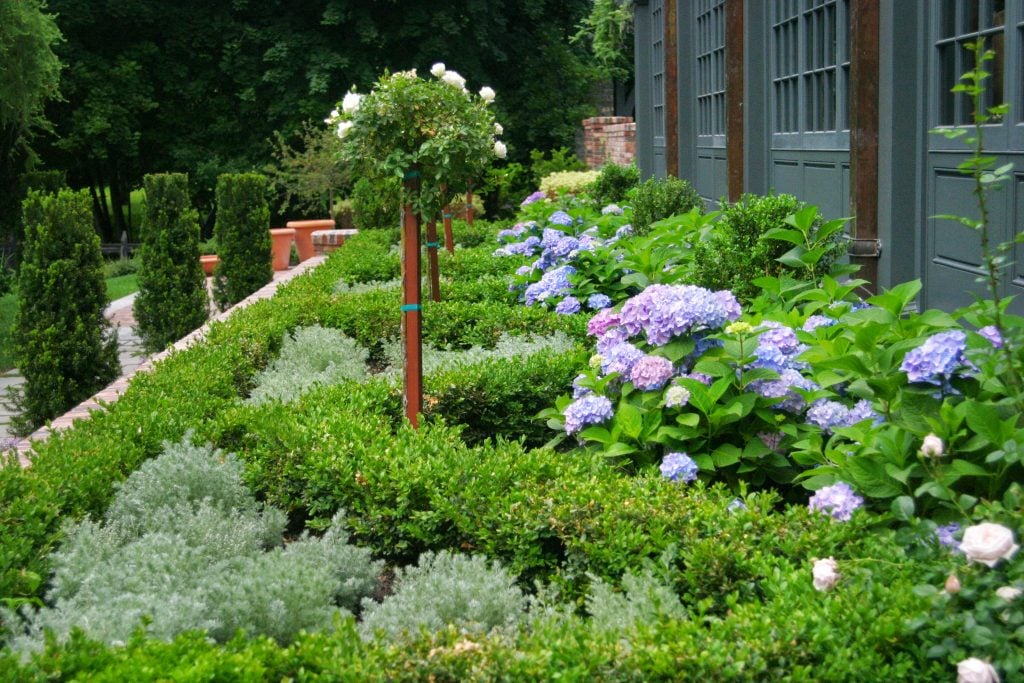 Mind Your Lines & Forms
Lines are the visual guides created in your landscaping by structures, walkways, benches, garden beds, shrubbery, and more. They give your eye (and often your body) somewhere purposeful to travel. Keep in mind that straight lines feel more formal and structured while curved lines can feel more casually inviting. Both have their rightful place in great landscape design, you just have to be mindful of what kind of space you're looking to create and enjoy. The same goes for the form, or shape, of things in your space. The various combinations of shape and line will help determine the vibe of your land- and hardscaping.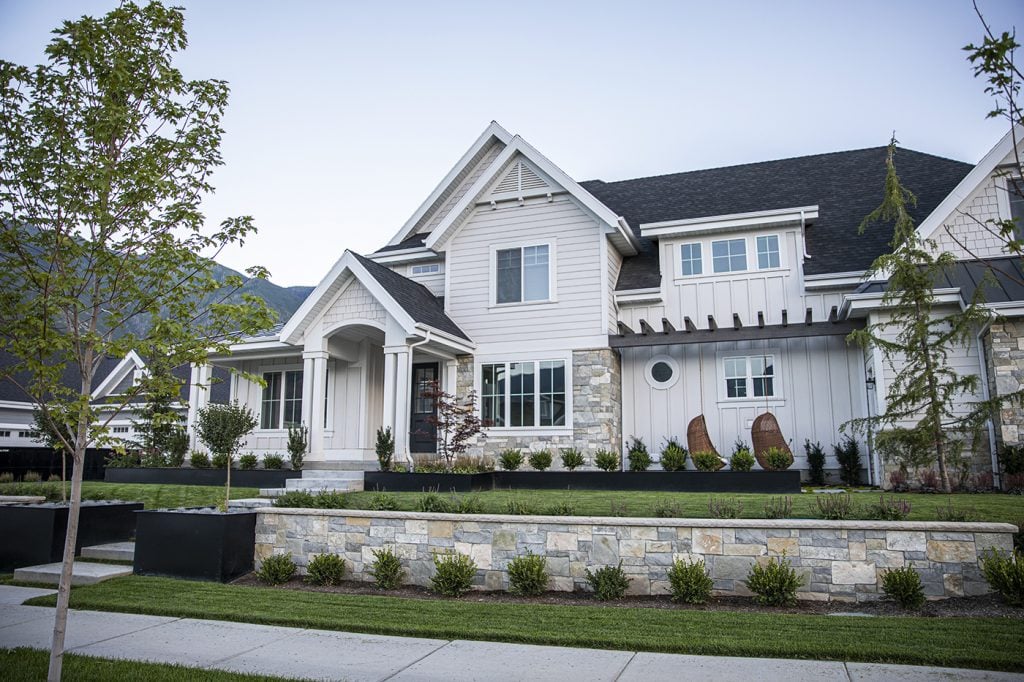 Embrace White Space
The white, or open, spaces in your landscape design are just as important as the perfectly placed plants and pavers. White space lets everything, including the people, in the space breathe. It helps provide balance and relaxation against the structure and planning of the occupied landscape. Don't be afraid to open things up and embrace the void!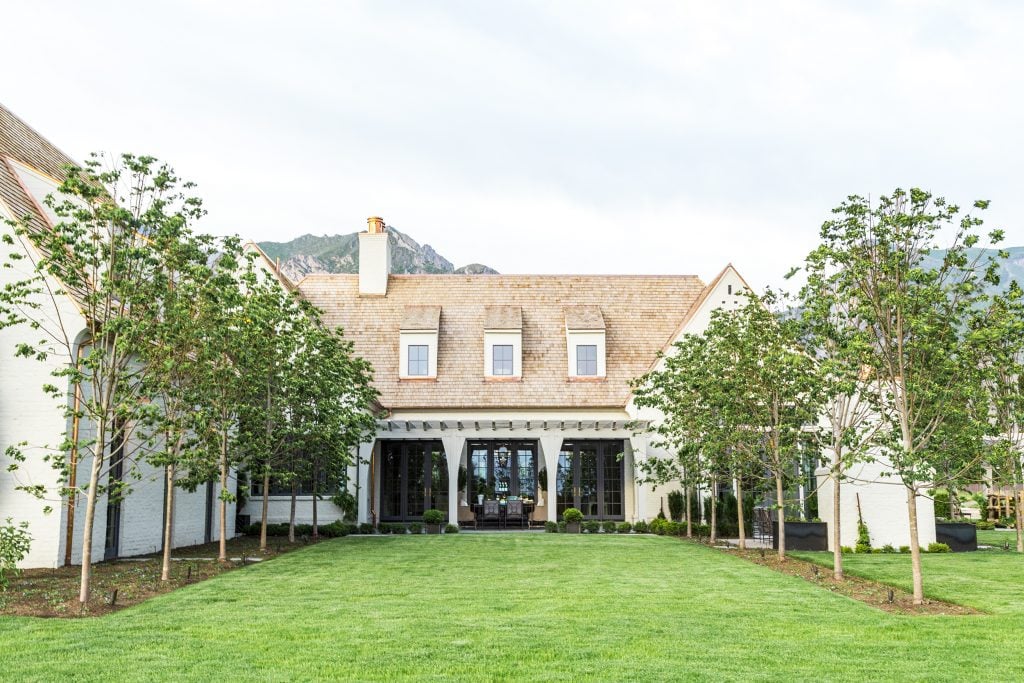 Lighten Up
While we definitely recommend keeping up a sunny disposition regarding your landscaping project, we're actually referring to sources of light other than you in your outdoor space. That includes the actual sun and any manufactured sources of illumination. Consider which direction your space faces—will you need to plant a row of shade trees to provide comfort in the late afternoon? Consider when the space will be used most—will you need a pathway lighted by electric lanterns to get guests out to your new fire pit safely? Also ensure that whatever flora is planted is suited to the natural light (and weather conditions) typical in your area.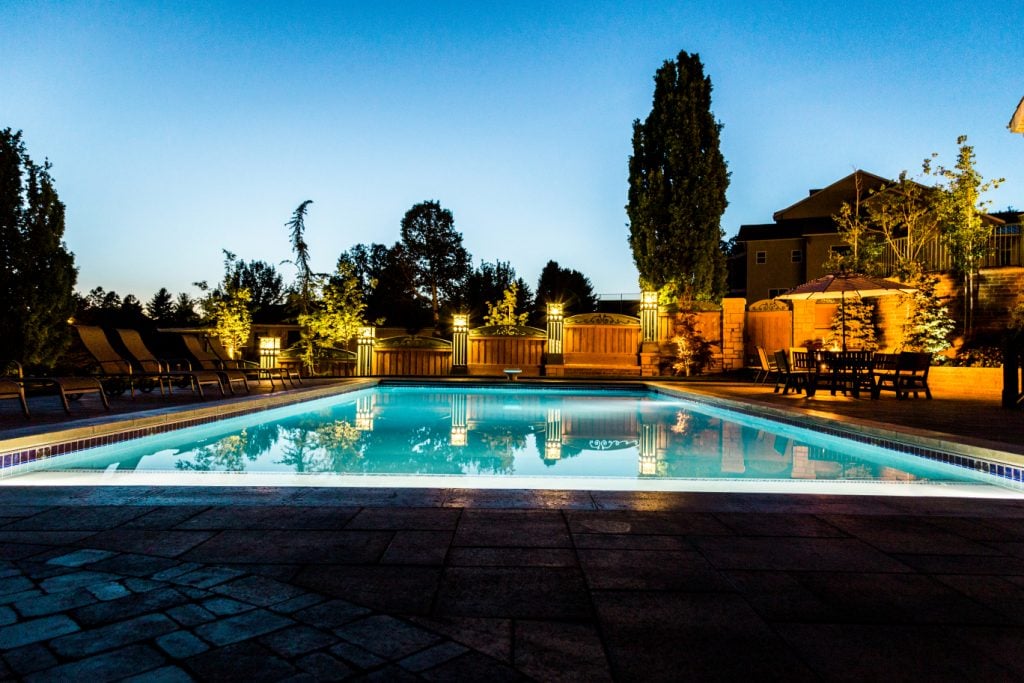 These 7 tips for producing an award-winning landscape are keys to taking your landscape design ideas from dreams to dreamy reality. And in theory, they're fairly simple concepts for anyone to follow! In practice, they offer their best results alongside plenty of patience, time, creativity, and hard work.
DISCOVER: Who Is Big Rock Premium Landscaping And Design?
It is possible to design and install beautiful landscapes on your own, but it may require compromises where you lack sufficient time, expertise, or proper equipment. Then, award-winning landscape installation may be best off left to well-trained professionals with years of experience who absolutely love what they do.
Award-Winning Landscapes With Big Rock Landscaping
Everybody has their thing. Our thing at Big Rock Landscaping is premium and luxury landscapes designed with crucial attention to creative detail, efficient and proper installation by a team of friendly professionals, and the business savvy to make it all happen smoothly from start to finish, no matter how big or small the project.
At Big Rock, we pride ourselves on showing up with the best landscaping ideas and working side by side with our clients from start to finish to ensure their ultimate satisfaction with our professional landscaping services.
Whether you're looking for a quiet backyard sanctuary, an ultimate entertaining hub, or a beautifully functional commercial center, Big Rock Landscaping services cover it all. From personal pools and pretty gardens to fire features and rock walls, we have the expertise to create award-winning landscapes that go beyond the basics and exceed expectations every time.
Check out our Landscaping Services or contact us to see how we can make the most of your landscaping project today!