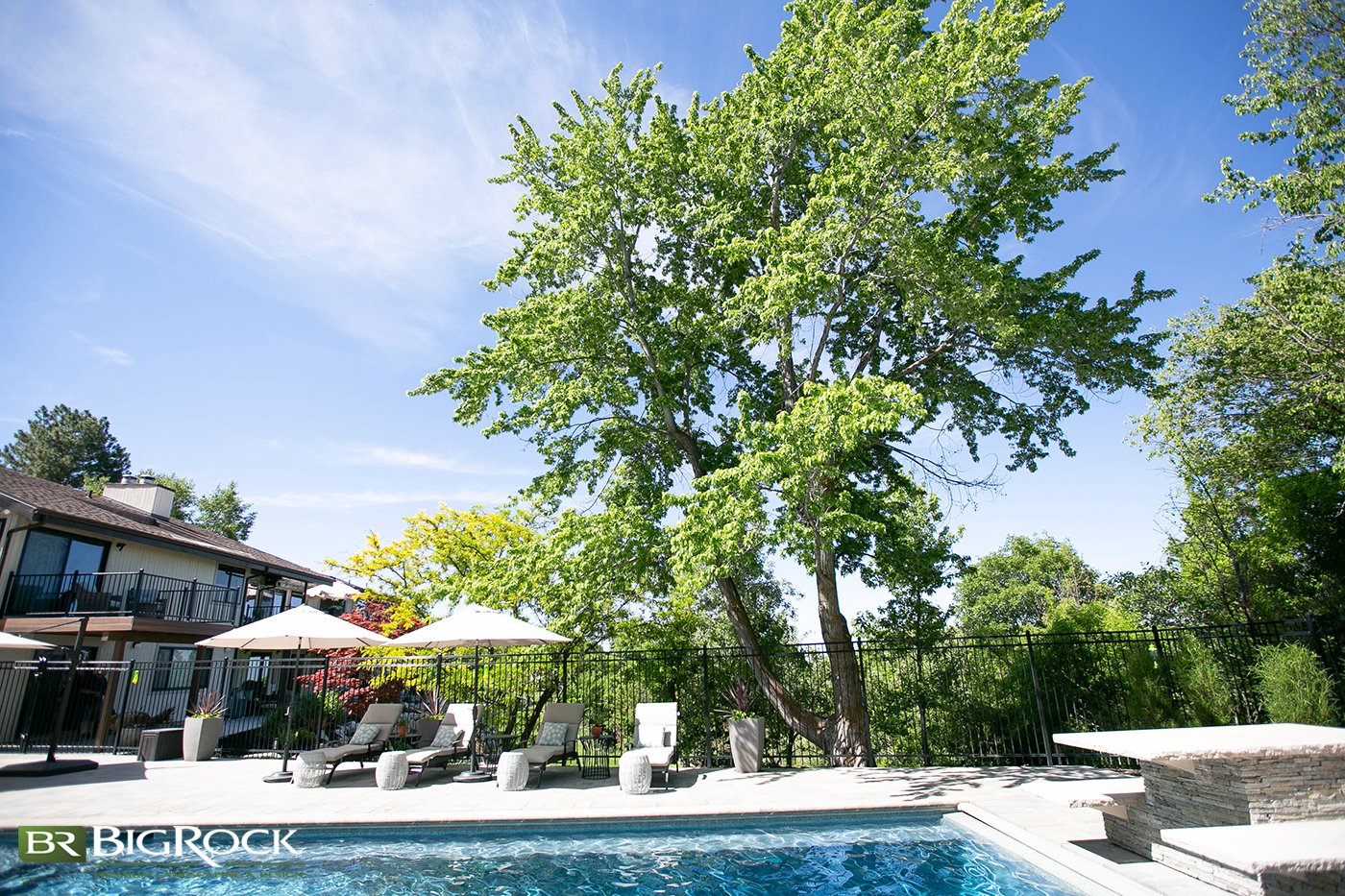 The Best Trees For Utah Yards By Zone
For many people, the best trees for Utah landscaping are not only native Utah trees, but ones that serve a functional purpose as well as look amazing for many years. And after decades of experience designing, installing, and maintaining some of Utah's favorite landscaping projects, Big Rock Landscaping is a clear expert in which are the best trees for Utah yards. And we're here to let the secret out, zone by zone, so you know exactly what trees are going to impact your landscaping in all the very best ways.
Understanding Utah's Diverse Climate Zones
As with all plant selection for landscaping, you want to choose trees that are well suited to our Utah climate and your specific yard conditions like light, wind, soil type, and more. That means you need to do a fair amount of research—or hire a pro who has this knowledge on lockdown—in order to ensure that your yard vegetation and trees not only look good, but last long-term (preferably with as little maintenance as possible) before ever purchasing or planting.
To get you started, let's go over Utah's unique climate situation. Because Utah is a large state with such diverse climate zones, we split it up into two main categories: northern and southern Utah. As anyone who has spent time in both knows, they're highly divergent where weather conditions and native plant life are concerned—what grows well in southern Utah is unlikely to be one of the best trees for northern Utah and vice versa.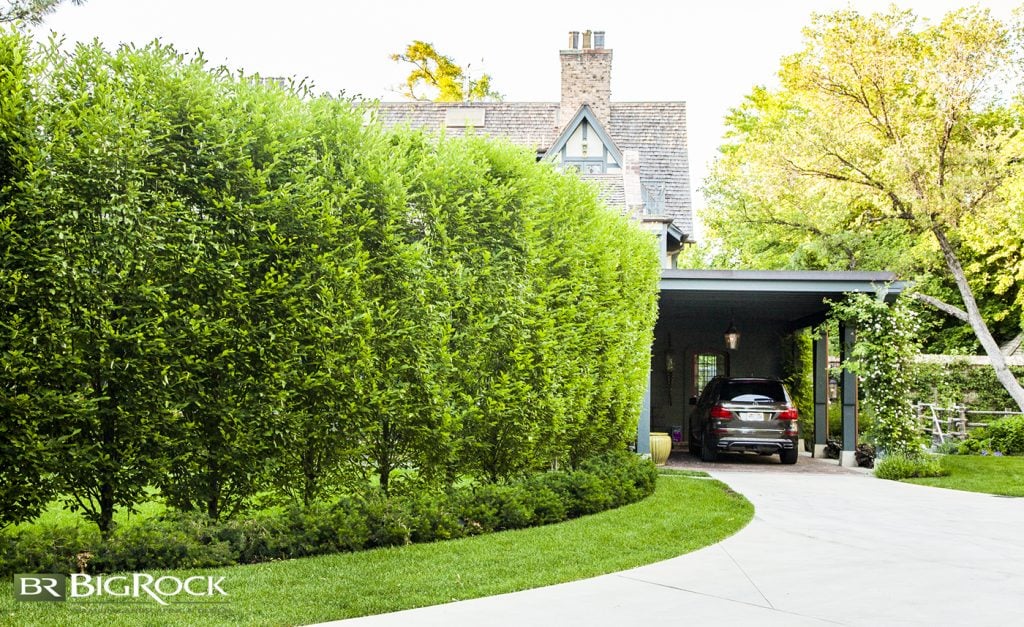 Southern Utah embraces one of the hottest and harshest climates in the state, with large portions of the area classified as 7 and even 8 grow zones. This means that cities like St. George, Utah, experience hot summers, mild winters, less rain, and a long growing season. But not every tree is going to be happy with what sounds like a somewhat idyllic year in the life of plants. Planting trees that need more water to thrive, for instance, is not your best bet if living in the more populous areas of southern Utah.
LEARN MORE: Guide To Utah Landscaping Styles
Northern Utah plant hardiness zones, on the other hand, range from 4 to 6—which can mean anything from drastically cold winters to fairly hot summers, and depending on where exactly you're located, you'll need plants and trees hardy enough to withstand a drastic swing between both. For our purposes, we'll focus on growing zone 6 which will cover plenty of both the Salt Lake and Utah valleys. Luckily, with a fairly mild climate, options for the best trees to plant become pretty plentiful and varied.
To put it simply, plant hardiness zones tell us how cold the minimum winter temperatures are likely to be in any given area of the United States. This is going to directly correlate with which are the best trees for Utah landscaping, often with native trees being your best thrive-for-life options. Tools like this one from Gilmour make it easy to find your zone and learn more about what grows well close to home.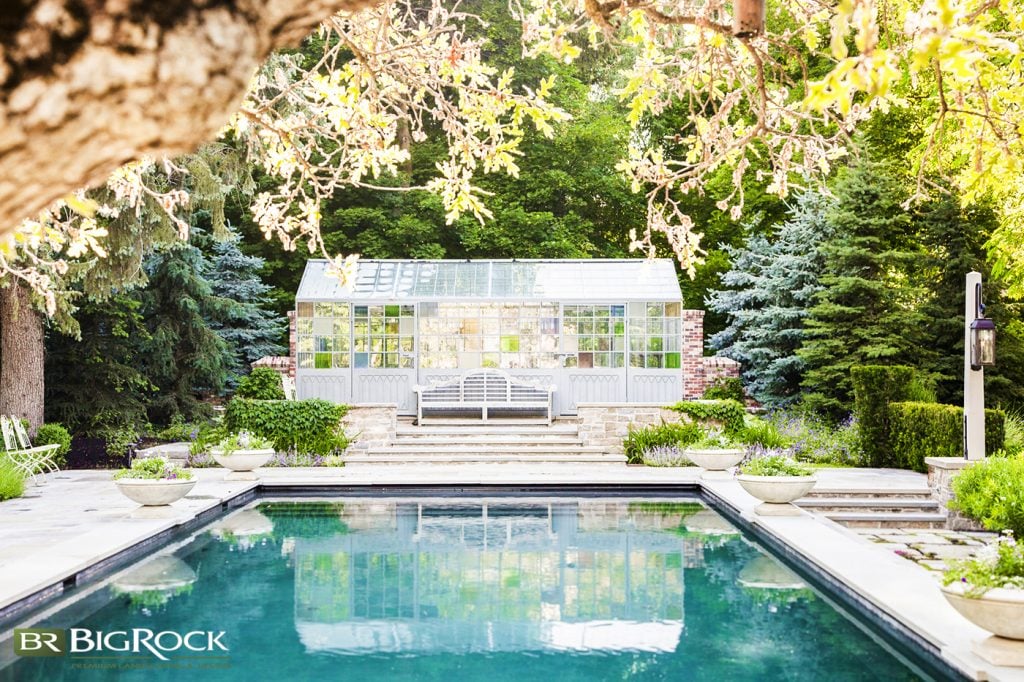 But to simplify things even further for you, let's get into what we've found to be some of the best trees for Utah yards by zone right here.
Best Trees For Utah Yards By Zone
Because of the large variety of zones housed within Utah's state lines, we'll break things down from zone 4 to zone 8, with several varied options on the best trees to plant in your Utah climate.
RELATED: English Garden Landscaping Design Styles
Best Trees For Utah Yards: Zone 4
Native Utah trees make great options for any zone but especially those with somewhat harsher conditions. These trees are made for surviving and thriving in tougher weather and we should look to them as strong foundational staples of Utah landscape design. In zone 4—think northeastern mountainous areas, such as those outside of Logan—that means native Utah trees like the blue spruce (which can withstand temperatures as low as -40℉) and Canada hemlock (amazing for wind and snow blocks) are incredible options that won't falter when the cold comes on in the winter.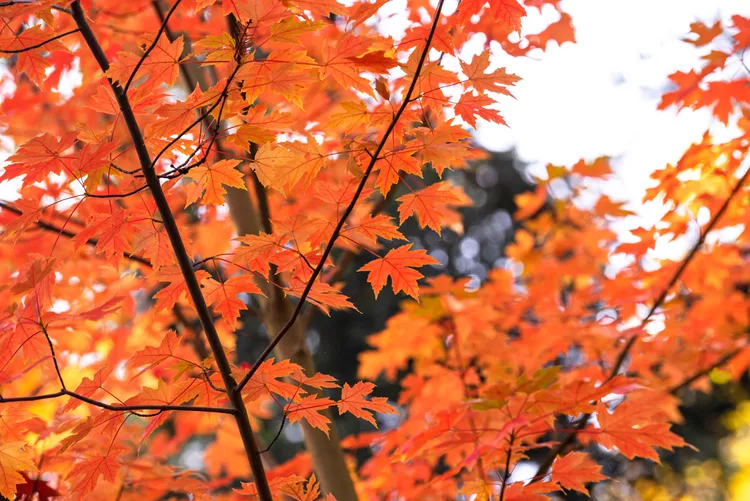 But you don't want to just rely on heavy-lifter evergreens to do all the talking in your northern Utah landscape design. Honeycrisp apple trees are a great, hardy fruit tree to plant in Utah's zone 4, as are the Canada Red Chokecherry and Nova pear. A favorite shade tree for colder northern Utah climate would be an Autumn Blaze Maple tree, which provides plenty of coverage in late spring and through the summer, then turns a brilliant orange in the fall. And if you're looking for something purely decorative, some of the best trees for northern Utah are Japanese Lilac and Serviceberry  —both of which will bring a bit of beauty, color, and sweetness to your yard come springtime.
Best Trees For Utah Yards: Zone 5
Zone 5 in Utah holds plenty of options when it comes to choosing the best trees for your landscaping.
If you're looking for privacy and shade (depending on your yard layout), Emerald Green Arborvitae trees make very neat hedges that don't need trimming and offer more dense foliage than many other evergreens used for privacy fencing. They grow quickly—about 2 feet per year—and top out at around 15 feet high, making them a low-maintenance and worthy element in your landscaping.
An absolute ornamental favorite and a nice tree for northern Utah grow zone 5 is the saucer magnolia tree. It is such a pretty, yet fairly hardy—even come drought time—tree that we can't help but hype it as a great tree for Utah landscaping. Just make sure to prune any additional growing stems to ensure it shapes into tree form as it matures in your yard.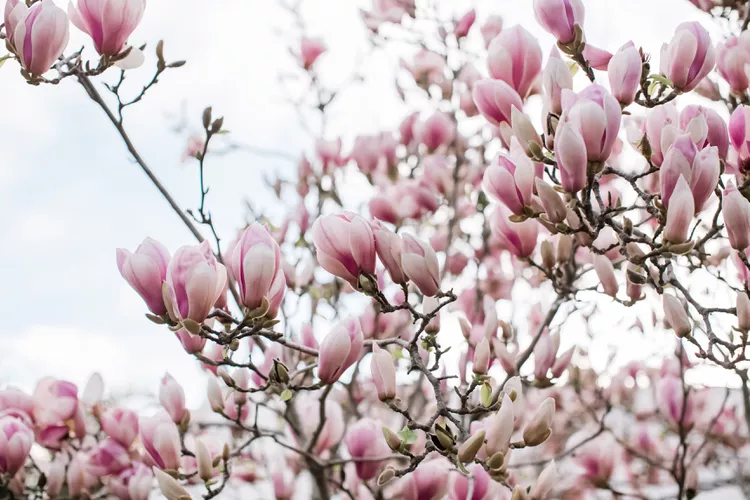 Other trees that will do well in zone 5 of Utah include the American sycamore which does well in essentially any type of soil, Austrian pine which is great at tolerating high winds, and the Elberta peach which will add plenty of sweetness to your yard and diet each summer.
Best Trees For Utah Yards: Zone 6
Much of northern Utah falls into grow zone 6, with a relatively mild climate and fewer worries than more extreme northern or southern climes. This makes finding the best trees to plant for this Utah climate very easy since options become increasingly more broad and diverse. This is a zone where fruit trees do very well (as evidenced by Utah's famous Fruit Way near Brigham City) so if you're looking for trees that produce edibles as well as look great, this is a great way to go in planting zone 6. Think apples, peaches, plums, and cherries.
DISCOVER: Our Favorite Landscaping Design Styles For Utah
Some of our favorite—and really great-looking—trees for this part of northern Utah include the Zelkova City Sprite (gorgeous yellow in the fall, tidy growth, and low maintenance), the American sycamore (one of those incredible heirloom-feelings trees that your grandkids will play under someday, plus the bark is gorgeous), and the classic weeping willow which creates something of a secret-garden effect even in a wide open yard.
But let's talk smaller, more decorative trees for Utah landscaping in zone 6. One favorite is the Royal Purple Smoke tree because it has such a unique flair. But we also really love the Eastern Redbud, and for obvious reasons. Not only does the pop of vibrant pink bring life to any yard, but it is a surprisingly strong tree, resisting ice damage and handling almost any type of soil you plant it in.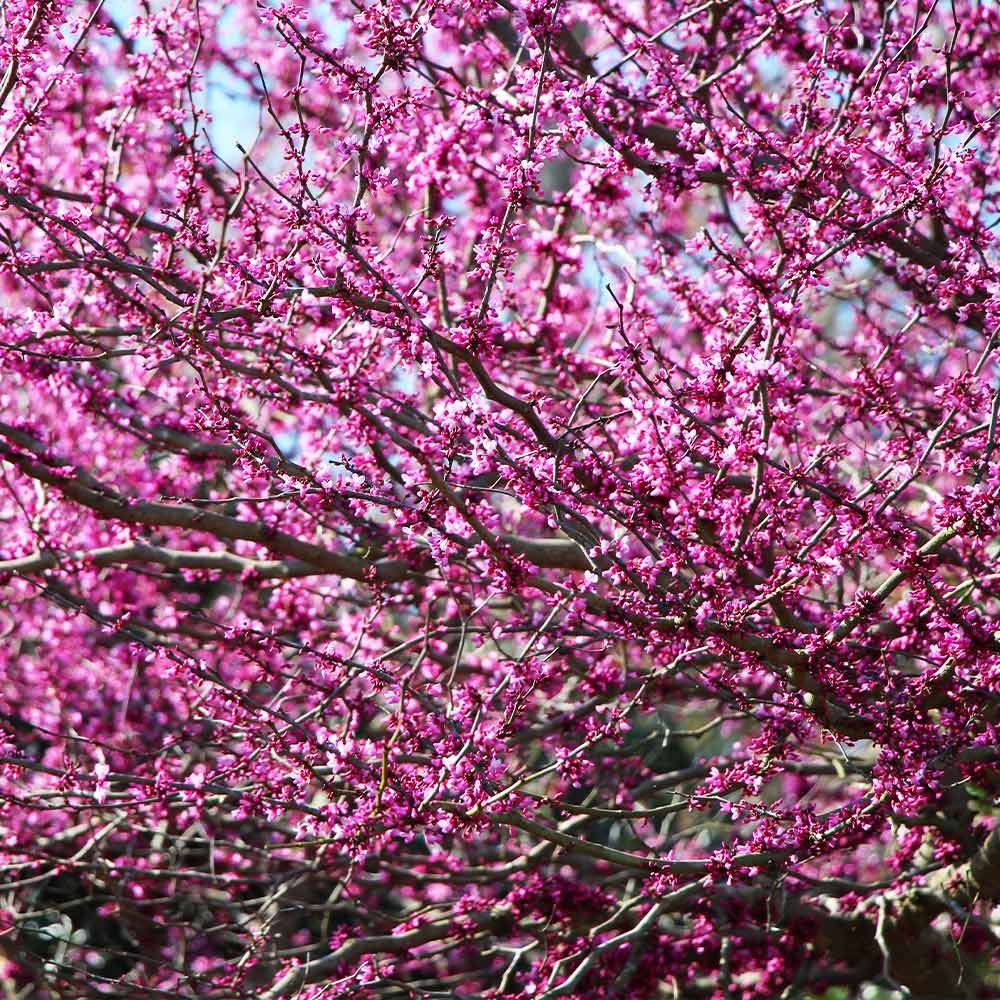 And if you want to add some native Utah trees to the mix in zone 6, you can opt for a large cottonwood, a few smaller aspen, or a bigtooth maple for a classic, domestic landscaping design.
Best Trees For Utah Yards: Zone 7
By the time you get to a zone 7 area, you're looking at hotter weather that can support trees that lend themselves to more tropical or desert climates. But that doesn't mean more traditional trees won't work for your yard either. Some of the best trees for southern Utah can include conventional or common trees that work in a wide variety of growing conditions.
Because of the hotter weather, we love a good shade tree for zone 7 landscaping. Imagine a large American elm growing up to 60 feet tall and spreading its extensive canopy across your property to provide abundant protection on hot days. They're beautiful, have interesting bark patterns, and when cared for properly (its roots will appreciate some mulch coverage year-round) will happily and healthily grow for decades.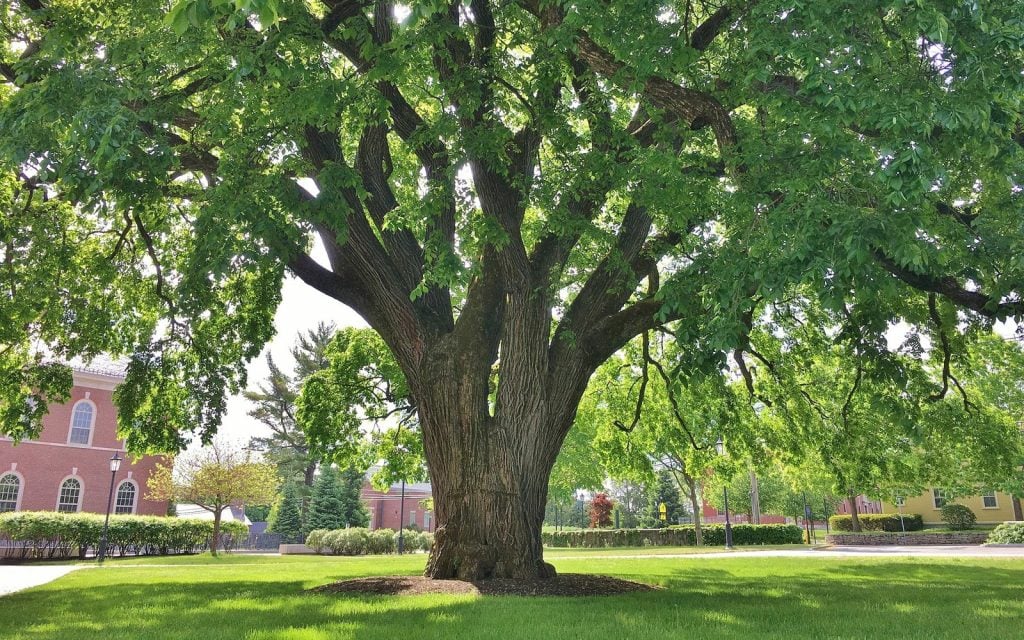 Evergreens are also great options to add shade, color, and life to a yard all year long in grow zone 7 climates. Consider junipers or cypress varieties for windbreaks, shade, and wildlife habitats and enjoy their relatively low-maintenance, low-water needs.
And lest you think your part of Utah is too hot to support fruit-bearing trees, let us assure you that a diverse lineup of stone fruit trees like cherries, apricots, and peaches can also grow and produce bountifully in southern parts of the state.
Best Trees For Utah Yards: Zone 8
Zone 8 is admittedly the most difficult zone to plant trees in unless you're aiming for a more xeriscaped landscape design. Native trees for Utah are going to perform best in this high-heat grow zone, without a doubt. Rocky Mountain juniper and Gambel oak are longtime Utah thrivers, and you could also consider a Patmore Green Ash tree which is incredibly strong, disease-resistant, and offers a sheath of vibrant yellow foliage as summer turns to fall.
One fun option for a unique-looking tree that will grow well in southern Utah is the Monkey Puzzle tree. From afar, it can look like a unique fir, but closer up each limb actually resembles an elongated and spiky succulent. This is an ancient tree, native to South America, but with plenty of space and sunshine, these funky trees will perform well in our home state—and be a great neighborhood talking point.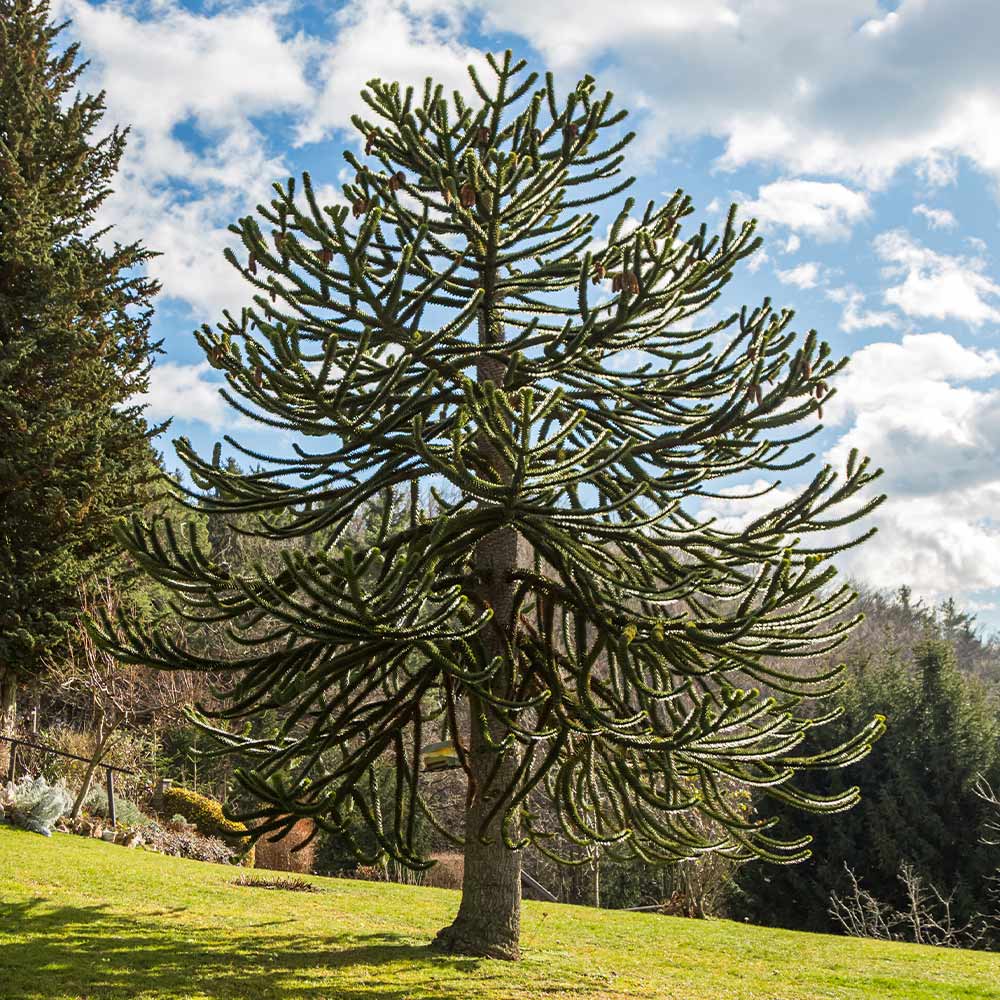 Other Ideal Tree Options For Utah Yards
Modern botany, irrigation methods, and general landscape know-how have made it so that designing a beautiful landscape full of the best trees for Utah yards is fairly simple. As with all plant life, you want to start by figuring out your grown zone and then taking a closer look at your home's growing conditions.
Before choosing the best trees to plant in your Utah climate, ask yourself:
Will my soil support this kind of tree well?

Does planting in this area leave enough space for other plant life and human activity in the yard?

What are the sun and shade patterns in my yard throughout the day? Is there enough light to help my tree grow properly?

Am I willing to put in the type of work the trees I want to grow require, RE: watering, pruning, winterizing, etc.?

Do I have the resources I'll need to care for my trees properly? Think about pruning shears, water availability for less drought-resistant tree varieties, and more.

Are there special conditions in my yard to consider? Things like wind, power lines, nearby homes, etc. are all things to observe and examine before planting.
Answering these questions will help guide your approach to finding the best trees for your Utah landscaping. And remember, while choosing native Utah trees is always a good place to start, your options are certainly not limited when it comes to a great variety of trees. Whether you're looking for the best shade trees, unique eye-catching trees, privacy or wind barriers, fruit-bearing trees, or more, there are literally hundreds of tree species out there waiting for you.
Best Trees For Utah By Utah's Best Landscapers
Trees are one of the most impactful parts of landscape design and shouldn't be left as a half-researched or last-resort decision. There's no need to settle for a tree in your landscape design that doesn't serve a great purpose—whether it's aesthetically or functionally.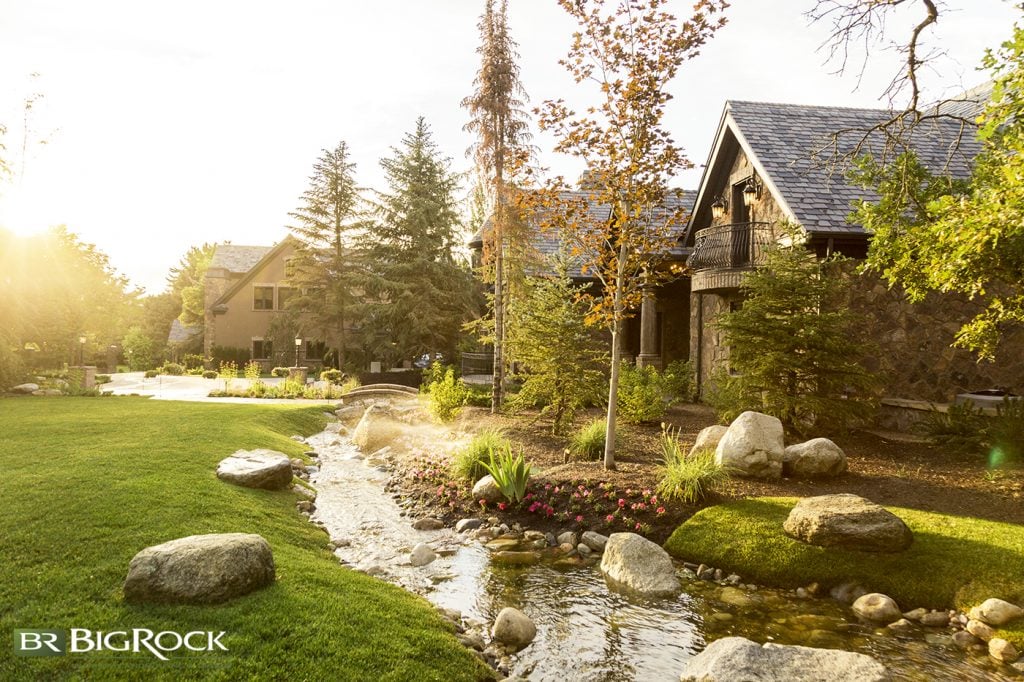 If you're ever in doubt about which kinds of trees will work best in your area and with your preferred style of landscaping, consulting a professional landscaping company is a great place to get started. Big Rock Landscaping has the depth and breadth of knowledge you need to ensure you pick the best trees for your Utah yard, along with anything else you want to see come to life in your landscaping!
Let us not only help you choose the best trees for your Utah climate zone but for you and your family to love for years to come. Contact Big Rock Landscaping to get started today!