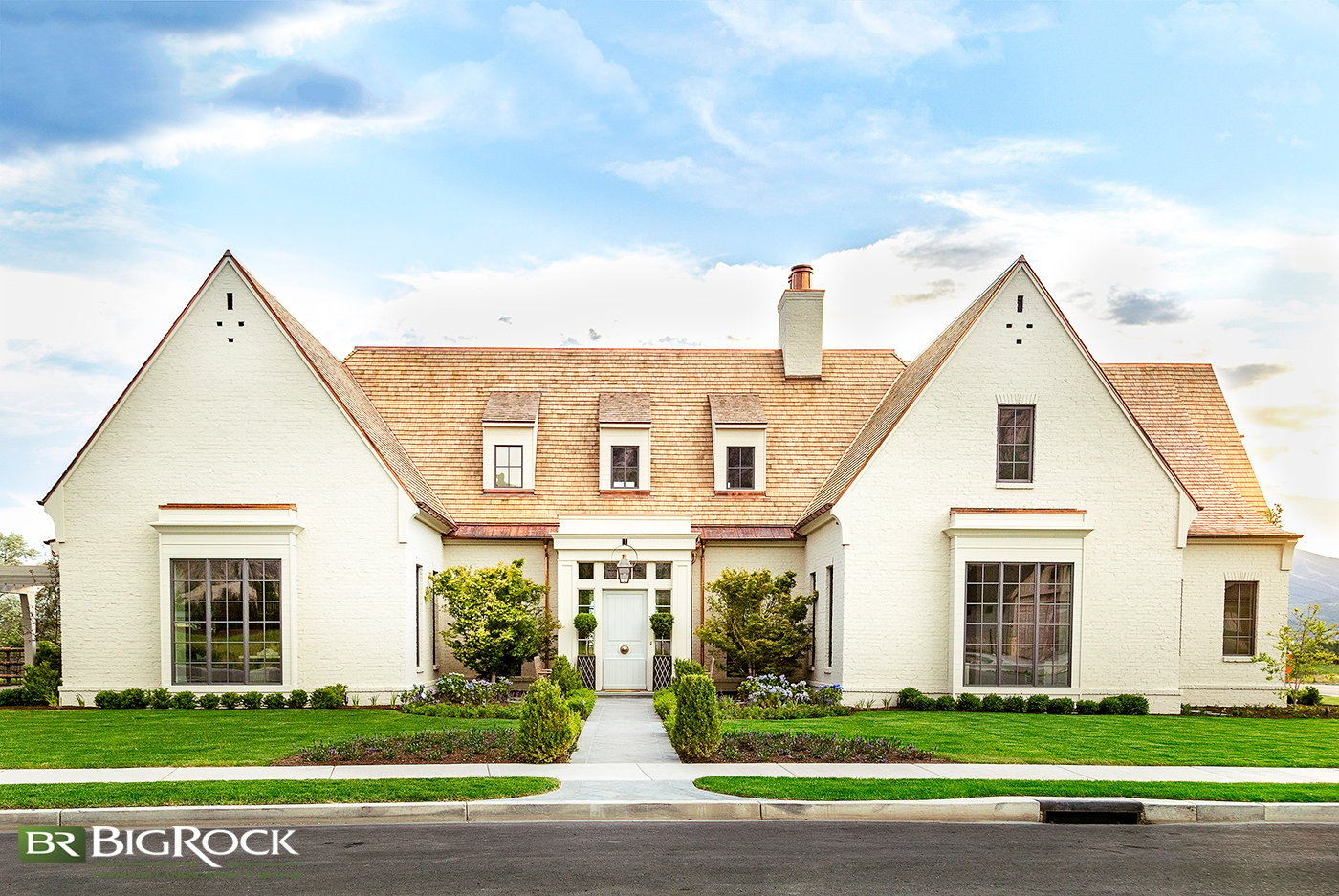 Our Favorite Landscaping Design Styles for Your Utah Home
Does anyone really want to "keep up with the Joneses" anymore? It seems like nowadays doing your own thing is the better option. Believe it or not, that applies to your Utah landscaping too. No one wants their yard to be "cookie cutter" or the same as the whole neighborhood. But how do you make it stand out in all the best ways? And what are the best landscape design styles for Utah? We'll walk you through the five best landscape design styles, and show you how to incorporate them into your yard.
5 Landscaping Design Styles For Your Utah Home
We obviously have lots of thoughts and ideas about landscape design. When it comes to landscaping design styles for Utah, we're going to talk about five main types.  They are Xeriscaping or desert landscaping, garden design (which is sometimes called English garden landscaping), mountain landscaping, contemporary landscaping, and farmhouse landscaping. Each of these has a unique and distinct style, and they all work well in Utah. We'll show you some examples of each, but if you'd like to get more inspiration for summer landscaping projects, you can find it here.
Xeriscaping
One of the most perfect landscape design styles for Utah is xeriscaping. This style makes sense because Utah regularly faces water shortages, and this type of landscaping is water wise. When people think about xeriscaping, they tend to have an image of a yard full of rocks and cacti. While that's one way of doing it, there are so many other ways to use bark, rock, and other hardscape and softscape materials to conserve water in Utah while still having a beautiful yard.
Even though there aren't many plants in this yard, the use of bark, boulders, and strategically placed pavers add visual interest and make it look beautiful.
The varied elevation of this yard combined with boulders, rocks and native plants and trees is anything but brutal and boring. Xeriscaping doesn't have to mean barren. This low-water yard landscape is vibrant and beautiful during the hottest days of the Utah summer.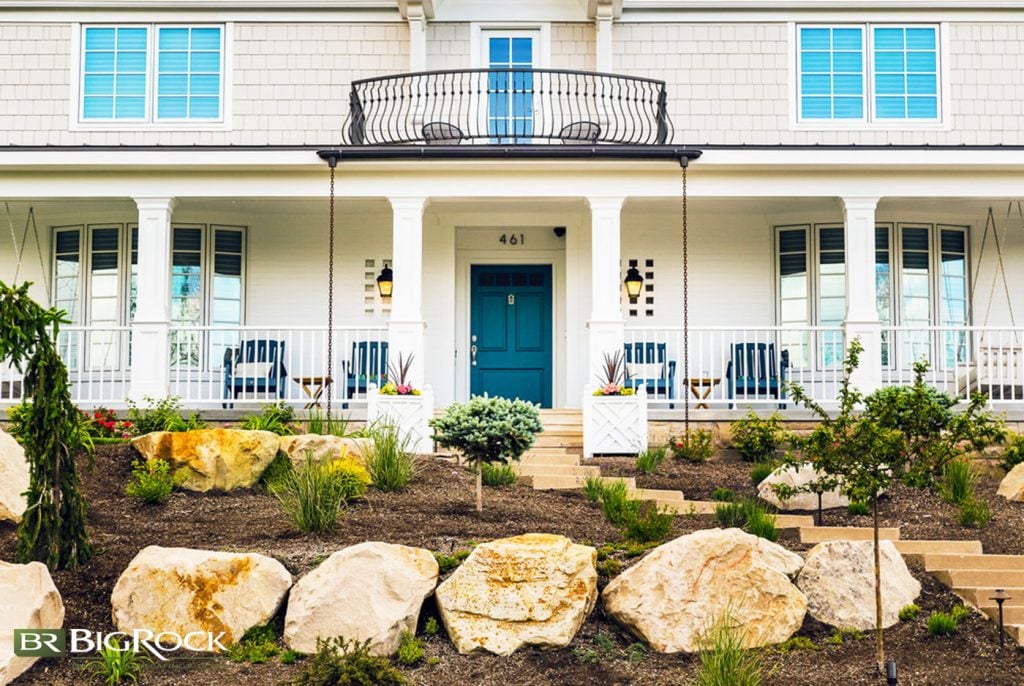 They say you should go big or go home. Well, this Utah home went big. The entire front yard is xeriscaped, but there isn't a cactus in sight. We brought together elements not typically associated with xeriscaping and created a beautiful low maintenance, water-conscious yard.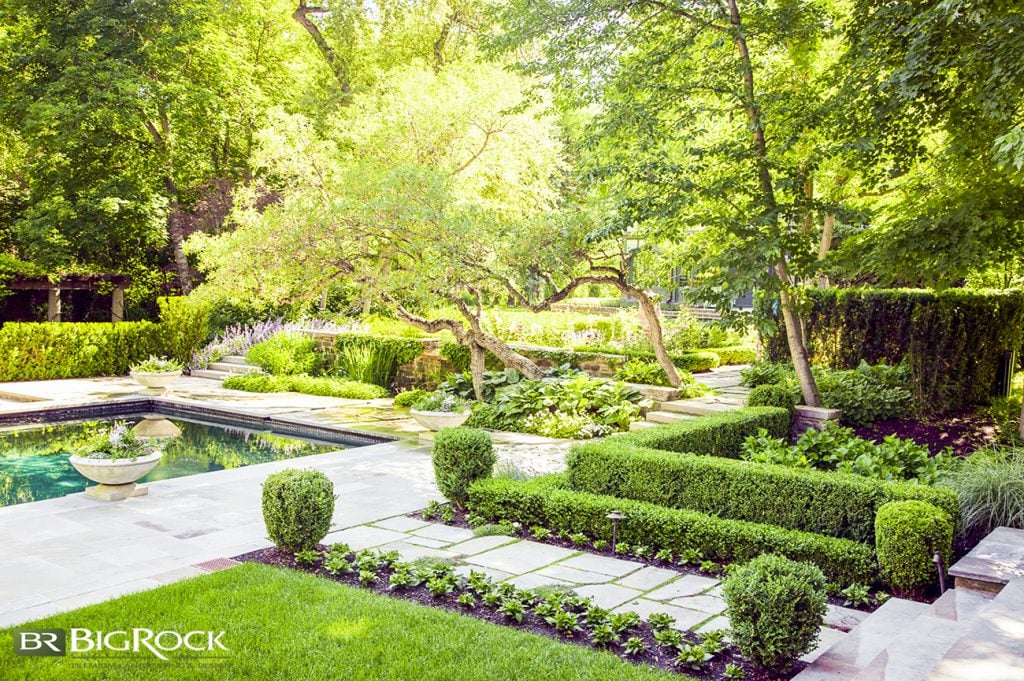 Garden Design
There are a lot of different names for this style of landscape design. Most commonly it is referred to as English cottage garden or English country garden landscaping. No matter what you call it, this Utah landscaping design style is unique and certain to draw attention in all the best ways. Garden design landscaping is easy to recognize because it resembles the lush, well-kept gardens found in England (hence the other names for it). While this style tends to be a bit higher maintenance, it is worth every ounce of extra effort.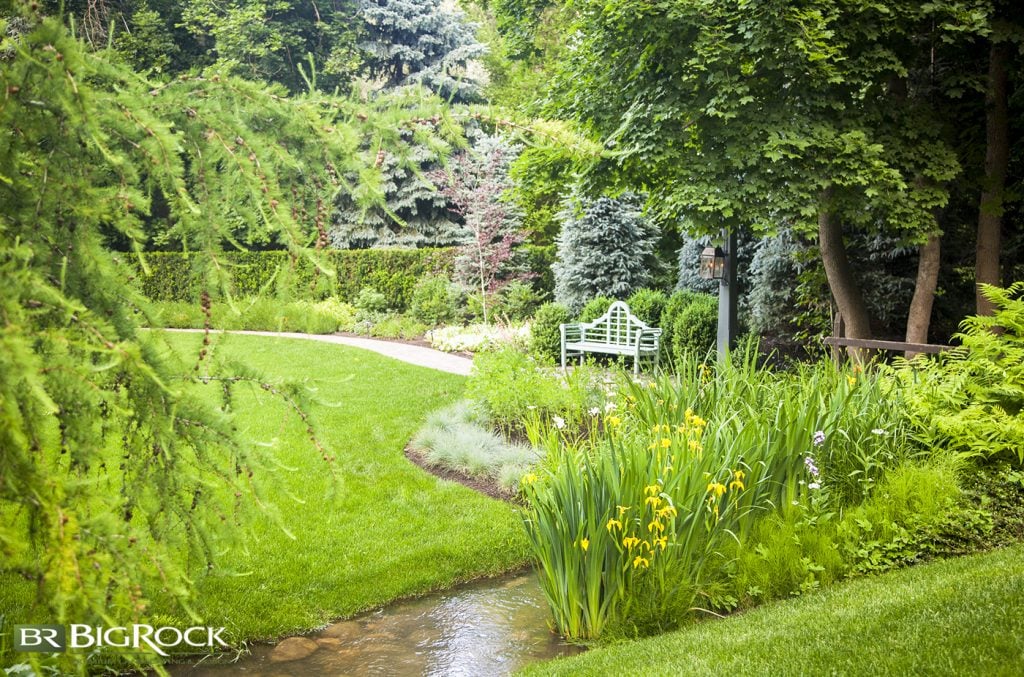 The stream, the lampost, the charming footpath, and the lush greenery in this backyard will make you wonder if you're still in Utah. These elements come together beautifully to create a dreamy oasis.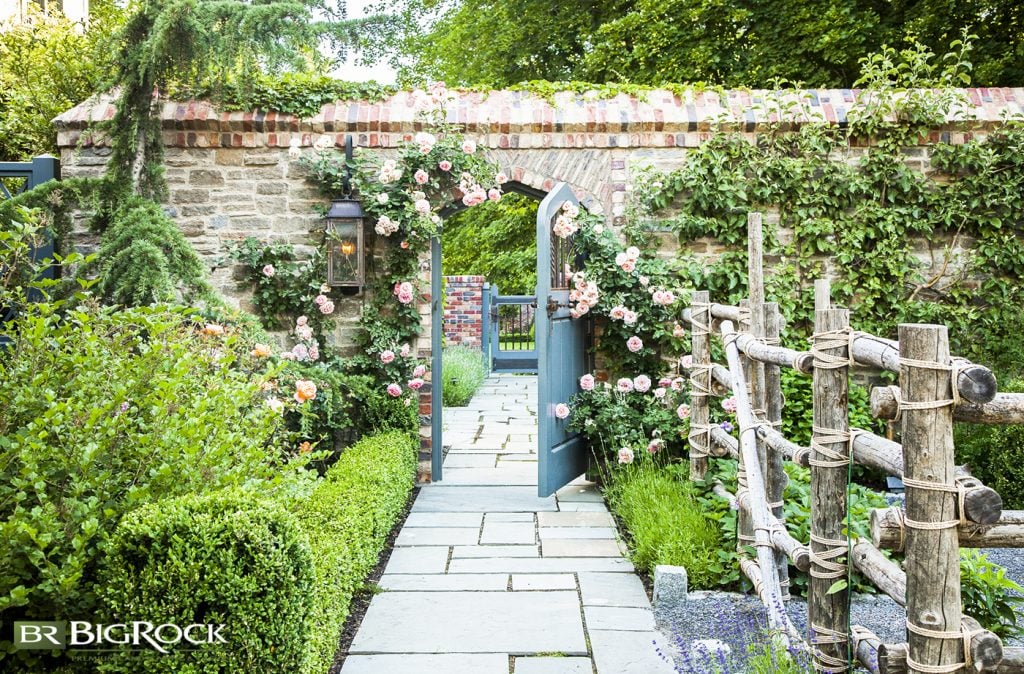 If you fancy taking a turn around the garden with your callers, then this is the place. The hedges, lantern lights, rose-covered gates provide the perfect place to wander, admire, or dream.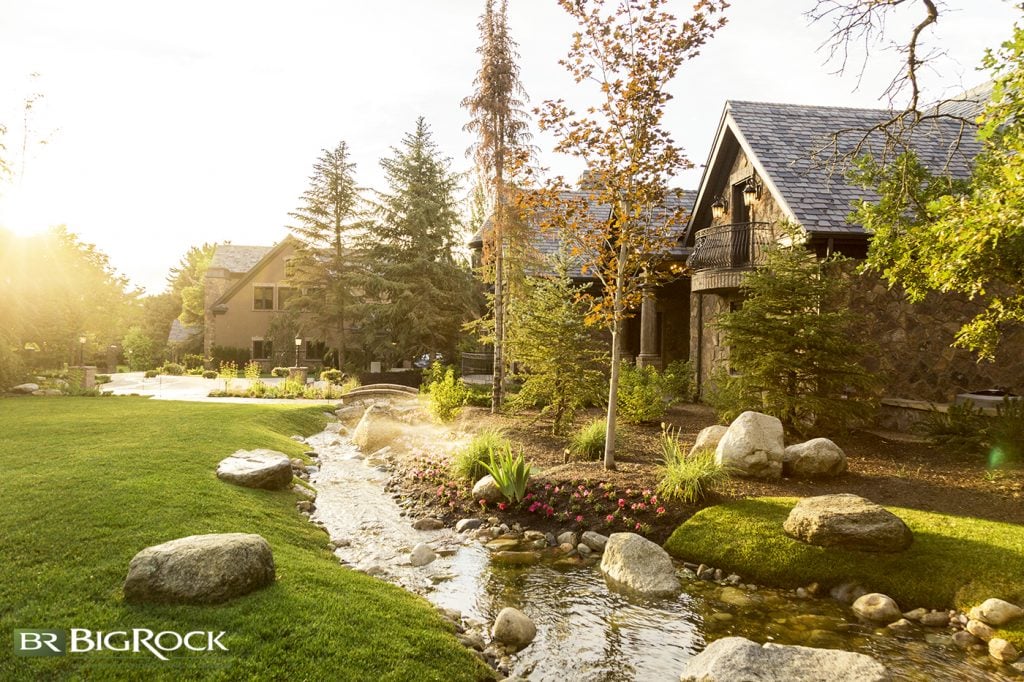 Mountain Landscaping
Since the Wasatch Front and Wasatch Back areas of Utah sit on or close to the mountains, it only makes sense to include the mountain theme in our list of Utah landscaping design styles. This style uses natural elements to create a rustic woodsy feel, even if you live in the valley.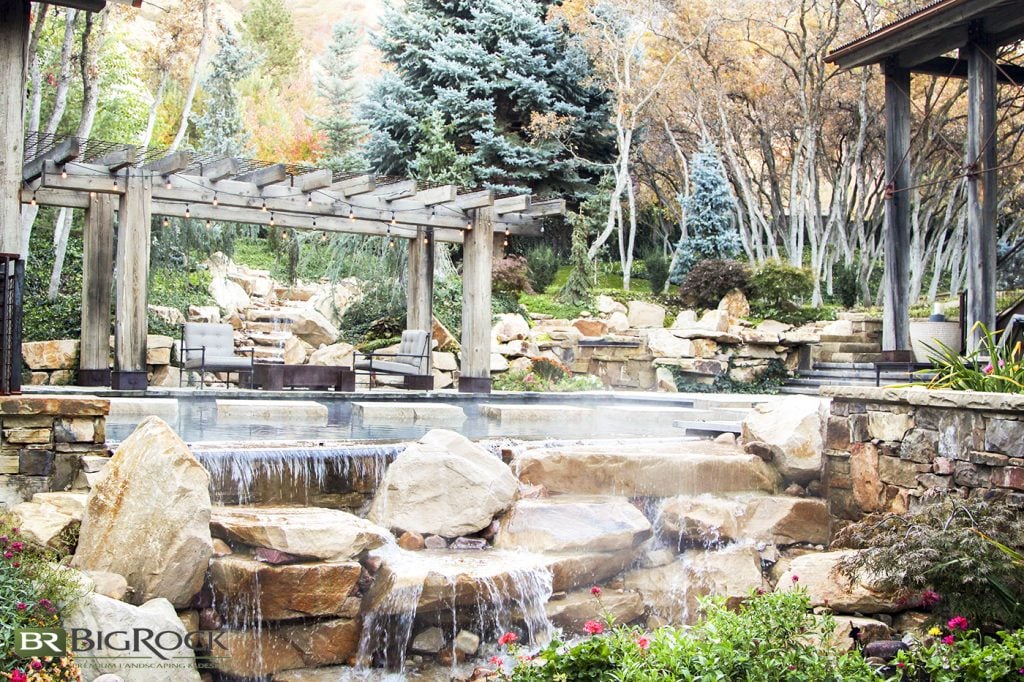 This fire feature is one you don't see every day. It gives the appearance of being wild and really ups the wilderness factor in this yard.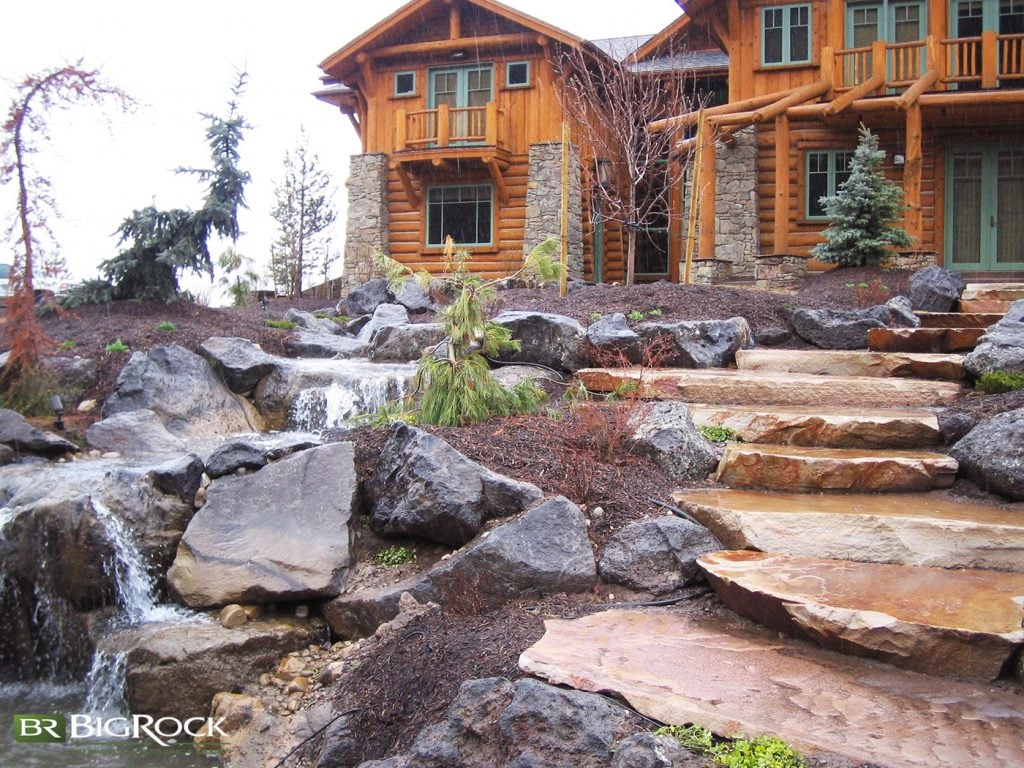 Water features are always a big hit, and this one was inspired by the log-cabin exterior of the home. It is carefully designed to give the appearance of a natural stream outdoors. When paired with the flagstone steps, visitors will feel like they're going for a leisurely hike as they make their way to the front door.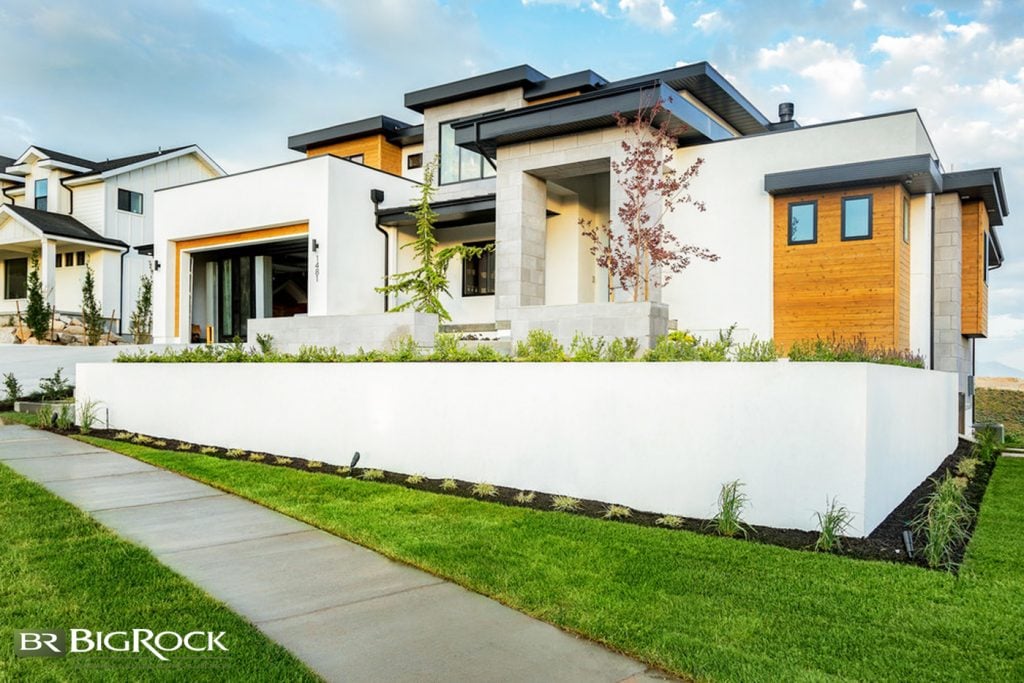 Contemporary
It's easy to spot a contemporary design when you're looking at sofas, but it can be harder to discern when you're talking about landscaping design styles. In general, a contemporary design incorporates current trends with a bit of a futuristic twist. In the landscaping world, it also involves lots of bark, wood, and grasses with sleek and clean lines.
The clean lines and wood frames on the outdoor furniture mirror the lines and wood on the home's deck. The horizontal slatted wood fence on a white stucco base, mixed with a variety of plants round out the look.
DISCOVER: Our Luxury Landscaping Portfolio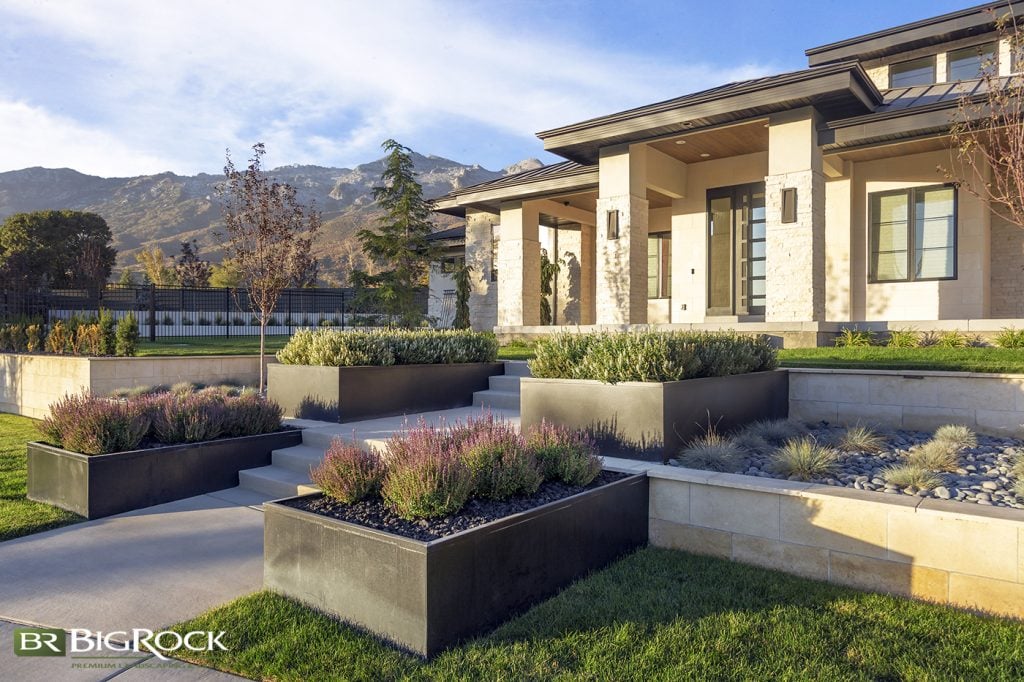 This large front yard is broken up with symmetrical hardscape planters in various materials—metal paired with stone work to hold low-water plants and succulents as the approach to this modern home.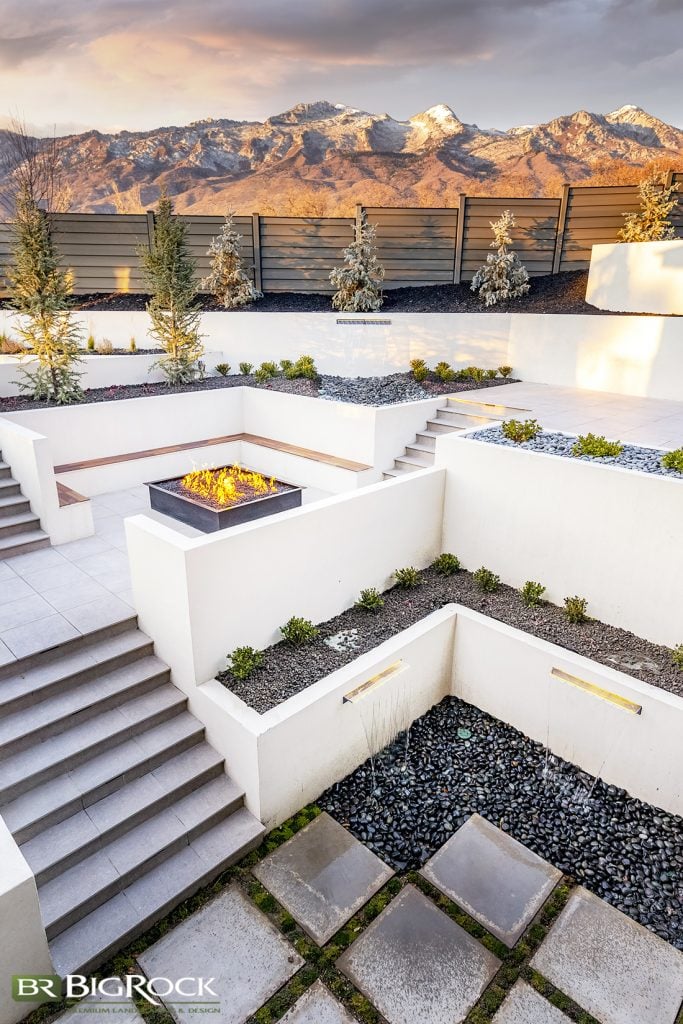 Hillside backyards are a fantastic opportunity to create outdoor "rooms" that allow us to include a variety of outdoor elements like firepaces, seating, water features, and creative lighting solutions that give this modern home interest and depth.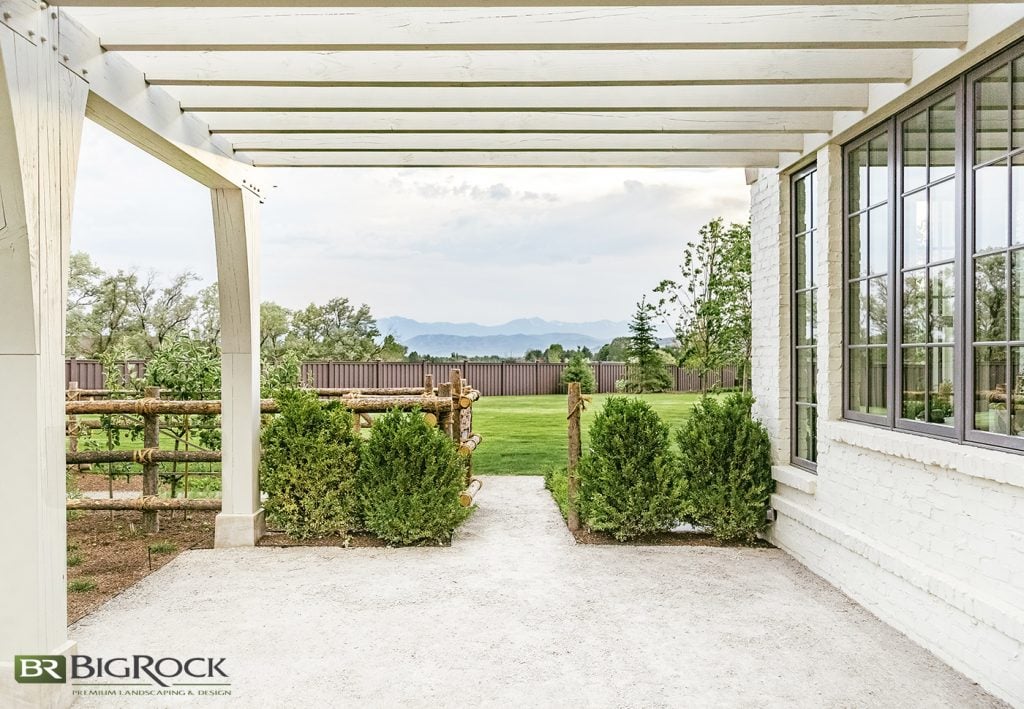 Farmhouse
Just like a real farm would, a farmhouse landscaping style makes use of natural elements like wood, stone, and flowers. It has a more casual and relaxed feel. Ultimately it should conjure up thoughts of a slower lifestyle and provide a cozy place to relax and visit.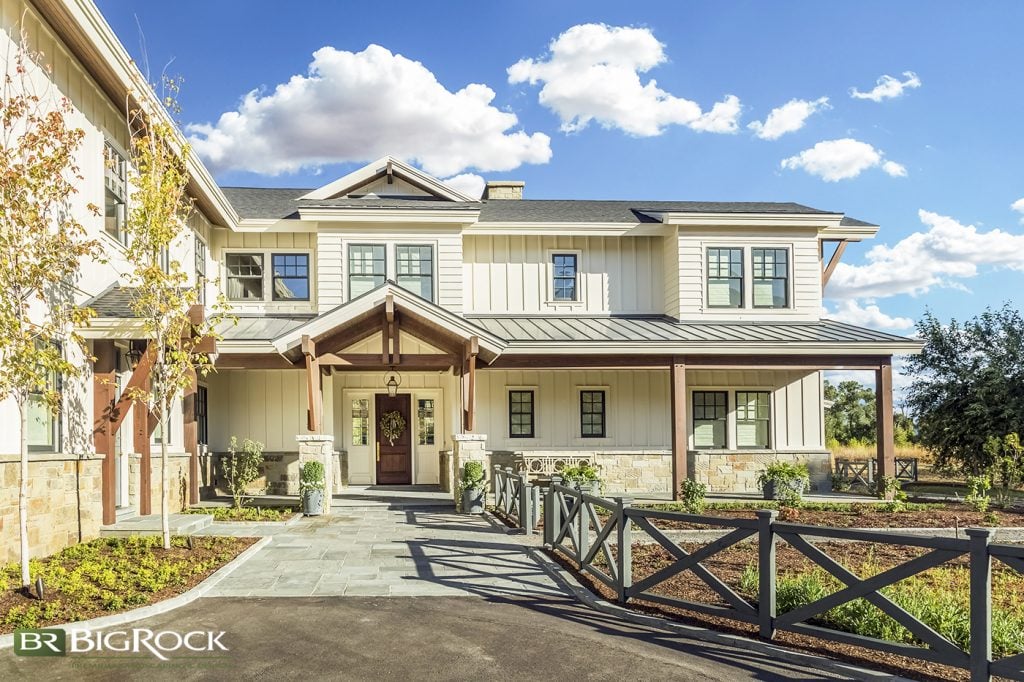 Who needs a white picket fence when you can have a fence like this? With a decorative X pattern and adorable gate, it looks like all that's missing is the barnyard animals.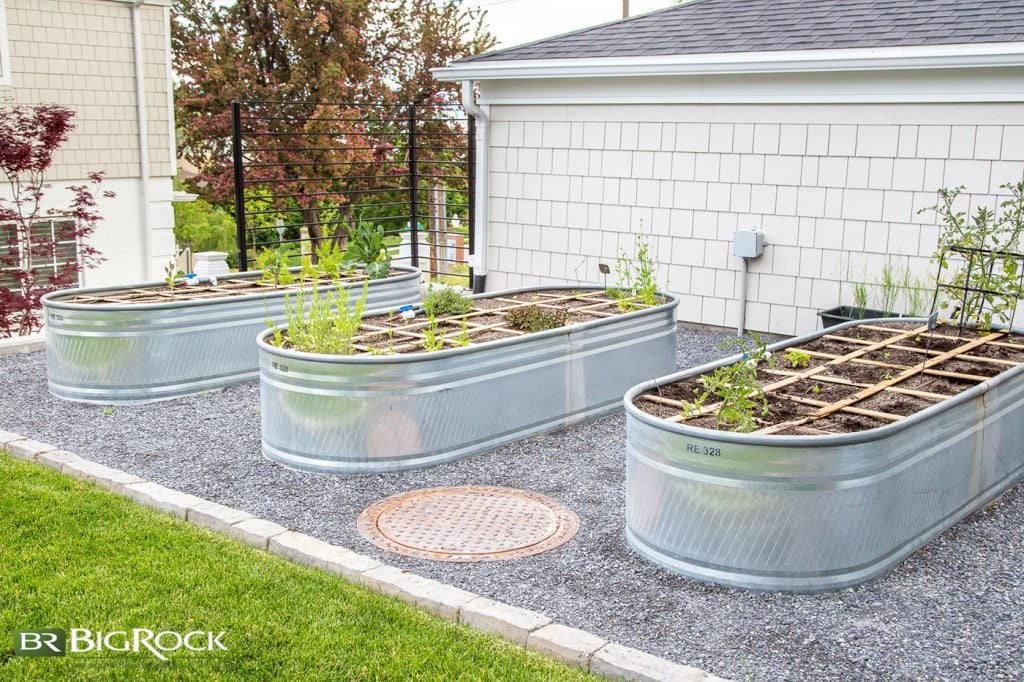 These aren't your typical raised planter beds. The galvanized steel surrounds create a true farmhouse style in the middle of Utah suburbia.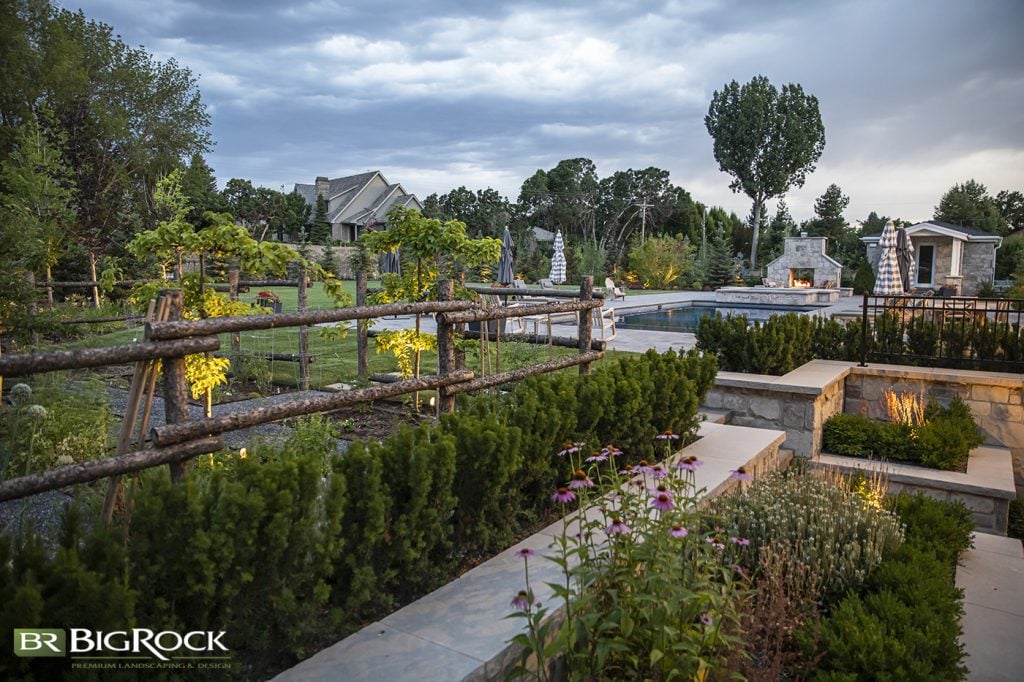 This log fence gives us farmhouse landscaping feelings. When paired with wildflowers and a pretty garden, it's a great place to sit a spell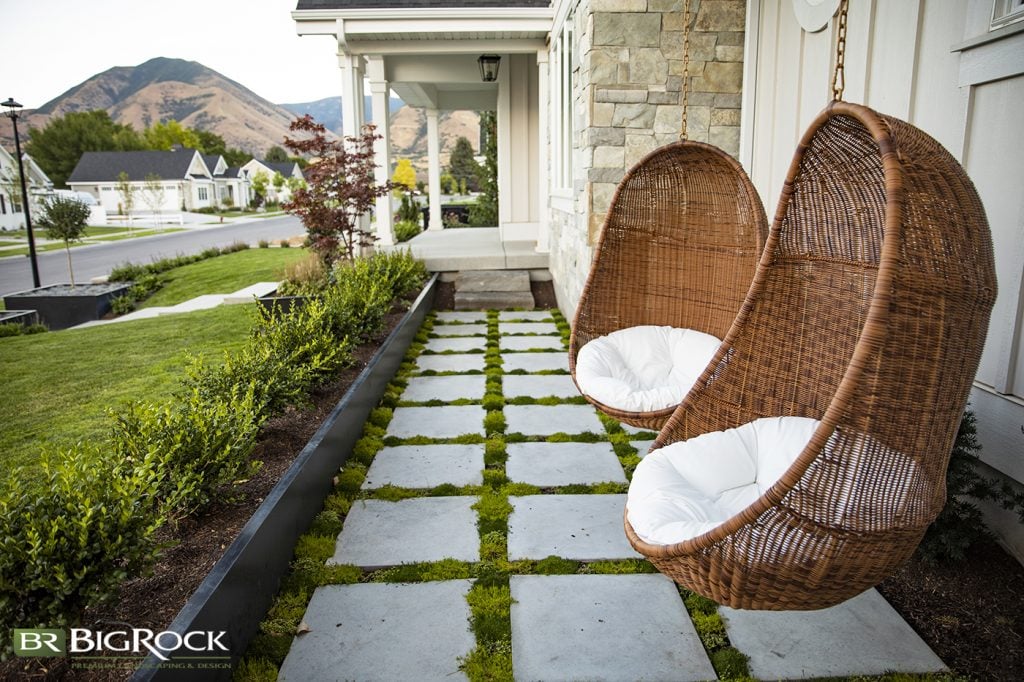 Oh sure, a porch swing would be expected, but these hanging chairs give big "modern farmhouse" vibes. Don't be afraid to put your own creative twist on this cozy style. 
RELATED: Award-Winning Landscape Design Ideas
Get Help Finding Your Landscaping Design Style
These are a few of the best landscape design styles for Utah. You can see more examples of styles that work well by checking out the Big Rock Landscaping portfolio. And if you'd like help finding your style, planning your outdoor space, or creating your dream yard, get in touch with us. We would love to help you find the perfect landscaping style to make your yard stand out.