Xeriscaping Landscaping Ideas You're Going To Love
So you're considering new landscaping with xeriscaping design? Well, you're not alone! The last few years have seen a massive increase in Utah xeriscaping for many reasons and we are totally on board! Xeriscaping design ideas fall into some of the best landscaping design styles and Big Rock Landscaping is here to show you what xeriscaping is, what it could look like in your yard, the benefits of xeriscaping, plus our favorite design tips and actual xeriscaped yards you're going to love!
What Is Xeriscaping?
Xeriscaping, by definition, is landscaping that requires little to no irrigation. But don't mistake that for zeroscaping! While zeroscaping is recognized for its use of plenty of rock and dirt with few plants (if any), xeriscaping utilizes plenty of native or drought-tolerant plants to ensure a healthy, dynamic, and beautiful landscape with very little maintenance required.
The term "xeriscape" was actually coined by Denver, Colorado's water department in 1981 during a period of intense drought. They use the term to refer to landscape design that veered away from grass yards and focused on native and drought-tolerant plants in order to conserve water while maintaining an aesthetically pleasing design. The trend has grown as homeowners realize that they can reduce water usage—not to mention landscape maintenance—by as much as 60%!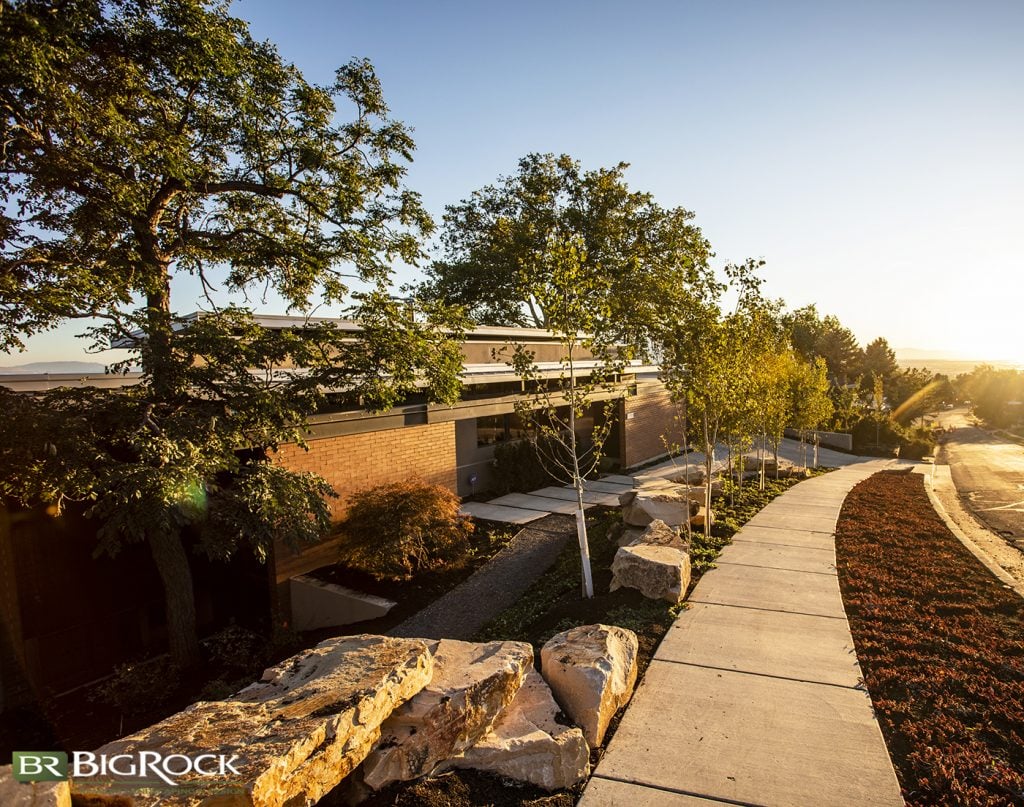 A xeriscaped yard can come in many shapes, sizes, and varieties, so don't think that if you want a xeriscaped landscape style you're stuck with the exact plants or layout as anyone else. Just as Utah's natural landscape is incredibly diverse, so too can your Utah xeriscaped yard! Though you will likely be veering away from the typical green lawn, you'll find that your yard can become a beautiful focal point in the neighborhood with just as much to enjoy.
Features Of A Xeriscaped Yard
A xeriscaped yard will combine several features to create a unified yet diverse landscape design. First will come the drought-tolerant plant selection. There are literally hundreds of native and adapted plants that will thrive in a Utah xeriscape design, including grasses, flowers, shrubs, and trees. Creating a layout that groups plants with similar water needs while still catering to aesthetic "rules" for varying heights, colors, and textures will be incredibly important for the health and longevity of your landscape, as well as the aesthetics. The efficiency of irrigation is key to water conservation as well as ease of maintenance—two vital pieces of the xeriscaping puzzle.
LEARN MORE: Xeriscaping Ideas For Your Utah Home
Another feature you'll notice as part of a well-xeriscaped yard is mulch. Mulching is an important way to cut down on water usage and best care for the plants you do want in your xeriscape design. Using wood chips to cover the soil surrounding your native plant selection will help protect roots from both hot and cold weather, as well as retain moisture in the soil. And speaking of soil—you'll want to decide whether to amend the plants you choose to your soil type or the other way around. Some native plants are happy in rocky, unfertilized soil, while others will need a little more help to survive. Adding a layer of compost to your soil can help ensure non-native plants do better in xeriscaped landscapes.
You'll also notice a fair amount of natural stone or hardscaping in xeriscaped yards, depending on the style being executed. One of the keys to xeriscape design is to ensure that your outdoor space is still inviting and functional, even without the yard that most people are used to. That means implementing stone, rock filler, pavers, and poured concrete as pathways, stairways, ground cover, benches, patios, planters, minimalist water features, and other striking design elements.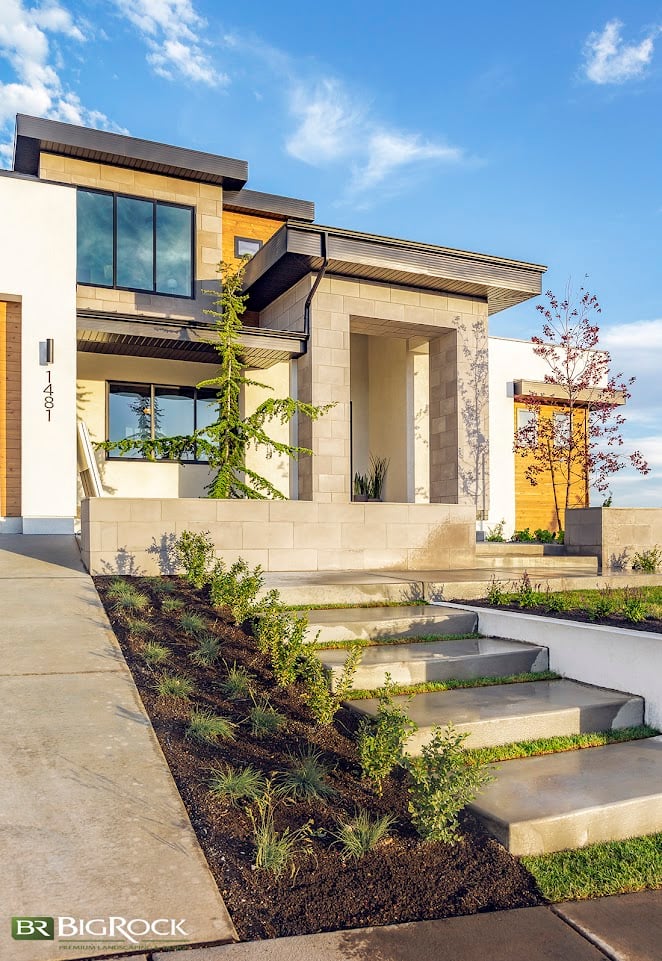 Efficient irrigation systems are one of the most vital parts of xeriscaping design. You want to cut down on water usage while ensuring that your efforts are kept to a minimum as you maintain the health of your yard. This often means having a drip irrigation system installed with an automated timer. This helps to apply water slowly and soak in deeply rather than evaporating off in high heat conditions. You can also supplement this by hand watering depending on the varieties of plants chosen for your xeriscape design and where they are located in your yard.
All of these elements are key xeriscaping design principles and low-maintenance strategies that will help you successfully implement and sustain your Utah xeriscaping.
Benefits Of A Xeriscaped Yard
The benefits of xeriscaping are extensive and may actually surprise you. From water conservation to increased property value, xeriscaping your yard will have a significant impact on many parts of your lifestyle.
Xeriscaping conserves water. Irrigating a xeriscaped landscape will mean using a system that prioritizes deep and infrequent watering sessions to really soak your plants, much like what would happen in nature. This trains roots to dig deep and not only withstand harsh weather conditions but retain the water that is available to them. In drought conditions or out, this can drastically reduce your water usage which will not only do wonders for the environment, but your budget as well.
RELATED: Our Favorite Landscaping Design Styles For Utah
Xeriscaping results in long-term savings. Even if we disregard the immediate savings you can enjoy by investing in native (not exotic) plants and trees, you can be sure that xeriscaping is going to save you money in the long run. If you really do cut your water usage by even 50% because of a xeriscaping yard design, imagine how quickly you'll pay off your beautiful new landscape and be able to invest in other important areas of your lifestyle!
Xeriscaping has a positive environmental impact. Xeriscaping was created by people looking to take care of the land and conserve water in an impactful way. Many native Utah xeriscaping plants make excellent habitats for wildlife, aid in erosion control, and can even help with pest control—to say nothing of the water conservation already discussed.
Xeriscaping makes your yard drought resistant. Like it or not, living in certain parts of Utah often means scorching summers with too little water to go around. Having a drought-resistant xeriscaped yard design is going to help protect your landscaping investment by ensuring that plants can not only withstand but thrive in the local environment. Being able to enjoy your yard year-round is a no-brainer, and xeriscaping can help make that a reality.
Xeriscaping can increase your property value. If done the right way, xeriscaping design can actually increase your property value. Some experts say that a well-planned and well-cared-for landscape design can increase your property value by as much as 10%! Add into that equation the decreased energy and water demanded by yard maintenance and you're looking at an added value anyone will be able to appreciate.
Xeriscaping has a naturally beautiful look. While we've been trained to love the look and feel of a lush lawn—and there's nothing wrong with that!—we recognize that a naturally breathtaking xeriscaping design is equally as aesthetically pleasing, albeit in a different way. It may take some getting used to, but the many colors, textures, and varieties of grasses, flowers, and shrubs that grow in our native state can bring visual excitement and beauty to your home.
DISCOVER: Guide To Utah Landscaping Styles
Design Tips For Creating Xeriscaped Design
Ready for Big Rock's tips for xeriscaping? It's likely that you're going to be hiring a professional to design and install your xeriscaping landscape design, but there are some things anyone can do and plan on doing in order to enjoy the most success with your upcoming yard project.
Assess Your Yard Conditions
Check what kind of soil you're working with so you can figure out which plants will be happiest and where. This will set the foundation for your design and help you stay realistic about which plants to choose or how to amend your soil in case you have your heart set on something a little different. You'll also want to see where the sun and shade are throughout the day and even observe wind patterns throughout your yard.
Plan Your Watering Zones
As we mentioned earlier, grouping certain plants together in terms of how much water each will need is key to the optimal health of your xeriscaping design as well as your water conservation efforts. Part of the watering zone planning process also includes laying out your irrigation system and educating yourself on how to appropriately water your xeriscaping plants.
Select The Right Drought-Tolerant Plants For Your Area
Once you've figured out what type of plants to purchase and where they'll need to fit on your property, selecting individual elements of groundcover, shrubbery, flowers, and trees will be one of the most fun parts of xeriscaping design. Make sure to stick to what's going to thrive in your area, but have fun with color, texture, sizes, and even smells for a dynamic and interesting yard scape.
Incorporate Hardscaping Elements
Another fun part of planning your xeriscape design is incorporating hardscaping elements. These can come in more natural forms: large stone retaining walls, pebble pathways, or beautifully poured concrete benches or firepits. Remember, the more hardscaping you have, the less watering you'll do. And don't be afraid to really embrace these non-living elements—they can often increase the functionality of your space rather than reduce it.
Create Areas of Visual Interest
As with any landscape design, one of our tips for xeriscaping is to create specific areas of visual interest and focal points. Utilize lines and shapes and colors to guide the eye in a pleasing and fluid way that will invite interest and enjoyment throughout the yard.
Think About Maintenance
Lastly, make sure you think about long-term maintenance when planning out your xeriscaping design. If you know you're not a pruner and don't intend to be, make sure not to pick plants that require that type of upkeep. Likewise, if you see yourself spending plenty of time in your xeriscaped oasis, you could plan on a more hands-on approach to watering, mulching, pruning, and more. Just make sure you know what you're doing to ensure the beauty and longevity of your xeriscaped design.
Our Favorite Xeriscaping Style Landscape Designs
The thing about xeriscaping is that it can easily reflect almost any personal style we're presented with, and we've had plenty of fun creating unique xeriscaped designs for many different homeowners over the years. We've collected several of our favorite xeriscaping style landscape designs here in Utah and we'll show you which details to look out for as well as some general themes that emerge in these beautifully xeriscaped yards.
We'll start off with this semi-xeriscaped yard as a way to kind of dip your toes into the basics of xeriscape design. First off, you'll notice the main hardscaping elements—tiered planter boxes that not only lead you to the front door but house a great variety of rock, greenery, and trees to keep things fresh and interesting all the way to the porch. There is also a good mixture of native, drought-tolerant plants throughout the yard to balance out a few more traditional options the homeowners loved.
We love this poolside xeriscape design because it proves just how chic xeriscaped landscapes can be. With the gorgeous greenery along with pebbles and pavers that surround the concrete pool deck, you'd never spend a day wishing for a sprawling lawn again.
The major standout in this stunning xeriscaped yard is the extraordinary use of color. Choosing native, drought-tolerant plants absolutely does not mean boring! These homeowners opted for rich, vibrant hues complemented by a warm-toned rock to create seriously dynamic and eye-catching curb appeal.
Evergreens are one of our favorite plants to include in xeriscaping design. They provide vibrant green—the color many people don't associate with xeriscaping but find themselves longing for—all year long. In this case, these tall evergreen trees also offer extra privacy and seclusion for this perfectly hardscaped (re: xeriscaping friendly) seating area.
This sloped front yard is a great place to install xeriscape design. With that steep of an incline, grass isn't going to do you much good in terms of function anyway. By embracing xeriscaped design, these homeowners now get to enjoy a fun, funky, and private front walk, beautifully complemented by these custom concrete stairs to their door each day.
Xeriscape Design Done Right By Big Rock Landscaping
No matter what xeriscaping style you're going for, rest assured that Big Rock is the professional landscaping company to hire. Our commitment to communication and customer service creates a true partnership as we work together to make your dreamy Utah xeriscape come to life. From initial idea meetings to final sign-off, you can know that your voice is being heard and that your ideas are being transformed by passionate professionals who want nothing more than to create a gorgeous landscape—perfectly unique to you, your style, and your needs.
Ready to put Big Rock to work on your xeriscaping design ideas? Or want to learn more about what we can do for you and your yard? Contact Big Rock Landscaping today!