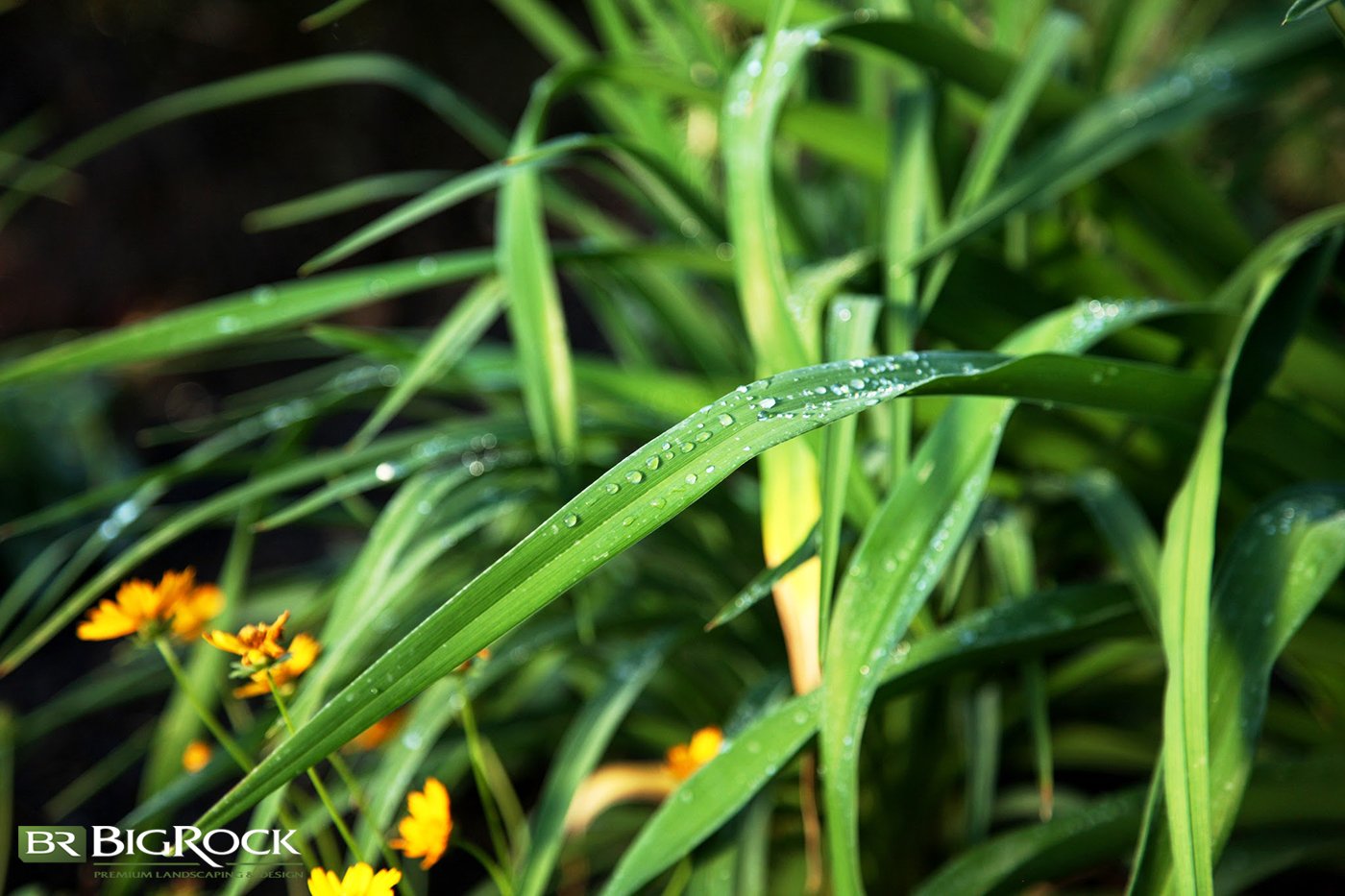 5 Plants That Won't Fail in Utah
Selecting the right plants for your landscape design in Utah is an essential part of the landscape planning process—maybe even the most important part! You could lay out the most incredible array of grasses, flowers, shrubs, and trees, but if they aren't native Utah plants for landscaping or at least zoned for growing in our region, you will likely end up with something more akin to a graveyard of landscape dreams than a beautiful and functional outdoor space for everyone to enjoy.
Choosing the best landscaping plants for Utah comes down to first prioritizing plants that belong in our area—things that can endure dry, hot summers and long, snowy winters especially. But the type of soil found in your area, your watering plans, and your personal style will also come into play. Planning your landscape with these integral details in place will help ensure you can create a beautifully cohesive design that will thrive with minimal maintenance and effort for years to come.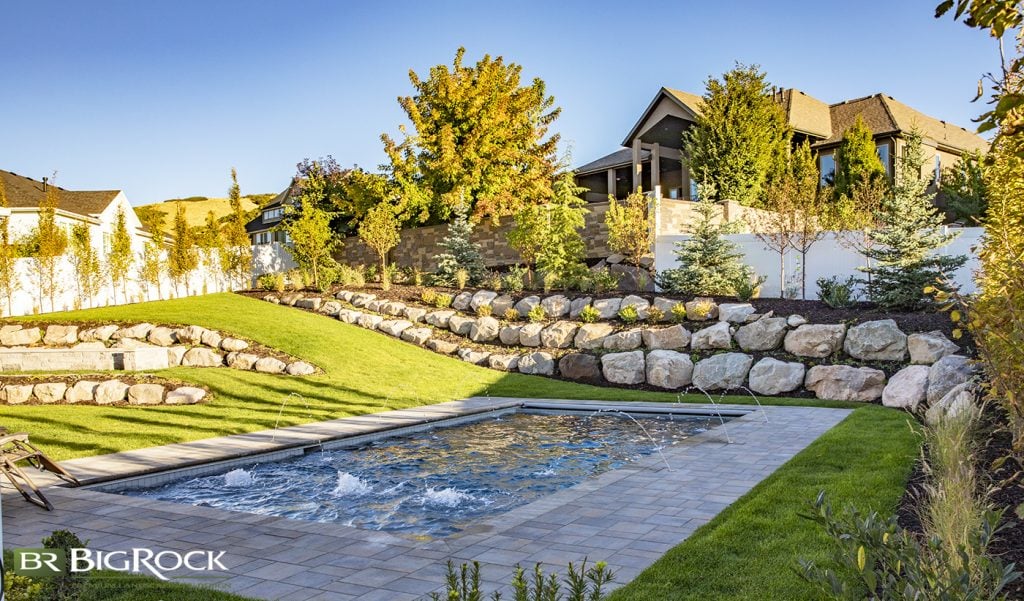 Factors To Consider When Choosing Landscaping Plants In Utah
How do you know which plants to include in your landscape design? Well, before you even consider your personal style or function of the plant species, you need to consider whether the plant will survive—and hopefully thrive—in your grow zone. Utah's major climate zones range from 4-9 depending on a particular location, so start your search based on plants you know will do well in your area. You can also search specifically for things like Utah trees and shrubs, drought-resistant flowers for Utah, native Utah plants for landscaping, xeriscaping plants, and more to narrow in on the best options to make your personal vision come to life.
DISCOVER: Our Shrubs and Plants Portfolio
Remember to keep in mind things like Utah's seasonal temperature fluctuations, water availability, and soil conditions when selecting your landscaping plants. And don't forget things are even more individualized to your wants and needs—for instance, if you live where windy conditions are often a concern, you'll want to investigate strong enough trees to withstand that type of environment. And if you're more interested in hedges than wildflowers, search accordingly.
Again, choosing the best landscaping plants for Utah entails plenty to think about, but it should always start with what you know can thrive in our area. So let's explore five different types of landscaping plants for Utah—ornamental grass, groundcover, ornamental flowers, shrubs, and trees—that Big Rock Landscaping knows can not only add beauty to your backyard but have proven themselves hardy enough to grow well in our home state.
Landscaping Plants For Utah: Sideoats Grama Grass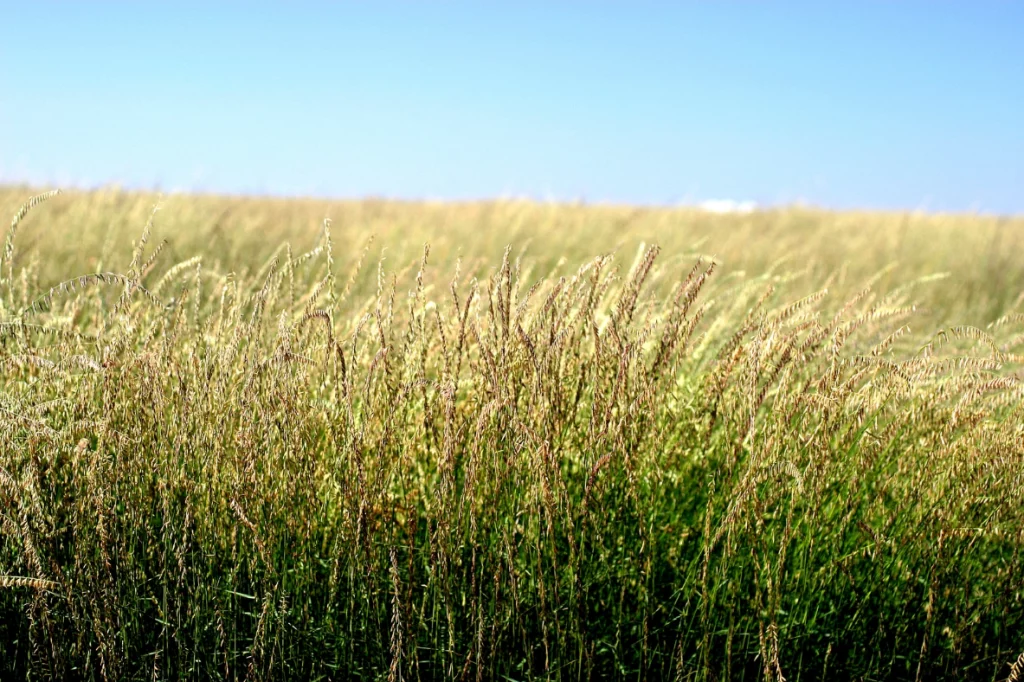 Sideoats grama is a rustic-looking ornamental grass and one of the best landscaping plants for Utah yards of a certain style. While the prairie-reminiscent vibe may not suit every homeowner in the state, we love some sideoats grama for a few reasons.
First and foremost, many other popular ornamental grasses that people tend to plant are actually considered noxious weeds due to their seeming inability to contain themselves. They spread aggressively without regard for the rest of your landscape design or property lines. Sideoats grama is a slow spreader that won't quickly dominate your yard or trespass upon your neighbors. It's also drought and cold-tolerant, does well with full or partial sun exposure, and helps with erosion control.
Sideoats grama makes a pretty backdrop for other more wild-looking plants and flowers and even pipes up in the summer with its own pretty purple and orange blooms before making way for its signature side-hanging seeds for the rest of the season.
Landscaping Plants For Utah: Bearberry Groundcover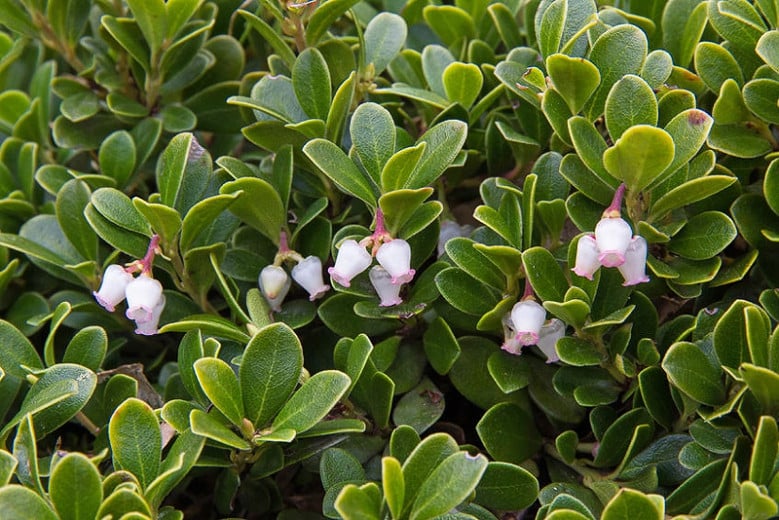 Bearberry is an evergreen shrub that many use as creeping groundcover. It is characterized by somewhat leathery, dark green leaves that turn a deep purple or red in fall and winter. In spring, the plant is adorned with white or pink flowers that make way for small bunches of bright red berries that stick around from summer through long Utah winters. We love that it looks great in every stage and every season and adds variety to your yard. 
One reason this is one of the best landscaping plants for Utah is that it is drought-, salt-, and wind-tolerant making it unlikely to fail in our typical climate and conditions. It also grows well in various soils, from acidic and fertile to poor and infertile, so it should be an option in many locations throughout the state.
LEARN MORE: Choosing The Best Bushes For The Front Of Your House
Because it's such a hardy little plant, Bearberry does not require (or even want) extra fertilizer and only needs a little water to perform happily in your yard. One thing to be aware of is that Bearberry doesn't like to be transplanted, so make sure you plant it where you're happy for it to stay.
Another thing that makes Bearberry one of our favorite landscaping plants for Utah is that it can fit into many types of landscape design. We said it works well as a groundcover, but it's more versatile than that may sound. It's a great candidate for rocky pathways, natural stair areas, banks, and slopes (it's awesome for erosion control) and even cascading over natural rock or concrete walls. It adds a pop of verdant green year-round, along with the flowers and berries in their appointed seasons. Plus, if you're interested in attracting local wildlife in the form of hummingbirds and butterflies, Bearberry provides exactly what you need to enjoy them in your yard as well.
Landscaping Plants For Utah: Daylily Flowers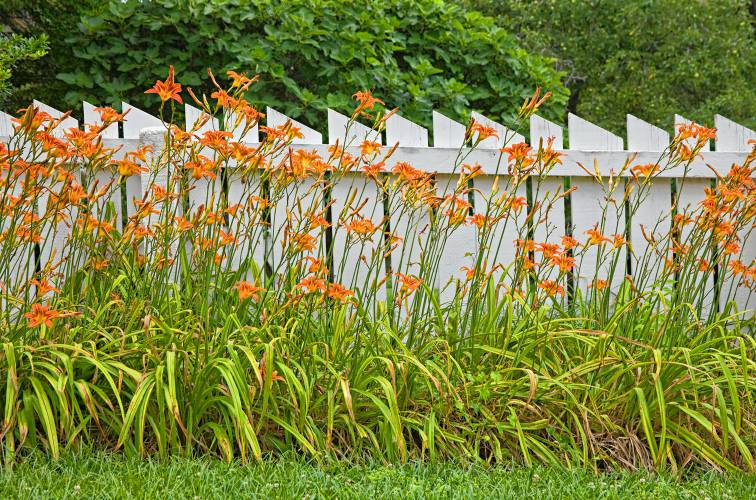 Daylilies come in such a massive variety of colors that almost any home and landscape design can be complemented by their addition. The most common colors are bright orange and yellow, so lend a pop of sunshine to whatever area of the yard you place them. And because their foliage is full and grass-like near the bottom, they make great faux hedges and borders where needed.
Another big plus for planting daylilies in your Utah yard is that they are one of the toughest perennials in our area. They are highly drought tolerant, don't mind much which type of soil they're planted in, and are generally happy without any extra care.
As daylilies come back year after year, they significantly decrease your landscape maintenance requirements. However, one thing to be aware of is that after a few years, the daylily plants will have formed into one seemingly larger clump that needs to be divided and replanted for the best health and blooming. It's a simple process, and the newly divided plants will happily recover post-separation, given a fairly sunny spot in the yard.
Landscaping Plants For Utah: Potentilla Flowers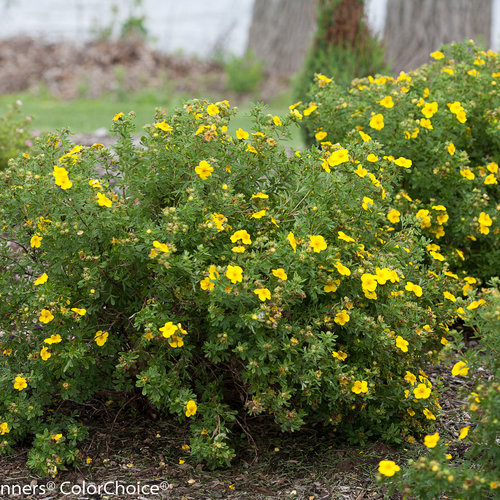 Potentilla, sometimes called bush cinqefoil, is a spreading shrub with plenty of happy, five-petaled yellow flowers that can bloom from late spring to early fall. The tidy, dark green foliage of potentilla provides the perfect backdrop for butterflies attracted to the blossoms and is generally left alone by deer and other landscape scavengers.
Potentilla can have a wildflower or pretty English garden look and doesn't require much effort to enhance your garden or landscape design. Left alone, this hardy, tough, adaptable shrub will spread in relatively rounded mounds, meaning serious plant pruning is unnecessary. If desired, you can prune potentilla in late winter once the serious cold threat is past.
Aside from that, maintenance of potentilla remains incredibly low as it is known for adapting to most climate conditions. It does well in full sun or partial shade and doesn't want to be overwatered, making it a great choice for natural and low-maintenance xeriscaped yards in Utah. It grows slowly, so it won't take over your other natural design elements, and can reasonably be expected to live as long as 30 years in healthy conditions.
Landscaping Plants For Utah: Winter Gem Boxwood Shrub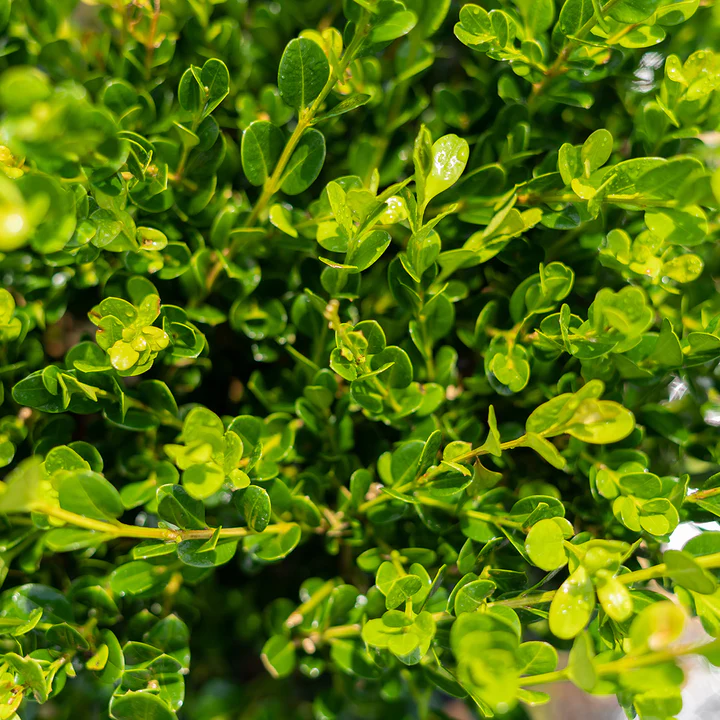 Boxwood is a popular choice of shrubs in Utah for good reason. It is an evergreen plant that adds life to your yard all year round and brings a bit of classic formality to your landscape design. It makes a great hedge that won't grow overly tall and is pretty easy to maintain with a once-a-year trim in the spring to keep the shape and growth in check. It can also be used to delineate between separate areas in the yard.
Boxwood doesn't have to be grown in rows, however. You can also employ a pair of Winter Gem Boxwood shrubs in planters flanking your porch steps, and be assured that they won't soon outgrow the space or overshadow your flowerbeds. They can be shaped into cones, balls, or cylinders to echo your home's style, too!
TRENDING: How To Use Natural Landscaping
Boxwood is one of the best plants for Utah because of its fairly low-maintenance nature. It is pest- and disease-resistant and grows well in full to partial sun. However, you should plant them in areas that get some protection from strong winter winds, as they can be susceptible to frost damage in extreme conditions.
Landscaping Plants For Utah: White Spruce Tree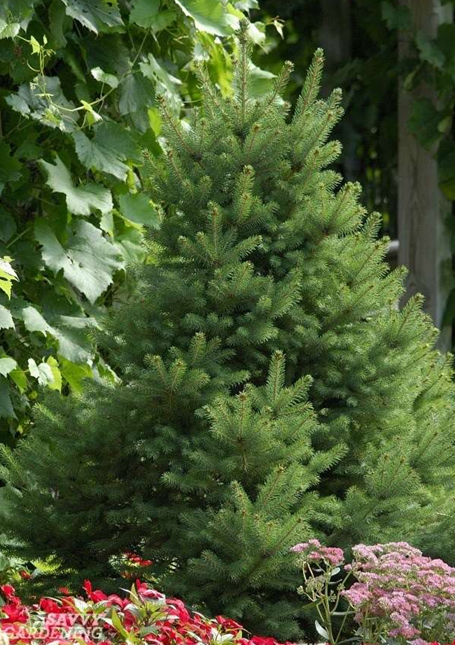 We love adding evergreen trees to a Utah landscape design. They add beautiful color and texture to a yard all year long, and the white spruce is no exception. We particularly like this choice because you can find dwarf varieties that top out at ten feet tall (if that) and just four feet wide, which means you get to add this kind of tree to your yard without wondering when it will take over your entire space.
This evergreen requires very little upkeep, especially in pruning, as it generally maintains its classic Christmas tree shape independently. It is also extremely cold-hardy and won't balk at temperatures as low as -50℉. It wants full to partial sun and a little extra water if a drought comes on strong.
Spruce trees are a great way to add privacy to your yard and an effective windbreak if you live in a blustery area. They also provide great bird habitats you can enjoy most of the year in your yard.
Tips For Successful Planting And Maintenance In Utah
No matter what style you lean toward, choosing plants that won't fail in Utah is key to landscaping success. And then planting and maintaining those choices properly to ensure your landscape's long-term health and beauty comes in at a close second. Preparation for planting and subsequent care can be a much larger endeavor than many realize, and each plant you've chosen to include in your landscape design will have its own unique needs and quirks. That said, it's not an undoable task, and we've got several posts that should help you understand how to best care for your Utah yard throughout the seasons.
If caring for a newly landscaped yard feels overwhelming, or you're unsure where to start, you'd hire a trusted and local professional with a strong understanding of what will do best in your area. They can map out a beautiful landscape design and even plant and maintain it for you!
Big Rock Landscaping Knows Utah Plants
If we've said it once, we've said it a thousand times—and we'll keep on saying it: a major key to successful landscape design is choosing the best landscaping plants for Utah! That doesn't mean you're limited to just a few native desert plants. There are lists of hundreds of beautiful grasses, flowers, shrubs, and trees that thrive in all of Utah's varied weather conditions available to you, and using them will simply mean a more beautiful, low-maintenance, lasting, and ultimately less expensive landscape.
Big Rock Landscaping knows Utah and how to create your desired stunning landscapes. Let us make your landscape journey great with exceptional communication, partnership, and results. Contact us to learn more about creating your dream yard today!