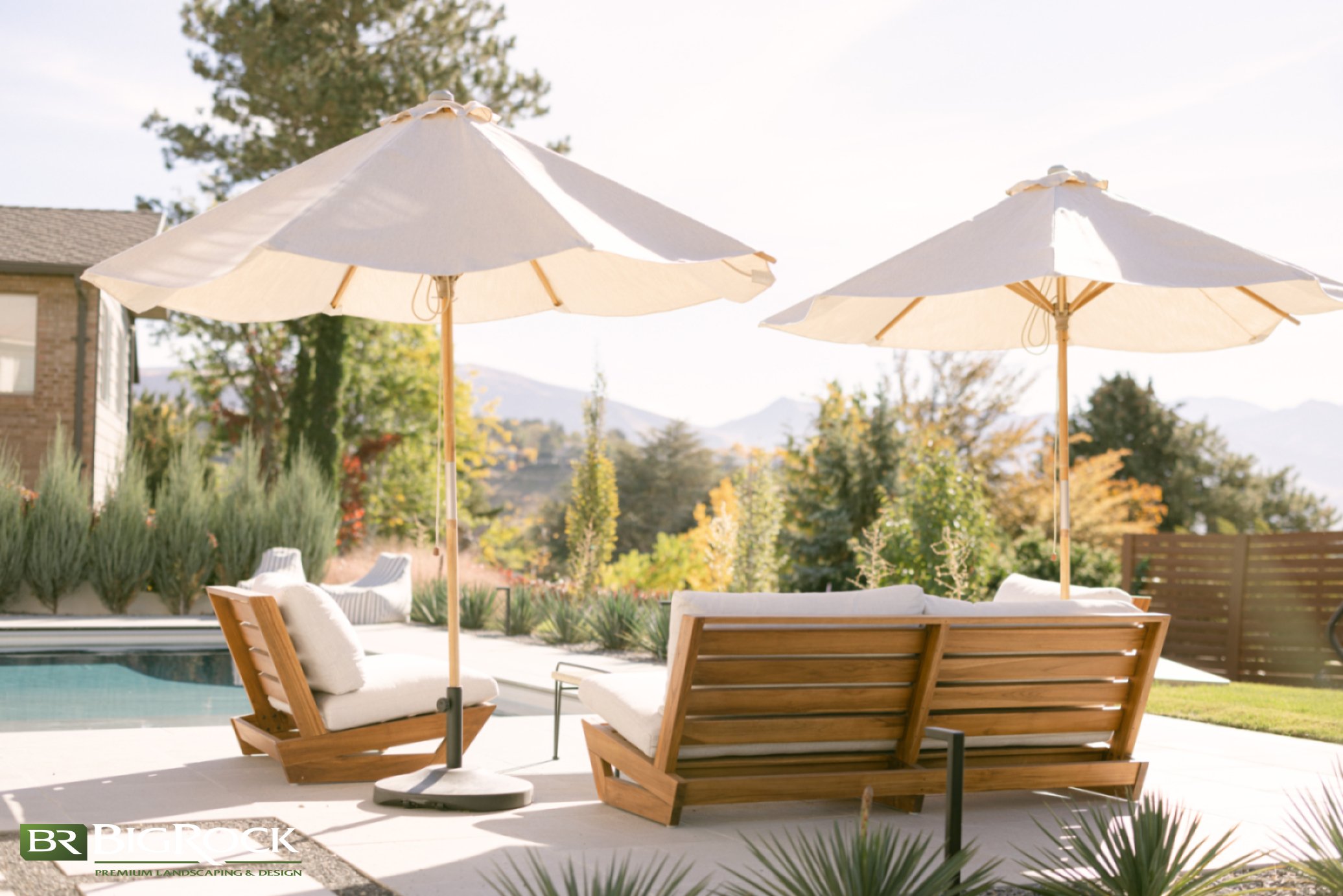 Guide to Utah Landscaping Styles
Gone are the days of throwing down some grass seed or sod, planting a few flowers, and calling it a yard. Today's homeowner wants landscaping design—that is, landscaping that has purpose and style. In the same way people design the interior of their homes, they want their yards to reflect their personal aesthetic and make a statement about who lives there. If you're not sure about what type of landscaping speaks to you or just want some inspiration, we're covering the three pillars of landscaping design styles, and giving examples of how to implement them in your yard.
What Are The Main Landscaping Design Styles?
If you're looking for Utah landscaping ideas, the first step is to determine what types of landscaping styles appeal to you. There are endless varieties of landscaping design styles, but for the most part, they all fall into one of three main categories: Modern landscaping, traditional landscaping, and contemporary landscaping. We will dig into these and give examples of each so you can find the perfect style for your yard.
Modern Landscaping Design
Ironically enough, a modern design style tends to be an homage to styles of the past. When it comes to modern landscape design, it is usually represented with minimalism and clean lines. This style tends to incorporate concrete and metals and is often uncluttered and fresh looking.
LEARN MORE: Our Favorite Landscaping Design Styles For Utah
Farmhouse Landscaping Design
Farmhouse landscaping is a relaxed, or informal landscaping style. It often features natural elements like stone walls and walkways, utilizes native plants, and has lots of flowers, though these are typically in muted colors. A well-executed version of this landscape design style should feel clean and simple, while still maintaining a cozy down-home vibe.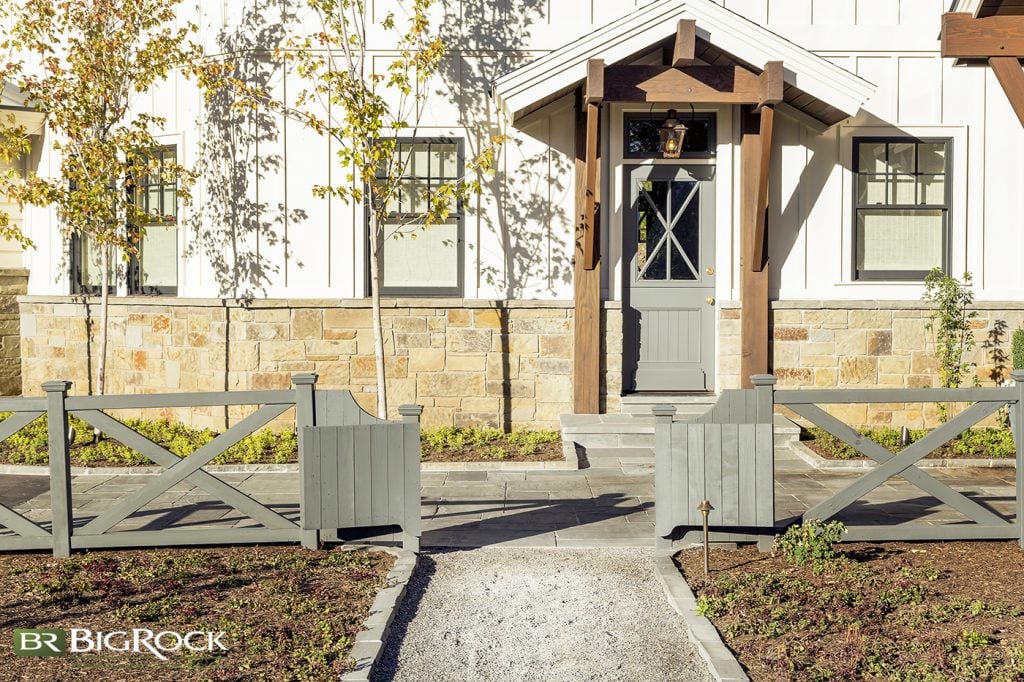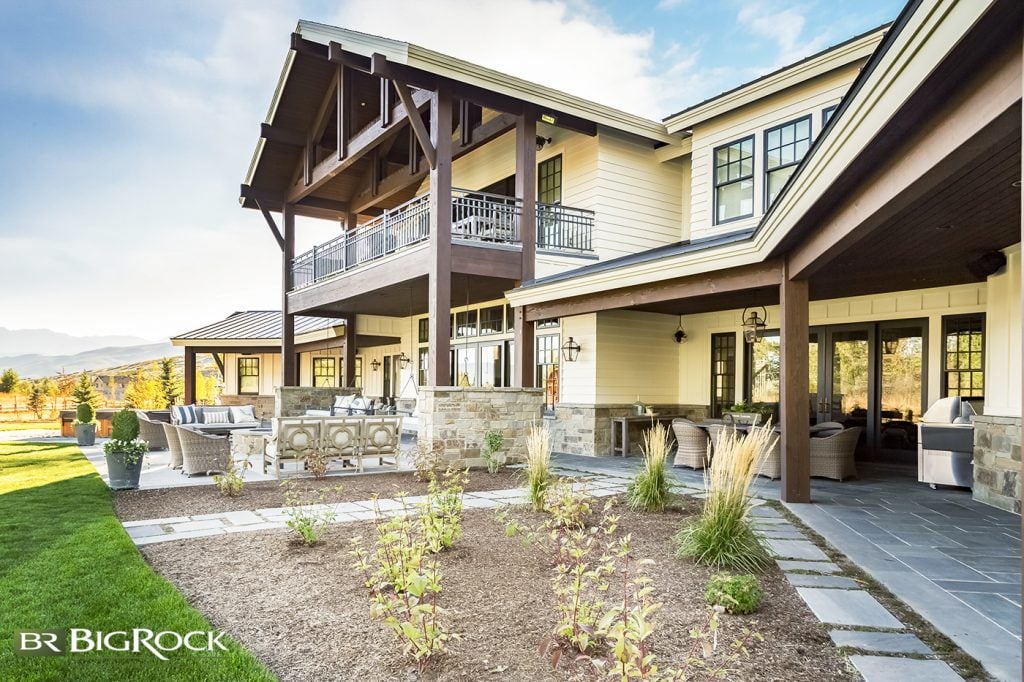 We love the paver stone patio and walkways that connect the home to the expansive yard. The large planting beds are thoughtfully planted and spread with mulch and bark to give them a finished, yet rustic look.
You might not immediately think "farmhouse" when looking at this yard, but it certainly utilizes plenty of natural elements. The stone retaining wall compliments the stone of the house, and it all combines to create a clean, simple, and warm look.
Minimalist Landscaping Design
As its name suggests, minimalist landscaping does the most with the least amount of clutter. Just like your favorite spa, the clean lines and crisp edges of this style give it an open and airy feel that is calming and rejuvenating.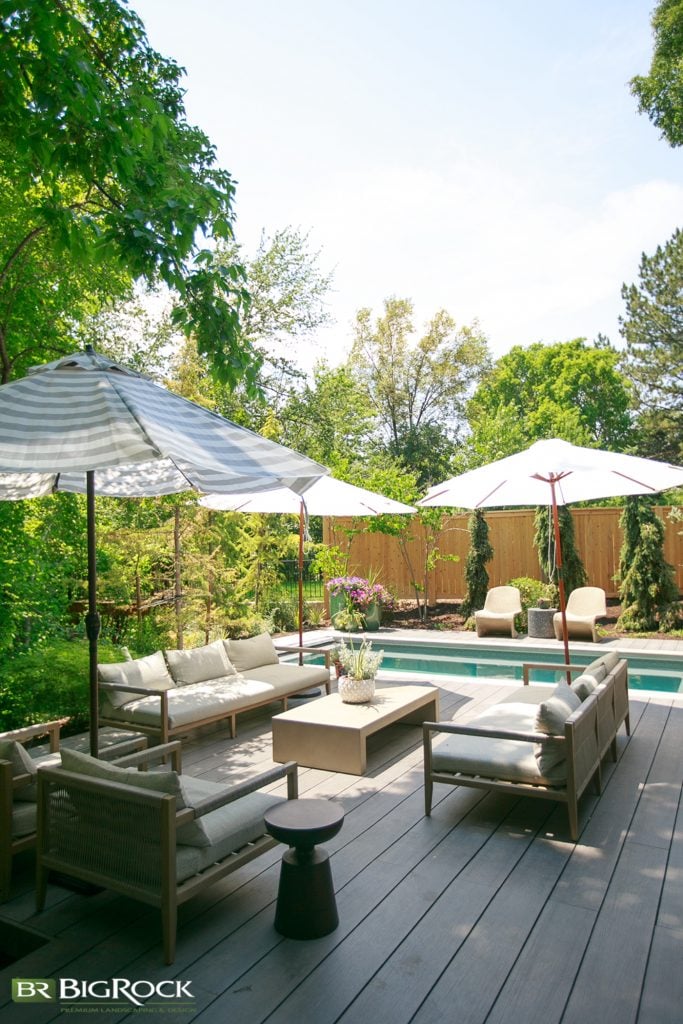 Everything from the long lines of the decking to the stripes on the umbrellas creates a sleek and clean look in this dreamy backyard.
While there are many elements in this front yard, each is cleanly separated and understated. There is a freshness to this landscaping design that makes it feel clean.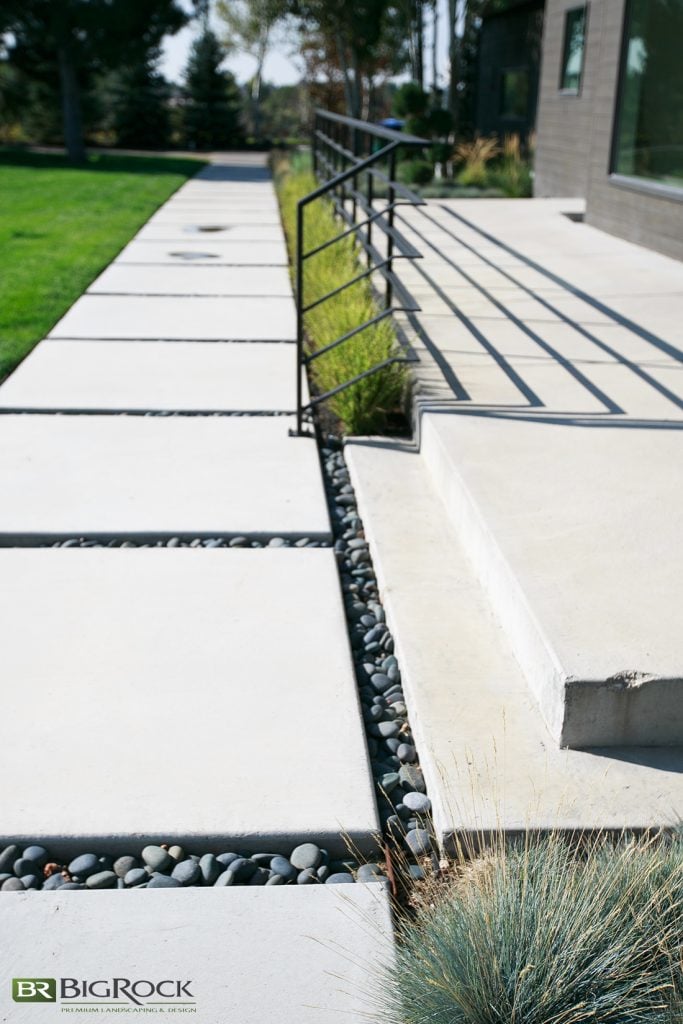 The wrought iron railing and concrete pavers with river rock surround are a classic depiction of modern minimalist design.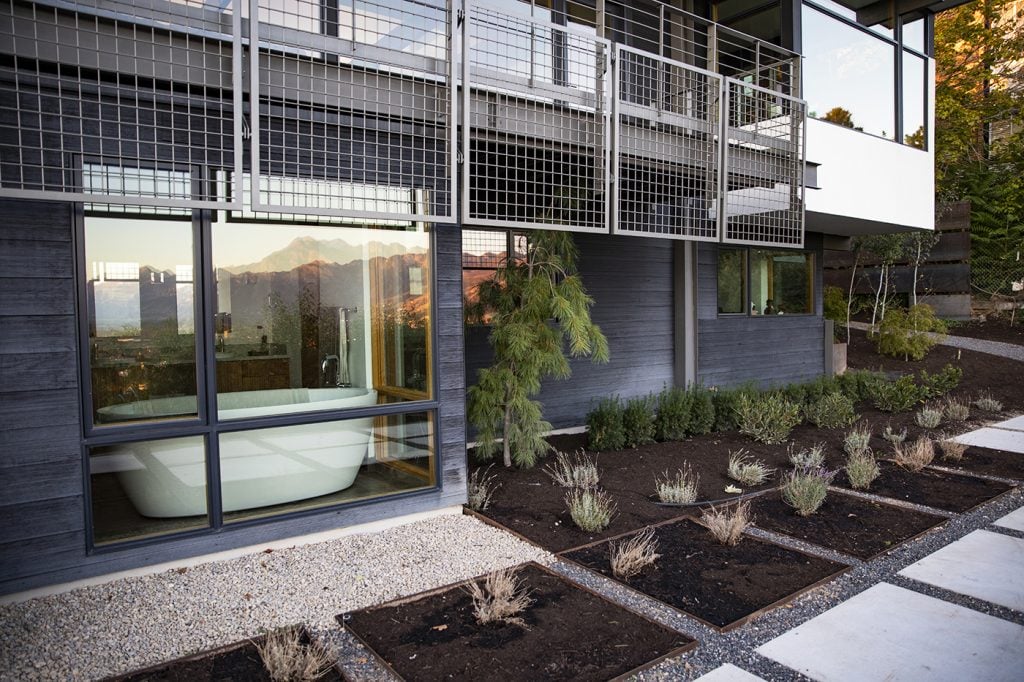 Ordinarily, the use of steel like this can make a space feel cold, but when used with the rich deep contrasting soil of these planting areas, it feels refreshing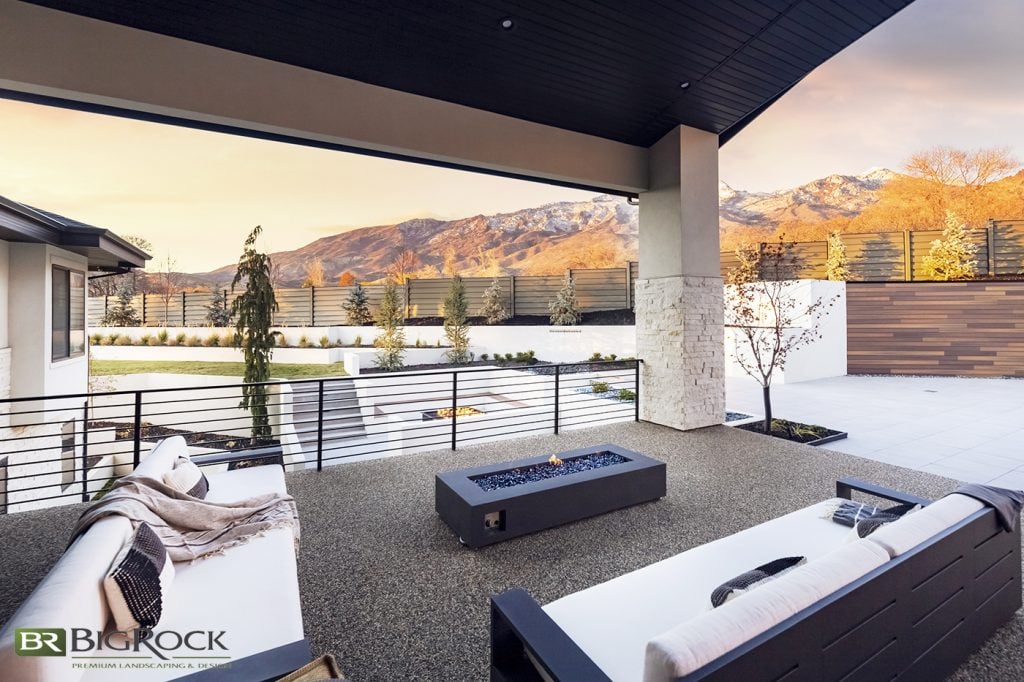 Everything in this backyard from the railing, the firepit, the fencing, the furniture, and even the retaining walls feature clean and straight lines that subtly lead your eye from one place of beauty to another.
Traditional Landscaping Design
Traditional landscaping design is sometimes referred to as standard landscaping. This type of design style is very formal landscaping. It is often marked by lots of well-manicured lawns, shrubs, and hedges. At the same time, there can be a bit of wildness to this garden design, though each element is clearly well thought out and planned.
English Garden Landscaping Design
The English garden landscaping style is referred to by many different names. Sometimes people call it an English country garden, or an English cottage garden. No matter which variation of the name is used, the style will conjure up visions of going for a walk on a property in a Jane Austen novel. It is marked by trimmed hedges, and topiaries, mixed in with wildflowers.
This classic example of English garden landscaping has all the elements to conjure images of its namesake across the pond.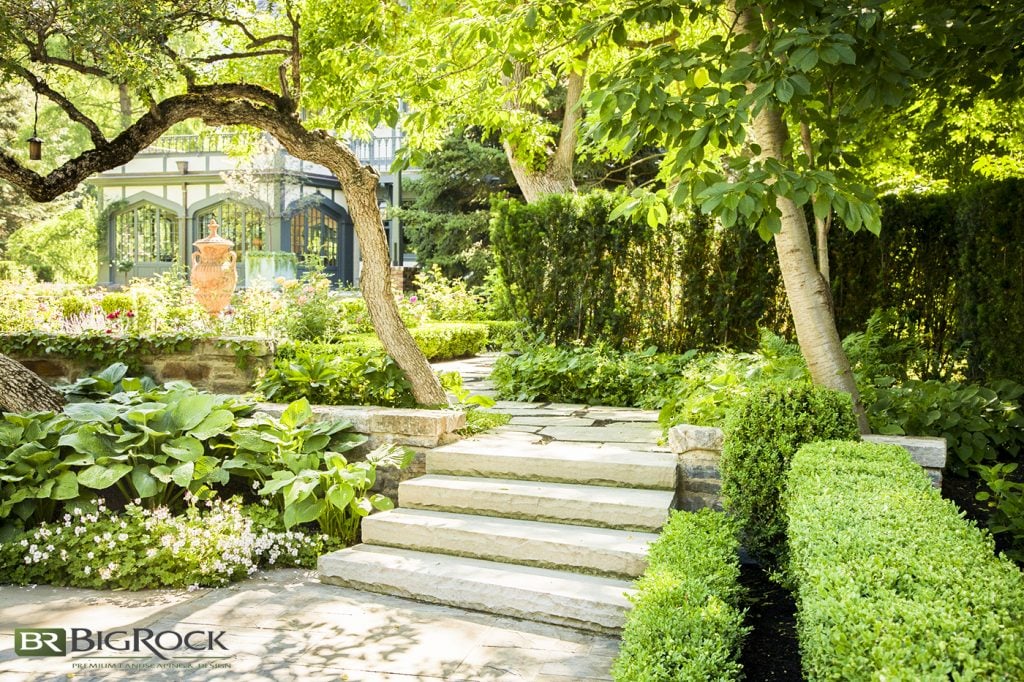 These simple blooms are thoughtfully placed, but made to appear as if they are wildflowers just springing up on a whim in the English countryside.
Family Focused Landscaping Design
Who says a yard can't be beautiful AND functional? A family-focused yard tends to have the best of both worlds. There are plenty of elements to offer entertainment and hours of fun, while still maintaining an element of refinement.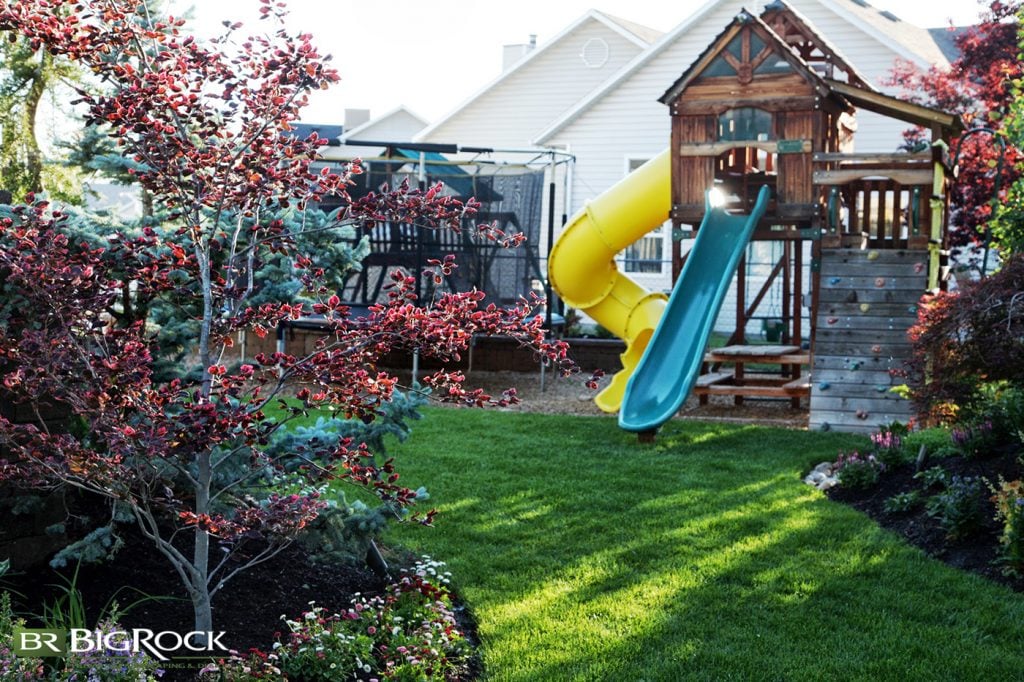 A yellow twisty slide has never looked as good as it has in this backyard. This playhouse and trampoline would normally be an eyesore, but set in the midst of a well-planned yard, they become barely noticeable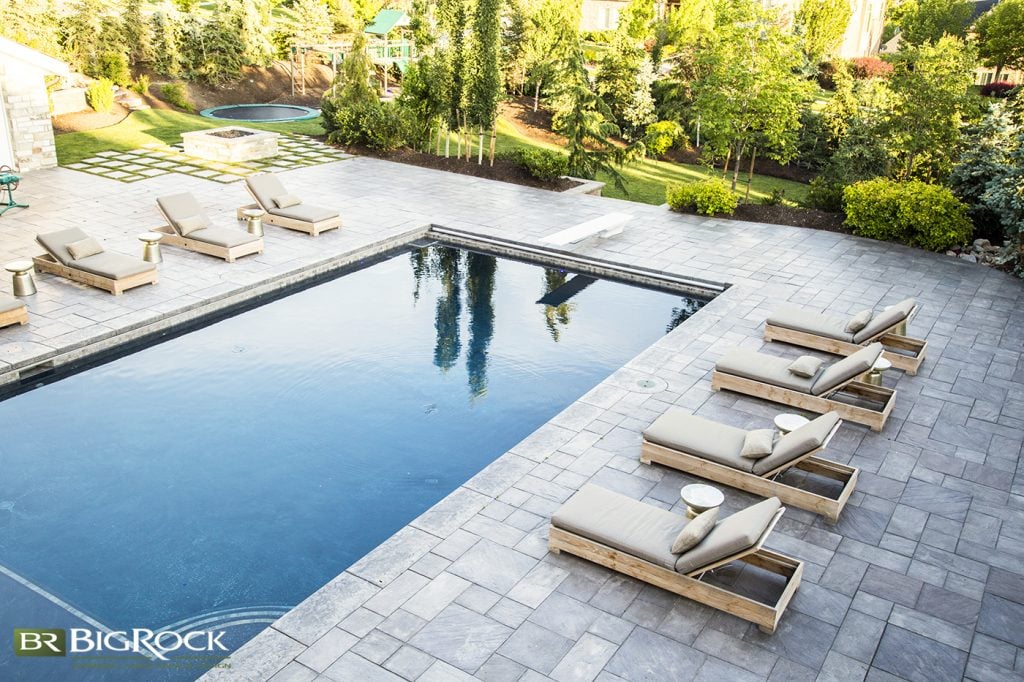 A pool is the perfect way to cool off or lounge during the summer. But consider yourself warned…installing a pool just might make you the most popular house in the neighborhood.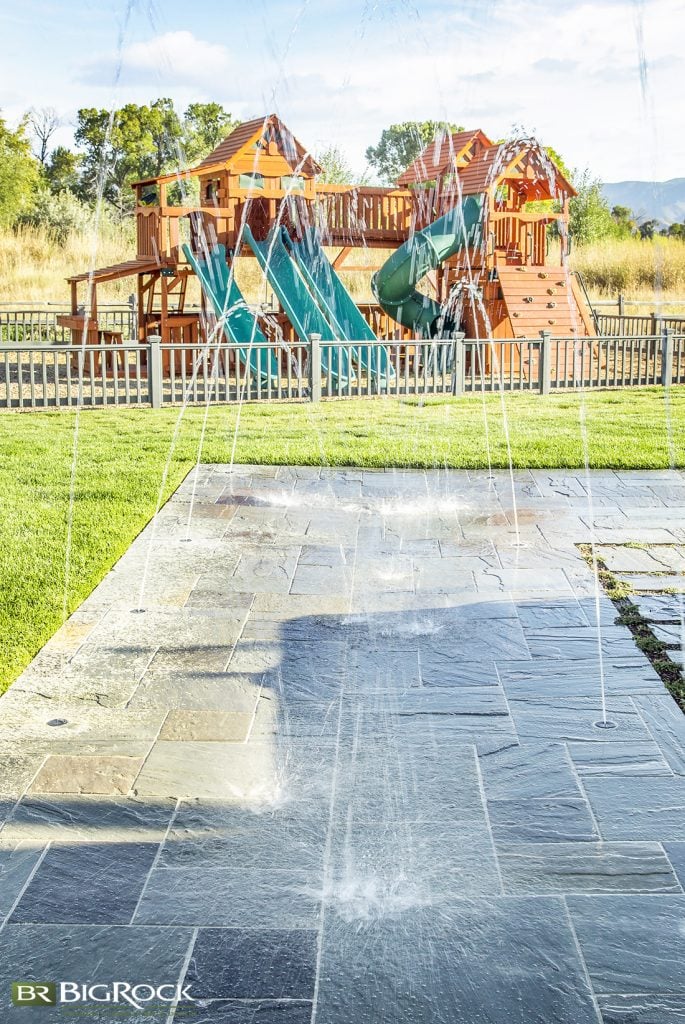 If a pool is more commitment than you're looking for, then how about installing a splash pad as a great way to cool off? It's just like running through the sprinklers when you were a kid, but way better.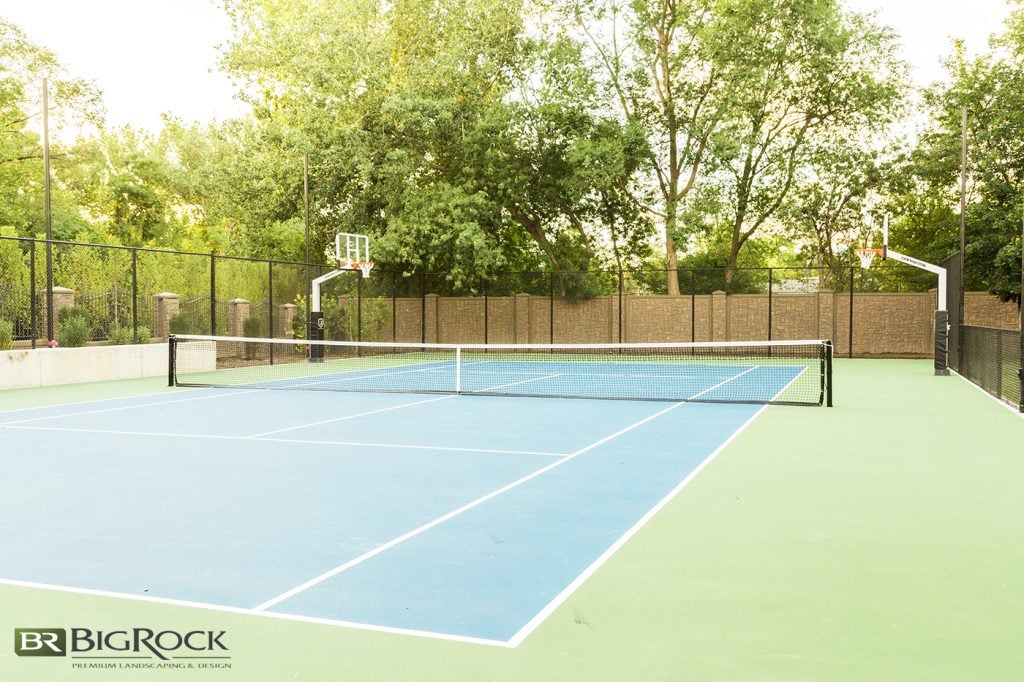 You don't have to choose a tennis court OR a basketball court. A multi-use sport court can provide fun for everyone.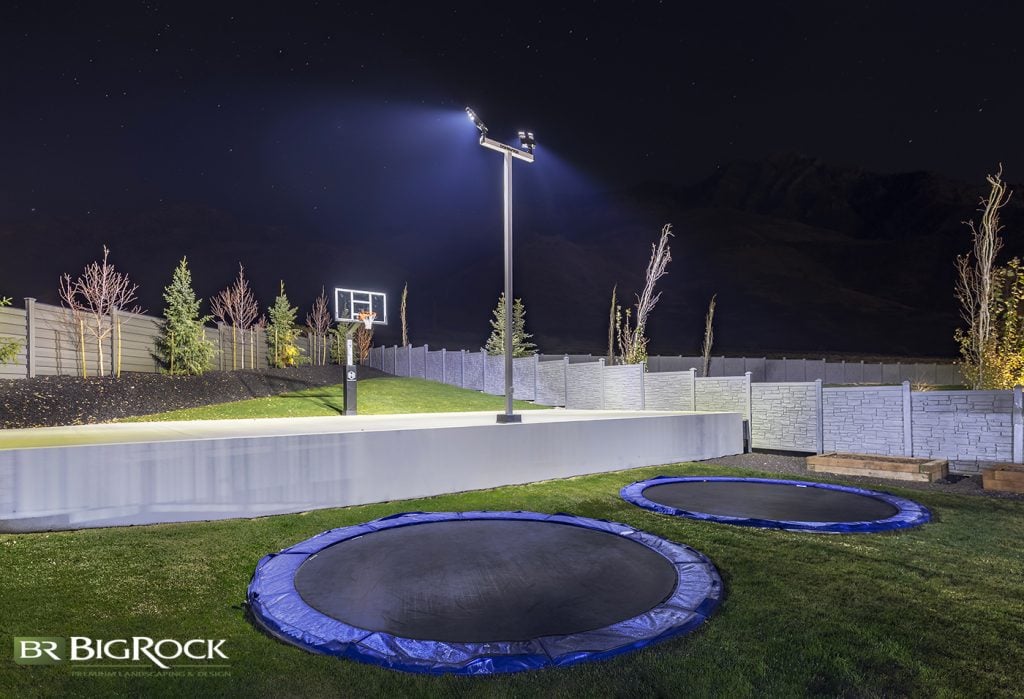 Contemporary Landscaping Design
A contemporary landscape design incorporates current styles with some futuristic elements mixed in. It can sometimes be a mix of styles, but they are thoughtfully combined and use lots of wood accents and natural elements like rocks, bark, and grasses.
Desert Landscaping Design
Incorporating desert landscaping means using natural elements in a water-wise fashion. This style can sometimes be referred to as xeriscaping. This landscaping design style works well in Utah, where water shortages happen on a regular basis.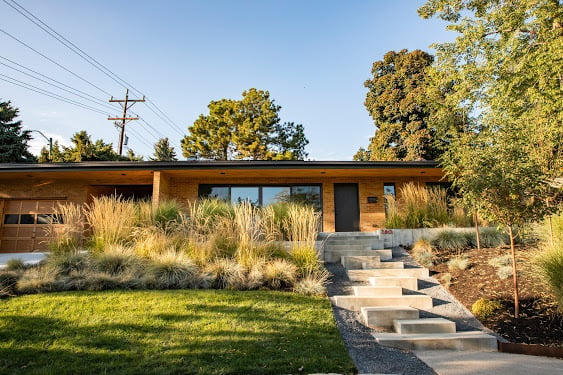 Tall grasses, bark, and river rock are the hallmarks of the desert landscaping style.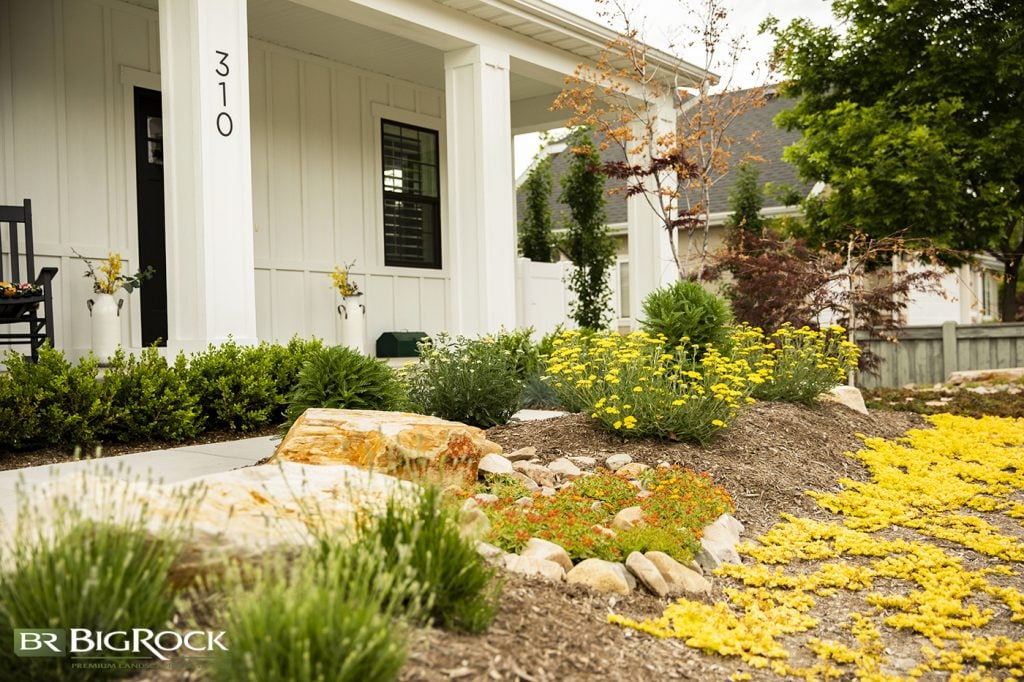 This waterwise yard uses plants and natural elements to create a sparse look that is still well thought out and esthetically pleasing.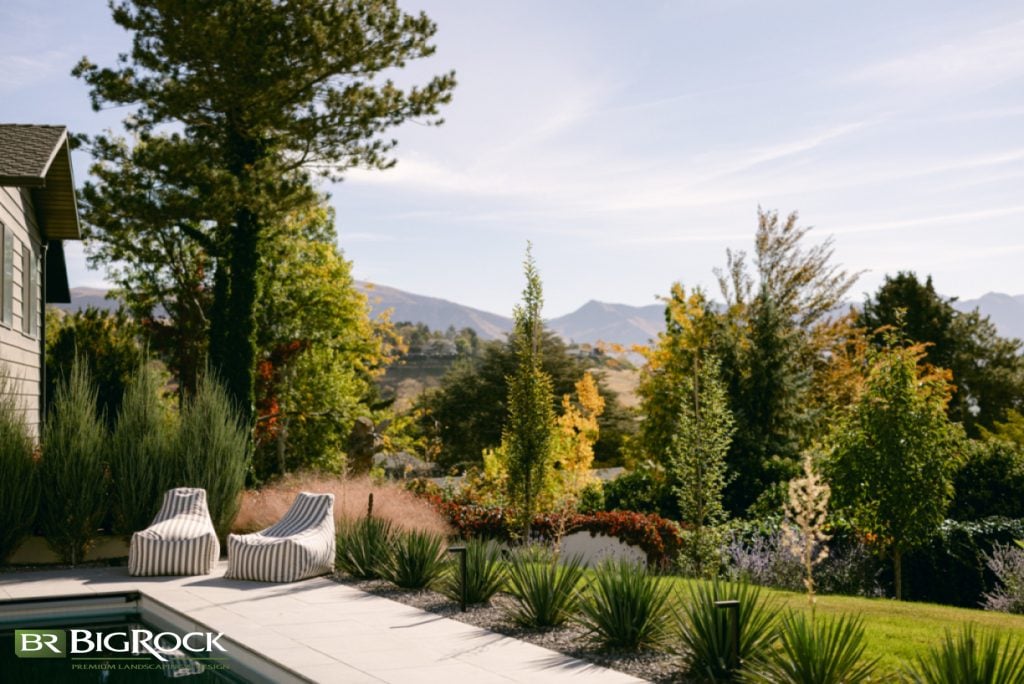 We love the juxtaposition of the river rocks and yucca plants against the backdrop to leafy green tree canopies. It's giving desert oasis vibes.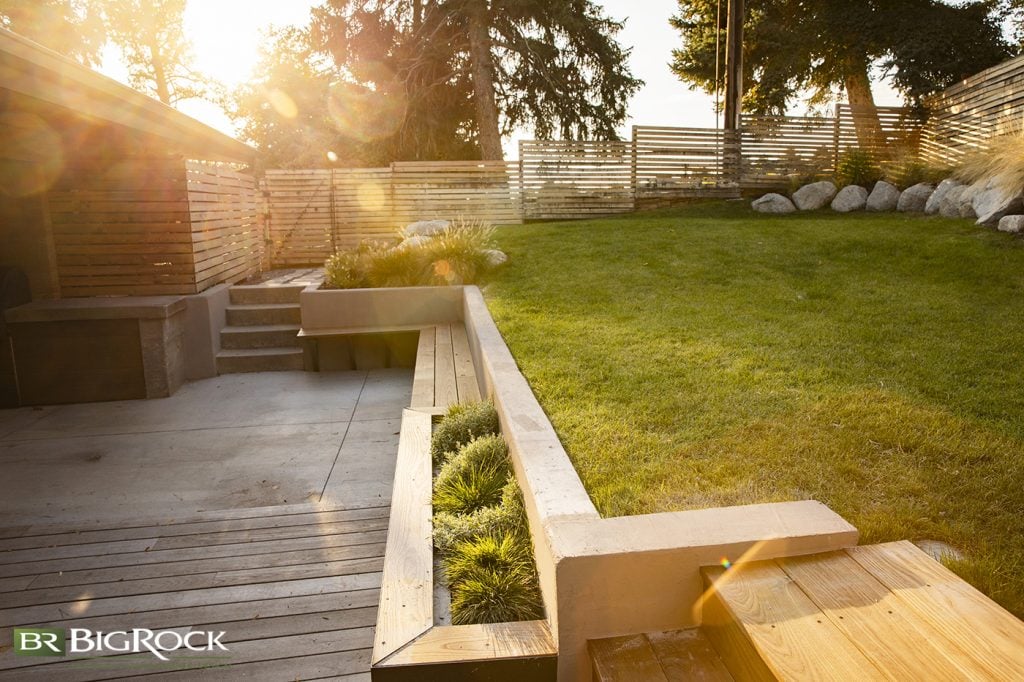 The retaining wall and decking reduce the grassy area in this backyard, but they don't cut down on the fun. Instead, it creates distinct areas for playing and entertaining.
Mountain Landscaping Design
If you picture rustic elements and cabin vibes when you think of mountain landscaping, then you're right on track. This style incorporates all the best elements of a woodsy retreat—rocks and trees with a feel of being in the forest.
Using older, established trees can quickly transform a space to look like a mountain retreat just like this one does.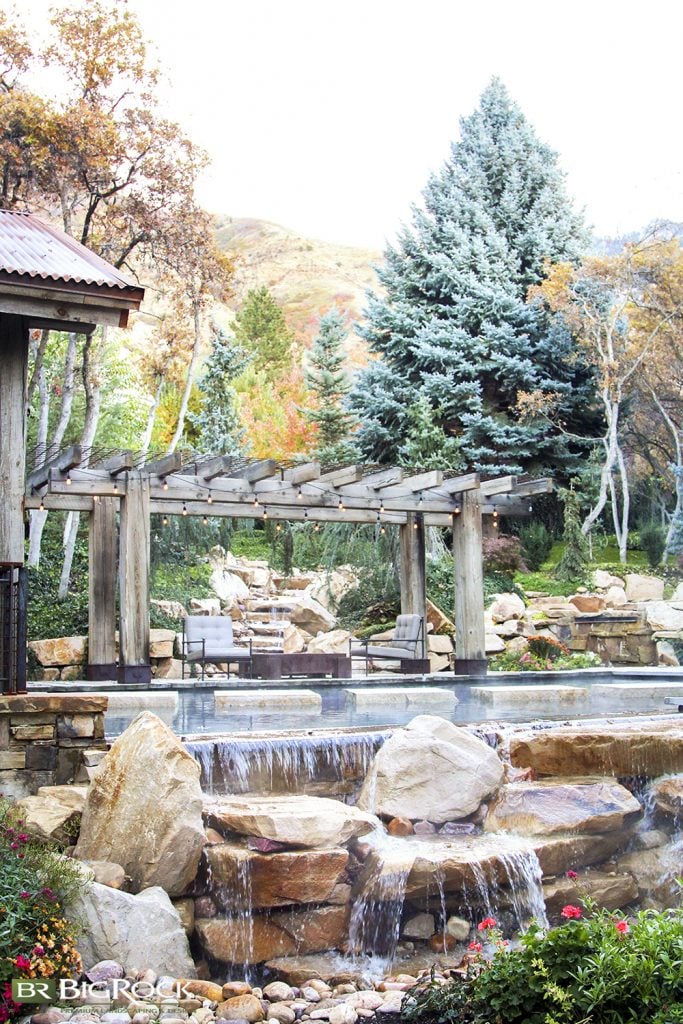 Sitting around this fire might lead you to ask yourself whether you're in a backyard or up in the mountains.
If any space is giving cabin vibes, it's this one. Every element from the stunning chandelier to the muted fabric tones and natural materials give the feeling of being tucked away in the woods.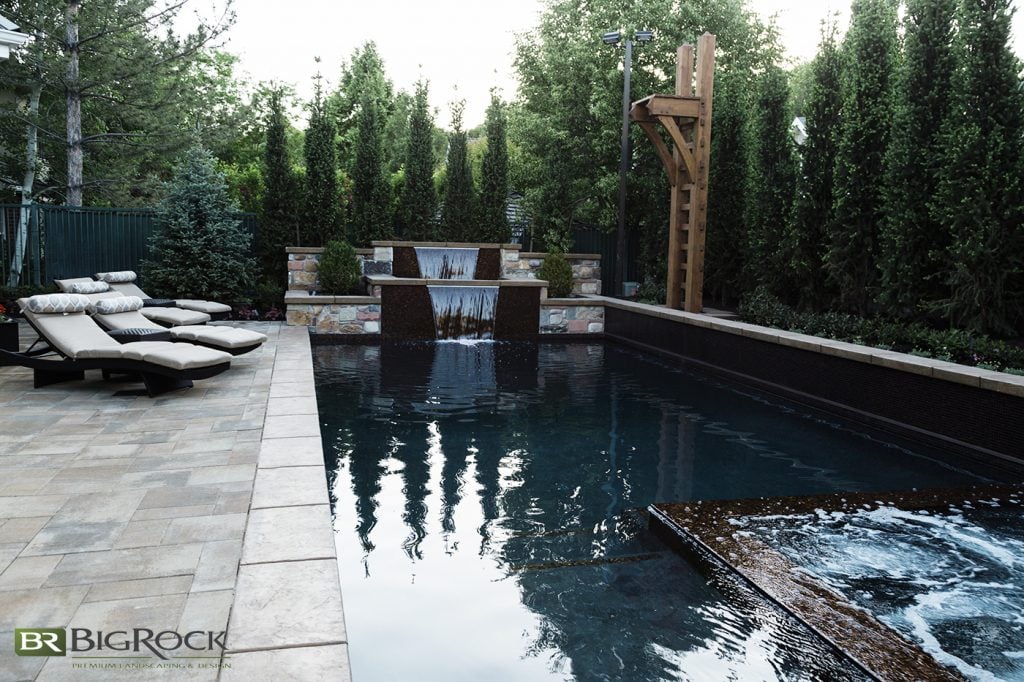 Most pools feature the light blue colors of the Caribbean, but we opted for a darker color to make it better blend with its surroundings.
Natural
A natural landscaping design works with the elements in the area to create a space that feels like it has always been there. Of all the landscape design ideas, this one is the most free-flowing and easygoing. It's designed to look effortless.
The stream and rock placement give the feel that they have always been in this yard.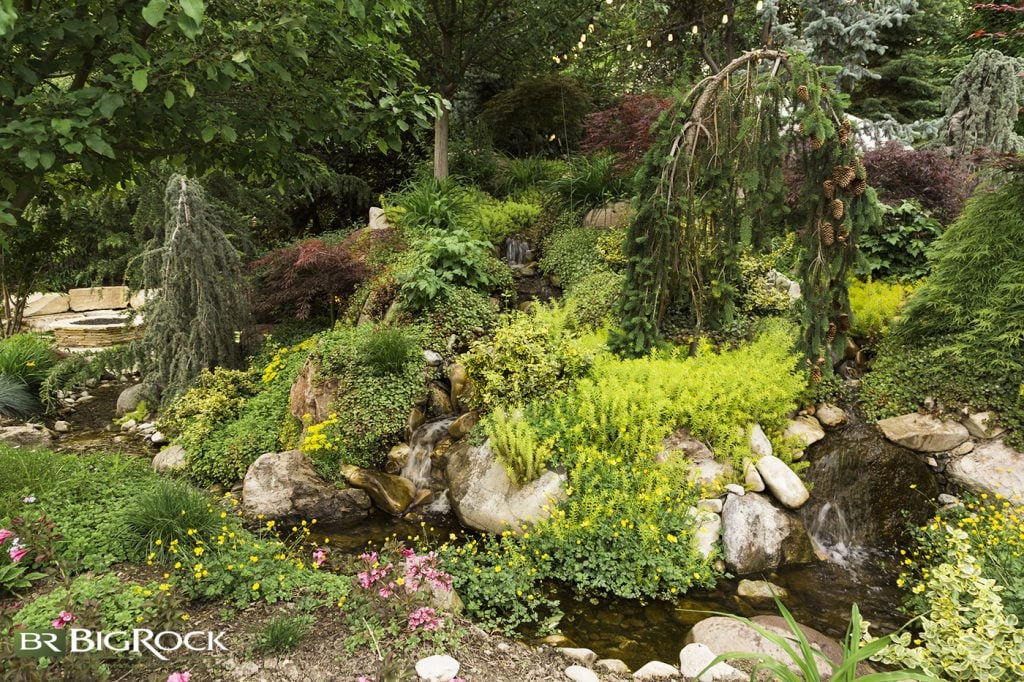 Make no mistake about it, while this hillside looks wild and free, it is actually well-planned and carefully cultivated.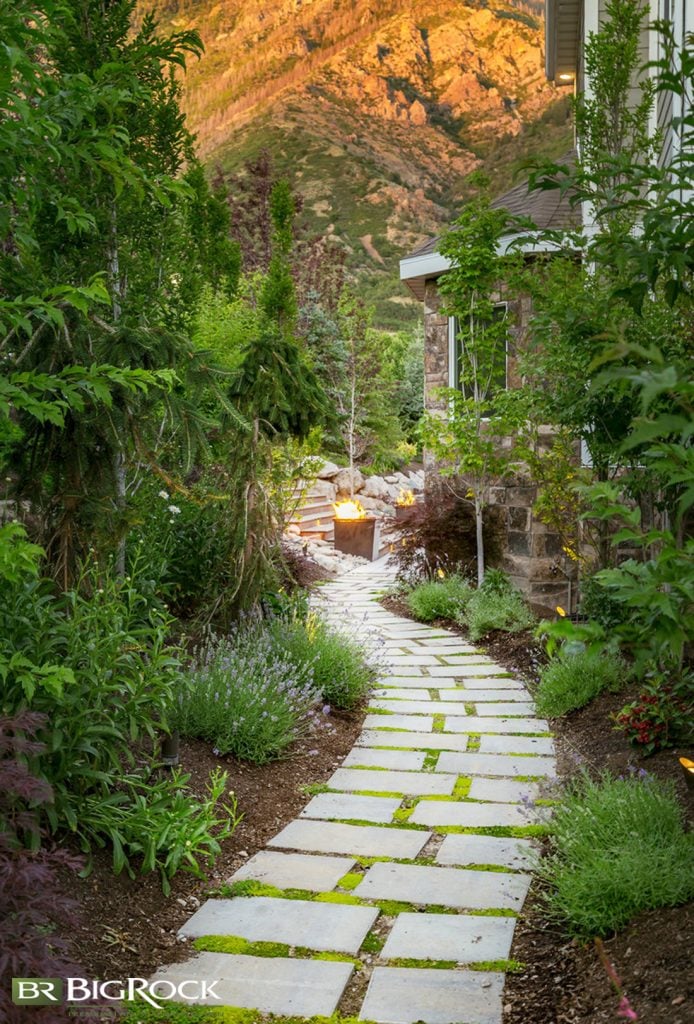 The way this stone path winds around the trees, you'd think you were taking it straight into the mountains beyond. The plants and mulch lining the path only add to the feeling.
With the mountain rising over the top of this home, we wanted to bring some of the feel of the mountain to the front. We lined the front steps with stone walls and utilized beds planted with various bushes, plants, and flowers to give a more rustic feel you just can't achieve with grass.
Need Help With Your Landscaping Design Style?
It's clear that there are lots of different landscaping design styles to choose from. If you're looking for more inspiration, be sure to check out the Big Rock Landscaping portfolio here. And if you'd like some help putting together your dream outdoor space, get in touch with us. We have more than twenty years of experience designing yards to fit our client's personal style, and we can help you do the same.