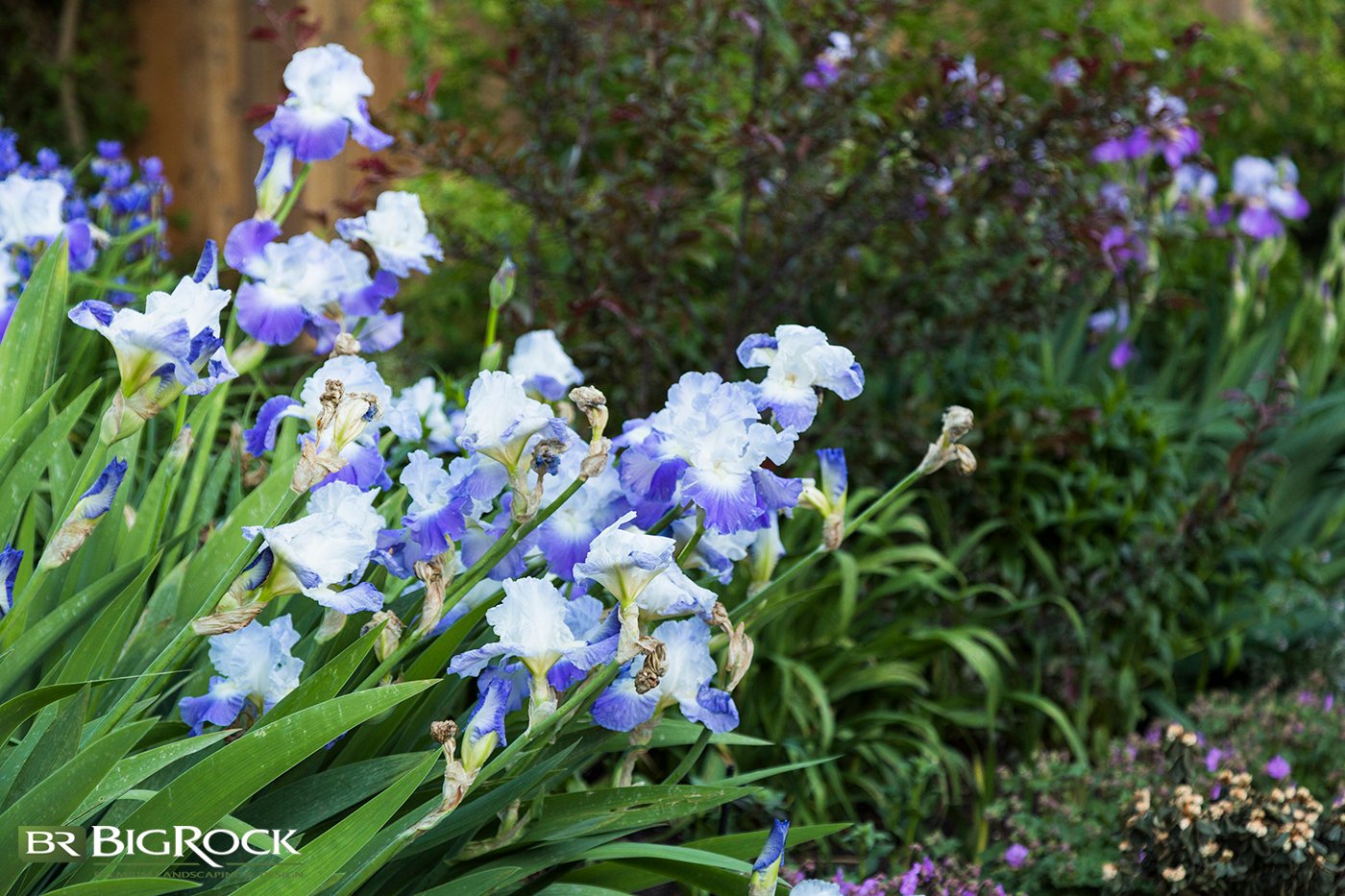 English Garden Landscaping Design That Will Delight And Inspire
Since the turn of the 18th century, English Garden Landscaping has always captured the hearts of landscaping enthusiasts. With its timeless principles of bold color, orderly chaos, and diversity of variety and texture, an English Garden has delighted homeowners for centuries. 
What Is English Garden Landscaping Design? 
English Garden Landscaping firmly took the world by storm in the early 18th century. It became so popular that it eventually overtook the en vogue style of the symmetrical French formal garden. Created by two landscape designers, William Kent and Charles Bridgeman, this new style of landscaping would put mother nature, in all her orderly wildness, on full display. 
A typical English Garden is awash with color and lush greenery. Along with trees, rolling hills, expansive lawns, sculptures, and lakes, an English Garden often has a park-like feel or quality. Although English Garden landscaping was initially designed for the wealthy living on large estates, the same concepts can be incorporated on a smaller scale in many beautiful ways. You might think that Utah is not the place for an English Garden, but we aim to show you how incorporating English Garden landscaping design elements can bring your outdoor space to life with color, variety, and texture.
Features Of English Landscape Garden 
Features that are typically found in English Landscape Gardens are water features, open lawn areas, garden rooms connected by pathways and walkways, and artistically curated focal points achieved through sculpture. It is crucial that all of these features come together in a naturalistic way. English landscapes are often a combination of order, organic elements, and a touch of whimsy. In any good English landscape design, you will have a pleasing combination of structure and borders amongst many organic elements that soften the harsh lines of buildings or other man-made structures.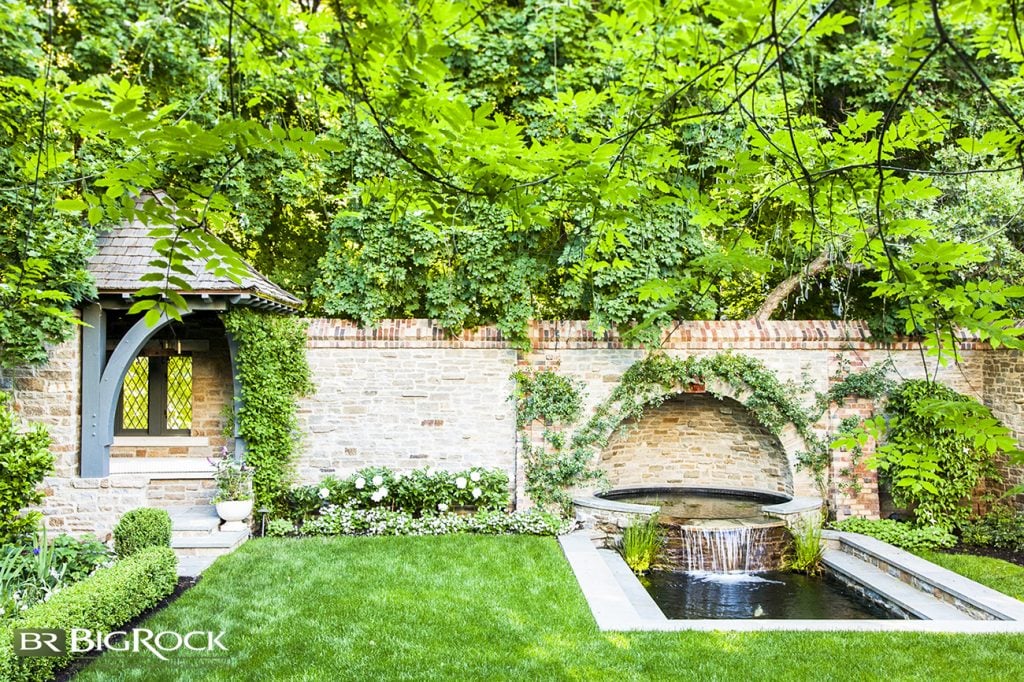 Benefits of English Garden Style Landscaping 
English garden-style landscape offers many benefits; however, the top benefits will always be: 
Enhancing property value
This lush and inviting style of landscaping was created for the wealthy during the 18th century because it conveyed effortless luxury. It has the same effects today. 
Promoting relaxation and well-being
Nature is restorative, and having the personal oasis of rolling hills, expansive lawns, and carefully curated ponds and pools bordered by living "walls," will give any homeowner an extra dose of well-being that only a well-landscaped English Garden can bring.
Providing a beautiful outdoor living space
Nothing is more relaxing or inviting than a beautifully landscaped property. An English Garden-style landscape gives shade, variety in color and texture, privacy, and beauty to any outdoor living space.
Encouraging biodiversity
Pulling from a diverse palate of flora and fauna, English Garden-style landscaping, will turn your home into a park-like setting that will beckon alluringly to all creatures great and small. 
Design Tips for Creating An English Garden Landscape 
Creating an English Garden takes some planning, so be prepared to get your hands dirty! A perfectly designed English Garden will strike the perfect balance between formal and whimsy. This balance will look like perfectly clipped boxwoods next to overflowing flower beds or formal brick or stone dripping with flowering vines or neighboring a natural stream or pond. 
If you have a green thumb and the hankering to create an English Garden, here are some practical steps to get you moving in the right direction.
RELATED: Guide to Utah Landscaping Styles
Choose The Right Plants
No English Garden is complete without perennial plants. One of the hallmarks of an English Garden is that it looks different from season to season thanks, in part, to the planting of perennial plants. As your base, plant annuals like bulbs and grasses that will bring beauty all season long, but don't forget to fill the in-between spaces around your annuals with perennials that will bring color and variety all season long. 
When choosing plants, plant "old-fashioned" plants like peonies, hydrangeas, roses, foxgloves, hollyhocks, and daisies to add a bit of romance and playful beauty. Try to forget everything you've learned about spacing rules. In an English Garden, more is more. Fill your in-between spaces with blooming plants in a variety of shapes, colors, and textures. When in doubt, just plant MORE.
Design Garden Rooms
Create different spaces, or garden rooms, by using plants to create "walls" between different spaces in your landscape. Try to repeat the material of your house in your garden, so that stone or brick walls, or walkways and paths will appear to be a unified extension of your home.
Incorporating Focal Points And Garden Structures

 
Build decorative structures like fences, arbors, and trellises that will add a place for plants to grow, lending your garden vertical space to spread out and delight. And although English Gardens are packed with greenery, be careful not to make your spaces look too crowded or messy. Adding order and formality to your garden will ground the more organic elements. An intentionally placed focal point, like a water feature or garden ball, or a wrought iron chair and table, or an ornate birdbath, can be not only functional and orderly, but also add a charming element of surprise and a bit of whimsy.
LEARN MORE: Our Favorite Landscaping Design Styles For Utah
Creating A Naturalistic Feel 
Just because something appears to be natural, does not mean that it was not carefully curated and planned. Take great care to organize your garden so that formal and natural elements complement one another and give shape and variety to your landscape. Don't forget to include spaces in your landscape for sitting back and enjoying the scenery. Use natural and timeless materials like Adirondack or wrought iron chairs, or wicker and teak furniture to complete your English Garden design. 
Just Add Water
Whether you prefer a fountain, a pond, or just a simple birdbath, adding water is an essential element for any English Garden landscape. Most English Garden landscapes include some type of water feature, as this is one wonderful way to easily lend a sense of tranquility and peacefulness to your landscape.
Our Favorite English Garden Style Landscaping Ideas 
This home has it all: water for tranquility and peace, clipped hedges in layers juxtaposed against climbing vines, flower beds overflowing with plants of all shapes and sizes, and a focal point structure that adds a bit of old-fashioned charm and color to the landscape. We love how this landscape is the perfect marriage of formal and informal elements that bring home the essential qualities of a well-designed English Garden landscape design.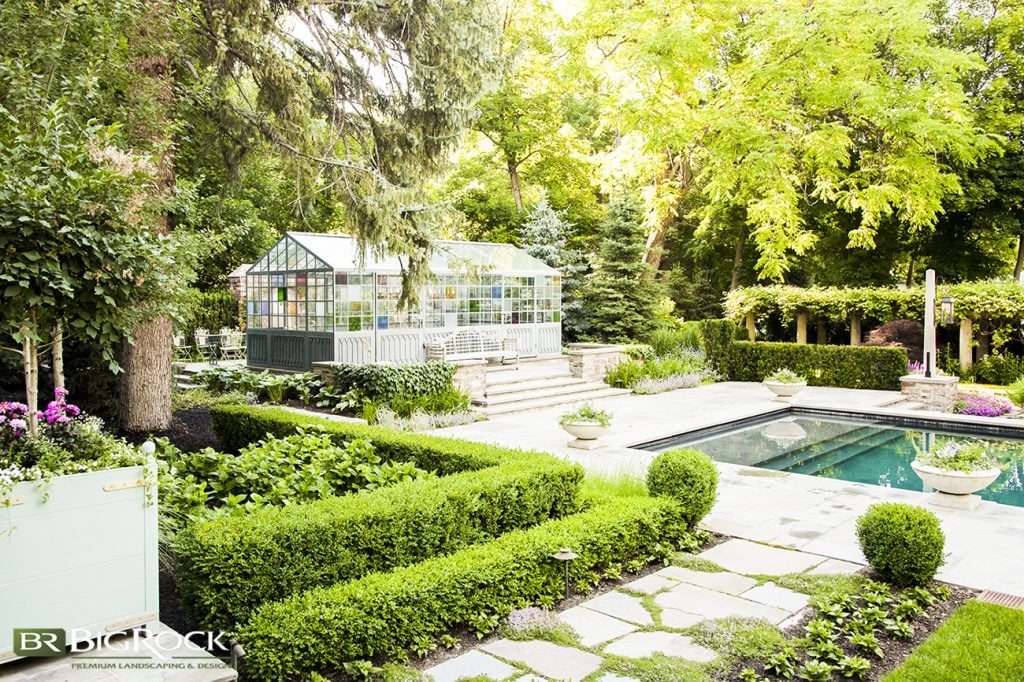 Don't you just want to follow this path to its conclusion? Hemmed in on every side by annuals and perennials, this pathway is a joy in and of itself. The curving lines of the path pair perfectly with the stately and formal lines of the stairs and house in the distance and echo their design themes through the rectangular brick used along the walkway. 
Another hallmark of great English Garden design is water in any form alongside great expanses of lawn. This backyard oasis does a perfect job of surrounding the pond with natural elements like flagstone, mulch, and boulders to complete a natural look of tranquility and peace.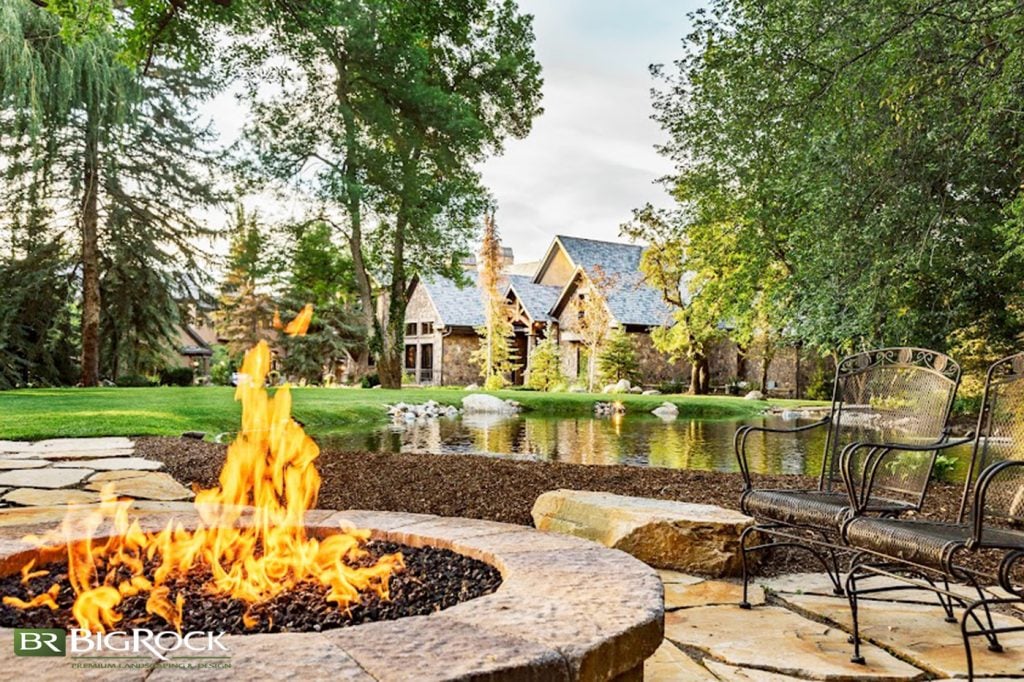 We love the symmetry and orderliness of this backyard English garden design, complete with a water feature accented by decorative planters. Notice how every inch is accounted for and filled with plants that add variety in height and shape. Notice also how there are wide open spaces, while the "walls" of the garden are organically made with plants and shrubs. This is what truly makes an English Garden landscape unique and beautiful.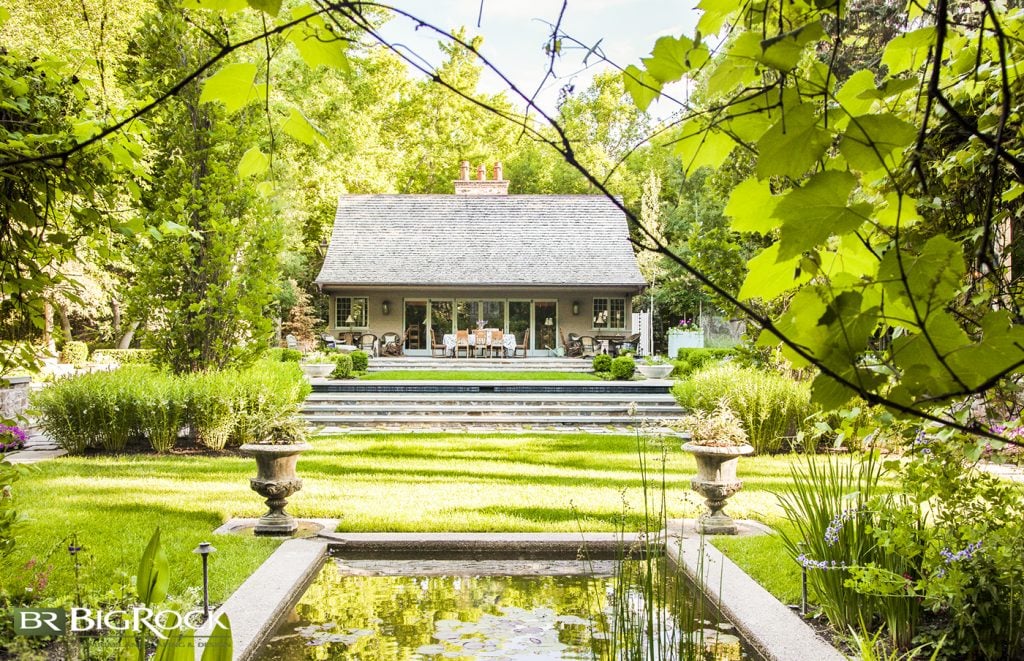 With flower beds overflowing with a variety of ornamental grasses and flowering annuals, there is just enough room to fill the in-between spaces with perennials to add color and depth. More is certainly more in this landscape, and the result is an oasis that feels like you've been transported back in time to an old English country estate.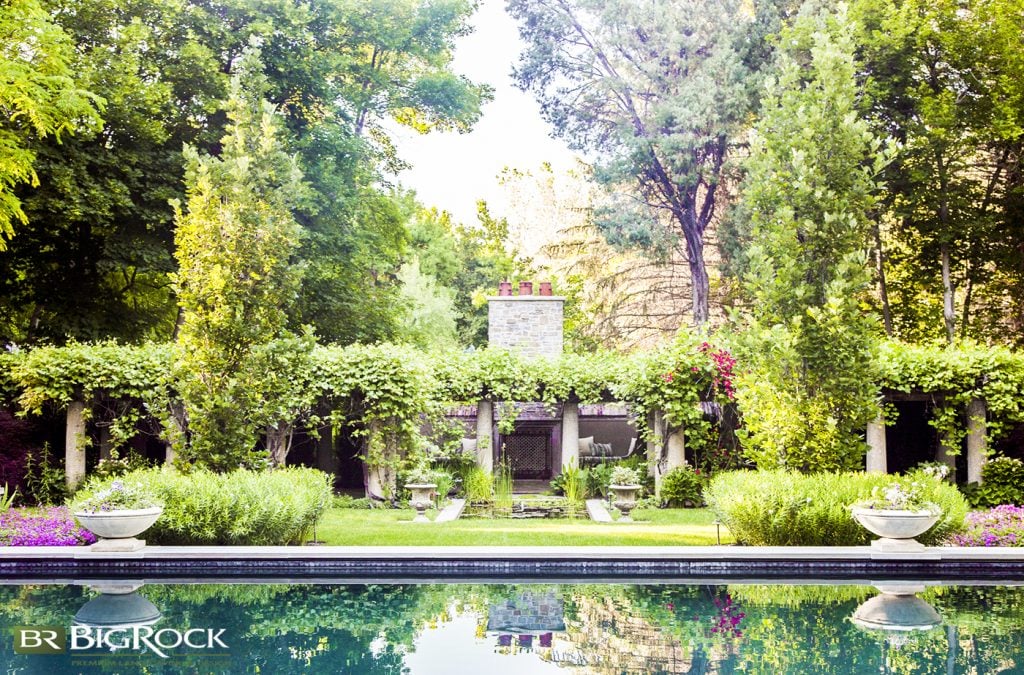 Build The English Garden Of Your Dreams With Big Rock Landscaping 
If you are anything like us, you love plants of all shapes and sizes. We really get excited by the variety of natural landscapes, and working alongside our clients to create an English Garden landscape design is a dream come true for our landscaping design and installation staff. If you get excited by the perfect intersection between the formal and informal, contact landscaping design and installation services! An English Garden landscape will not only enhance your home value and encourage biodiversity, but it will endow your property with an added measure of peace and tranquility. 
We offer full-service landscaping, which means we work hard to deliver expertise in every aspect of premium landscaping craftsmanship, including English Garden landscaping. Need a little inspiration or landscape design ideas? Check out our landscaping portfolio for imagery that will astound and amaze you. Together we can bring a little slice of the English countryside into your Utah home.