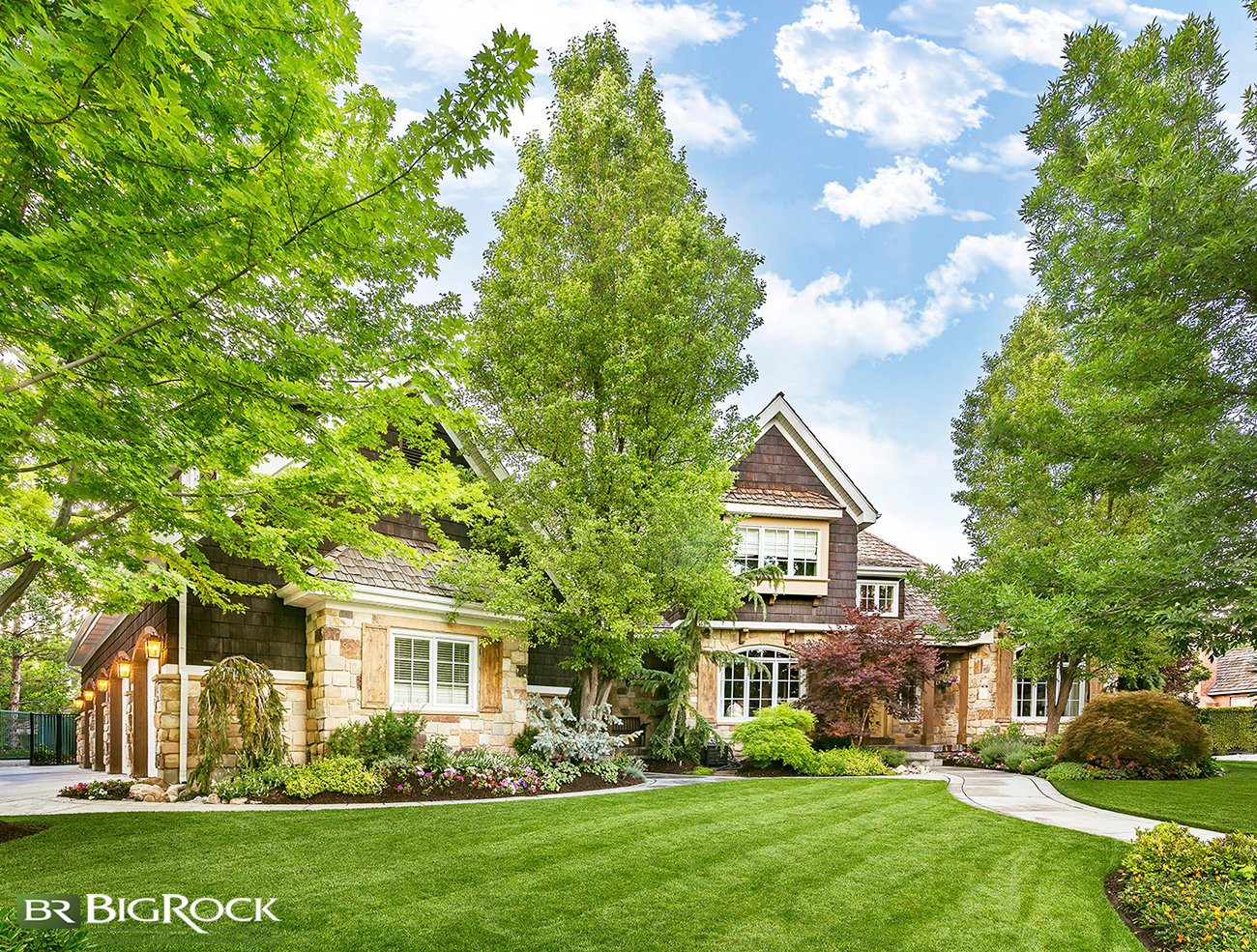 Choosing The Best Bushes For The Front Of Your House
Having plants in front of your house is a great way to make it look more attractive. Believe it or not, it can also improve the air quality on your property. There are many different types of bushes and plants that you can choose for the front of your house, so how do you know which one is right for your property? We break down the best options for homeowners who are looking to add some curb appeal and greenery to their front yard.
How To Choose The Best Bushes For Your Front Yard
There are a few things to consider when choosing the right bushes for your front yard. Considering the answers to the following questions will guide you in your front yard bush search: Do you want bushes for privacy, aesthetics, or both? Do you prefer a natural bush or a shrub? Are you concerned about whether or not the bush will be able to survive a drought? What bushes look best in your area, and how much water, sun, and care do they require? Here are a few additional things to keep in mind:
Size
Think about the size of the bushes in relation to the size of your yard. You don't want the bushes to overwhelm the space, but you also don't want them to look lost and lonely. 
Climate
Consider the climate in your area. Some bushes are more heat-tolerant than others, and some will do better in full sun while others prefer partial shade. 
Style
Take into account the overall style of your home. If you have a traditional home, you might want to choose bushes with more traditional shapes. If your home is more modern, you can go for bushes with more unique shapes. 
Maintenance
Some bushes require regular pruning while others can be left alone and are considered low maintenance bushes. Consider how much time you're willing to spend caring for your bushes before making your final decision. 
With these factors in mind, you're sure to choose the best bushes for your front yard.
Our Favorite Ideas For Bushes In Front Of Your House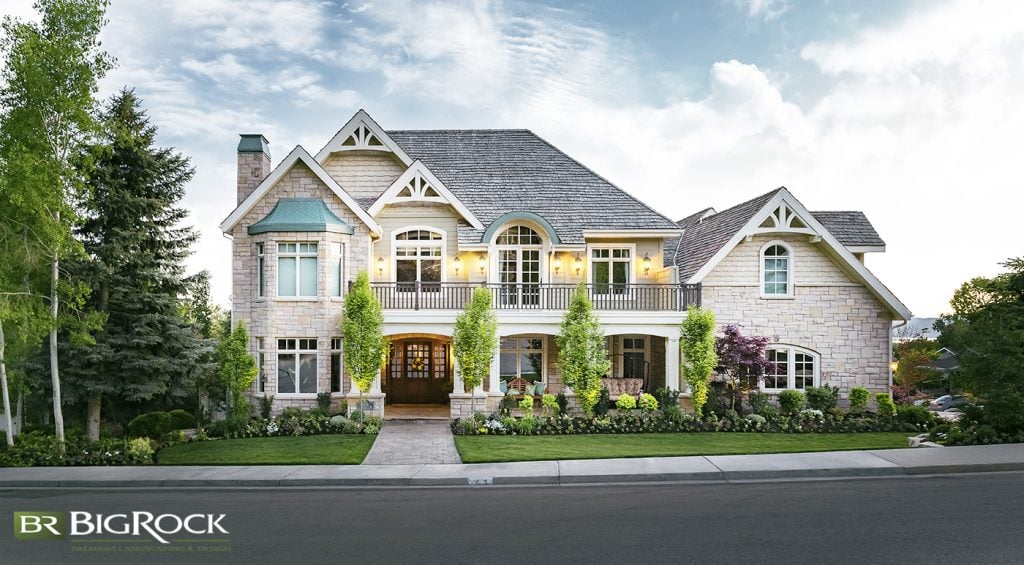 Bushes can be a beautiful addition to the front of your house, and they can offer privacy and shade as well. There are all sorts of different bushes that can be used in this way, so we've put together a list of our favorite ideas. 
Size!
If you're familiar with our work, you know that we love to mix up size, shape, and texture. In this landscape, the homeowner opted for a neutral, cool palette of green and purple, giving this space a calm and upscale look that compliments the exterior style of the home. 
You'll notice that the shrubs have a mostly organic feel which contrasts nicely with the low lines and crisp edges of the lawn. Flanking either side of the door, trees are trimmed into circles that echo the circular front door handle and play delightfully against the firmer, rectangular shapes of the garden beds and grassy areas. Varying sizes of shrubs, trees, and flowering bushes give this yard a classy, layered look reminiscent of European gardens.
Low Maintenance!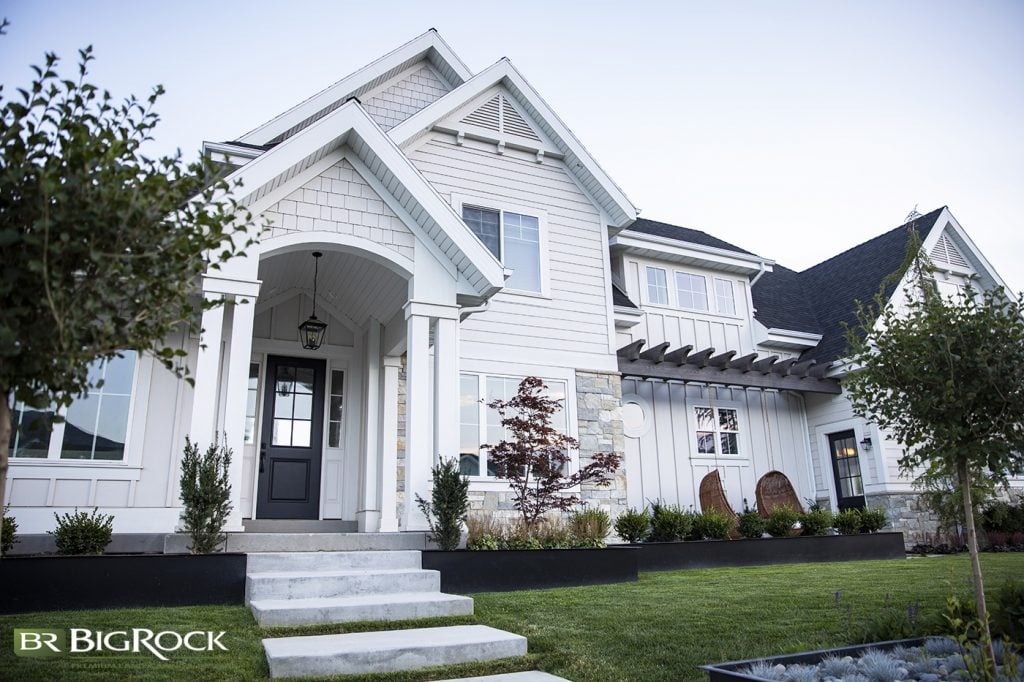 Who doesn't love a landscape that knocks it out of the park but doesn't require endless hours toiling in the yard every Saturday? This home does a fantastic job of creating layers, opting for a large grassy area separated by minimal garden beds instead of layers of shrubs and plants. You'll notice that in the front of the yard, this homeowner opted for succulent plants and rock fill for a low maintenance and hardy front landscape that provides plenty of interesting shapes without all the sweat equity.
Privacy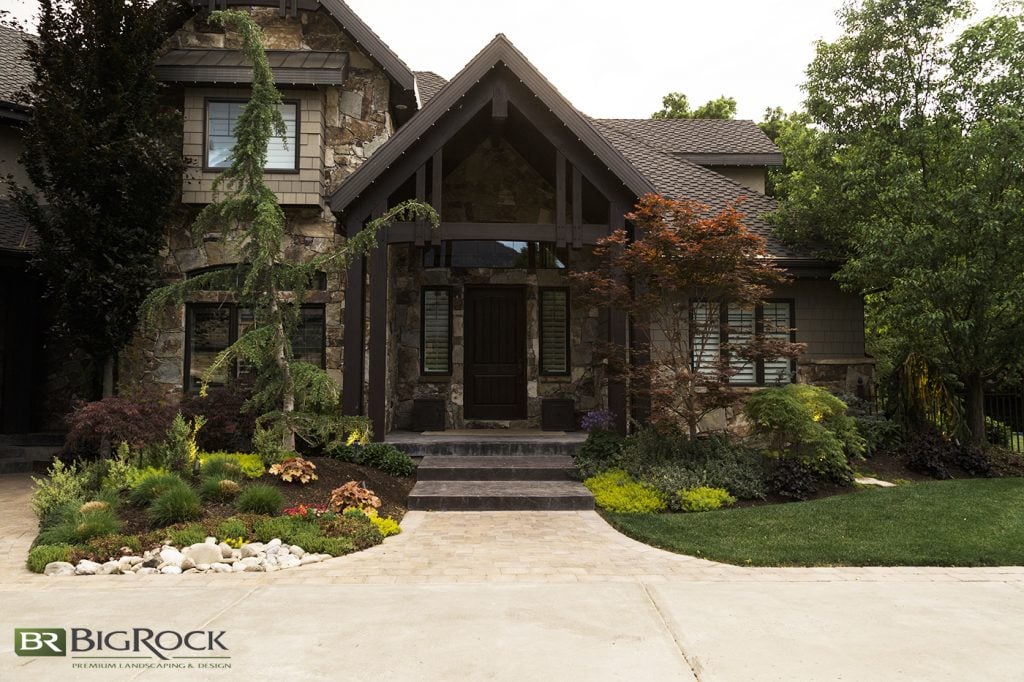 In this home, we love how the mature landscaping is literally hugging every corner of this rustic home. With plenty of size variation in bushes and trees, along with little pops of color, this yard seems to have it all. 
It's always nice to look out a window and see mother nature, and this home has wonderfully situated views of trees and shrubs from every window. Not only is this more pleasant than staring at your neighbors siding, but you also get the dual benefit of natural privacy, as the leaves and branches provide a natural screen to ward off prying eyes.
Color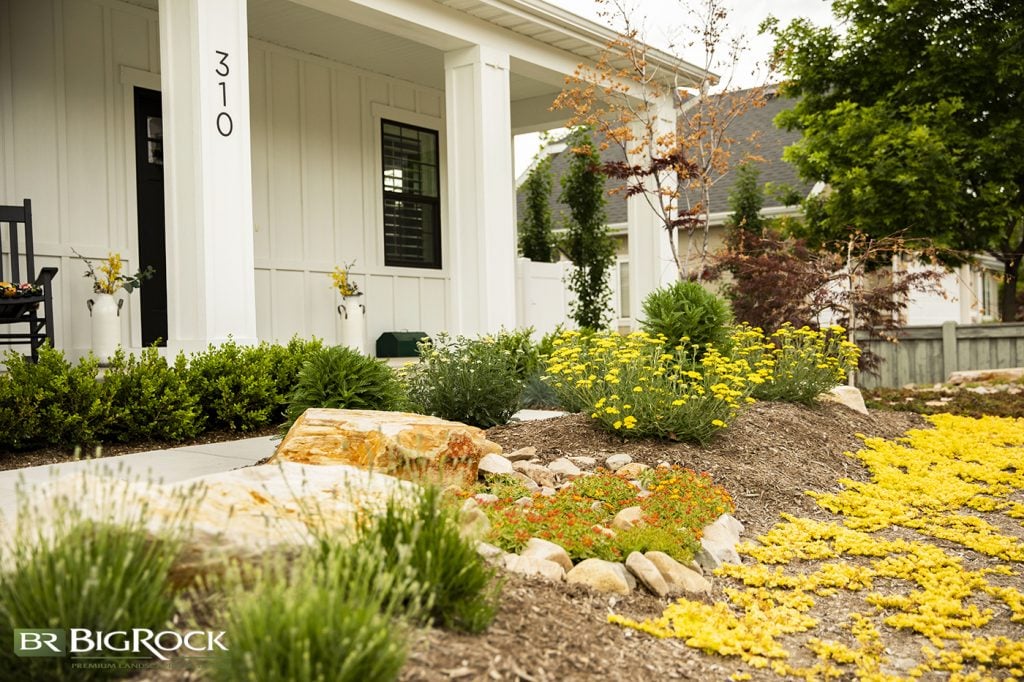 Many landscapes abound with earthy tones of green and brown. And although these colors certainly suit their environment, it's also delightful to see pops of color. Think about how you might feel if you stumble along a field of wild red Poppies or Indian Paintbrush set against the verdant green of the surrounding hills. It becomes a feast for the eyes. You can create the same feeling of surprise and delight by intentionally bringing color into your landscape design. 
Knowing the basic tenets of colory theory will serve you well, especially if you hope to create a landscape that makes a statement. When picking colors, be aware of how "cool" colors (like blues and greens) and "warm" colors (like reds and yellows) influence moods. Cool colors are often calming, while warm colors are attention-grabbers and tend to excite and energize. The home above has chosen a warm color palette of yellow, orange and red, set against the calming backdrop of evergreen shrubs and cream neutral tones echoed in the house siding, stones, and concrete walkway. In addition, by staying within the warm color group, this landscape presents a unified color scheme that ties this yard together as one harmonious unit. 
Aesthetically Pleasing!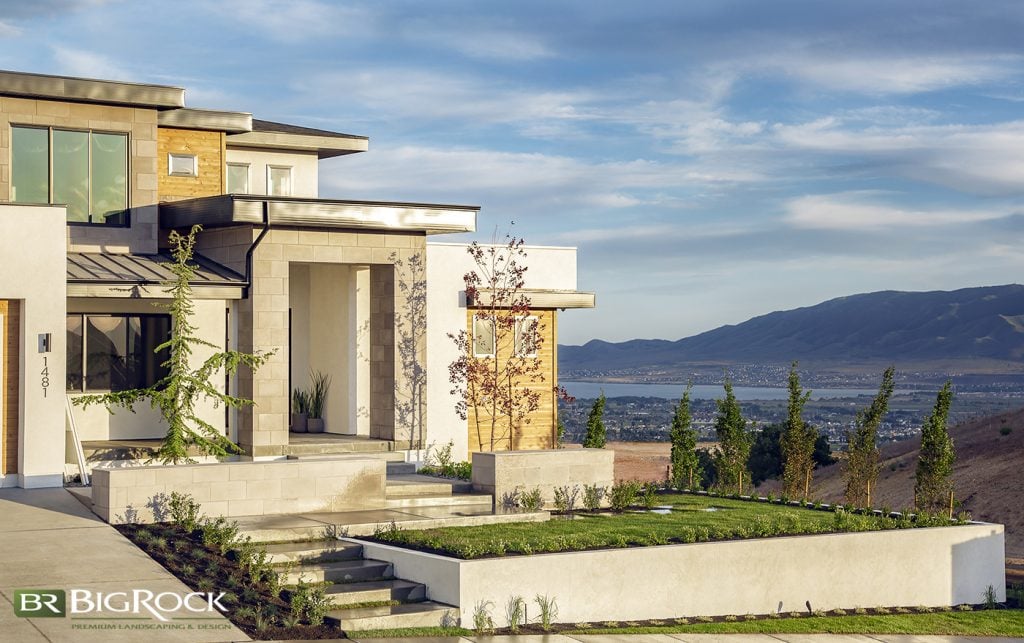 Apart from having a space that reflects your home aesthetic, most homeowners strive to create beauty. When a home has the elements of repetition in shape, layers to create depth, and plants, shrubs, and trees that give texture and variety to the overall theme, you have a landscape that is 100 percent aesthetically pleasing. 
You probably already noticed how the straight horizontal and vertical lines of the home itself contrast nicely with the off-set walkway. While short on color, this landscape, with its monochromatic natural stone and neutral home colors, compliments the green grass and shrubs that hug its borders. And don't forget–varying shades of green can be calming and sophisticated as any colorful landscape scheme. Having an understated yard can be just as aesthetically pleasing as busy yards full of color and bursting at the seams with plants. Sometimes in landscaping, just as in life, less can be more.
Big Rock Landscaping: Your Utah Landscaping Experts
With a passion for creating the outdoor space of your dreams, Big Rock Landscaping can help you select the best plants for your space. Finding a landscaping company can be difficult, but the team at Big Rock Landscaping is committed to providing an unforgettable level of customer service as they design and create beautiful and livable spaces in a natural outdoor environment. 
With the help of an industry expert like Big Rock Landscaping, you can have confidence that the bushes and shrubs you put in the front of your home will not only successfully grow but be aesthetically pleasing as well. 
From the initial design concepts to the demolition and construction, Big Rock Landscaping works tirelessly to develop and maintain your perfect landscape. They have the best artistic tools, professional resources, and design expertise as well as installation and maintenance services in both commercial and residential areas across the Wasatch Front. Their professionalism, artistic eye, suggestions, and attention to detail can help with every stage of the landscaping process. Whatever your vision, Big Rock Landscaping offers the best landscaping services. 
Contact Big Rock Landscaping today to bring your outdoor dreams to reality.