Big Rock Picks: Our Favorite Bushes for Landscaping
Choosing the right bushes for the yard is among the most underrated but critical pieces of good landscape design. You might think, "Just plant a boxwood and call it a day," but the reality is that you must carefully choose the bushes you add to your space, especially in Utah's climate. Not only do you have to consider Utah's climate, which swings wildly from freezing winters to scorching summers, but you also have to consider the style of your yard. 
Add complicating factors such as water, sunlight, and coordinating plants, and choosing the right bushes for your yard is no small feat. Don't worry, we're here to explain what you need to know to choose the best bushes for your landscape. 
Best Bushes For Utah Landscaping
With its wild weather and rugged terrain, Utah's climate complicates finding the best bushes for Utah. However, consider some basic guidelines when choosing a bush for your landscape. 
Consider how much sun the area gets and how you'll keep the bush watered. Then consider the style of your landscape– choosing yucca for your traditional English garden won't likely blend well. Finally, look up the care instructions for the plant you've chosen. Do they need extra water? How often should you prune? What are the signs of distress for this bush? How do you care for it during the winter months? 
The best way to choose the right bush for your yard is to make sure you understand the preferences and needs of that plant and then put it in a space where it can flourish. Of course, if that feels too overwhelming, you can contact landscape design professionals to help narrow your bush options. 
Our Favorite Bushes For Different Utah Landscaping Styles
Utah is one of the most beautiful states in the nation (and if we're being honest and showing our biases, it is the most beautiful state in the nation), which means that when we start a landscaping project, we have to define the style of the design so we can blend it to Utah's terrain and climate. 
While Utah is a great place to use a xeriscaped style to save on water, xeriscaping certainly isn't the only option for landscape design styles in the Beehive state. No matter what landscape design style you choose, there are tons of bush options to make your yard shine. 
Xeriscape Landscape Design
Xeriscaped landscapes usually focus on drought-tolerant, low-maintenance plants and hardscapes that support those features. When working with a xeriscape design, you'll want to find plants that are more native to Utah, so they will require less water and survive both the hot summers and cold winters. Our favorite bush for xeriscaped yards? Blue Fescue.
Bushes in xeriscaped yards typically don't get huge. Remember, this design focuses on low water and maintenance, which means the plants likely won't get big. Blue Fescue is the perfect addition to xeriscaping design because it doesn't require much water, adds color and texture to the space, and doesn't require too much maintenance.
English Garden Landscape Design
When you think English Garden, you likely think of Boxwoods. These bushes are very amendable to pruning and shaping, making them the perfect fit for this landscaping style. 
Boxwoods are easy to incorporate as pathway lining or as a mini fence, but they can also shine as the primary focus of a space when they have been pruned. These bushes are used in many different landscape design styles because they are versatile, hearty, and evergreen, but they shine brightest in an English garden. 
Mountain Landscape Design
Native to Utah's mountainous terrain, Salvia is one of our favorite mini bushes to add to a mountain-style landscape design. Because it is indigenous to Utah, this plant can get up to 5 feet tall when cared for properly.
But its size isn't what makes us love this plant, it's the variety of colors and textures it brings to a yard that makes it indispensable in mountain landscapes. 
Complimenting the rough terrain and variety of other plants, this hearty plant is a soft and bright addition to mountain landscape design. 
Contemporary Landscape Design
Clean lines, simplicity, and neutral colors are hallmarks of contemporary landscape design, which makes it easy to name yucca as the best bush for contemporary landscapes. Not only does yucca thrive in Utah's hot summer months, but it does beautifully throughout harsh winters. 
This plant's uniform color, clean lines, and sharp angles make it the perfect addition to contemporary yards. 
Farmhouse Landscape Design
One of the most versatile bushes out there, juniper works beautifully with the casual, inviting, warm vibes of farmhouse landscape design. These plants can grow huge, as tall as 15 feet, but are easy to keep at smaller sizes when necessary. 
Not only are they the perfect vibe for a farmhouse design, but many junipers are native to Utah, meaning they'll do beautifully in the hot sun and the heavy snow. 
Traditional Landscape Design
Privet species are the perfect bush to add to your traditional landscape design. This simple, versatile bush doesn't overshadow other landscape elements but is beautiful enough to feel cohesive with the rest of the landscape.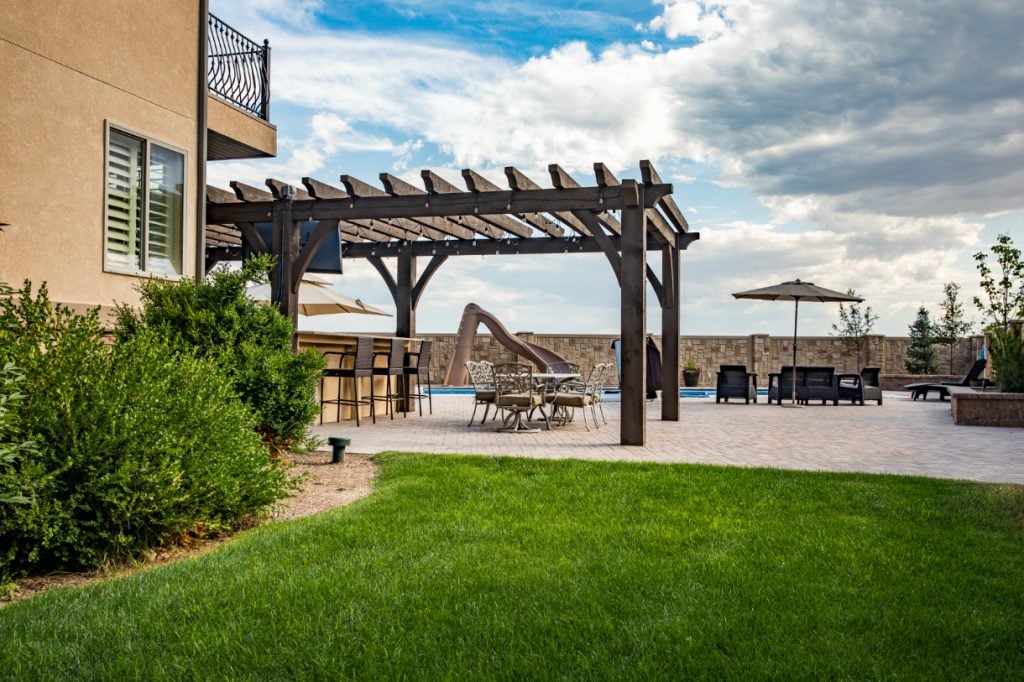 Privets take well to pruning but don't necessarily require much maintenance, just standard watering and fertilizing. This is one of our favorites to add dimension and texture to your landscape without stealing the show from other plants and shrubs. 
Landscaping With Utah-Native Bushes
Utah's climate is not friendly, especially to more fragile plants. That's why choosing plants indigenous to Utah will ensure your yard is full of healthy, vibrant plant life. We've selected a few of our favorite bushes that are native to Utah to help you find the best bush for your yard.
White Sage
Silvery white leaves are showstoppers on this Utah-native bush. Not only is this plant a simple, easy-to-care-for addition to your landscape, but it smells wonderful and is resistant to rabbits, deer, droughts, and pests. This is an easy choice for homeowners who love low-maintenance but stunning bushes. 
Utah Agave
This little plant easily survives Utah's harsh weather and blooms in late winter. With spiney-edged leaves that grow upward, the Utah Agave can grow up to 12 feet tall in the right conditions. But don't let the spikes scare you off, this is one of the easiest and heartiest plants in Utah. It can grow in full sun or part shade, works beautifully in xeriscaped yards, and attracts hummingbirds. 
Big Blue Sea Holly
One of the most unique plants in Utah, the blue stems and flowers of the Big Blue Sea Holly are a perfect addition to any Utah yard. Blooming in the summer and preferring full sun, this perennial needs little water and still grows up to three feet. This is one of our go-to plants when we need a pop of color and texture in a landscape design, especially if we go for a more water-conscious plan. 
Maintaining Your Utah Landscape With Bushes
Our number one tip for maintaining the bushes in your Utah landscape is to understand each plant's needs. Before you plant anything, consider how much maintenance, water, and sun the bush will need, and then record that information somewhere easy to access. Some bushes in Utah need to be wrapped to survive winter, some need to be pruned, and some need a little extra fertilizer in the spring. Some bushes like to be left alone, and others require a more hands-on approach. Knowing the needs of each bush will help you keep your yard looking healthy all year. 
Big Rock Landscaping: Experts At Finding The Right Bush For Your Utah Yard
Utah's unique and beautiful landscape is one of our favorite parts of our job—learning how to work with our gorgeous state's soil, sun, water, and terrain is delightful. There's a lot to consider and many factors that can kill your landscape, especially regarding the bushes you plant. There are plenty of native plants to incorporate into your landscape design, no matter your style, but depending on your yard, problems may arise that cause issues down the road. That's why hiring an expert landscape team will ensure the bushes in your yard survive and thrive. Our team of dedicated landscape experts is ready and waiting to help you find the best bushes for your Utah yard; contact us today to find out how we can make your yard grow. Let's get started on your dream yard!