A Peek Inside Our Beds: Traditional Landscape Ideas For Your Flower Beds
When you hear traditional design, maybe you think it is boring, outdated, or overused. But nothing could be further from the truth, especially when our team gets to create a traditional landscape design. Ensuring that the space is neither boring nor outdated, we design traditional landscapes using individual elements, from hardscape to handpicked shrubs, to create a seamless, stunning yard. 
Understanding Traditional Landscaping Design
Traditional Landscaping design uses several key design principles, including principles you'd expect like symmetry and balance. An asymmetrical yard with balanced proportions gives an air of order and rhythm. Manicured beds and overall tidiness will likely not surprise you as fundamental traditional landscaping elements. 
But some design principles of traditional landscaping might surprise you, including topiaries, statues, water features, and other hardscape elements that feel more like a piece of art. Another feature of traditional gardens that may surprise you is creating spaces with clearly defined uses. For example, you'll know when you are in a recreational area of the yard as opposed to an outdoor dining area, these two spaces will be deliberately designed to feel separate. One of the most important features of a well-designed traditional yard is the plant choices, especially in the flower beds. You may think that boxwoods and hydrangeas are the only options for creating a traditional landscape, but we've found dozens of plants that work beautifully together to create a traditional look. 
A Peek In Our Beds: Best Plants For Traditional Landscaping
When choosing a plant for traditional landscape design, you must consider the individual and the whole. While you might think salvia is more of a modern or even xeriscape type of plant, mixed with the right bedfellows (see what we did there?!), it will shine in a traditional yard. If you're feeling confused or overwhelmed, don't worry, we've got some basic ideas from our own projects to help you get started.
Blend Color And Texture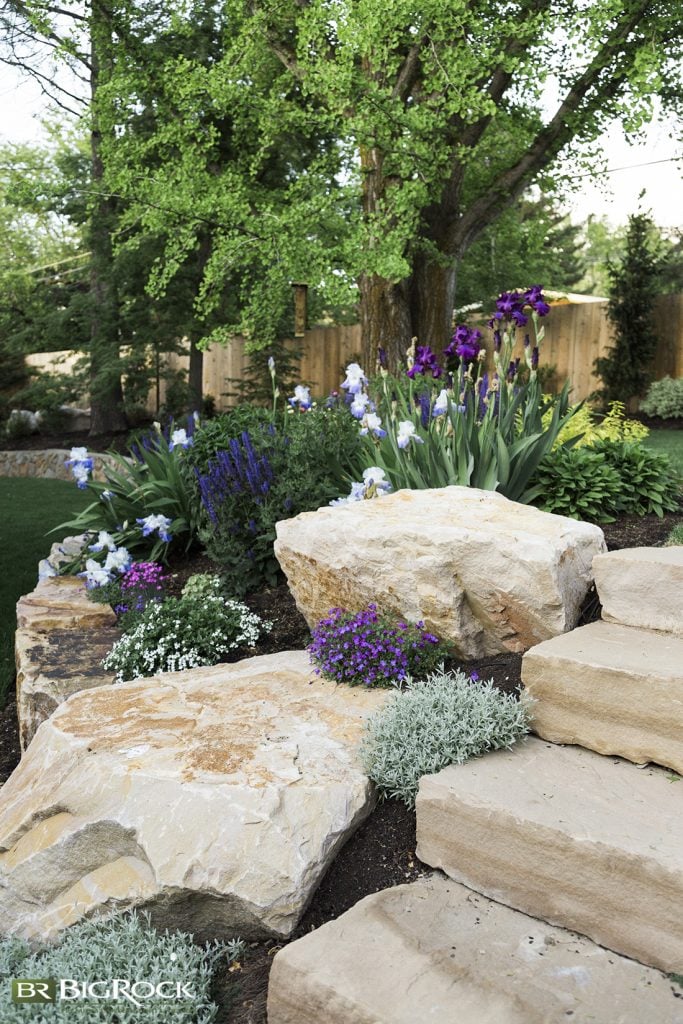 This traditional garden bed features several plants and hardscaping with boulders.  With the intention of adding plenty of color to the space, we added iris, geranium, yews, salvia, and lambs ear to the bed. Note how the plants are arranged in groups of 3-5 with varying heights and shapes.
Another example of blending color and texture is shown in this front yard garden bed. The varying heights of trees, shrubs, and flowers and the balance in how they are placed create a cohesive design with plenty of visual interest. 
Native Plants And Mature Trees
Think you can't use scrub oak (a Utah native) in traditional landscape design? Maybe you think it can't be used to create a balanced design because it's not a symmetrical tree. There are plenty of Utah native plants and trees that you can use in your landscape design, and not only does this add dimension and character to the design, but the beauty of a mature tree can't be understated. 
Considering Utah's winter months can last anywhere from 4-7 months of the year, incorporating a good blend of evergreen and deciduous plants and trees into your yard will help the space feel alive even in the dead of winter. Note the blend of both types of trees in this backyard. 
This traditional landscape also features manicured boxwoods, roses of multiple colors, an ornamental statue, and classic traditional design elements. These more traditional elements blend with Utah's native plants and trees, creating a unique and beautiful traditional landscape. 
Symmetry And Balance
Symmetry and balance are thoughtfully used together to create traditional landscapes. For example, this symmetrical house looks beautiful with a very symmetrical landscape design. Lions Head Japanese Maples flank the door while varying heights of boxwoods line the front entry. 

How to Design a Traditional Landscape Garden
Start With Your Exterior
If your home's exterior is fairly symmetrical, you can probably mirror that symmetry in your front yard landscape design. Plant the same types of plants on either side of the home, add color and texture, and have a relatively straightforward landscape plan. If your home is asymmetrical, you have a little more work cut out for you. Add "heavier" landscape elements like a large tree on the side of your home that is "lighter," meaning the side that has less home on it. Then balance that heavy tree with varied heights of shrubs and bushes. You can plant your shrubs in rows to keep the traditional vibe strong. 
Choose Your Plants With The Whole Design In Mind
A single plant is one (crucial) part of the whole. Every element should blend in your yard with the understanding that the whole isn't complete without the individual parts. So if you love irises, add them with the understanding that they grow tall, so adding complimentary heights near them is a good idea. Remember, too, that they have a dramatic flower, but they usually wilt before July, so you'll have to compensate for the color and vibrancy they brought to the bed with a flower that blooms in July (think gladiolus, a tall plant with a dramatic flower). Yes, it's a lot to consider, but if you feel stuck, you can contact our team to help you develop a plan (and we can help install too!)
Remember To Play With It!
Your outdoor space can be a traditional design, but it doesn't have to feel stuffy or forced. Adding a surprising flower, pot, hardscape element, or tree can bring a sense of playful ease to the space. Allowing your landscape to breathe a little with unique additions will create a space you'll love to spend time in that will reflect your taste and style. 
Add Outdoor Living Spaces
Traditional gardens were originally designed to be where you could walk a path, see beautiful flowers, trees, and shrubs, and then sit on a bench to rest and enjoy the scenery. Think traditional English gardens where the likes of Jane Austen would take a stroll. Adding seating, outdoor dining space, patios, pergolas, and other features create an inviting atmosphere while honoring the roots of traditional landscape design. 
Ask For Help When You Feel Stuck
Feeling like you've looked at a thousand images of traditional landscapes and still unsure where to start? That's okay, landscape design is no small task, especially when you have a specific look in mind. You can contact our team for a design consultation, and we'll work with you to create a traditional landscape design you'll love. 
Like Our (Flower) Beds? Let's Get Started On Yours!
Finding the right plants, shrubs, flowers, and trees to use in your traditional landscape design takes time, experience, and a deep understanding of Utah's climate. From finding the right blend of symmetry, balance, color, and texture, plotting out your traditional garden beds can feel like a landmine of problems. That's where our team at Big Rock Landscaping can help—we love designing and installing stunning traditional landscapes. So whether you need help designing a couple of flower beds or a whole yard overhaul, contact us today to find out how we'll create a traditional landscape you'll love for years to come.