A Peek Inside Our Beds: Modern Landscaping For Your Flower Beds
If you think modern landscape design is as simple as picking a couple of ornamental grasses and calling it a day, you haven't seen some of the absolutely breathtaking modern landscapes our team at Big Rock Landscaping has designed. Certainly, modern landscaping can be more minimalist, using clean lines and a neutral pallet to achieve a clean look, but sometimes designing something to look simple is the most complicated process. Our team loves a modern landscape, and we choose plants, hardscapes, colors, and textures to blend beautifully into a stunning space you'll love. 
Understanding Modern Landscaping Design
Modern design offers plenty of variety and unique features, but some basic principles apply across all modern landscape designs. Repetition, clean lines, subtle use of color with one or two accent colors, geometric shapes, designs, and symmetry are all features you can count on when looking at a modern landscape. Plant selection is one of the most important ways to highlight a modern design. Ultimately, no plant is off-limits for modern design, especially when carefully chosen and added by professionals, but some plants shine in this aesthetic. 
A Peek In Our Beds: Best Plants For Modern Landscaping
Choosing your plants for your modern flower bed is no small task, but using some basic principles to help you decide will make the process easier. Look for plants that have clean lines, like yuca and ornamental grasses, then choose plants with colors that blend well together to give the space a cohesive look, then add an accent color or two with your flowers and shrubs (think salvia or lavender)—still feeling overwhelmed? You can always reach out to us for design help, but in the meantime, consider some of the modern elements we added to these past projects. 
Order And Symmetry In A Modern Front Yard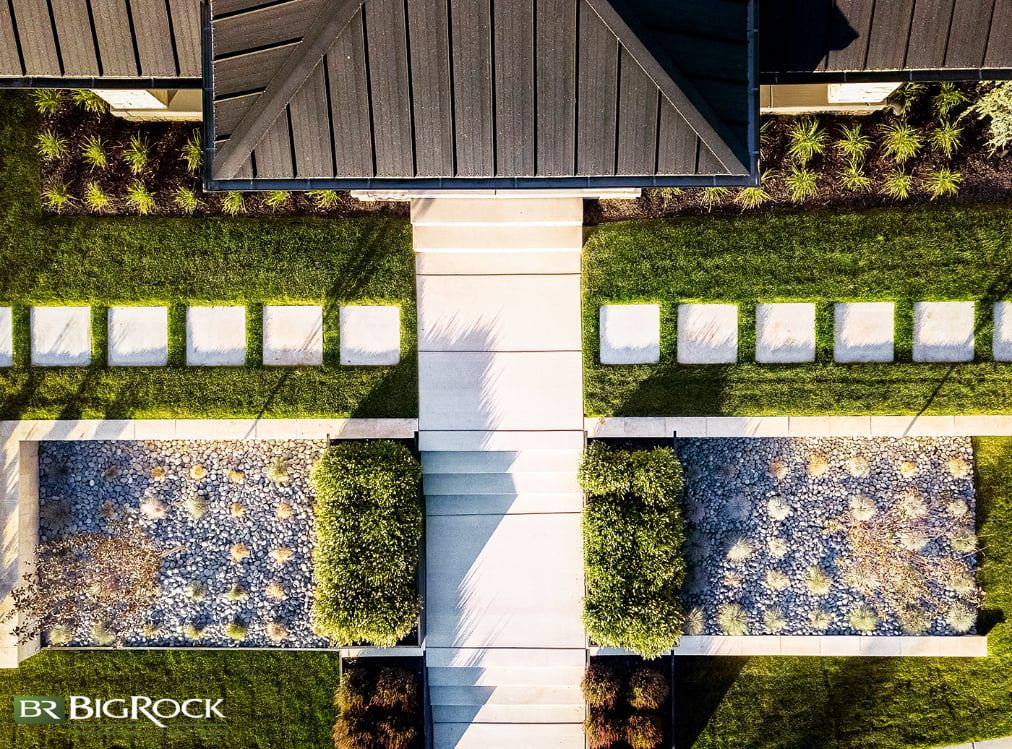 Every element in this sloped front yard exemplifies modern landscaping. The clean lines and the bright white of the pavers, the river rock in the flower beds, trees planted in symmetrical places, boxwoods lining the front walk, and blue fescue as the only plant in the beds. Using just boxwoods and blue fescue, the simplicity in these beds is the picture of modern elegance.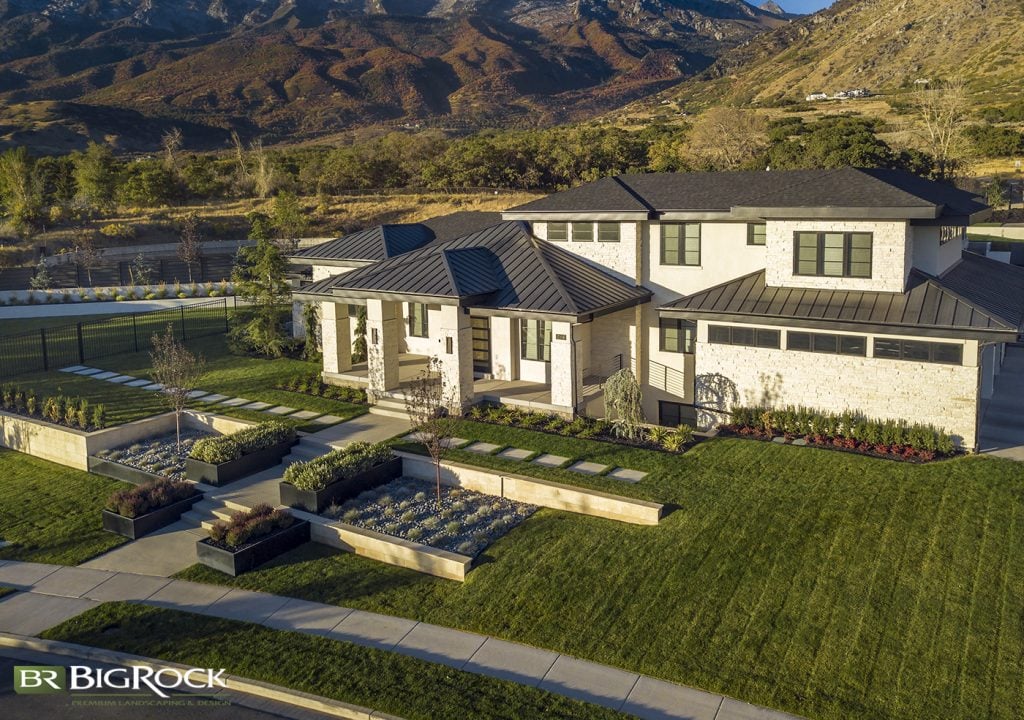 Modern landscape design is fundamental in this front yard. Because modern design uses clean lines and simplicity, we could add retaining walls, custom metal planter boxes, and modern pavers to the front yard. The CMU walls are wrapped in a veneer that matches the home's exterior, and the steel flower boxes complement the roof. These small design choices greatly impact creating an overall cohesive vibe.  While we can make any sloped front yard look beautiful, a modern aesthetic lends itself well to the hardscape elements of a sloped front yard. 
Complimenting The Home's Exterior
Landscaping experts know that when you design a landscape, you have to consider the colors, textures, scale, and aesthetics of the home's exterior. We used multiple materials to dress the beds in this modern front yard. Alone with blue fescue in this custom black garden box, we added Mexican pebble to compliment the whites and grays in the home's exterior. This balances beautifully with the rest of the landscape as well. 
Closer to the house, we added mulch to the beds to soften them and boxwoods and ornamental grasses. This softens the design, which we did, because of the strong lines and design of the home's exterior. This home is another example of how to work with sloped yards and modern design. We added steps into the slope of the grass, using clean lines and white in the steps themselves. The black planter boxes stand out as a focal point, and they coordinate with the black roof of the home. 
Use Color And Texture (The Modern Way)
Modern landscape design will incorporate color and texture without taking over the yard. This yard uses purple and white salvia in a pattern to add that pop of color without the space feeling too overwhelming. We chose one accent color (purple) and added it to an otherwise monochromatic space. With Karl Forester grass lining the back, the alternating colors of the salvia don't feel busy. Combining that with the clean white lines of the retaining walls and the visual interest of the blue spruce and ornamental plum trees, this modern garden bed shines as an example of blending color and texture.
Creating a Modern Garden with Plants
Adding a modern landscape to your yard can feel daunting. After all, "simple" design sometimes requires the most attention and effort. We have some tips to help you on your way, but if you ever feel lost or overwhelmed, you can always reach out to our team to get some direction in your design journey. 
Start With Your Pallet
A color pallet will help you make easy "yes" or "no" decisions when you walk into your local nursery to choose plants for your modern yard. Decide if you will use primarily dark or light greens in your plants, and choose an accent color (two at most). Then consider if these colors will go with your existing or preferred hardscape. You can mix and match your colors until you find a palette that works with your home's exterior, your preferences, and your hardscape. 
Use Texture Where You Lack Color
Texture is how we ensure a modern landscape isn't boring. If you only use a few colors, you add visual interest with different textures. For example, blending the smooth texture of a yucca plant with pea gravel can have a stunning effect on the yard without adding color.
Choose Hardscape Carefully
Your hardscape elements don't necessarily have to match in every way, but pick one element that matches. Whether that's color (all black or all white), material (all metal or all concrete), or bed cover (mulch, pea gravel, river rock, lava rock), make sure there's one element tying them together that is easily distinguishable. Remember, you don't want it matchy but complementary. 
Outdoor Furniture That Compliments Your Plants
Your outdoor furniture can add texture, warmth, and visual interest to your yard. For example, choosing wood outdoor furniture will complement the space without losing the modern vibe if you've opted for a primarily white color pallet (white pavers, white flower boxes, etc.). This lighter pallet also allows the colors of the plants in your yard to shine.
If you've opted for a darker palette, both in your exterior and hardscape, you can add white and wood to create a softer, more inviting space that matches your aesthetic. Choosing this neutral furniture, especially in wood tones with white material, compliments the green and draws your eye to the green elements of the space. Note the black planters that line the home's exterior, allowing even more space for plants to shine in the yard. 

Big Rock Landscaping: Your Modern Landscape Design Experts
Clean lines, a neutral color pallet, unique textures, and simplicity aren't easy to blend together to create a modern landscape design. In fact, because of the simplicity of the design, every element we choose matters even more. That's why choosing Big Rock Landscaping for your modern landscape is the surest way to get your landscape design just right. We've designed and installed dozens of modern landscapes, and none of them are alike. We'll create a personalized plan for your yard, ensuring your outdoor space represents your aesthetic. Ready to start on your modern landscape journey? So are we. Contact us today to find out how we can help you create the modern oasis of your dreams!