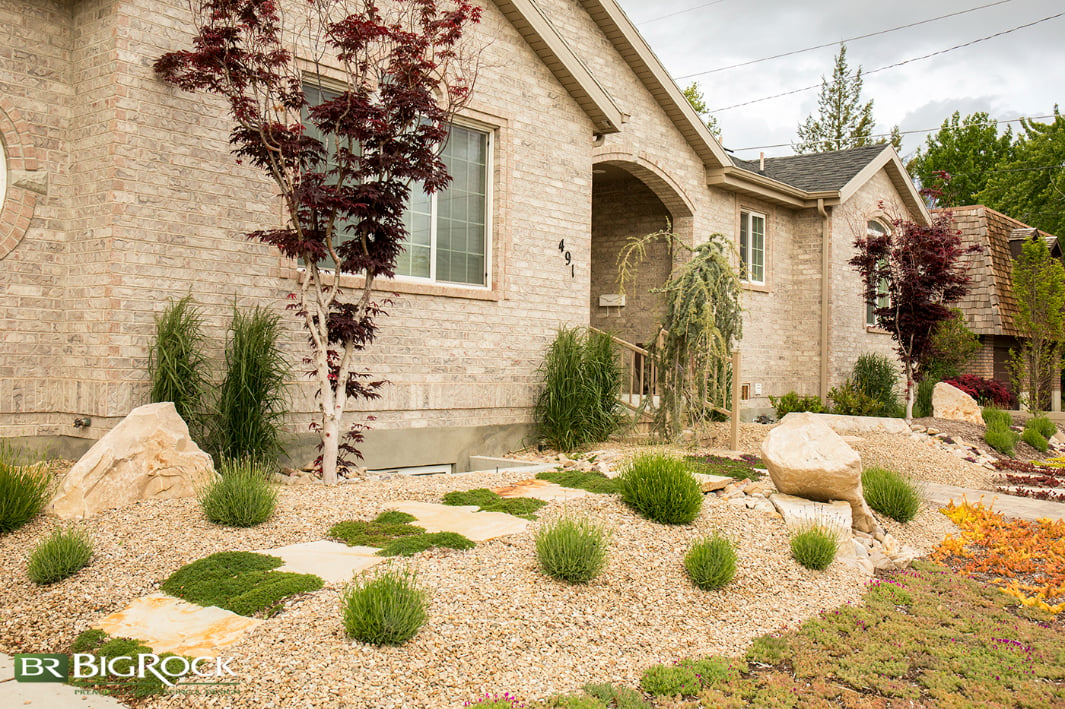 How To Prep Your Xeriscape Landscaping For Fall and Winter
Xeriscaping is designing landscapes around native plants that require little or no water beyond what the natural climate normally provides. These landscape designs are well-planned, low-maintenance landscapes that require minimal water and maintenance like weeding, fertilizing, pest control, and pruning. 
Xeriscape landscaping can save you time, money, and water. In today's world, these are highly sought-after benefits, and Xeriscape delivers those benefits in spades. It may be that you've discovered the benefits of xeriscape landscaping and now possess a beautifully xeriscaped yard heading into the fall and winter seasons. What now? Are there any maintenance tasks to prepare your xeriscaped yard for fall or winter? Utah winters are harsh and can take a toll on even your hardiest plants and trees. And although a xeriscaped yard is excellent at caring for itself, some simple xeriscape maintenance steps will prepare your xeriscape landscaping for winter.
Essential Steps For Xeriscape Maintenance In Fall
It's tempting to think that if you've filled your xeriscaping landscaping with native plants that don't require much maintenance or water, you can plant it and forget it. Your yard will look after itself, right? After all, isn't this what happens in their natural environment? You're not wrong to think many xeriscaped yards are mostly self-sufficient, especially compared to the typical yard full of water-needy grass and plants. That said, there are a few essential xeriscape maintenance steps you'll need to take to prep your xeriscape landscaping for when the leaves start to change their colors. 
What are the essential steps for xeriscape maintenance in the fall?
Follow these simple steps to get your essential fall maintenance out of the way before winter hits.
Step 1: Clearing And Cleaning
Trees are a common element in most xeriscaped yards; as lovely as they are, they shed organic debris. Trees, perennials, and shrubs will all shed leaves, bark, flowers, pollen, and other organic debris throughout the summer, and these will need to be removed to prevent pets and maintain a tidy environment. You'll also want to keep a sharp eye out for weeds. The best time to do a weed inspection of your xeriscaped yard is at the end of summer. Fall is the perfect time to remove fallen leaves, debris, and weeds from the xeriscape garden, along with any plants that did not survive the hot Utah climate.
Step 2: Pruning And Trimming
Because xeriscape plants thrive in their natural environment, some trimming in the fall will ensure your landscape does not feel overgrown. Trim back overgrown plants in the fall to maintain their desired shape and size. Fall is also the perfect time to prune any dead or damaged branches to promote healthy growth next season.
Step 3: Mulching And Insulating
Apply a layer of organic mulch or replenish the rock in your beds to help your plants retain water by insulating the roots. If you have sensitive plants, add a layer of straw or burlap underneath the mulch for further protection from the sun and to lock in moisture.
Step 4: Check And Repair Drip Systems
Fall is a great time to check your drips to ensure there are no leaks and everything is running smoothly. You can also reduce your water usage when the temperatures start to drop.
Winter Care For Xeriscape Landscaping
Before the snow flies, ensure your xeriscaped landscape is prepared for the harsh Utah winters. Even in nature, some plants don't survive the winter, so taking steps to protect your plants and shrubs will go a long way to helping them through the tough winter months so they can flourish in the spring.
How to prepare xeriscape landscaping for winter?
Follow these xeriscaping tips to prepare your plants and shrubs for winter.
Watering And Irrigation
Adjust your watering schedule for reduced water needs during fall and winter. If you live in a climate with a fair amount of snow, like Utah, you'll need to winterize your outdoor water system by turning off the water to the outside watering systems and bleeding the valves. Once transplanted plants are established (generally between one to two years), they require less water. Ready for some good news? Mature xeriscapes that use less water naturally result in fewer weeds. High fives all around!
Protecting Plants From Frost
Cover delicate plants with frost blankets or cloth when the forecast calls for frost. Frost can damage a plant beyond repair. Some delicate plants, especially newly planted ones, will require windbreaks to shield the plants from harsh winter winds.
Select Winter-Friendly Plants
Choosing native, drought-tolerant plants for your xeriscaped garden will help you conserve water while requiring less upkeep and maintenance. Native plants are also naturally built to withstand harsh climates. Utah has many different climates within the state, but in the high mountainous areas that are dry and hot in the summer yet receive considerable snow and freezing temperatures in the winter, these native plants will perform well under low water conditions and high temperatures.
Yarrow. This drought-tolerant plant thrives in hot, dry weather. Endowed with compact yellow, pink, or white flowers that resemble mini sunflowers, this plant is an excellent addition to any xeriscaped garden.

Ornamental grass. Most ornamental grass does best when planted in full sun. It's a native plant used in hot, arid climates like Utah. Ornamental grasses have thick roots, allowing them to conserve water, making them ideal for xeriscaped gardens.

Jupiter's beard. Picture dark green foliage with close clusters of tiny dark red flowers; you've got Jupiter's beard. A tough, durable plant, Jupiter's beard thrives on minimal water and is great for biodiversity–it attracts butterflies. 

Lavender or Rosemary. Both of these herbs do wonderfully in hot, arid climates. They don't require much attention during the growing season and require minimal water. Add in the fact that they smell great and can be used for cooking, and you've got yourself the perfect xeriscape plant that's drought-tolerant, almost maintenance-free, AND functional.

Curl Leaf Mountain Mahogany. This large shrub/small tree is native to Utah and is the state's only broadleaf evergreen. This species is very slow growing, but once it reaches maturity, its deep roots stabilize the soil and conserve water, adding to its ability to thrive in most soil types. 
Need more ideas for water-wise plants? Check out our Xeriscape Landscaping portfolio.
Xeriscaping Landscapes: Less Is More!
It's fun and relaxing to spend time in a xeriscaped garden. And while no landscaping is completely maintenance-free, xeriscaped landscapes are as close as possible. Carefully curated to contain native, drought-tolerant plants that can withstand harsh climates, xeriscaped gardens use less water and require less weekly maintenance like pruning, weeding, and fertilizing.
And although we would love to encourage the plant and leave it philosophy, all landscaping does require some maintenance. But with just a little elbow grease, you can protect and maintain your xeriscaped landscaping during the fall and winter months so it can thrive and blossom in the spring. Feeling like that's more than you want to take on? Let Big Rock Landscaping come to the rescue. 
If there's one thing we love more than taking care of the landscape, it's taking good care of our clients. Big Rock Landscaping and Design offers design, installation, and maintenance services along the Wasatch Front in residential and commercial areas. And we are committed to providing unparalleled service and professionalism as we craft beautiful, livable spaces in a natural outdoor environment. We'd be honored to be your trusted partner in landscaping, whether it be maintenance, installation, or design.