Contemporary Landscaping Design–Give Your Traditional Home A Clever Update
If you're like most homeowners, you've taken great pains to make sure the inside of your home is carefully curated. Now it's time to give the outside of your home the attention it deserves. Contemporary Landscaping design is a surefire way to get landscaping that will stop traffic. With timeless natural elements that deliver the sought-out benefits of sustainability and low maintenance, Contemporary landscaping is worth the extra time and money.
What Is Contemporary Landscaping?
Contemporary landscaping is a modern approach to landscaping outdoor spaces that uses design principles like clean lines, minimalism, and the integration of natural and man-made elements to create visually appealing and functional landscapes.
LEARN MORE: Guide To Utah Landscaping Styles
The terms Modern and Contemporary landscaping are sometimes used interchangeably, and although they do share certain stylistic elements, they both have their own unique characteristics. 
Characteristics Of Modern Landscaping
Modern landscapes incorporate design themes from the early to mid-twentieth century, which include design principles like clean, sharp edges paired with simple materials like concrete or metal. Modern landscapes also use crisp lines, symmetry, and a more neutral color palette.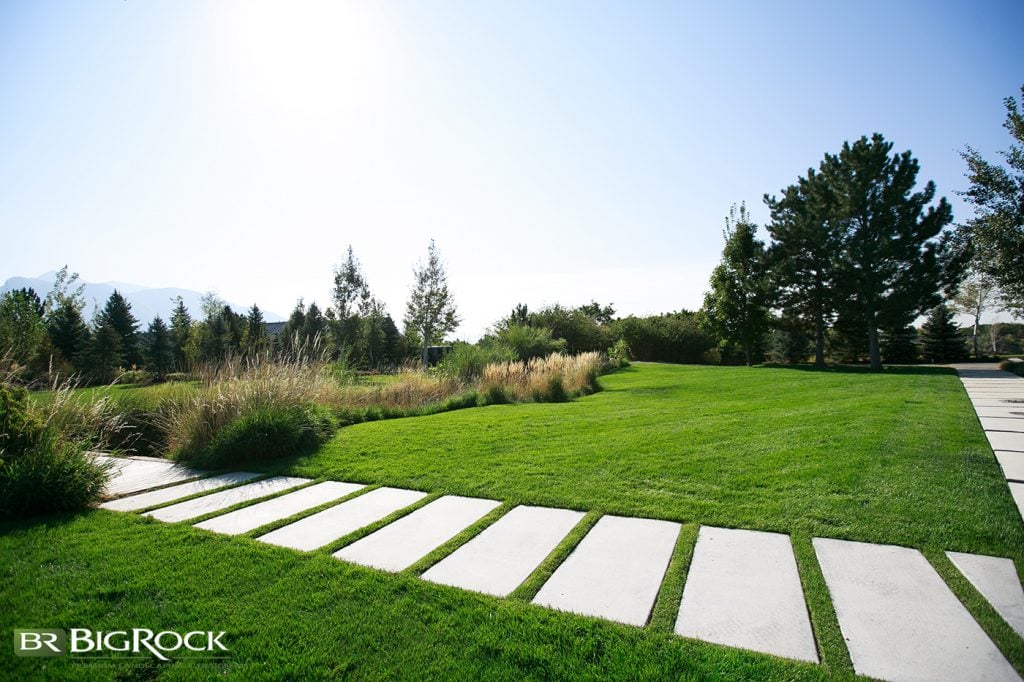 Characteristics of Contemporary Landscaping
Unlike Modern landscaping, Contemporary landscape designs borrow stylistic elements from a variety of different time periods, often drawing inspiration from current design trends. Like Modern landscape design, Contemporary landscape design is also classified as minimalistic but is much more green-friendly and slightly less formal and curvy than its Modern landscaping design counterpart. It also uses more natural materials, such as wood, which helps to maintain a sustainable environment. Current Contemporary landscape designs also utilize geometric shapes and patterns. Contemporary landscaping seeks to incorporate what is naturally at hand while at the same time, making it better.
RELATED: English Garden Landscaping Design Styles
Although Contemporary landscaping is picking up steam in Utah, for many years the typical finely edged lawn with carefully tended flower beds was the landscaping style of choice. Despite having an arid climate, Utah is home to many wonderful species of trees and plants that can greatly enhance a Contemporary landscaping design. 
Many Utahns are choosing Contemporary landscaping not only because of its aesthetic, and sophisticated appeal but also for its many wallet- and time-friendly benefits like low maintenance and sustainability. 
Features Of Contemporary Style Landscaping 
If you have your heart set on Contemporary landscape design, you'll fall in love with these typical features found in most good Contemporary landscape designs:
Clean Lines And Minimalism
While Contemporary design often has clean lines, curves are most definitely not off-limits. And while the overall theme is minimalistic, you'll often find these landscapes awash with greenery tucked in gracefully among hardscaping elements made of natural materials like metal or stone.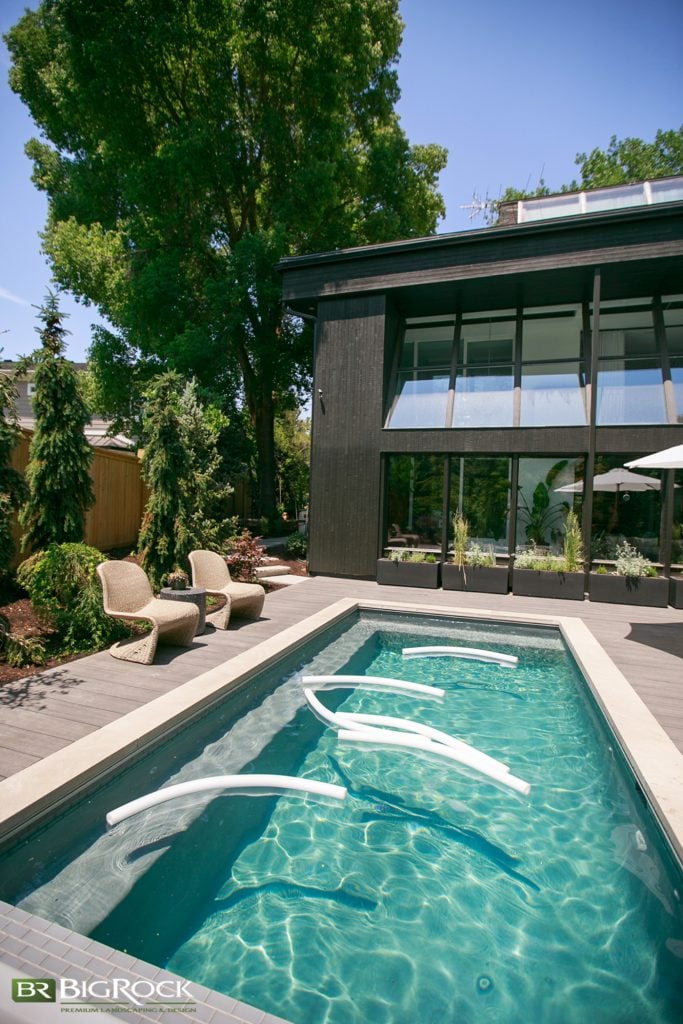 Emphasis On Outdoor Living
Contemporary landscaping homeowners often feel more at home in their outdoor spaces than inside. This is because Contemporary landscaping is more family-friendly and forgiving. Although confined to specific spaces, this type of landscaping has a way of making you feel like you are sitting in nature's warm embrace. 
Sustainability + Low Maintenance
Because Contemporary landscaping uses natural materials like stone, wood, and metal, these landscapes are built to last and thrive without all the fussy weekend maintenance or upkeep chemicals. 
Creative Use Of Materials
Many landscapes use rocks instead of mulch or living walls instead of fences. By creatively using natural materials to beautify your landscape, you are taking what exists naturally and making it better. Not that you can really get a leg up on mother nature, but Contemporary landscaping does a fair job of putting mother nature on full display.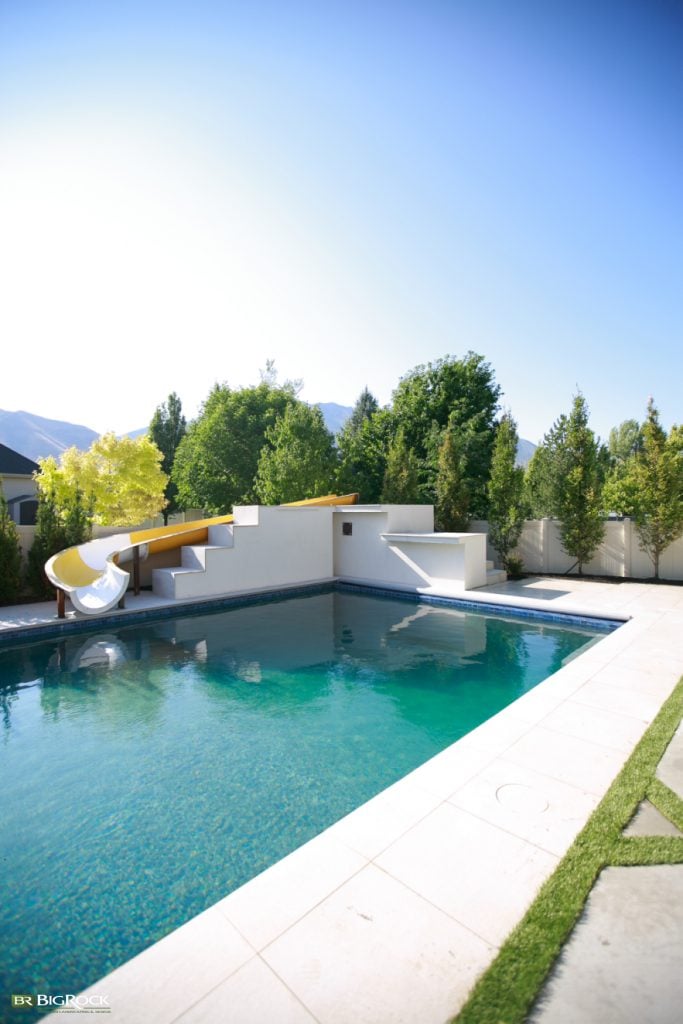 Contrast And Balance
Any good design incorporates a balance between light, texture, and proportion. Mastering these design principles will help you to balance your landscape design with just the right amount of contrast.
Benefits Of Contemporary Style Landscaping 
Incorporating Contemporary style landscaping will not only bring your yard to life with added beauty and style, but it will also endow your property with the following amazing benefits:
Enhanced aesthetics
Contemporary style landscaping will create luxurious outdoor living spaces that are both sophisticated and inviting. 
DISCOVER: Our Favorite Landscaping Design Styles For Utah
Increased property value
Having a yard that is a focal point in and of itself speaks volumes when prospective home buyers drop by. A well-maintained and beautiful home will sell well–but add a well landscaped yard with all the charm and sophistication of Contemporary landscaping, and you'll getan instant quantifiable property value.
Low maintenance
It goes without saying that the minimalist approach of Contemporary landscaping will cut down on maintenance. Not only will you need fewer chemicals to cut down on weeds and pests, but Contemporary yards require less weekly maintenance. 
Sustainability
Because Contemporary landscapes use natural materials like wood and stone, these landscapes are naturally more durable and sustainable, needing less watering, maintenance, and yearly repair.
Functional outdoor living spaces
Contemporary landscaping design does a fabulous job of carving out functional outdoor living spaces through its use of geometric shapes and the intentional use of plants and trees to provide the dual functionality of shade and living walls or borders. It's not by chance that most Contemporary homeowners find themselves enjoying their outside spaces just as much as their indoor ones.
Personalization and customization
With the myriad of different plants and shrubs to choose from, the ability to personalize and customize your landscape design is only limited by your imagination. Most designs are unique, yet personal and stylish.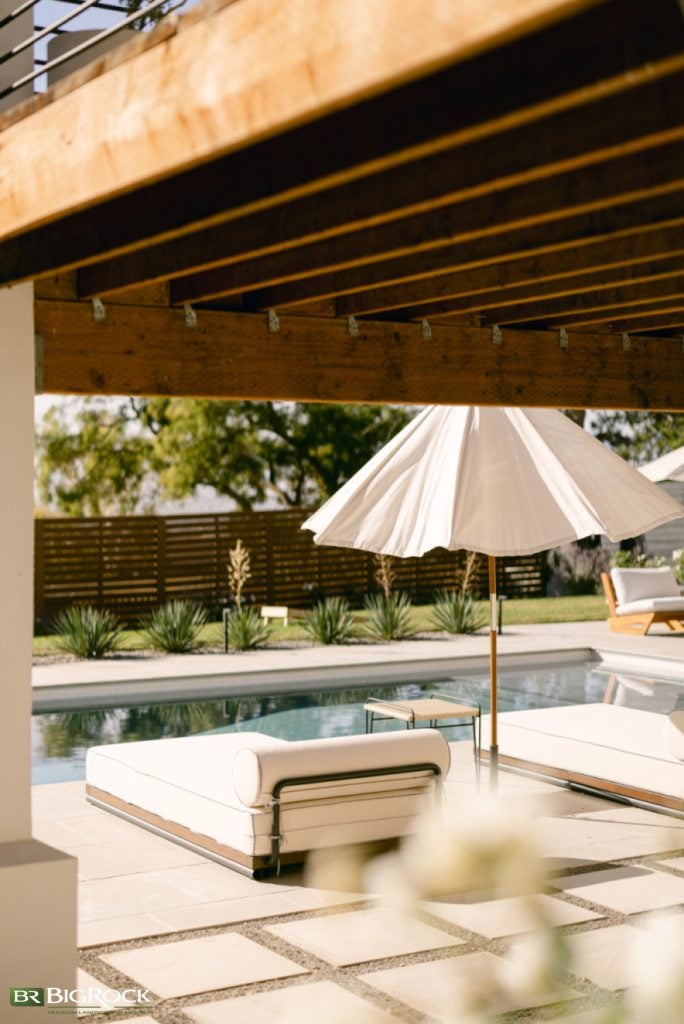 Design Tips For Creating A Contemporary Style Landscape
If you're itching to incorporate Contemporary design ideas into your landscape, follow these practical tips and guidelines for instant success:
1. Embrace clean lines and shapes–but don't forget the occasional curve or pop of color! A neutral color palette wins every time, but color adds that extra touch that will set your landscape apart from all others.
2. Focus on minimalism and simplicity. Like its cousin Modern landscaping design, less is more does apply to Contemporary landscape design. Go for simple, timeless design elements and themes.
3. Incorporate honest materials. Use "honest" materials that don't pretend to be what they're not. Using honest materials like concrete, stone, wood, and metal will ground your landscape and bring about a timeless element that will ultimately beat out any popular landscaping trend.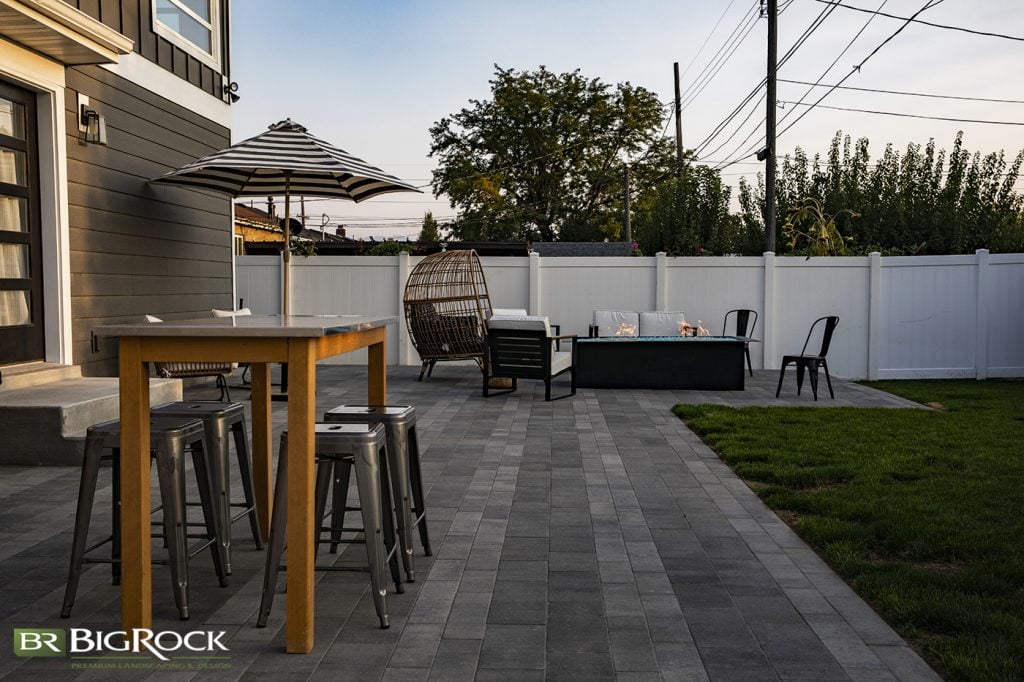 4. Balance hardscapes and softscapes. Balance is always the name of the game when it comes to design, and landscaping design is no exception. Integrate hardscapes into your softscapes in a way that compliments and defines a space.
5. Select plants with a purpose. Plants in a Contemporary landscaping design scheme have a loose, alive appearance. Typically not planted in symmetrical rows, plantings that are organic yet organized in nature bring a sense of vitality and playfulness to any outdoor space.  
6. Use strategic lighting. Lighting can bring life and presence to any outdoor space. Often overlooked, using lighting to highlight, create ambiance, extend the functionality of the space, or simply for safety will enhance your landscape design.
7. Consult with a professional. Landscaping design and installation is a monumental task. Not only does it take a lot of brawn to move dirt, but it also takes a lot of knowledge about flora and fauna, drainage, and a slew of other technical matters. If you're not feeling up to the challenge, consider consulting with a landscaping professional like Big Rock Landscaping. We can help you refine your plans, provide direction, and do all the dirty work so you can sit back and enjoy the Contemporary landscape of your dreams without all the blisters.
Our Favorite Contemporary Style Landscaping Ideas
With decades of experience, it's hard to choose favorites when it comes to landscaping design styles. There are many great landscaping ideas that are perfect for Utah landscaping, and we love to brainstorm and share good ideas. If your Utah landscape is in need of a transformation, give a few of these great landscaping ideas a try.
We love the use of natural, honest materials hard at work in this landscape. From the concrete pavers to the wood walls, this home is at once minimal and simplistic without feeling stark. The use of trees and ground cover adds to the Contemporary feel of the design and softens the sharp lines of the home. The space feels full, yet not overwhelming.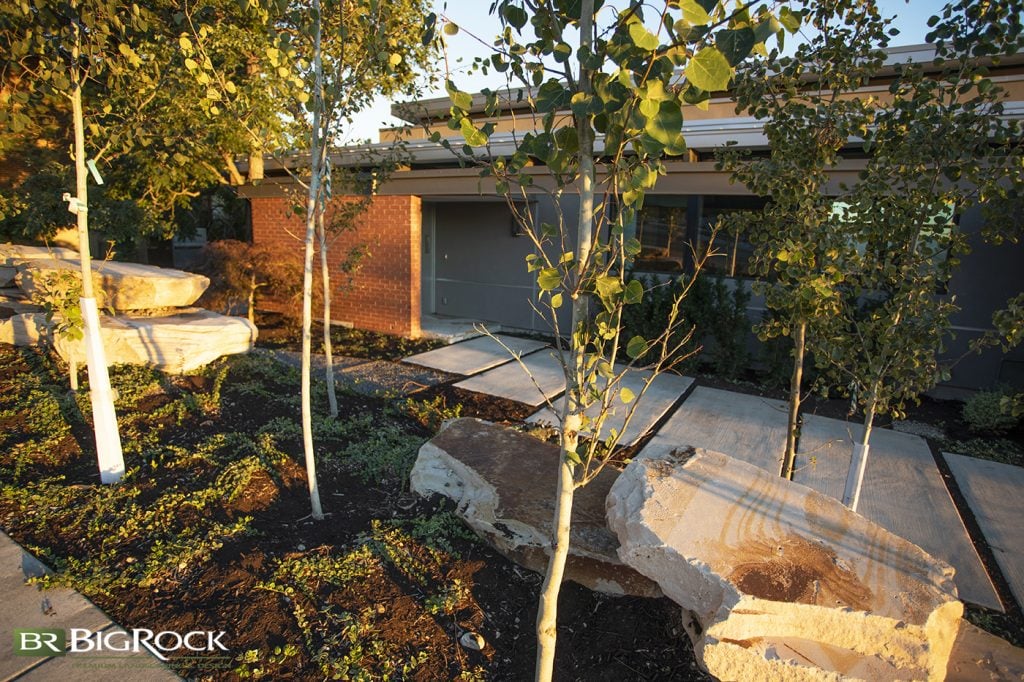 This landscape design does a great job of employing a bit of playfulness in an outdoor space. We love the natural elements of the stone pavers and water feature, and the "orderly" asymmetrical installation of the pavers is inviting. There is an order to the madness! With shrubs that incorporate different growing habits (like vines, shrubs, and groundcovers) this area has plenty of visual interest. The neutral color palette grounds the design while the use of natural materials makes a contemporary statement.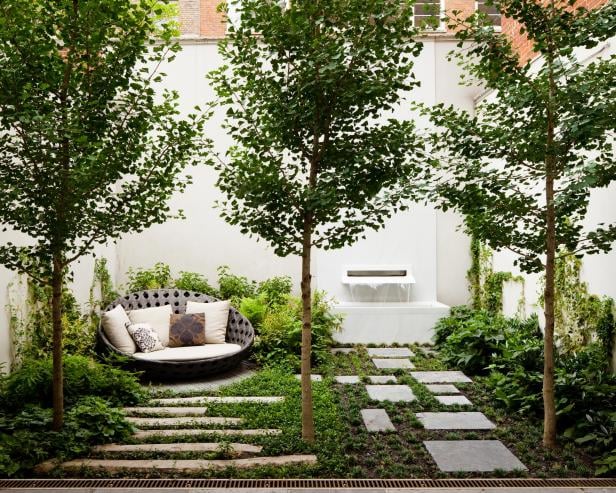 This classic Contemporary landscape design incorporates natural elements like stone pavers, concrete, wood, metal, and stone, softened by touches of green and pops of color. Strategic lighting is placed under the stairs for safety and ambiance. With a minimalist design that is both organized and organic, this space is at once welcoming and sophisticated.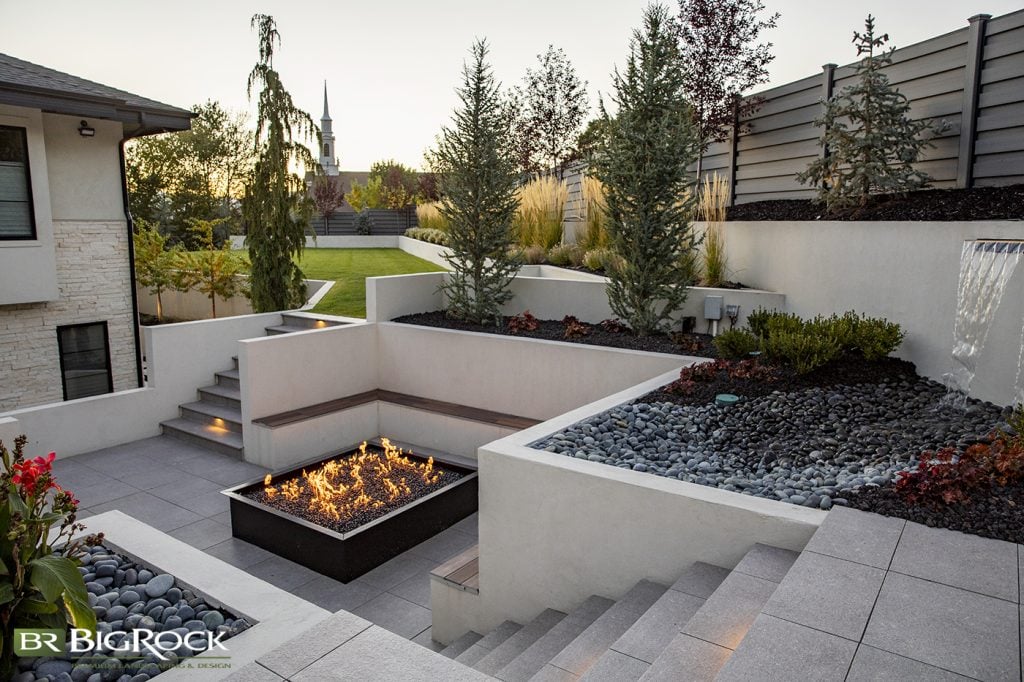 We love how this space creates different functional areas of outdoor living space. With separate lounging, eating, and socializing areas, this backyard becomes the perfect space to spend a lazy summer Utah afternoon. The landscaping is a natural extension of the home, and the hardscaping is softened by the trees and shrubs planted in borders or containers. Both minimalistic and simplistic in nature, with a neutral palette, this landscape checks off all the boxes of a Contemporary landscape design that works wonderfully within its natural environment.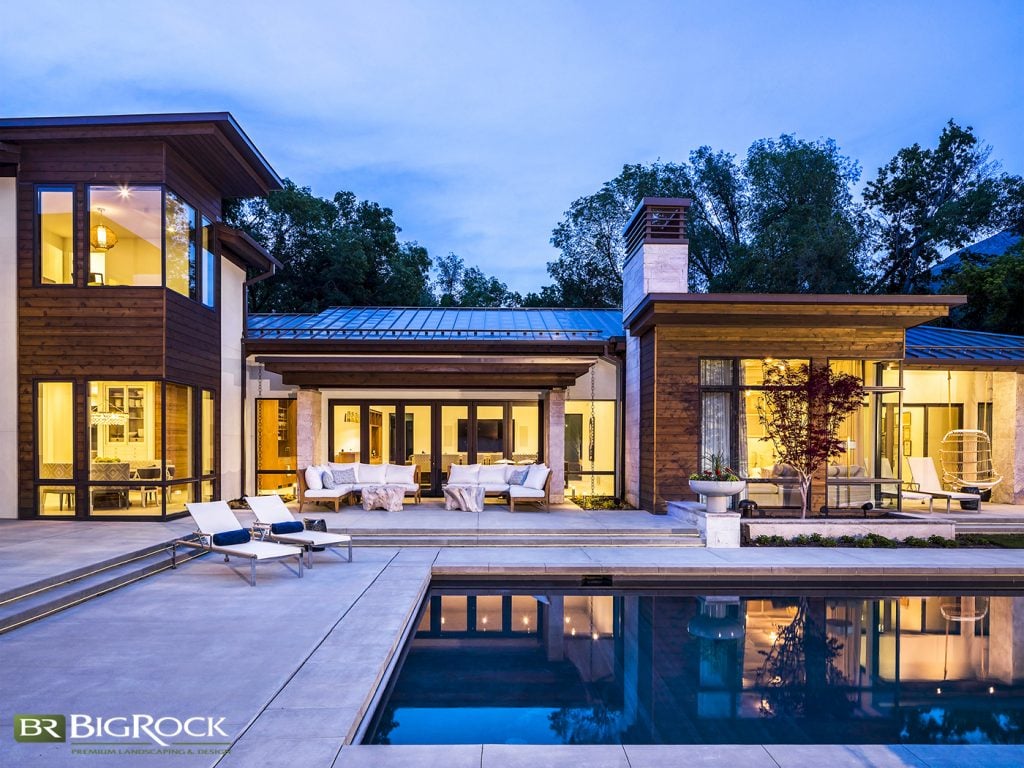 Although a little heavy on the maintenance side of things, this landscape is nestled into the foothills using metal, stone, and rocks. We are big fans of using rock instead of mulch to line garden beds and using metal planters and borders to add sustainability and low maintenance to any landscape.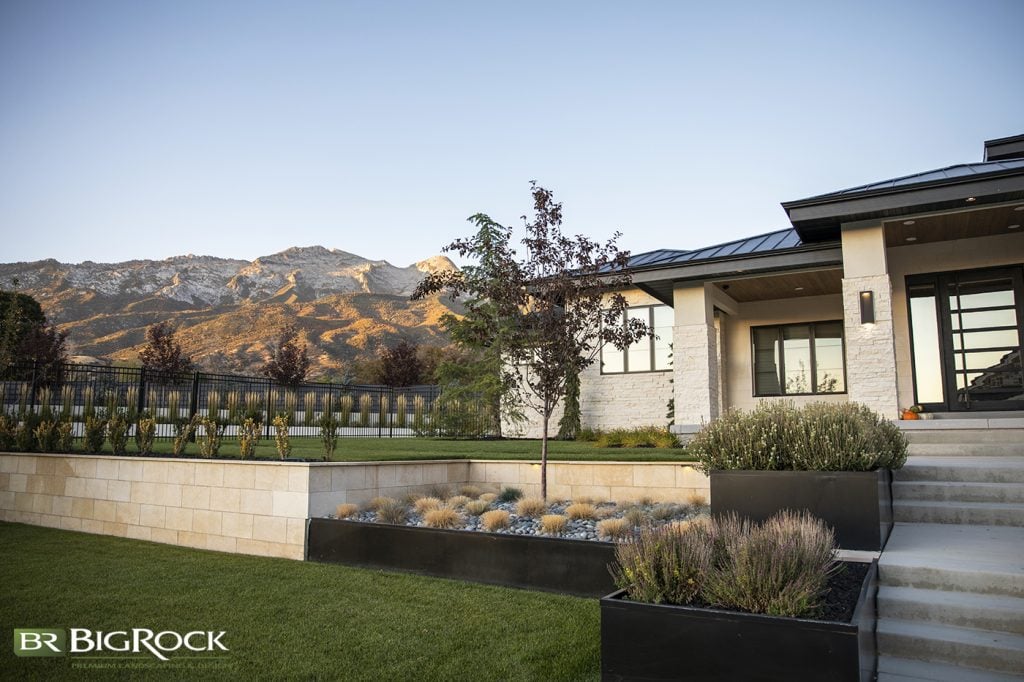 Looking For A Clever Landscaping Update? Try Contemporary Landscape Design
If you're ready for a Contemporary landscaping update, but don't know where to start, look no further than Big Rock Landscaping. We offer exceptional landscaping, design, and installation services. We understand how valuable the benefits of low maintenance, sustainability, functionality, and customization are to our clients. And we understand the unique climate and landscape challenges that are specific to Utah. 
Finding a landscaping expert you trust can be difficult. With Big Rock Landscaping you get quality, exceptional customer service, and a deep knowledge base. We've had the privilege of designing and implementing a variety of landscaping styles and designs for a variety of clients over the years. And now we're living in the sweet spot where identifying the needs, style, and dreams of those we work with is solidly second nature. We love what we do and we work until what we do is the absolute best. Just see for yourself!