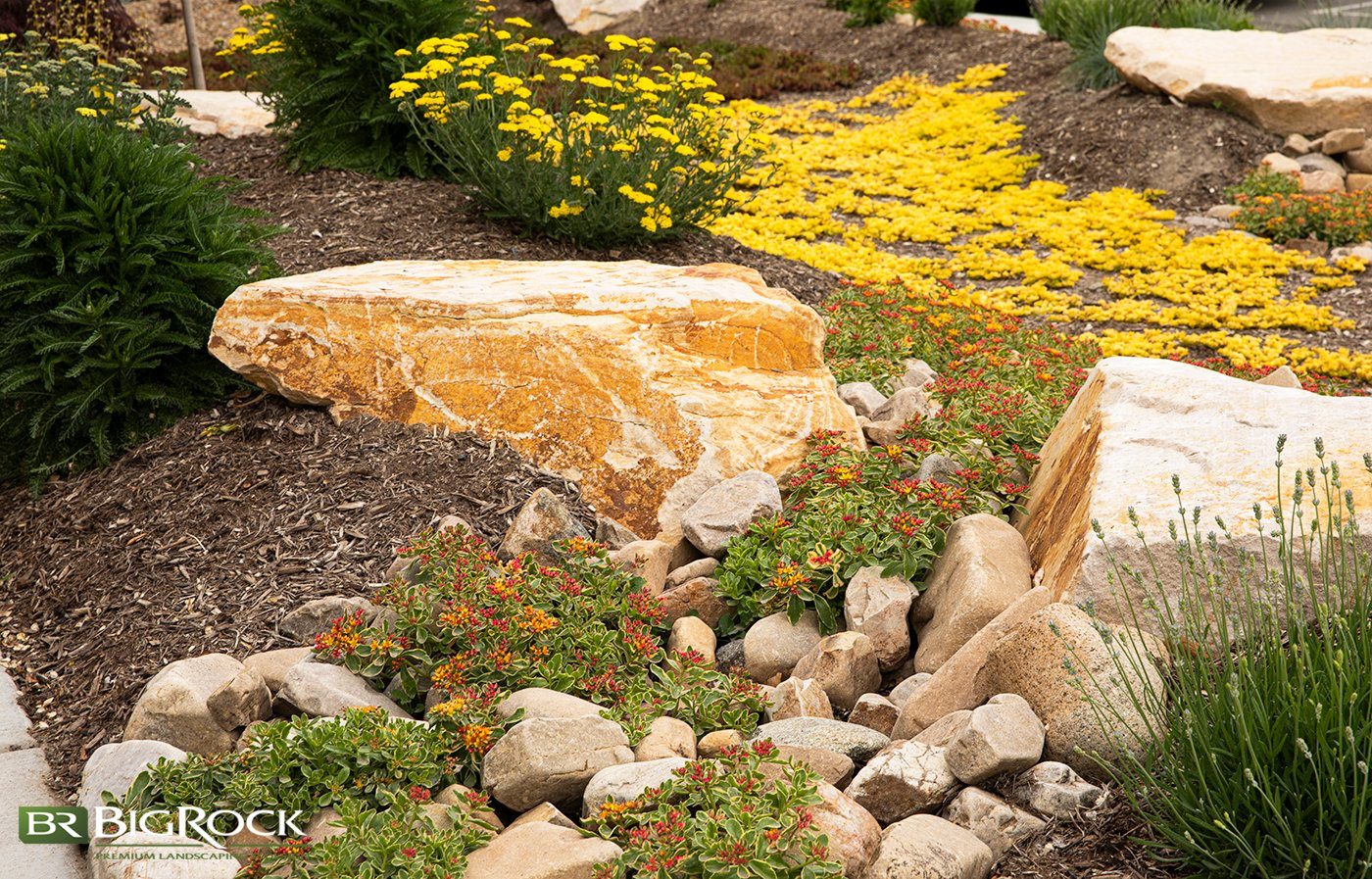 5 Drought Resistant Parking Strip Ideas
As pretty as green parking strips are in the spring or rainy seasons, you may be tempted to convert them to hardscaping when water is scarce and the grass starts to die in the dead of summer. However, we're here to warn you that drastically changing your parking strip design out of frustration is similar to a girl cutting bangs after a break up—a change sounds nice, and it seems like a good idea, but in the end, you'll likely regret it and be stuck redoing it or living with your decision. Instead of tearing it out altogether, consider doing a parking strip makeover using some of our drought resistant parking strip ideas. Not only will they help you reduce the amount of water you use each year, but they can really enhance the look of your front yard too.
Before You Remodel Your Parking Strip
In many areas, parking strips are a narrow piece of land between the sidewalk and the street that exists as a place to run public utilities. But aside from the practical use of parking strips, they can also be beautiful additions to neighborhoods as they set the houses further back from the street, add extra greenery, and make the streets feel wider. On the other hand, in some areas, parking strips are referred to as "hellstrips." This nickname no doubt comes from the maintenance headaches they can cause.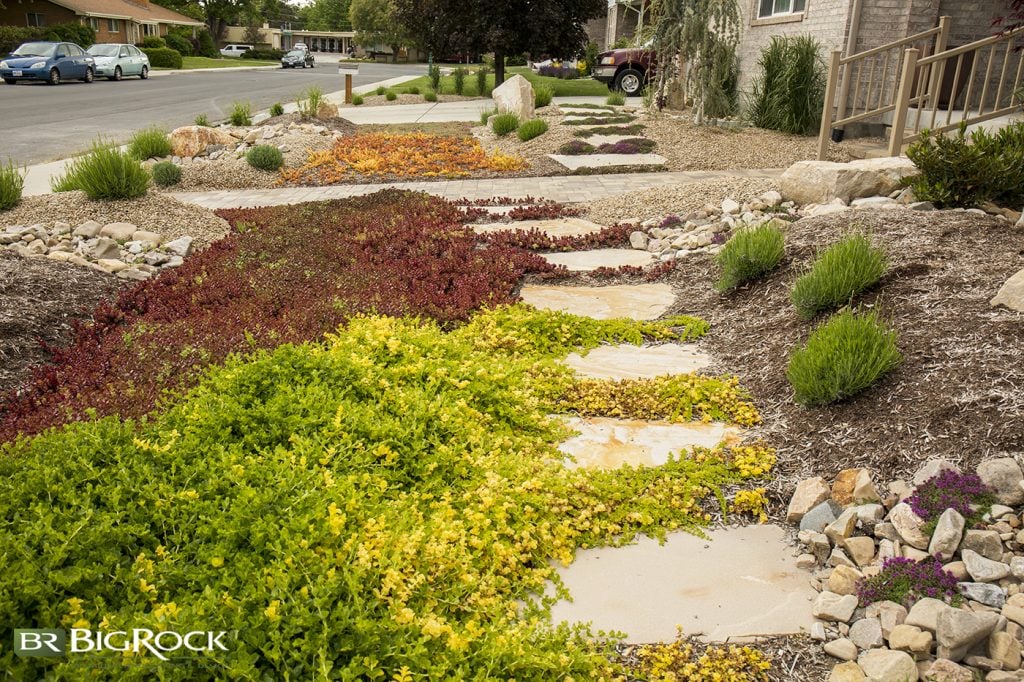 When was the last time you paid any attention to your parking strip? If you're ready for some fresh parking strip landscaping ideas, we've got you covered—especially when it comes to drought resistant parking strip ideas. But before you put on your work gloves and grab your shovel, here are a few things you should consider.
1. City And HOA Regulations
Before you make a plan, the first thing you should do is check with the city to see if there are any laws or regulations around what you can or can't do with your parking strip. If your neighborhood is part of an HOA, you'll want to check with them too. Some areas have specific guidelines about the look of parking strips. Or you may find there are government programs or incentives you can use for your project. As part of this process, you'll also want the utility companies to mark any gas, electric, or water lines you need to be aware of as you dig in the area.
2. Match Your Existing Landscaping
A xeriscape parking strip can look amazing, but if the rest of your yard is lush grass and plants, then it will make things look disjointed. If water conservation is the goal, you'll want to select drought resistant parking strip ideas that flow with the rest of your yard. Your parking strip should match the rest of your landscaping so when you stand across the street, the parking strip, front yard, and house all look good together.
DISCOVER: Our Xeriscaping Portfolio
3. Know The Cost
A parking strip makeover is a small project in comparison with a full yard overhaul, so it's tempting to just go for it without a budget. But even on small projects, we recommend setting a budget and pricing things out before getting started. This will help you know exactly what you can and can't do.
4. Understand Maintenance Needs
Planning is key if you want to implement low maintenance parking strip ideas. Select plants and greenery that fit your desired maintenance levels. Know how often things will need to be watered so you can add an irrigation system if needed. Also make a plan for weekly, monthly, and yearly upkeep, as needed.
5. Safety First
Keeping people and animals safe should always be a priority. Whatever you choose to do with your parking strip, it should never block the flow of traffic on the street or sidewalk, and shouldn't interfere with parking. You also need to be aware of tripping hazards, and make sure the plants you use aren't poisonous for pets or people.
6. Get The Right Tools
Revamping your parking strip is a very public project, as you'll be out in front of the house and close to the street. Therefore, you'll likely want to get it done as quickly and efficiently as possible, to avoid too many disruptions to the neighborhood. Before you get started, make sure you have the right tools and supplies on hand. If you're planning on doing concrete or paver work, you'll need some heavy-duty gloves. If you are going to be planting anything, make sure you have a good soil rake and some hoses. You'll also want to gather any and all plants, hardscaping materials, or specialty tools you will need to get the job done quickly and efficiently.
With a little bit of planning and effort, you can transform your parking strip into a beautiful, inviting, and water-wise space.
Why You Need A Drought Resistant Parking Strip
Even though they are small in area, parking strips can be a big burden on the water system in times of drought. That's because sprinklers are often set up incorrectly so they overwater the parking strip, or water the street and sidewalk in the process. A drought resistant parking strip can have a big impact on the environment and help in times of drought. In fact, when it comes to drought-resistant landscaping, the parking strip is one of the most important areas to consider.
By selecting drought-resistant plants for your parking strip makeover, you can help conserve water and reduce your water bill. Additionally, drought-resistant plants are often native to the Utah area, so they require less maintenance and are better adapted to local conditions. A drought resistant parking strip can save you money and time, all while enhancing the look of your home.
5 Drought-Resistant Parking Strip Ideas
Small but mighty is the name of the game when it comes to parking strips. They don't take up much space, and are often just planted with grass as a seeming afterthought. But the parking strip is one of the first things people see when they come to your house, so it provides a chance to make a big impression. Here are a few of our Utah parking strip ideas that are also water-wise.
1. Use Native Grasses And Wildflowers
We love an independent plant. Wild flowers and natural grasses are great because they are survivors by nature. They don't need a sprinkler or irrigation system to thrive. Just give them the proper soil and sun conditions, and they will thrive on their own. Blue gramma grass, Indiangrass, miscanthus, yarrow, lilac, and columbine are a few types of wild grasses and flowers that would do well in a low maintenance parking strip design.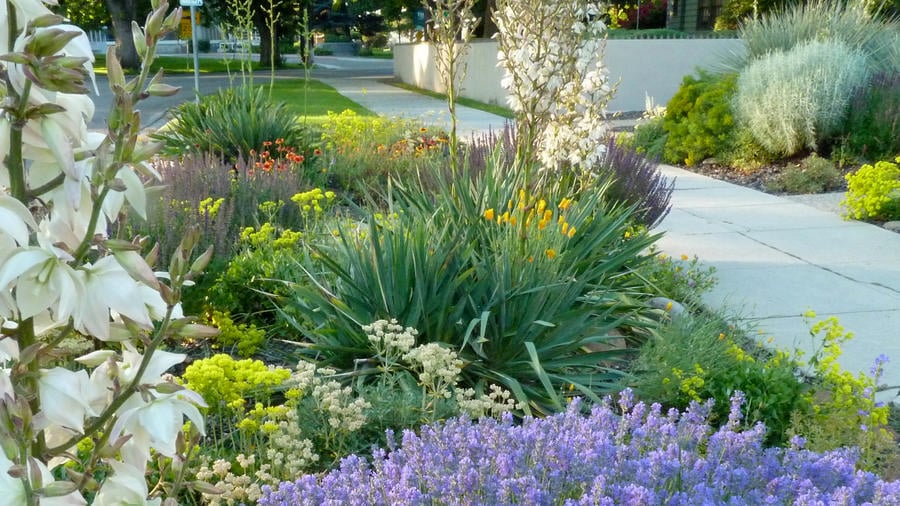 2. Add Low Shrubs Or Ground Cover
Juniper bushes, sumac, stonecrop, and more are all good options for low shrubs or ground cover. None of them need much water, and all do well in sunny areas. The low maintenance needed for these plants takes one thing off your to-do list.
3. Mulch And Plant Perennials
Your planter beds don't all have to be close to the house. Let the neighborhood get an up close look at your handiwork by using your parking strip as an additional planter area. Using native, waterwise perennials like lavender, will make the maintenance easy. Filling in blank spots with mulch will help keep even more moisture locked into the soil.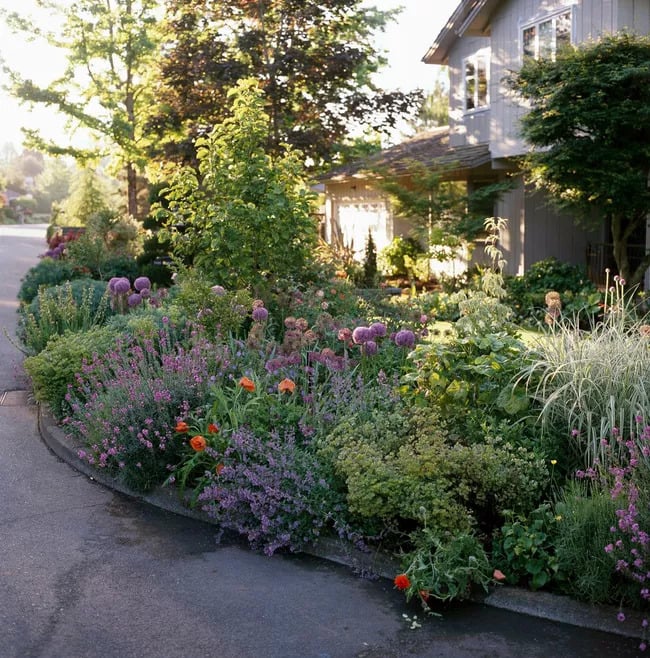 4. Xeriscape
There is a time and a place for xeriscaping. In fact, if xeriscaping is done well, it looks amazing! There's more to the design than just throwing down some river rock and sprinkling in a few cacti. It's more about strategically using native plants and foliage to create a wild and natural looking landscape that is low maintenance and water wise. A xeriscape parking strip is a great option if it makes sense with the rest of your landscaping. If you're interested in xeriscaping your entire yard, here are some Utah xeriscaping ideas to get you started.
5. Add Pavers
Paver stones have the benefit of being more attractive than cement, but with the distinct advantage of requiring NO water. You can use patio paver stones in your entire parking strip, or mix natural or manmade pavers in with plants and other greenery for a low-maintenance, sustainable area.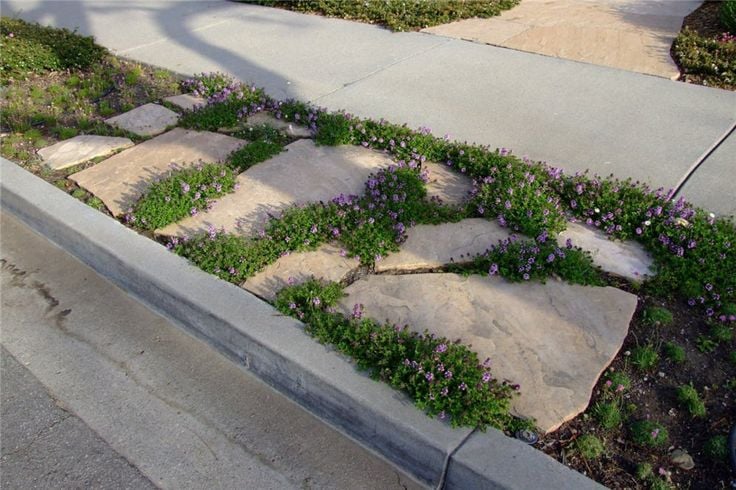 Have More Drought Questions About Your Yard?
If you're tired of staring at your lawn and wondering what you can do for it during a drought, Big Rock Landscaping is here to help. In addition to these drought resistant parking strip ideas, we offer a wide range of the best landscaping services along the Wasatch Front. We can help you design, install, or retrofit your yard to be drought tolerant. With a water-wise yard, you won't have to stress about it dying every time summer rolls around.
We have years of experience working with native Utah plants. We know what thrives in this climate, and can give you a yard that looks good now, and will continue to look good, even when water is scarce. Visit the Big Rock Landscaping services page, then give us a call to see what we can do for you.