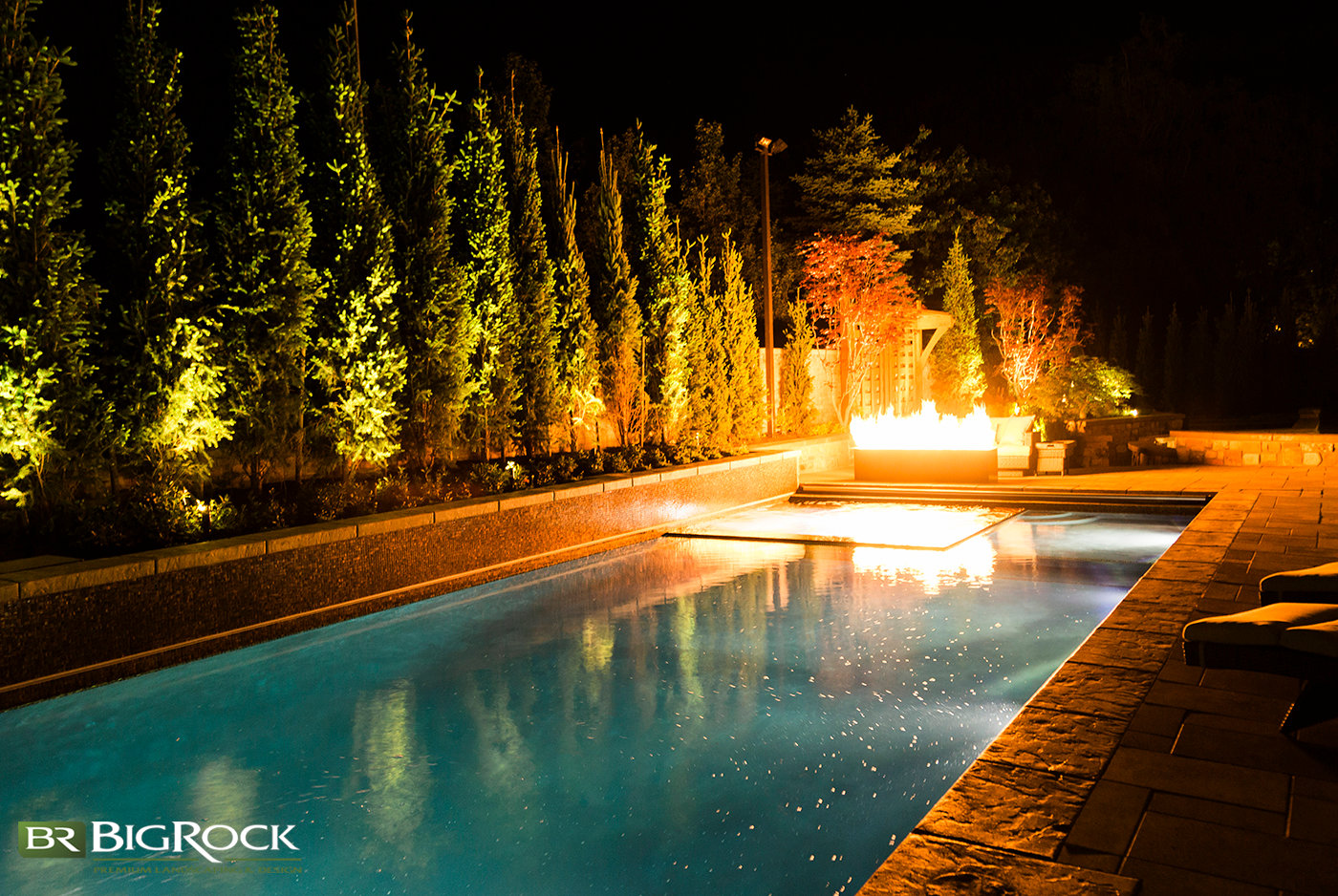 The Secret To Planting Shrubs Around Your Pool
It's July, and you are smack in the middle of summer enjoying plenty of clear blue skies and nights that don't fully darken until well past bedtime. That means the pool is open for swimming and lounging! If you're like most people, you've spent some time in the spring beautifying your backyard pool area with new plants and flowers. But what do you plant around the pool? Planting shrubs around the pool is appealing, but maybe you're not quite sure what shrubs to plant or if shrubs around a pool is even a good idea. Don't worry, we've got all the information you need to make the right decision. Keep reading to learn our top secret tips for planting shrubs around your pool. 
How To Choose The Right Shrubs For Your Pool
There is no one right answer. The best shrubs for your pool are the ones that meet your landscaping needs and goals. This will vary from person to person. We love variety in personal taste and in shrub variety, but do not fret. Even when accounting for personal taste and shrub variety, there are some well-known design principles that will apply across the board in every situation.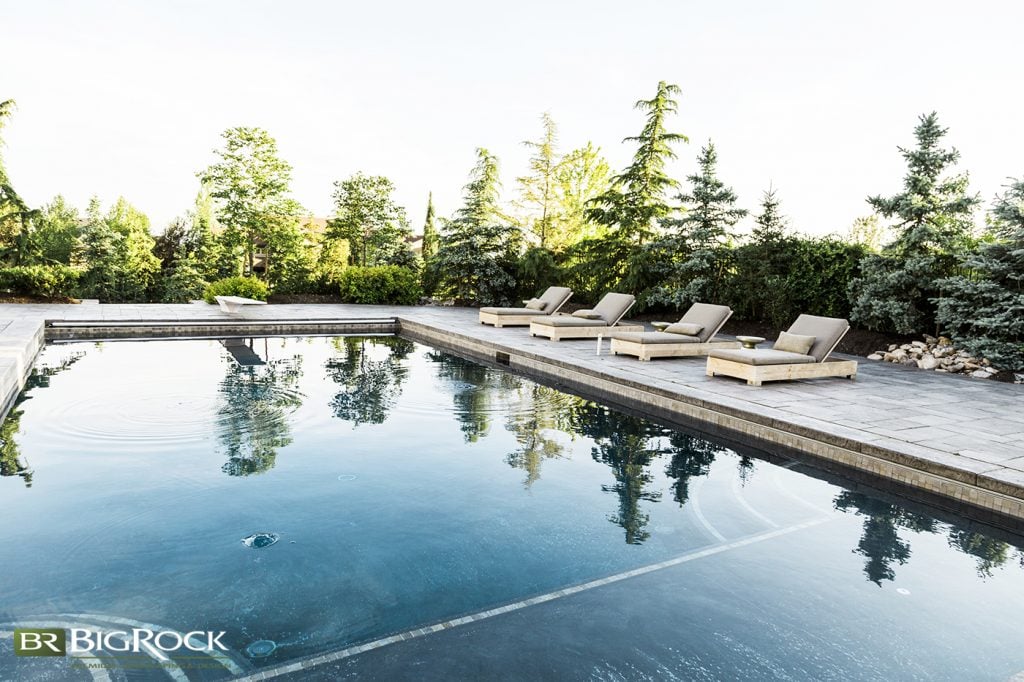 Best Shrubs For Your Pool Landscaping
Cut Down On Debris. A clean pool is a happy pool. Keeping your pool clear of leaves and other natural debris will not only deter algae but help your pool stay clean and clear for longer. Around a pool, use shrubs that have minimal shedding, and consider using shrubs that do not lose their leaves in the fall. Choose an evergreen variety for easy maintenance, like Little Ollies. This fruitless shrub variety of the olive tree is elegant with light gray-green leaves. Or try the typical boxwood. Frost tolerant, with dark green leaves and numerous varieties to choose from, you can't go wrong.
Pick A Slow Grower. Choose a shrub that grows slowly. This will decrease maintenance and reduce debris that could find its way into your pool during trimming. Many slow-growing Opuntia or prickly pear cacti varieties do wonderfully in landscaped garden beds surrounding a pool. Heat-loving and drought tolerant with colorful blooms in spring, these prickly shrubs are a nod to Utah's natural desert climate.
Don't Forget About Your Backyard Microclimate! This could almost go without saying, but before your plant or plan, make sure you understand your microclimate as it relates to your soil composition, wind exposure, hardiness, and sun patterns. That said, you'll need to plant shrubs that can withstand hotter-than-normal temperatures for your area (due to being surrounded by hardscaping like cement or pool decking that absorbs and radiates heat), as well as be able to tolerate splashes from chemically treated water. Saltwater pools require more tolerant plants than traditional chlorine pools. Consider adding Diervilla, a resilient flowering shrub that takes hot weather in stride and can put up with abuse from saltwater or an occasional trampling from little feet. Adaptable as they come, it performs well under both sunny and shady conditions.
Choose Odd Over Even. Never plant just one plant of any variety. And always plant shrubs in groupings of odd numbers (3, 5, 7, etc.), and select varieties that have oppositional textures and shapes to add interest. 
Take A Non-traditional Approach. If you are looking to create an impactful statement, consider planting ornamental grasses, like Little Bluestem Grass. With an upright formation and stripes of light and blue greens, this grass plays well with others while also making a bold statement. Also, don't rule out succulents or cacti, although not technically classified as shrubs, these slow-growing plants add dimensions and color to any desert landscape.
Pros And Cons Of Having Shrubs Near A Pool
Shrubs for pool areas can provide both privacy and beauty. They can also provide a place for birds to nest and build their homes. But shrubs can also drop leaves, flowers, and pollen into the pool, which can be a pain to clean up and lead to a pool owner's nightmare: algae blooms. However, if you pick the right shrubs that are well-suited to your climate that are easy to care for, you can sit back and enjoy the privacy and beauty they can add to your backyard oasis. Here are some Pros and Cons of having shrubs in and around your pool area.
The Pros Of Having Shrubs Around The Pool
While not an exhaustive list, planting shrubs around your pool with deliver some of these often-sought-after benefits:
Color. Flowering shrubs can add a vibrance and a hint of luxury to your pool area. Not to mention they are great at attracting winged creatures like hummingbirds and butterflies to stop by for a visit or make a home. 
4 Season Privacy. Tall, upright growing evergreen shrubs give privacy all year long–perfect for backyards with hot tubs that get year-round use. Arborvitae is a popular variety that ranges in height from 8-12 feet. 
Visual Interest. There is something truly magical about a backyard pool area surrounded by a wide variety of textures. Using different textures will add dimension and interest to your pool area. Play around with succulents or grasses–these often pack a big (yet tidy!) visual punch. 
Shade. Shade might not be the first thing that comes to mind when you think about swimming, but having some shade on your pool during those hot, late afternoon hours can make your backyard a more pleasant place to relax and unwind. Planting taller shrubs around your pool area will give you the shade that sun-seekers often need at the end of the day.
The Cons Of Having Shrubs Around The Pool
Debris. We've mentioned this before, and debris is public enemy number one when it comes to low pool maintenance. Picking shrubs that have minimal shedding and debris will help your pool stay cleaner longer. Who wants to spend hours straining and vacuuming a pool? Not us.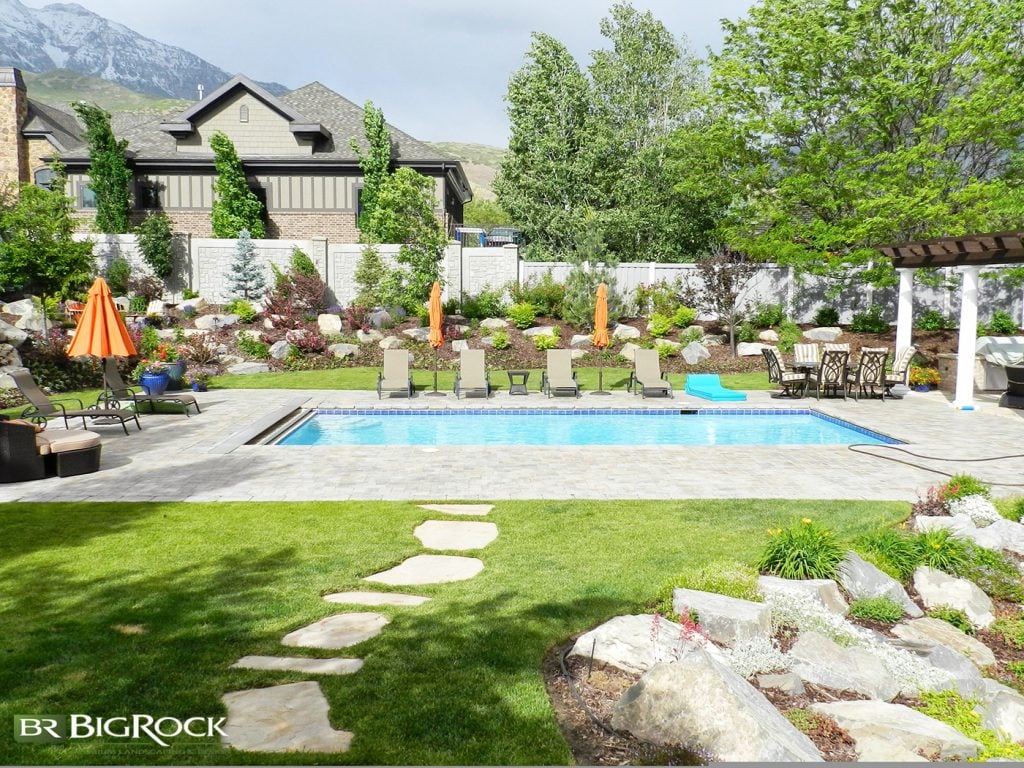 5 Ideas For Shrubs Around Your Pool
We know how important it is to plant shrubs that grow well in Utah's harsh climate and altitude. So if you are looking for fresh landscape design or an upgrade of an old design, check out our favorite landscape ideas below.
Potted Plants
If you're limited on yard space, don't panic. Just a touch of greenery can go a long way. If you find yourself with a pool that takes up most of your backyard, consider using potted plants as an alternative to planted beds. Because potted plants can be moved indoors during winter, you are not limited to your microclimate. You can also replant your pots every year, so you are never limited to one color scheme or plant variety. So go crazy! And plant what you love.
Privacy
Tall growing shrubs with thickly packed leaves that can withstand neglect and grow upright are the perfect pool plant, especially if it's privacy you value. While you may see some decline in your plant life as winter approaches, these burly evergreen shrubs give privacy all year long.
Texture And Color
In sunny areas, use evergreen shrubs or non-spiny succulents, like aloe or jade, that thrive on negligence without compromising on texture or color. In shady areas, plants like ferns, hostas, or astilbe will add a variety of size and shape to your landscape as well as a fresh pop of color.
Modern Or Organic?
If modern is what you like, go for plants with straight lines and tidy growing habits. Plants like these give a very organized feel to your landscape. If a lush jungle is more your style, go for plants that have an organic, wild feel. These tend to grow in unorganized patterns and shapes, but are great for really filling in a garden bed. For modern plants, go for ornamental grasses or boxwoods that can be trimmed into classic straight lines. For an organic shrub, try a cliff rose. These beauties thrive in poor soil and high altitudes. They also attract bees and butterflies and simply smell divine.
Ornamental Grasses
Because ornamental grasses are such a great addition to any outdoor space, we just had to add them here. Not only do they add movement and sound to your landscape when the wind blows, but they are often hardy and quite tidy in their growing habits. That means less maintenance for you. Because we value shrubs that are both salt-tolerant and beautiful, we especially love to use grasses around saltwater pools like daylilies or Japanese holly.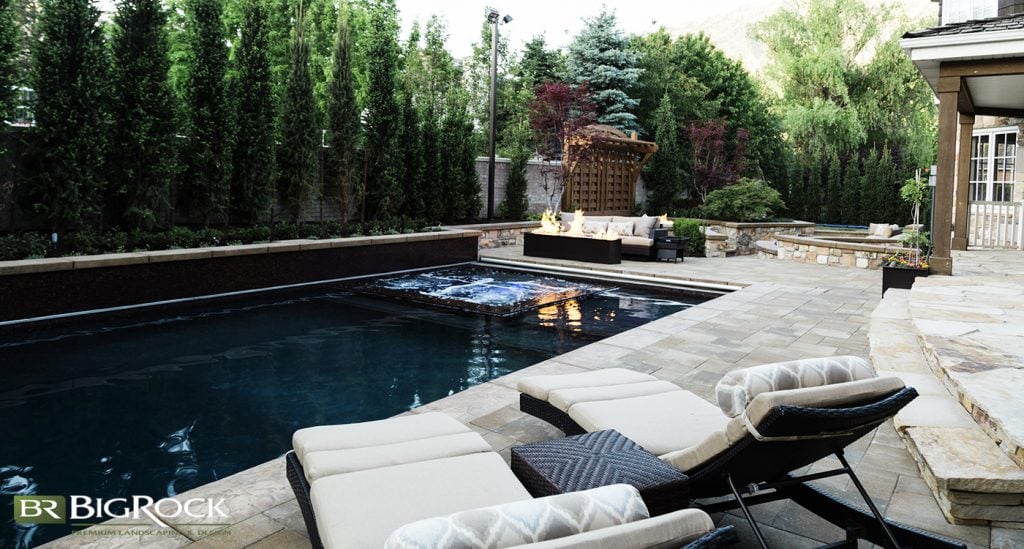 Need Help With Your Pool Landscaping?
When it comes to pool landscaping, it's a whole microclimate in and of itself. Why not let us do the heavy lifting? We are experts when it comes to full-site assessments, and we have decades of flora and fauna knowledge to make sure the plants, trees, and shrubs we plant are perfect for your backyard and around your pool area. 
We pride ourselves on professional, efficient, and personalized service from start to beautiful finish. No matter what your project entails, Big Rock Landscaping And Installation Services specializes in providing one-stop landscaping and hardscaping services with well-earned expertise in transforming any space into your own personal oasis.