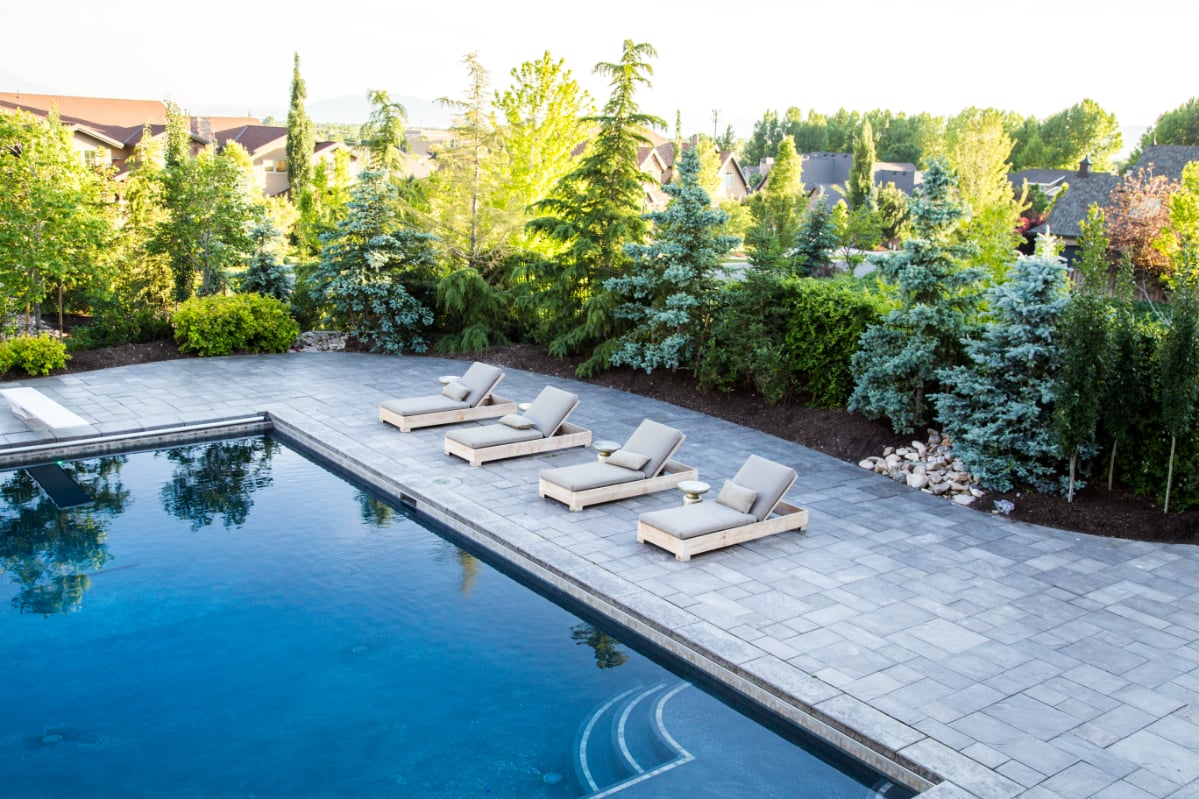 Pool Landscaping Ideas To Dip Your Toes In
"Taking to the waters" is no longer something we have to trek miles and miles to do. We can indulge in the splendors of our private pools just feet away from our back doors. Swimming pools are no doubt worth the design efforts and time you put into them to be able to relish in the invigorating waters whenever the mood strikes you. And adding landscaping around your pool can really increase the aesthetics of your yard and make those early morning dips or those late afternoon swims all the more enjoyable and all those efforts beyond worth it. But what exactly does pool landscaping entail? And what are the best options available for your particular yard and pool? We'll guide you through all the basics of landscaping around a pool and prepare you to take the plunge into pool design and landscaping. 
DISCOVER: Big Rock Landscaping's Pools Portfolio
Pool Landscaping: Where Do I Begin?!
Even with the luscious waters glimmering in your pool, it can still make your backyard feel a bit drab without professional landscapers and the methodical care placed in design plans and consultations. So where do you start? What questions do you need to be prepared to ask when first presenting pool landscaping ideas to a dedicated team of experts? We've highlighted a few important questions for you to consider and to ask before diving into the exciting endeavor of pool landscaping.
How much privacy do you already have surrounding your pool? Is increased privacy something you feel you want or need? 

Who uses the pool? Is there a need for pool safety fences? Or are perimeter fences adequate enough for your yard and space?

Do you already have a seating and lounge area? Or are you ready to add a more relaxing space for leisurely sunbathing? 

Are there specific features you want to accent around your pool and yard? Something else you've been wanting to add around your pool? 

What is your budget for the project?

Are you more interested in softscaping (the "living" elements of landscaping) or hardscaping (concrete, patios, stones)? Or a beautiful blending of the two? 

What plants should

not

be planted near the pool? You know, the plants that shed, attract insects, etc.? 
What Are The Different Options To Put Around A Pool?
Now that your mind is running through all the ways your pool and backyard can become so much more elevated, there are plenty of options for how to design around your pool and landscape your backyard. Here are some options to ponder when making your pool design plans.
Decking
Decking for your pool's patio or lounge area can come in an array of choice materials. The most favorable are generally concrete, composite, and wood, and both have their individual advantages and disadvantages when placed around a pool.
With concrete, you have an easy-to-clean surface that can handle a lot of heavy traffic. But it sure can be a potential hazard since it's so slippery when wet. 

Composite is another material that is easy to clean and can take high traffic. It also is great for insulating hot environments and comes in a variety of colors. 

Wood is a beautiful choice aesthetically and it isn't as hazardous as other materials when it's wet. However, it can get hot, hot, hot and it will need constant care and maintenance due to the weathering from the environment. 
Pool Pavers
Pool pavers are the surface that immediately surrounds your pool. Often set in rectangular blocks, pavers also can come in a variety of materials, such as concrete, rocks, and stone. Pool pavers can be a bit more "customizable" with a range of colors, shapes, and sizes, and they can be arranged in unique patterns and designs for every aesthetic taste and need.  
Rocks
Rocks and stones can offer a completely different look that invokes the style of nature and our Intermountain landscapes. Whether it be a cascade of larger rocks with a gentle flow of water feeding through, or rocks that offer sizable surfaces for basking in the sun after a swim, the addition of rocks to your pool landscaping is sure to create a splash.
Trees And Shrubs
When picking trees and shrubs to surround your backyard pool, not all trees are equal, even if they are the most aesthetically pleasing. Some trees shed and can also attract unwanted insects. Expert landscapers can assist you in determining the best options for your particular climate and area. 
Grass
A grass-edge pool can truly be an eye-pleaser, as well as a more cost-effective approach. But it does carry some downsides ranging from grass clippings getting into the pool when the lawn is mowed to the grass becoming waterlogged, to even chemical seepage from the lawn into the pool. Often the way around this is to use grass as either an accent or on the other side of the pavers. 
Hardscaping
Think of all the additional design details that will make your pool somewhere you will never want to leave: The aural comfort of a fountain nearby; Diving and jumping platforms to add an interesting bit of athleticism; slides of a calmer or of a grander scale to increase the splash factor; Built-in seating umbrellaed under trees or a gazebo. Think of all the increased livability and enjoyment you can get out of your outdoor space with some expertly-placed lines and design that comes from hardscaping.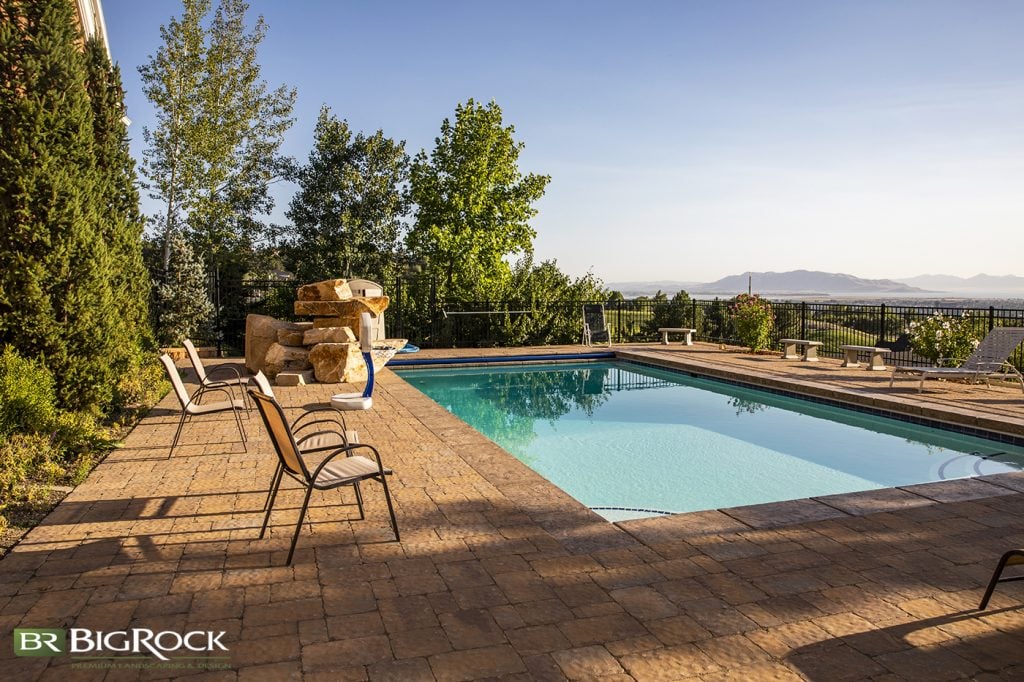 Pool Lighting, External and Internal
Lighting up your pool may seem like a straightforward project, but there's actually a lot to it. For starters, the type of light you'll be using: traditional incandescent or LED. There are certainly advantages to both, and it comes down to the look you're going for as well as voltage and usage. Some cities even require specific permits and allow only so many lumens/wattage for outdoor pools. And then there is the question of where you want the lighting: equidistant ground lights glittering around the pool? Or lights glowing from within the pool? And what about the natural glow of a fire pit nearby? There are so many ways to increase the luminescence of your pool to create that perfect outdoor radiance. 
Privacy
What to consider here is what your backyard already offers in way of privacy, and what can further be protected. Privacy around your pool can come in the form of carefully designed and placed fences, gates, trees, and shrubs. What you end up going with ultimately will be based on your preference and who will not only be using the pool but who frequents the backyard. Though more a safety concern than directly privacy-related, pets and children need to be considered when planning your backyard landscaping project.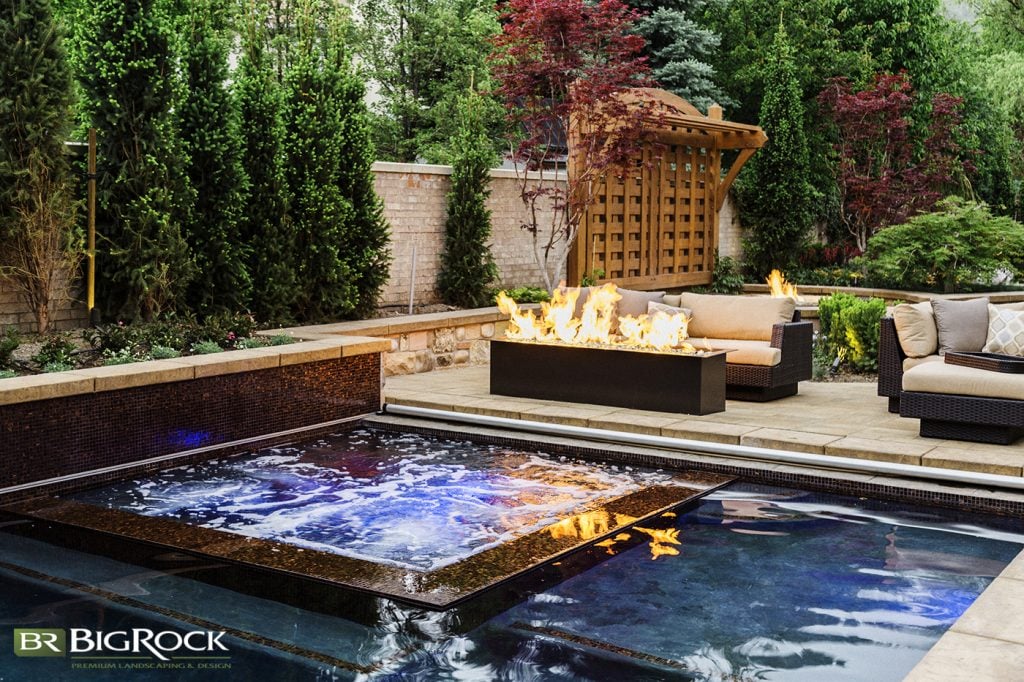 Best Options For Landscaping Around Pools
Obviously what will always be the best options for landscaping around your pool are the options best suited to you, your design preferences, and your unique space. But we also have our list of best (and favorite) options for you. 
One of our favorite ways to landscape around a pool is with evergreen privacy trees. This picture above is a perfect example because this homeowner has neighbors close to the property line, and situated a bit higher than they are. Evergreen trees and shrubs around the pool offer year-round privacy without the hassle of falling leaves. 
Here are a few other ideas: 
Pavers

Fire pits

Internal pool lights

Hardscaping: rocks; built-in seating; jumping decks

Low-level shrubs 
7 Pool Landscaping Ideas We Love and Why
There are so many ways to bask in the luxury of backyard pools and so many ways to be inspired when thinking about creating your own personalized pool designs. We did the fun part of arranging our favorite pool landscaping ideas below and the reasons they work so well. 
The pavers, decking, and overall cohesion of this pool and home are what we live for.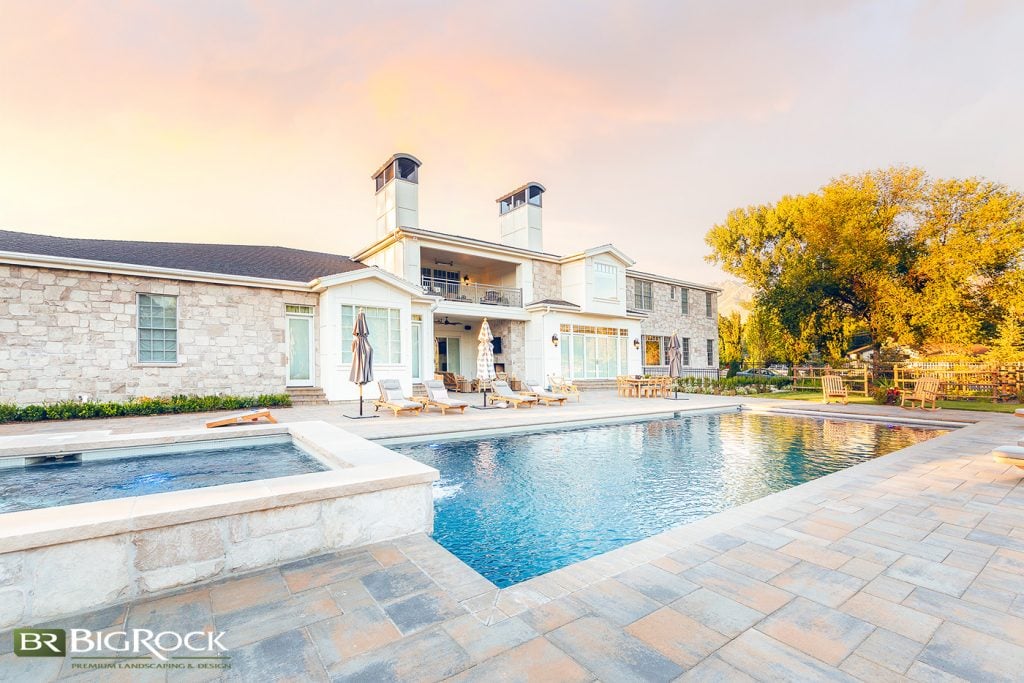 2. This pool got the patio, pavers, and lights just right.
3. The clean lines offered from the hardscaping to create a space for the softness of the shrubs, as well as the water features and the fire make this pool one you won't want to leave.
4. We love the use of Belgard Pavers surrounded by grass. This offers so much aesthetic interest and contrast!
5. A fire, fountain, and jumping deck. Need we say more?
6. This pool's unique design offers so much by way of wood decking, well-placed rocks to create an authentically-outdoors feel and waterfall, and the concrete steps within the pool.
7. There's so much that works and fits perfectly together with this pool: the use of built-in hardscaping seating and fire pit; the concrete pavers; the rocks, steps, and slide!
Big Rock Landscaping: Your Pool Design And Landscaping Experts
Pool landscaping can afford your home and yard the perfect flair of luxury and detail that makes your space stand out and be somewhere where you want to stand. If you need help with your pool project, contact Big Rock Landscaping. We offer design, plans, consulting, installation, and maintenance services for homes along the Wasatch Front in Utah. We have the expertise, experience, artistic tools, attention to detail, and unparalleled customer service. Most of all, we're committed to helping you have the home and yard of your dreams.
Contact us today to find out how we can help turn your pool and backyard into a space where you want to live, gather, and savor.