Concrete Curbing Ideas and Advice
If you're looking for an easy way to enhance your landscaping, concrete curbing might be just what you need. Not only do you save time on trimming and minimize the expense of lawn upkeep, but curbing is a great way to add definition to your yard and can be used to create flower beds, pathways, and more. Plus, it's low maintenance and easy to install! If you're interested in adding some curb appeal to your home, read on for tips on how to get started.
Concrete Curbing For Landscaping
If your yard has become a little unruly, you may be looking for a way to get your landscaping back under control. Concrete curbing may be the perfect solution! Not only does curbing improve the look of your yard and garden without adding substantial cost, but it also helps to raise the value of your home as well as cutting down on the expense of lawn upkeep. 
Is it worth it? There are many benefits to concrete curbing. When you install concrete curbs, you allow your garden to grow in an organized way. Plants don't need to be placed in separate pots and are able to spread their roots freely without roots becoming entangled on a walkway. Curbing helps to separate your yard into different sections making for easier mowing time. They also help to isolate trouble areas with gravel or bark, keeping these materials where they belong.
Concrete borders are easy to match to your existing landscape. The material can be a basic concrete texture or something more unique chosen from a variety of color choices. It's also known for being one of the most durable types of garden edging that you can choose. With concrete curbing, you don't face the problems that other types of edging materials can run into such as rotting, warping, deterioration or separating due to extreme weather.
While prices do vary, particularly depending upon the area where you live, expect to spend roughly $2-$3 per square foot on concrete curbing plus $5 to $10 per square foot for the cost of installation.
Concrete Curbing Concepts
Keep reading for concrete curbing inspiration!
Concrete curbing is anything but boring. This type of curbing includes borders around garden and flower beds, but it can also include concrete walkways or paths. Concrete curbing has many advantages, including increasing the appearance of your lawn and garden areas, streamlining maintenance, and adding sophistication and personality to your yard.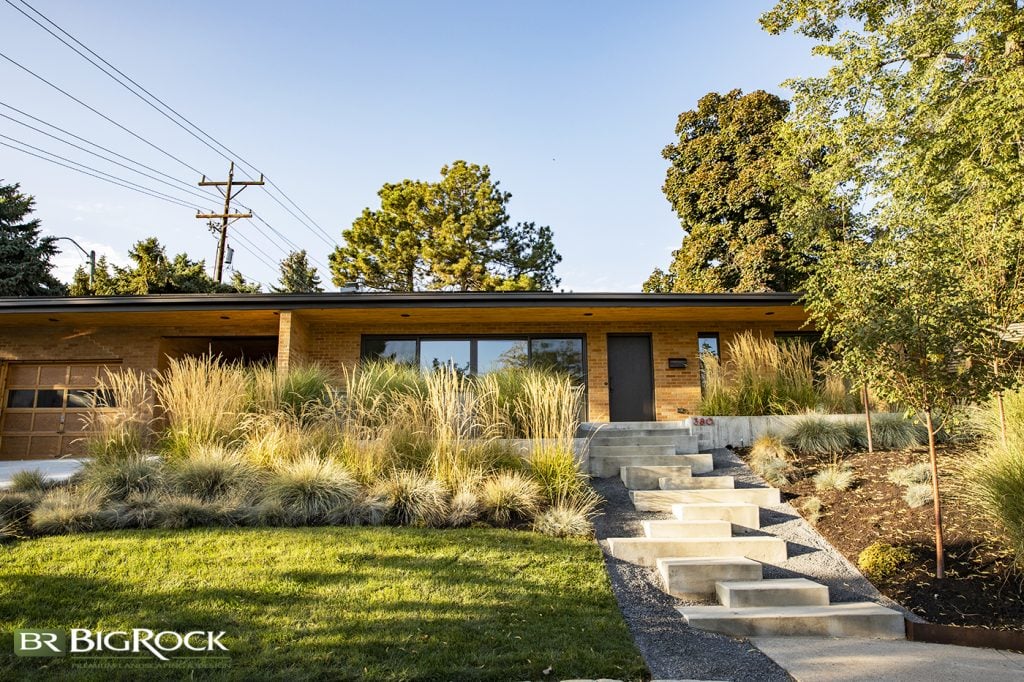 We love how this unconventional concrete path adds visual interest by staggering the concrete steps that lead up to an otherwise basic one-story ranch home design. This pathway also separates the yard into two sections, adding definition to each space while also making lawn maintenance easier. Notice also how the concrete garden bed on the right is used to contain plants while also giving the home a terraced look and feel. Imagine this home without the concrete landscaping and plants. Not all that impressive, right? But add the right concrete touches enhanced by the right green plants, and you've got a stunning front entry way. 
This home does a phenomenal job of breaking up the concrete curbing into specialized spaces. From garden beds that hold shrubs or trees, to steps that are broken up by green strips, this yard takes this home to the next level with its tidy appearance and attention to detail. It's no secret–we love a terraced look; it's one the best ways to add high-end style and sophistication to any home. 
This home does a fantastic job of getting everything into perfect sections. With a mix of raised beds and ground level beds alongside grass, this home's landscaping is thoughtfully planned. Segregating your yard into sections saves you time. You'll do less edging and trimming, and concrete curbing also reduces the spread of weeds and roots in between sections. Things just stay put in this type of landscape. The different spaces also add visual interest while giving the homeowners the added benefit of amazing curb appeal. A win-win in our opinion.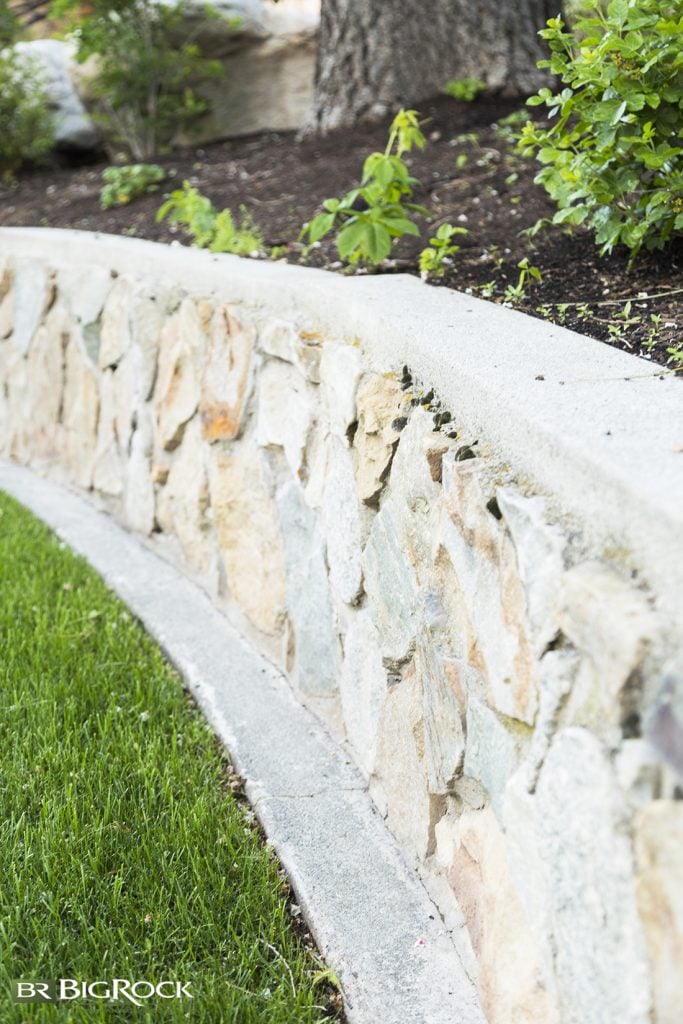 Concrete curbing is a sure-fire way to dress-up any landscape. Just like the right accessory can make or break any outfit, concrete curbing can bring your whole landscape together in a cohesive, controlled way. It has a way of keeping everything tidy, and keeping grass, seeds, or roots out of unwanted areas. 
Unlike other types of curbing or edging, concrete curbing is extremely durable and will not rot, warp, separate, or deteriorate in harsh winter conditions. And if it does become cracked overtime, it's easy to repair. 
We love how customizable concrete curbing is. You can use a variety of different natural materials (like the rock embedded into the concrete wall above), to enhance the border or match your home's color palette. We also can't get enough of how easy concrete curbing lends itself to creative design. It has the ability to dress up any garden bed, driveway, walkway, or retaining wall. In our humble opinion, you just can't go wrong. 
Concrete Curbing: DIY vs Hiring A Pro 
If you've made the decision that concrete curbing is the right choice for you, it's time to decide how to install it. Is DIY concrete curbing a project that you can take on without professional help?
When you think about pouring concrete on your own, you may simply be focused on the cost difference between doing it alone and hiring a professional. While it's true that you may save some money pouring your own concrete, it's important to factor in the time that it will take you to learn how to properly pour concrete, the time that it will take to prep the area, what equipment you will need to rent and learn to use as well as how long it will take you to actually pour the concrete correctly.
When you hire a professional, you save countless hours of time, and you won't need to teach yourself how to actually complete this task. You won't have to rent any equipment, and we guarantee that the project can be completed much more quickly by professionals. It's possible that the amount of time saved may be more valuable than the money saved by attempting to do it on your own.
Big Rock Landscaping: Your Utah Concrete Curbing Experts 
Ready to pour the concrete? Big Rock Landscaping is ready to help you turn your outdoor vision into a reality. 
The team at Big Rock Landscaping has a passion for developing the outdoor space of your dreams. With the help of an industry expert like Big Rock Landscaping, you can have confidence that your concrete curbing will be completed in a way that is aesthetically pleasing and durable. The professionalism, artistic eye, helpful suggestions, and attention to detail shown by the Big Rock Landscaping team can help with every stage of the landscaping process. 
Whatever your vision, Big Rock Landscaping offers the best landscaping services. Starting with the initial design concepts, Big Rock Landscaping works tirelessly to develop and maintain your perfect landscape. They have the best artistic tools, professional resources, and design expertise as well as installation and maintenance services in both commercial and residential areas across the Wasatch Front. 
Contact Big Rock Landscaping today to bring your outdoor dreams to reality.