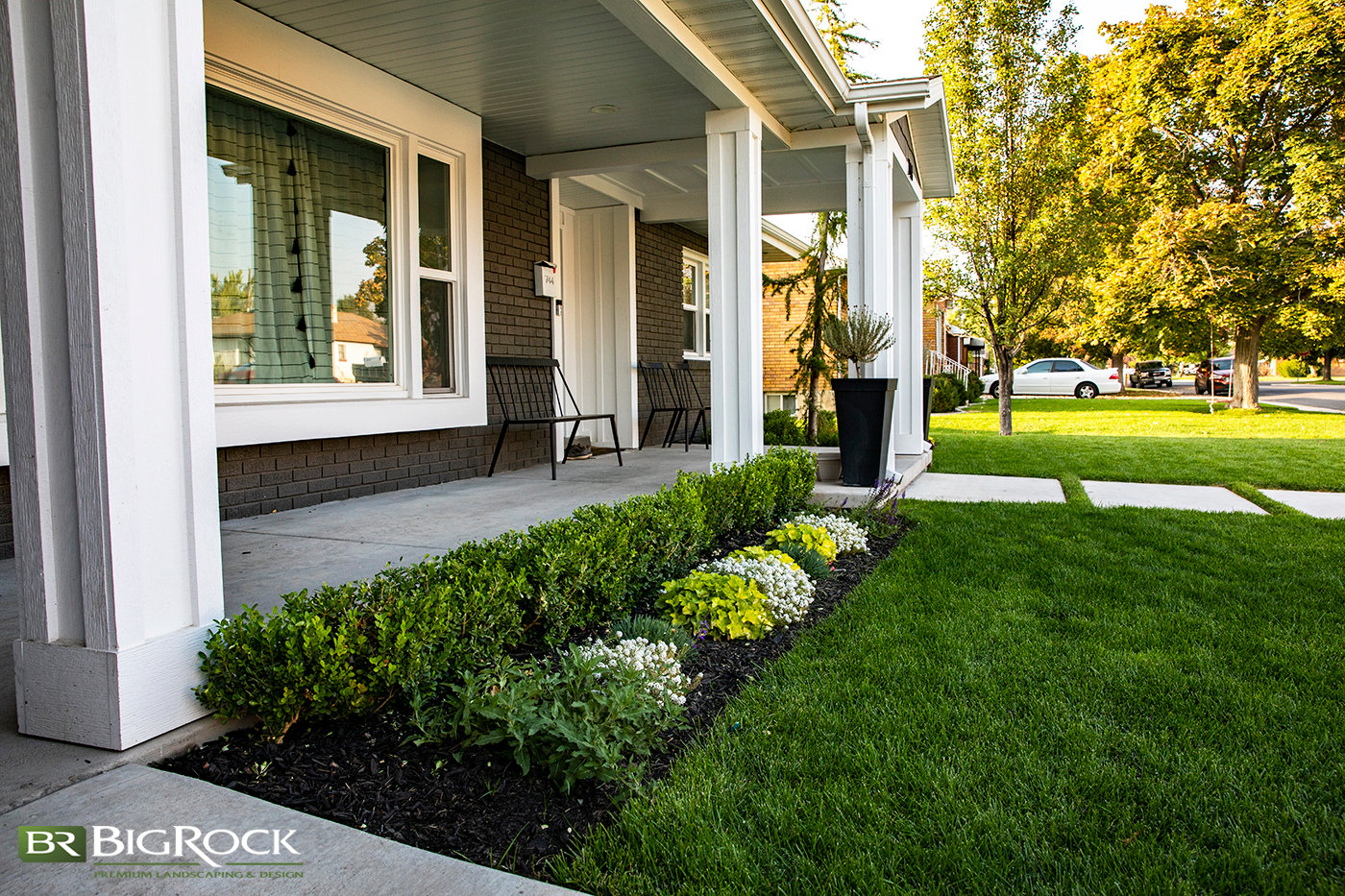 The Secret To Perfect Lawn Maintenance
If you're looking for an easy way to make your lawn look great, you may be disappointed because growing and maintaining a good-looking lawn takes some time. Maintaining a lush, green lawn can be a challenge, but it's worth the effort! In this post, we're going to share our secrets to the best lawn maintenance. Whether you're a seasoned pro or just starting out, these tips will help you keep your lawn looking great. 
Lawn Maintenance Basics
Before we get into any fine-tuning, let's cover the basics. At the bare minimum, if you want a lawn that you can be proud of, you'll need to mow your lawn weekly, water your lawn early in the morning, and stay up on fertilization and weed control. But if you're interested in taking your yard from good to great, here are a few tips that we've learned along the way that will take an average lawn to a gleaming green carpet that is a beauty to behold.
7 Lawn Maintenance Tips For A Beautiful Lawn
Although lawn is typically very forgiving and can take a certain amount of abuse and neglect, the timing of taking care of your yard is extremely important. The key is to start early and be consistent with your lawn care routine. 
Consistency Is Key!
If you struggle with consistency, having a perfect lawn may not be an attainable goal unless you hire a professional. Lawns that have that perfectly manicured look take a lot of time and effort. And consistency is the key to keeping them that way. A weekly routine is essential, and your lawn will thrive under these conditions.
Too Much Of A Good Thing
Don't overwater your lawn. Doing so will discourage your lawn from developing deep roots which are vital for lawn health. If you're not sure how much to water during different seasons, consult with a landscaping company in your area, or hop onto your city's utility website–they often have tips and watering suggestions specifically designed for your area and climate. 
Aerate Your Lawn
Aerate your lawn by using a spike aerator or core aerator. This will help loosen soil and improve drainage and airflow. After aerating, applying a layer of compost over the entire surface of your lawn will add nutrients back into the soil to promote healthy growth. Remove any debris or objects that may obstruct water flow, like sticks, leaves, or other organic matter.
Long Or Short?
Despite what you may have heard, having a very short lawn will require more water to keep it green, and it will also wreak havoc on your lawn's root system. When grass is short, it forces the blades of grass to use its energy growing up rather than growing down and developing a solid root system. Always keep your grass on the longer side. For best results, you should start mowing in late spring and continue mowing into late fall. 
Utilize ET Sensors
Sprinklers should not be standardized–meaning every zone shouldn't be running the same length of time, or even on the same days. Use different zones to water shady areas versus sunny areas (shady areas will need less water) and consider equipping your sprinkler system with ET (Evapotranspiration) sensors. ET sensors gather information about the evaporation from the soil, transpiration by plant materials, as well as wind and rain forecasting from local weather sources to make real-time watering adjustments. Yes, it IS possible to keep your lawn looking lush and green while also conserving water.
Keep Ahead Of Weeds
Stopping weeds from going to seed and spreading will also pay significant dividends in lawn maintenance. Again consistency is the key here. Regularly using a weed control fertilizer will help keep weed under control. 
Utilize Boundaries
This tip is probably one of our best tips. Lawn borders make a huge difference when it comes to lawn maintenance. Not only do they prevent weeds or grass from spreading into other areas of your yard, it gives your yard that perfectly manicured look that homeowners crave. Just this one simple step will help your lawn look its absolute best. Use an edger! This will give your lawn nice crisp borders. Under no circumstances settle for a weed wacker. If you've been admiring a lawn in your neighborhood and maybe just can't put your finger on why it looks so good, it might be all about the borders.
DIY vs Professional Lawn Maintenance And Care
Maintaining a beautiful yard and a green lawn can be very rewarding. Mowing once a week is also great exercise and gets you outside–soaking up that Vitamin D while getting some exercise is a win-win. On the other hand, hiring a professional might be the way to go if you do not enjoy yard maintenance. 
Lawn maintenance can be a daunting and time-consuming task. Mowing, edging, and weeding are just a few other things that need to be done every week to keep your lawn looking its best, which takes time away from other FUN activities you may want to enjoy in the summer months. As with any job at home, lawn maintenance requires specific skills and tools. Perhaps you would rather spend that expense on a professional landscaping team. Knowing exactly what needs to be done can also be challenging. If your yard has issues, such as browning or weeds that are out of control,  professionals will know just what to do to get your yard back in tip-top condition. 
What To Look For In A Lawn Maintenance Company
As in any business or trade, hiring the right people makes all the difference. There are a lot of lawn maintenance companies out there, so be sure to do your research and choose the best fit for your needs. To help you in this endeavor, we've compiled a short list of the most important things to look for when hiring a landscaping company.
Deep Experience. When interviewing different landscaping companies, ask questions about how long they have been in business. Make sure they have solid and deep experience in landscaping maintenance in your area. You don't want a "green" landscaping company to cut their teeth on your property. Experienced companies get the job done quicker and they know just what to do to get the results you want. 
Good Reputation. Word of mouth is always a great way to start your search. Ask your neighbors who they use and how satisfied they are with their service. Good landscaping companies value great service because they know that's how they keep current clients and win future business. 
Solid Reviews. Go with a company that has proven success and a record of keeping their clients happy. Visit websites and social media accounts to see what people are saying. With the increasing transparency of an online world, it's harder than ever to hide shoddy work and poor customer service. Solid reviews will tell you whether or not a landscaping company values its clients and takes pride in their work.
Affordability. Don't take the first quote that you get. Shop around and get at least three different quotes. Do your research and make sure you are getting a competitive price for services rendered. 
Reliability. Look for a company that is punctual and communicates well. You can get a good sense of this during the interview process. Consistency is the key when it comes to good lawn maintenance, so make sure you hire a company that will do what they agree to. 
Insurance. It's always a good idea to make sure that any contractor working on your property is properly insured against accidents to themselves or to your property. It's just one more level of peace of mind should an issue arise.
Big Rock Landscaping: Your Utah Lawn Maintenance Experts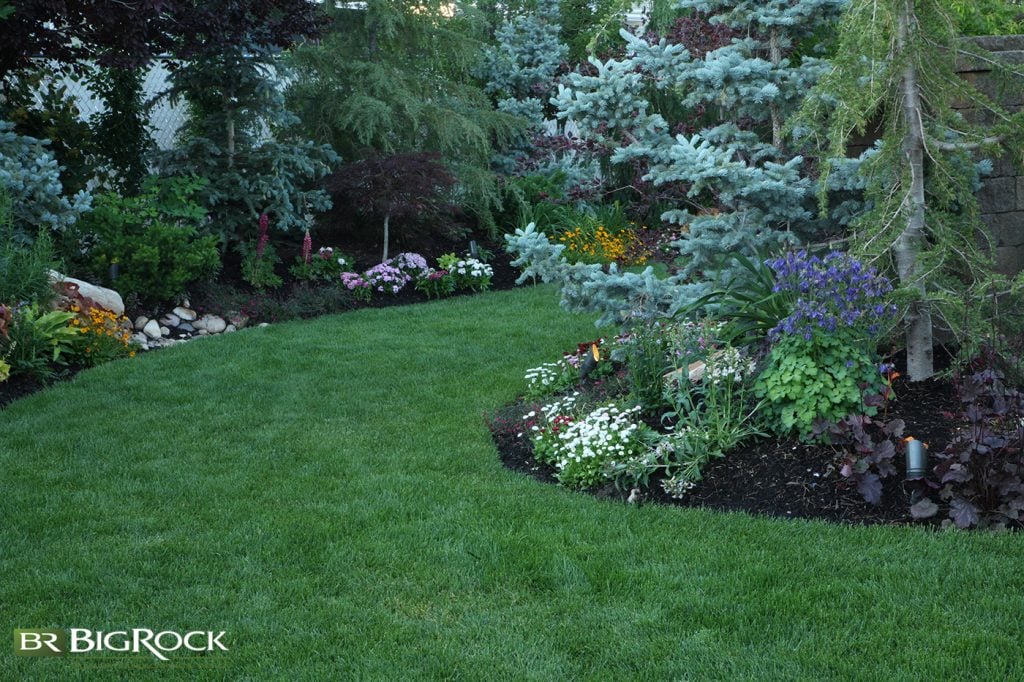 Big Rock Landscaping is the premier landscaper in Utah. We offer professional landscape services, design, installation, and maintenance services for residential or commercial projects of any size. You can keep your Saturdays maintenance-free while still enjoying a lush lawn that will be the envy of the neighborhood. Big Rock is just the company to make that happen. We value our clients and work hard to make sure you are satisfied with the services we render. 
Whether you're looking to update an intimate corner of your yard or create a large space to relax with family and friends, our team has got the industry knowledge and brawn to bring to life even the most pie-in-the-sky landscaping plans. We'll help guide you and assist in planning every step of the way so that everything is done just as you desire. 
If landscaping maintenance just feels like too much work—then don't worry, because our team of talented professionals can do it all! Contact us today so we can help you get started!