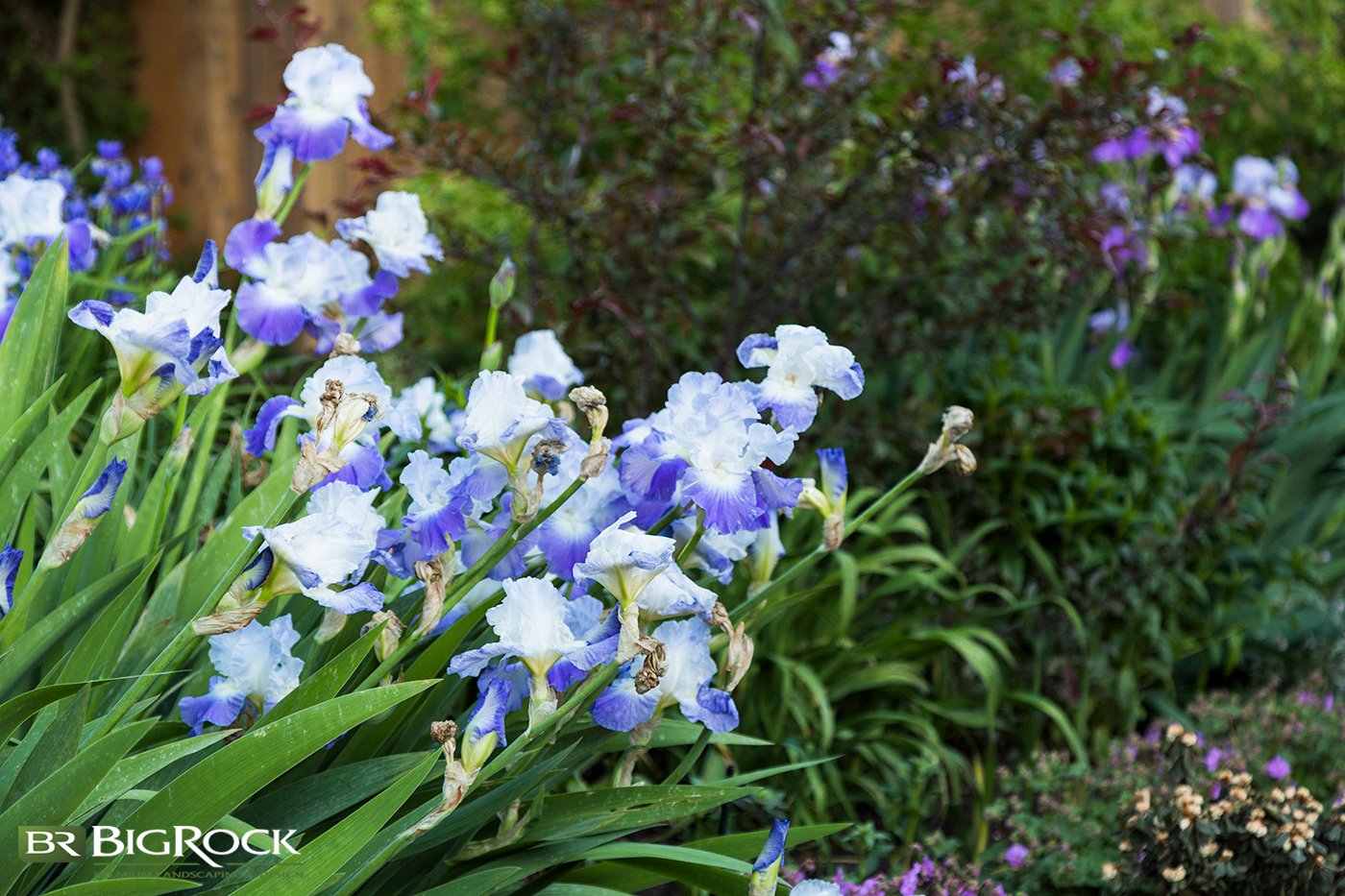 12 Hidden Benefits Of Landscaping
There are many reasons why you might want to landscape your yard. Maybe you want to create a beautiful outdoor space for your family and friends to gather, or maybe you're looking for ways to improve your home's curb appeal. Perhaps you want to redesign your yard because you want to increase the value of your home. Maybe having a beautifully landscaped yard just makes you feel better. Whatever your reasons may be, landscaping can provide some major benefits that you may not have considered. Consulting with a professional can help you with ideas that you may have not thought of on your own. Keep reading to learn about some of the hidden benefits of landscaping!
The 12 Hidden Benefits Of Landscaping
Sure, landscaping your yard may seem like a lot of work. But the truth is, it can actually offer a number of hidden benefits. For starters, landscaping can help to improve the look of your home, making it more visually appealing to both you and your neighbors. Furthermore, landscaping can also help to increase the value of your property. Studies have shown that homes with well-landscaped yards typically sell for more than homes without landscaping. Landscaping your yard also helps to improve the quality of your local environment. By planting trees and other plants, you can help to improve air quality and reduce noise pollution. These are just a handful, but keep reading for more landscaping benefits.
1. Increased Property Value
Studies have repeatedly shown that home buyers are usually willing to spend more on a home that has been professionally landscaped both in the front and back yard.
2. Improved Air Quality
Every day grass and trees are working to remove carbon dioxide, produce life-giving oxygen, and capture dust and smoke particles. Amazingly, one tree can remove 26 pounds of carbon dioxide from the air every year. Another incredible fact is that one tree has the power to supply enough oxygen for four people every day. Protect the environment, and plant a tree!
3. Reduced Stress Levels
It turns out that landscaping is actually good for your health. Simply looking at plants and trees whether it be on a stroll through your yard or looking at them through a window can actually lower your blood pressure and the levels of cortisol, otherwise known as your "stress hormone."
4. Attracts Wildlife
When you landscape using a variety of plants, wildlife tends to thrive. Landscape with native plants and try to choose as many local varieties as possible for the most success.
5. Helps With Stormwater Management
A lush landscape is known for helping during the most robust part of the storm season. These plants and trees act as runoff buffers for the storm water runoff which in turn reduces the flow of pollutants heading towards nearby bodies of water.
6. Prevent Erosion
Erosion can be prevented with a simple retaining wall. This retaining wall will help to prevent elevated soil from heading towards the building when it begins to rain. These walls can also be used for creating garden pathways, additional seating, and a creative garden area.
7. Add Curb Appeal
There are many ways to add curb appeal through landscaping. Try planting a tree or two in your front yard. Add flower boxes around your house, and build a flower bed around your new tree. You can also add rock features and plant ground cover to hide less attractive areas.
8. Decrease Heating And Cooling Expenses
Lower your air-conditioning needs through landscaping! A grass lawn is cooler than asphalt, cement, and even plain soil. Tall trees on the south and west sides of a home or office building provide shade during the warmest time of the day and are known to lower attic temperatures by up to 40 degrees. An added bonus is reducing glare through the windows.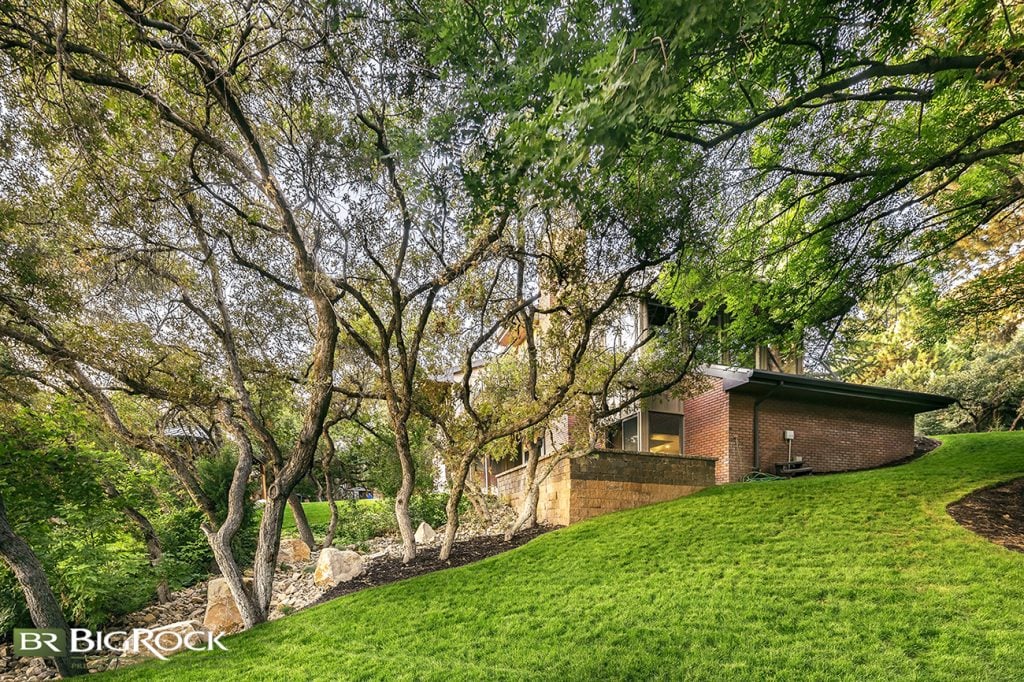 9. Less Noise
If your backyard is sounding like a party, it turns out a fantastic landscaping job can help. Lawns and plants are both known for dramatically reducing noise pollution and can reduce noise levels by 20 to 30 percent when compared to surfaces like pavement and concrete.
10. Exercise in Your Yard
Get out there and weed! Weeding in your garden for 45 minutes has the ability to burn as many calories as you would with 30 minutes of aerobics. Weeding for one hour is the equivalent of walking or biking for an hour, burning 300 calories. One hour of pushing a mower is the equivalent of tennis for one hour, or another 500 calories. Studies have shown that women who spend time in a garden recover more quickly from breast cancer and women who garden once a week have higher bone density.
11. Bond With Your Neighbors
Do your neighbors like to garden? Share tricks with your neighbors about what grows the best in your yard versus where they may be experiencing success. You can also share seeds, bulbs, and extra plants creating a strong social bond while beautifying your yards!
12. Turn Unused Spaces To Functional Areas
Are you not using part of your yard because you don't know what to do with the space or it's a jungle of weeds? That side yard that has never been used or the backyard that is cluttered with old patio furniture could be turned into a gorgeous space for you to unwind. One of the benefits of a landscaping service would be leveraging their expertise and ideas to help design the space.
Our Favorite Landscaping Ideas With Hidden Benefits
While it's true that landscaping your yard may seem like a lot of work, in many ways it is worth the extra effort. And not just because of all the amazing benefits that are listed above. But If you're still feeling like you need a little inspiration before you can get pumped to work up a sweat in the yard, we'd like to share our 5 favorite landscaping ideas–with hidden benefits! 
Hardscaping
One of our favorite things that we like to do with landscaping is create different outdoor "rooms" in different layers. Right off the bat, you'll see that this backyard at once feels intimate and sophisticated. You'll also notice that we've got a lot of hardscaping elements at play. From the concrete retaining walls to the gridded concrete patio, this house has everything organized into tidy, separate spaces. Utilizing hardscaping elements is a sure-fire way to keep all of your outdoor spaces organized and serving a specific function. And with less plants to water, hardscaping will give your wallet a break and put your water-conservative mind at ease.
Hidden benefit: Hardscaping can help you save money and water! 
Water Features
When it comes to creating a calming outdoor space that can impress even the most discerning of friends, a water feature does not disappoint. Whether you invest in a fountain, natural lake or pond, meandering stream, or water wall, a water feature will bring a sense of serenity and elegance to any outdoor space. No need to think big, here. Water features come in all sizes and shapes, and are more cost and water efficient than ever before. Every living thing needs water, and when it is onhand and plentiful, you'll get all sorts of wonderful winged creatures stopping by for a visit. From butterflies playing tag to brightly colored hummingbirds, your backyard will become an eco-friendly oasis.
Hidden benefit: Nature will leave its calling card!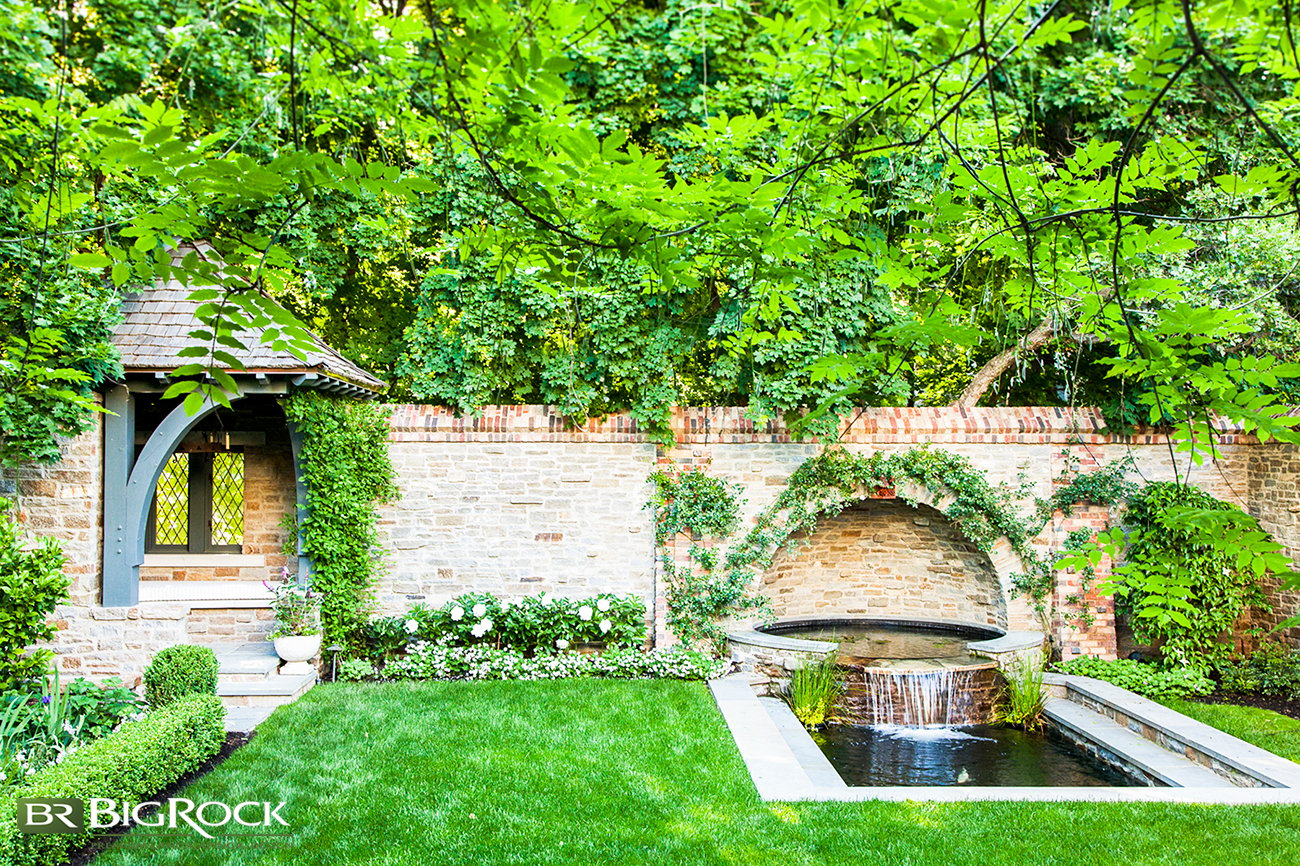 Pergolas
Sometimes you just need something to break up the linear lines inherent in most landscapes. This backyard does a fantastic job of using the vertical lines of the pergolas to break up the horizontal lines through the property. Because mixing textures, shapes, and colors creates interest, we always recommend adding some features to your landscape that offer contrast. Pergolas are the perfect backdrop for a number of backyard enhancing items like climbing vines and twinkle lights. And don't forget the possibility of shade! Even with a slatted roof, pergolas provide relief from the sun for people and plants alike. 
Hidden benefit: The perfect backdrop for other landscaping elements.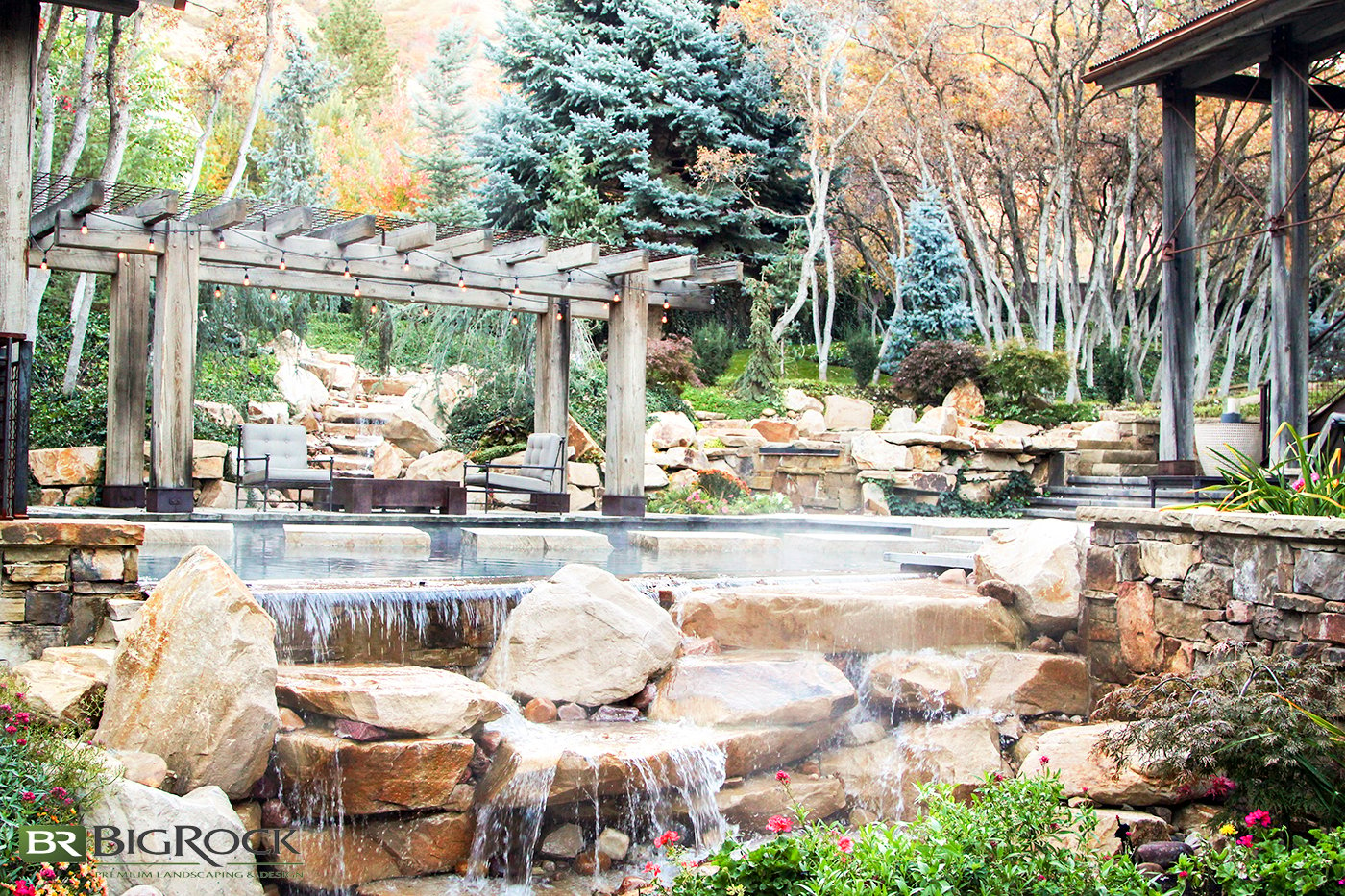 Rock Walls
When designing a landscape, most people don't really give walls much thought. But walls can add visual texture and contrast to your surroundings. Essentially considered hardscaping, rock walls can also divide your yard into different rooms or spaces to increase functionality and order. This backyard is divided into three sections, all enhanced with a differently textured rock wall. Had the same texture been used on each wall, it would have given the backyard a sterile, nondescript look, instead of making a statement. Walls also serve as great boundaries between plant species and weeds, keeping everything in its place.
Hidden benefit: Rock walls control erosion and prevent weeds from spreading.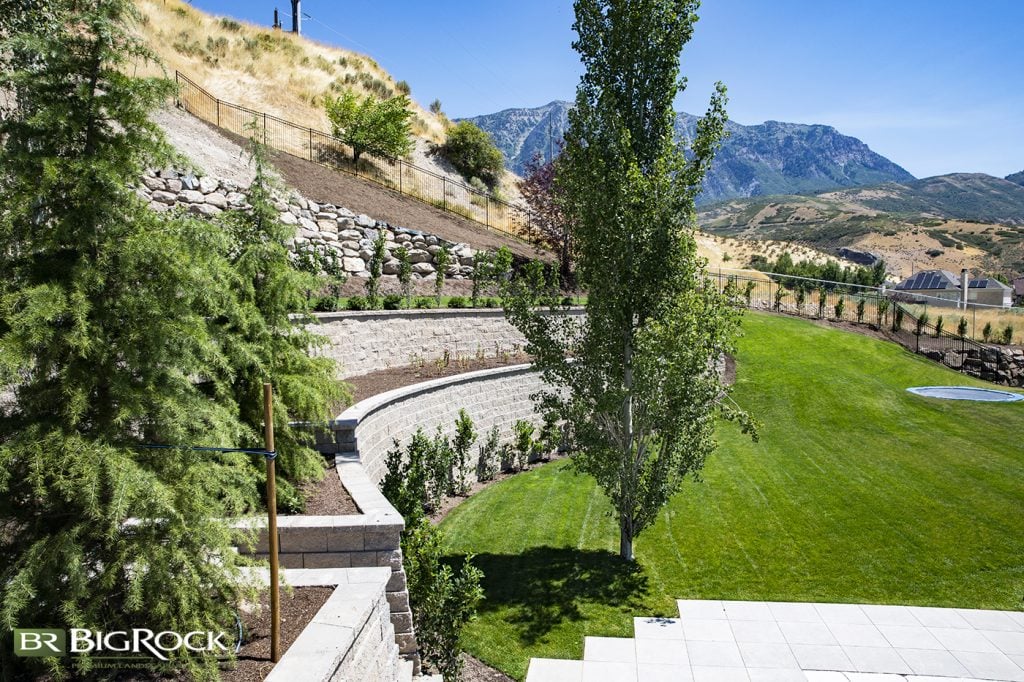 Recreational Elements
Every yard needs a space designed just for play. Recreational elements like playground equipment, trampolines, or pickle ball courts, give the members of your household a space that is all their own. This yard does an incredible job of incorporating greenery around the recreational elements, giving it a park-like appearance. If you're wondering how to wrestle control back from a screen, add in some recreational elements that will beckon your children (and maybe you, too!) outside to play.
Hidden benefit: Your kids will play outdoors!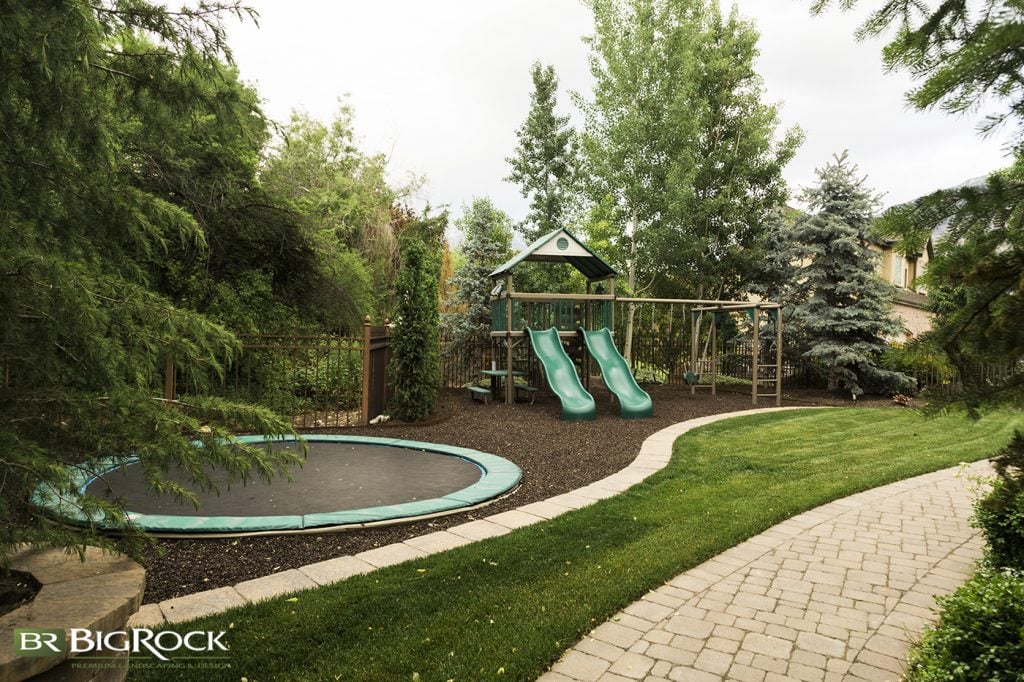 Big Rock Landscaping: Your Utah Landscaping Design Experts
Big Rock Landscaping can help you find the answers to all of your landscaping questions. They have a passion for creating the perfect outdoor space for families, whether that be expansive landscaping spaces or an abundant fruit orchard.
Whatever your vision, Big Rock Landscaping offers the best landscaping services. We have the best artistic tools, professional resources, and design expertise as well as installation and maintenance services in both commercial and residential areas along the Wasatch Front. Their professional, artistic eye, and attention to detail can help with every stage of the landscaping process. From the initial design concepts to the demolition and construction, Big Rock Landscaping works tirelessly to develop and maintain your perfect landscape.
Check out our portfolio online, or contact Big Rock Landscaping today to bring your outdoor dreams to reality.