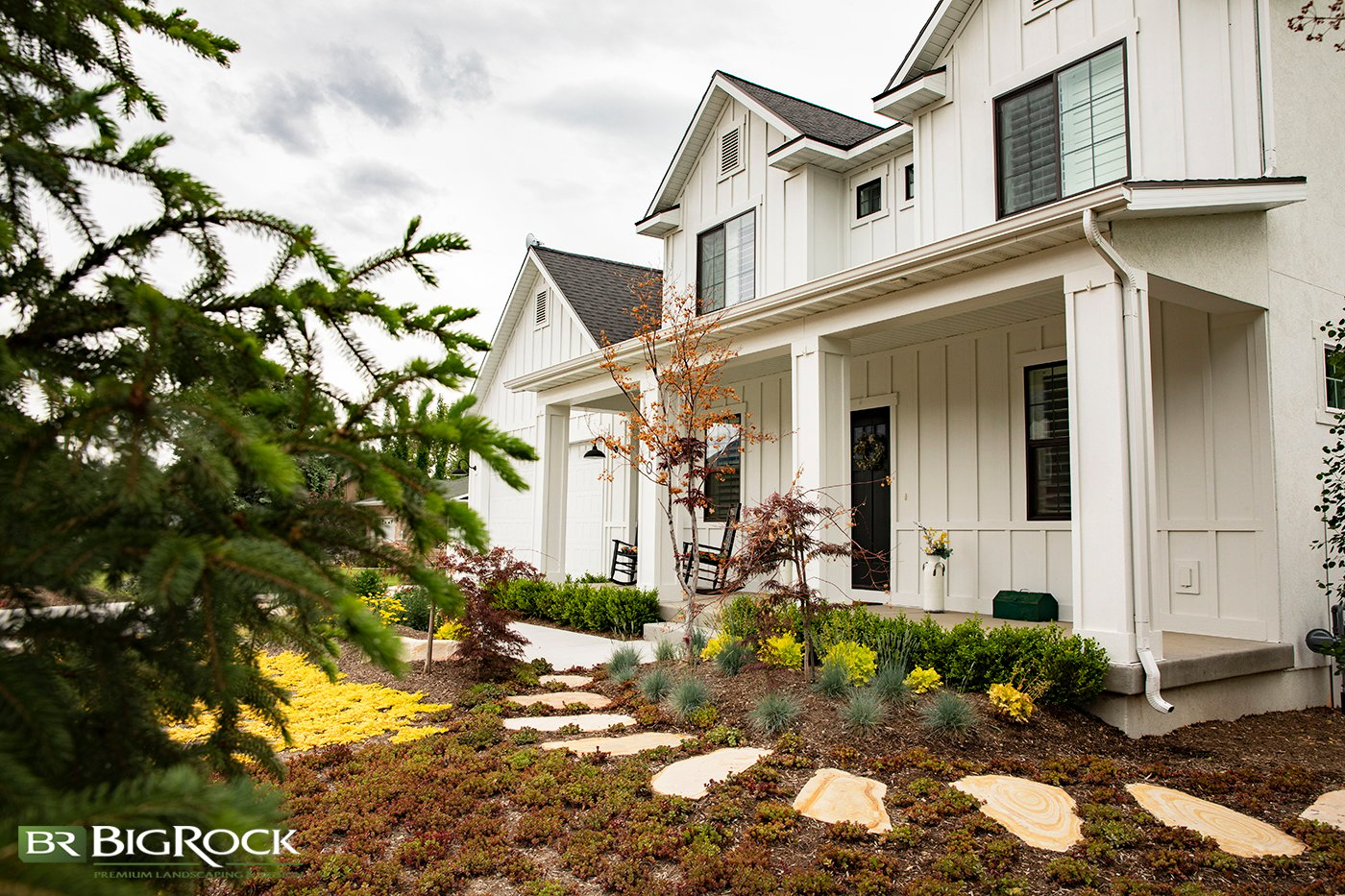 Our Favorite Drought Resistant Landscaping Ideas
No matter how much snow falls in the mountains during the winter, or how many inches of rain we get in the spring, it seems like water conservation is always a hot topic in Utah. Unless you want to stress over your dying lawn every summer, or battle water restrictions, you should embrace the elements of drought-resistant landscaping. Drought tolerant landscapes aren't just rocks and succulent plants (although we LOVE a good xeriscape!). Landscaping with native plants allows you to have grass and greenery while still being water-wise. We're sharing a few water conservation tips to help you stress less and grow more. We've also combed through the Big Rock Landscaping portfolio to bring you some of our favorite Utah drought-resistant landscaping ideas that look so great you'll forget they're conserving water, too.
Landscaping Tips For Conserving Water
If you're looking to conserve water, there's no better place to start than your yard. A good portion of your monthly water bill likely goes to maintaining all of its square footage and water-hungry greenery. But front and back yard drought resistant landscaping can still be green and luscious. There are many drought-tolerant landscaping ideas that incorporate more than rocks and succulent plants.
We're sharing nine of our best drought-resistant landscaping tips. Some of these revolve around what you plant, but most have to do with how you maintain your yard and landscaping. Simple water conservation efforts on your part will help you have luscious landscaping, no matter the water forecast, and will save you money on your water bill, too.
1. Add Mulch
Spreading mulch around your plants and beds every spring makes your yard look fresh and new. But did you know that using mulch also helps with water efficiency? Mulch acts as an insulating buffer between the elements and the soil. It helps keep the sun from cracking and drying the soil in the summer, and protects against snow and freezing temps in the winter. It is especially effective at water conservation in the summer because it reduces the amount of water that evaporates from the soil. This means you don't need to water as much or as often.
2. Group Plantings
If you have any sort of a green thumb, you probably already recognize that different plants have different water requirements. When you group plants with similar water requirements together, you avoid over or under watering them. This not only saves your plants, but it will reduce your water usage too.
3. Use Drought Tolerant Grass
Have you ever traveled to a different region and noticed a difference in the grass? Just like other plants, different types of grass have different water requirements. So before you throw down any old grass seed or sod, you should find out what is best for your area. If you live in or near the Wasatch Front in Utah, Kentucky Bluegrass is the best drought tolerant grass for the area.
TRENDING: Xeriscaping Ideas For Your Yard
4. Don't Overwater
It's possible that you're watering your yard too much. Overhead sprinklers tend to waste a lot of water, and aren't very effective at watering gardens or flower beds. Installing drip irrigation or using a soaker hose to water the base of plants is most effective. In areas like your lawn, where it's necessary to use overhead sprinklers, be mindful of the schedule you set. Setting them to turn on when the outside temps are a little cooler keeps the water from evaporating so quickly. Make sure you aren't watering too many times a day or too many days a week. In Utah, lawns typically require 1-2" of water each week in the spring and fall, and 2.5-3" of water each week in the summer. Depending on the outside temperatures, this could mean watering anywhere from two to four times a week. You should also turn your system off on rainy days, or install a rain sensor to do this automatically.
5. Install A Smart Sprinkler
Using a smart sprinkler equipped with an ET sensor can help you keep water where it's intended to go. Different ET (evapotranspiration) sensors gather information about the evaporation from the soil, transpiration by plant materials, as well as wind and rain forecasting from local weather sources to make irrigation run-time adjustments so that your landscape only receives the exact amount of water it needs, and no more. Sprinkler systems fitted with ET sensors have been shown to reduce outdoor water use. A recent study showed homes based in Las Vegas, Nevada that were equipped with ET sensors saw an average 20 percent reduction in water usage. 
WATCH: How To Choose The Best Xeriscaping Plants
6. Rip The Parking Strip
Parking strips—that area of vegetation between the sidewalk and the road—may look nice, but they are notorious for wasting water. Sprinklers are often inefficient at wetting them down without also spraying most of the sidewalk and half of the road. This might be a good place to use rocks, xeriscaping, or other elements that require little or no water.
7. Audit Your Irrigation System
Your sprinkler system may be hogging water right under your nose. A yearly audit will help you make sure it's running efficiently. Sprinklers should not be standardized. Do a "background check on all zones," and go investigate the answers to these questions:
Are all sprinklers pointing AT the grass? 

Are the sprinklers as efficient as possible?

This involves checking for broken or malfunctioning sprinkler heads, valves, and controllers, conducting a performance test, and properly programming the controller.

Are you using different zones to water? Shady areas need less water, less shady need more. 

Are you using the correct nozzles and heads?

Change your planter beds to a variety of drip emitter heads – water can come out at different rates and be on the same zone. 
8. Maintain Your Soil
Healthy soil saves water. Aerating and fertilizing your soil consistently helps strengthen and increase the organic content. This in turn helps it hold onto water longer beneath the surface. This is another reason mulch is important. As mulch breaks down, it becomes part of the soil and adds extra organic material to its composition.
9. Mow Higher
Everyone loves a clean cut lawn, but the slight difference between a buzz cut and a crew cut could save you money on your water bill. Raising your mower height just a little can help trap precious moisture in your lawn. We recommend using a 3" setting. This allows you to maintain a well manicured lawn appearance, while embracing a drought resistant landscaping front yard and backyard.
LEARN MORE: Your Utah Flooding Preparedness Checklist
10. Landscape With Drought In Mind
Sometimes the best way to accomplish something is to begin with the end in mind. The same is true with drought resistant landscaping. As you design, redesign, or simply make gradual changes over the years, keep water conservation in mind. Doing so will help you create a landscape you love that doesn't drain the water reservoirs or your wallet.
Our Favorite Drought Resistant Landscaping Ideas
What does beautiful drought resistant landscaping look like? We thought you'd never ask! Here are a few of our favorite drought tolerant landscapes we've made over the years.
Native Utah
The tall natural grasses, rocks, and mulched bed only accentuate the uniqueness of this low rise home.
Going Grassless
Who says your front yard has to have grass? The truth is, the grass in front yards is more decorative than anything. It rarely gets used. If that's the case for you too, you may want to consider a look like this one, featuring dark rock and mulch, with plenty of bushes and trees to grow in and create a vibrant feel.
Beds With Style
Raised bed gardening is all the rage now, and these raised beds are stylish and functional. Not only do they look good, but they allow for easy movement between the beds, and don't waste water as you flood areas without plants.
A Stony Path
Using natural elements like these stone steps can help add interest and transition a yard between green grass and more water conscious elements.
Xeriscape With Interest
This xeriscape landscape has tremendous visual appeal as it mixes different varieties of rocks and plants. The different areas and patterns make it anything but boring.
Backyard Beauty
The raised garden beds, rocks, and extra touches of greenery make this backyard a place you can wander to water by hand, or admire your green thumb.
Green Zones
Who says your backyard has to be endless sprawling grass? This yard uses trees, plants, and a pathway to create green zones that are begging to be meandered through.
A Secret Garden
Entering this yard through the side gate leads you to walk along this pathway through various kinds and levels of carefully thought-out plantings.
Useable Retaining Wall Space
Retaining walls can help prevent water runoff, and can also create more usable space from a steeply graded landscape. This retaining wall creates an amphitheater like feel that would be great for gathering. The use of so much hardscape saves extra water too.
Side Yard Savings
Why waste water on a side yard that is rarely seen or used? The pathway through this area keeps the space usable as a passageway, without wasting water on grass no one ever utilizes.
Rock Garden
Surrounding your plantings with rocks in your planters and garden beds can help them retain moisture while adding a unique visual element too.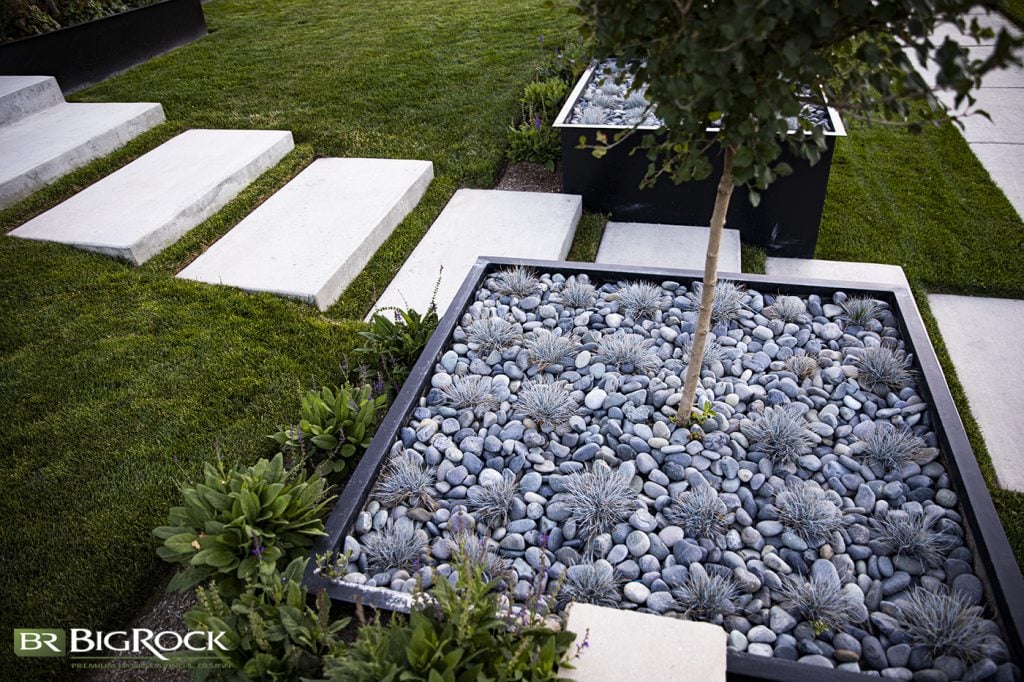 Should I Hire A Professional For My Drought Resistant Landscaping Project?
If you live in an area that is prone to drought, you may be wondering if you should tackle your drought-resistant landscaping project on your own, or hire a professional. There are certainly pros and cons to both approaches. If you decide to do it yourself, you will have full control over the design, can finish it on your own timeline, and get the satisfaction of getting your hands dirty. But remember, you don't have to tear out everything during a drought IF you are watering correctly! But it depends on how hands-on you want to be—when homeowners are facing drought conditions, it requires some auditing of your current system and more hands-on management of your watering. If you prefer a "set it and forget it" process to manage your landscaping, it might make sense to make your yard more drought tolerant and consider replacing some of your thirsty areas with more hearty, drought-friendly plants and xeriscape. Hiring a professional landscaper can take the stress out of the job. They can advise you about the best plants for your yard. The best landscaping services can also take your vision and push and stretch it to become even better than you imagined. But to get the results you want, you need to hire a reputable landscaping company that uses sustainable practices.
Ultimately, the decision about whether or not to hire a professional landscaping company depends on the time, money, and sweat equity you want to put into the project.
Still Need Help With Your Drought Resistant Landscaping?
If you decide to enlist help to create your dream drought-tolerant yard, it's important to hire a company that understands the assignment and can work well with you to get it done. At Big Rock Landscaping, we've developed a proven process for working with our clients. This allows us to work to develop and create a landscape that fits our client's personality, vision, and dreams. We have worked in Utah for years, and understand the unique water, soil, and elevation challenges. No matter what landscaping project you want to finish, Big Rock Landscaping can help you do it. Contact us today to get started.