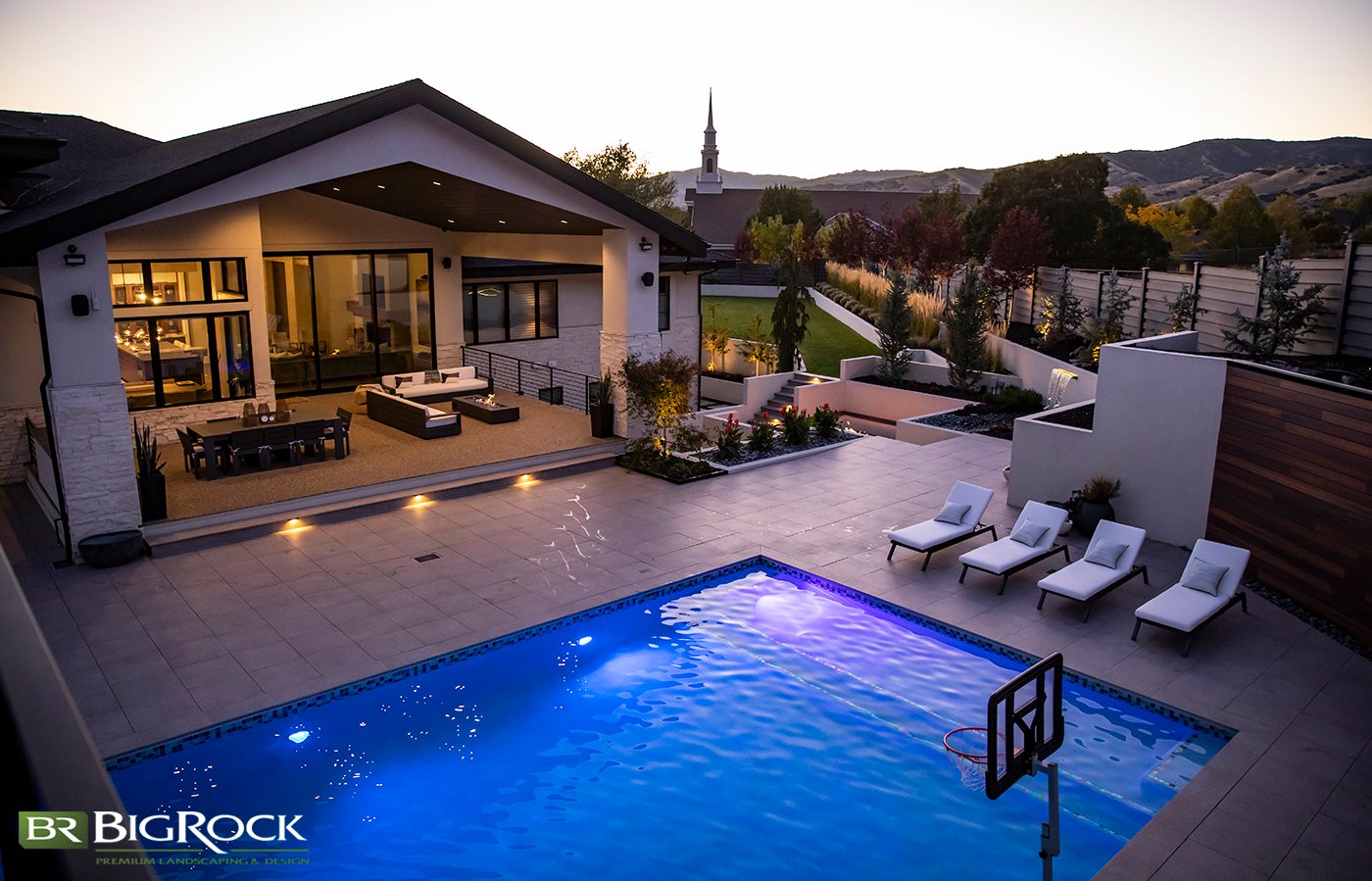 Take Your Yard To The Next Level: Backyard Lighting Ideas
Outdoor lighting is one of the few ways you can elevate your backyard space. Done right, this can create an outdoor experience that is truly magical. How many times have you sat out on your patio in the evening, under a star-studded sky, enjoying the cool breeze and the warm company of your friends and family? Probably too many to count. It's a great experience and one that you can enjoy even more by adding some beautiful patio lighting. But where do you start? 
There are so many different backyard lighting options available, which is amazing, but so many options can also be overwhelming. Don't worry! We're here to help. We've collected some jaw-droppingly amazing backyard lighting ideas that will have you planning your next outdoor gathering in style. So get ready to be inspired and enjoy all the hours of fun that come with spending time outdoors in your backyard! 
Before You Start Finding Ideas . . .
It's tempting to jump right in, but trust us. A little planning will go a long way. For starters, when thinking about backyard lighting ideas, spend some time thinking about what kind of experience you want to create. 
Consider The Mood
Does your space call for bright light, or muted tones? Different types of lighting will create their own mood, and the best backyard lighting ideas will always make your space more enjoyable as well as functional. 
Consider The Purpose
Do you intend to highlight elements that you love in your yard, or improve the quality and cost of porch lights, or do you want to illuminate walkways? The answers to these questions will drive your lighting design and help you effectively marry form and function. A perfect win in the landscaping world.
Consider The Current State
Lighting is one of the final touches of any landscape design, but it's important to implement this at the right time. The best time to implement a lighting design is when your landscape is nearly finished, once all of the hardscape and structural elements are in place. Once everything is in the right spot, it's time for you to consider how your lighting design will highlight features while adding functionality and security.  
Consider The Cost
Whether you are updating old, outdated lighting, or installing a backyard lighting design from scratch, consider the cost of implementing your plan. The average homeowner pays almost $1,000 per year for electricity. Standard incandescent bulbs will cause a spike in your electrical bill,  whereas LED lights will cut your costs. Again, the market is flooded with different options. This is where we can help–a good contractor can source high-quality outdoor LED bulbs that will last for years to come. 
Why Is Lighting In Your Backyard Important?
Outdoor lighting is important for a number of reasons. Let's dive into the pros and cons.
The Pros Of Backyard Lighting
Professional backyard lighting can help to deter crime by making it more difficult for would-be criminals to operate under the cover of darkness. 

Outdoor lighting can provide a sense of safety and security for homeowners and their families. 

Outdoor lighting can create a relaxing and enjoyable ambiance for outdoor entertaining, making your backyard more inviting and enjoyable to spend time in. 

Outdoor lighting can highlight the features of your home and landscaping, creating an upscale feel and look. 

Outdoor lighting is safer. When your backyard is well lit, there is less chance of tripping or bumping into things that could blend into a dark background.
The Cons Of Backyard Lighting
Creating the right lighting design can be tricky if you're a novice. If not done right, it can have the opposite effect on your home, making it unsafe and less appealing. If you install low-quality lighting or place lighting in the wrong areas, you could be creating awkward shadows or glares, or even waste energy by executing an inefficient lighting plan.

It may increase your electricity bill. But let's face it; this is a small trade-off when you get the benefits of increased security, safety, and enjoyment.
So whether you're looking to deter crime, create a sense of safety, or simply make your backyard more inviting, outdoor lighting is an important consideration.
7 Backyard Landscaping Lighting Ideas To Make Your Yard Shine
Security Lighting
This type of lighting will typically be the strongest. This type of lighting is typically installed under garage eaves, over basketball or tennis courts, or over broad expanses or patios. Not only will this provide adequate light to play sports and entertain well after the sun sets, but it will also deter criminals or pesky night-time critters that could cause damage to your home. 
Even though these broad, utilitarian-type areas will require the strongest lighting, it doesn't have to be harsh lighting. Lamp posts cast a rich wide-reaching glow; they light up a driveway or garage area nicely without resorting to a garish spotlight or floodlights.
Highlight Cool Features
To create a high-end look, and to draw attention to the outdoor features you love, use strategic lighting to draw the eye towards these lovely features. Adding spotlights and ground lighting around these types of landscape pieces will make them memorable.
Install Mood Lighting In And Around Pools
It's always a good idea to provide ground and wall lighting alongside pools and other water features. Not only will this keep people safe, but the lights will cast a mesmerizing glow that will light up the surrounding area. Just picture sitting outside while the sun is going down and instead of watching the light slowly fade away, leaving you in shadow, your outdoor lighting kicks on right at dusk to bathe your entire backyard in a delicious, golden glow.
In this picture, lighting has been carefully installed around the pool edge and in the spa so that this space is visually defined even in low lighting. You will also notice that ground lighting is installed underneath and around the water feature that flows into the pool, as well as placed beneath trees and shrubs that border the swimming pool area. This lighting scheme effortlessly creates a soft, well-lit area that is welcoming and safe even when the sun is long gone. 
Light Walkways And Stairs
Pathway lighting is often low voltage lighting that is soft or moderate. This type of lighting serves a dual purpose as you want to highlight the path, or stairway, while also making it inviting. Lighting should be placed close to the ground and regularly spaced along the walkway at appropriate intervals so that the entire walkway is well-lit and easy to navigate. Save on cost here, by using solar lights.
Can you imagine navigating these stairs without good lighting? Make sure the paths and stairs that get you around your landscaped yard are clear and brightly lit.
Fence And Wall Lighting
Fence or wall lighting, although low voltage, is often moderately bright. Like walkways and stairway lighting, fence and wall lighting also has a dual purpose, as it is used for safety as well as accent lighting. Use wall scones to highlight entryways or to direct light into those hard-to-reach corners of your yard.
Notice how this yard uses multiple sources of light to create a lighted path as you move from the spotlighted trees, around the corner nook, and towards the fire pit gracing the pool area.
String Lights
String lighting is very popular these days. Many homeowners use it in their backyards to evoke a warm and intimate feel. String lights are often hung under covered porches or arching over BBQ and pool areas. They can also add a special glow to an outdoor gazebo. Make sure these lights are waterproof and meant for outdoor use. If not solar, these lights will also need access to an outlet, so make sure you plan for this in your backyard lighting design.
Covered Porch Lighting
This is one area where you can add a little elegance to your backyard. Why not add a pretty chandelier to your outdoor covered porch to create a high-end mood rather than just plain old can lights? Adding a bit of personality will go a long way in setting your yard apart from the crowd. 
This backyard does an amazing job of creating well-lit pockets of light made for each unique space. The covered porch has traditional can lighting installed underneath the eating area for a warm, cozy glow, and the pendant lights hung over the bar area add an upscale touch. 
DIY vs Professional Backyard Lighting
We probably all understand that backyard lighting serves many important purposes, and it might seem like a pretty straightforward DIY task to tackle. But should you go the DIY route or hire a professional that specializes in outdoor lighting services? There are pros and cons to both, so it really depends on your individual situation. If you're handy and have the time, then designing and installing backyard lighting may be a fun project for you. However, if you're not sure where to start or don't have the time to commit, then it may be worth hiring a professional. They can help you choose the right fixtures and layout for your space, and they'll also be able to install everything properly. In the end, the best backyard lighting is the kind that makes your house look beautiful while also delivering great benefits like safety and security. 
Big Rock Landscaping: Your Backyard Lighting Experts
Big Rock Landscaping is dedicated to providing impeccable customer service. We make it a priority to understand, first and foremost, our client's needs and desires to design a backyard lighting design that reflects your style and vision. Not only do we have decades of experience in all things landscaping, but our outdoor landscaping services use only the latest technology and installation techniques. 
Finding an outdoor lighting service you trust can be difficult. With Big Rock Landscaping, you get professional experience, impeccable customer service, and quality products and installation. Let us help you bring your landscape to life! Contact us today to discuss your backyard lighting ideas and plans, or visit our portfolio for some jaw-dropping inspiration.