Mountain Modern Landscaping Design Ideas for Your Utah Home
Mountain Modern landscaping has gained popularity over the years, especially in Utah, as new homes are built higher on the bench and into the canyons. With its emphasis on low maintenance and sustainability, it's no surprise that Mountain Modern landscaping is defined by clean edges, indigenous plants, and a pleasing color palette that compliments its surroundings. These timeless features make for contemporary living in high-elevation areas.
What Is Mountain Modern Landscaping?
Mountain Modern landscaping incorporates natural elements in a timeless way. Outdoor spaces use clean lines, and native plants, and are minimal yet functional. 
The main difference between mountain landscaping and mountain modern is how outdoor spaces are created. Both are organic and natural feeling, but Mountain Modern landscapes are carefully curated with the overall structure being very organized and intentional. Most landscapes in Utah incorporate green lawns bordered with shrubs or flowers. With Mountain Modern landscapes, you'll see more natural materials like wood and concrete to create spaces, walls, borders, or planters, and native plants like grasses and shrubs.
LEARN MORE: Our Favorite Landscaping Design Styles For Utah
Features Of Mountain Modern Landscaping
Key features of any well-designed Mountain Modern landscaping would include:
Minimalist Design
Think clean lines, well-maintained and tidy spaces, and straight edges. 
Use Of Natural Materials
Mountain Modern design materials are an expert pairing of concrete, natural stone, native plants, rock, and wood or raw metals. It is not uncommon to see planters made of steel, concrete, or stone, while fences might be a mixture of metal, wood, stone, or plants. In place of mulch, you'll often see gravel gardens.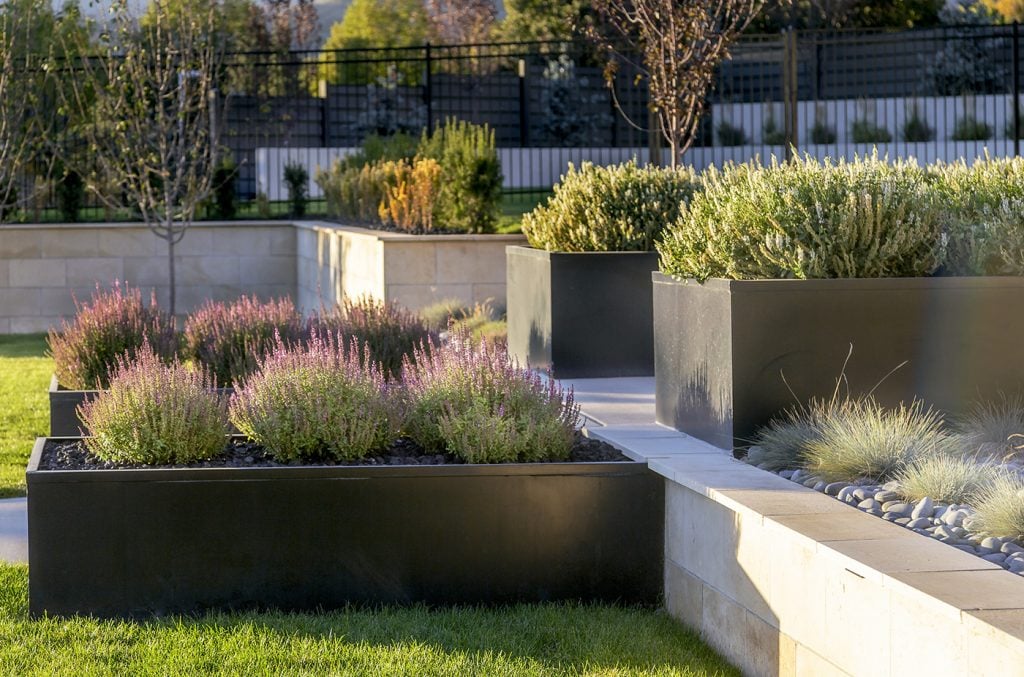 Incorporation Of Water Features
No Mountain Modern landscape would be complete without a water feature. Contrast is king when it comes to Mountain Modern landscape design, and its soft flowing lines contrast beautifully with the hard lines of architectural elements like concrete planters or retaining walls. 
Integration Of Outdoor Living Spaces
Outdoor living spaces utilize light, form, and beautiful materials to create an open layout while complimenting the surrounding landscape.
Lighting
Modern homes are usually well equipped with quality lighting that will highlight minimalist features, create ambiance, and promote safety.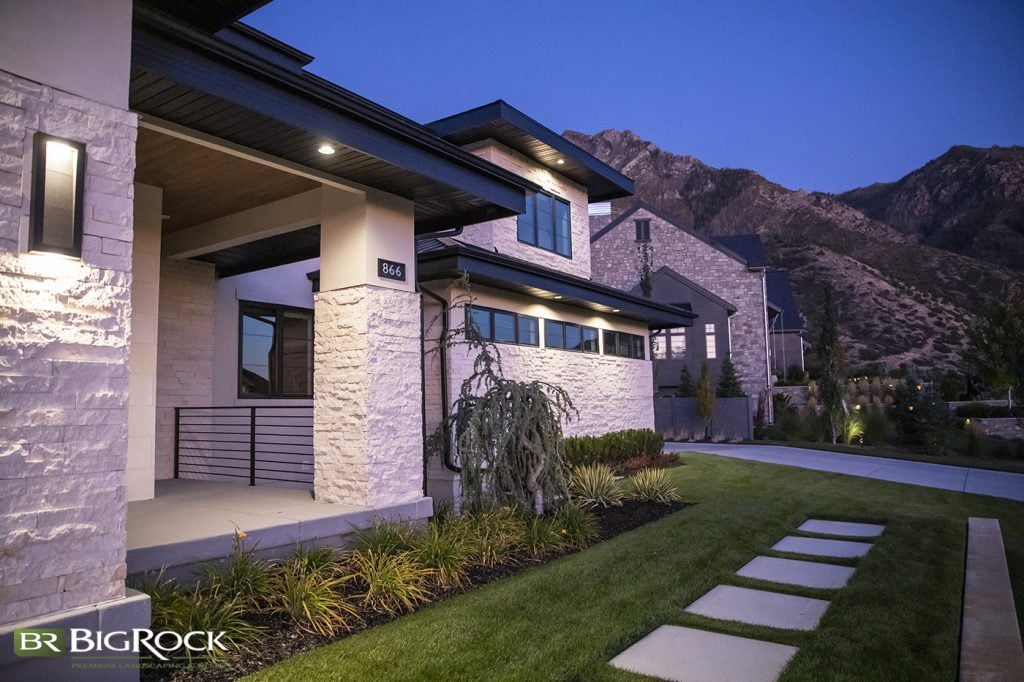 Benefits Of Mountain Modern Landscaping
Given that Utah has an arid climate, a Mountain Modern landscape might make perfect sense. If you are thinking of redesigning your landscape in this style, you might be curious about what benefits you might expect from the Mountain Modern landscaping techniques.
Low Maintenance
Nature is always low maintenance. The closer you get to what mother nature created, the more maintenance-free your property will become. Many modern outdoor spaces have a higher ratio of hardscaping, mixed with shrubs, trees, and plants to soften hard lines. More hardscape means less weeding, mowing, raking, pruning, and more time to enjoy your yard or catch that latest pickleball match.
Energy Efficient
Within these modern landscapes, everything from the lighting to the water features is designed to be energy efficient. The water system will use less water by using high-efficiency nozzles and smart timers, and lighting will use low-voltage, modern LEDs. Not only will you be taking care of the environment and shrinking your carbon footprint, but you'll be saving money at the same time.
Sustainable
In Mountain Modern landscaping, green lawns are reduced or altogether eliminated. A perfectly edged lawn has its place, but sustainable landscaping uses hardscaping and native plants to conserve water and create beauty just the way mother nature intended. 
Enhances property value
With its clean lines and tidy spaces, Mountain Modern landscape is in high demand and will increase the value of your property. 
Unique And Personalized Design
With a variety of natural elements to choose from, and many different geometric shapes to play with, Mountain Modern landscape design can be adapted to reflect your personal aesthetic, especially when it comes to lighting, plants, and furnishings. Stay minimal, or add some bold texture and color. It's completely up to you.
Promotes Relaxation And Well-Being
The minimalist approach to landscaping uses the clean lines of geometric shapes, open spaces, and a diverse palate of native flora and fauna to transform your home into a place of freedom and relaxation. Free from excessive ornamentation and decoration, your outdoor space will have just the right amount of zen. 
Provides A Beautiful Outdoor Living Space
With Mountain Modern design, the outside is connected to the inside and should flow easily to and from these spaces. We have all witnessed mother nature at its finest, and you can take a page from her playbook by using natural materials and clean lines to create a space that radiates beauty and tranquility.
Encourages Biodiversity
Pulling from a diverse palate of flora and fauna, Mountain Modern landscaping will become an extension of the great outdoors. Get ready to enjoy all that mother nature has to offer, and it will be home to all creatures great and small. 
RELATED: Guide to Utah Landscaping Styles
Design Tips for Creating A Mountain Modern Landscape
If you are researching different landscaping design ideas and have settled on Mountain Modern, here are a few practical tips to guide you during the design process:
Work With The Natural Environment
The structure of your existing topography should always inform your landscape design. For example, if your property is more sloped, incorporate levels and terraces instead of going flat and putting in massive retaining walls.  Use plants and materials that exist naturally in your surrounding landscape.
Use Minimalist Elements
Less is more when it comes to the successful Mountain Modern landscape. Steer clear of clutter, ornamental or decorative planters and furniture, or shrubs and plants that do not have tidy growing habits.
Incorporate Natural Materials
For the most authentic results, work with materials that occur naturally in nature, like concrete, stone, metals, and wood. 
Incorporate Water Features
Water is timeless and restorative. It will soften hard lines and bring a magical quality to any outdoor space. Use water features to create texture, and visual interest, and promote biodiversity in your Mountain Modern landscape design.
Choose Native Plants
Choosing native plants has many benefits. Native plants are hardy, drought tolerant, friendly to wildlife, and encourage pollinators. In many cases, native plants will also require less water and maintenance. They also blend well into the existing landscape, making your home blend seamlessly into the surrounding landscape. Choose shrubs that have a strong internal structure and have more upright or rounded growth patterns. Ornamental grasses are also a great choice for any modern landscape as they soften hard edges or brighten dark corners.
Consult With A Professional
Although Mountain Modern landscape is minimal in design and aesthetic, that does not mean that this style of landscaping is simple to design or install. Most things that are beautifully simple are not effortlessly achieved. You may worry about installation, how to read your landscape, how to pick the right plants, or how to make it all come together into a cohesive, sustainable design. It's a tall order to be sure, and this is where a professional landscape designer can come in handy. Big Rock Landscaping has decades of experience installing and designing high-quality landscapes in the foothills of Utah's finest mountains. We know what works, what to avoid, and how to make your space truly unique.
READ MORE: English Garden Landscaping Design That Will Delight And Inspire
Our Favorite Mountain Modern Landscaping Ideas
Mountain Modern landscaping lends a timeless and sophisticated element to any home and will complement many different styles of home construction. To get you started, here are a couple of landscaping design ideas that incorporate the timeless features of Mountain Modern landscaping:
This home does a fantastic job of incorporating the natural slope of the property into the landscape design. Notice how green and inviting the space looks, even though hardscaping covers a majority of the area. Retaining walls do double duty as planters and are made of natural materials like concrete and stone. Notice how the planters are filled with river rock to add texture and color, while the evergreen trees add vertical interest. The space is open with clean, tidy lines–a hallmark of good Mountain Modern landscaping.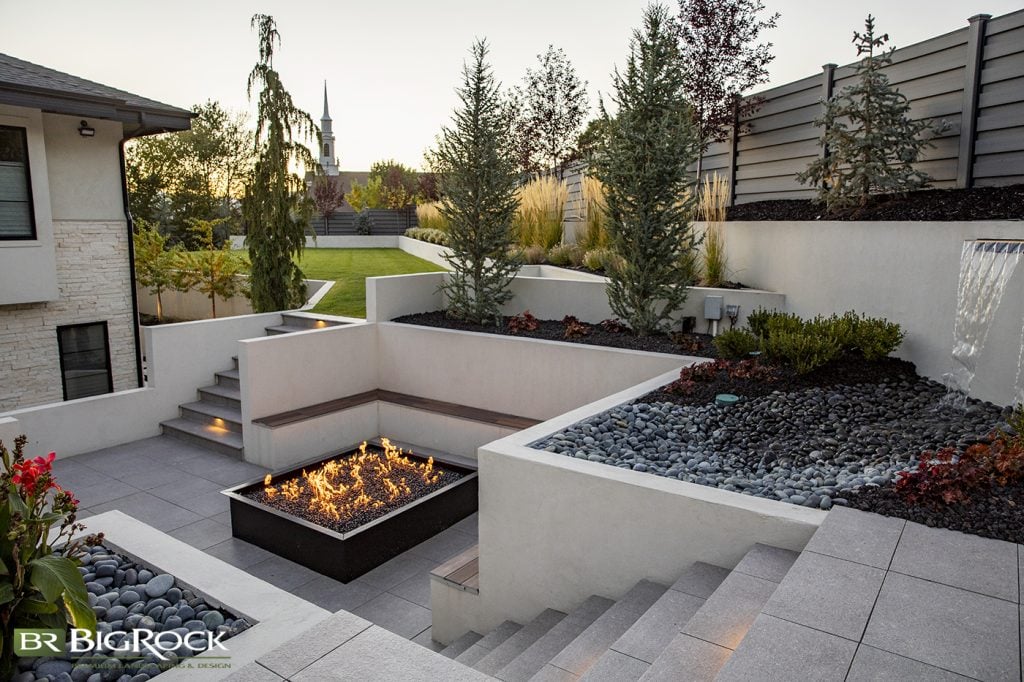 Built into the hill, this home uses its topography, natural materials, and native plants to create an inviting front yard entry. Native trees provide shade and complement the arid biosphere. Notice how ground cover is used between the sidewalk and the road, rather than grass or rock. This is just how mother nature would do it. You'll also see ground cover filling in all the little spots between larger boulders and rocks.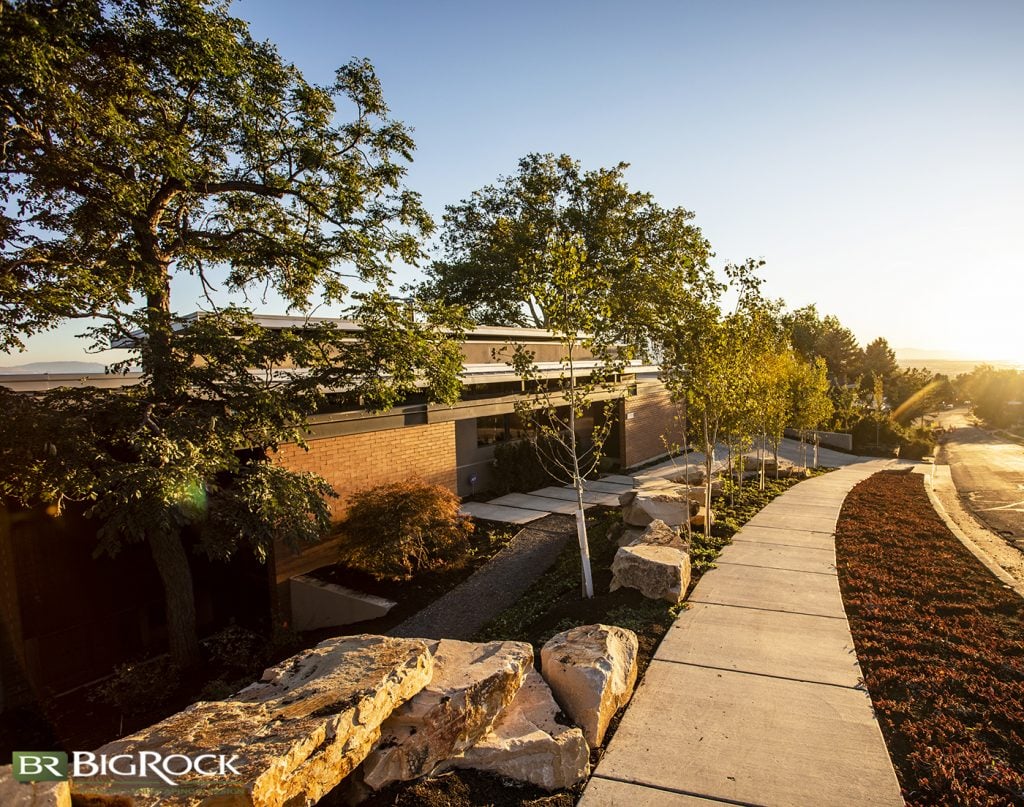 This home does a fantastic job of blending its outdoor spaces and echoing elements from the home to create the outdoor space. Notice how the geometric shapes of the squares and rectangles of the walkway, railings, and windows are softened by the circular landing pad and the curving walkway around the side yard. Plantings are closely grouped together and planters are made of wood. This landscape, while pleasing, is also easy to maintain and uses sustainable materials that do not require a lot of water.
You don't have to have an expensive or expansive property to incorporate the elements of good Mountain Modern design. This homeowner used natural materials like concrete and stone to create borders and planters. They also used wood on the decking and stairs to bring warmth and contrast to the design. Plants are native grasses and shrubs, and the design is very tidy and organized.
This landscape design at first glance seems packed with color and plants, however, the overall design is tidy and simple. Although the landscape is missing some of the more traditional clean lines, it does make a modern statement with its use of natural rock instead of mulch in beds, and the use of ground cover rather than grass to fill in the open spaces. Plantings are grouped tightly together and are native to the region. Boulders, concrete, and other natural materials are used to tie the landscape into the mountain environment.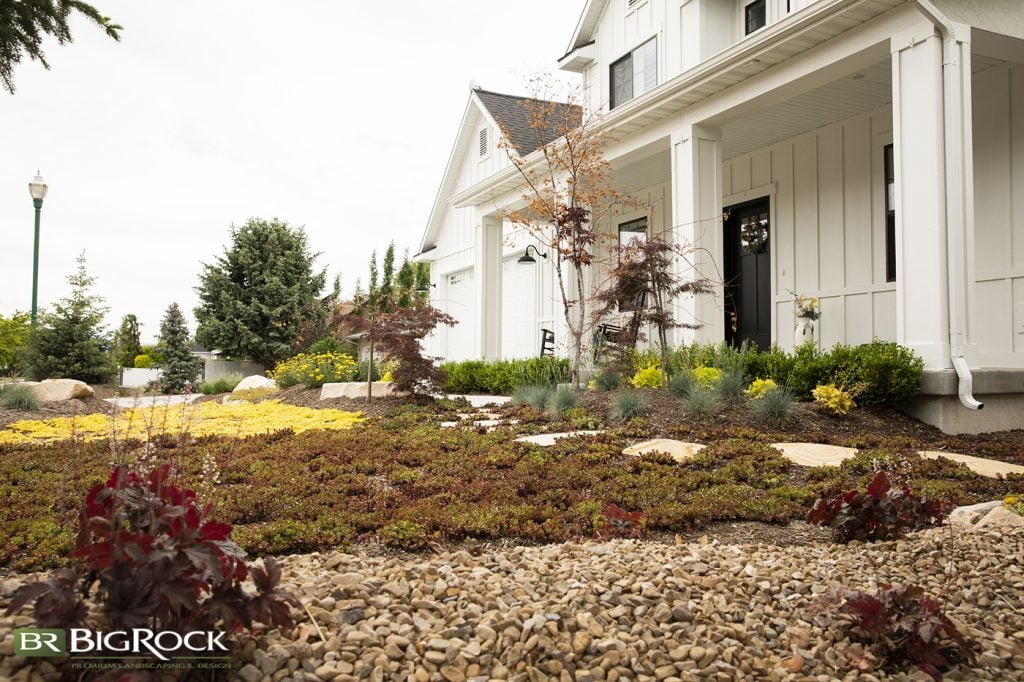 Ready for the Mountain Modern Life?
Mountain Modern landscaping can do wonders for any home. If you value the aesthetics of clean and tidy lines, minimal design, and sustainable materials that require less maintenance, Mountain Modern landscaping is the right design style for you. If it's a natural look you are seeking, we can help you create that simple, yet carefully curated look, that's just right for the outdoor spaces of your home. 
If natural boulders and finding just the right plant makes you a bit giddy, we'd make a perfect match. Our landscaping design and installation staff are delighted by the challenge of getting your landscaping absolutely perfect. We offer full-service landscaping, which means we take care of everything–no project is too big or small. Want to see more? Check out our landscaping portfolio and get started today!