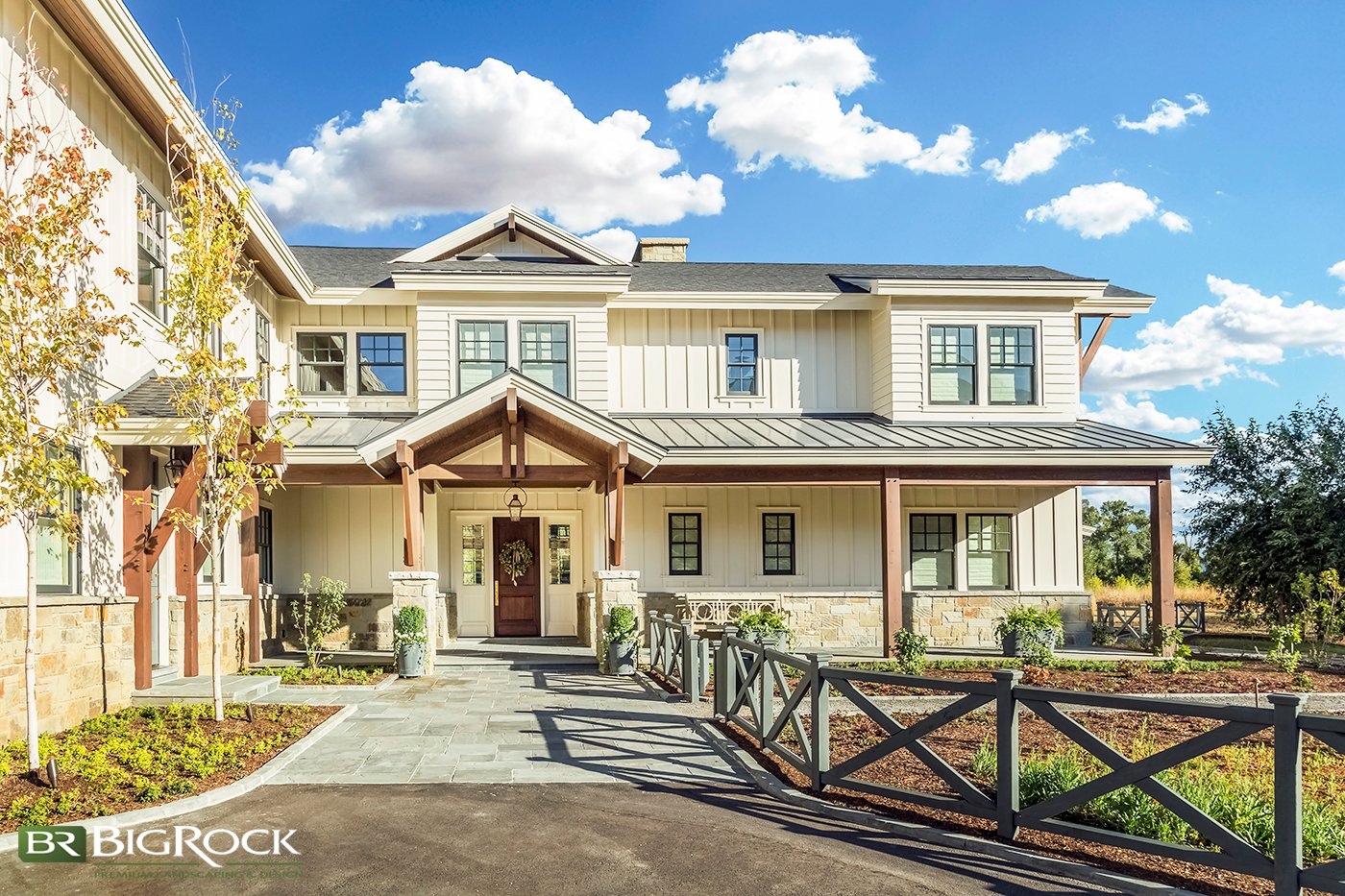 How To Create A Stunning Farmhouse Landscaping Design
Farmhouse landscaping is a popular type of landscaping design that focuses on the sweet intersection between rustic and modern design. By using sustainable materials to create a cozy and inviting outdoor space, you may never get your guests to leave! Easy on the eyes and the budget, Farmhouse Landscaping blends vintage-rural elements with modern themes to create an experience that is both classic and stylish.
What Is Farmhouse Landscaping?
Farmhouse style is a landscaping design that prioritizes simplicity and rustic charm. Often using rural architecture mixed with modern themes, it's a landscaping style that is both cozy, functional, and stylish. Within the last ten years, this type of architectural design has grown in popularity and has migrated from interior design to landscaping design. If you love the simplicity and stylishness of Farmhouse interior design, you'll want to bring some of those same elements into your landscaping. 
Because this type of landscaping is currently trending, you'll see many examples of this type of landscaping style in and around northern Utah. This landscaping style is distinguished from other landscaping styles by its use of color themes and the right mix of modern and vintage elements. It strikes just the right balance between rustic-vintage and clean-modern styles that incorporate clean lines and use natural materials.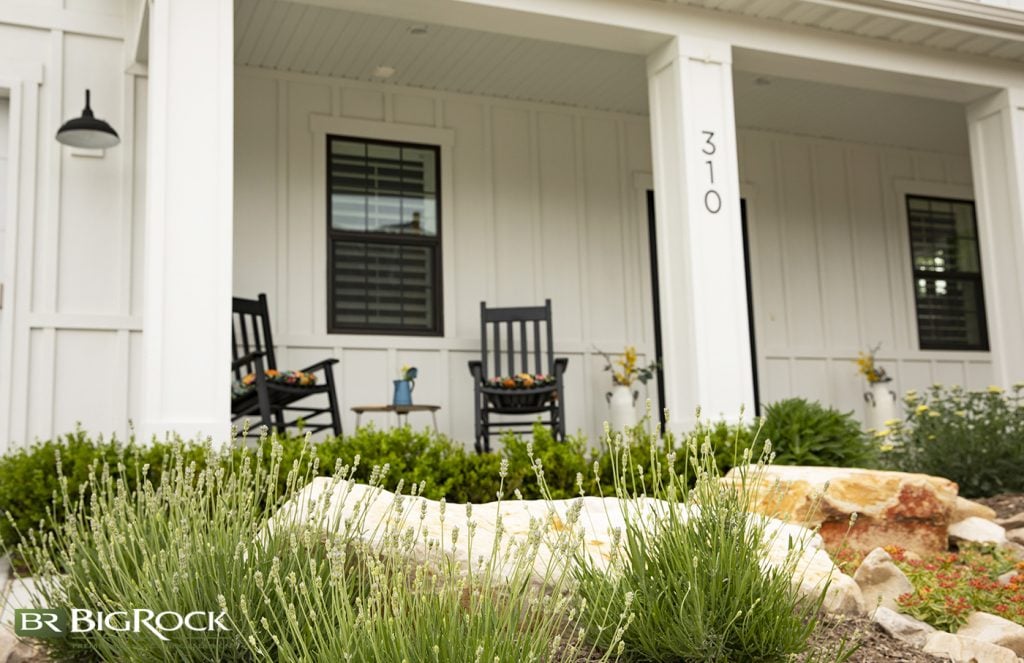 Features Of Farmhouse Landscaping
Key features of any well-designed Farmhouse landscaping would include:
Functional Outdoor Space
With Farmhouse landscaping, the lines between indoor and outdoor spaces are definitely blurred. There is a seamlessness about the design that is hard to quantify but easy to enjoy. These outdoor spaces encourage gathering, sharing food and entertainment, and most of all, encourage people to enjoy outdoor spaces just as much as indoor ones. 
Incorporating Natural Materials
Farmhouse landscaping designs will include natural materials like wood, metals such as steel and iron, stone, brick, and concrete. 
Mix Of Old And New Elements
The hallmark of Farmhouse design is a delightful mix of old and new elements. If you're having trouble conjuring up an image, just think about the typical French chateau. With classic old-world charm, a French chateau has clean lines and geometric designated spaces, all perfectly wrapped with natural materials and plants bursting with vibrant colors and textures. Unlike many modern designs, Farmhouse design delights in the occasional vintage ornamental or whimsical element. 
Cozy And Inviting Atmosphere
Farmhouse landscaping is well-known for its laid-back atmosphere of pampered luxury. With spaces that encourage you to come and sit for a while, Farmhouse Landscaping has a little something for everyone. 
Emphasis On Sustainability
Farmhouse landscaping makes it a point to reflect the natural landscape. With an emphasis on native plants, sustainable hardscape materials, and modern watering systems, Farmhouse landscaping is easy on both your wallet and your Saturday morning maintenance.
RELATED: Guide to Utah Landscaping Styles
Benefits Of Farmhouse Landscaping
Discuss the benefits of creating a farmhouse landscape design, including:
Enhanced curb appeal
Like a beloved and worn sweater you just can't throw away, Farmhouse landscaping is literally dripping with old-world charm. Its charm comes from being more organic and a bit rough around the edges. Trending in Utah, this popular landscape design will set your house apart from the perfected-edged lawns and dutifully planted boxwoods that grace most Utah homes.
Increased Property Value
With enhanced curb appeal comes increased property value. Often these two go hand-in-hand, and it's easy to see how something as beautiful as Farmhouse landscaping would increase demand for your property and therefore price. Thank you, Farmhouse Landscaping, for being the perfect example of the ever-present economic principles of supply and demand.
Lower Maintenance Costs
It goes without saying that using natural materials and native plants will lower maintenance costs. Choose plants that have upright or rounded growing habits. Natural materials are sustainable and native plants are drought resistant and will thrive with less water when those hot Utah summers hit.
Improved Outdoor Living
The farmhouse landscaping style is well-known for its stylish coziness. It's a space that is meant to envelop and relax. These spaces are often used just as much as indoor spaces and are just as functional for everyday family living.
Sustainability And Versatility
Because this style relies heavily on mixing two styles, you almost can't go wrong with what you choose when it comes to mixing modern and rustic styles. These landscapes are very versatile in look, feel, and materials. And because they are created from natural materials like stone, brick, concrete, and native plants, these landscapes score high on the sustainability scale. 
Increased Privacy
When compared to Mountain Modern landscape design, Farmhouse landscape design definitely errs on the more is more side of things. "Fill the space" is a popular mantra when it comes to Farmhouse landscaping. With plants, fences, and living walls aplenty, you'll have no need for privacy fences. When you are surrounded so thoroughly by nature on every side, privacy is one benefit you'll always enjoy.
Family And Pet Friendly
Farmhouse landscaping was designed to delight. With a landscape that feels like an old friend, family, and pets will find ample opportunities to stop and stay awhile.
Design Tips for Creating A Farmhouse Landscape
If you are looking to implement a Farmhouse-type landscaping style, here are some simple guidelines you can follow for instant success:
Work In Natural Landscaping
The structure of your existing topography should always inform your landscape design. There's no point in fighting against mother nature. By using plants and materials that exist naturally in your surrounding landscape, you'll find a partnership that will yield wonderful results. The versatility inherent in this type of design will allow you to use whatever topography you've been given to create a landscape masterpiece that is both cozy and stylish.
Create Layers And Texture
Plant in layers among your borders and utilize texture to bring an understated elegance to your property. Texture adds interest and variety to your landscape, and will help bind competing elements together.
Mix Old And New Elements
Build your patio furniture out of rustic wood, install a trellis for a flowering vine, or incorporate your garden into your flower beds for effortlessly rustic charm. A perfectly placed vintage sign or piece of furniture will surprise and ground your design. 
Use Natural Materials
Above all else, work with natural materials that will blend in well with your existing environment. Not only will using natural materials be more sustainable and eco-friendly, but they will set your design apart as an extension of nature. 
Create Focal Points
Creating focal points with sculpture, water features, or other vintage items will create a lasting impression and help your landscape design reflect your personal aesthetic and style. These timeless elements help elevate the value of your home.
Consider Lighting
We've installed and consulted on many different projects, and it's our humble opinion that Farmhouse landscaping design simply looks amazing at dusk and in the evening when the right lighting is applied. Use low-voltage lighting for a sustainable and eco-friendly option that is inexpensive but lovely. Because of the variety in texture, shape, and color, Farmhouse landscapes really come alive under the lights at night.
Use A Color Scheme
Stay away from trendy colors that scream big city, and don't be afraid to consult a color wheel! Use old-fashioned plants that represent old-world charm and have color schemes that match.
Consult With A Professional
Ready to roll up your sleeves? If you're feeling apprehensive, not to worry. Professionals like Big Rock Landscaping can create a Farmhouse landscaping design that checks all of your boxes. With our help, you don't need to worry about all the tiny details, or the big ones–installation, what colors or plants to choose, or how to make it all come together into a cohesive, sustainable design. This is our area of expertise, and we love to jump right in and get dirty. Big Rock Landscaping has decades of experience and we know how to put it to good use. We know what works, what to avoid, and how to make your space truly yours.
LEARN MORE: Mountain Modern Landscaping Design Ideas for Your Utah Home
Our Favorite Farmhouse Style Landscaping Ideas
Although we aren't really supposed to pick favorites, when it comes to Farmhouse style landscapes, we have a few favorites that we love to share.
This front yard landscaping does a wonderful job of mixing and matching vintage with modern landscaping. We love how the wicker chairs add a bit of whimsy and personal style, while the square concrete square of the walkway and stone edging on the flower beds give this front lawn a modern flair. The alternative light and dark green plantings between the concrete squares bring this walkway to the next level. The mix and match of landscaping styles perfectly complement the mixed materials used on the house, giving this home a cohesive look and feel.
The success of this landscape design is all found in layered planting and in mixing old-fashioned, romantic plants with more modern pairings. We love the geometric shapes that add interest and the trees that add vertical height to this lush design. Notice the variety of color and texture in this landscaping plan–it fits perfectly in its surroundings.
With a lot of ground to cover, this Farmhouse landscape employs wide open spaces and layered plantings to create privacy and intimacy. With natural materials like stone and brick, a fireplace focal point, and the inclusion of water, this landscaping checks all the Farmhouse landscaping boxes.
This backyard oasis uses natural materials like pea gravel and brick that contrast warmly with the wood coffee table and the wrought iron chairs and brass flue of the fireplace. flanked on both sides by metal planters and trees, the fireplace functions as a focal point that will draw the eye and visitors to this oasis.
With leafy overhangs, tidy shrubs in stone containers, and natural materials like concrete and brick, this landscape design is dripping with old-world charm. Add a pleasing, understated yet sophisticated color scheme, and this landscape is one that is both cozy and stylish. Notice how many different shades of green this landscape employs, each with a different texture and shape. Nearly everything is framed by green and it makes a powerful statement.  
LEARN MORE: Our Favorite Landscaping Design Styles For Utah
Farmhouse Landscaping Done Right
Farmhouse landscaping has a wide appeal, and with so many great benefits like sustainability and family and pet friendly, it's no wonder that homes with this type of landscaping style are flying off the shelves. If you can't get enough of the Farmhouse landscaping-type look, reach out to a member of our professional staff to discuss your landscaping design and installation needs. We have the expertise and the brawn to bring your vision to life. 
When you work with our team, you get only the best–in materials, cost, design ideas, and service. We don't settle for anything less than the absolute best, and our award-winning services speak for themselves. But talk is cheap, but a picture is worth 1,000 words. Want to see what we can do for you? Check out our landscaping portfolio and contact us today!