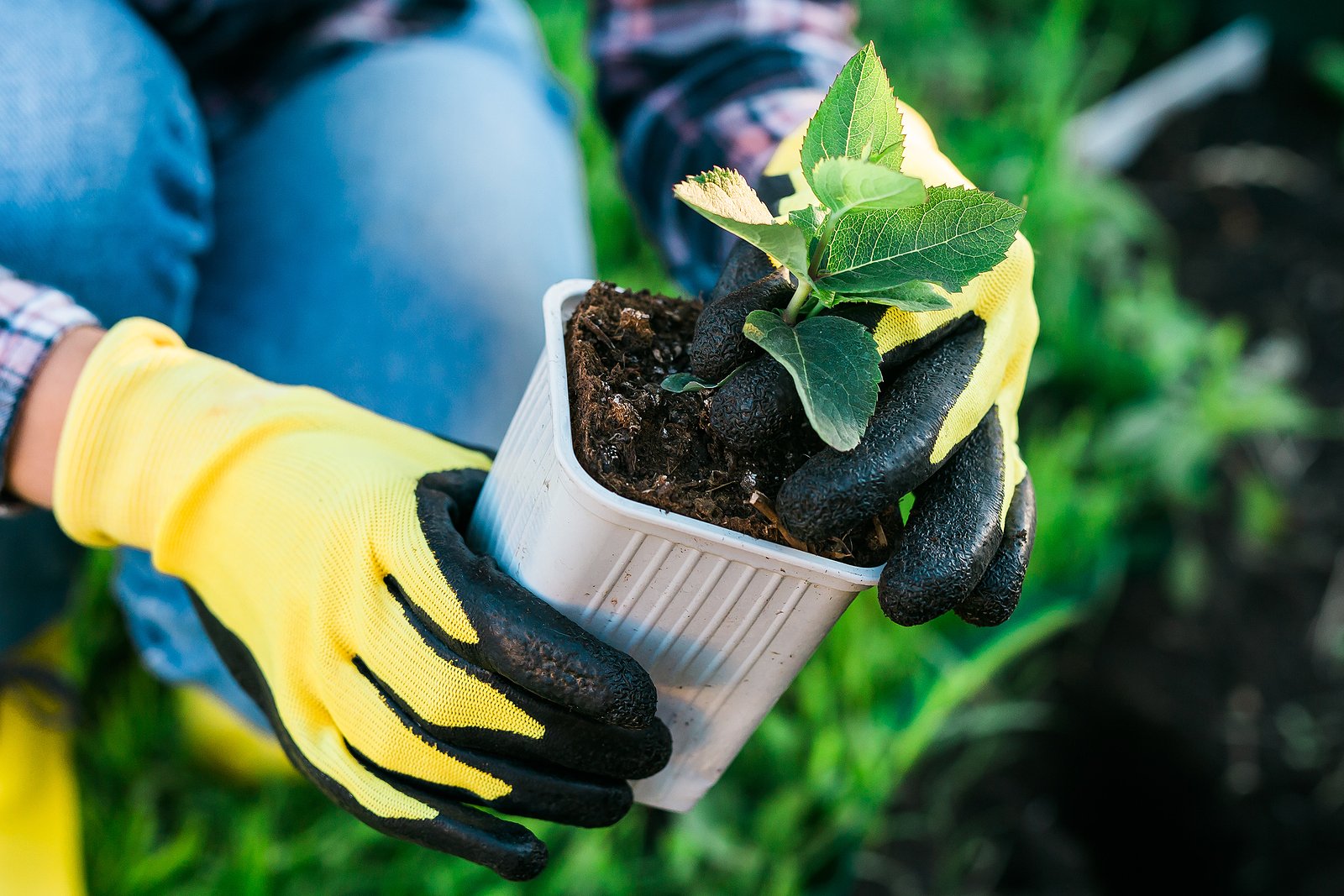 Big Rock Answers: Awkward Side Yards, Outdoor Fireplaces, Boring Front Yards, And More
You might be feeling overwhelmed with a landscaping design dilemma, and from the thousands of questions on Houzz's landscape discussion forum, you aren't alone. We've tackled dozens of the trickiest questions on the forum, hoping that our expertise can help guide both the DIYers and the hire-a-pro Houzz users to beautiful yards they love. 
While our portfolio is full of some of our best projects, our Houzz profile offers inspiration for the project. You can also find our answers to all of the questions people have asked in the landscape forum on our Houzz profile page. Regardless of how stumped you are with your landscaping conundrum, we want to help you find a solution that will create the yard of your dreams. Here are a few of the questions we've answered on Houzz to help you find the inspiration and answers you need. 
TRENDING: Choosing The Best Bushes For Front Of House
An Existing Patio And A Hill Below A Fence: What Do I Do?
Sometimes the problem is as simple as defining what you want from your landscape. This user is struggling to figure out what to do with a concrete slab in their yard, and we're here to offer ideas to help discover what they could do with this space. 
Question: Existing concrete masonry patio previously covered by a shed. The existing hill below the fence. All ideas and suggestions are welcomed.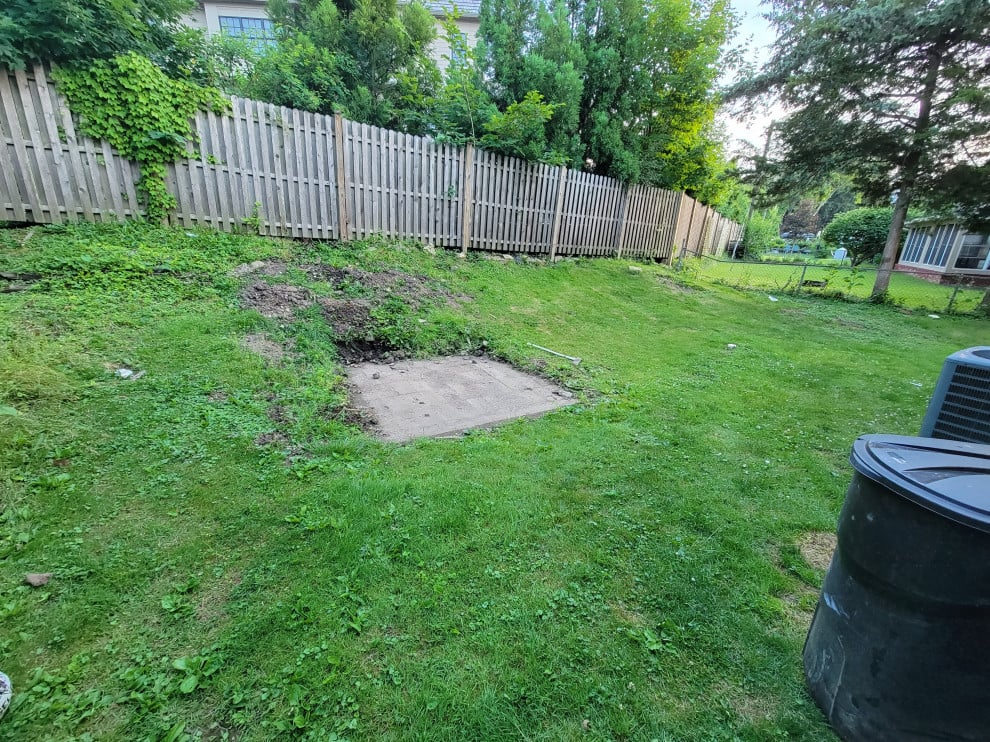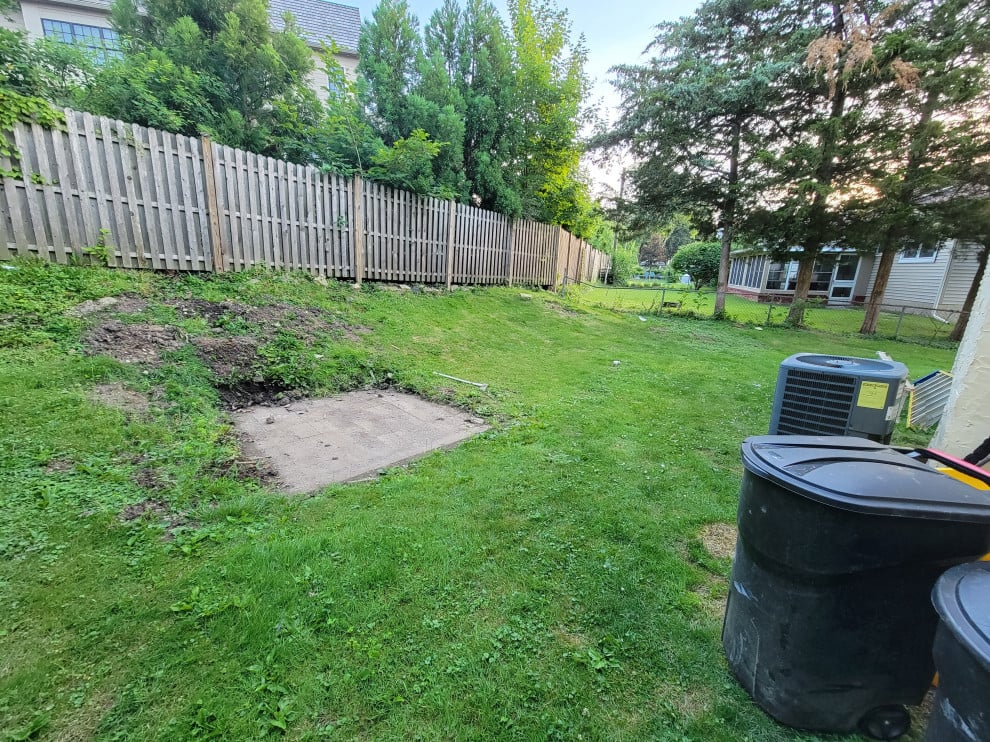 Big Rock Answer:
This space has tons of potential. If we were sitting down with you, our process would begin with a walkthrough where we would figure out how you want to use the space. Will you use this space as an outdoor seating area? Patio for outdoor dining? Maybe a few garden beds or trees? Then we'd offer suggestions based on how you want to use the space.  If you are wanting to make it any type of outdoor entertainment space, adding concrete or pavers around the existing concrete area will give you more room for chairs or a table. It would be easy enough to add a mobile fire pit as well. We have several ideas for hardscaping in our portfolios. You could add more concrete with grass or gravel around it, making it a more versatile space like the areas pictured below: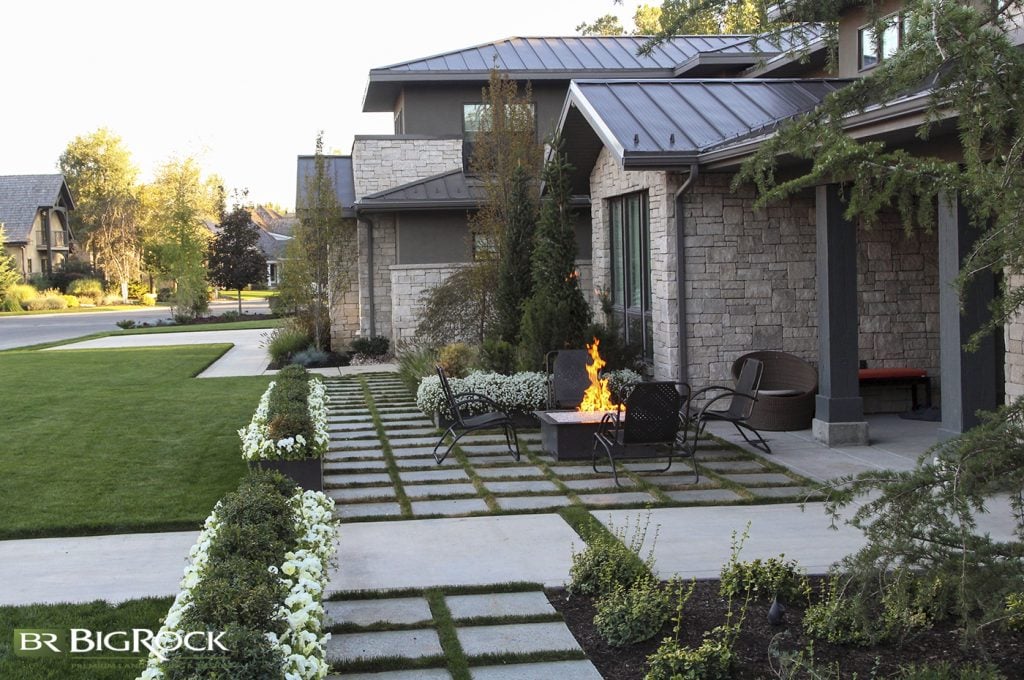 Many people think that patios (especially with the addition of a fire pit) are solely for the backyard, but this front yard patio shows that you can be flexible on the location of your gathering spot. Note the raised flower bed borders along the seating area, and the combination of grass and pavers to soften the space. 
LEARN MORE: How To Get Luxury Landscaping
This seating area might be a great option if you are looking for a "no grass" solution. With natural stone pavers and warm wood Adirondack chairs, the space feels inviting and cozy. 
We flattened an area in this yard using a retaining wall so the family could add this fire pit and seating area, which might be a good option for your slightly sloped yard.
Regardless of the type of ground cover you want to use, outdoor lighting is a must. The twinkle lights added to this backyard space adds so much warmth to the space without taking away from the natural beauty of the area. 
RELATED: Our Residential Landscaping Portfolio
Or if you wanted to add garden beds you could use a retaining wall to make the space a little flatter and easier to use as shown here: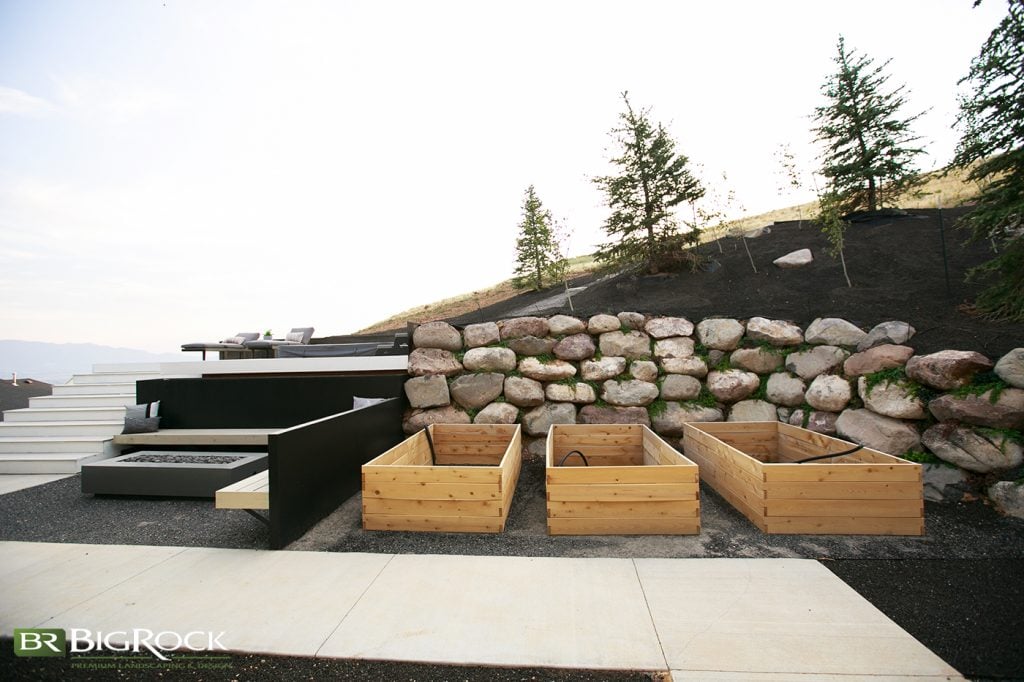 What Do I Surround My Raised Beds With?
This question is a good one to consider when you are making any changes to your yard, namely: how much maintenance are you willing to do with the new changes? This asker is looking for directions for pathways between her garden bed, and while we wish there was a truly "no maintenance" pathway option, there really isn't. But we have some great ideas to help her figure out her next steps. 
Question:  "We just built two raised cedar beds, 19″ H x 48″ w x 96″ L to grow a vegetable garden in our backyard. The beds are currently surrounded by grass. While I like the looks of it as is, I've been told that it will be hard to mow / weed whack around the beds without potentially hacking the cedar. Someone recommended that I do pea gravel around the beds. I'm unsure based on previous discussions on pea gravel that I've read on Houzz. I would greatly appreciate any suggestions. Thanks!"
Big Rock Answer: 
To some degree, creating a path around your garden beds is a matter of personal preference. That being said, there are a lot of benefits to adding a path of some sort around your garden beds, including that a path is a lot easier to take care of than grass. You'll want to consider if you want to use the space for another purpose at some point (moving the garden boxes to install a hot tub or a pergola or some other feature) and if you are going to change it up, gravel might not be a great choice because it is difficult to remove. Also consider how much work you are willing to do, not only for the installation but for the upkeep. Pea gravel can get everywhere if you don't seal it, while weeds can grow up between the pavers you put down if you aren't monitoring their growth.  The reality is that all of the options for your path between your garden beds will require some maintenance, it's just a matter of deciding what work you are willing to do.
Here are some ideas from our clients for how to add a path, and you certainly don't have to just use pea gravel. If you like the look of grass you can add pavers and plant grass in between, or for a more natural look you can add stone pavers.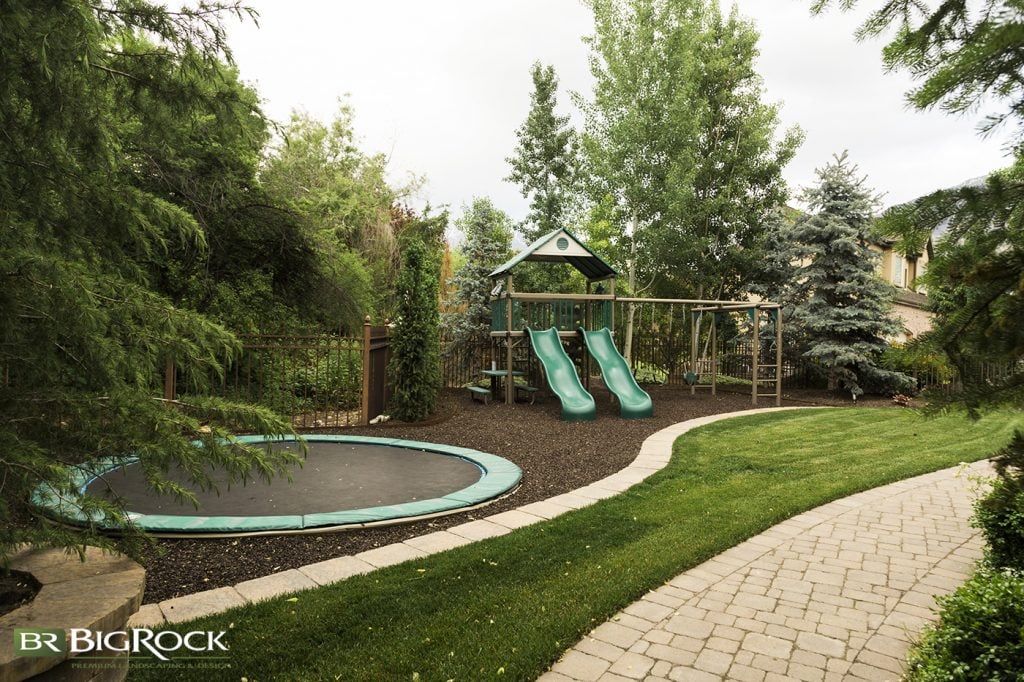 This pathway features pavers in a close formation, to create a solid path. We laid a weed barrier before placing the pavers, but even with that protective measure, you'll likely still have weeds crop up. 
Simple square pavers in this front yard add a modern twist to the pathway and could be a good option between your garden beds. If you add grass between the pavers you'll still have to manage the grass growth, but it won't be as much as having the whole path be grass. 
Both of these pathways are gravel, and line garden beds beautifully. However, it will be difficult to remove yourself if you ever decide you want something different.
The natural stone pavers of this formal garden path add some visual interest to the uniform space.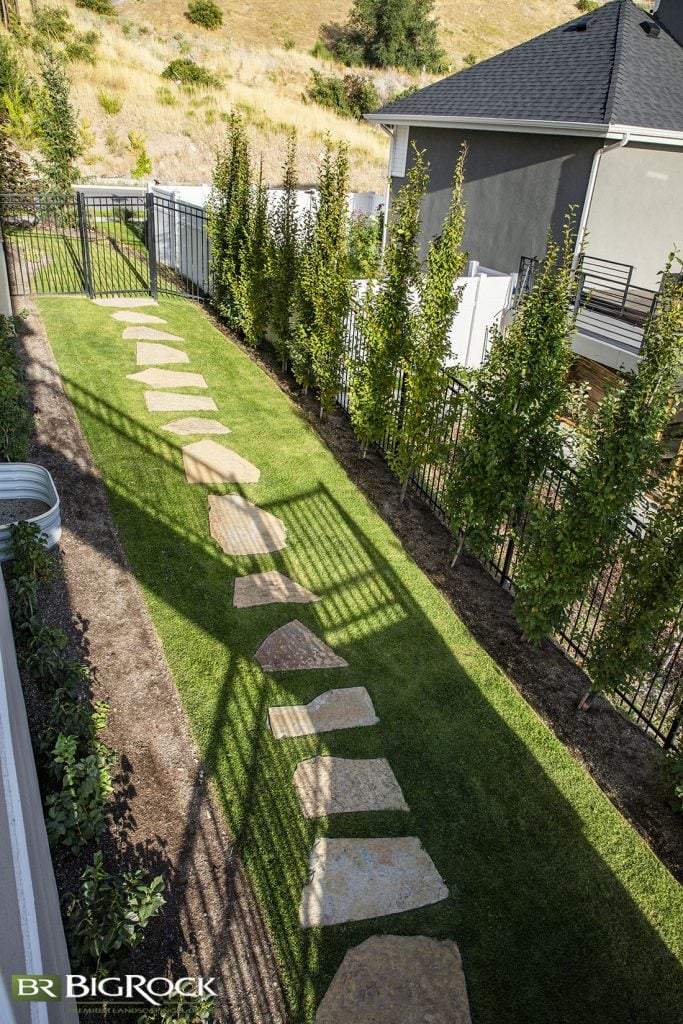 Natural stone pavers line the side yard to create a natural look in the grass. However, you will still have to maintain the grass around and between the pavers. 
How Much Heat Do I Lose With Different Outdoor Fireplaces?
The balance of aesthetics to function is always tricky. While we love the idea of an open-backed fireplace, the reality is that you will lose heat with the open back. This Houzz user is worried about balancing heat loss with the pretty view of the space behind her fireplace. 
Question: "Hello! We're working with a designer to build a fireplace outside in our backyard. The final design will be approximately 3-4′ from a corner block wall in our yard. The design looks really cool, and the designer sketched it being open on the back side of the fireplace. This is something I hadn't considered… and I really think it would be cool. There will be a dedicated gas line to start the fires, and we're planning on burning wood. The concern I have about a passthrough fireplace is about heat. The question for you experts and people with experience is: How much heat do you lose in an outdoor passthrough fireplace, vs a traditional fireplace? Should I be prepared for 50% loss of heat, vs a traditional fireplace with back? Or because of the wall, and the nature of fires, is it closer to 20% heat loss? I really like the new design… but I don't want to have it just look pretty, I want it to throw enough heat to get warm and stay cozy. Thanks in advance for any help or insight you can share. :)"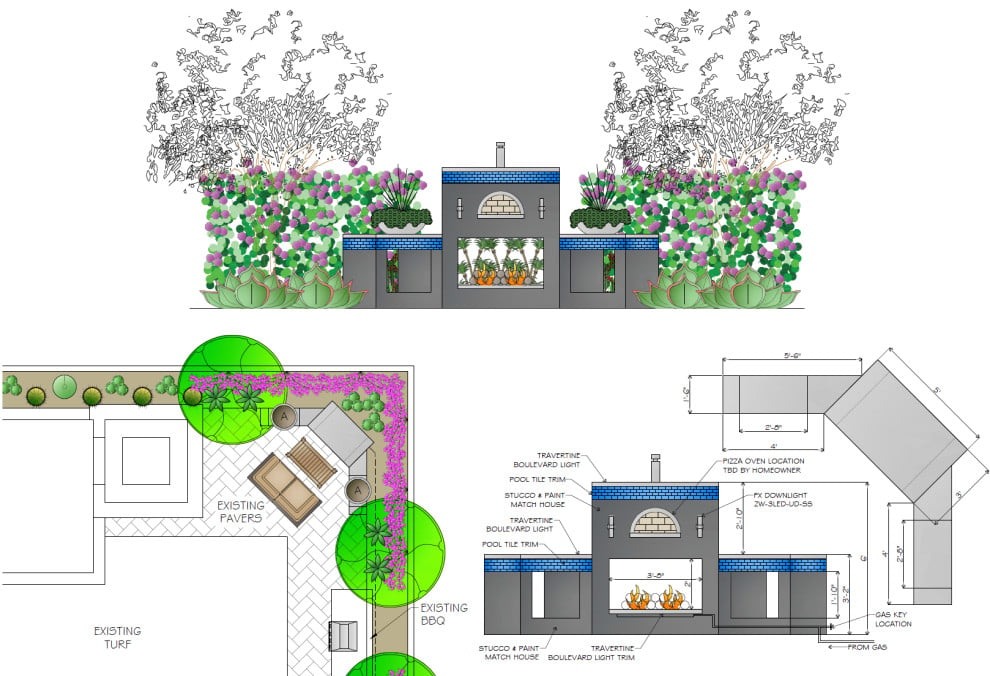 Big Rock Answer: 
While the aesthetic of a fireplace with a front and back opening is nice, you will lose a significant amount of heat, and if you live in a temperate climate where the fireplace is more for ambiance then that doesn't matter as much. But it sounds like you live somewhere where you want heat outdoors for some months out of the year, and in that case, you want to keep the back on the fireplace. You can easily add beauty and interest to the back of your fireplace with patterns in the brick like this outdoor fireplace from one of our projects:
The back of this fireplace in a herringbone pattern and different brick color than the exterior shows that the back of the fireplace can be a beautiful detail to add. While the homeowners might have considered an open-back fireplace so they don't block the view of the yard, this sitting space would be significantly cooler in the winter months.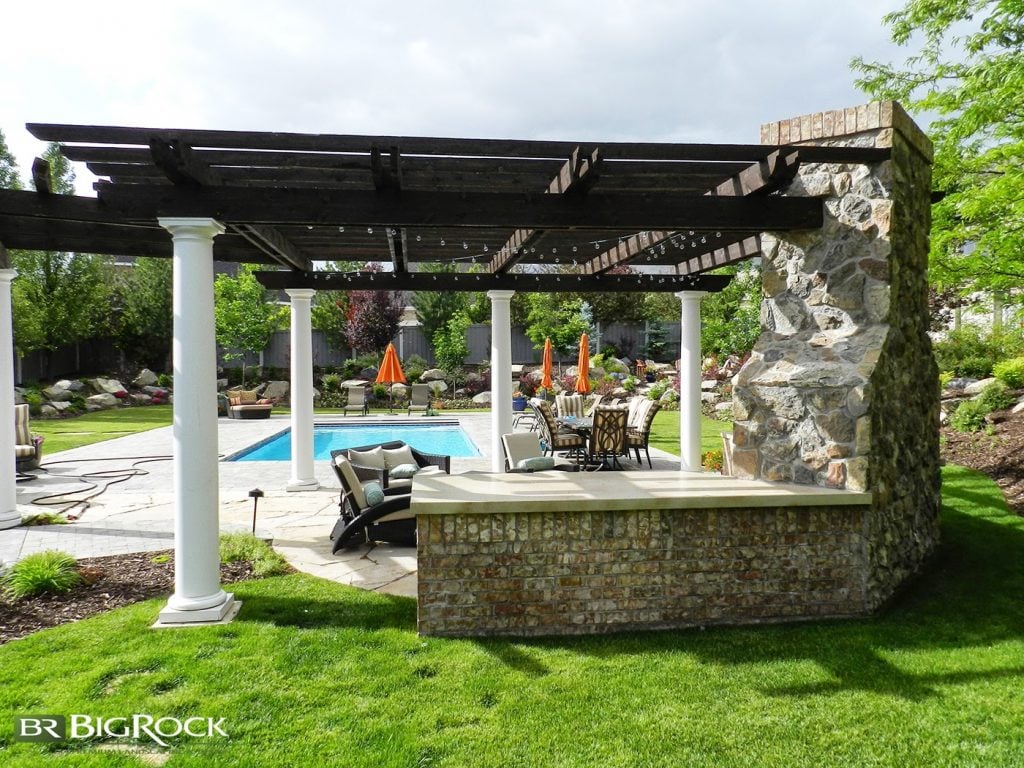 This fireplace has a solid rock back, offering texture and visual interest to the space while harnessing the heat of the fireplace for year-round use. 
DISCOVER: 7 Outdoor Fireplace Design Ideas For Every Budget
What Do I Do With My Weird Side Yard?
Ah, the sideyard. One of the most challenging spaces to design because its function is primarily a pathway from the front to the back yards. But that doesn't mean your sideyard should be an eyesore, and it's actually a great opportunity to showcase your personal style. 
Question: Need Ideas For Modern Landscape… Here is a little patch on the side of my house that I obviously need to do something with. It's about 5′ wide and goes back appx 30′ to the fence (in progress). It borders my driveway as well as my neighbor's little patch of grass. We use this side gate to bring out our garbage cans, and not much else. We also don't have any sprinkler system installed, so a lot of grass would not be ideal. I have zero problem watering plants by hand or small sprinkler. I do want a pathway from the fence to the driveway, but we have been torn on what to do with the rest of the strip. Ideas have been raised planters (but the planters would have to be huge and I got overwhelmed trying to figure out what to plant in them). Then the idea of a couple of trees with gravel as a ground covering, mulch under the trees…but I feel like that will look like a big gray landing strip. Thoughts on that? We have a modern home and definitely want a clean, modern look. I live in Idaho with a solid snowy winter, and it gets to be in the 100s in summer. Clean and modern meaning: no tulip border, roses, frilly flowers, etc. help!
Big Rock Answer: 
These are all great ideas, who wouldn't love the Pink Muhly grass?! Ornamental grass for this area is brilliant, low maintenance, and does well in those Idaho winters/summers. Pavers with clean lines with mulch or gravel are another good option for modern landscapes, and then you could soften the pavers with modern planters. We also like the idea of more natural stone pavers with mulch, especially darker mulch. If you aren't wanting much maintenance, you can always go with large boulders and contrasting pebbles for filler in between the boulders.
While you typically look for straight, clean lines in modern design, these natural stone pavers could work in a more modern yard depending on the rest of the elements used. For example, if most of the other features in the yard are modern (think black, rectangular planter boxes, simple fence, neutral furniture) the interesting shapes of these pavers will break up the monotony of the modern space.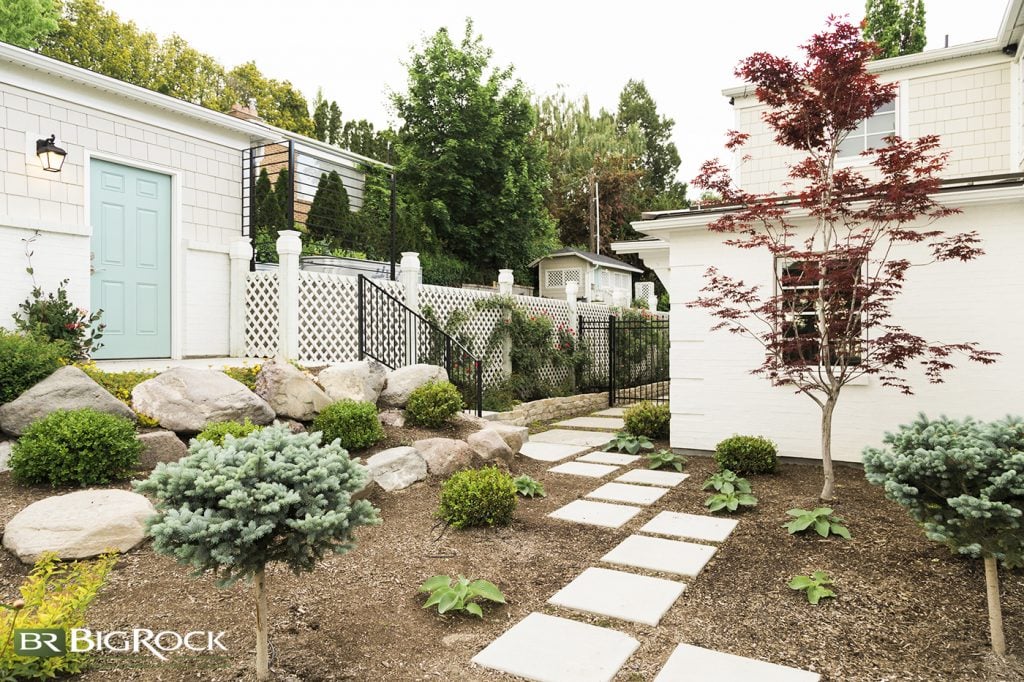 Using clean lines and neutral colors for the pavers in this backyard added a modern element to a space that otherwise might not feel modern. With the plants and shrubs planted in a more natural pattern (as opposed to straight rows of the same plants) adding the clean look of the pavers brought contemporary vibes to the space. 
Do You Have Hardscaping Ideas For The Front Of House?
This asker is looking for advice on how to hardscape and landscape the front yard of his home, including how to re-route the pathway to the home and remove dying or dead elements. We have some ideas to address his basic question, but, because we are true landscape enthusiasts, we offered a somewhat unique idea for this front yard at the end of our answer. 
Question: "I need help with hardscape and landscape for the front of the house. The tree to the right is dying and needs to be removed. The flow of the walkway to the front is awkward."
They're right, the front walk is awkward and the yard does need some TLC. Besides the awkward front walk, we noticed the scale of the bushes, the size of the walkway, and the lack of greenery (besides trees and lawn) are all likely contributing to the overall feeling of "blah" happening in the yard.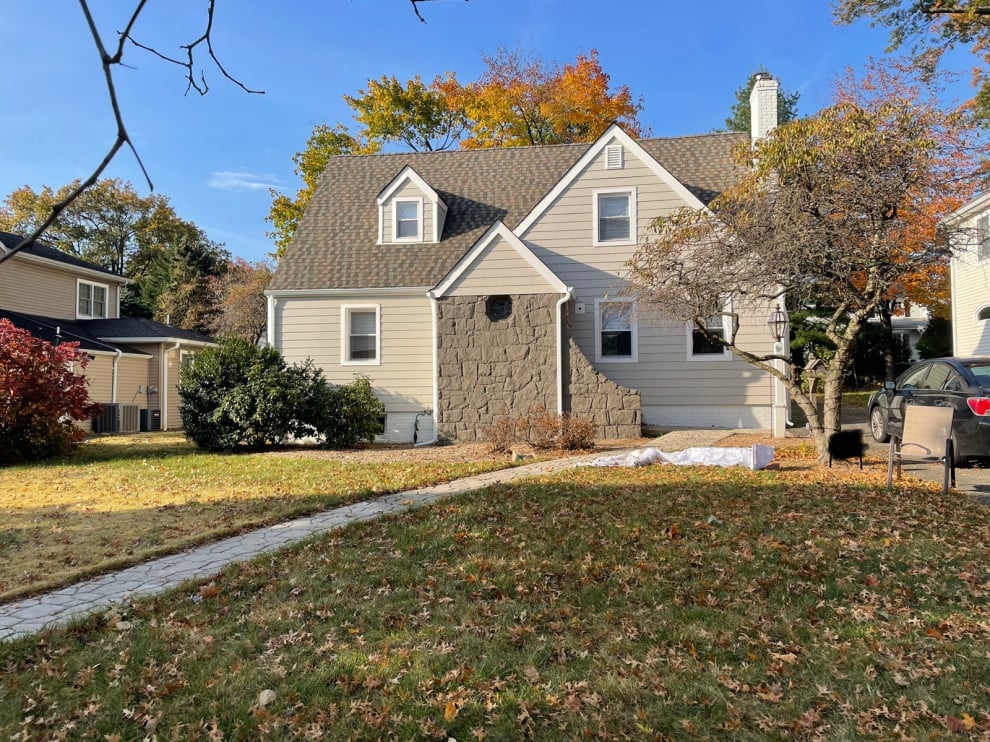 Big Rock Answer:
Assuming you can't change your door to face forward, you could remove the stone and then add a porch that extends to the right side of the house to the driveway. Widening and curving the walkway up to the porch adds interest and softens the yard—you could try finding pavers or stones that match the gray stones on the outside of the house/the roof to tie the landscape together. You could also try a wider straight path lined with shrubbery like this one or try planting grass around the pavers for a more modern look like this one.
This more modern home features rectangular pavers leading up to the home with grass between them. The grass softens the walkway, and if you are worried about the space feeling too modern you could add shrubs, bushes, or ornamental grasses along the pathway. 
For a more natural look  you could add large stone pavers, either to match or compliment the stones in the side of your home.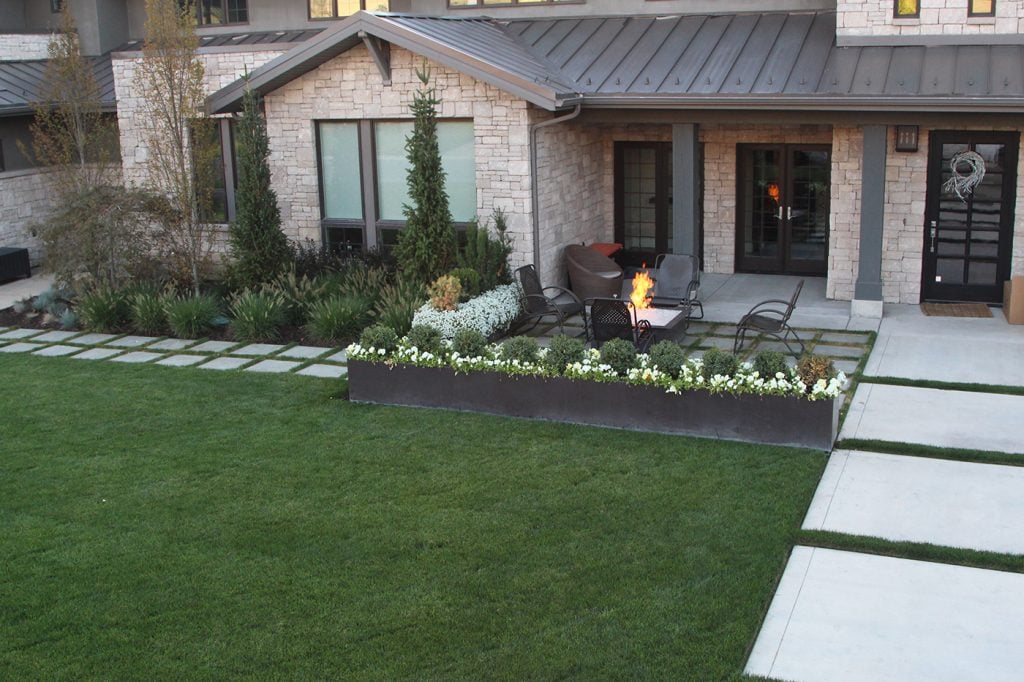 If you want to really go for it and add more entertaining space, add a fire pit and seating area on the left side of the stone entry where the large bush is. Building out a patio in that area (complete with a pathway from the front door of the house) could add value to your home, but also hours of memories with family and friends. 
Have A Problem With Your Home's Landscaping?
You aren't alone. Sometimes landscaping dilemmas feel overwhelming, either because you don't have the information or experience to make decisions that will lead to your dream yard. That feeling of overwhelm is likely preventing you from enjoying the yard of your dreams, but it doesn't have to be that way. Our team of landscaping professionals uses a process built around assessing your needs, your yard, and your budget to create a landscape plan that you will love forever. 
With Big Rock Landscaping you get our combined decades of experience, our love for thoughtful design, and the best landscape installation in Utah. When you choose Big Rock Landscaping, you are choosing Utah's premier landscaping company to design and install the yard you've been waiting for. Don't let your landscaping problems overwhelm you and stop you from enjoying your yard, call us today to find out how our team can help!