How to Get Luxury Landscaping (Even if You Don't Have a Luxury Budget)
When you hear the phrase "luxury landscape design" your mind automatically flashes to dollar signs. Sure, luxury landscaping projects tend to have a bigger budget than normal residential projects do, but that's not the only thing that makes a project high-end. Luxury landscaping is about creating a space that feels luxurious. It's about utilizing a budget to make a comfortable retreat.
Can you create a luxury landscape design without spending big money? Whether your budget is big or small, you can make smart decisions that will elevate the look and feel of your property. Hiring a landscape designer can help you make decisions that will provide the greatest impact, return on investment, and best of all enjoyment.
Luxury Landscaping Vs Basic Residential
Luxury landscaping and basic residential landscaping have a lot in common. Both utilize lush foliage and greenery and more natural pathways to create a private and secluded feel where people can gather and enjoy time in the outdoors.
So what's the difference between your average residential landscape and luxury landscape design? Well, budget, for one thing. Luxury landscaping projects typically have bigger budgets. This doesn't necessarily mean the space is bigger, but the amenities and finishes will often be of higher quality than a typical backyard project.
It is because of these bigger budgets that luxury landscaping design ideas often include more than just grass and greenery. Extras like an outdoor kitchen, a pool and spa, a firepit, additional seating areas, rock walls, water features, pergolas, and more, accompany the lush landscaping. The thing that really sets high-end landscaping apart is the thought and attention to detail that goes into the space. It's the little things that elevate the design and make it extraordinary.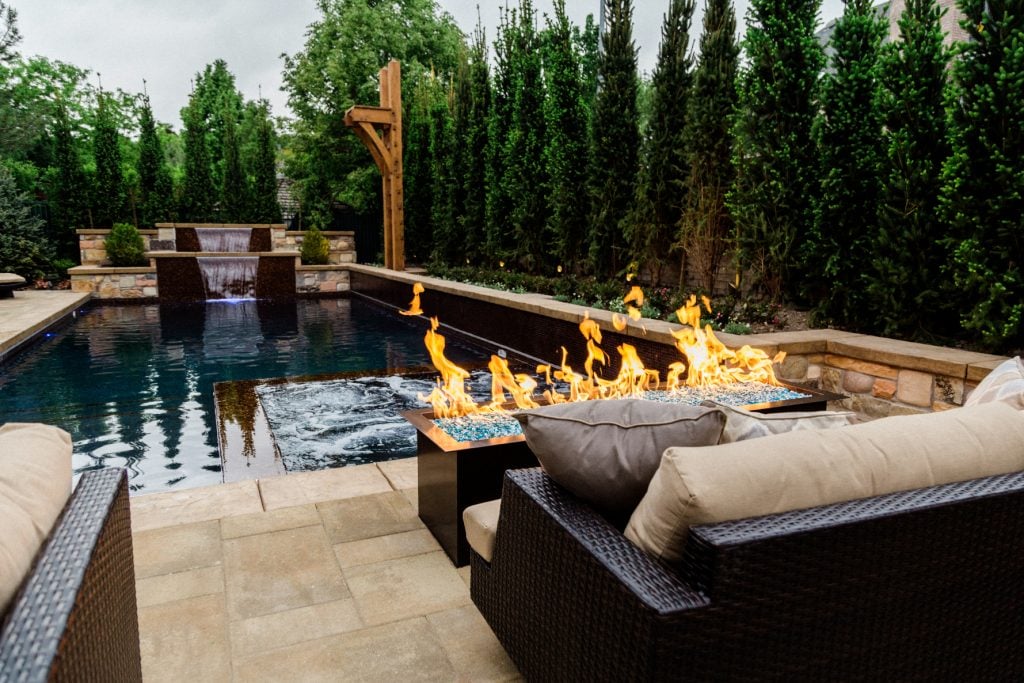 Luxury Landscaping Costs
Like anything else, the cost of a luxury landscaping project is dependent on the size of the yard and the scope of the project. A small yard with lots of high-end amenities might even cost more than a large yard with just the basics. It all comes down to what you already have and what you want.
For years, the rule of thumb for determining your landscaping budget has been to spend around 10% of the value of your home, but this percentage has been trending upward recently as people shift from having a "yard" to having an "outdoor living space" and all of the things that come with it.
This budget would include luxury landscape design and the construction of hardscape design ideas like pathways, patios, pools, spas, walkways, pergolas, kitchens, and fire or water features. It also includes greenery like grass, plants, flowers, and trees, as well as irrigation and lighting. It would need to be distributed between the luxury front yard landscape, backyard landscape, and any other areas that will be addressed. Now the average landscaping budget is starting at 20% of your home value. Of course, your budget can vary depending on the size of your lot and the size of your wish list. 
Make Your Landscaping Look Luxurious Without Breaking The Bank
Landscaping for a luxury home doesn't just involve a large budget. That's not what defines luxury. The thing that sets luxury landscaping design ideas apart from standard residential landscaping ideas has less to do with how much money is spent, and more to do with how the money is spent. Landscaping companies like Big Rock Landscaping follow a strategic process for landscape planning. Adopting a similar approach can help you achieve better results.
Whether you have a lot or a little in your landscaping budget, you can get the most bang for your buck by following these simple luxury landscaping ideas and principles.
Develop a Cohesive Plan
Nothing says, "I took a trip to a big box garden store and tried to do this myself" more than a disjointed yard. Landscaping for luxury homes begins with a master plan, and that's exactly where your project should start too. Plan everything out in advance and be deliberate in your placement and selections. Don't just throw elements here and there in your yard because they fit, place them because that's where they make the most sense.
Establish a Focal Point
Every high-end landscaping project has a focal point. It could be a pool, fire pit, kitchen, sculpture, prominent flower garden, pergola, and seating area, or any number of other things. Choose something that will attract attention and draw people's eyes to it. Then design the rest of your space so it leads to and away from that focal point.
Create Rooms
Rather than having a flat space, create interest and break things up by establishing different areas, or "rooms," within your yard. Just like the rooms in your house, each area of your yard should have a specific purpose so you can fully utilize the space.
Develop a Flow
When the architects designed the inside of your house, they took into consideration how someone living in the home would move from space to space. The same type of thought is put into luxury landscaping. Pathways and other methods are used to link spaces so it's easy to go from one area to the next, and so the layout makes sense.
Coordinate Furniture
Your furniture doesn't need to be matchy-matchy, but it should look like it coordinates. The furnishings are part of what brings luxury landscaping design ideas together. Mis-matched furniture sets can quickly give the appearance and feel of a low-end design.
Add Decor
Because an outdoor space is exposed to the elements, people often skip adding decor. Just like the styling touches in your home make it feel complete, adding decor to your outdoor space will be a finishing touch to give it a more luxurious feel. There are a lot of options for durable, weather-resistant decor that will stand up to the elements.
Remember the Lighting
Once your yard is done, you'll want to enjoy it for as long as possible. Adding lighting can help you do this, and can really take the whole feel over the top. Think about putting lights in your pool, in garden beds, along pathways, under pergolas and patios, and anywhere else you'll find yourself after dark.
DISCOVER: Who Is Big Rock Premium Landscaping And Design?
8 Luxury Landscaping Ideas For Your Home
If you're looking for high-end landscaping ideas, modern landscaping ideas, contemporary landscaping ideas, traditional landscaping ideas, or just your own mix of fabulous, we've got some landscaping inspiration to get your creative juices flowing. Here are a few of our favorite luxury landscaping looks. To see more, visit the Big Rock Landscaping portfolio.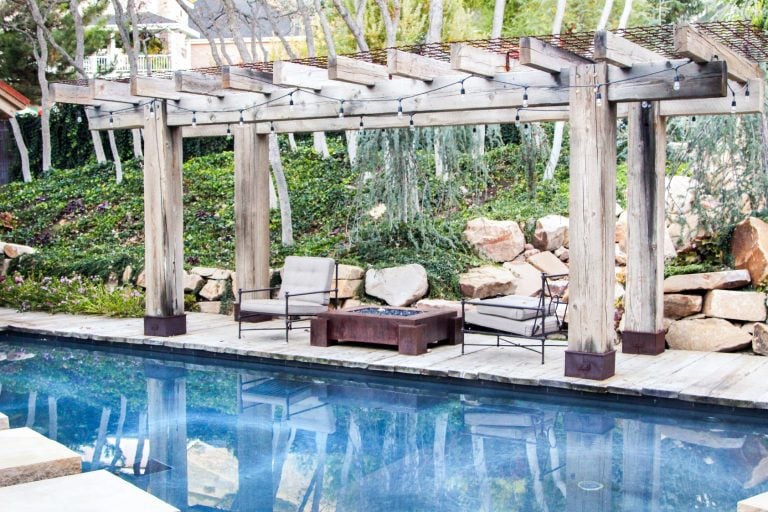 Luxury Landscaping: What To Know Before You Hire
As we mentioned earlier, a reasonable landscaping budget should be around 10% of your home's value. What we didn't mention is that quality landscaping can actually increase the value of your home.  The key to getting a return is knowing what to invest in, and what to skip.
That's why for luxury landscaping projects, it's best to bring in someone who can offer professional landscaping services. But how do you know who to trust with your project? As you search for a company that is the right fit, here are some questions you should be asking.
1. Do They Communicate Well?
This is one of the most important questions. You want a luxury landscaping company that will listen to your ideas and incorporate them into the plan. You also want a company that is responsive to your inquiries, respectful, and will keep you up-to-date on the latest status of the project.
2. Do They Have A Process In Place?
Flying by the seat of your pants is great if you're skydiving, but not so great when you're investing in landscaping for a luxury home. Ask potential luxury landscaping companies about their work process, how they approach a job, how they select subcontractors, their quality control standards, and how they manage timelines.
3. Do They Listen To You?
It's your yard, so it's important it meets your needs. Some landscape designers work in one particular style, which is great if that also happens to be your style. The best luxury landscaping design ideas come from a collaboration between the landscape designer and the homeowner, so find someone who is willing to take your input into account.
4. Do You Like Their Previous Work?
Take some time to review the past projects of companies you're considering hiring. Do you like what you see? A portfolio is a representation of the company's best work, so if it doesn't measure up to your standards, then you will likely be disappointed in your results.
5. Do They Have References?
In the absence of personal referrals, ask companies for professional references. They should be willing to put you in touch with past clients and people they've worked with who can vouch for their work. You can also check for professional certifications and affiliations that speak to the quality of their work.
Big Rock Landscaping For Your Luxury Landscaping Project
As we mentioned earlier, hiring a professional landscaping design company can help you make smart decisions so you can get more from your landscaping budget. Big Rock Landscaping has worked with many luxury landscaping clients. We understand what looks good, what works, and what takes a design from good to great. If you're looking for someone to help with your luxury landscaping project, contact us to see what Big Rock Landscaping can do for you.