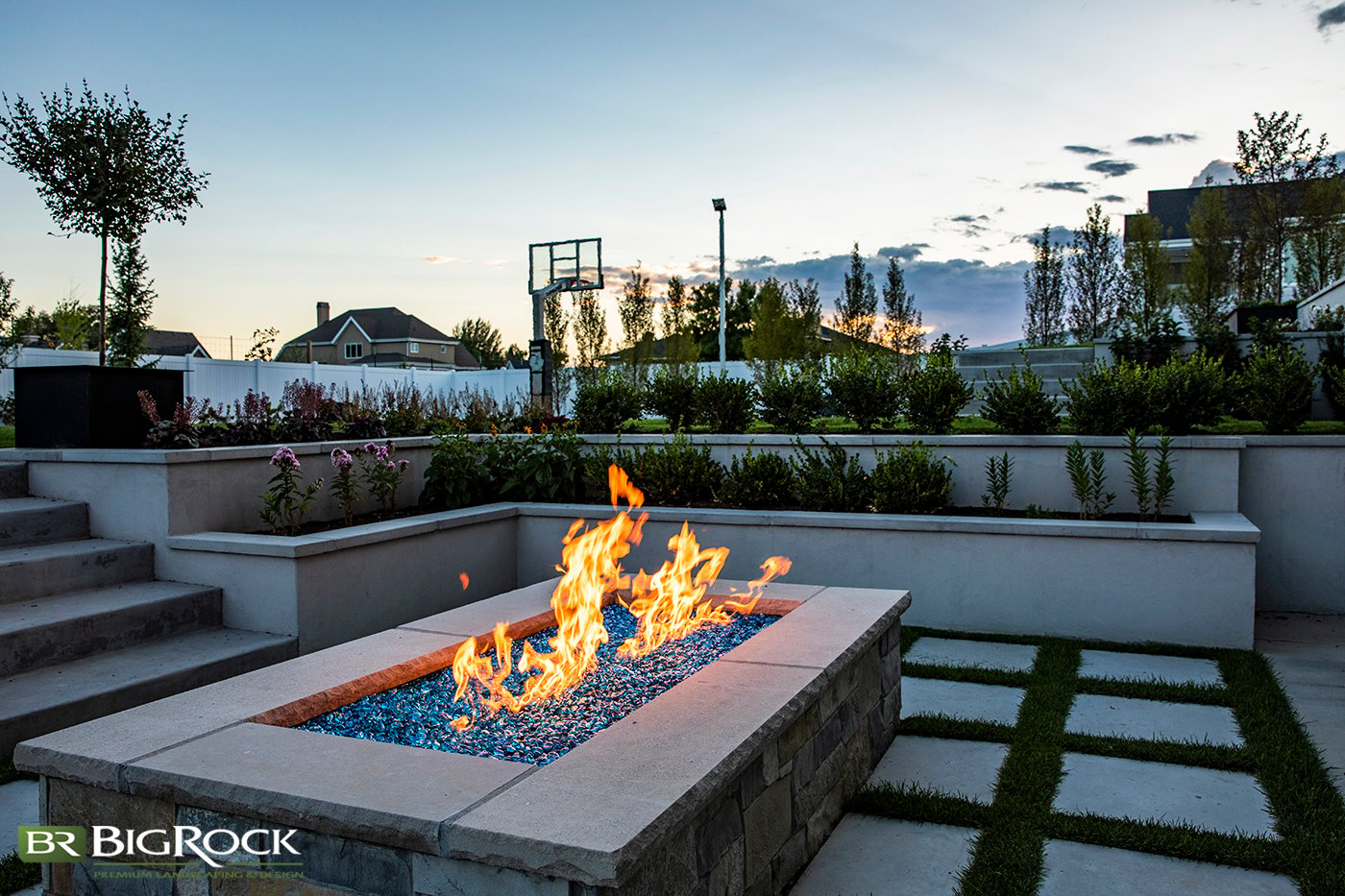 7 Outdoor Fireplace Design Ideas For Every Budget
Outdoor fireplaces are an increasingly common backyard feature for the modern day homeowner. They are a great way to extend your backyard season into fall and even winter! Whether you decide on a traditional wood-burning fireplace or a propane- or gas-fueled fireplace, all three options provide warmth and beauty. Fireplaces can grace any backyard space, regardless of your backyard dimensions. From the grandiose, custom structures that command attention and space, to smaller or portable designs like chimeneas or fire bowls, you simply can't go wrong.
Outdoor Fireplaces Design 101
Before jumping in feet first, there are a couple things you need to know before you put an outdoor fireplace in your yard. We call these the three Ps of outdoor fireplace design: proper planning, purpose, and picking a style.
Proper Planning
Always, always, always check with your county to understand the local building codes in your area. Not building according to local-mandated codes may end up being a costly mistake, as the city requires you to tear out what you've done and rebuild to code. In addition to knowing building codes for your area, a good rule of thumb is to place your outdoor fireplace (whether built in or freestanding) at least 10 feet from your house or any other flammable structures (like a wooden deck), including trees or bushes. 
Purpose
Before deciding what style you prefer, spend time thinking about whether or not your outdoor fireplace will be built-in or a portable element of your backyard space. Your budget will drive some of this decision making, but it's worth mentioning that permanent, custom installations will require more extensive construction and will be more expensive than a freestanding fireplace. Consider whether you want your fireplace to be a focal point of your yard where people will gather. Will you use it to cook, or will it be a background element that will provide beauty, ambiance, and a bit of warmth?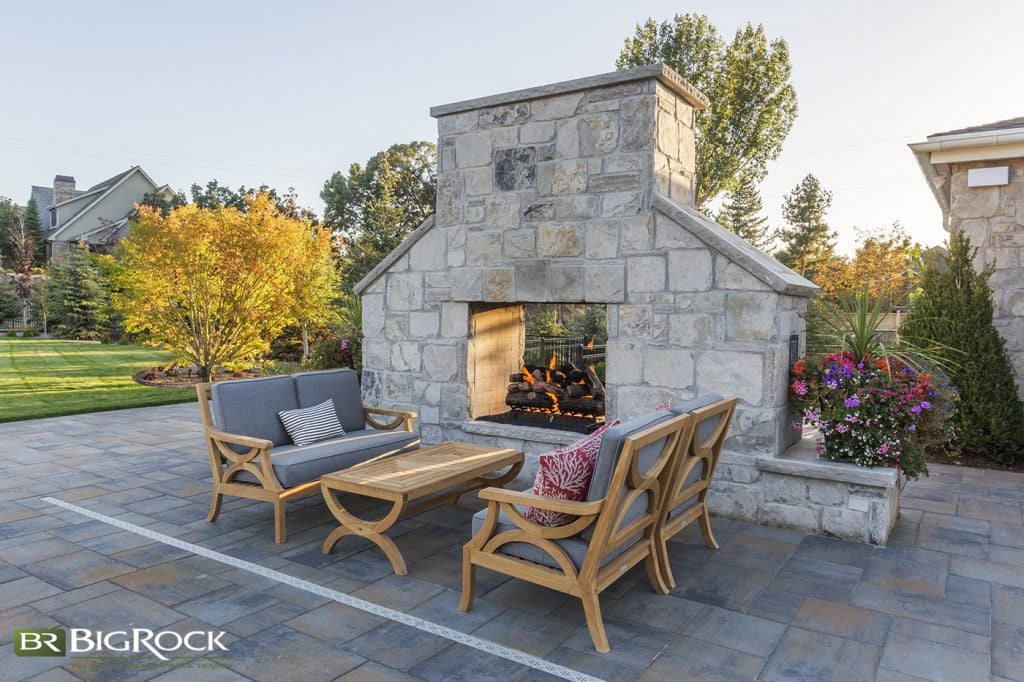 Pick A Style
Design-wise, your options are virtually unlimited. For fuel-source, you're tied to electric, gas, or wood. There are pros and cons in terms of cost, maintenance, and convenience to all fuel sources, so pick the one that best suits your goals. 
When it comes to picking your fire feature's building materialss, you can have your pick of stone, stucco, tile, concrete, metal, or brick. This is your chance to make a design statement or create a strong focus point in your backyard landscape design, so take full advantage of your styling options. This is also where working with a professional can be extremely helpful. It's often been said that two heads are better than one, and a well-seasoned professional in the field will be able to add his expertise, know-how, and design exposure to inspire and direct your vision.
Outdoor Fireplace Materials and Construction
The type of material you choose to build your outdoor fireplace with depends on several factors, including budget. But the most obvious difference is the varying styles each material will offer to your landscape design. While some materials are traditional, like brick, they may not fit the aesthetic of your home or the landscape you've already worked to design and implement. So, let's break down which materials will best suit the look you're trying to achieve outdoor fireplace design.
Brick—As we mentioned, brick is perhaps the most traditional building material for an outdoor fireplace, which stands to reason that a brick fireplace would complement a traditional or country-style farmhouse landscape and garden design well. The warm tones of the brick are inviting and eye-catching, and for those looking at outdoor fireplace ideas on a budget, bricks can be more affordable than larger, natural stone options.

Stone—Stone is one of the higher-end options for outdoor fireplace ideas. It can have a regal look or become very homey, depending on the colors and cut of the individual stones. Having a very experienced stonemason install your outdoor fireplace will ensure the design is beautiful and structurally sound.

Stucco—Stucco is a great option for an outdoor fireplace on a budget. While the look is less organic than stone or brick, stucco can beautifully complement a more southwest-inspired design or become part of a modern backyard space.

Tile—Tile is a great material for those looking for a truly customized fireplace outdoors. Beautiful, bright tiles can make for an eye-catching space to gather with family and friends, or sleeker, clean tiles can come together to create the modern outdoor fireplace you're looking for. This won't be the most budget-friendly option, however.

Concrete—Concrete has recently made waves in the world of modern design, particularly when it comes to custom outdoor fireplaces and countertops. It gives a sleek but also somewhat natural look that can rightfully belong in many different landscape design styles, including mid-century, contemporary, euro-inspired, and industrial.

Metal—Using metal may top the list for outdoor fireplace ideas on a budget. This is because you can cut out much of the specialty labor cost you need to factor in when opting for something like stone, brick, or tile. That said, many metal outdoor fireplace options are actually pre-fabbed and will offer less of a custom look than other fireplace material options.
7 Outdoor Fireplace Design Ideas For Every Budget 
It's never a bad idea to implement an outdoor fireplace, regardless of how big or small your yard might be. We've completed our fair share of outdoor fireplaces, and we love to show what is possible in a variety of outdoor spaces.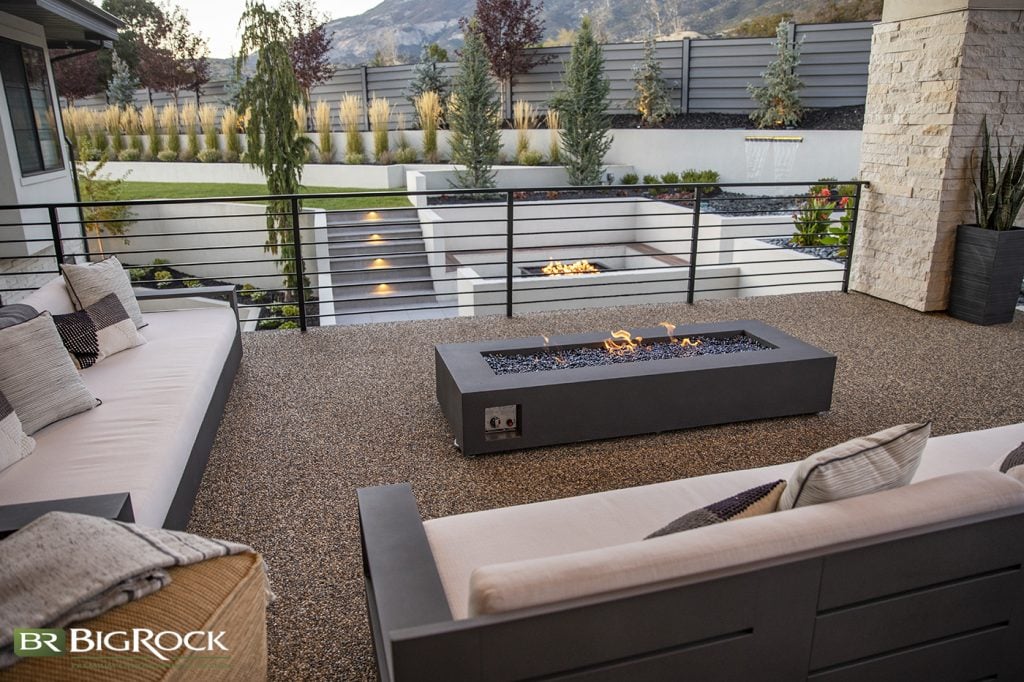 This homeowner spared no expense in this well-heeled backyard, and we love how the fireplace brings this outdoor living room alive with its sleek design, low profile, and modest flame. Substituting a standalone fireplace where a coffee table would normally reside suits this spot perfectly.
Although not exactly built-in, this fireplace is considered a permanent structure that is at the same time practical and luxurious. Who wouldn't like to sit by a warm fire after an early evening dip? And although substantial in size, it doesn't overwhelm the space. It also does a great job of creating an "outdoor room," so to speak, where different groupings of people can congregate comfortably. You might have some swimming, some in lawn chairs, and others gathered around the fireplace. Even if you have a large gathering, with this set-up, it's still possible to have distinct spaces that allow for intimacy among crowds.
Tucked away in this private little corner, we love how this standalone fireplace can feel like your own personal bit of heaven. Intimate and cozy, out of the way nooks and crannies are great places to incorporate stand alone fireplaces for small groups.
If you need to think a bit out of the box, this unconventional firepit is easy on the wallet, but still packs a great punch when it comes to ease of maintenance and use of an easy-going backyard vibe. We love the circle shape and the fact that it's flush with the surrounding ground. Its casual elegance is perfect for late night ghost stories around the fire or marshmallow roasting with all the cousins.
Surrounded by built-in seating, this fireplace takes center stage. Its sturdy shape and black metal frame lend weight and a flair of drama to spice up this modern backyard. The high walls surrounding the fireplace lend it a sense of seclusion and privacy, while its generous size will allow for great heat transmission despite the large area.
The lush greenery and winding path gives this backyard a mystical vibe. These twin fire pits act more like beacons than a traditional sit-down outdoor living room. It's always a great idea to incorporate light or fire into outdoor spaces, even if the light source is not going to be a main part of the design. Fire pits function extremely well even as background design elements. It's the perfect touch to this magical backyard oasis.
This fireplace has all the right angles and falls right in line with the modern lines and design aesthetic of this backyard space. Built to encourage gathering and lingering, this fireplace is substantial and elegant. In this space, shape, form, and function all work together seamlessly.
Enhancing Ambience: Outdoor Fireplace Lighting Ideas
Everyone wants to gather around an outdoor fireplace—it automatically creates an inviting and intimate space to share with others (or alone with a good book!). That said, there is much to be said for bringing in more outdoor lighting to complement your gathering space and the fire's flame. String lights, sconces, stair lighting, tree spotlights, and more can enhance the mood of your outdoor space and increase its functionality, making the investment in an outdoor fireplace even more worth it.
Whether your outdoor fire features are in front of or behind your home, pairing them with flip-controlled sconces, built-in solar stair lights, and overhead spots ensures the space is welcoming as well as thoughtfully designed. This way, one or a combination of several light sources can be utilized for different purposes and gatherings.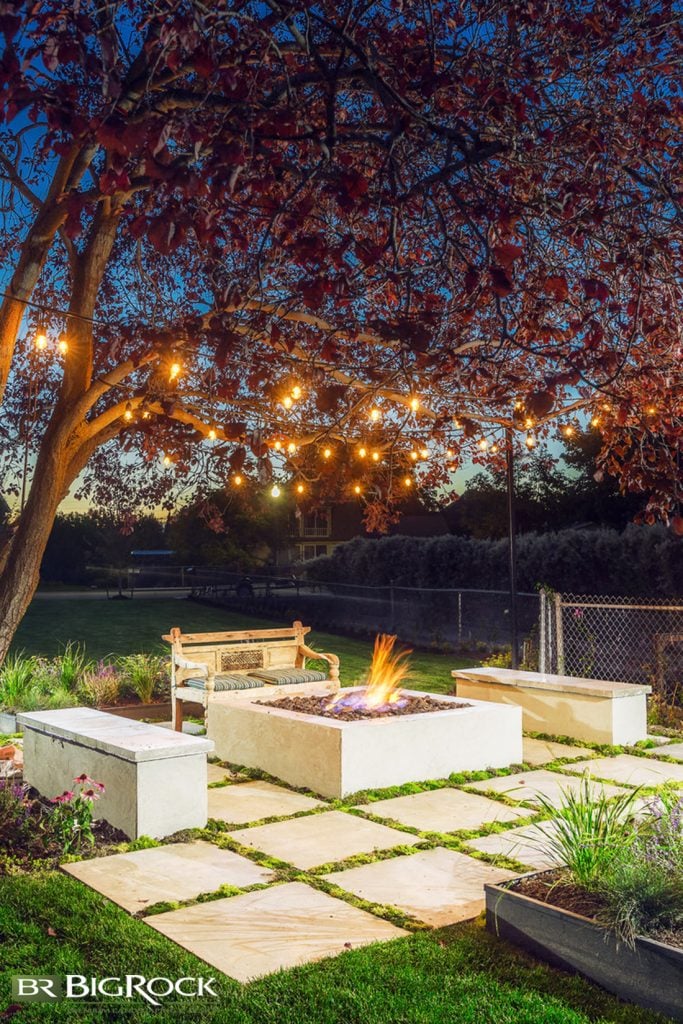 Installing permanent lighting works beautifully in many instances, particularly when your outdoor fireplace is close to a structure, but we love the look of more free-flowing temporary lighting, too. This can take the form of string lights, moveable solar pathway lights, and more—all of which serve to enhance the ambiance of a cozy outdoor space.
Outdoor Fireplace Maintenance
Keeping up on outdoor fireplace maintenance is key to ensuring your investment is well-spent. Here are a few things you should be doing regularly to care for your new outdoor fire feature, whether made of metal, stone, or brick, and runs on wood, electricity, or gas.
Clean it weekly.

You'll want to ensure that after each use (when everything is safely cooled), you remove ashes or any other debris from the firebox to avoid the buildup of any unsafe or unsightly material.
Inspect it often.

Look for cracks or any other signs of wear or damage. Make sure to correct them as quickly as possible to prevent irreparable damage to your outdoor fireplace.
Have the chimney inspected.

If your outdoor fireplace has a chimney, ensure a professional inspects it regularly for blockages, interior stress, or cracking. Finding these issues early is essential to outdoor fireplace safety and longevity.
Weatherproof it.

While you can't protect your outdoor fireplace from every bit of precipitation or wind, you can equip it with things like a chimney cap, proper seals, and even a rain cover to keep it looking and operating properly throughout the year and for years to come!
DIY Outdoor Fireplaces vs Professional Fireplace Installation
We're not ones to say you can't tackle an outdoor fireplace on your own. You may find a project of this sort to be just what the doctor ordered. But as with most things in life, there are trade-offs. If you're waffling back and forth between doing it yourself or hiring a professional, here are a few things to consider.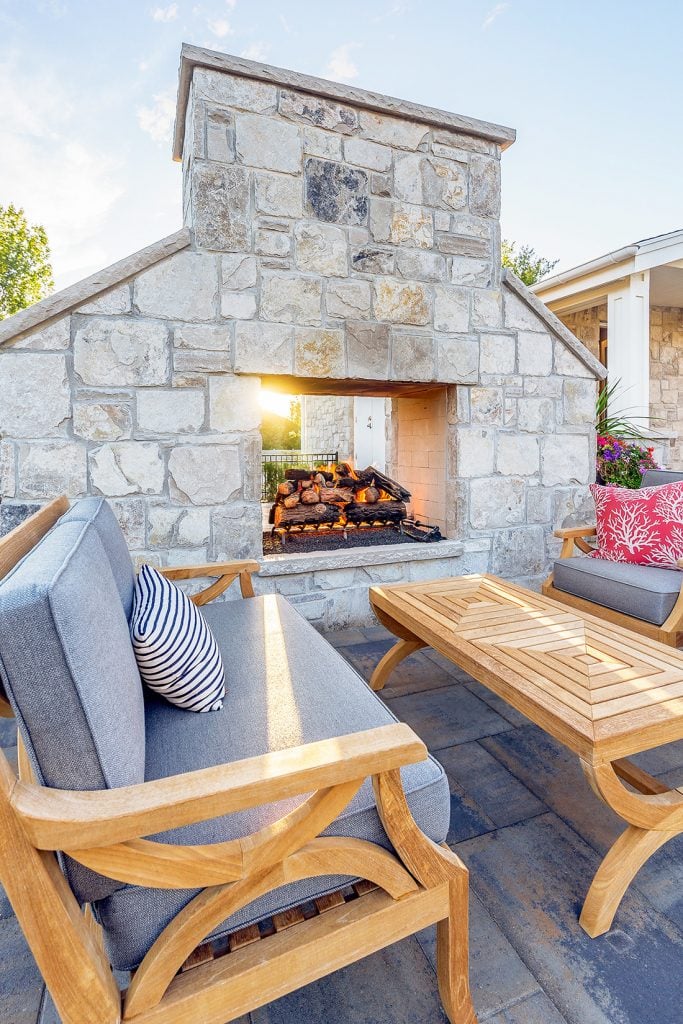 Getting It Right The First Time
You may have some sound experience, but chances are, you can't outmatch the experience of most professionals. And while this may sound really good, decision fatigue can get to even the most seasoned DIY. You might also make some rookie mistakes, as with any new project, you don't know what you don't know. You might also miss a step or two in the process, or not be able to find good contractors for those parts of the project that you don't feel quite comfortable doing on your own (think bringing in a gas line, or hooking up electrical). But on the flip side, you get total ownership. Even if this isn't your first outdoor fireplace installation, a professional will always have more experience. Having a professional on board will help you understand the local codes, permits, and inspections you must follow. They can help you avoid costly mistakes and could possibly find ways to save you money along the way. 
Time Is Money
We can almost guarantee that this project is going to take you longer than you think it will. As they say, time is money. Even if you save money, when you factor in your time, the scale might start to tip towards your chosen professional's direction. Everyone is different, so you will need to decide for yourself how much your time is worth to you. 
The Buck Stops With You
One positive aspect of DIY fireplaces is that you have complete control and responsibility over the project. The drawback? You have complete control and responsibility over the project. When you're the boss, there's no guarantees on labor or work completed. If you save money on the front end by installing a fireplace yourself, and something breaks, it can potentially cost more to fix it than it originally did to install. Also, as much talent as you might have, a professional's work will often eclipse the craftsmanship of a newbie DIYer. Professionals have spent many hours honing skills and talents–this will definitely be apparent after the product is finished. If having a polished, finished product is important to you, we recommend going with a professional you can trust. They'll have years of experience to fall back on and a broad portfolio to showcase their work so you know the exact quality and service you will be getting. No mysteries there.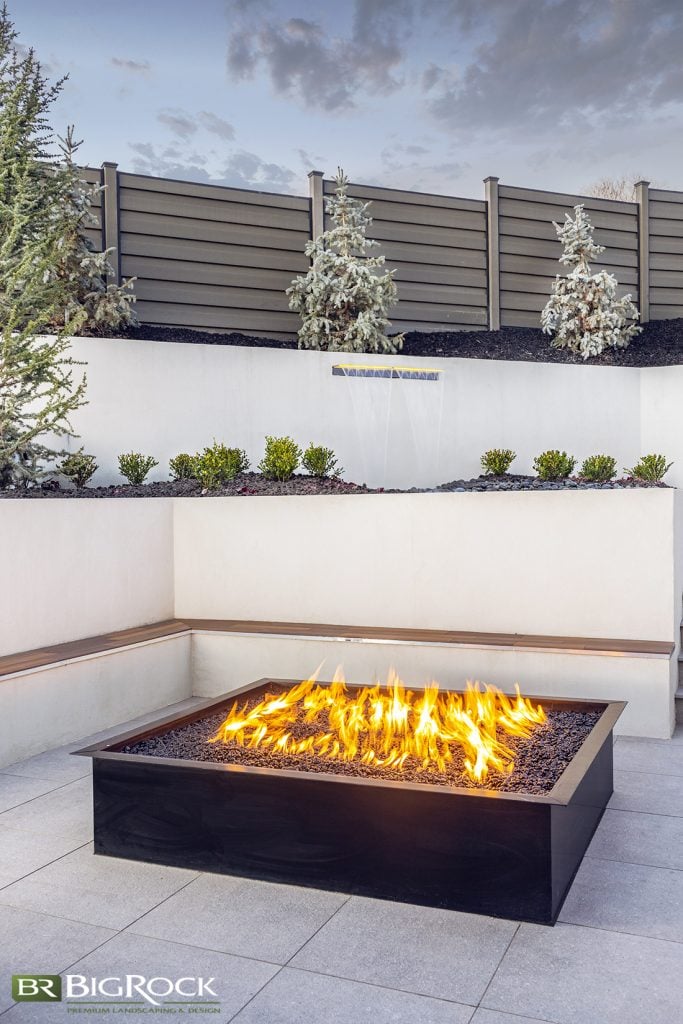 Consider Safety
Because many outdoor fireplace ideas are going to include gas or electricity, you'll want to make sure that you know exactly what safety measures must be taken to ensure not only a lack of danger during building but continued safety for anyone operating the fireplace in the future. Whenever you're dealing with gas or electricity lines, our advice is to at least consult with a professional. If not, have them do that part of the job in its entirety to ensure it's done properly.
Outdoor Fireplace Design Questions
There are plenty of questions to ask yourself, or the experts, before committing to one of your outdoor fireplace ideas. Luckily, we've rounded up some of the most common and important questions about outdoor fireplace design and installation so you can make the most informed decision about your project.
What Are The Key Factors To Consider When Designing An Outdoor Fireplace?
When designing an outdoor fireplace, you need to consider several key factors, including proper planning, purpose, and style. First, you need to make sure that your city, and sometimes county, regulations allow for a fireplace on your property. Then, you'll want to consider where to put it relative to your home, property lines, existing vegetation, other landscaping installations, etc. Next, think about the purpose of your outdoor fireplace. Is it a place for gathering big groups of people? If so, what will your seating accommodations be, and is there enough space for them? If you prefer a more private and intimate setting for your outdoor fireplace, what impact does that have on placement, seating, style, budget, etc.? Lastly, you'll need to consider the fireplace style you want in your backyard. This encompasses building materials such as brick, stucco, stone, and metal, as well as overall aesthetic preferences such as farmhouse, modern, industrial, or others.
What Are The Most Popular Materials Used For Outdoor Fireplace Construction?
The most popular materials used for outdoor fireplace construction include stone, stucco, concrete, brick, metal, and tile. Each one offers its unique look to your landscaping and benefits and drawbacks for installation, upkeep, and longevity. Consider the pros and cons of each material before committing to one for your own outdoor fireplace project.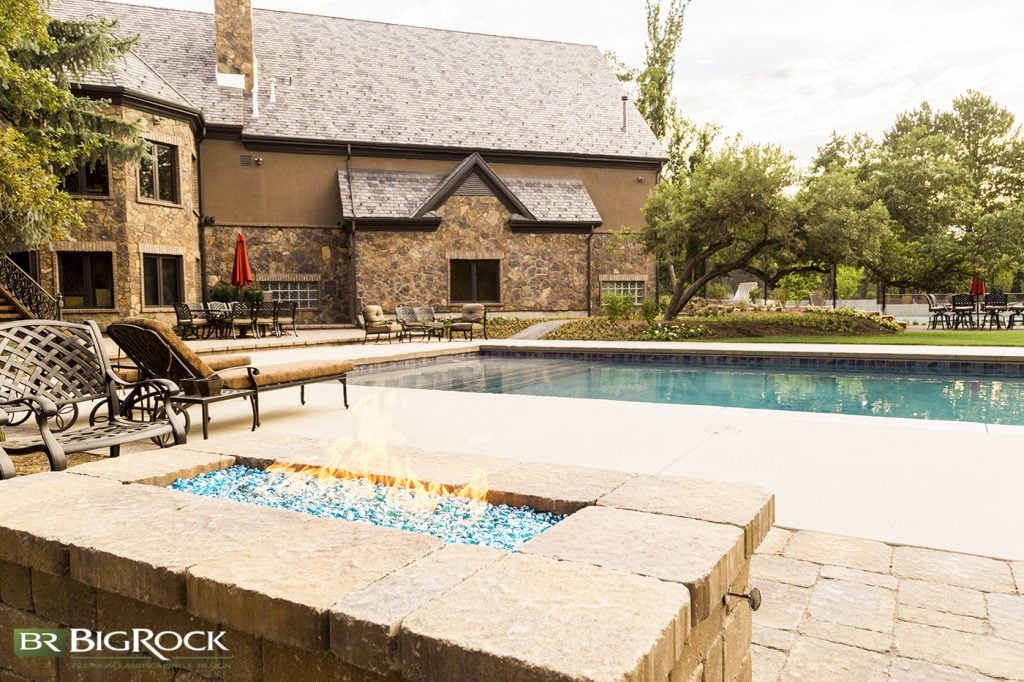 Is It Possible To Have An Outdoor Fireplace On A Budget?
Looking for outdoor fireplace ideas on a budget? Keep in mind that some materials, along with size and complexity, will impact how much you're going to spend on your outdoor fireplace design and installation. Smaller projects often end up costing less, but unique materials or complicated placement can sometimes make those estimates shift in unexpected ways, so consult a trusted professional landscaping company with plenty of experience with outdoor fireplaces, like Big Rock Landscaping, on your options before settling on one material or type of fireplace installation.
Are Outdoor Fireplaces Suitable For Small Outdoor Spaces?
Almost any outdoor space is going to be enhanced by an outdoor fireplace. Even the coziest of backyards can handle the right size and style of fire feature—looking and functioning all the better for it.
What Fuel Sources Can I Choose For My Outdoor Fireplace?
The most common fuel sources for an outdoor fireplace are wood, gas, and electricity. With any fuel source, you'll want to ensure professional installation and upkeep to reduce the significant risk of danger that accompanies each fuel type.
How Can I Ensure The Safety Of My Outdoor Fireplace?
Safety starts with professional installation, continues with proper maintenance, and persists through education for anyone enjoying your outdoor fireplace. Adults should be in charge of operation and maintenance, and children should be taught proper safety habits around fire. Regular cleanings and inspections should also take place to ensure the safety of your outdoor fireplace.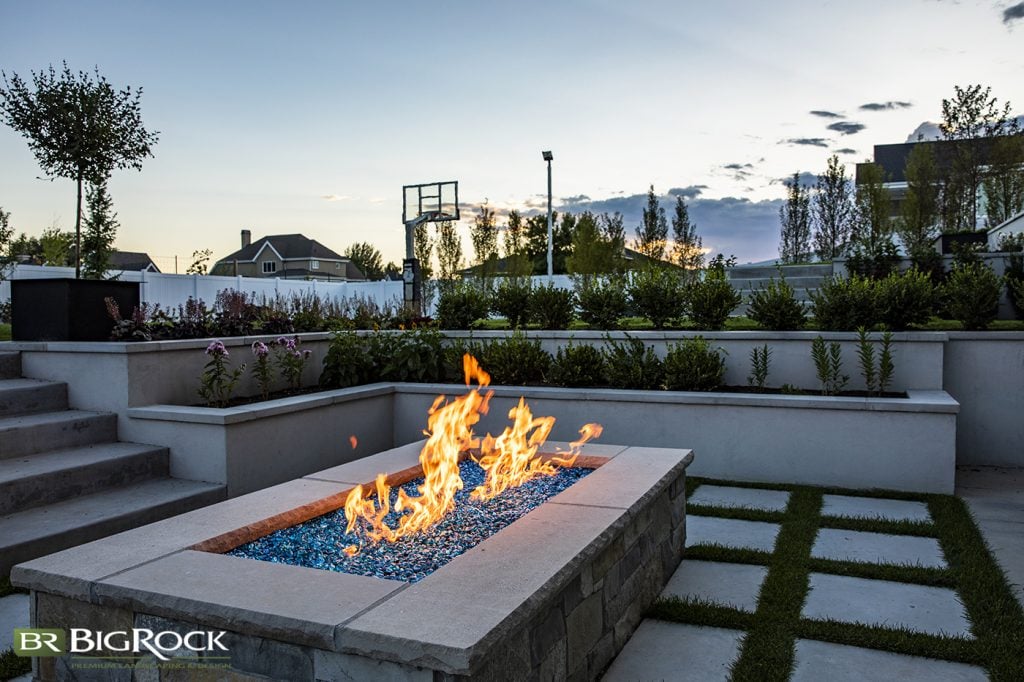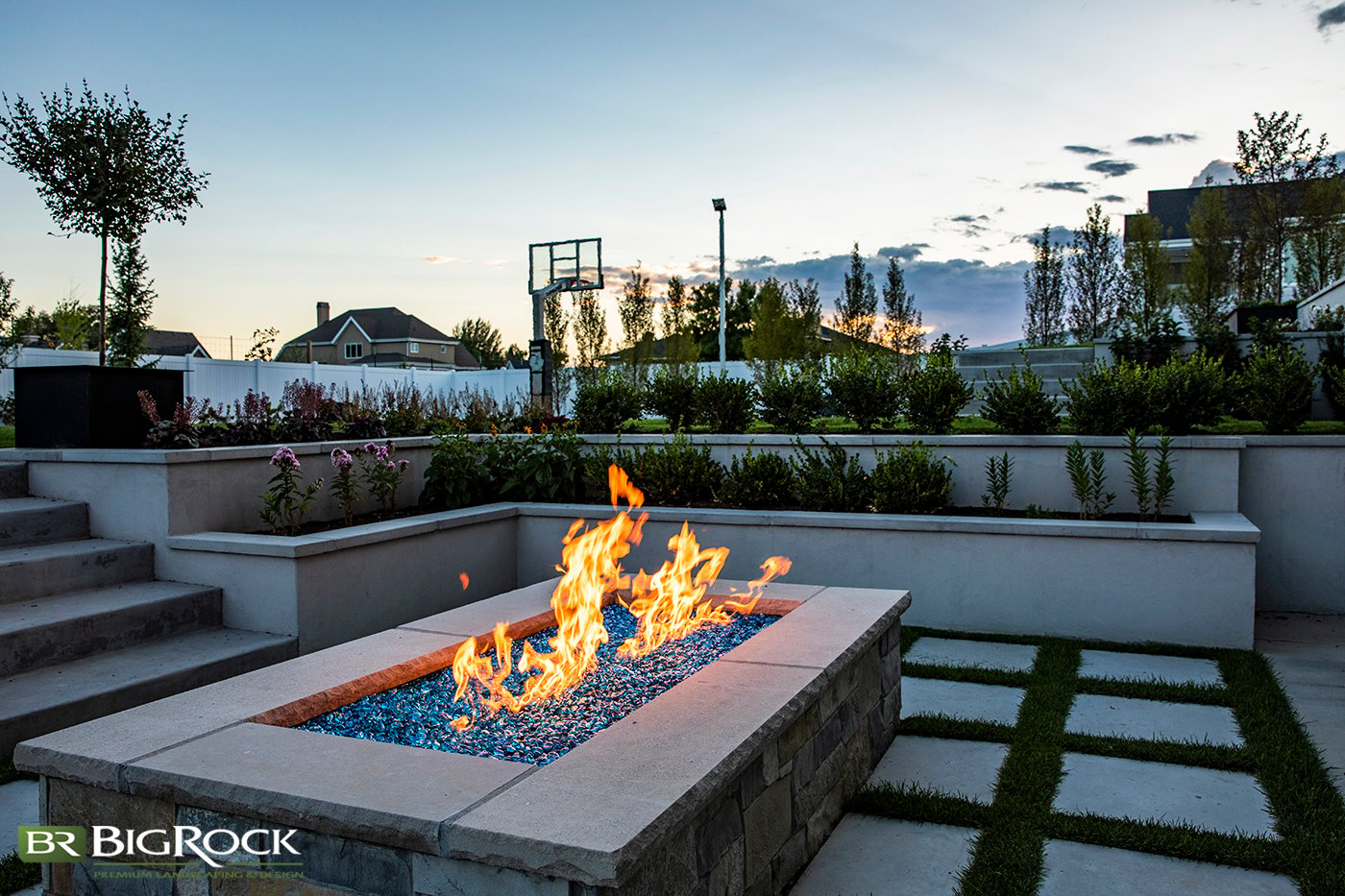 Should I Consider Professional Installation Or Attempt A DIY Outdoor Fireplace Project?
An outdoor fireplace could be attempted by a very skilled DIYer. However, we often find that a DIY project gone awry costs a lot more in time, money, and frustration than a project started and completed by professionals would. Experts in masonry, concrete, tile, and metal have worked long and hard to hone their skills, which usually means you'll be much more satisfied with a professionally designed and installed outdoor fireplace.
How Can I Find A Trustworthy Professional For Outdoor Fireplace Installation?
Finding a trustworthy professional for your outdoor fireplace installation is key to enjoying not only the final product, but the entire process from design to completion. You want to look for an experienced company that has not just an outdoor fireplace portfolio to inspire your confidence but a team of experts committed to the customer experience. Big Rock Landscaping is just such a company.
How Do I Maintain And Care For My Outdoor Fireplace To Ensure Its Longevity?
Maintaining your outdoor fireplace is essential to ensuring its functionality and longevity.
Clean it weekly.

You'll want to make sure that after each use (when everything is safely cooled), you're removing ashes or any other debris from the firebox to avoid the buildup of any unsafe or unsightly material.
Inspect it often.

Be on the lookout for cracks or any other signs of wear or damage. Make sure to correct them as quickly as possible to prevent irreparable damage to your outdoor fireplace.
Have the chimney inspected.

If your outdoor fireplace is equipped with a chimney, make sure a professional inspects it regularly for blockages, interior stress, or cracking. Finding these issues early is essential to outdoor fireplace safety and longevity.

Weatherproof it.

While you can't protect your outdoor fireplace from every bit of precipitation or wind, you can equip it with things like a chimney cap, proper seals, and even a rain cover to keep it looking and operating properly throughout the year and for years to come!
Can I Add An Outdoor Fireplace To My Existing Outdoor Living Space?
You can absolutely add an outdoor fireplace to your existing outdoor living space. We understand that outdoor wants and needs can evolve and grow with your lifestyle as well as with new home ownership, which means that finding a way to adjust existing outdoor spaces is a constant consideration. Luckily, an outdoor fireplace, once added to your landscape design, is likely going to serve you (and any future homeowner) for decades to come.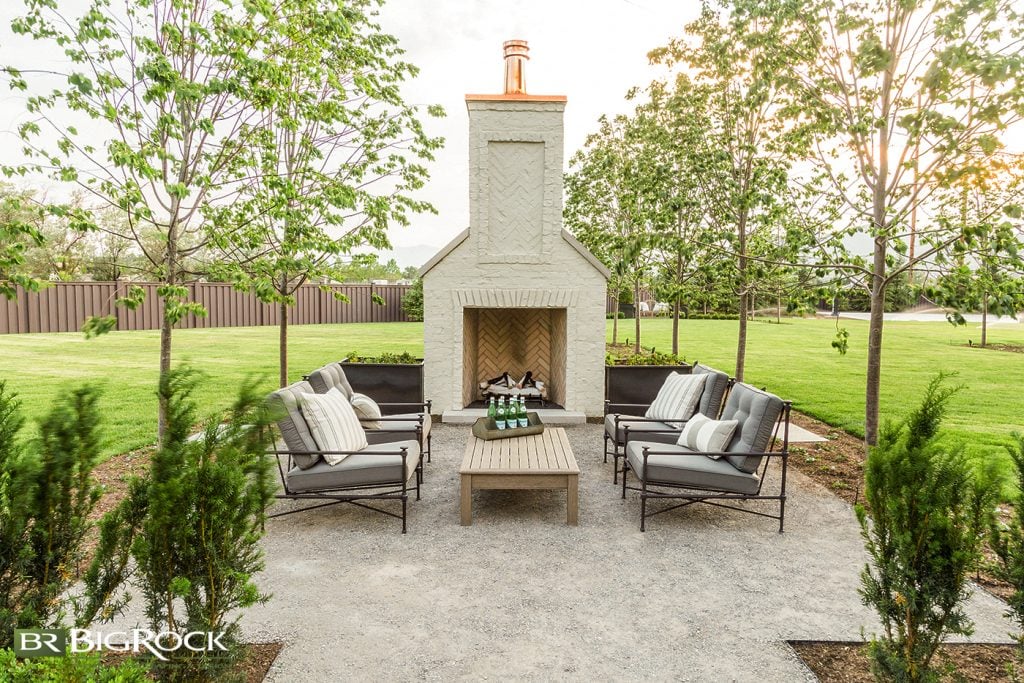 Big Rock Landscaping: Your Outdoor Fireplace Experts
Finding a professional you can trust can be a tall order. We understand that challenge, and our team at Big Rock Landscaping takes pride in making our clients our number one priority. With this in mind, we provide an incomparable level of white glove customer service to each client that we are privileged enough to work with. 
Adding an outdoor fire feature is the ultimate in entertaining. Whether you are interested in designing an outdoor fireplace or you are looking for a backyard fire pit, or even a tabletop fire feature, Big Rock Landscaping can assess your outdoor area and work closely with you to design the fire feature of your dreams. 
Don't let the fun end when the sun goes down! Let us help you expand the function of your backyard to include an outdoor fire pit that is just right for your space and your budget.