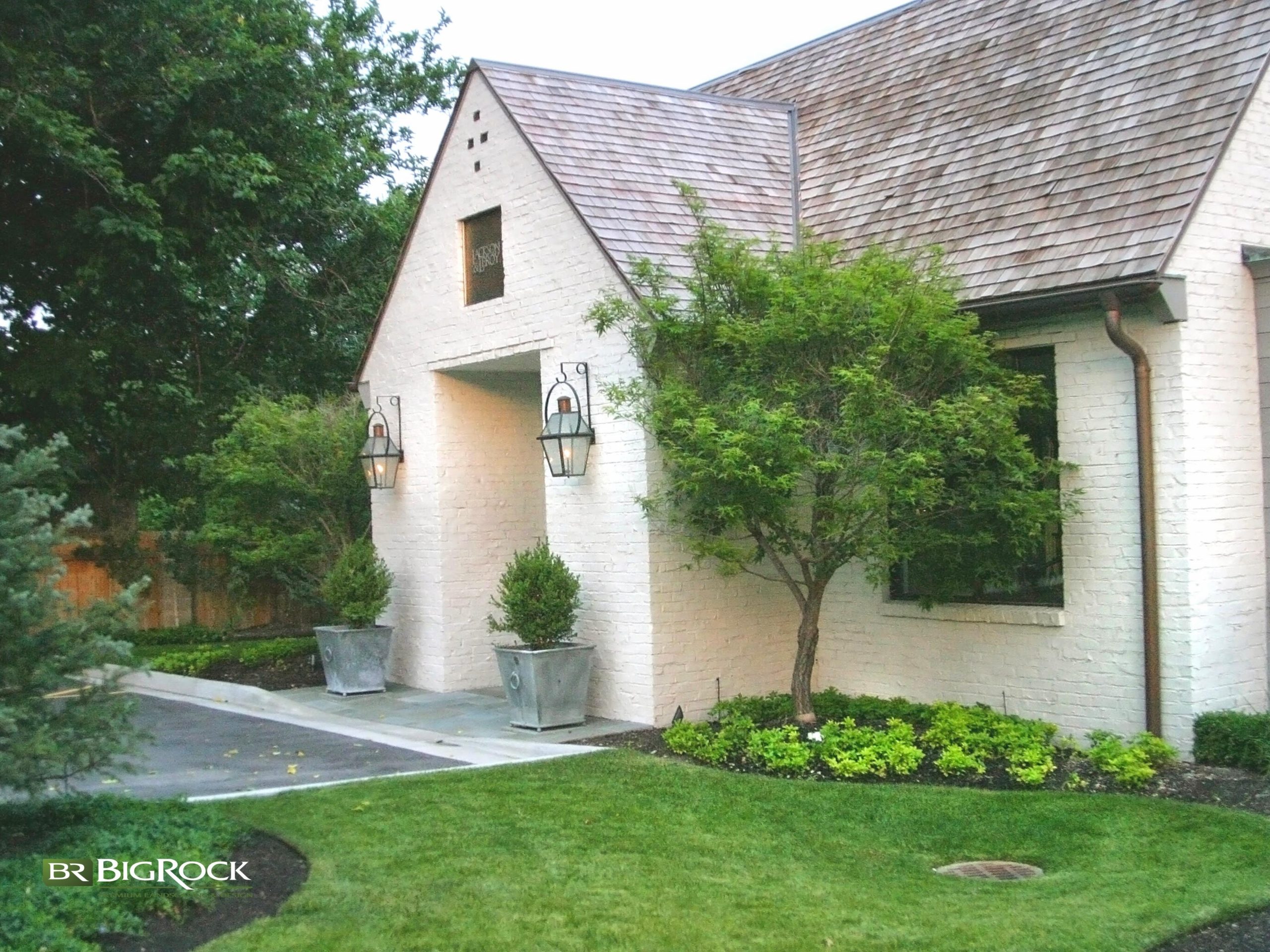 Why Commercial Landscaping is Important for Your Business
How important is commercial landscaping? How much money should you spend on landscaping for a business? And does it even really matter what the outside of your business looks like?
Most people are out of their depth when it comes to understanding commercial landscaping. They know it's necessary, but aren't sure how to go about it, how much money they should budget for construction and maintenance, and what is most important when it comes to commercial landscape design. We'll take you through the basics you need to know, like how to budget for commercial landscaping services, what to consider in your business landscaping plans, why it's important, where to find inspiration, and how to hire the right professionals for the job.
Commercial Vs Residential Landscaping
While commercial landscaping and residential landscaping have some similarities, there are also a lot of differences. Sure, the end goal of both is to create beautiful spaces outside of a building, but their ultimate use and purpose is different. While residential landscaping focuses on privacy and recreational usage, commercial landscaping must allow for foot traffic, provide easy accessibility, and be generally low maintenance.
What if the front of your favorite restaurant looked like your front yard? While it may be beautiful, it would likely be harder to get into, and maybe even impossible for people with mobility issues. Plus, there would probably be more to maintain. You can see how the needs of both spaces are different, so it's best to use someone who knows the ins and outs of commercial landscaping services to design your commercial spaces. Likewise, you want someone who is familiar with residential landscaping to design your residential outdoor spaces.
Whether you need to do some landscaping for business, or for your home, it can be helpful to use a residential or commercial landscaping company that can provide you with the expertise of landscape architects, landscape designers, and landscape service professionals. What's the difference between those three? A landscape architect is licensed by the state and typically plans and designs the difficult structural aspects of a project like retaining walls, irrigation and drainage, service lines, lighting, entrances, and parking. These things are especially important for commercial landscaping projects. On the other hand, landscape designers tend to be educated, but not licensed, and typically work on residential projects and specialize more in soft scapes. And landscaping service professionals? Well, they're the ones who do the work and bring the plans to life.
Some companies, like Big Rock Landscaping, provide you access to landscape architects, landscape designers, and landscape services. Working with a team of professionals will not only help you generate better commercial landscaping ideas, but it will ensure you have your bases covered and are considering all aspects of your commercial landscaping project.
Commercial Landscaping Costs
Commercial landscaping costs vary greatly depending on the type and size of the property, the type of work being done, and whether or not there is existing landscaping already in place. If you are trying to put together a commercial landscaping budget for your business, here are the areas you'll need to make sure you include:
Safety:
This simple budget item is one of the most important. Taking care of cracked or raised sidewalks, fallen tree limbs, debris, sunken sprinkler heads, broken pavement, or other elements that are potentially hazardous will save you money in the long run. Not only that, but no business wants to be responsible for injuring their customers, clients, or employees. Regularly assess your property to ensure there are no safety concerns, and immediately take care of any you find.
Maintenance:
Once your landscaping is in place, commercial landscaping maintenance will take up the bulk of your budget. In fact, even with low maintenance commercial landscaping, it will likely account for more than half of your yearly landscaping budget. Maintenance costs to consider include regular items like water and mowing the lawn, but there's more to it than that. It also includes seasonal clean up and planting, tree care and pruning, holiday decorations, fertilization, and winterization.
Irrigation:
Most people don't think about their irrigation systems until they need to be fixed or replaced. Spending money to regularly maintain, repair, and upgrade your system is not only cost effective, but it will likely save you the headaches (and expense) of facing an emergency irrigation problem at some point.
Renovation/Enhancements:
Unfortunately, commercial landscaping isn't a set it and forget it kind of deal. As the face of your business, you want your landscaping to stay fresh and current. Set aside some of the yearly landscaping budget to perform any renovations or enhancements that may be needed.
Emergencies:
You can't foresee storms, natural disasters, accidents, and other emergencies, but you can prepare for them. Some of your landscaping budget should be earmarked for emergencies so you're not caught unprepared.
If your business is in need of commercial landscaping, you may be concerned that you don't have the money to hire a commercial landscape architect to help with your project. The reality is that a professional landscaping firm can actually save you money. They can take your budget and design a space that makes the most of every dollar. On the other hand, trying to go it alone can leave you with lackluster results.
5 Reasons Why Professional Landscaping Is Vital For Your Business
There are a million sayings that talk about the importance of making a first impression, and probably just as many that harp on the importance of residential curb appeal. You can take all of those and apply them to the appearance of your business as well. Here are a few reasons why clean commercial landscaping is vital for your business.
1. First Impressions
They say you never get a second chance to make a first impression, and this is true for your business as well. Before your customer even walks in your front door, they are forming an opinion of you and your business. As people pull up to your business, they will associate what they see with you. If you don't take the time to care for the outside appearance of your office, they may assume you don't care about details in general. It's critical that customers have a pleasant experience and like what they see when they approach your business. Just as curb appeal sells real estate, beautiful commercial landscaping can help paint your business in a favorable light.
2. Last Impressions
Not only is your landscaping the first thing people see when they visit your business, it's also the last thing they see as they leave. Psychologists say that the last impression is as important as the first impression, because our brains most prominently remember the first and last items in a series. So as people exit your business, they will associate what they see with the quality of your business and their experience with it.
3. Safety
Poor commercial landscaping can be a liability. Cracked sidewalks, parking lots that are in disrepair, sunken sprinkler heads, and scattered debris don't just look bad, they can all be potential hazards. You have enough to worry about in your business. You don't need to add injury claims to your list too.
4. Employee Satisfaction
Providing employees with safe and convenient places to park and a pleasant outdoor space to decompress in has been shown to increase employee morale and satisfaction. There is a perception that businesses that take the time to provide a clean and safe work environment care more about their customers and employees. This leads to improved productivity and loyalty, and higher employee retention.
5. Reduced Energy
A well-planned commercial landscape can actually reduce energy costs. Bushes and shrubs close to the building can help with insulation to regulate temperature year round. Planned wind breaks can improve the efficiency of your heating and cooling systems. Trees can provide shade to cool down the area. And strategic placement of plants can save on water costs.
Can you have a successful business without investing in commercial landscaping? Sure, it's possible. But when you think about the money you spend in commercial landscaping costs as an investment, you will begin to see that it's one that will pay off for your business.
7 Commercial Landscaping Ideas For Your Business
It can be hard to catch the vision of what your business landscaping could look like. That's why we've rounded up some of our favorite commercial landscaping design ideas. As you look through these business landscaping ideas, consider what a fresh outside could do for your company.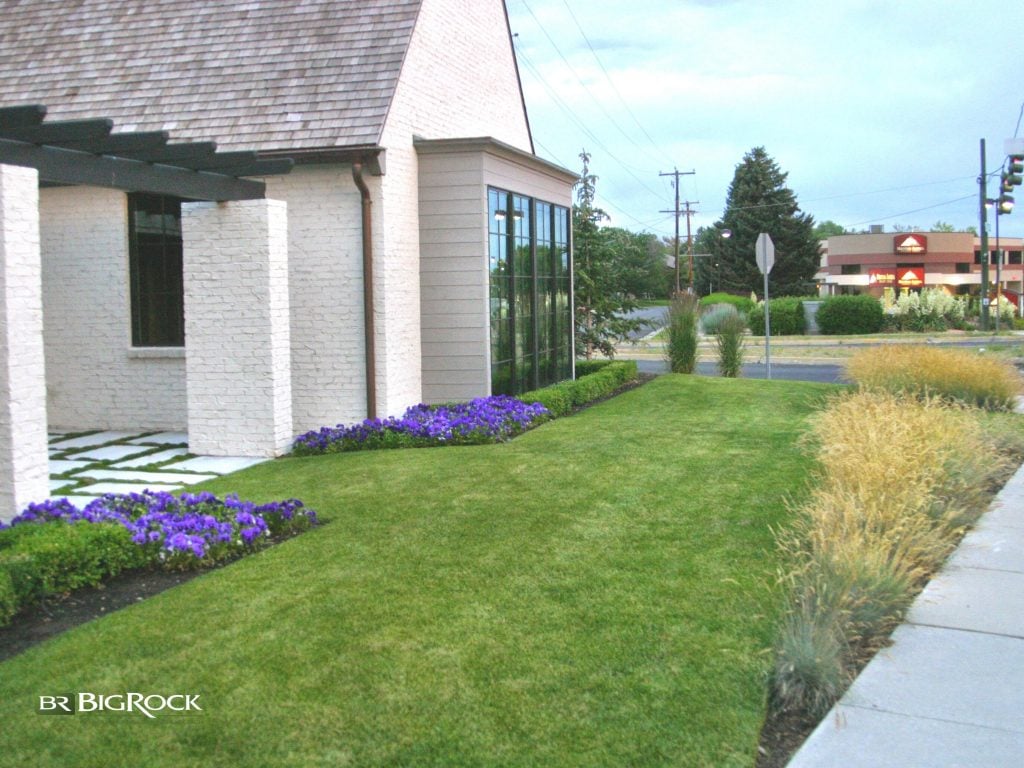 Thinking Of Hiring For Commercial Landscaping?
There's a good chance that you're not a commercial landscaping expert. So when you're considering hiring a professional for commercial landscaping services, how do you know if the company is truly good at what they do? It's ok to ask some tough questions of the company. Remember, you're hiring them, it's not the other way around. Here are 11 questions you should ask a potential commercial landscape contractor:
Do they offer the services you need?
Are they qualified?
Do they have certifications and proper licensing?
Do they have the proper equipment for your job?
Do they have enough staff to take you on as a client?
Will they give you a designated account manager?
Can they provide references?
Does their portfolio reflect a style/design you like?
Are they insured?
Will they be performing the services, or subcontracting them out?
What does their bid include?
When you find a commercial landscaper you feel is a good fit, you can confidently move forward to design or maintain your commercial space.
Big Rock Landscaping For Your Commercial Landscaping Project
If you're looking for a commercial landscaper, give Big Rock Landscaping a call. We have the experience, expertise, and the process to manage your project from start to finish. Our award-winning firm has frequently been recognized for our customer service, as well as for our finished products. We offer a variety of services and can help the outside of your business measure up to the services you offer inside.