Residential Hardscape Ideas and Why You Might Love the Benefits
Hardscaping is not a new concept, but the term is becoming more and more industry-standard because of how many people are opting to implement residential hardscape ideas in their own homes. But why are they? What is it about hardscaping that makes it so appealing? Do you wonder what hardscaping really entails? Have you seen examples of hardscape inspiration that you think might work for your front yard? And who can you trust enough to let in your backyard and get the good hardscaping done?
Don't worry—we're hardly about to leave you hanging. (No?) We've got the answers to all the above, plus everything you'll need to consider before you start hardscaping at home and a list of hardscaping services that might surprise you.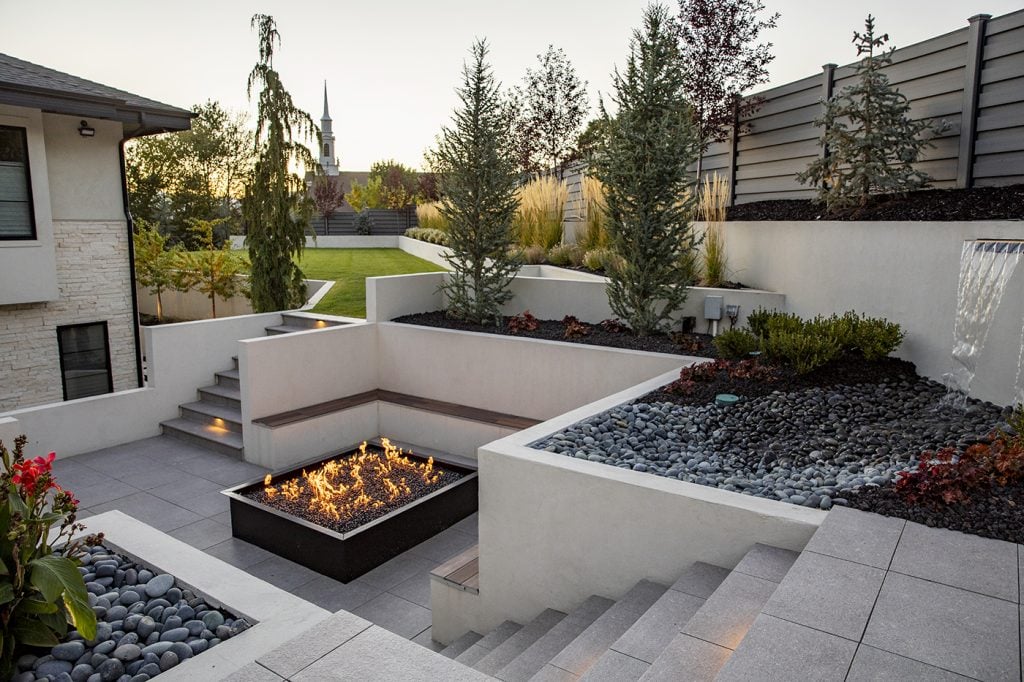 Hardscaping 101
We're all familiar enough with the term "landscaping." But did you know that landscaping is also often referred to as softscaping? Knowing that can give you a clue as to what hardscaping entails. If landscaping involves all the soft, living elements in your yard, hardscaping is everything that is, well, dead and hard. Okay, not exactly dead—but certainly not alive.
Often when people think of hardscaping, they imagine simple and low-maintenance rock yards, likely without much visual appeal. But good hardscaping design goes far beyond that. Intricate patterns, levels, and colors can make a purely hardscaped yard come alive in a way completely unique to solid, inanimate elements. And yes, it'll likely be simpler to maintain than a traditionally landscaped yard.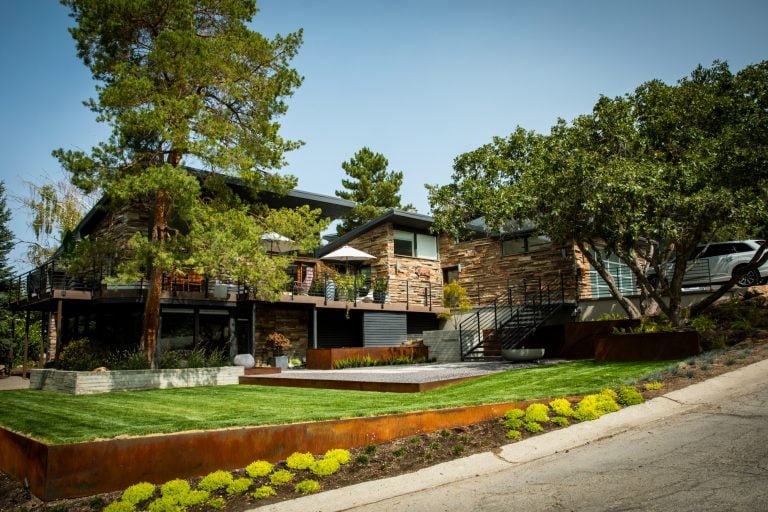 But hardscaping is more than just rocks, too. It involves things like cement pool decks, brick patios, stone retaining walls, gravel walkways, iron arbors, and even wooden benches. And while going all out on a completely hardscaped yard is a good option for some, most often hardscaping and landscaping elements are blended together in one space with well-balanced synergy.
So what if you want your back or front yard to lean a little more toward the hardscaping end of the spectrum? What should you consider before thinking up more beautiful residential hardscape ideas?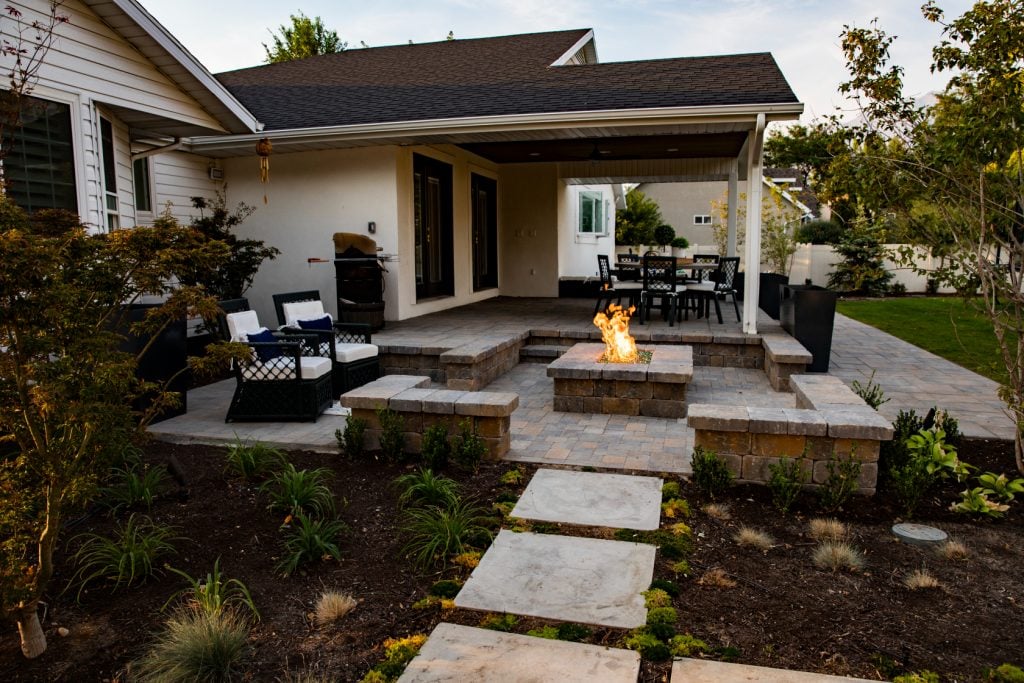 Before You Begin Hardscaping Your Property
As with any new home project, you have plenty to consider before jumping in and starting to implement residential hardscape ideas.
1. Examine The Benefits Of Hardscaping
Some of the benefits of hardscaping are:
You can guide water runoff and protect your home and living landscaping elements from excess erosion.

You may have lower maintenance and watering costs.

You could increase usable outdoor space.

You can create visual impact and even highlight your landscaping with the right residential hardscape ideas.
2. Consider The Cost
While maintenance and watering costs may be lower for hardscaping, you need to think about what types of hardscaping elements you'll want in your yard and the ultimate cost of accomplishing the design you're going for. Requesting a bid from a certified and experienced hardscaping company is a good place to start. But another cost to consider? If you plan on leaning heavily on hardscape design, think about the cost of having fewer living landscape elements in your outdoor space and how that might affect you and your family.
3. Is Hardscaping A Good Option Where You Live?
Hardscaping can make a lot of sense anywhere, but particularly dry regions are essentially made for it. Not only does it work with less water, but hardscaping can really complement architectural designs found in certain parts of the country.
4. Will You Go All Out?
Where do you want to make your residential hardscape ideas come to life? Are you going to make every part of your front, side, and back yards rigid and lifeless? Or do you want to pick a particular space and implement the design you've been dreaming of there? Should you consider adding a bit of horticulture to your mostly hardscaped yard?
5. What Are Your HOA Requirements?
If you're a member of a homeowners association, you'll need to check in to see what you are and aren't allowed to implement as far as hardscaping is concerned. Many HOAs want to maintain a "standard" look in the neighborhood that hardscaping may not fit into.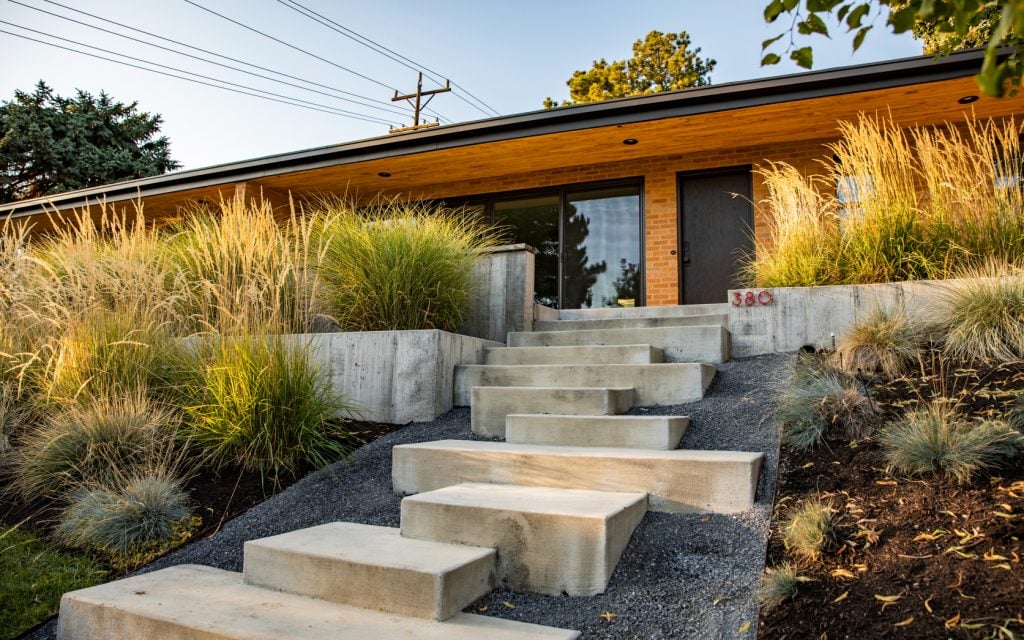 Hardscape Ideas For Your Front Yard
Hardscaping design ideas for your front yard can be tricky. It's the first impression most people receive of your property and what you'll see every time you come home as well. Here are several things to be mindful of when adding hardscaping to your front yard:
Is there existing greenery (trees, shrubs, grass) that you want to maintain? How will adding hardscaping to your front yard affect the living elements you choose to keep?

Will you create a path to your front door? If so, out of what material—brick, pavers, concrete, etc.

If you have a front porch or stoop, do you want to highlight them with beautiful hardscaped steps or pillars?

Does your front yard have a slope? Do you want to flatten it out by implementing a rock retaining wall?

What other hardscape design ideas do you want in your front yard? Water features, raised flower beds, paved driveways, and even custom-designed mailboxes are residential hardscape ideas that can enhance the curb appeal of your home. 

Is there some kind of visual separation between your front and back yards? If not, how will you make your hardscaping and landscaping work together to create that separation or maintain some sense of flow?
What other unique considerations does your front yard necessitate?
Hardscape Ideas For Your Backyard
Hardscaping ideas for the backyard are essentially innumerable. Creating your own little oasis with a combination of hardscaping and soft landscaping will be as unique a project as you are a person! But generally speaking, there are a few thought starters you should consider:
How big is your backyard? Will you be breaking it up into smaller focal points or will the hardscape and landscape design center around one visual element?

Will your backyard hardscaping design ideas include a pool? What kind of pool deck will work best with your home's existing design?

Will you implement some other kind of water feature in your backyard? A fountain or man-made pond or stream?

Does your family gather in the backyard? Will you need a hard seating area? Do you prefer a paved or brick patio on which to put outdoor furniture? Would you rather opt for amphitheater seating around an outdoor fireplace or pit?

Will you want to create some sort of shelter from the elements with your backyard hardscaping design ideas?

Does your backyard have a slope? Implementing a rock retaining wall or stair-stepped yard levels are both great residential hardscape ideas when working with uneven ground.

Do you want to create a flower or food garden? Will you want raised beds or a paved pathway between crops?

Do you have existing fencing to work around/with or will you be installing new fencing as part of your backyard hardscape?

How will any of your hardscape designs affect any neighbors you may have?

Is there some kind of visual separation between your back and front yards? If not, how will you make your hardscaping and landscaping work together to create that separation or maintain some sense of flow?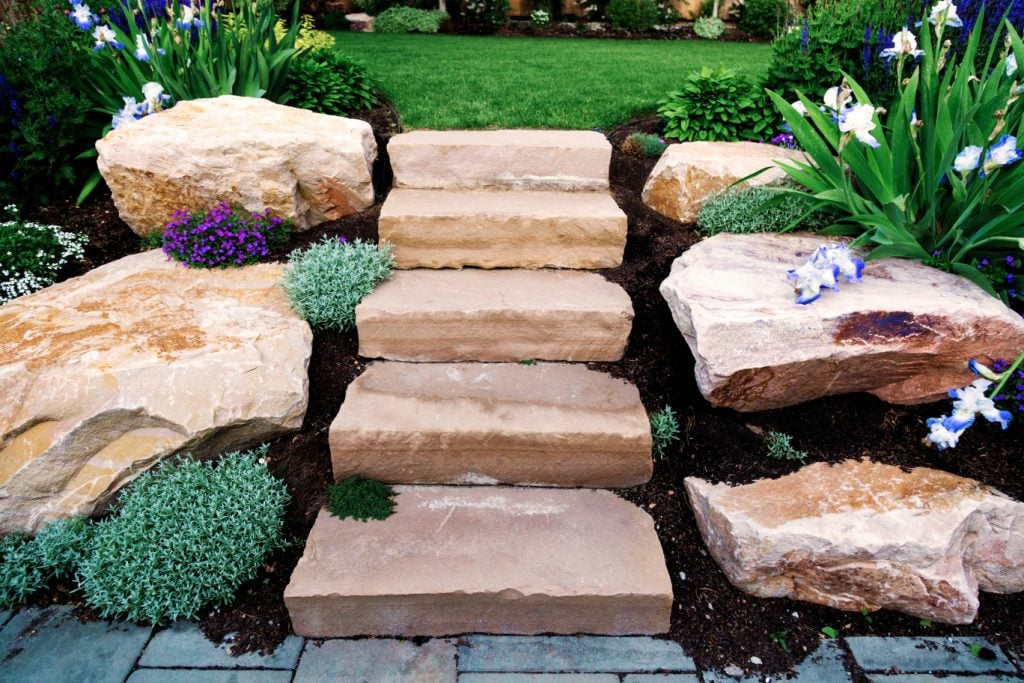 Without impeccable design sense, an extensive hands-on skillset, and proper installation, hardscaping can go awry quickly, and you don't want that to happen to your own yard! Finding a professional landscaping company that also specializes in residential hardscaping is an incredibly smart option—and we're not going to make that hard on you.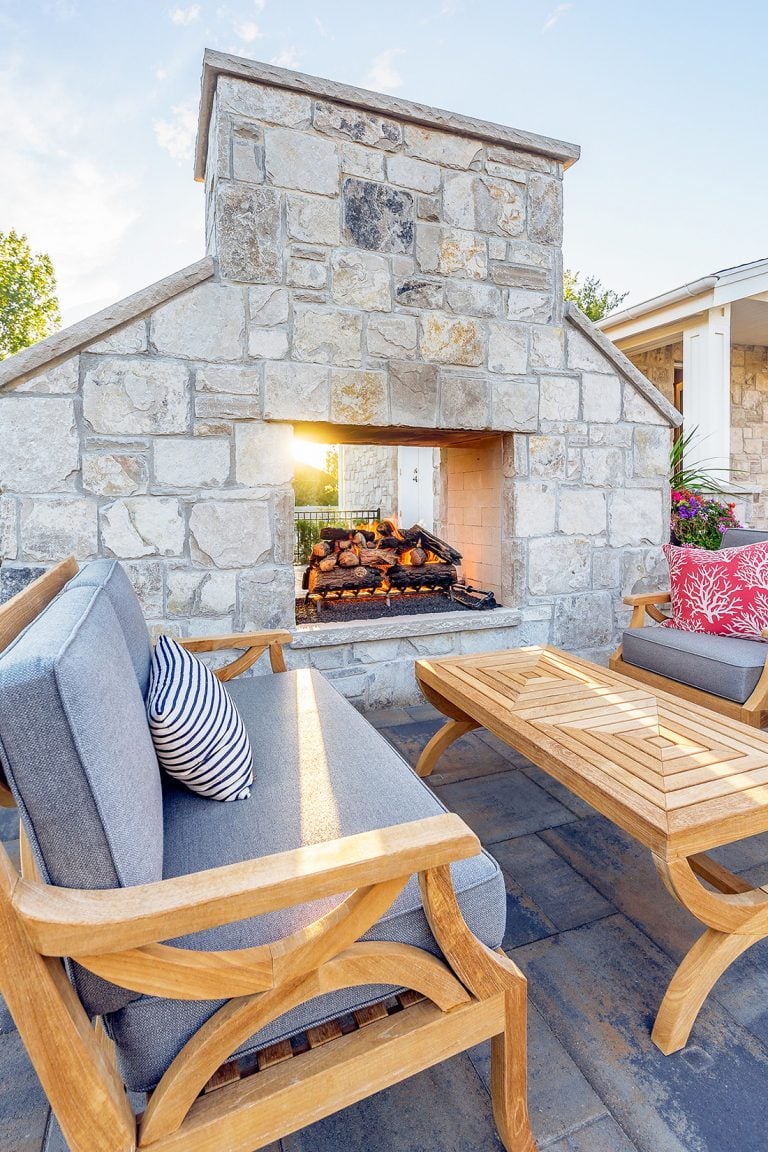 Big Rock Landscaping For Your Residential Hardscaping Needs
When it comes to residential hardscape ideas, Big Rock Landscaping has the experience, expertise, and the process to manage your project from start to finish. Our firm has frequently been recognized for our customer service and we're excited to work with you in making the most of your home's land- and hardscaping potential. Take a look at the residential landscaping services we offer—we're talking about everything from decking and fencing to masonry and decorative concrete—and our award-winning finished products to get inspired.
If you have a residential landscaping or hardscaping project you've been thinking about, give us a call and see how we can help you get started today!