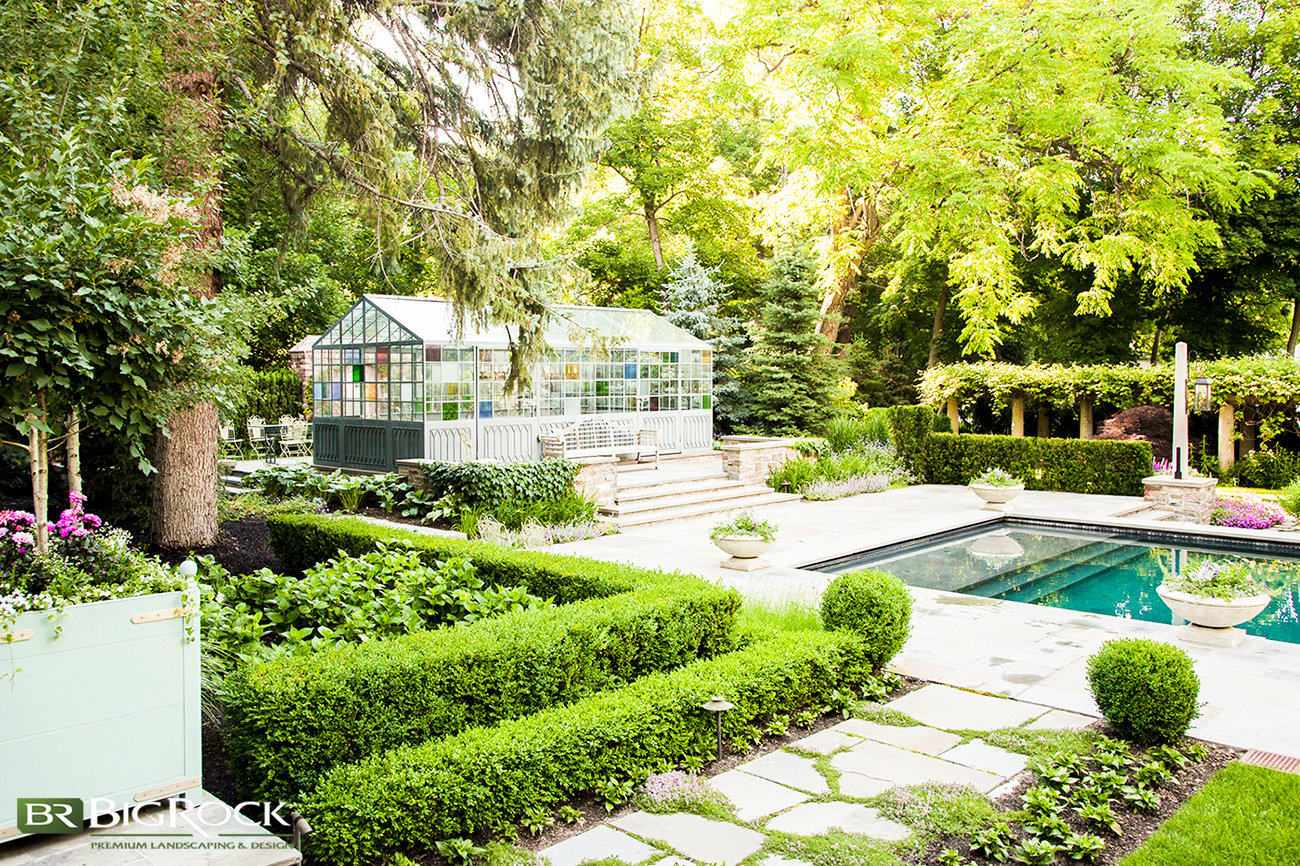 9 Things to Consider Before Starting a Backyard Landscaping Project
Your backyard should be a place to escape to, not a place you want to run from. It should be a place where you want to spend your spare time relaxing and gathering with your family and friends. If your space isn't currently meeting your needs and could use some backyard landscaping help, then keep reading. After spending 30+years in the landscaping business, we've come to know a thing or two about creating backyard sanctuaries. We've put together a few of our basic backyard landscaping tips and gathered inspirational backyard landscaping ideas to help you see the possibilities that lie within your yard.
What You Need To Know About Backyard Landscaping
Before you break out your shovel and take to your backyard landscaping project with a burst of enthusiasm, there are a few things you should know. We like to start with 7 simple things you should consider for your landscaping project, whether you're looking for small backyard landscaping ideas, or large backyard landscaping ideas, these same rules apply.
Make Long-Term Plans
Backyard landscaping isn't just about what looks good right now. You have to when planning your yard, you need to think about the long game. Consider what kind of maintenance you want to commit to. Will you be doing the yard work yourself, or hiring it out? Not only that, but you'll want to take into account the growth rate of what you plant, and what size everything will be when it reaches maturity. That way you can be sure to leave enough space for everything to grow and fill in over time.
Turn Up the Flow
No, we're not talking about water. Although you should definitely water your yard, that's not what we mean in this case. When we say flow, we're referring to the idea that your yard should be broken up into different "rooms," or areas that serve different purposes. And just like you want the rooms of your house to work and flow together, your yard should do the same. Adding walkways or paths between areas, creating curves in garden beds, or using similar plants in each area are a few of the ways you can achieve a more cohesive feel.
Add Some Diversity
Whether in your backyard landscaping or in life, diversity is a good thing. Different types of plants, in various shapes and sizes, will give your yard depth, texture, and interest. Plants should be grouped in clusters of odd numbers and layered with varied shapes, sizes, and heights throughout the yard.
Consider the Sun
When it comes to backyard landscaping, plants and people generally want two different things. Plants want to soak up the sun, while people prefer to hang out in the shade. As you pull together backyard landscaping ideas, think about where the sun hits naturally in your yard during any given season. Then you can plan your plants and structures like patios and pergolas to take advantage of the existing sun and shade and provide more of both where it's needed.
Just Because You Can, Doesn't Mean You Should
This rule is possibly the most important one for simple backyard landscaping. Just because you can do something, doesn't mean you should do it. Maybe you have the space for a pool, a tennis court, or a playset, but that doesn't mean it's a good idea for your budget or specific situation. That's where working with a landscape design company comes in handy. They can look at your space, your needs, and your wish list, and help you put together and execute backyard landscaping ideas that you'll be happy with now, and in the future.
Consider Privacy Factors
What you do in your backyard may not stay in your backyard, but it should be a space where you can enjoy a bit of privacy. Landscaping can help shelter your yard from the outside world. Whether you install privacy fencing, hedges, tree lines, or strategically placed pergolas, patios, or outbuildings, consider ways you can make your backyard a private getaway.
DISCOVER: Who Is Big Rock Premium Landscaping And Design?
Balance Function And Aesthetics
A yard that is completely functional can lack style, charm, and beauty. On the other hand, if you design a backyard based on visuals alone, it may not meet your needs. Your backyard landscaping ideas should be a mix of form and function, usefulness and aesthetics. Start with the end in mind and decide how you want to use the space. Figure out what is most important to you, and then make your design decisions based on that.
Bang For Your Buck
We've planted a lot of trees in our day, but we've yet to find one that grows money. That being said, small budgets can still yield big results, and big budgets spent unwisely, will fail to create the backyard of your dreams. (Refer back to tip #5: Just Because You Can, Doesn't Mean You Should). Approach your backyard landscaping plan with your budget and must-haves in mind. If your budget is on the meager side, you may need to consider alternate materials or get creative with your ideas. If you have a large budget, think about what would make the biggest impact and bring you the most joy.
Safety First
We often plan for the eye and forget that the backyard has potential dangers. If you have children who will visit your backyard, decide how you will protect them from any water feature, pool, spa, fire pit, trampoline, or other potentially dangerous elements. If you have pets, be aware of plants or other elements that could harm them. You don't want to spend time in your backyard avoiding danger, or worrying about others. Plan safety measures to make sure your backyard landscaping is safe for all.
With these ideas in mind, you can start to make a plan for your perfect backyard.
15 Backyard Landscaping Ideas To Get You Excited
Need some backyard inspiration? Maybe you're looking for backyard landscaping ideas on a budget, or want sloped backyard landscaping ideas. Perhaps backyard landscaping ideas with a fire pit are more your thing. Here are a few Big Rock Landscaping projects that can help get your creative juices flowing.
We used reclaimed lumber and floating stepping stones to bridge the space across the infinity edge pool to link this rustic guest house and the main modern mountain house.
Enjoy al-fresco dining no matter the weather. This outdoor dining room for this traditional, Tudor style home features a brilliant chandelier, and is surrounded by natural set bluestone with thyme and moss growing through. We matched new plantings with the older, taller existing trees and vegetation to create a feel that the space had always looked that stunning.
We opted for a lower Hopsie Spruce fence at this home to provide privacy without blocking the view of the Timpanogos mountain. The retaining walls are covered with a fine plaster that matches the house and gives the feeling that the yard and house were built at the same time. The sheer descent waterfalls, tread lights on the stairs, and custom-built steel fire pit with built-in seating make this yard a pleasant place to be day or night.
The elements in this simple backyard landscaping mirror those of the mid-century modern home. We utilized Trueboard form concrete retaining walls, natural steel retention walls, and raw steel planter boxes. The retaining wall was built around the existing tree to give it the feel of a planter box.
We used different elevations to create endless usable space in this previously sloped yard. The retaining wall has planter boxes and seating built in to make it beautiful and functional as it lines the area of the patio and outdoor kitchen on the back deck. The horizontal cedar slat fence is unique and provides privacy, while still allowing glimpses of the outside world.
This backyard landscaping was built for fun. A water slide and Browns Canyon sandstone jumping ledges and rocks are intermixed with natural plants to create an area that is beautiful to look at and endlessly entertaining.
This backyard had an existing pool house, so we built a raised gazebo on the left to match its style. We also added a shade pergola for extra seating, and a curved Belgard block seat with a back that surrounds the fire pit. The pool has a 12" deep grecian sundeck with a bubbler. Truly, this backyard has something for everyone, and is an entertainers dream.
A limestone chiseled edge cap finishes off this fire pit filled with iridescent raspberry blue fireglass. Pavers lined with grass make the space both usable and warm, as do the boxwoods and lilies that fill the retaining wall planter boxes.
Simple can be beautiful. We elevated the existing landscape of this traditional backyard as we built around the natural scrub oaks and created a two-tone wall by adding to the existing structure.
We matched the curve of this yard's natural elevation as we created a big patio off the back of the family room and kitchen. We then added stairs to make the elements beyond feel inviting and act as a funnel to move people deeper into the yard.
The existing landscaping transitions beautifully into the new in this backyard with a natural English garden feel.
Part of the beauty of this yard is the way it incorporates items, like the large urn, that were important to the homeowner.
The hydrangeas, lavender, boxwoods, hicks yews, and roses in this lush backyard landscaping are everything you would expect to see in a charming Tudor home's backyard. We added repurposed antique brick walls and terracotta pots to complete the look.
A massive tree was hampering the look and feel of this outdoor living space, so we removed it and lined the back wall with hornbeams instead. After installing charcoal Belgard Melville Plank for the outdoor patio, a custom steel fire pit with iridescent raspberry blue raspberry fireglass, and incorporating a small sports court with an adjustable Dominator hoop, this space became functional and beautiful enough to draw attention away from the utility pole.
Big Rock Landscaping For Your Backyard Landscaping Needs
If you need help with your backyard landscaping project, contact Big Rock Landscaping. We offer design, installation, and maintenance services for residential and commercial properties in Utah and the Intermountain West. We have the expertise, the artistic tools, the attention to detail, and unparalleled customer service. Most of all, we're committed to helping you get the backyard of your dreams.
Contact us today to find out how we can help turn your backyard into a space where you want to gather.