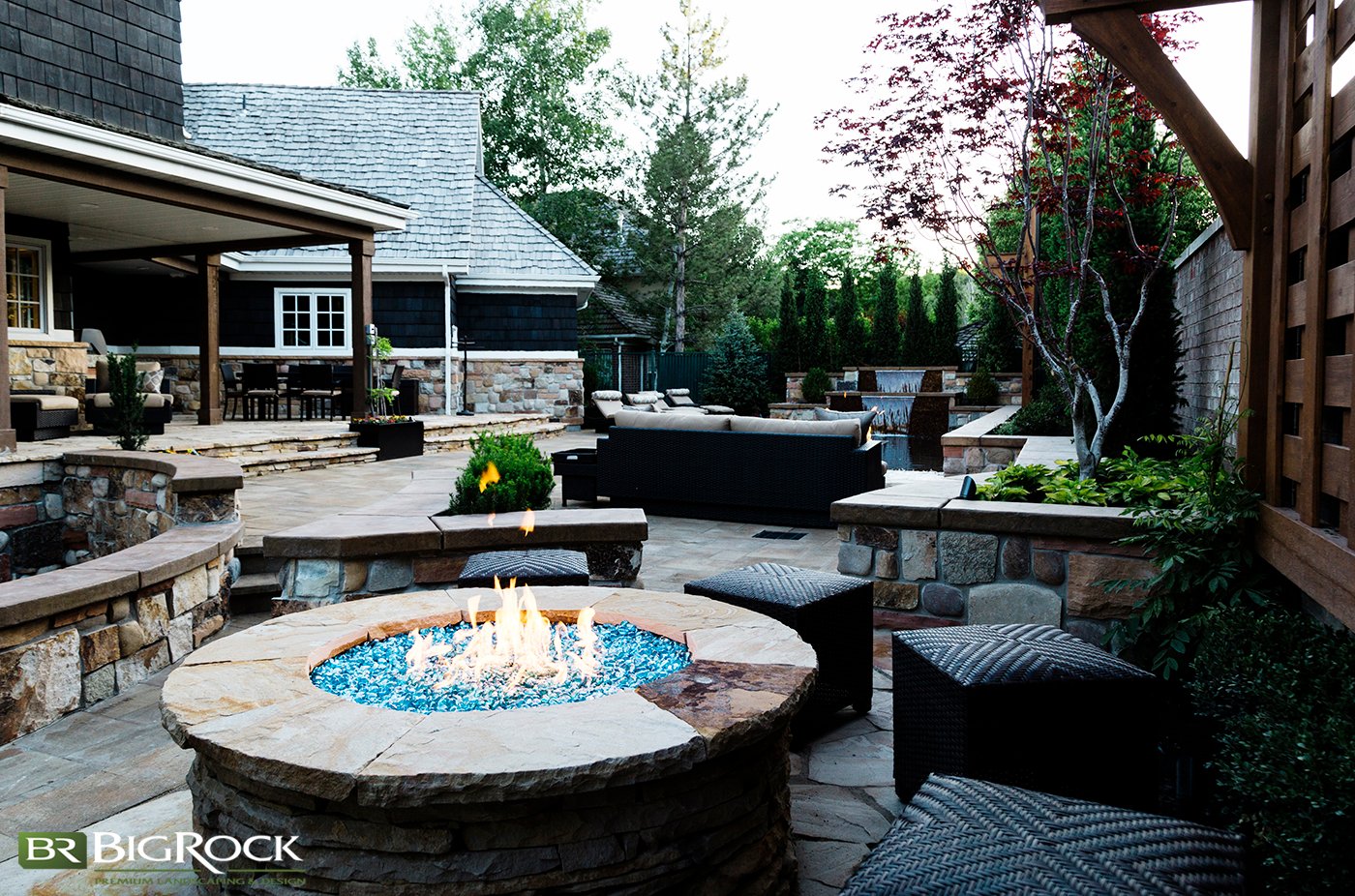 Outdoor Living: Embracing Your Yard All Year Long
Frank Lloyd Wright, one of the greatest domestic architects of the twentieth century, once said, "I go to nature every day for inspiration in my day's work." Does that sound appealing? We love the idea of making nature a part of your personalized space. Now, more than ever, people around the world are looking to embrace their surrounding landscape and make it truly an extension of their living spaces, not just a place to park a trampoline or plant a swatch of grass. Nor should your outdoor living area be just for show or a place to plant a garden, but a space where family can eat, read, chat, socialize, cook, or even work. 
The American Institute of Architects (AIA) noted in a 2014 survey that outdoor living spaces ranked as one of the most popular rooms among homeowners. If you're like most homeowners, you probably spend a lot of time outdoors. Whether you're barbecuing with friends, reading in the sun, or just relaxing in the garden, having an outdoor space that's perfect for your needs is essential. It's important (and possible!) to create an outdoor living area that's just right for you–from choosing the right furniture, to adding the right plants and fire features. Keep reading for tips and advice on how to make your yard into a haven of relaxation and enjoyment. 
Outdoor Living: What You Need To Know
Outdoor living is all about making your outdoor space just as functional and appealing as your living spaces that are surrounded by four walls. So what, exactly, would you consider outdoor living space? When we think about outdoor spaces, we think about things like pergolas, pools, water features, patios, fire pits, decking, as well as typical outdoor window dressings like lighting, plants, and furniture. Not sure how you can transform your yard into an outdoor living space that will delightfully function to meet your needs? Leave it to us. We've got a great portfolio of outdoor projects that are guaranteed to get your creative juices going. 
Fall In Love With Your Yard All Over Again: 15 Incredible Outdoor Living Ideas
Don't Forget The Hardscape
Although often overlooked, hardscape (in the forms of walls, driveways, decks, or patios) is an essential part of any outdoor living space. Not only is hardscape extremely functional, versatile, and aesthetically pleasing, but it comes in a variety of materials, such as wood, stone, concrete, brick, etc.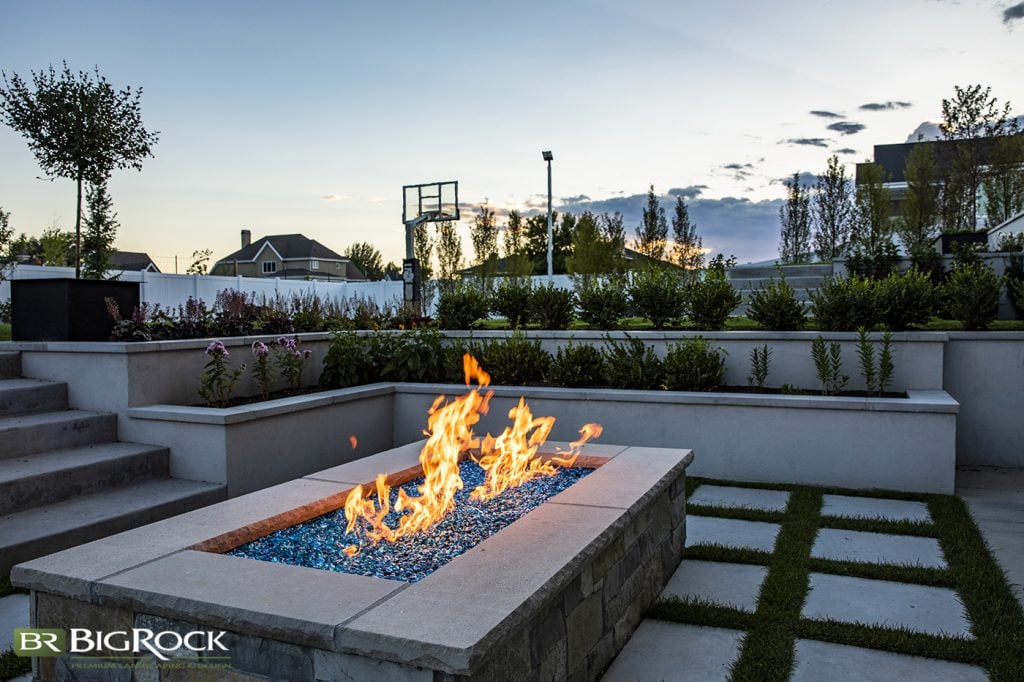 Make A Splash
There's just something special about water. Not only can a pool add value and aesthetics to an outdoor living space, but a pool is also a great way to relax and socialize with family and friends. Their appealing, upscale vibe is almost irresistible.
Light It Up
Lighting, like frosting on a cake, is the finishing touch on any good creation. A well-lit backyard is a safe backyard. Quality lighting, that is well-placed, can create a peaceful, relaxing mood,while also highlighting special features or lighting up those hard to see spaces that would deter criminals. Don't be afraid to go bold with lanterns, wall sconces, hanging pendants under covered porches, or outdoor lamps. This is an area where you can take some artistic license and let your personality shine through.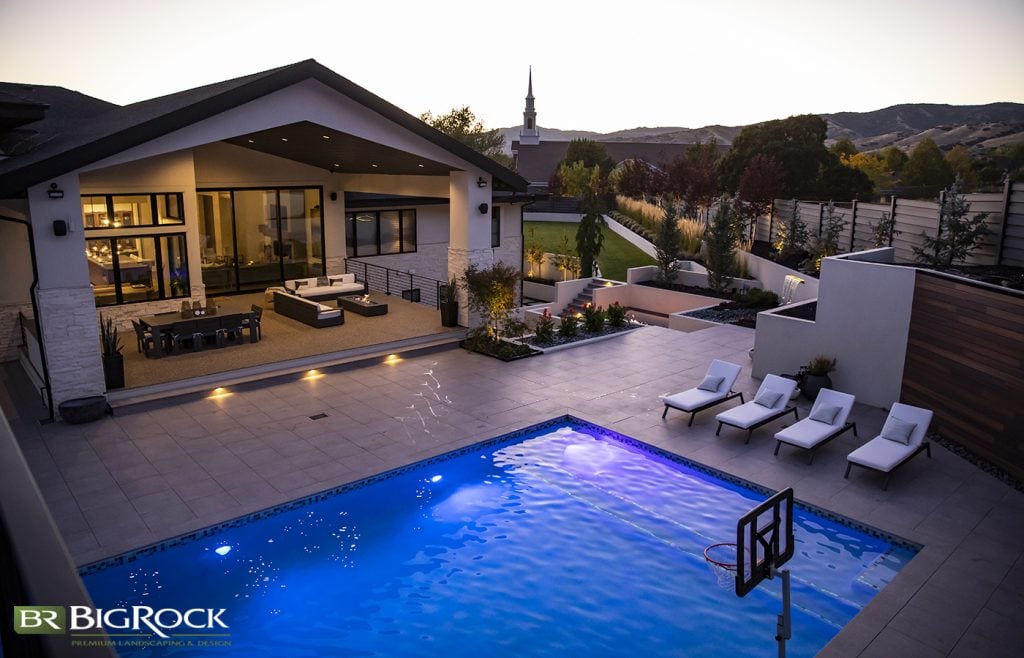 Go Green
While some homeowners tend to go heavy on the hardscape, it's essential to not overlook the value and balance that plants can bring to your outdoor living spaces. Plants bring natural beauty, texture, and balance to any outdoor space. But they are more than just a pretty face. And they offer amazing health benefits as well. It's been said that just one look at a plant lowers your heart rate. While that may or may not be true, an undeniable fact is that plants clean the air we breathe by absorbing toxins and producing oxygen. They are nature's air purifiers, and they should have a big footprint in your outdoor spaces.
The Best Seat In The House
Whether you are throwing a dinner party, or sitting by the fire or poolside with family, furniture is an absolute must when designing any outdoor space. With many styles and materials to choose from, it's easy to find furniture that fits your personal aesthetic. While furniture can be part of your hardscape, like built-in benches around the fire pit, there are also many places that call for standalone furniture, like tables and lounge sets.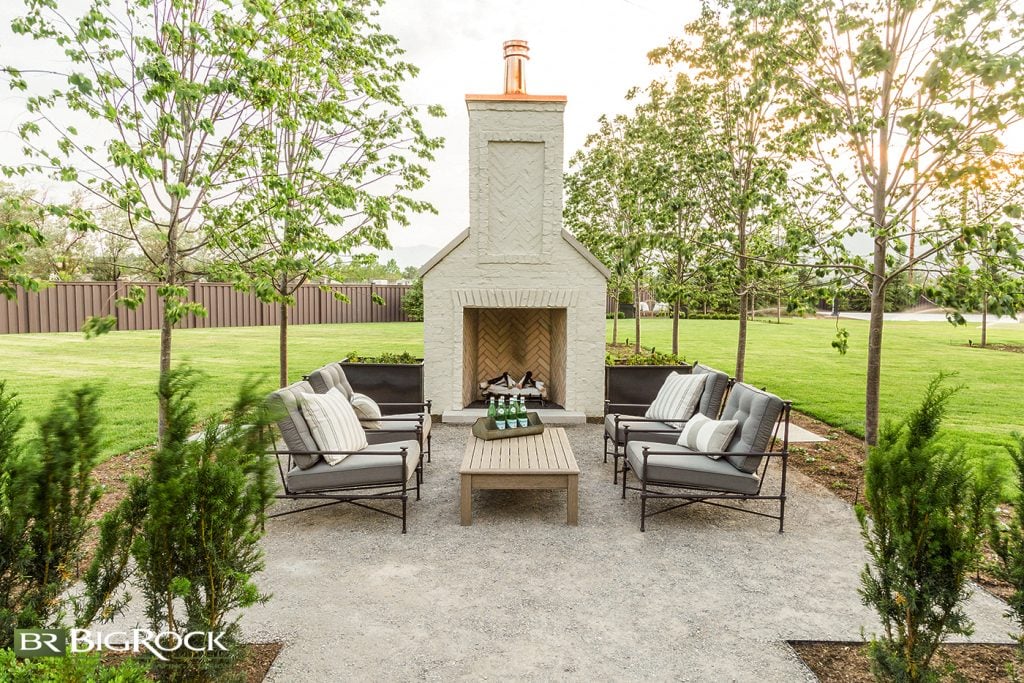 Create Creative Covered Spaces
If you are questioning the importance of a pergola within your outdoor space, let us cast our vote. For many large, flat spaces, adding a Pergolas is the just the right finishing touch. Pergolas help you enjoy your home year-round by providing year-round protection. Whether it is shielding you from harsh summer rays, casting welcome shadows on blistering summer days, or adding warmth during the cooler months, a Pergolas is always a great idea. They come in many shapes and sizes and the good news is that almost any space can accommodate one. For privacy and a visual design element, consider adding a canopy or drapes.
Turn Up The Heat
It goes without saying that an outdoor kitchen can expand your living space. Many home designs opt for sliding glass doors between the two to seamlessly integrate them. Whether you are using your outdoor kitchen to grill up typical summer fare like hotdogs and hamburgers, or going a bit more sophisticated with brick oven fired pizzas, an outdoor kitchen is a must.
Create Multiple Gathering Spaces
Everyone loves a crackling fire under a starry summer night or a cool fall evening. Fire pits have come a long way from the stand alone version you could buy at most hardware stores. Built into your existing landscape, they can be visually appealing and add another great space to gather family and friends. The options here in form, function, and materials are limited only by your access to time, money, and your imagination!
Carve Out Separate Spaces
When thinking about your outdoor living space, it's important to create separate spaces within the landscape similar to a traditional home – without the four walls of course! Thinking about how spaces like living rooms, kitchens, and hang out spaces are used and flow within your home will help you organize your outdoor space. Adding different tiers will add visual interest and create the look of separate spaces.
Keep The Kids In Mind
While often conducive to work, your outdoor space is most like a place where relaxation and entertaining abounds. Part of this landscape could include areas that are meant for sports, like tennis or pickleball courts, or even a mini soccer field or trampoline area. These are great spaces for the kids to get their wiggles out while the adults catch up; however, you'll find that adults love these spaces as well. 
Cultivate The Green Thumb
Calling all you nature lovers out there! Try incorporating your garden among plants and shrubs that border your pool or patio areas. Not only is this a great use of space and function, but you get to admire your garden from more prominent areas of the house, not tucked back in some odd corner.
Hold The Phone
While it's certainly true that outdoor spaces lend themselves well to play and recreation, they can also work well as an outdoor home office. With the world economy changing the way we do work, there are more opportunities to work from home. Why not take advantage of your outdoor space? Lighting, furniture, access to power, and proper protection from the elements would be key to creating a successful outdoor office space.
Find Your Zen
Consider incorporating water features such as streams, fountains, waterfalls, or ponds into your natural landscape. Not only will they provide an ecosystem for winged creatures like butterflies and birds, but they can have a restorative effect on your body and mind. Being surrounded by nature can lower stress levels, improve your mood, and help you focus.
Take A Walk
Last, but not least, consider how a well-built and beautiful path or walkway can frame a space while making it an enjoyable way to get from one part of your yard to another. Again, materials and shape can vary greatly here. Let your creative imagination go wild! This doesn't have to be a boring concrete sidewalk. Make it interesting by adding lighting, border it by plants and shrubs, and use an interesting material that adds warmth and texture to its surrounding environment.
As you can see, there are many ways to make an outdoor space functional and beautiful. Outdoor spaces win big in the adaptability, entertaining, and strengthening family bonds categories. Don't wait any longer to enjoy these amazing benefits. 
Ready To Embrace Your Outdoor Living Space?
Big Rock Landscaping is dedicated to providing you with unparalleled landscaping services across the Intermountain West. Not only do we have decades of design experience and seasoned professionals, but we have a killer outdoor living portfolio that will knock your socks off. 
If you're thinking about expanding your living space to the outdoors, consider working with us. We have a proven process that is all about YOU. We have the expertise and resources to craft beautiful livable spaces in a natural outdoor environment. If designing and installing an outdoor living space seems daunting, let us do the heavy lifting. We love a good challenge. Contact us today to get started on transforming your outdoor space into your favorite space to be–all year long.