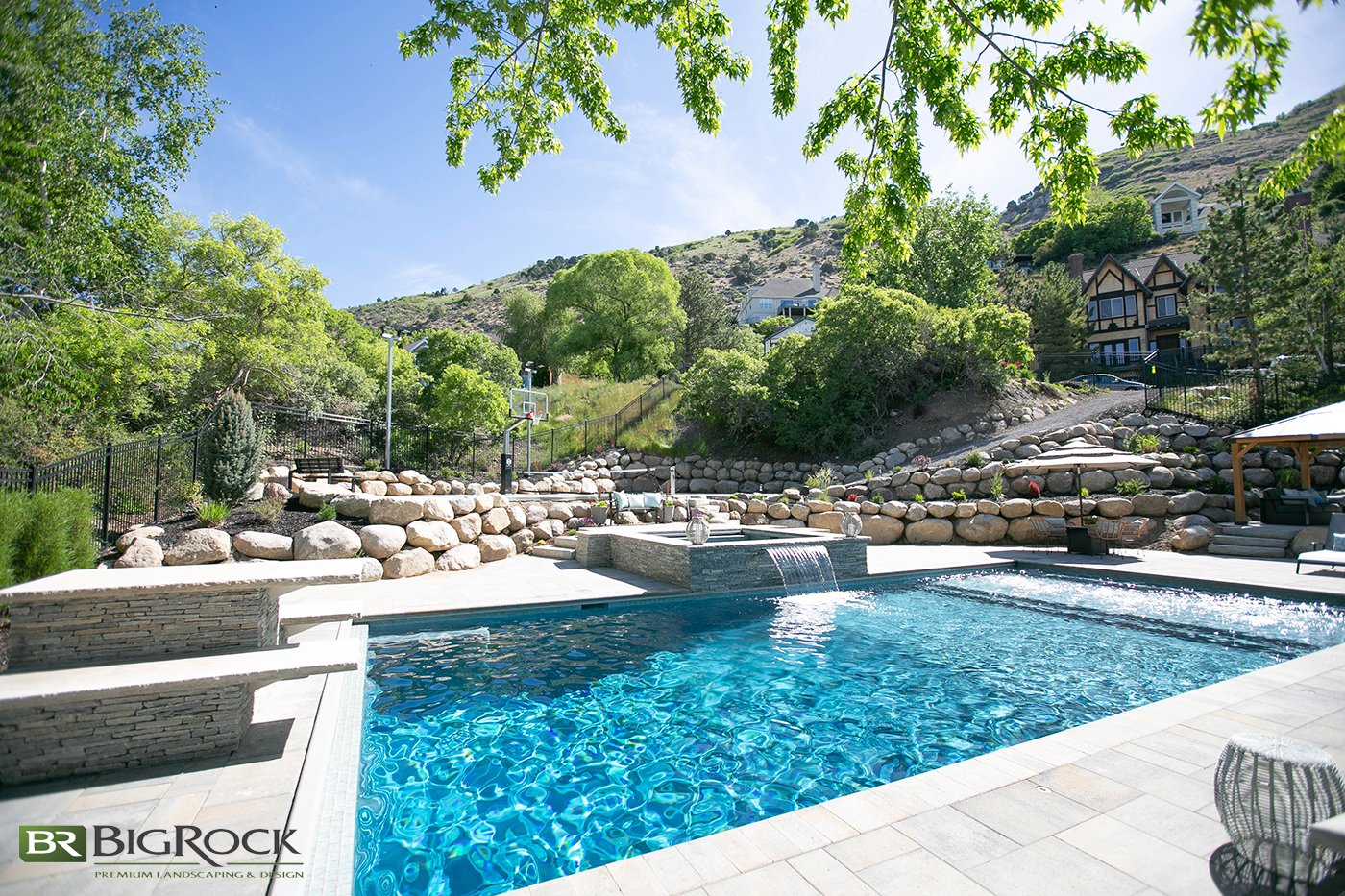 Building a Pool in Utah: Everything You Need to Know
Thinking about taking the plunge and building a pool in Utah? It's a big decision with a lot of things to consider. If you've been dreaming of pool parties and days spent lounging in the sun before taking a dip to cool off, but aren't sure if it's the right move for you, we're here to help. 
We will walk you through some pool FAQs, including pool install questions, pool design questions, pool maintenance questions, and more. These are the things you should be asking yourself so you know what to expect as you build the backyard water oasis of your dreams.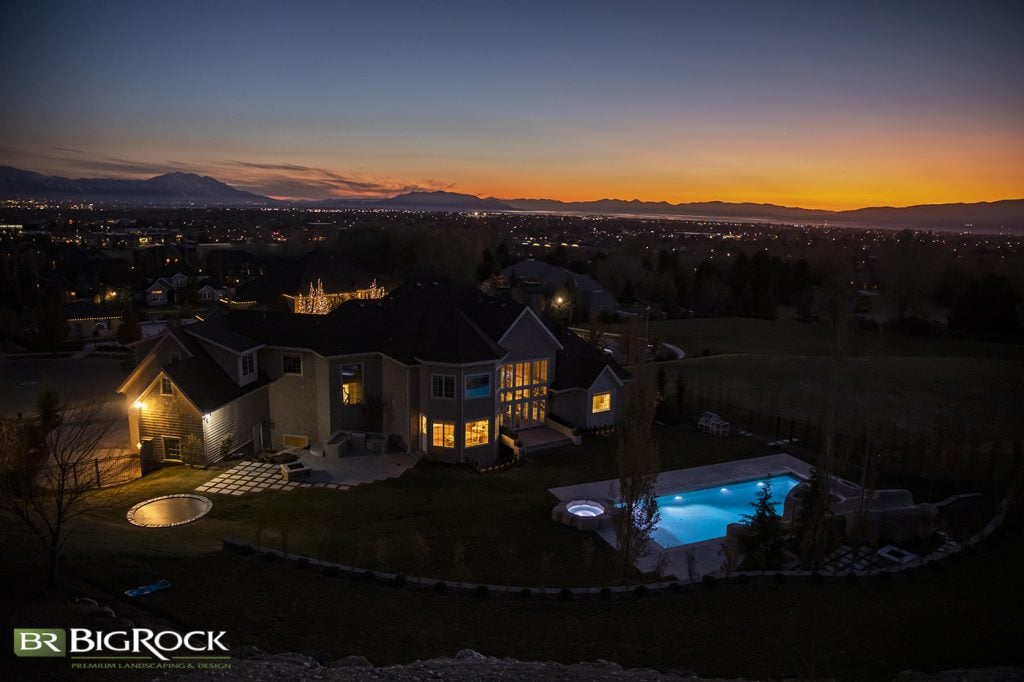 16 Things You Need To Know About Building A Pool In Utah
At Big Rock Landscaping, we've spent a lot of time doing Utah pool design and installation. We've spent just as much time answering people's questions about Utah pool installation and design. It's likely that you're wondering some of the same things about building a pool. Here are some of the most common questions we get asked about building a pool in Utah. If you're thinking about building a pool in your backyard, these questions and answers might help you decide if it's the right choice for you.
What Are The Benefits Of Having A Pool In Utah?
Sure, Utah is known for its snow and cold winters, but anyone who has experienced a Utah summer knows they can be brutal too. The warm season starts at the beginning of June and goes through mid-September, with the thermometer peaking around the end of July. That's three and a half months of dry desert heat, and there's no better way to combat that than with your own backyard pool. And because Utah summer nights tend to stay hot, too, your pool can serve you long after sunset.
TRENDING: The Best Pool Landscaping Ideas For Utah
There are other benefits of a pool, besides providing relief from the heat. A backyard pool creates a natural gathering place for family and friends. Whether you go with a simple design or an elaborate one, building a backyard pool can elevate the look of your landscaping. An in-ground pool also increases your home value by up to 7%. What's more, is that installing a pool at home can have a big impact on your family's health. Did you know that swimming is one of the most popular sports in America? It's also a great, low-impact way to exercise and provide stress relief for the entire family. And not only that but having blue water in a backyard pool can benefit your brain with a natural calming effect, in addition to the pool drawing you outside to reap the other intrinsic benefits of being outdoors.
What Is The Best Time Of Year To Build A Pool In Utah?
You can't build a pool in the winter in Utah, right? Wrong! Winter can actually be a good time to build a pool. Most people build pools in the warmer months, so contractors are more plentiful when it's cold, and that can mean a shorter construction period and more focus on your project by your pool contractor. It can also mean paying less for the same project! Fall and spring are also great times to build pools in Utah. Choosing to build a pool in Utah during any of the "off" seasons also allows time for vegetation to regrow before peak pool season, may make a product that wasn't in stock during the summer months become more readily available, and will nearly ensure that the project is complete before peak pool season arrives.
What Are The Challenges Of Building A Pool In Utah?
The biggest challenge of building a pool in Utah is the weather. It can be more cost effective to build in the winter when there are more work crews available, but being dependent on the weather can stretch the timeline and sometimes diminish savings. The fall and spring can also be rainy, and/or cold, which can also challenge the timeline. And one thing to note for homeowners building a pool in Utah is that one day of inclement weather does not usually equal one day of delay. Rain needs time to dry, after all! That said, choosing a Utah pool builder who understands these kinds of challenges, communicates clearly about them, and is ready to provide efficient solutions to inevitable delays will increase your satisfaction with the pool building process, no matter in which season you start.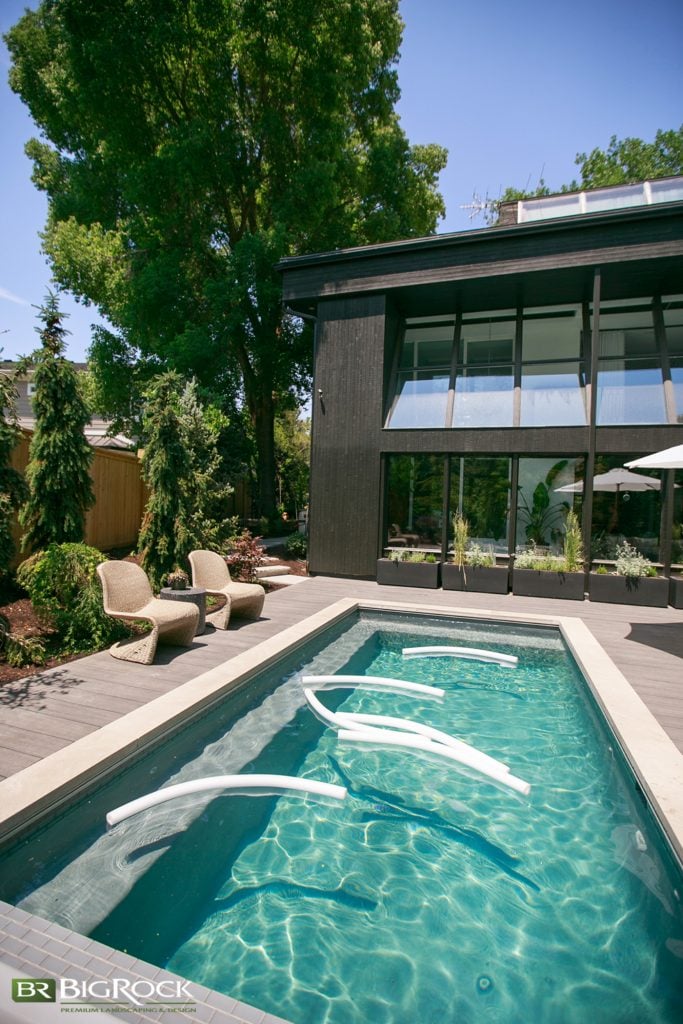 How Long Does It Take To Build A Pool?
A concrete pool takes anywhere from three to six months to build. Included in that time is a 30-day period where the pool must remain empty while the concrete cures. Of course, the timeline is dependent on the weather, the availability of work crews, and the size, shape, and type of pool you're installing. To give you a rough idea of what those 3-6 months are going to look like, here is a simple list of phases you'll go through during your swimming pool installation: design, permits, layout, excavation, plumbing installation, electrical, pouring/installing the pool's structure, hardscaping, and finish work.
LEARN MORE: Our Pools Portfolio
What Is The Average Cost Of Building A Pool In Utah?
Building a pool in Utah can range in price from $6,000 to more than $100,000. It all depends on the type of pool, the shape and size, and the materials used. For custom pools that incorporate elements like jump platforms, slides, fire features, and expanded decking it's best to contact a professional to discuss your vision and get an accurate estimate.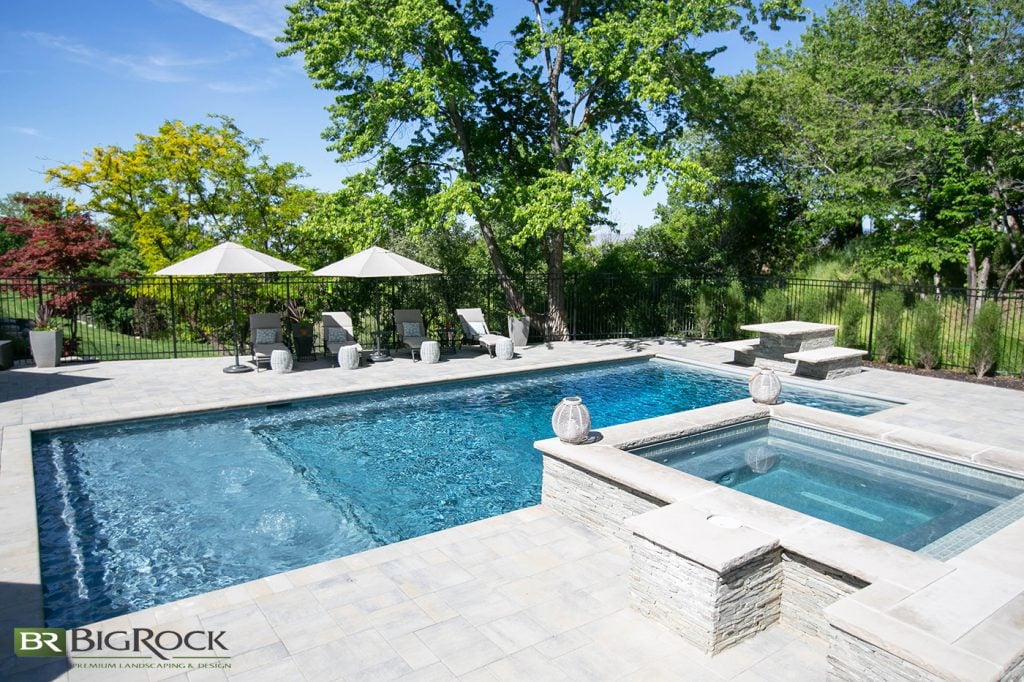 How Much Does It Cost To Maintain A Pool In Utah?
If you're looking to hire professionals to maintain your pool, plan on spending anywhere from $100-$300/month on maintenance during swimming season. The average cost of pool winterization is between $200 and $400. We recommend hiring a professional to winterize your pool because not doing this properly can ruin your pipes and equipment. However, for in-season maintenance, you can save quite a bit of money by investing in a pool vacuum and learning to check and maintain the chemicals yourself. The small investment in time on your part will pay big dividends as you watch your family, friends, and neighbors enjoy the pool.
What Type Of Pool Is Best For Utah's Climate?
Concrete chlorine pools are the most durable choice for Utah and will be the easiest to maintain. While saltwater pools are easier to maintain day-to-day, they cost more to build up front, and can require costly professional technicians when problems do arise. Concrete pools offer the most flexibility with design and are the most durable. Concrete chlorine pools are also able to withstand the temperature swings Utah is so well known for.
Can You DIY Pool Design?
DIY pool design is doable, but not recommended. Designing a pool is more involved than picking the shape and depth. An experienced pool designer can help you select the best materials for your pool so you can have something that looks good and stands the test of time. They will also help ensure your pool meets local codes and regulations.
RELATED: Big Rock's Pool Design And Installation Services
Can You DIY Pool Install?
A DIY pool install may sound like a good way to save money on your budget for a pool, but it's probably not worth the effort. In fact, it might cost you more money in the long run. In addition to the extra time a DIY pool installation takes, there are also permits, inspections, and equipment rentals to consider. So while it's possible to DIY a pool installation, it's not recommended.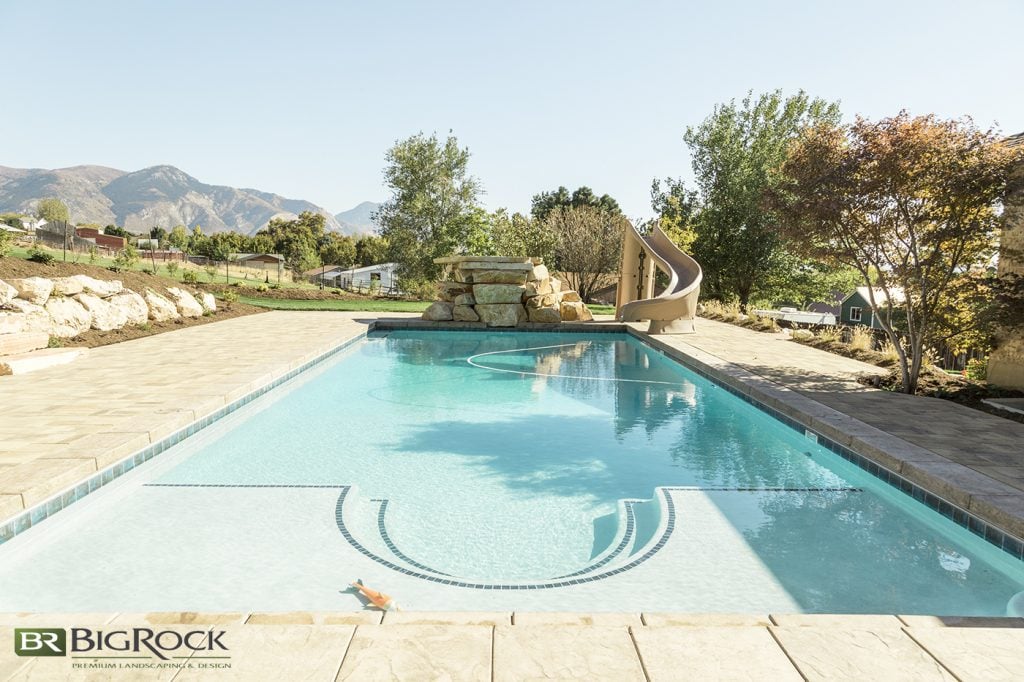 Do I Need Special Insurance For My Pool?
Most basic homeowners insurance doesn't cover the extra liability of a pool. Contact your local insurance agent to check your current policy and discuss what it would take to add a pool to your coverage.
How Do I Choose A Contractor To Build My Pool In Utah?
When you select a contractor to start building a pool in Utah, you're not just looking for someone with a backhoe and cement truck. You want to find someone who has experience building the type of pool you want. Take a look at their portfolio to see if they have worked with the materials you will be using, and how their finished products look. You can even ask for references and talk with homeowners about the process of getting to the end product. Given the length of time you will be working with these people, you'll want someone who has a process in place, can communicate well and is responsive to your questions and concerns.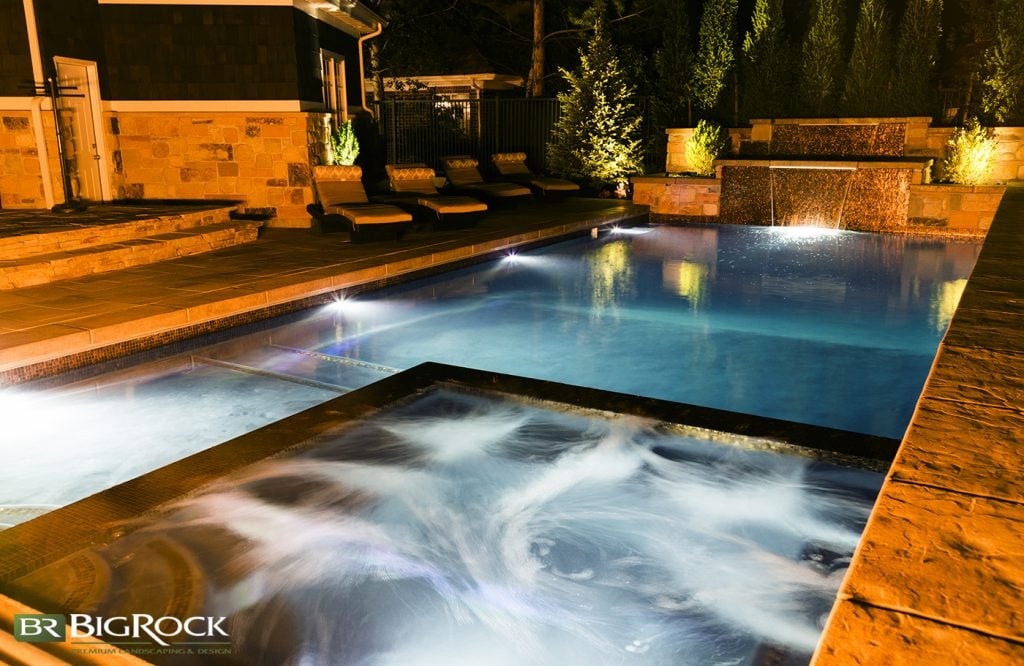 Are There Building Codes And Regulations For Pools?
Yes. If you're building a pool in Utah, you will need to follow city and state regulations. You will have to apply for permits, pass inspections, and make sure everything is up to code. The exact requirements vary by county, city, and even some neighborhoods too. You'll need to contact your local municipalities and homeowners association for exact details about your area.
Are There Any Special Considerations For Pools In Utah?
The biggest special consideration for a Utah pool install is the types of materials used. You need to build your pool with materials that can withstand freezing temperatures in the winter and scorching sun in the summer. You'll also need to carefully plan the type and placement of your pool equipment so that it doesn't succumb to the elements.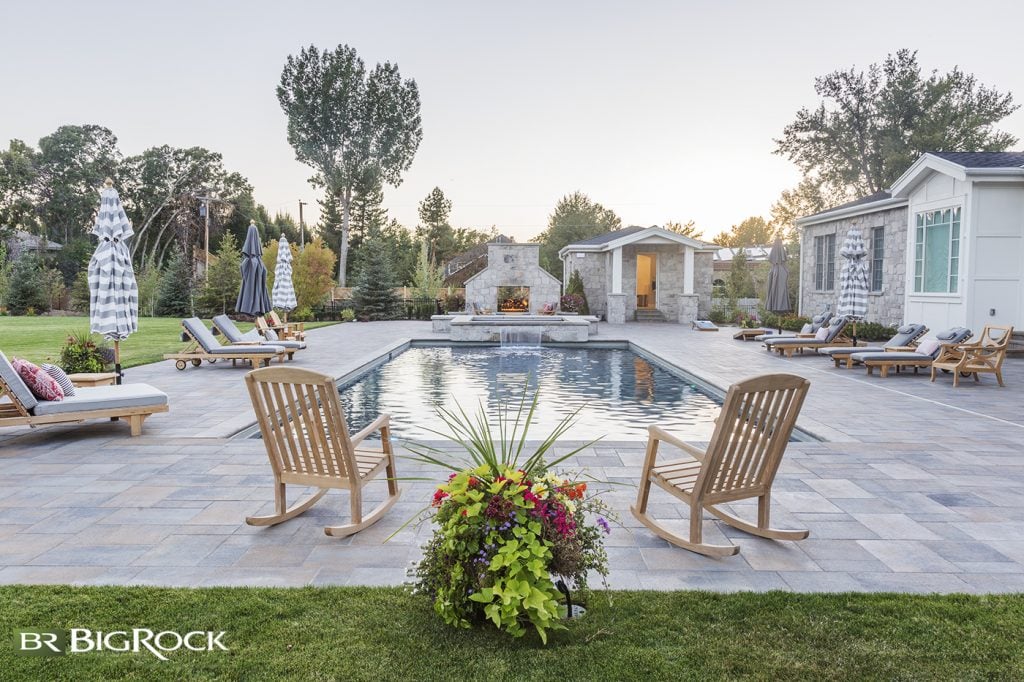 How Much Of My Budget Should I Set Aside For Pool Landscaping?
The cost of pool landscaping can vary greatly depending on the design. Sod is cheap, but may not provide the look you're after. Well-designed hardscape and vegetation can cost more but may be more visually appealing. As a general rule of thumb, you can plan on $50/square foot, but yours could cost more or less. It's best to talk through your wish list and budget with your landscape designer to get an accurate estimate.
Will A Pool Increase My Property Value?
Yes! A pool typically increases property value by 7%. Plus, given that Utah has one of the lowest numbers of pools per capita in the nation, a pool can help your home stand out when it comes time to sell. It should be noted that homes valued at $200,000 or less will rarely recoup the investment in a pool. Homes valued at $700,000-$1,000,000 will most definitely benefit from a pool. And for homes valued between $200,000-$700,000 it depends on the design and the amount spent on building the pool.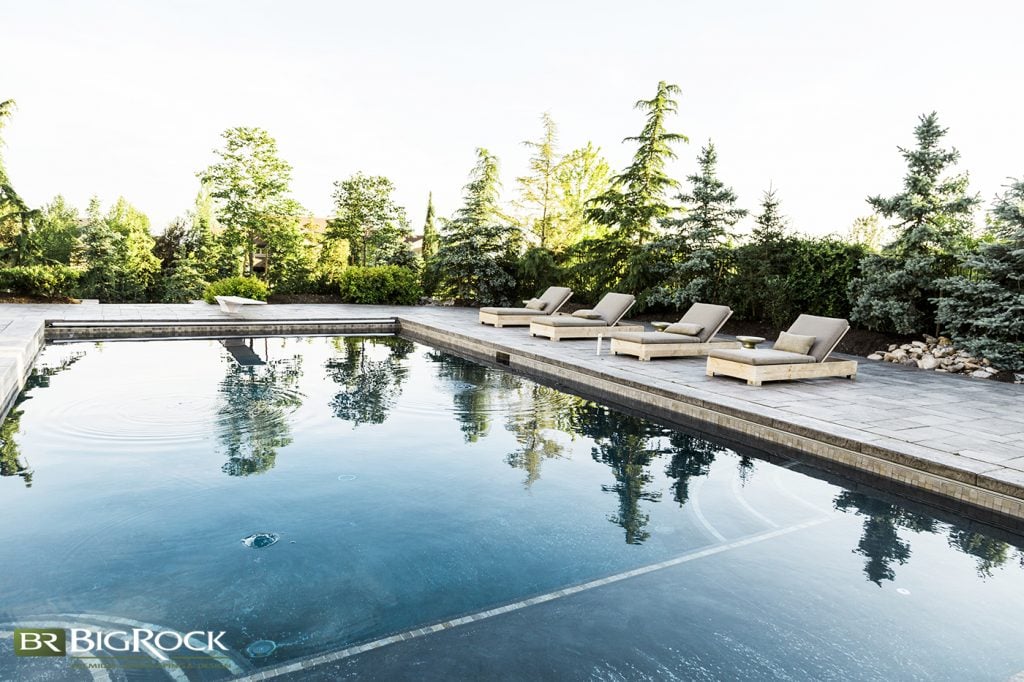 What Is The Best Shape For A Pool?
The shape of the pool you choose should depend on your design aesthetic, the space you have available, and how you will use the pool. Standard rectangular pools are great for exercise, but are often larger and require more square footage. L-shaped pools can provide areas for diving and swimming, as well as shallow areas for smaller children. Geometric shapes provide modern clean lines for a pool. Kidney and figure-8-shaped pools are a little more old school but have the benefit of utilizing space well. Ultimately a professional pool designer can take a look at your space, discuss how you will use your pool, and help you determine the right look and feel.
Choosing The Right Pool Design For Your Utah Home
The right pool design can seem elusive, but a professional pool designer—as mentioned above—should be able to look at the space available, as well as the design of the house, its surroundings, and existing landscaping, to determine what will suit your outdoor space best. From sleek, clean lines to more natural-looking pools, the shape and overall styling of your pool are going to be entirely unique to your wants and needs—whether that means a total party space complete with a diving board and curly slide or a more intimate setting surrounded by impactful rockscaping. Whatever your goal, we strongly recommend consulting professionals who not only know what's possible but can make the most of the entire process for you.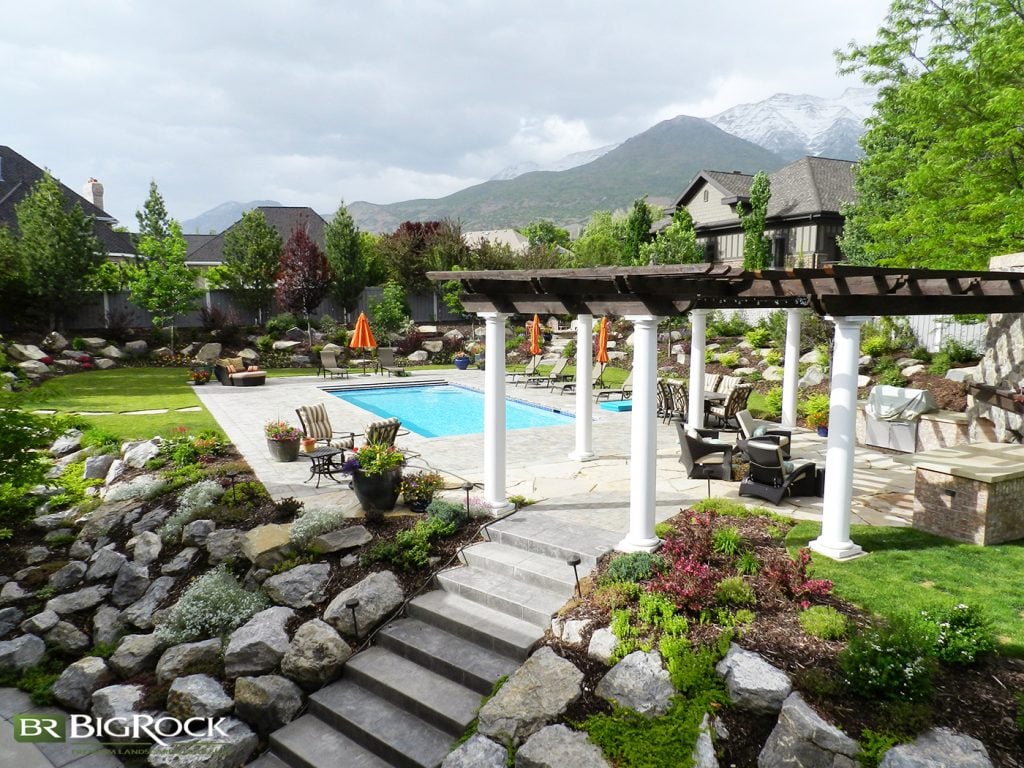 Pool Landscaping Ideas To Enhance Your Utah Backyard
Installing an in-ground pool in Utah often means more visual enhancement than just the pool itself. Here are five ways to enhance the backyard landscaping around your pool.
Plant A Tree
Or three or four or a dozen. While some trees may cause complications with debris if planted too closely, we love a tree wall near-ish the pool for windbreak, privacy, and more of that natural outdoor setting.
Utilize Big Rocks
For whatever reason, rocks and water just work together. So don't be afraid, even in a more modern design setting, to utilize larger rocks in your poolscape. Whether they come in the form of border boulders, "natural" diving platforms, or stairways, they're a great way to draw the eye and make your pool feel like a more genuine part of the landscape.
Light Things Up
Lighting is a big way to figuratively shine the spotlight on your new pool installation. Whether in-pool or out, along pathways or shining from above, backyard lighting plays a big role in the beauty and functionality of your backyard pool.
Play With Pavers
While some will opt for a concrete surround, we love the variety of looks that can be accomplished by using pavers in different sizes or patterns. From incredibly organic to highly modern, pavers can create an instant vibe around your pool, while adding to the safety of the area.
Add Fire
The only thing that complements your new pool more than rocks is probably the new outdoor fireplace you'll want to build. Complementing a cool swim with a cozy gathering spot is the perfect way to enhance your backyard landscaping after installing a pool in Utah.
DIY vs. Professional Pool Installation In Utah
While some might try to make a case for creating your own DIY backyard pool, we cannot recommend it in good conscience. As professionals with years of experience (and therefore knowing the extensive research, requirements, knowledge, skill, equipment, and more that is required for a successful pool design and installation), you're likely to end up disappointed, frustrated, and asking a professional for help to dig you out of the hole you may end up creating (no pun intended) anyway. With an investment this big—both literally in terms of time and money and figuratively in terms of time and energy—we strongly suggest you seek out a trusted and professional pool contractor in Utah today!
Need Help With Your Utah Pool Design And Install?
Building a pool in Utah, or anywhere for that matter, is a big undertaking. But when summer comes and you see your family and friends gathered in your backyard playing and enjoying the water, you'll realize it was worth the effort. A pool provides endless hours of fun, relaxation, and recreation.
Big Rock Landscaping is one of the best pool design services Utah has. A quick look at our pool portfolio illustrates the type and quality of work we do. With many years of experience building custom pools in Utah, there are few challenges we haven't encountered or questions we haven't answered. We love working with clients to bring their visions to life. See what Big Rock Landscaping can do for you and contact us to set up a consultation today.