Baby It's Cold Outside: What Do You Need to Know About Using Your Outdoor Fireplace in the Winter
Imagine a crackling fire, the snow falling gently from the night sky, surrounded by your loved ones bundled against the cold, everyone holding steaming mugs of hot chocolate.  If you've experienced the joy of sitting around an outdoor fireplace or fire pit in the winter, you know that this scene is as cozy and magical as it sounds. If not, let us recommend you find your nearest outdoor fireplace, a warm drink, and a group of friends or family and experience the beauty of the winter wonderland next to the warmth of a roaring fire. We can help you experience this enchanting winter activity, but you'll need to do a little preparation to make sure your fire feature is ready for winter enjoyment. 
11 Tips For Using Your Outdoor Fireplace In Winter
Outdoor fireplaces are not just for those glorious summer nights–with a few tweaks and enhancements, they can be enjoyed all season long. Don't let that outdoor fireplace sit dormant through the winter and fall months! Utilize a couple of these helpful tips to enjoy an outdoor fireplace in winter and create lasting memories all year long.
1. Grab cozy blankets and warm clothes
Remember to bring more blankets than you think- you will want enough that you can have one wrapped around you and one to sit on.  Layer up those jackets and coats, you may find that you get warmer as the fire grows, and you might want to shed a layer or two. And of course, don't forget your hats and mittens! Warm ears and warm fingers will make the experience exponentially more enjoyable.  
2. Decorate For The Christmas Season
There's nothing more gratifying than outdoor recreation in the winter. But did you know that outdoor recreating doesn't have to mean whizzing down mountain slopes? It could be as simple as gathering with family and friends around your winter outdoor fireplace. Especially if your outdoor space is garnished with all the bells and whistles of the Christmas season. Freshly cut greenery and light catching ornaments can do wonders to make your fireplace feel inviting and warm. Greenery will last all winter long due to the low temperatures and can create a pretty green backdrop to a snowy, brown landscape. Add your favorite ornaments and decorations to fit your personal style and add bright pops of color to level this space up a notch during the winter season. 
3. Light Up Your Space
Along with adding seasonal decorations, any outdoor space is immediately made more intimate and interesting by the addition of ambient lighting. Grab a string of your favorite Christmas lights to string overhead or decorate surrounding bushes.
4. Make a warm drink
There's nothing better than holding a mug of something warm when you are sitting by a fire, not to mention that every sip will warm you from the inside out! So break out the hot chocolate, tea, or coffee and revel in the delight of a warm drink in cold weather.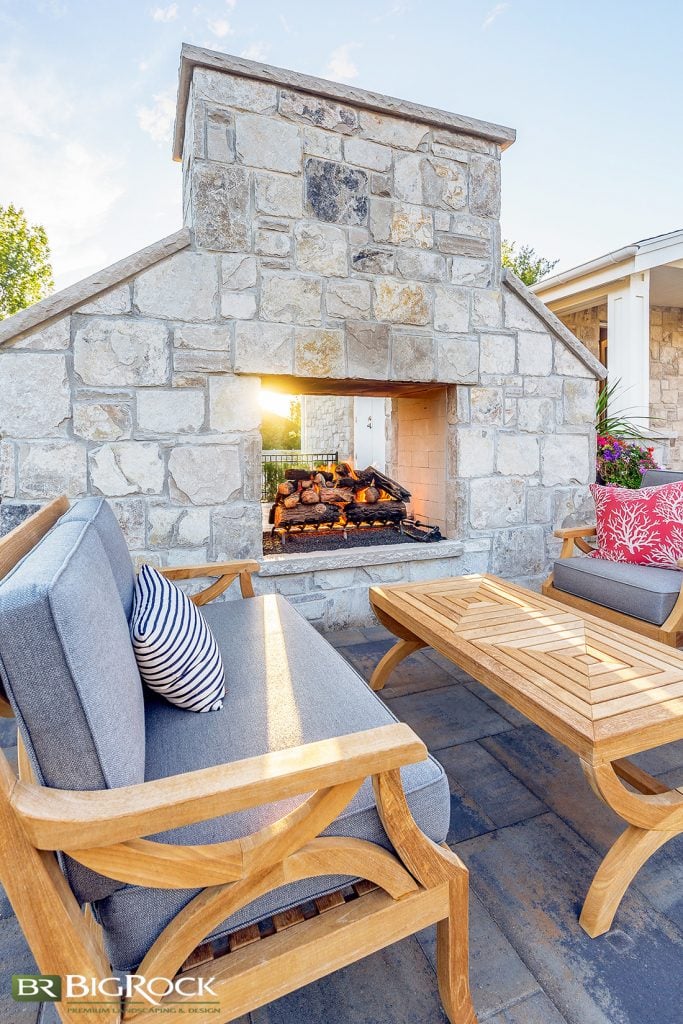 5. Wood Burning Firepits
A classic for a reason, wood-burning fire features give you the crackle and shimmering coals of a fire. If you have a wood-burning fire pit or fireplace, you have two main concerns: keeping fuel dry and keeping the fire in the appropriate area.  We recommend building a covered storage area for wood nearby the fireplace for easy access and to ensure that your wood stays dry enough to light and won't make too much smoke. 
6. Utilize A Fireplace Cover
This may seem simple, but using a fireplace cover is one way that you can enjoy your outdoor fireplace even during the winter. It's important to cover the main part of your fireplace or fire pit with a cover to prevent snow from collecting inside. If your fireplace is wood burning, sitting water can make it difficult to get a fire started, and if your fireplace is gas, a good quality cover will protect the interior components of your fireplace from damage due to inclement weather. 
7. Keep The Snow Off
Regularly clear the snow off of benches, chairs, and other seating surrounding your fireplace. This will help this area stay dry and easily accessible. Another great tip is to warm up the flue on your woodburning fireplace slowly before you start burning a lot of wood to prevent thermal shock. Thermal shock can cause the flu and brickwork around your fireplace to crack. Start slowly, adding one log at a time to heat the area slowly to prevent shock.
8. Natural Gas Firepits
If you want easy and hassle-free, natural gas firepits are for you.  Easily turn on the flame, adjust the intensity of the flame.  Keep this feature covered when not in use with a fire pit cover, and when you are ready to use it in the winter, ensure the gas line is turned on to the feature.  Most of these have an easy-to-use button to get it started.  Make sure the feature is cold to the touch after use, then replace the cover to keep it in the best condition. 
9. Propane Fire Pits
When turning this fire feature on in the winter, make sure you have plenty of propane in the tank to give you plenty of time in the warmth of your outdoor fire. As with any outdoor feature, keep it covered unless it is in use to keep it in functional condition.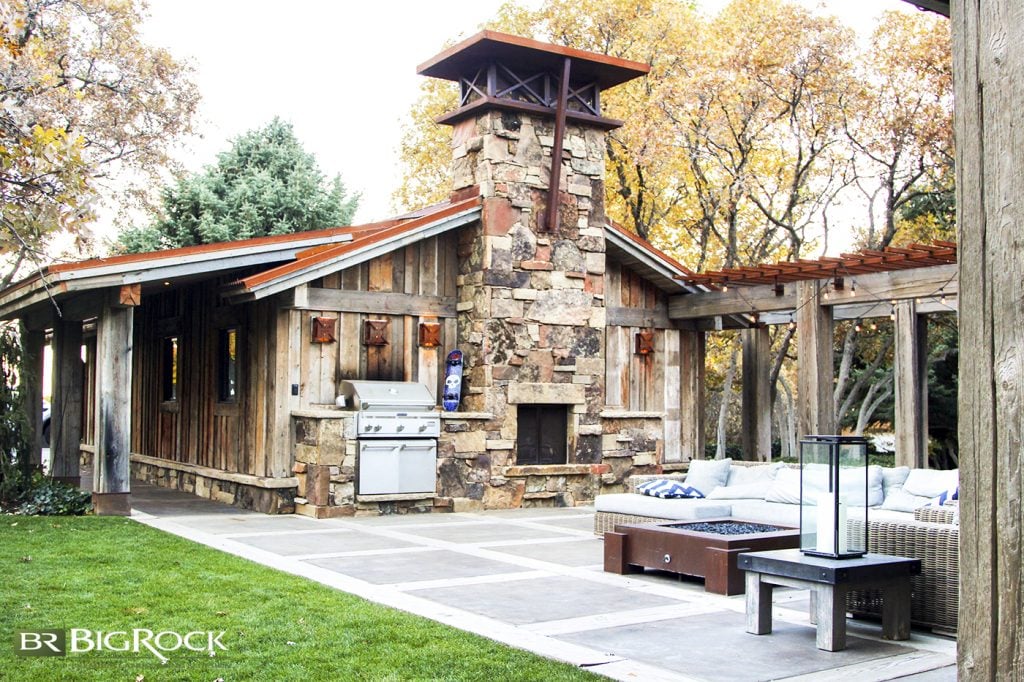 10. Safety Is Key
As with any fire feature, safety should be the primary concern, but with some preparation and basic rules, you can be sure to have a safe and enjoyable outdoor fireplace experience. Make sure that blankets, coats, and other fabrics are kept far from the flame.  Keep a fire extinguisher within reach just in case of emergencies.  Make sure to wait until the area is completely cool and dry before replacing the cover. As with any product, do not use any fire feature without consulting the manufacturer's manual first.
11. Prep Your Fire Feature In The Fall
If you know you aren't going to be using the fire feature in the winter, make sure to take the time to winterize it in the fall. Remove debris from the area, turn off the gas and disconnect the propane.  Then make sure to cover the feature to protect it from the winter elements.
Myths About Fireplaces In The Winter
While a cozy fireplace, glowing brightly against towering pines is picturesque, some home owners still have doubts about the feasibility of enjoying an outdoor winter fireplace. But we know it's not only possible, it's entirely feasible! If you're one of those skeptical home owners, take a moment to explore some of the common myths that will set your mind at ease. 
Myth #1: You Can't Use Your Fireplace In The Winter
You can absolutely enjoy your outdoor fireplace in winter. Just remember to keep it covered when not in use to prevent damage from the elements. There are no physical or safety reasons why you should not use your fireplace during the winter months. An outdoor fireplace adds a source of heat to your backyard space, so go ahead. Grab your blankets, some marshmallows and hot chocolate, and enjoy a crackling fire while you sit under a sky lit with stars.
Myth #2: You Can't Use Your Fireplace If It's Too Cold Outside
It's never too cold outside to use your fireplace. In fact, often the opposite is true. When it's cold outside, a fire can add warmth to your space making it more comfortable to enjoy, despite cold temperatures. Having an open flame nearby will heat the air around you to a more comfortable temperature.
Myth #3: An Outdoor Fireplace Won't Keep You Warm
Gas fireplaces actually give off a lot more heat than wood-burning fireplaces because the flame is hotter, but both types of fireplaces will radiate good heat and you'll be able to stay warm when you're outside. 
Myth #4: You Don't Get The Same Social Experience In Winter
Sure, the experience that you get huddled around a fire in the winter will indeed be different than in summer, but that doesn't mean that the experience is subpar. Oftentimes, the cold accompanied by a roaring fire brings a sense of security and excitement. While it may be true that you might stay outside longer in the summer, wintertime enjoyment of your fireplace can create pleasant memories that will last a lifetime. 
Myth #5: An Outdoor Fireplace Is Too Hard To Maintain In The Winter
If you live in cold climates, there is no reason you need to retreat indoors when the temperatures drop or the snow starts to fall. If covered, your fireplace will stay dry and protected from outdoor elements, and maintaining your outdoor fireplace will take hardly any effort. Apart from the occasional clearing of snow off benches or chairs, your fireplace stands ready to warm and delight you all winter long. So don't let the falling temperatures keep you from the great outdoors.
Big Rock Landscaping: Keeping You Warm All Year Round With Outdoor Fire Features
We want you to enjoy the magic of a winter fire, complete with rosy cheeks, warm drinks,  crackling fire, and the laughter of family and friends. Add an outdoor fire feature for the ultimate entertaining experience. Whether you are interested in designing an outdoor fireplace or you are looking for a backyard fire pit, or even a tabletop fire feature, Big Rock Landscaping can assess your outdoor area and work closely with you to design the fire feature of your dreams. We have a robust landscaping portfolio to get the creative juices flowing. You don't have to wait to experience outdoor fireplaces, we offer premier outdoor fireplace design and installation. 
The team at Big Rock Landscaping takes pride in their business and clients are the number one priority. With this in mind, we provide an incomparable level of white glove customer service to each client that we are privileged enough to work with. We look forward to creating a custom fire feature for your home or business. Our team of experts is ready and waiting to give you the gift of a year-round fireplace, call us today to find out how we can make your winter crackle!