Baby It's Cold Outside: What Do You Need to Know About Using Your Outdoor Fireplace in the Winter
Imagine a crackling fire, the snow falling gently from the night sky, surrounded by your loved ones bundled against the cold, everyone holding steaming mugs of hot chocolate.  If you've experienced the joy of sitting around an outdoor fireplace or fire pit in the winter, you know that this scene is as cozy and magical as it sounds. If not, let us recommend you find your nearest outdoor fireplace, a warm drink, and a group of friends or family and experience the beauty of the winter wonderland next to the warmth of a roaring fire. We can help you experience this enchanting winter activity, but you'll need to do a little preparation to make sure your fire feature is ready for winter enjoyment. 
7 Tips For Using Your Outdoor Fireplace In Winter
1. Grab cozy blankets and warm clothes
Remember to bring more blankets than you think- you will want enough that you can have one wrapped around you and one to sit on.  Layer up those jackets and coats, you may find that you get warmer as the fire grows, and you might want to shed a layer or two. And of course, don't forget your hats and mittens! Warm ears and warm fingers will make the experience exponentially more enjoyable.  
2. Make a warm drink
There's nothing better than holding a mug of something warm when you are sitting by a fire, not to mention that every sip will warm you from the inside out! So break out the hot chocolate, tea, or coffee and revel in the delight of a warm drink in cold weather.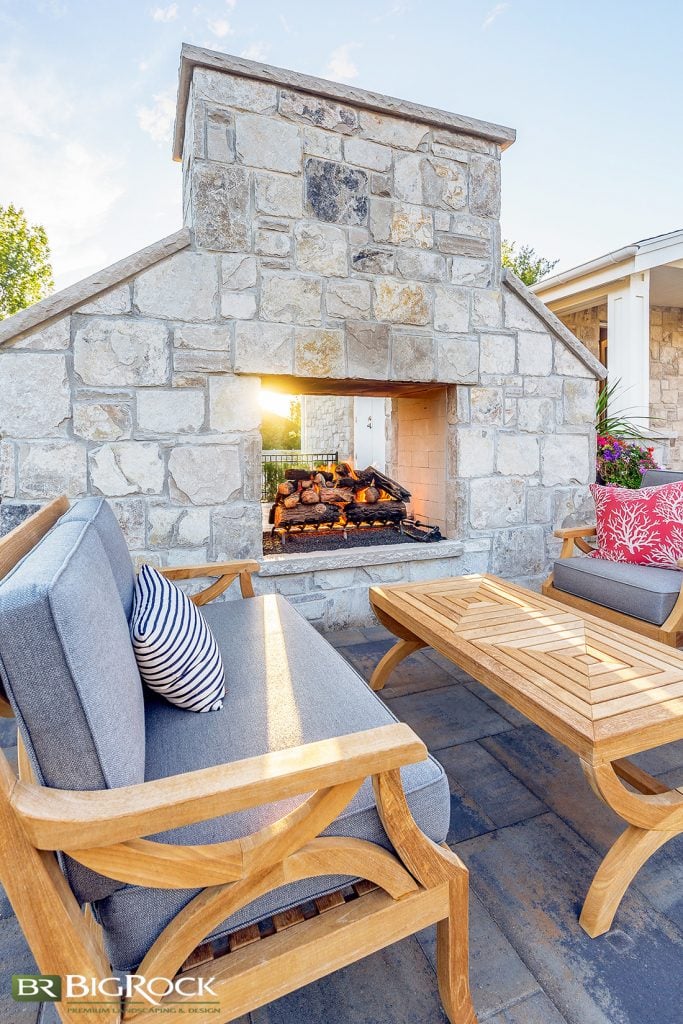 3. Wood Burning Firepits
A classic for a reason, wood-burning fire features give you the crackle and shimmering coals of a fire. If you have a wood-burning fire pit or fireplace, you have two main concerns: keeping fuel dry and keeping the fire in the appropriate area.  We recommend building a covered storage area for wood nearby the fireplace for easy access and to ensure that your wood stays dry enough to light and won't make too much smoke.  
4. Natural Gas Firepits
If you want easy and hassle-free, natural gas firepits are for you.  Easily turn on the flame, adjust the intensity of the flame.  Keep this feature covered when not in use with a fire pit cover, and when you are ready to use it in the winter, ensure the gas line is turned on to the feature.  Most of these have an easy-to-use button to get it started.  Make sure the feature is cold to the touch after use, then replace the cover to keep it in the best condition. 
5. Propane Fire Pits
When turning this fire feature on in the winter, make sure you have plenty of propane in the tank to give you plenty of time in the warmth of your outdoor fire. As with any outdoor feature, keep it covered unless it is in use to keep it in functional condition.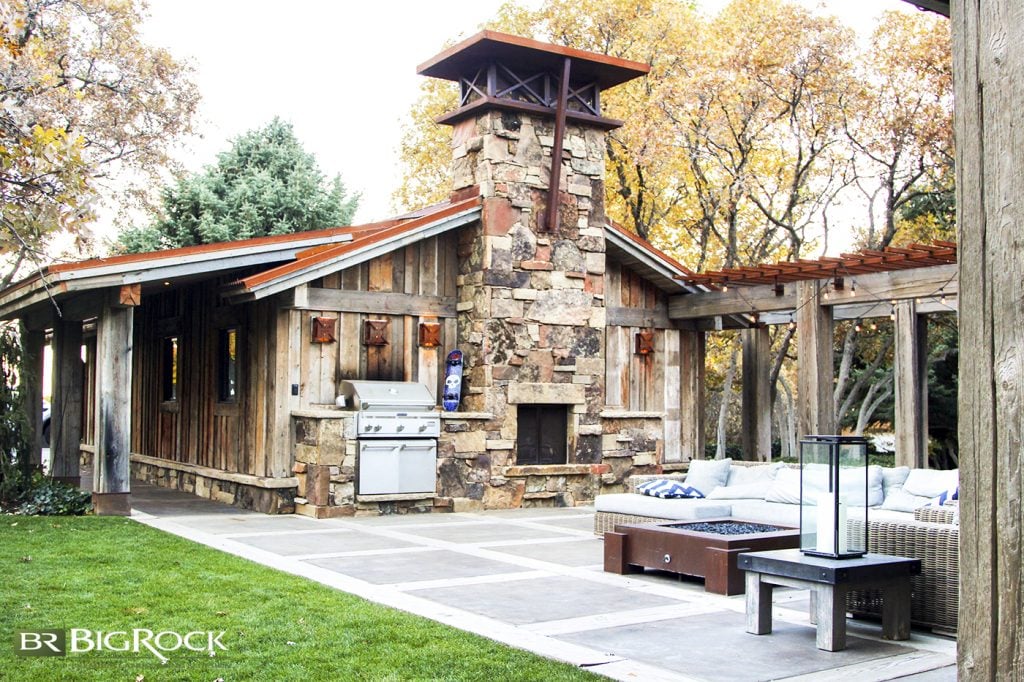 6. Safety Is Key
As with any fire feature, safety should be the primary concern, but with some preparation and basic rules, you can be sure to have a safe and enjoyable outdoor fireplace experience. Make sure that blankets, coats, and other fabrics are kept far from the flame.  Keep a fire extinguisher within reach just in case of emergencies.  Make sure to wait until the area is completely cool and dry before replacing the cover. As with any product, do not use any fire feature without consulting the manufacturer's manual first.
7. Prep Your Fire Feature In The Fall
If you know you aren't going to be using the fire feature in the winter, make sure to take the time to winterize it in the fall. Remove debris from the area, turn off the gas and disconnect the propane.  Then make sure to cover the feature to protect it from the winter elements.
Big Rock Landscaping: Keeping You Warm All Year Round With Outdoor Fire Features
We want you to enjoy the magic of a winter fire, complete with rosy cheeks, warm drinks,  crackling fire, and the laughter of family and friends. You don't have to wait to experience outdoor fireplaces, we offer premier outdoor fireplace design and installation. Our team of experts is ready and waiting to give you the gift of a year-round fireplace, call us today to find out how we can make your winter crackle!