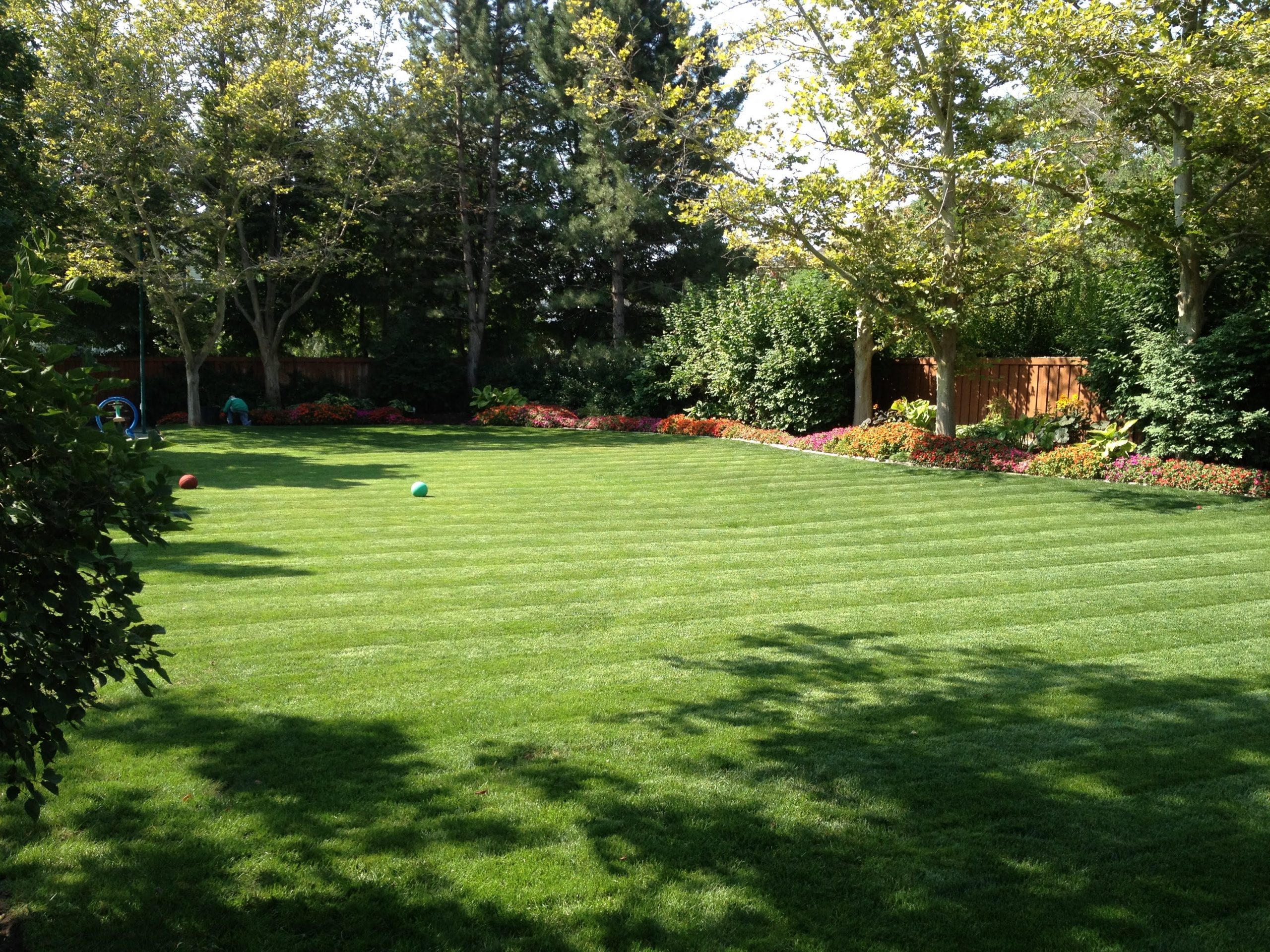 Your Backyard Landscaping Questions Answered
Thinking about starting a backyard landscaping project? Maybe you're interested in a new stone pathway to the garden or perhaps you've got your sights set on a total backyard renovation. Maybe you're interested in some professional landscaping services. Whichever the case, you've got to know where to start.
We've researched the top questions about backyard landscaping and want to help you get the backyard you're envisioning underway. From backyard landscaping costs to landscape timelines, and our best tips on how to make the process run smoothly from beginning to end, here are your backyard landscaping questions answered!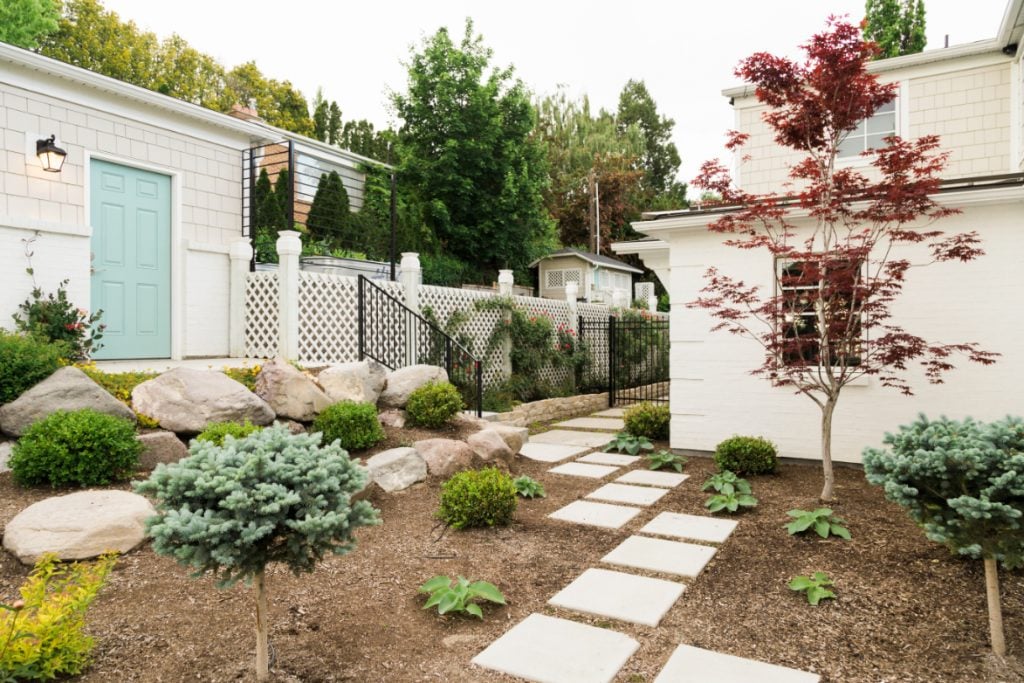 What Are The Basics Of Backyard Landscaping?
There are a few basics of backyard landscaping that remain constant no matter the style or scope of the project. To create a beautiful, functional, and inviting backyard, you need the following four things:
A backyard landscape design plan

An established budget

Technical knowledge, ability, and equipment

OR

a professional landscaping company

Time and energy to bring the project to life
Backyard landscapes are not great secret keepers, and If any of these four elements is missing, the truth will be revealed. Without a design plan backed by a healthy knowledge of the space, without the money to complete the project properly, without the personal expertise or hiring of backyard landscaping professionals, or without sufficient time and energy to complete the project, your outdoor space will never become the luxuriously landscaped backyard you envision it could be.
So where do you start?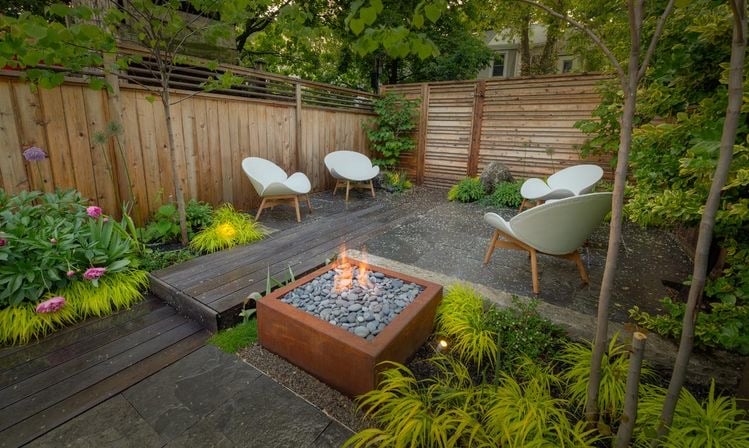 How Much Should I Budget For Backyard Landscaping?
Speaking of your backyard landscaping budget, there are a couple of ways to go about determining how much you're going to spend on your new and improved backyard. One, you can decide on a number upfront and make whatever you decide to do to your landscaping fit within that amount. Or two, you can dream up the exact landscape you've been longing for and allocate the funds necessary to complete the job the right way. Often this option will entail hiring landscaping pros, which may require spending more, but will also likely mean less stress and work for you and a much more elevated backyard landscape than you could ever complete on your own.
You should also keep in mind that every project is unique due to variations in size, the complexity of design, quality of materials, amenities, property location, and more. There is no one-size-fits-all landscape solution! For example, a smaller backyard with an owner investing in a total landscaping overhaul that includes a brand new luxury outdoor kitchen will cost much more than a simpler backyard design implemented in a far larger space.
But let's get a better idea of some general backyard landscaping costs today.
For years, the rule of thumb for determining your landscaping budget has been to spend around 10% of the value of your home, but this percentage has been trending upward recently as people shift from having a "yard" to dreaming of an "outdoor living space" and all of the things that come with it. Now your landscaping budget can include things like irrigation, sprinklers, pools, hardscaping, and structures like pergolas and patios. Don't forget added fees for things like shipping, or any necessary permits or approval from a certified architect. Now the average landscaping budget is starting at 20% of your home value. Of course, your budget can vary depending on the size of your lot and your vision.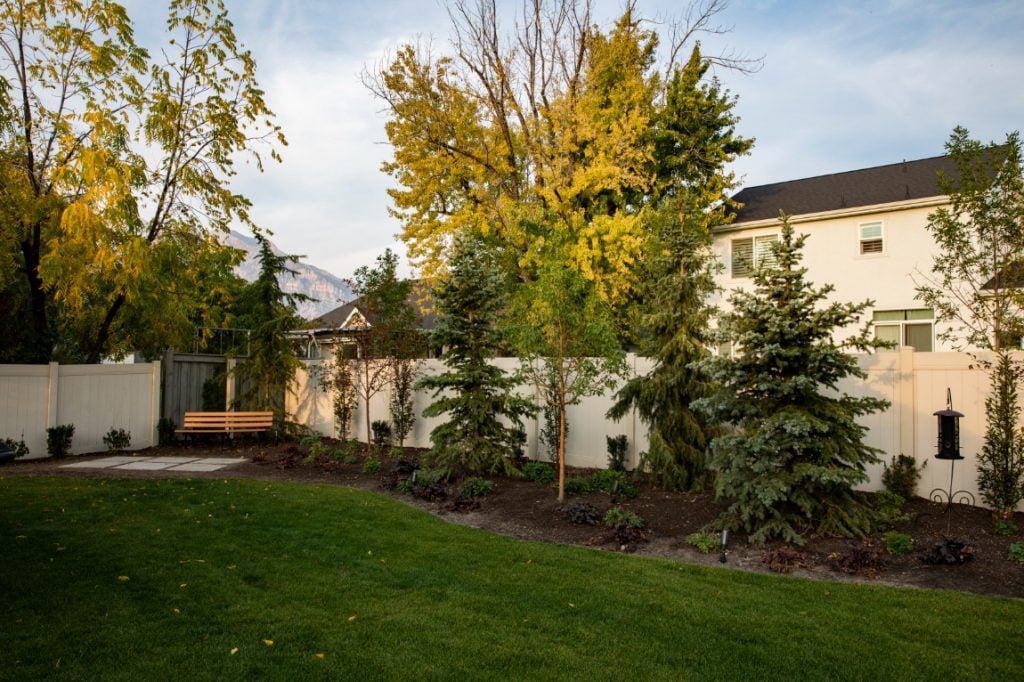 The numbers may add up quickly, but remember these important facts:
Landscaping done well can increase your property value by up to 20%.

Landscaping can contribute to energy efficiency, which can decrease your monthly heating and air conditioning costs and end up paying itself off.

Landscaping can increase your and your family's mental, physical, and emotional health.

Landscaping can have a positive impact on air quality and reduce erosion around your home.
Looking at it that way, investing in backyard landscaping can feel like a no-brainer. And while there are ways to cut corners, remember that cheaper does not usually mean better—particularly in the long run. You may end up having to redo half-hearted work or replace low-quality items that cost less upfront. Our advice? Go with quality items and work that won't break the bank but will last long enough for you to thoroughly enjoy your updated landscaping without regrets.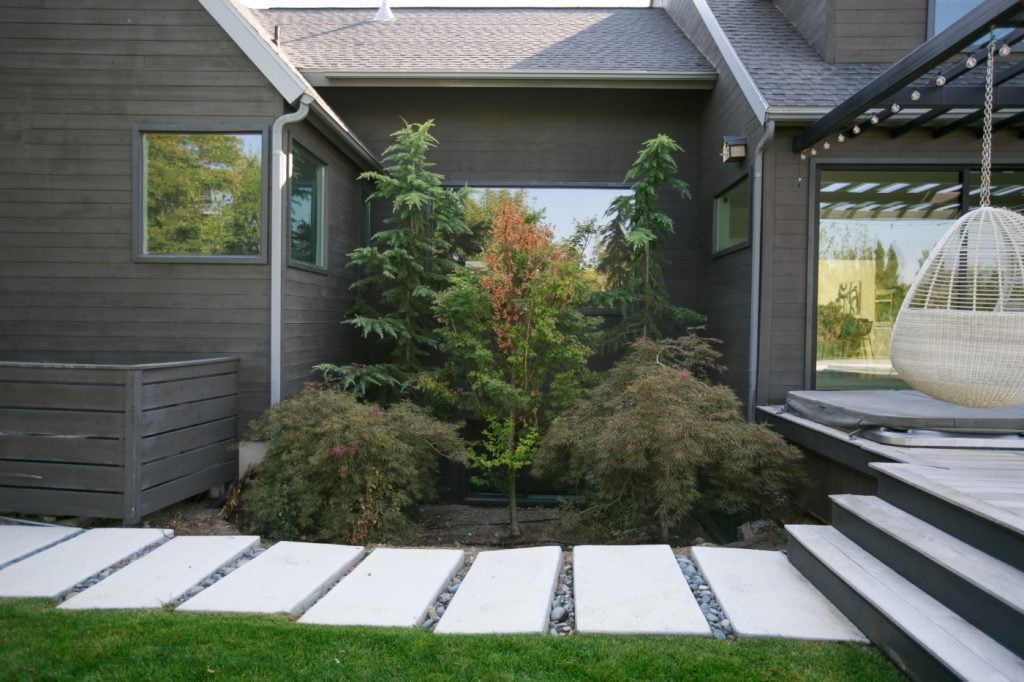 How Long Does It Take To Landscape My Backyard?
A very simple backyard-landscaping-for-beginners project might not take that long to complete—maybe a week from start to finish, if it's just about adding a few shrubs and sprucing up the flower beds. But if you really want to bring new life and energy to your home's outdoor spaces, you're going to want to dedicate more time to your backyard landscaping. It's difficult to hide the inevitably subpar results of a rushed job so it may be time to invest in a pair of well-fitting patience pants (and the right landscaping professionals) before you dive in.
DISCOVER: Who Is Big Rock Premium Landscaping And Design?
Truly excellent landscaping takes time. From developing a cohesive and functional design to purchasing plants and preparing terrain, all the way to installation and final touches, you're looking at upwards of a few weeks to a couple of months from start to finish. But again, the exact amount of time will depend on the size of your backyard, the complexity of the project, the number of amenities, when materials can be obtained, and even local weather conditions and other complications that may arise.
Our best tips on how to make the backyard landscaping process move as smoothly and quickly as possible? 
Understand and be able to accurately express your landscape's purpose

Be clear on your budget

Know where you are and are not willing to compromise or be open to new ideas

Hire a team of experienced landscape design and installation professionals that know and love what they do
That last one might just be your backyard landscaping project's saving grace for a few reasons. First, the time and money spent won't be wasted on amateur attempts that have to be redone in the end anyway. Second, the investment in professional expertise will clearly show. And third, you can rest a little easier knowing that someone else is helping find you the perfect backyard partner. Er…landscape.
How Do I Choose The Right Trees, Shrubs, and Plants For My Backyard? 
Taking on a landscaping project in Utah is a big task, and it helps to have a simple backyard landscaping guide point you in the right direction. So if you have landscaping questions, you've come to the right place. You might be overwhelmed while scrolling through backyard landscaping ideas on Instagram, so you still might need some direction on how to landscape your backyard. Here are a few basic tips to keep in mind during the planning process: 
Climate 
Choose plants for your backyard that are well-suited to your climate. Not only will your plants blend seamlessly into their natural habitat, but they will thrive. For example, if you live in a hot, arid climate, like Utah, choose plants that are drought-tolerant and can handle high temperatures with ease.
Sun Exposure 
When making your landscaping plan, make sure to consider your yard during different times of the day. Some plants require full sun to thrive, while others prefer shade. 
Soil Type 
Different plants have different soil requirements. Make sure you choose plants that will do well in the type of soil you have in your backyard.
Maintenance 
Some plants require more care than others. If you're looking for low-maintenance options, choose plants that are easy to care for and don't require frequent watering or pruning.
Utility 
Think about why you want to add shrubs, plants, and trees to your Utah backyard. Are you looking for privacy, shade, texture, or color? Choosing plants that meet your goals will bring satisfaction and enjoyment.
Wildlife 
We always love to suggest choosing plants that are attractive to local wildlife, such as birds and butterflies. Making your Utah backyard landscape a home for these winged creatures will give your landscape a relaxing vibe.
Size 
Make sure you choose plants that will fit well in your backyard and won't outgrow the space. It also makes sense to choose plants that grow slowly to decrease maintenance.
Consider Hiring A Professional To Help 
There are many things to consider when designing a landscape, and it may feel overwhelming at times. If you're not feeling up to the challenge, it's time to get a professional involved. Big Rock Landscaping has decades of experience in making landscaping come alive and thrive under any conditions. 
What About Outdoor Lighting In My Backyard?
Never, ever forget about lighting! It's absolutely essential to any well-designed landscape. Consider these great tips for incorporating lighting into your landscaping plan. 
Create Layered Lighting 
Use a combination of different types of lighting, such as overhead lights, accent lights, and pathway lights, to create a layered and balanced effect.
Highlight Focal Points 
Use lighting to highlight focal points in your backyard, such as trees, sculptures, or water features. Or even use them to accent the area around your pool.  
Go For Safety And Security 
Use lighting to improve safety and security in your backyard by illuminating paths, stairs, and entrances, or to illuminate large backyard landscaping and recreation areas like sports fields, basketball courts, or pools.
Play With Color Temperature 
Choose the right color temperature for your lighting to create the desired mood and ambiance in your backyard. For example, warmer tones can create a cozy and intimate atmosphere, while cooler tones can make the space feel more modern and contemporary.
Choose Energy Efficiency
When it comes to outdoor lighting for your backyard, use energy-efficient LED lighting to save money on your electricity bill, reduce your environmental footprint, and put a few more dollars back into the old wallet.
Install Smart Lighting
Consider using smart lighting technology, such as programmable timers and motion sensors to control your lighting and create a customized experience that's high on functionality and low on maintenance.
Add Light Fixtures
Choose light fixtures that complement the style and design of your backyard. There are many different types of fixtures to choose from, such as lanterns, sconces, and string lights. Adding light fixtures is a great way to add personality and charm to a well-loved space.
If you need more backyard landscaping inspiration, visit our outdoor lighting portfolio for ideas of what might be possible in your space. As a professional backyard landscaping company, Big Rock Landscaping's portfolio showcases some of our best backyard landscaping ideas to inspire and delight our customers.
Our Favorite Backyard Landscaping Ideas
Because we have so much experience in landscaping, it's hard to pick favorites from our vast backyard landscaping portfolio, but that's just what we've done. Here are a few of our favorite backyard landscaping ideas that will inspire and impress.
Built with natural stone, both the pool decking and the fireplace create a focal point for this landscaping design. Incorporating water, in any form, is a sure win when it comes to creating the ultimate luxurious vibe, and this landscape is no exception.
Tucked into the foothills of Utah's impressive mountains, this landscape design has embraced the natural slope of the land. It checks all the right boxes: natural elements like wood and metal, strategic lighting, and geometric shapes mixed with organic plants and trees to soften harsh lines. Built with both comfort and sophistication in mind, this backyard offers a sweet sanctuary after a long day at the office.
We love how this landscape design makes you feel cozy and private. Almost like entering another world, this backyard welcomes you with an interesting pool design and layers of plants and natural stone which give off an unhurried vibe. With multiple spaces to gather and relax, like the pergola, or the seating under the covered porch and side decking, this space can easily accommodate large groups of family and friends. Notice how color (including multiple shades of green) is used to bring variety and texture to the design.
This home does a fantastic job of mixing orderly, geometric-shaped flower beds with plants that have contrasting textures. The end result? Dynamic visual interest. The natural flagstone used to create a side pathway lends a bit of old-world charm and compliments the brick border around the flower beds. Nice and tidy, but also brimming with character, this landscape is like coming home to your country estate.
With carefully trimmed edges and towering trees, this backyard oasis has a park-like feel that you'll never want to forget. Add river stones placed along the path and in the water, and this could be your next favorite spot. Don't forget that pools are not the only water features that function as a focal points. Many landscapes incorporate water in the form of fountains, waterfalls, and ponds to bring variety to the landscape, attract local wildlife, and beautify the surroundings with their sparkling reflections.
Backyard Landscaping Made Easy With Big Rock Landscaping
If you decide you need help with your backyard landscaping project, contact Big Rock Landscaping. We offer a wide variety of design, installation, and maintenance services for residential properties—big and small, simple and elaborate—along the Wasatch Front in Utah. We have the expertise, artistic tools, attention to detail, and unparalleled customer service you'll want in a landscaping company. Most of all, we want you to fall in love with your landscaping and we're 100% committed to helping you get the backyard of your dreams.
Contact us today to find out how we can help turn your backyard into a space where you want to gather.