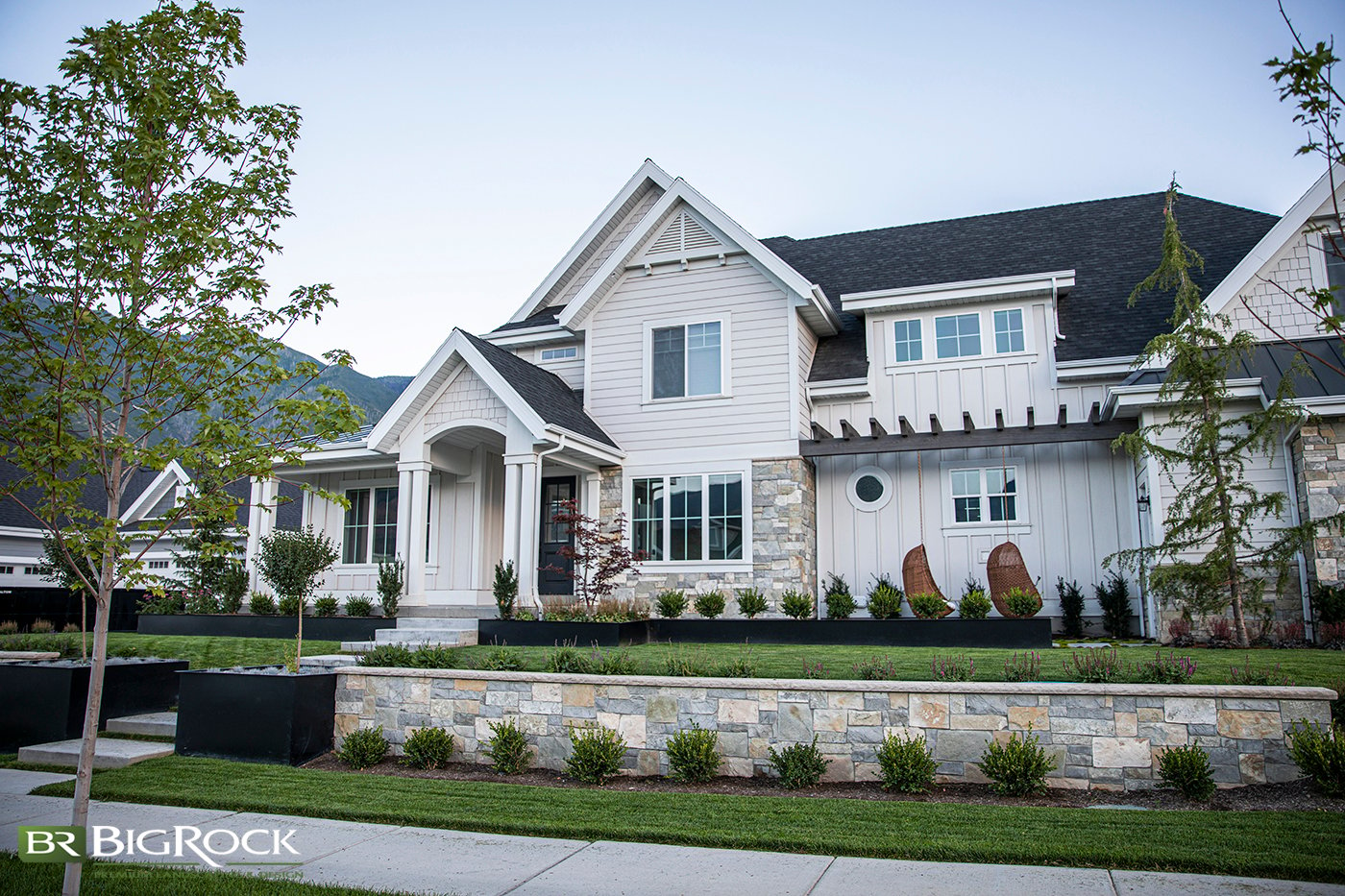 The Best Front Yard Landscaping Ideas For Your Home
What kind of first impression does your home make? Whether you're looking to sell your house, or just want to love where you live, your front entrance landscaping design is crucial. Front landscape design often falls down on the priority list because people often spend more time hanging out in their backyard. However, by implementing a few simple front yard landscaping ideas, you can change the look and feel of your home, increase its curb appeal, elevate your neighborhood, and make your home a place you're proud to live in. We've pulled together some front-of-house landscaping ideas from recent projects designed and installed by Big Rock Landscaping. These, combined with our landscaping tips, can help inspire you as you create the welcoming front yard you've always wanted.
Front Yard Landscaping 101
Before you take a trip to the local nursery or home improvement store and fill your cart with anything and everything you see, let's cover some front landscape design basics. None of these are meant to be hard and fast rules, but you should consider each of these front yard landscaping tips as you make a plan for your yard.
Don't Block Light
Whether you're planting trees, shrubs, or bushes, think about what will happen when they mature. Will they grow up and cover windows or keep natural light from entering your house? Even if you're looking for a little extra shade, keep things clear so you don't obstruct your view looking in or out, or block any sunlight from entering your home.
Get Crisp Edges
Nothing livens up a yard faster than freshly mown and crisply edged grass. Whether you're personally maintaining your landscaping design, or hiring the task out to professionals, keeping it well groomed will liven up the look of your home.
Create An Entrance
The last thing you want to do is leave people guessing about how to get to your door, or maybe even which door to use. Make your entrance obvious, and make it easy and approachable for people to reach you. Curved paths are ok, but don't create a meandering path for people to navigate. Avoid planting shrubs that may grow onto or obstruct the path. If you decide to line the walkway with greenery, make sure it is a low growing, hearty variety.
Use Planters
Planters are a great way to add some drama to a porch, driveway, or front of a house. The best part is you can easily change up the plantings each season. If you opt to place planters as part of your front of house landscaping, pay close attention to their scale. Planters that are too large can overtake or dwarf the front of your house. On the other hand, too small of planters might look silly, and will lack the impact you're looking for.
Mix Hardscape And Softscape
Your front landscape isn't just about what you plant. Your pathways, borders, pots, porch, and other hardscape elements come into play as well. Make sure you have a good mix of hardscape (permanent or solid landscape fixtures) and softscape (living or organic landscaping).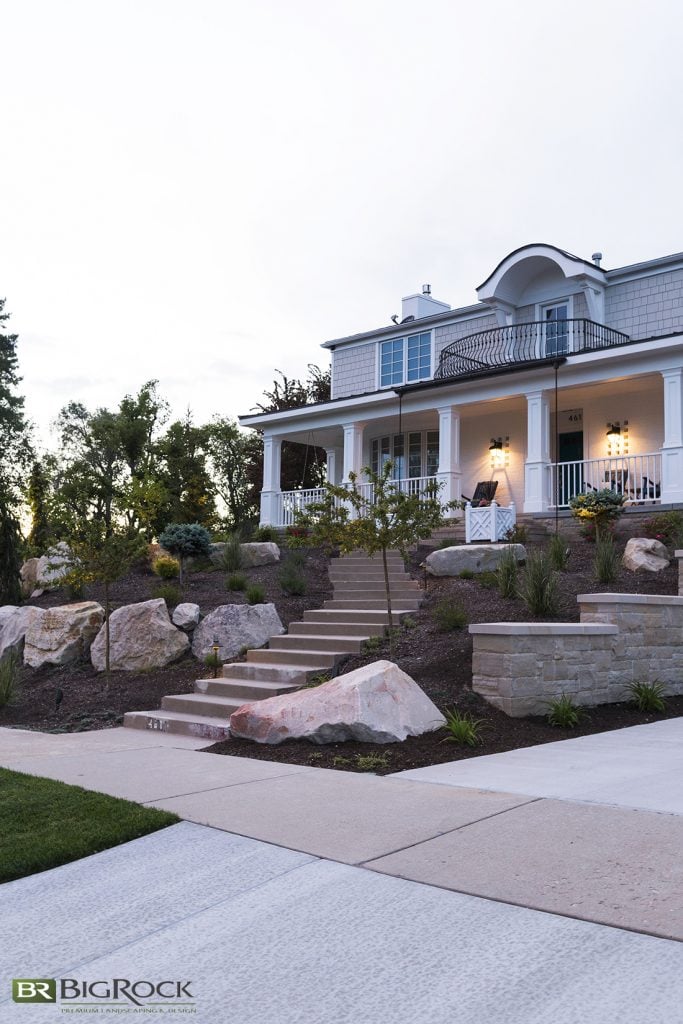 Take Cues From The Surrounding Area
Sure, you want your front landscape design to stand out and be original, but there's a big difference between being unique and being outlandish. Take a look at the natural growth in your area, and observe what your neighbors have done with their landscaping. You'll likely want to incorporate elements that pull from nearby inspiration. Again, your yard can be uniquely yours, but it should also blend in with your neighborhood.
Be Mindful Of Growing Seasons
It would be great if your yard could be in bloom all year round. Unfortunately, most climates don't allow for this. Be mindful of growing seasons, and plan your yard accordingly. If you plant annuals, know that you will have to replant them every year, and will require more upkeep. If you go with perennials, be aware that they have a shorter blooming period. Consider what the flowers, bushes, and trees will look like in the colder months and in the heat of summer. Planting a variety of vegetation is a great way to stagger the growing season in your yard so you experience as much green as possible for as long as possible.
Choosing The Right Plants And Shrubs For Your Front Yard Landscaping 
Although it might seem overwhelming to pick just the right plants and shrubs for your front yard landscaping, you can become a green thumb expert by following these simple tips:
Consider the Climate
Choosing plants is always the fun part of landscape design for the front of your house. With so much to choose from, make sure to choose plants and shrubs that can thrive in Utah's harsh winter and summer climate. Don't assume that just because it's sold at a nursery it will do well and thrive in Utah's climate. Choose plants in your hardiness zone that are native to the intermountain west area. These plants will already be genetically adapted to Utah's climate, often requiring less water, maintenance, and fertilization. 
Think About Sunlight
Sunlight is a required food source for plants, but too much or too little can greatly impact whether or not they thrive in their chosen location. Some plants require full sunlight, while others prefer partial shade or full shade. Pick plants and shrubs that will thrive in each section of your landscape. We recommend observing your landscape at different times during the day to truly understand how much sun each area receives so you can plant accordingly.
Choose The Right Size
Make sure to choose plants and shrubs that are the right size for your front yard once they have reached maturity. Large trees or bushes can overwhelm a small front yard and cause a maintenance nightmare by growing too close to the home, while small plants may get lost in a larger front yard.
Think About Color And Texture
There are many shades of green, and we utilize this color frequently when creating landscaping designs. When considering color and texture, use a color wheel to guide you in choosing a complementary design theme, and look for plants and shrubs that offer a variety of leaf shapes, growing habits, and colorful blooms to create an eye-catching landscape design. Think about how your yard will look during each season and consider planting shrubs and plants that will still provide interest and color during the whole year.
Consider Maintenance
If you've owned a home for any length of time, you know that some plants require more maintenance than others. Depending on how much time you like to spend outside in your yard, choose plants that will correspond to your level of gardening commitment.
Think About Seasonal Interest
Consider using plants and shrubs that provide seasonal interest throughout the year. For example, choose plants that flower in the spring, have showy fall foliage in the autumn, or have colorful bark during the winter. Many plants go through physical changes as the weather cools and warms, which can be delightful to observe and enjoy. Look for plants that do more than just flower in the spring.
Incorporate Native Plants
When it comes to landscaping ideas for Utah, Incorporating native plants in your front yard landscaping is a win-win all around. Not only do they require less maintenance and water, but they also encourage local ecosystems and wildlife while performing well against drought, pests, frost, and other environmental hazards.
Enhancing Your Curb Appeal With Lighting
Landscape design for the front of your house is incredibly important. If there's one element that is often overlooked that delivers a big impact, it's how much proper outdoor lighting can enhance your curb appeal. If you're looking for landscaping ideas for the front of your house, don't forget to think about lighting!
Choose The Right Lighting Fixtures
There are many different types of outdoor lighting fixtures available, such as path lights, spotlights, and floodlights. Before choosing a lighting fixture, think about what type of effect you are trying to achieve. You'll want a welcoming lighting scheme that will highlight your landscape, provide safety when walking at night around the property, and let your home literally glow during nighttime hours. 
Highlight Key Features
Lighting is often used to highlight key features of your home. Use lighting in your front yard landscaping to highlight things like trees, shrubs, flower beds, or architectural elements of your home. This will give your property dimension at night while creating a soft, glowing ambiance that is welcoming to visitors.
Layer Your Lighting
Use a combination of different types of lighting to create a layered effect. You can achieve this by using path lights to line either side of the walkway to your front door, using spotlights under trees to highlight trees and shrubs that are close to the home, and using floodlights to provide overall illumination.
Consider The Placement
Having the right kind of lighting is just as important as placing it correctly within your landscaping. Make sure to place your lighting fixtures strategically to create a well-curated effect. For example, spotlights are usually placed at the base of a tree to create an upward lighting effect, while path lights are often used to create a welcoming entrance to your home.
Use Energy-Efficient Lighting
With so many different lighting options on the market, don't settle for anything less than energy-efficient lighting fixtures. Lasting for decades and becoming more affordable by the day, LED lights save on energy costs and reduce your environmental impact.
Create A Safe And Secure Environment
Use lighting to create a safe and secure environment around your home. Use flood lighting for sports recreation areas, and path lighting to illuminate pathways going to and from different areas of your yard to prevent tripping hazards. Use can lights under eaves, pendants or can lights beneath your front door, and sconce lighting next to the side or garage doors so that you always have light coming or going. 
Consult A Professional
If you're unsure how to incorporate lighting into your front yard landscaping, consider consulting a professional landscaper who can help you create a custom lighting plan. Big Rock Landscaping has decades of expertise in creating well-designed lighting plans for Utah homes. Our work speaks for itself. check our outdoor lighting portfolio for front yard landscaping lighting ideas for your home.
7 Front Yard Landscaping Ideas To Inspire Your Design
With the basics of landscaping out of the way, it's time to dig into the fun stuff. These front yard landscaping ideas will help spark your imagination and show you some possibilities you may not have considered before. For even more landscaping ideas, be sure to visit the Big Rock Landscaping portfolio.
A Layered Look
This home took what could have been an eyesore in the form of a large, sloped front yard, and turned it into a tiered masterpiece. The use of retaining walls, a large pathway to the front door, and a variety of layered greenery creates a visually appealing look that guides your eye around the yard and up to the home's entrance.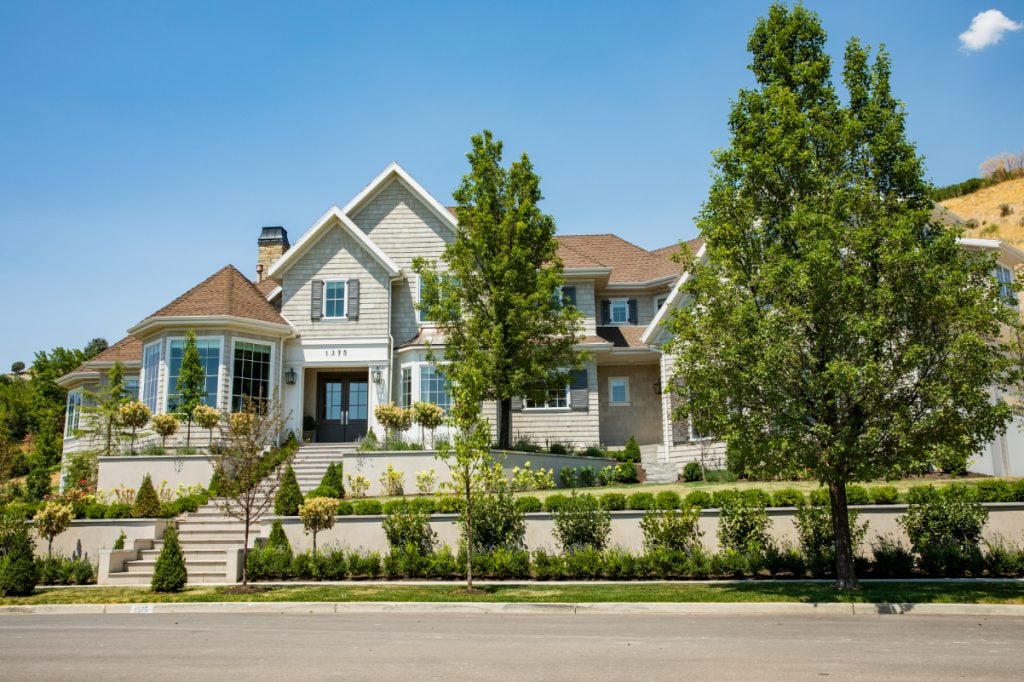 Natural Elements And Visual Interest
The staggered walkway and natural grasses give this front of house landscaping a wild and free feeling. Even though the steps aren't perfectly aligned, there is still a direct path up them to the front door. Thus they add visual interest while still being functional. The wild grasses are contained within beds, which allows them to have a natural look that won't overtake the yard. And overall, the style of the yard nicely complements the architecture of the house.
Clean And Simple
The architecture and finishes of this house add a lot of visual interest, so the landscaping is low and simple. It works to highlight features like the large front windows, the walkway, and the front door alcove. The greenery is also a beautiful contrast to the neutral palette of the house.
Mountaintop Vibes
This home is situated in the foothills, and the front landscape design reflects that. We used rocks, bark, and natural stone elements, combined with clusters of trees and bushes to create a woodsy feel. It gives the home an overall cabin-like feel, even though it is in an urban setting.
Small And Simple
If you're working with a smallish front yard, you don't want to overwhelm the landscape with too many plantings. In this design, a freshly mowed and edged lawn pairs nicely with simple garden beds and a couple of well placed trees.
A Clear Pathway
This front entrance pathway is simple, but provides a great deal of visual interest. The little bit of spacing between each cement pad breaks up the pathway, without impeding its functionality. The simple garden boxes and limited trees allow light to flow freely into the windows and don't detract from the details of the architecture.
A Simple Xeriscape
When water is tight, or maintenance just isn't your thing, you may want to opt for a no grass look. We used a variety of plants and natural elements to create a visual story in this simple front yard landscaping. It's low maintenance, looks great, and is supremely unique.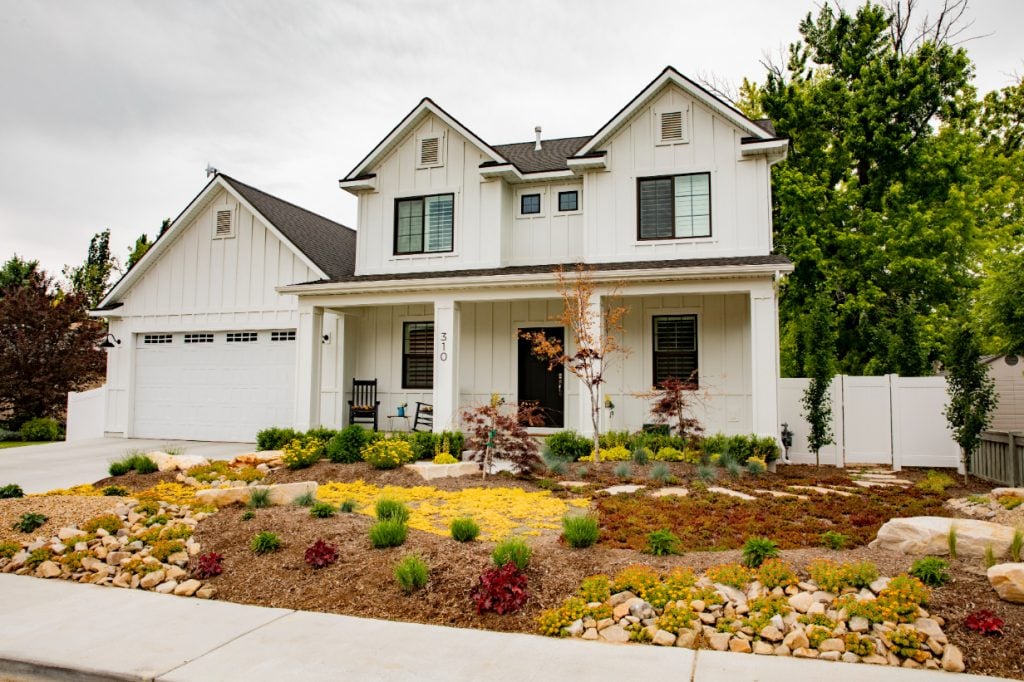 Big Rock Landscaping: Your Utah Landscaping Design Experts
If you're overwhelmed, or want help coming up with customized front yard landscaping ideas, you should call Big Rock Landscaping. We've been providing our award winning landscaping design and installation services to Utah homeowners for years. We use our award winning landscaping process on every project we tackle. This has helped us consistently provide the best landscaping services to our customers, whether we're designing a yard from scratch, giving an outdoor space a refresh, or maintaining what you've got. If you'd like to learn more about what we can do, or talk to us about your front landscape design, contact us today to set up a consultation.