Staff Picks: The 5 Best Roses for Landscaping
Roses are the flower of love and typically make their grocery store debut a week before Valentine's Day. And while we love seeing all the bouquets during February, we like to enjoy roses longer than just a few days. Did you know you can bask in the beauty of a rose without having to wait for a holiday (or reason to say I'm sorry)? We know. Crazy.
5 Best Roses For Landscaping
Spruce up those drab gardens with some roses. We share our 5 favorite roses that are perfect for adding to any residential landscaping design.
Hybrid Tea Rose
We drool over the wide variety of colors the Hybrid Tea Rose has to offer. From multi-colored roses with splashes of red to peach or yellow, the Hybrid Tea Rose will have a color for every landscape. Their long stems and perfectly centered blooms are some of the most recognizable types of rose.
Knockout Roses
You can't pass up Knockout Roses! These are perfect landscaping roses because of their small blooms and shrub-style growth. Even with smaller blooms, these roses still pack a delightfully fragrant punch. Don't mistake Knockout roses with Grandma's perfume! Their fragrance is a perfect addition to any landscape garden where you can spend time outside enjoying their beauty and smell.
Pearly Gate Climbing Rose
The Pearly Gate Climbing Rose is a gorgeous addition to pergolas, fences, or arbors. Because they are climbing roses, they will make their way around whatever structure you plant them near. Create your own secret garden moment with the soft-colored and full-bloomed pearly gate climbing rose.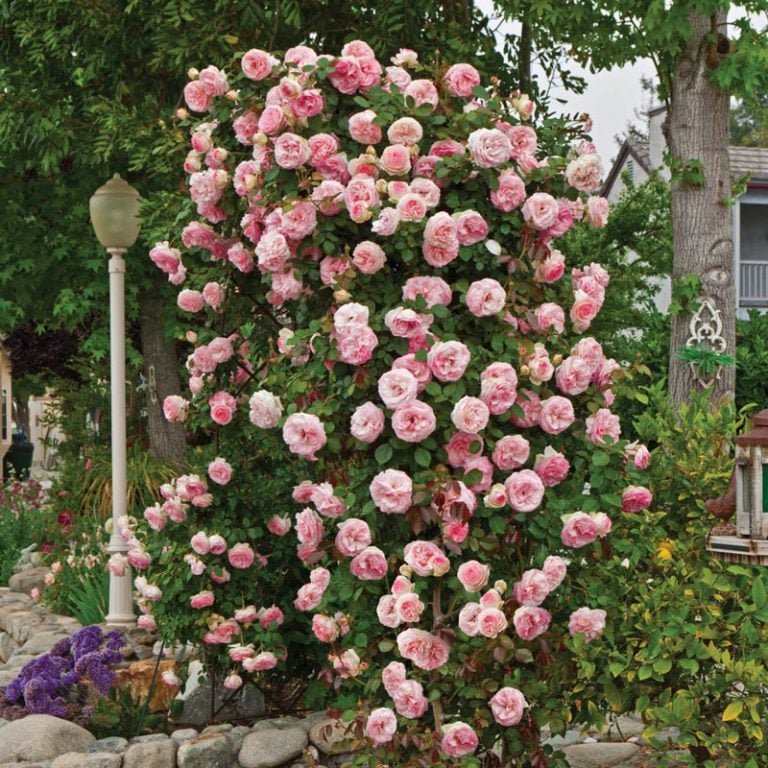 PeachDrift Rose
Consider adding the PeachDrift Rose in your landscaping design because of their beautiful bloom's peach-colored variations. Considered a dwarf shrub, this perennial will fill in large garden beds with touches of color while also being disease-resistant.
Carefree Wonder Rose
The Carefree Wonder Rose will transport you to a cozy English garden where you will definitely want to sit down for an afternoon tea.  We adore the Carefree Wonder Rose because of its irregular growth pattern and scrumptious pink and white blooms. A nice side benefit to the Carefree Wonder Rose is that they are disease-resistant and easy to grow.
Big Rock Landscaping: Will You Accept This Rose?
We're just a landscaping company, standing in front of a homeowner, asking them to love roses as much as we do. Will you accept this rose?
It's hard not to love roses with their varying shapes, size, colors, and fragrance. Picking the right rose for your garden design will make all your neighbors stop to actually smell the roses. Don't settle on grocery store bouquets to get your fill of these stunning flowers. Big Rock Premium Landscaping can help you choose the best roses for your Wasatch front home landscape. Give us a call today!