Will My Yard Come Back To Life? (How To Clean Your Yard After Winter)
For some, the beginning of spring is like opening up a yardful of beautiful gifts, with all the expectations of new blooms, fresh soil, and a hint at all the color that is to come. For others—perhaps those who didn't quite finish up their fall yard cleanup checklist or weren't vigilant about landscape upkeep during colder months—it's a dreadful waiting game, wondering what, if anything, in the yard survived the winter.
But never fear! Spring is a time for growth and new life, and that includes breathing life into your spring yard cleanup game plan. Check out our top tips for how to clean up your yard after winter, and what to look for when you need a little reassurance that there is still life out there!
Did My Yard Survive The Winter?
The first thing you need to do is check for signs of life in your yard this spring.
Are the trees budding? Get up close and personal—look for rounded, sometimes fuzzy buds on or near the branch tips that can assure you that, despite a still-wintry gray cloak, this tree is alive and kicking and will soon burst forth with springtime foliage. No buds to be found? Check for signs of frost damage that may have stunted growth (don't worry, most damage from the cold is survivable!) or other issues like major limbs that have broken off and exposed the vulnerable inner bark and cambium to further damage from outside elements. Chances are, if you've planted trees that are well-suited to your climate, and they were properly watered throughout the year, you will have no serious damage. Your trees will be happy and healthy this spring.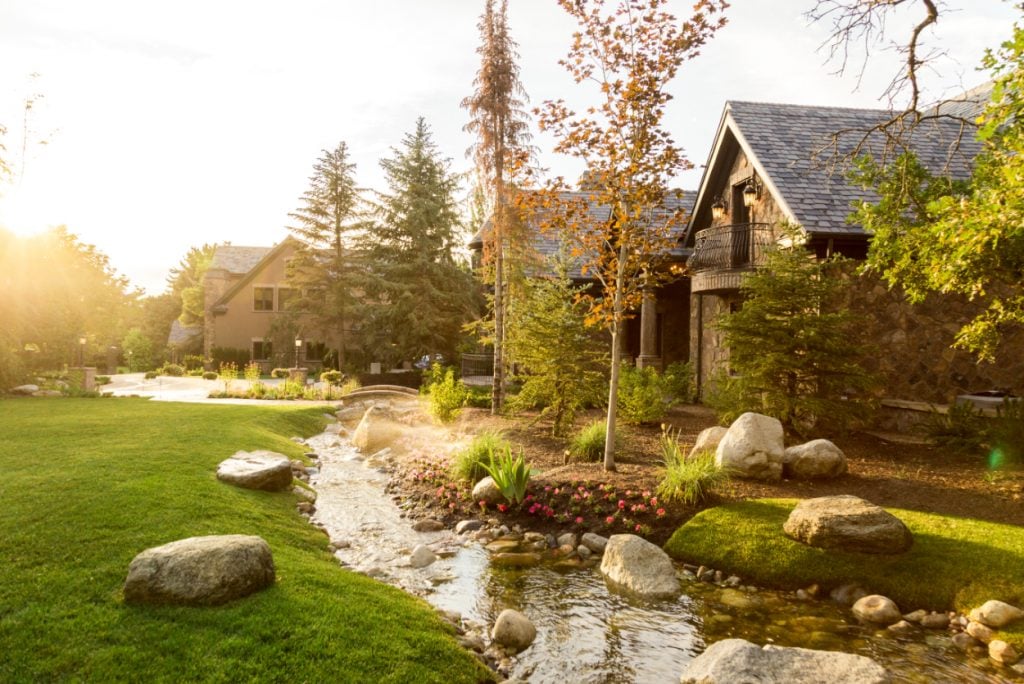 Other important signs that your landscaping survived the winter? Check for decay lurking, from frost damage on plants, amongst the shrubbery. Early spring flowers should be emerging (think crocus, daffodils, and snowdrops first), and your lawn—despite some lingering (and typical) brown hues—will look fairly even and eager to perk up with spring's upcoming sunshine and rainfall.
If you do find yourself facing the funeral of a beloved landscape element, don't panic. You can often pull out and replant the smaller stuff (no sweat) and rethink the bigger things that may have gone wrong (with the help of a trusted professional with the best landscaping services, for best results, of course).
14 Tips To Clean Up Your Yard After Winter
Now that you've checked over the yard, and you feel like it's ready for its springtime reveal, it's time to clear out the old and clean up what's here to stay, so you can enjoy your landscape to the fullest this year. Here is how to clean up your yard after winter in 11 simple steps.
Clean Up Any De-Icing Products
Rock salt and other commercial de-icers (especially chemical-based ones) can have a damaging effect on your landscaping, so if there are obvious deposits sticking around after the ice is gone, make sure you remove and properly dispose of them to ensure a greener, healthier landscape this spring.
Check Gutters
Cleaning your gutters after winter is so important! Clean your gutters for spring and remove any water, debris or leaves that may have frozen during the winter. While you are working on your spring yard clean up, check in to make sure that your gutters are not sagging or in need of other repairs.
Show The Hardscaping Some Love
Spring is the perfect time to give your hardscaping (pavers, patio, deck, etc.) some TLC. Brush down cobwebs, spray down hardscaping with a pressure nozzle on the hose, and even think about giving your fence and deck a once-over with sealant to ensure they're ready for plenty of use and enjoyment during peak backyard seasons.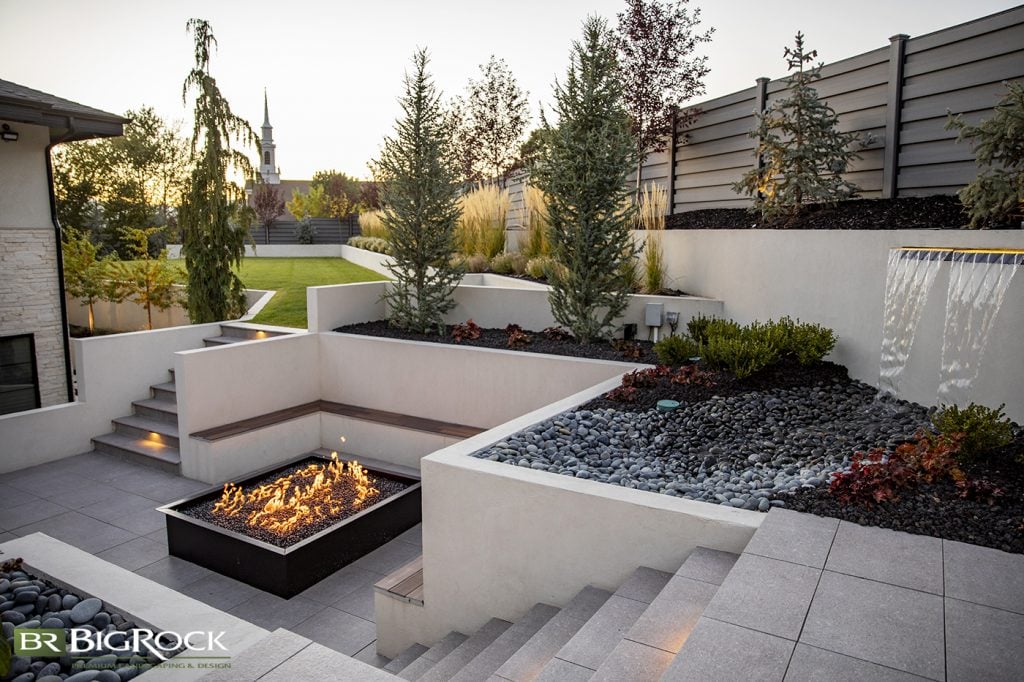 Unwrap Any Covered Vegetation
The next step in cleaning up your yard after winter is to unwrap or uncover anything you had protected in late fall or early winter, so you can get a good look at everything in your yard. Time to clean and put burlap trunk wraps or other protective materials into storage for next year.
Clear Out Damaged Plants And Debris
If you do have a few branches that need removing after a big ice storm, or a shrub that is clearly too shriveled to revive, now is the time to properly trim or remove the offending vegetation and any other debris that doesn't have a place in your yard this spring. Make sure to use clean and sharp tools where necessary (saving any dead wood and small limbs for fire pit kindling!), and properly dispose of errant trash that may have blown in and hidden under the snow over the winter.
Check For Diseases
Check for frost damage on plants or for any diseases that may have stricken plants during the winter. Treating any diseased plants or removing them from the area will protect your healthy plants as well as any new plants that join your yard!
Trim And Prune
Above and beyond removal of unhealthy or dead vegetation, you need to evaluate your trees and shrubbery for pruning. A good sign your deciduous trees (particularly fruit trees) need to be worked back is a crop of small limbs shooting straight up from the tree. Make sure you know what you're doing (or hire a landscaping pro to get the job done right!) before hacking away at any tree or shrub to ensure proper procedures for healthy, beautiful results.
Clear Out The Weeds
Give your yard a quick facelift by clearing out any weeds that survived the winter or are already springing up with the warmer weather. Make sure you're pulling by the roots to eradicate the issue, rather than leaving the underground system to thrive unseen until it becomes a larger and more difficult problem to resolve.
Rake And Compost
Another easy spring yard cleanup tip? Give the lawn a quick once-over with the rake to gather the smaller twigs, leaves, and any dead grass for the compost pile. This will clear the path for the lawnmower and help provide future fertilizer for your flower beds or veggie garden.
Fertilize
Because spring is such a great time for new growth, it's also the perfect opportunity to fertilize, ensuring a good growth spurt for healthy ground cover. Coming out of a wintry hibernation period, your lawn is hungry for as many nutrients as it can get, so pick the right fertilizer for your type of grass and pick a time when no rain is predicted for a few days, so it won't get washed away before it has a chance to be absorbed by grass roots.
Aerate Your Lawn
Be sure to aerate and fertilize your lawn after the frost thaws. When this has been completed the fertilizer has the opportunity to reach the aerated pathways and allows it to revitalize the roots that were protected during the winter season.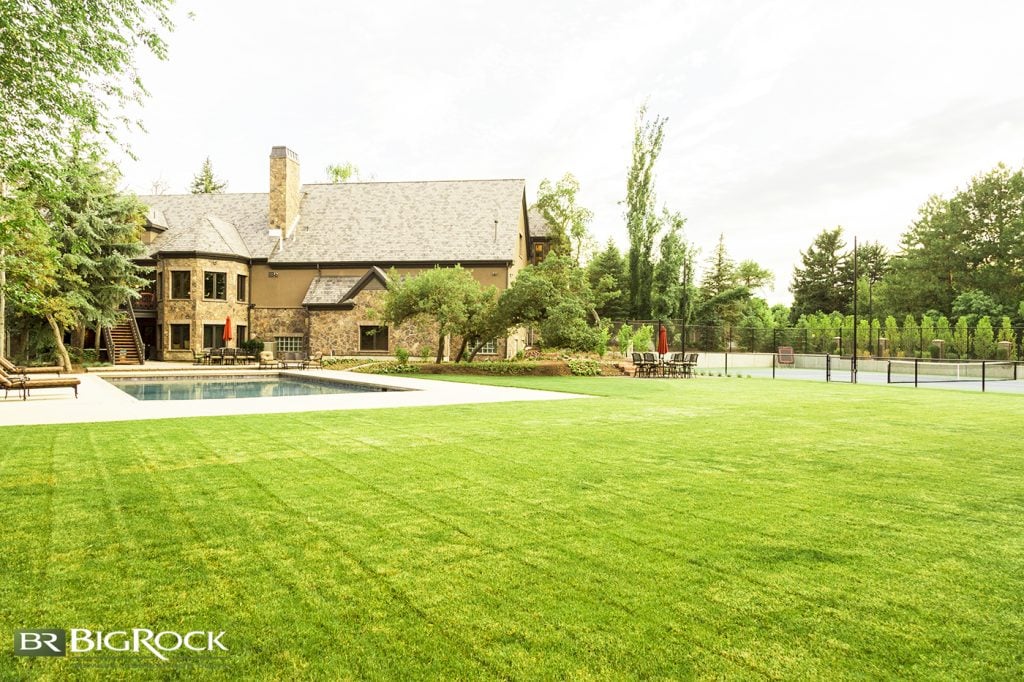 Mow Often
As soon as the grass has grown a few inches high (read: had a chance to really develop before you whack it down) and the temperatures aren't dropping too low, break out the lawnmower and keep up with mowing at least once a week—every five days is a sweet spot for many. This can help the lawn come in thick and lush.
Mulch
Next on the spring yard cleanup list is mulch. Check out your beds to see if your mulch seems stale or even overly soggy from a long, wet winter. Remove what looks or feels unhealthy and plan to replace it after planting anything new with fresh, heavy mulch to protect your tree, shrub, and flower roots.
Plant
The last phase in how to clean your yard after winter is to bring in new plants and flowers to fill in any gaps from old or damaged ones, or simply refresh your yard with a new look. Make sure to choose plants you're prepared to care for, preferably native to your region, for the best and most lasting results. 
FAQ: Winter Cleaning For Your Yard 
Still wondering about the best way to winter clean your yard? Keep reading for more about this important process.
What kind of debris is the most common after winter?
While it's important to clean away any plant debris prior to the winter, you still want to check your yard for any additional debris after the winter season. Check for diseased plants, rake any leaves that may have collected or frozen in the snow, and trim back any plants that may become unruly.
Where in my yard is the best place to start?
The first place to start clearing your yard after winter is to clean up any products that were used for de-icing, including rock salt. After this, you should trim back any trees or shrubs that need pruning. Be sure to remove any dead plants that did not survive the winter season and work to control the weeds. Lastly, fertilize for the beautiful spring season!
How do you deal with pests and animals that have caused winter damage?
While you may think that the winter will be free from damage caused by pets and animals, this is simply not the case. As you prepare your yard for the spring, take note of what pests have appeared and plan the best way to deal with them before they can infect deeper during the warmer months.
What are the best tools or products for winter yard cleaning?
There are a variety of tools and products specifically designed for making your spring yard clean-up as easy as possible. From lawnmowers to electric trimmers and leaf mulchers, there is an endless array of tools and products to choose from. Take a spin through the hardware store and find what you feel will be most beneficial to you.
How can I make my yard look its best quickly after winter?
If you're in a hurry to light that grill and have the yard all cleaned up, there are a variety of tools that will help make your job easier. Try using an electric blower to blow out your gutters instead of clearing them out by hand. You can also mulch any grass particles as opposed to bagging them. You can also speed up the process by finding help. The more hands the better!
What are some common mistakes people make cleaning their yard after winter?
Mistakes do occur, and they are lessons that we can learn from! Common mistakes when it comes to cleaning up a yard after winter include not cleaning up any leaf piles leaving opportunities for pests and molds to lurk under the damp leaves. Failure to take advantage of mulching is another mistake. Another mistake that occurs is not pruning properly. Educate yourself before you grab the loppers or reach out to the Big Rock Landscaping team to help!
What can I do in the winter to cut down on more yard work in the spring?
Every little bit of yard maintenance helps to make the next season easier. Keep up with your yard maintenance by prioritizing tasks such as aerating, mowing, cleaning up any debris with raking, consistently seeding and sodding, watering, and weeding.
Big Rock Landscaping: Your Utah Landscaping Services Experts
Whether you're excitedly anticipating spring yard cleanup or dreading how to clean your yard after winter, Big Rock Landscaping can help. You need a landscaper who is not only passionate about what they do, but extremely practiced and transparent in their processes , so you can trust that the job will not only get done, but to the highest standard achievable. With years of experience in everything from designing and planning to proper planting and tree pruning, we're the ultimate choice for your Wasatch Front landscaping needs this spring, and every season to come.
Ready to get started with Big Rock Landscaping or just have a few questions? Contact us here, and we'll be glad to help!