Landscape Lighting Ideas To Enhance Your Spaces
When it comes to adding beauty and variety to your outdoor space, there are many different ideas to choose from. If you're like most homeowners, you probably take great pride in your yard and garden. And if you're looking for ways to enhance your outdoor space, then landscaping lighting is a great option! Whether you're looking to add a little extra curb appeal or create an inviting atmosphere for gatherings with friends and family, read on for some of our favorite landscape lighting ideas. We think you'll be surprised at just how much impact landscaping lighting can have. From accent lighting to spotlit trees and shrubs–there are plenty of ways to make your yard truly shine when the sun goes down. 
Landscape Lighting Basics 
The right lighting can make a big difference in how your yard looks and feels. Not only can it highlight features that you want to show off, but it can also create a sense of ambiance and security. The best way to choose outdoor lighting is first to consider what you want to achieve. Do you want to highlight a particular feature? Create a dramatic effect? Or simply add some extra light for safety purposes? Once you know what you're trying to achieve, you can start exploring different options. 
LEARN MORE: Our Outdoor Lighting Services
Places To Put Landscaping Lights On Your Property
Landscape lighting can fulfill many functions. It can add ambiance, safety, highlight special features like a rock wall or fountain, or simply add beauty. Truly, any yard can benefit from one or more of these great landscaping ideas. 
5 Places To Put Landscaping Lights On Your Property
When thinking about adding lighting to your outdoor space, it's not so much about choosing the "right" lighting for your landscape, but more about understanding how lighting can add value to your existing or newly designed landscape. When done well, good lighting can make your yard enjoyable year-round and during any season. It can also add pleasure and warmth to an intimate setting or add a safety element to areas of your yard that need special navigation after dark, like stairs and pool areas. 
Around The Pool. Not only does lighting surrounding the pool add such a dreamy glow, but it also adds an element of safety. Especially if there is night swimming involved. Always make sure that water features and pools are well-lit to avoid any accidents.
Under The Pergola Or Porch. Want to make your outdoor spaces a bit more intimate? Consider adding lighting underneath your pergola or covered porch. You can go traditional with basic can lights which will add enough light to cook and dine by or try adding statement pieces like outdoor chandeliers or string lights. 
Around The Sporting Equipment. It's always a good idea to see where you are stepping and what round object might be flying at you. Especially at night. While some of us enjoy a certain element of surprise, no one wants to be accosted by a basketball or trip on an uneven surface when playing outdoor sports. If you have an outdoor pickleball court or any other outdoor sports areas, we recommend using flood lights to completely bathe that area with good, solid light. Not only will it make playing those sports more enjoyable, but it will increase the safety of your space as well.
Under The Eaves And Leaves. There are few things more welcoming to a home than under eave lighting and spotlights under trees or shrubs. Especially if you want to highlight a beautiful tree in your yard, you should consider installing uplights at its base. This will create a striking effect that is sure to impress your guests. In addition, outdoor lights outside the garage and landscape lighting along walls or aimed at dark corners can be an effective way to deter crime. 
Along Pathways. If safety is your primary concern, then placing lights along pathways and stairs is a good idea. This will help prevent accidents and make it easier for people to find their way around your property. 
13 Eye-Catching Landscape Lighting Ideas 
Landscape lighting can add beauty, safety, and value to your home. If you're just getting started, we encourage you to check out our outdoor lighting portfolio for some killer inspiration, but in the meantime, here are a few landscape lighting ideas to get you started:
Turn Up The Heat
This may not seem like adding lighting, but adding an outdoor fireplace to your landscaping really does create an inviting space. This can be as dramatic as a built-in fireplace or as simple as a stand-alone fire pit where you can gather for smores and scary stories under a starry, summer night.
Create A Mood
Ambiance is all about creating a certain mood. If this speaks to you, place landscape lights in areas where you want to create a sense of warmth and intimacy. This could be in a seating area near your patio or deck, along a path, or under trees or bushes.
Accentuate Cool Features
Landscape lights can highlight features such as sculptures, fountains, or architectural details on your home. You want your home to look just as amazing at night as it does during the day time, so don't be afraid to light up those cool features that really make your landscape unique.
Light Up Pools
Pools literally sparkle and reflect light when they have underwater and surround lighting. Not only does this keep things well-lit and safe, but it adds a sort of magical quality to any pool area. Lighting in this area is a must, as installing lights here are both functional and aesthetically pleasing.
Highlight Task Areas
If you are spending time outside in the early or late evening, you might benefit from placing landscape lights near doors and windows to help you see when you're coming and going. Task lighting can also be used to light up a BBQ area or outdoor kitchen. These usually are mounted to the side of the doors or above them, adding great light when transferring items (or yourself!) from inside your home to the outside, especially if your hands are full, which is often the case.
Let Your Personality Shine
Outdoor lighting is a great way to get creative and let your personality do the talking. Lighting is often not a big expense and it can be really fun to play around with different styles and materials of outdoor chandeliers and lamps or lanterns. Many lighting retailers in this space have diverse options that will suit any taste and style. 
Light Up Covered Areas
If you have a pergola or covered porch, it's essential to install lighting if you hope to use this space in the evening. Oftentimes, this is a space where kids and adults hang out to play games or chat, and it's always helpful if you can at least see the faces of those you are talking with! Lighting here can be understated, or you can really ramp it up with can lights. Depending on how you want to use this space, you can choose understated lighting like floor lanterns or string lights, or you can go big with can lights. Can lights are often adjustable, so if you want both understated and bold, can lights can easily do both.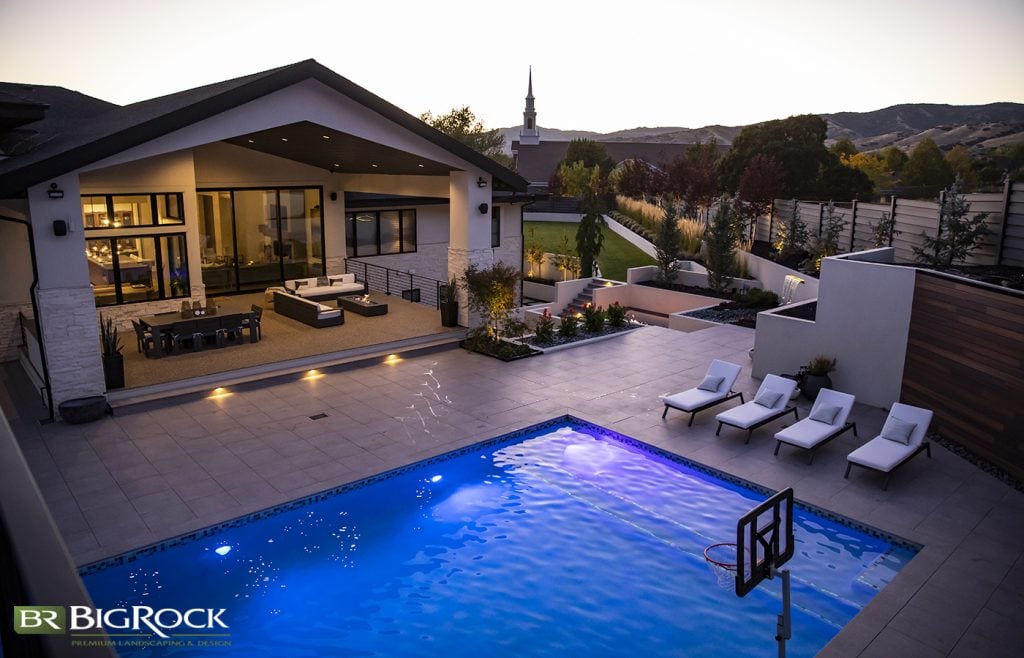 Around Patios And Decks
It goes without saying that lighting on decks and patios can not only create a welcoming and warm space, but also add value in the safety department. You can use conventional overhead lighting if your deck or porch is covered, but if they aren't, consider more creative ways to light up this space by using floor lamps or string lights around rails or wound around shrubs or up the trunks of trees.
Have A Boring Wall?
You've probably never really thought much about the walls surrounding your property. The lighting industry has come a long way in terms of classy and interesting ways to add light to your retaining and property walls. Good wall lighting can take a boring wall and make it into a glowing halo that surrounds your outdoor space.
Go Bold
We've mentioned this before, but it's essential to choose big and bold lighting for outdoor sporting areas, whether it be a grassy area for volleyball or your nightly pickleball tournament. You need adequate lighting for sports, and good quality flood lighting is the only way to go. 
Create Magic
Garden spaces truly become magical when you get creative with your lighting. Depending on how your garden is set up, you can weave light throughout, use post lighting for visibility, or simply use low ground lighting to light up paths or walkways between garden beds. Whatever way you choose to go, a garden lit up at night becomes a magical space that begs to be explored.
Under Eaves And Corners
Deterring would-be criminals is always a good idea. Placing high illumination lights by your garage, under eaves, and dark corners will not only make your house safer, but it will also give your house a well-deserved night-time presence and dimension.
Under Trees And Shrubs
In our opinion, spotlights under trees and shrubs is one of the best ways to create beauty and highlight your landscape when night falls.
Whatever landscape lighting ideas you choose, adding lighting is a sure-fire way to add security, personality, ambience, and functionality to any landscape. And if you are feeling overwhelmed by the variety of lighting or are just spinning your wheels and can't get started, reach out to one of our landscaping professionals to ensure that your landscape lights are installed properly and safely. Let us do the heavy lifting for you!
Outdoor Lighting for Warm Landscaping Vibes
If you're looking for landscape lighting ideas, hiring a professional like Big Rock Landscaping is a good idea. Our landscape lighting professionals have the experience and expertise to help you choose the right lighting fixtures and placement for your particular landscape. We can also provide tips on maintaining your landscape lighting system so that it continues to look its best. With our help, you can create a beautiful and inviting outdoor space that you'll enjoy for years to come. Call us today!