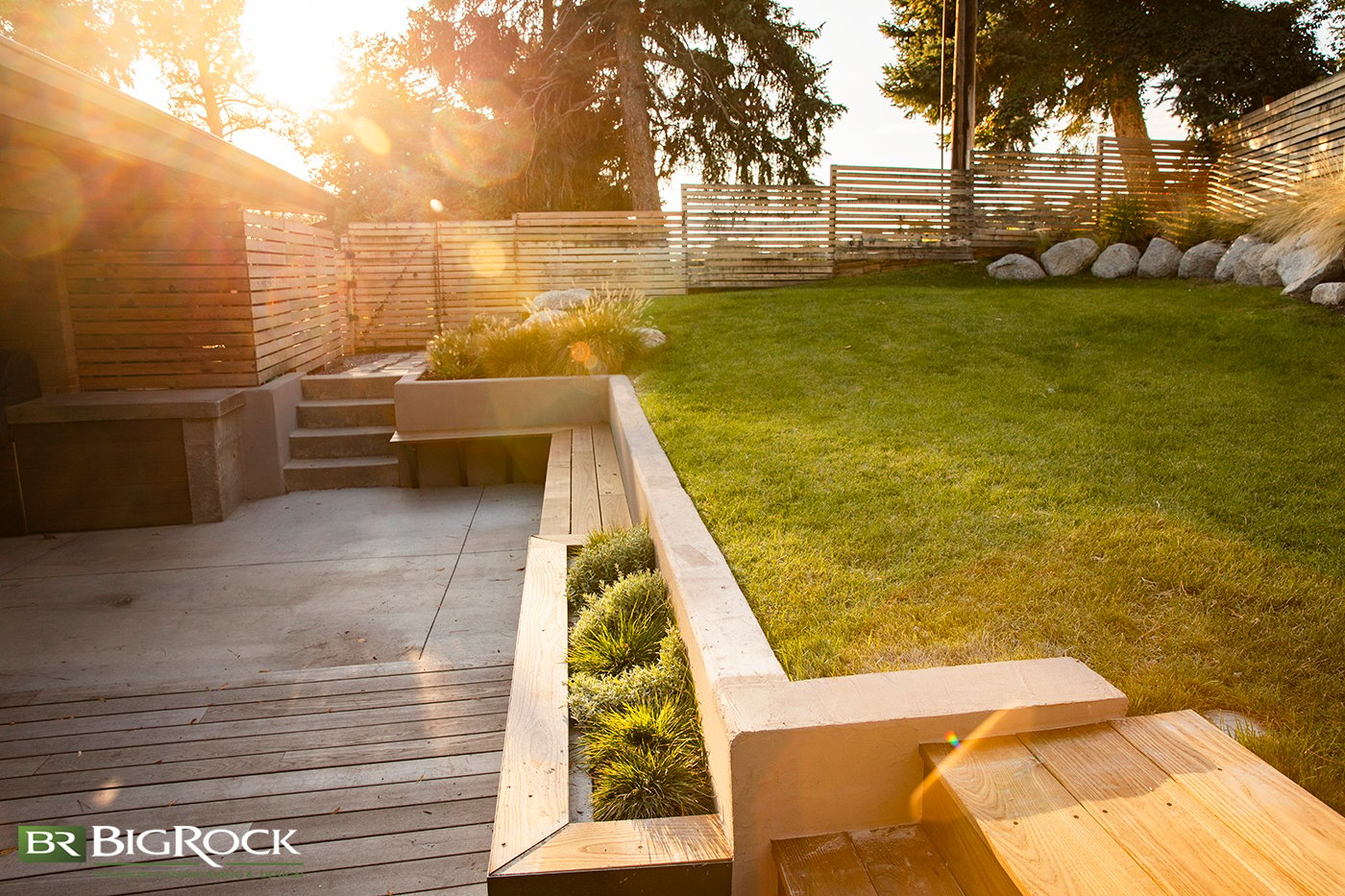 Ideas For Blending Your Deck And Landscaping Design
Imagine stepping into your backyard oasis, where a carefully cultivated landscaped yard seamlessly transitions to an inviting deck, beckoning you to unwind and enjoy the beauty of Utah's stunning scenery. If you've been contemplating integrating a deck into your existing landscaping, not only do we wholeheartedly agree, but we can lend our expertise to your deck landscaping design plans to build an outdoor space that is not only visually appealing but also functional, connected to nature, and tailored to meet your specific needs and preferences. 
Designing Landscape Around Your Deck
Building a deck seamlessly into your existing landscaping not only elevates your outdoor space but also transforms it into a harmonious sanctuary that effortlessly merges the best of both worlds. Let's explore how deck design landscaping can create a captivating and functional Utah mountain retreat.
When designing landscaping around a deck, it's essential to consider several key factors. Your answers to the following questions will help you identify key design considerations that matter most to you during the design process. 
LEARN MORE: Big Rock Landscaping Decking Services
How Do You Plan To Use Your Space?
Determine how you plan to use the deck. Will it be simply for sitting in the sun and reading a good book, or will it do double (or triple!) duty as a dining, entertaining, or recreation space? This will guide you in selecting appropriate plantings, hardscaping elements, and the overall layout of the design. 
What Is The Architectural Style Of Your Home?
When scouring the internet for landscaping ideas around a deck, keep in mind the architectural style of your home. Any landscaping design that you pick should complement the architectural style of your home and the design of the deck itself. Harmonize the colors, materials, and overall theme to create a cohesive and visually appealing look.

What About Size And Proximity?
Pay attention to the scale and proximity of landscaping elements in relation to the deck. Consider the deck's size and height when choosing plants, trees, and structures. Avoid overpowering the deck or obstructing views with tall or dense plantings. And if you're looking for deck landscaping ideas for small backyards, remember that plants and shrubs can live in pots and living walls to maximize space. 
Do You Have Any Views Or Focal Points You Want To Highlight?
Take advantage of any desirable views or focal points surrounding the deck. Position landscaping elements to frame or enhance these views. Consider using plants with contrasting colors or textures to draw attention to specific areas or focal points. 
How Do You Feel About Maintenance?
Successful landscaping around a deck requires selecting plants and materials that are suitable for your climate and maintenance capabilities. Consider accessibility for maintenance purposes, such as providing enough space to maneuver around the deck and ensuring easy access to irrigation or lighting systems.
RELATED: To Deck Or Not To Deck Without A Professional
Is Safety And Good Lighting A Priority?
If you didn't answer yes to this question, you should. Lighting is an absolutely essential element in any well-designed deck landscaping plan. Integrate appropriate lighting to highlight the deck and surrounding landscaping elements. Consider pathway lighting for safe navigation and accent lighting to create ambiance and extend the usability of the deck into the evening.
By carefully considering these factors, you can design landscaping around your deck that not only complements and enhances the outdoor space but also aligns with your preferences, lifestyle, and natural surroundings.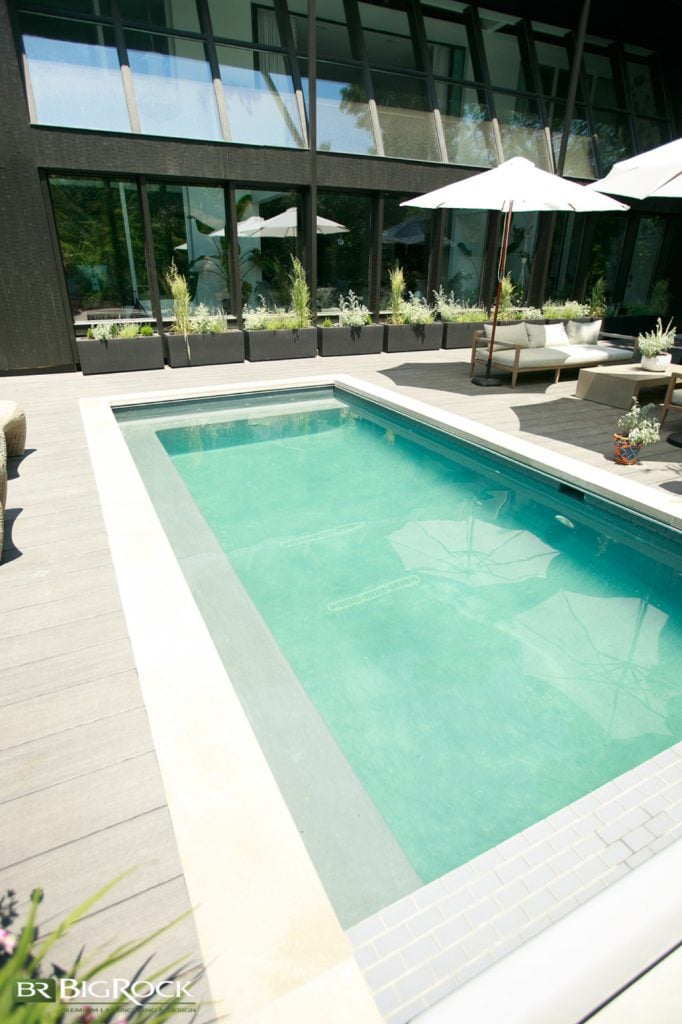 Best Practices for Deck Landscaping
If you are like most homeowners, you may feel overwhelmed when contemplating what you should put around your deck, or what the best ground cover is for under a deck. With so many choices and varieties of landscaping materials and plants, this process of merging deck and landscaping design can seem overwhelming. If this describes you or you are just looking for some inspiration, we've compiled our best practices for landscaping around a deck. 
Choosing The Right Ground Cover
Finding the right ground cover has many wonderful benefits. Not only can the right ground cover help you to attract beneficial insects and pollinators, but these same plants are great problem-solvers as they can also help protect your soil, prevent erosion, suppress weeds, and conserve water. 
Shade-loving ground cover. The best ground cover for under a deck are plants that thrive with little to no direct sun and are drought tolerant. If planting under a deck, try Leadwort or Creeping Oregon Grape. Both are Utah natives that are drought and shade tolerant. Leadwort has bright blue flowers in the summer with foliage that turns red in the fall. While Creeping Oregon Grape produces yellow flowers in the spring and blueberries in the fall. 
Sun-loving ground cover. For ground cover surrounding decks that are exposed to a fair amount of sun, try White Sagebrush. This aromatic perennial performs beautifully in Utah's desert climate. Its silvery-gray leaves spread quickly and its dense growing habit makes it an ideal plant for landscaping borders around low-slung decks or pools. Or try a native Utah sedum. There are a variety of different types that produce yellow, red, blue, or variegated foliage. And bonus! These sun-loving plants are deer resistant. Depending on where you live in the Utah Valley, this might be a plant characteristic you can't live without.
Low maintenance ground cover. Although most plants require some maintenance, there are plenty of low-maintenance landscaping options. Most plants require maintenance, so if you are really hoping for a maintenance-free under-the-deck landscaping solution, go for a layer of landscaping fabric covered by non-organic material like gravel or rock. The landscaping fabric will prevent weeds from growing, and the gravel will anchor the fabric and allow for drainage. 
Design With Seasonal Interest In Mind
Plan for year-round appeal by incorporating plants with varying textures, colors, and bloom times. Choose a mix of evergreen and deciduous plants to ensure visual interest throughout the seasons.
Think About Sustainability
Opt for native or low-maintenance plants to promote biodiversity and conserve water. Use environmentally friendly materials for hardscaping like stone, brick, and rock. When it comes to the decking material itself, there are always pros and cons for each type of material, and what you choose will come down to personal preference. But in general, using hardwoods will add warmth and beauty to your deck landscaping project, but they also require yearly maintenance and are subject to rot and pests. Trex decking, while not as aesthetically pleasing, is longer lasting and is a wonderful substitute for wood decking that has aesthetically come a long way in recent years. 
DISCOVER: 5 Jaw-Dropping Amazing Patio Lighting Ideas
Plan For Future Growth
Anticipate the growth and spread of plants when designing the landscaping. Allow enough space for plantings to mature without overcrowding or overshadowing the deck area.
Consider High Altitude
When choosing plants for landscaping around a deck in Utah, it's wise to select plants that are made to withstand the Beehive State's dynamic weather! Know your hardiness zone and don't assume that just because a plant is being sold in a nursery it will do well in Utah's harsh desert climate. Selecting plants that are native to the Utah area will help your plants thrive in their new environment without all the fussy maintenance that non-native plants require.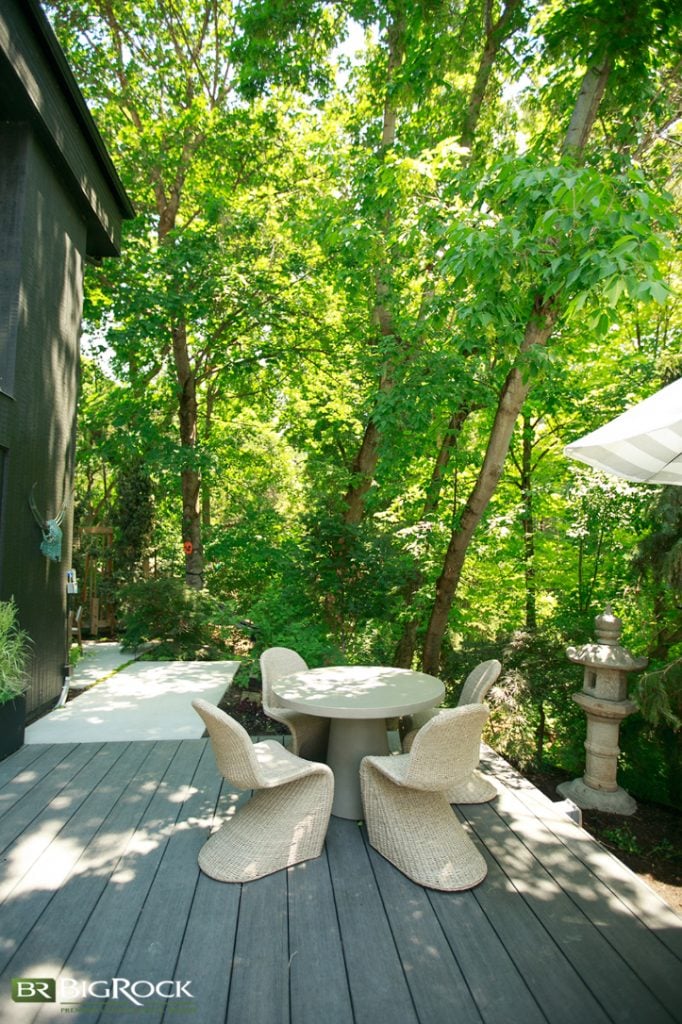 Inspiring Ideas For Blending Deck and Landscape Design
Deckscaping is a recently coined term for when landscaping seamlessly blends deck and landscape design. This quest for harmony can create a stunning one-of-a-kind backyard oasis. Looking for inspiration? Check out Big Rock's landscaping portfolio, or check out these inspiring deck design ideas.
When thinking about deck landscaping for your backyard, it's always a good idea to carve up the space into different sections to create a feeling of intimacy. You'll notice that this deck employs this strategy. With landscaping incorporated into the decking space by wooden planters that are both sustainable in materials and double as dividers between outdoor "rooms," this landscaping design is at once cozy and approachable.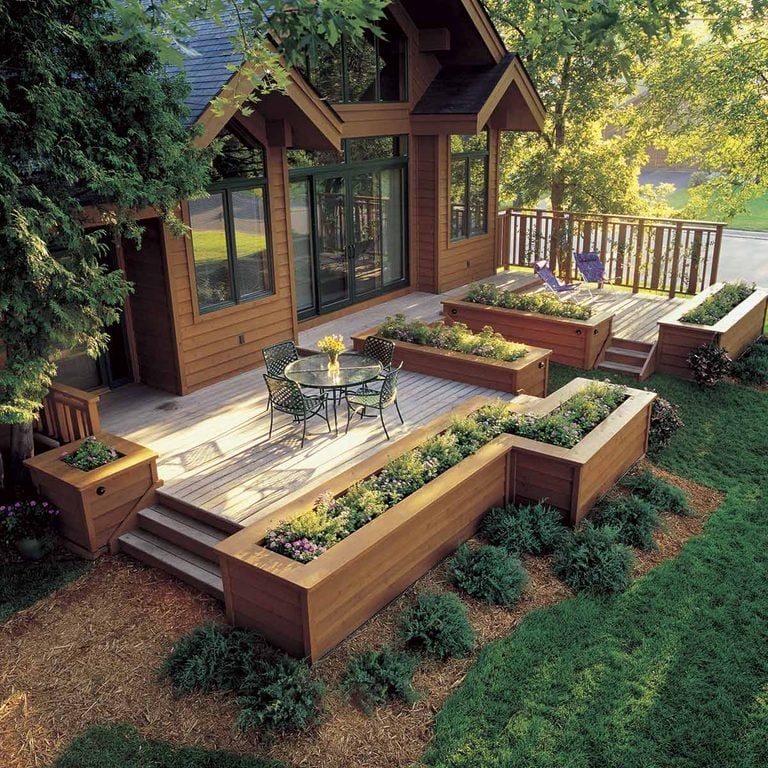 This deck feels like an extension of your living room. Notice how the designer has utilized planted pots and living walls to create a cozy, organic space. The evergreens at the side create a natural fence to provide privacy and greenery all winter long, while built-in wooden planters add variety, color, and personality. We love the mix of natural materials, like wood and metal, that complement the organic plants and flowers, making this deck design a truly sustainable and beautiful place to lounge during those hot Utah summers!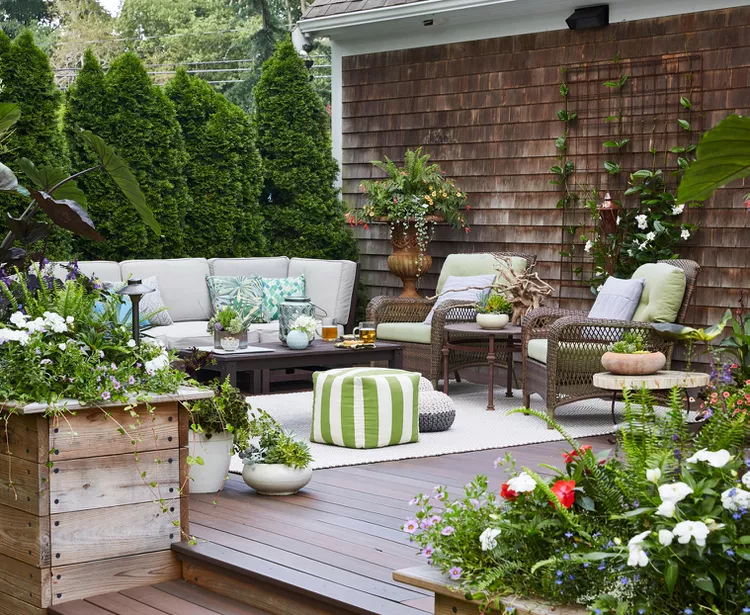 We love how cozy and inviting this backyard space is. With bright colors and natural materials that help transition between spaces, this wood and stone deckscaping is one to remember. Nature seems right at your fingertips from every corner of this deck. Landscaped borders hug the edges of this deck, softening the hardscaping elements of wood and stone while adding variety, texture, and color.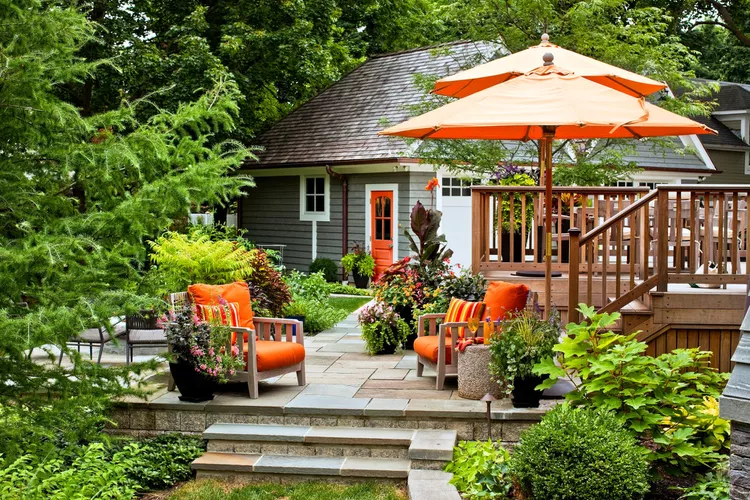 Although this deck and landscape design is simple, it still transforms this backyard space into an outdoor space that can be enjoyed all year round. With multi-tiered levels built with natural materials like stone, wood, and rock, and native, low-maintenance plants like tall grasses, this simple design is easy on the budget and the eyes.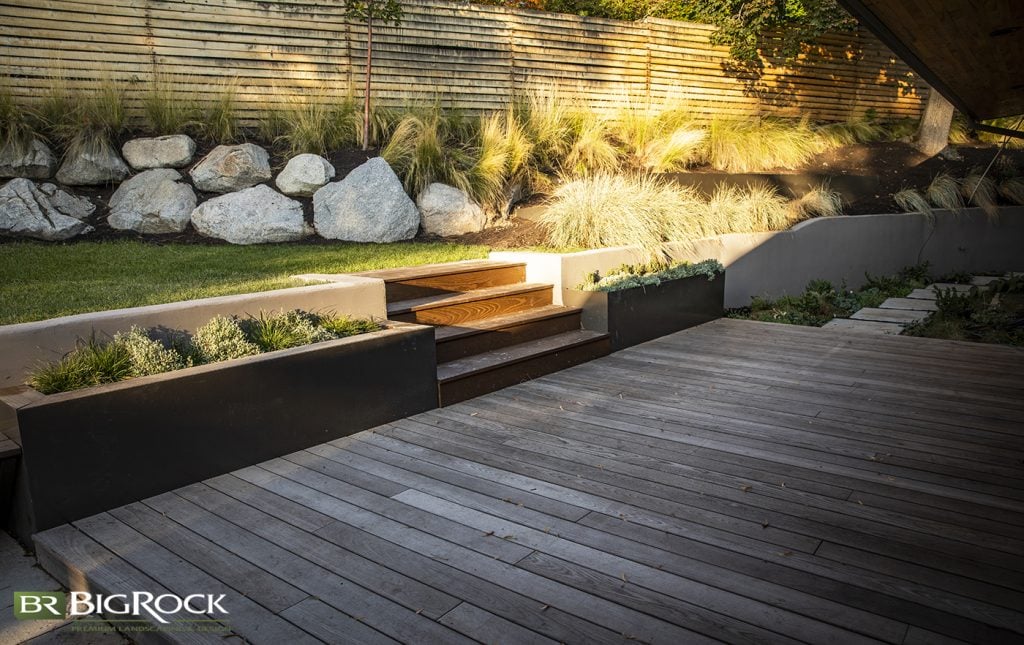 Dream Deckscaping: When Deck Landscaping Meets Big Rock Landscaping
Landscaping done right can create a cozy atmosphere. When you integrate deck and landscape design, the result is a stunning outdoor living space that brings harmony, connectivity, and increased property value, to any backyard space. With the breadth and variety of landscaping ideas and materials, your design is only limited by your imagination. So dig in and explore all the possibilities, and if you feel like collaborating on your deck landscaping, give us a shout. 
Big Rock Landscaping offers landscaping design and services for every landscaping project, big or small. Our experienced and expert staff can deliver creative ideas while also doing all the heavy lifting. Come join the ranks of satisfied customers that have enjoyed the premier, award-winning Utah landscaping services that Big Rock Landscaping has to offer!