To Deck Or Not To Deck Without A Professional
Ever thought of adding a deck to your house? Ever thought of adding that deck yourself but then realized, hey…I don't know how to add a deck to my house myself? So you started an online search for deck design ideas and some DIY-confidence-boosting articles and the decking gods landed you here? Well, what a coincidence—that's exactly how we got here! Okay, just kidding. We're total pros and we've been here waiting for you because we've got all the info you need about adding a deck to your home and have some awesome deck design ideas and inspo to share with you!
And if by the end of this you're interested in engaging our decking services, good news—we'll be all hands on deck. *wink*
Deck Design: How Do You Design A Deck?
Though a deck is really just an outdoor flooring extension of your home, coming up with the right deck design ideas and managing the deck building process on your own can be complicated things. There are a lot of questions you'll need to ask yourself before you even begin. Questions like:
What do you want the deck to do? How will it enhance your life?

Think in terms of grilling and eating, entertaining for intimate outdoor gatherings or neighborhood-wide parties, soaking in a hot tub, or relaxing in a cozy hideaway.

How much space do you have to work with?

What size of deck will fit in the size of your yard? How will it affect current or future landscaping? How will it look against the side of your house? Expert tip: we suggest sticking to a deck no larger than 20% of your house's square footage to not look overwhelming or awkward.
What is your budget?

This can help determine the types of materials you can work with and will therefore need to commit to maintaining. It will also inform the overall size and extra feature opportunities of your deck.

What kind of deck design ideas interest you?

Are you looking for simple deck ideas of just one level or a more complex multi-level deck design (don't forget to consider the added complexity of more stairs and the cost of multiple levels)? Are you a fan of the traditional rectangular deck design? Or would you like more intricate deck designs with interesting angles or even curves?

What kind of view will it give you?

Consider both the views

from

and

of

your deck from inside and out. Will it open up a new vista? Also, think about railing materials and skirting materials and how they can affect the look of and view from your new deck.

How will your deck make the transition from house to the outdoors?

Will there be a patio at the base of your deck? A pathway of pavers leading to another area of interest in your landscaping?

What about the weather and your deck?

This is going to entail everything from the possibility of a shade structure (think pergola or built-in umbrella bases) to the material you use to make this deck design idea come to life.
Ultimately, how to design a deck comes down to taking every single one of those things into account, as well as the deeper construction knowledge, and coming up with what deck design idea is going to work best for your home and family.
Feeling overwhelmed? You're not alone! Coming up with deck ideas for the backyard is a lot for anyone not trained in the business. But there are ways to get great deck ideas, see what the deck trends are, and eventually land on something that you're going to want permanently attached to your home.
One way to find deck inspiration is to scour Pinterest. If you fancy yourself beyond the vision board stage, you could look for free deck design software online to play around with. Another way to find deck ideas is to check out a professional deck builder's portfolio—particularly if they're local! That way you can see what works best in your region based on weather, materials, etc., plus you have the bonus opportunity of actually using that company to do the job if you realize you're not the one to make your decking dreams come true.
DIY Deck Design Vs. Professional Deck Design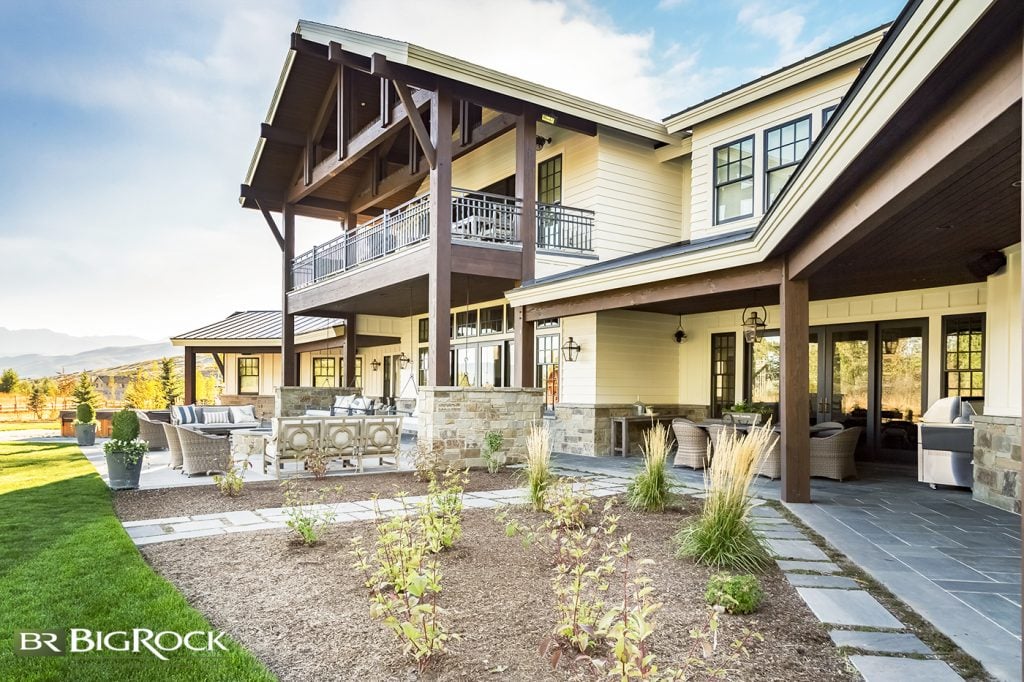 Let's call it like it is, DIY is not everyone's domain. There's a reason there are professionals trained to do this stuff from beginning to end. Their literal job is to know everything about building a deck so you don't have to.
But if you're still thinking it's something you want to try designing and building your own deck, here's a little Pro vs. Con list we've put together for you.
Pros of DIY Deck Design
You have full control over the project

You may be learning something new/expanding a skillset

You can pause the project at any time for any reason

You get to decide every last detail from materials to unique details
Cons of DIY Deck Design
YOU have full control over the project…

You may have little to no idea what you're doing which could lead to a decking disaster

You may not have the time to finish it in a timely manner or might lose steam partway through the unfinished project

You may get overwhelmed and end up having to have a professional come clean up the mess and start again anyway, which would ultimately waste time and money
Well, that looks a little bleaker when it's all out on paper, but who are we to deny the power of the written word? Honestly, designing an outdoor deck is a big undertaking, so we don't want you to take on such a big project lightly. So here's a little more about what you should know about decks in general before you make your decision.
5 Things You Should Know About Decks
Many of these things are ones we touched on earlier when talking about how to design a deck, but we'll hit on their other aspects as well as new considerations when it comes to building out even a simple deck idea.
Deck Purposes
Lounging—think comfy outdoor furniture including hammocks

Grilling—essentially building yourself an outdoor kitchen

Family time—room for game tables and group seating

Entertaining—space for multiple conversation zones, plenty of seating, possibly a sound system or movie screen

Container gardening—whether for flowers or veggies, plan space for a variety of planters

Storage space—even partially enclosing the space beneath a higher deck can remove the need for an outdoor storage shed

Value increase—it adds a functional outdoor living space and ups the curb or backyard appeal of a home
Decking Materials
Wood—the most natural option and possibly the least expensive way to build a beautiful deck that can be stained or painted, but also requires a certain level of maintenance

Composite—minimal maintenance effort required with composite vs wood decking material, less warping than wood, can get quite hot in the sun

Metal—metal railings can be used to create durability as well as unique and lasting designs, particularly with powder-coated options that can resist corrosion and decay

Glass—most often used as "screens" below the deck railing, glass can enhance the view from your deck as well as block less of your home from view
Deck Maintenance
Regular Inspection—Regularly scanning your deck for signs of damage, lifted nails, rust, etc. is key to proper deck maintenance.

Cleaning—True of any material you use, you're going to have to be willing to clean your deck in order to maintain its good looks and even structural integrity. If left long enough without cleaning, even the best of decks can break down sooner than intended.

Sanding + Sealing—Exclusive to wood decking, you'll need to commit to resealing your deck occasionally (preferably once a year) to maximize its longevity. Sanding it down and starting from scratch can increase its visual appeal.

Rearranging—Periodically rearranging plant pots, furniture, and other deck accessories can help prevent unsightly sun bleaching.

Bonus Tip—Using rugs made of synthetic materials rather than natural ones can decrease the possibility of moisture being trapped and any subsequent damage that can cause.
Decking Styles
Overall Style Options—Contemporary, modern, traditional, farmhouse, industrial, southwestern, etc. are all decking style options.

Deck Trends—What is common in your area, popular among your style of home, most fashionable for resale?

Cohesion—Make sure to match the lines, proportions, and architectural style of your existing home.
Decking Codes
Before doing

anything

, make sure you know the laws and codes associated with building a deck on your home! (Another area where hiring a professional is really going to come in handy.)
6 Deck Design Ideas We Love
Now that you know what you're getting into, let's get to the good stuff—beautiful deck design ideas IN REAL LIFE.
Big Rock Landscaping: Your Decking Design And Installation Experts
We'll give you a minute to recover from all those lust-worthy deck beauties…
Back with us? Perfect.
When it comes to all things decking, Big Rock Landscaping has the experience, expertise, and comprehensive process to manage your project from start to finish. Our award-winning firm has frequently been recognized for our customer service, streamlined business processes, as well as for our finished products. In fact, we do it all—but we take special pride in our ability to leverage decking design concepts and installs to make your home look amazing. Take a look at the Decking Design and Installation services we offer and we're sure we'll be a match for the deck you've been dreaming of. And there's no better time than the present. Give us a call and get you deck design ideas started with Big Rock Landscaping today!