How To Make Your Deck A Destination Worth Visiting
The Utah mountains are simply meant to be enjoyed. And not just from behind glass, but out of doors where their beauty and magnificence are on full display. Incorporating a deck into your landscaping plans will bring nature right to your doorstep. For many Utah homeowners, building a deck is not only functional and practical, but a thing of beauty. It doesn't have to be large or ornate to get the job done. A simple, practical, and beautiful deck design can enhance the functionality and value of virtually any home. 
Deck Design Ideas for Different Spaces
Every home and yard is unique. But the benefits of a well-designed backyard deck will apply to every homeowner. These benefits include but are not limited to, functionality that allows year-round usage, enhanced property value, and sustainability. 
Backyard Deck Design Ideas
Decks come in a variety of styles, materials, and features. The best deck style for you will be the backyard deck design idea that suits your space best, fits your budget, is easy to maintain, and is appropriate for your climate. Deck features like pergolas, fire pits, awnings, shade covers, and pools can make your outdoor deck a destination to visit.
Deck Styles
Decks come in a variety of different styles.
Wraparound. Gives you plenty of extended outdoor space that is easily accessible from your home. With high visual appeal, this deck style is an instant crowd-pleaser.
LEARN MORE: Big Rock Landscaping Decking Services
Multi-Tier. This is a great option if your property is not level. This decking style allows for multiple levels of different sizes and functions. 
Detached. If you have an expansive backyard, it's entirely possible that you would build decking that is detached from your home. Perfect for creating usable space if you have a property with poor drainage, these "floating" decks are accessible by a path or walkways. Detached decks can be as large or small as you want, making them perfectly scalable for large or limited budgets. 
Rooftop. If you have a stunning view that you just can't get enough of, consider building a rooftop deck. Built on top of the home, these spaces can afford you with a panoramic view of your property. 
Deck Materials
You have your choice of traditional wood decking, composite decking, or PVC decking. 
Wood decking. Considered durable and classic in design, soft and hardwood decking does require regular maintenance and yearly repair such as staining, painting, or sealing. Wood decking comes in a variety of different colors and woods, from redwood and cedar to pressure-treated options like pine. 
Composite decking. Although the appearance of this decking is very similar to wood, it is composed of recycled wood fibers and durable synthetic materials so there is no regular maintenance like paint or stain to keep this decking material looking its best. This is also a more cost-friendly option to install that will not rot, crack, or splinter. 
RELATED: To Deck Or Not To Deck Without A Professional
PVC decking. Plastic decking is durable and easy to maintain. It is made primarily out of PVC or polyethylene–a smooth, lightweight material that can bravely withstand cruel winters and blistering summers. The color of this type of decking cannot be altered and it does tend to have a more unnatural look and it also gets a bit toasty during the summer months when hit by direct sunlight.
Pool Deck Design Ideas
There is nothing that screams summer and luxurious living more than a perfectly designed and functional pool space. Pool decking comes in concrete, natural stone, pavers, unglazed tile, and wood. We love the versatility of concrete. It can be textured to prevent slipping, and when sealed properly is easy to maintain. It's also customizable and comes in decorative stamping and many colors so you can customize it to fit any design aesthetic. 
Most pool deck design ideas are limited to a fairly simple square or rectangular shape or a more organic, curvy shape that resembles a jelly bean. Once you choose between one of these, your next decision will revolve around if you want to include a water feature, how expansive you want your pool decking to be, and what materials you want to use. These decisions will largely be driven by budget, the size of your space, and the types of functionality you wish your pool area to provide.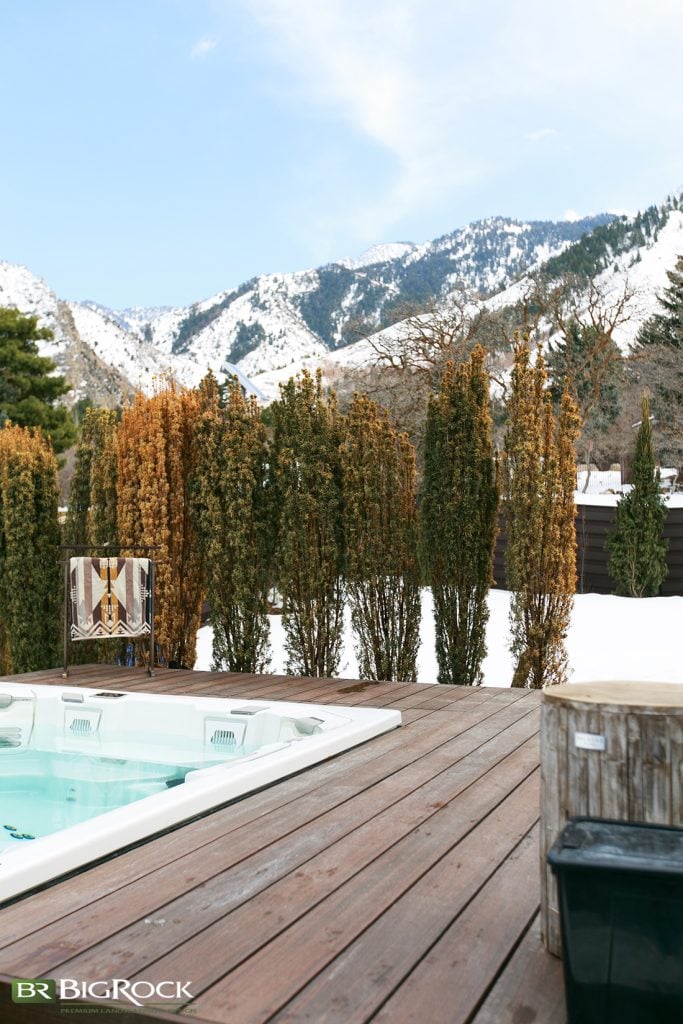 Creative And Practical Deck Design Ideas
We love creating outdoor spaces that bring family and friends together, and building quality decking is one way to incorporate hardscape into a natural setting. 
Best Design Ideas for Decks
The latest deck design ideas for the modern homeowner usually include a mix of materials like concrete and wood, some luxury design elements like built-in fire pits and pizza ovens, outdoor kitchens, and concrete pavers or slabs surrounded by grass or rock. Incorporating some of these unique features will enhance the value of your property while adding functional spaces where family and friends can gather.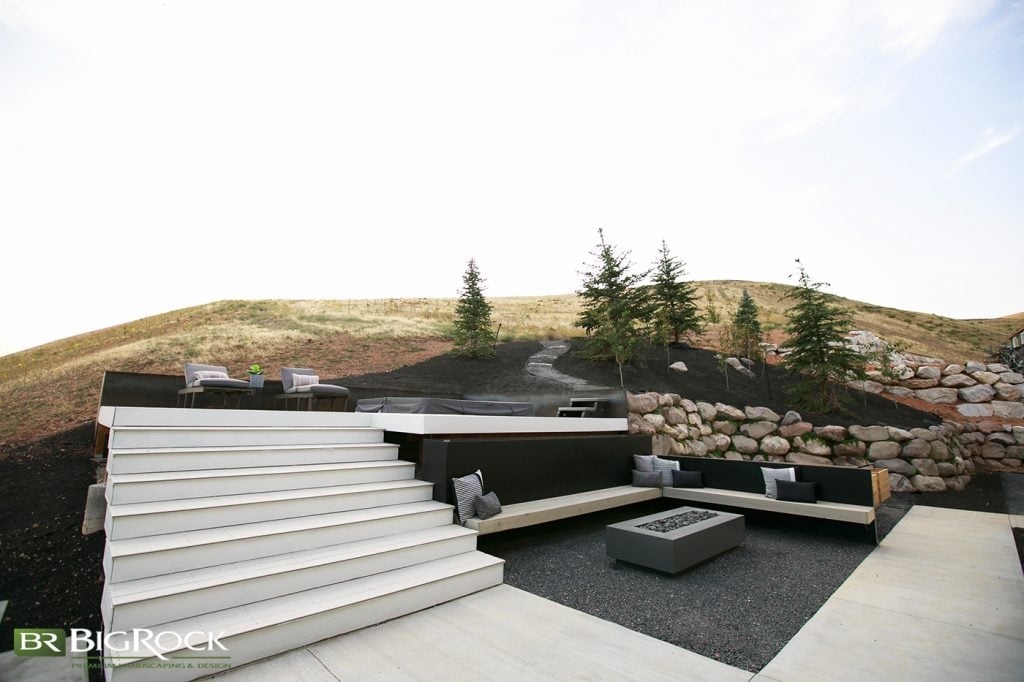 Best Small Deck Design Ideas
When designing a small deck, it's important to maximize the available space while creating a functional and aesthetically pleasing outdoor area. If you're wondering how to create a small deck in a limited space, consider the following creative and practical small deck design ideas:
Built-in Bench Seating: Incorporate built-in benches along the perimeter of your deck. These benches can provide seating while also saving space that would otherwise be occupied by separate chairs.
Vertical Gardens: Utilize vertical space by installing hanging planters, trellises, or vertical garden systems on the walls or railings of your deck. This adds greenery and visual interest without taking up valuable floor space.
Multi-Level Decking: If you have varying terrain or steps leading to your deck, consider incorporating multiple levels. This adds dimension to the design and provides separate areas for different activities, such as dining and lounging.
RELATED: To Deck Or Not To Deck Without A Professional
Foldable Furniture: Opt for foldable or collapsible furniture that can be easily stored when not in use. This allows you to maximize space and create a flexible deck layout.
Sliding or Folding Glass Doors: If your deck is an extension of your indoor space, consider installing sliding or folding glass doors that can be opened to seamlessly connect the two areas. This blurs the boundary between indoors and outdoors, making the deck feel larger.
Built-in Planters: Instead of using separate planters, integrate built-in planters into the deck design. These can be incorporated along the edges or as dividers between different sections of the deck, adding greenery without sacrificing space.
Compact Dining Sets: Choose a small, round or square table with chairs that can be tucked underneath when not in use. This saves space and provides a cozy dining area.
Hanging or Wall-Mounted Lighting: Install hanging or wall-mounted lights to illuminate the deck without taking up floor space. This creates a warm and inviting ambiance for evening gatherings.
Glass or Cable Railings: Consider using glass or cable railings instead of solid ones. These transparent or minimalist options provide an unobstructed view and give the illusion of more space.
Potted Plants and Portable Decor: Use potted plants, portable lanterns, cushions, and outdoor rugs to add personality and style to your small deck. These elements can be easily moved or rearranged as needed.
Remember to adapt these ideas to your specific space and personal preferences. Experiment with different layouts and features to create a small deck that suits your needs and makes the most of the available area.
Best Large Deck Design Ideas
If you have a spacious yard, you have plenty of room to create a large and impressive deck. Here are some ideas to consider when designing a deck for a spacious yard:
Multi-level Design: Take advantage of the space by incorporating multiple levels in your deck design. This allows for different areas dedicated to specific activities, such as dining, lounging, and entertaining. Use steps or transitions between levels to create a visually appealing and functional layout.
Outdoor Kitchen And Bar: Create an outdoor kitchen and bar area on your deck for entertaining guests and enjoying alfresco dining. Include a grill, countertops, a sink, storage cabinets, and a bar with seating. This design element adds a luxurious and functional touch to your deck.
Fire Pit Or Fireplace: Install a fire pit or a fireplace on your deck to add warmth, ambiance, and extend the usability of your deck into the cooler months. Consider built-in seating or comfortable lounge chairs around the fire feature.
Pergola Or Shade Structure: Incorporate a pergola or a shade structure into your deck design to provide relief from the sun and add architectural interest. This feature can support climbing plants or be outfitted with retractable awnings or shade sails.
Hot Tub Or Pool: Consider integrating a hot tub or pool into your deck design. This creates a luxurious and relaxing space where you can unwind and enjoy the outdoors. 
Outdoor Living Room: Design a dedicated outdoor living room area on your deck with comfortable seating, coffee tables, and perhaps an outdoor television or sound system. This provides a comfortable and stylish space for relaxation and entertainment.
Water Features: Integrate water features such as a fountain, waterfall, or pond into your deck design. These features add a soothing and tranquil atmosphere to your outdoor space while creating a focal point.
Outdoor Lighting: Install a variety of outdoor lighting options to enhance the ambiance and functionality of your deck. Use a combination of pathway lights, deck post lights, string lights, and spotlights to create a well-lit and inviting environment.
Outdoor Exercise Area: Dedicate a section of your deck to an outdoor exercise area. Install equipment like yoga mats, weights, or a small exercise station. This allows you to enjoy workouts while enjoying the fresh air and expansive views.
Remember to consider the overall aesthetic of your home and the surrounding landscape when designing your deck. Create a cohesive look by selecting materials, colors, and styles that complement the existing architecture and natural elements already in place.
Enhancing Deck Design with Simple and Practical Elements
To truly make your deck design feel like home, follow these simple yet practical design ideas that will make any deck design an outdoor sanctuary.
Incorporating Greenery And Landscaping
To truly make your deck seem inviting and beautiful, consider integrating plants,  flowers, and landscaping into the deck design. 
Containers are a wonderful way to take advantage of spare corners and to provide a rotating burst of color throughout the spring, summer, and fall. You can even use containers to plant vegetables or herbs to make them both beautiful and functional. Plant annuals that offer lush foliage and flowers throughout the season. 
Have a spare wall that feels kind of plain? Consider incorporating greenery by making it a living wall or a vertical garden. These forms of landscaping are delightful to behold and are very functional. 
Lighting And Ambiance
Lighting is a must-have if you are trying to create a captivating deck atmosphere. There are many different ways to incorporate lighting into your deck design plan, including overhead or pendant lighting, accent lighting, string lights, fire pits, and pathway lighting. There really are so many options! 
Big Rock Landscaping Can Make Your Deck Design A Destination Worth Visiting 
Maybe you haven't given your deck much thought, but hopefully, after reading this article you are aware of how much planning and design can go into installing a deck! With so many options for lighting, materials, features, and size, it really does help to involve a professional in the brainstorming session. Visit our backyard landscaping portfolio to explore the best options for your space. Oh, and we're actually pretty handy with landscaping tools big and small. 
Ready to discover the true potential of your yard? If so, count us in! Big Rock Landscaping is well-versed in all aspects of landscaping design and installation, including deck design and installation services. With thoughtful designs and decades of experience, we can turn your deck design into a destination worth visiting.