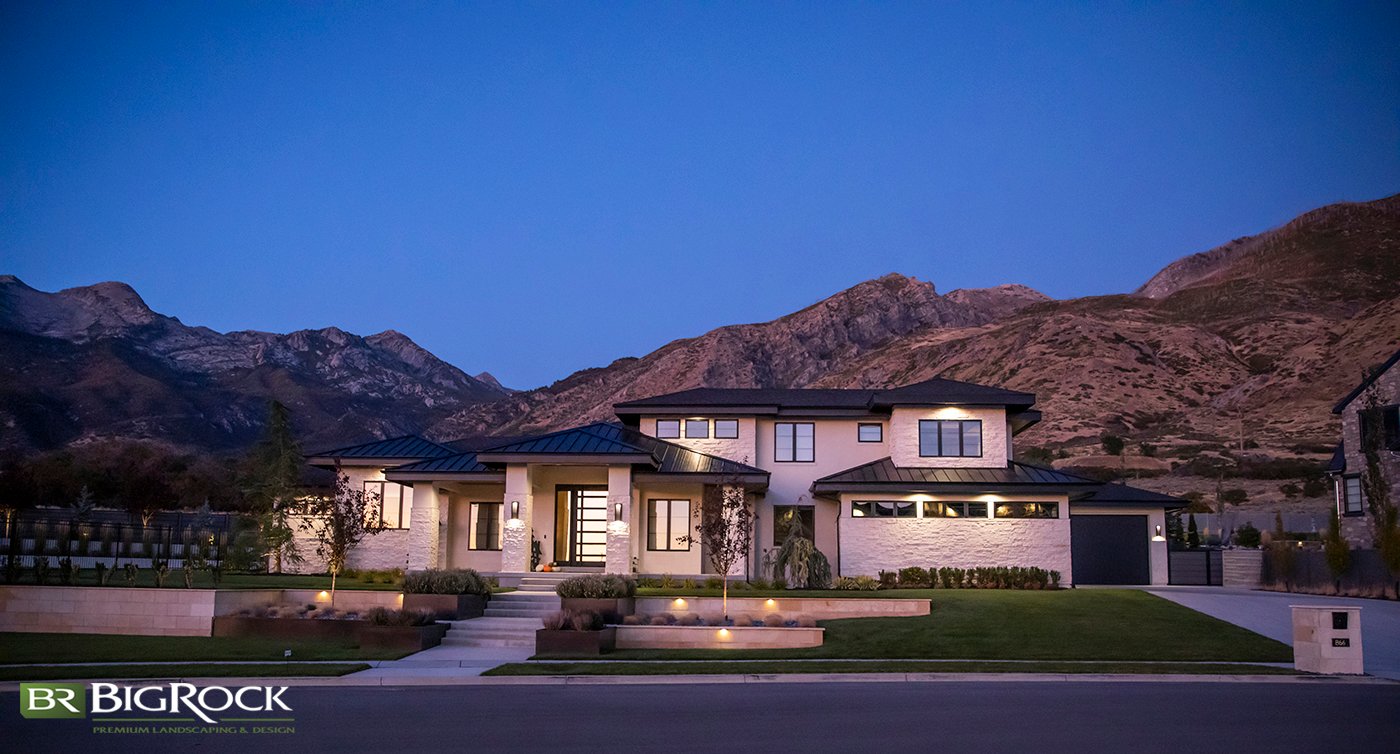 11 Hardscaping Lighting Ideas
The time has come for the icing on the cake, so to speak. You've done everything necessary to make your yard truly a work of landscaping art–from carefully designing and selecting plants, to carefully installing pavers and hardscape, to meticulously pruning your plants and mowing that gorgeous green lawn to perfection. Now there's just one thing left: hardscape lighting. 
Even though it's last on your to-do list, this final item packs an extremely big punch. If you're scratching your head on this one, let us enlighten you. We love to share our landscaping knowledge, and today we're excited to share our best hardscaping lighting ideas to really get your creative juices flowing. 
Hardscape Lighting Basics
If "hardscape" is somewhat of a foreign term, no need to worry, it's a simple term that landscape architects use to refer to any man made features, like pathways, concrete or paver pads, pavers, stairways, walls, borders, etc. 
Hardscaping lighting brings your yard to life so that you can continue to use and enjoy your yard long after the sun's last rays have fallen below the horizon line. Hardscape lighting brings beauty, safety, and a touch of elegance to yards that are worthy of its spotlight. Don't cheat your yard out of its night time presence. Follow these tips to get it right the first time:
Use Low Voltage
Many landscapers and homeowners choose low voltage lighting because it's safer to work with and cheaper to install. But don't think that just because low voltage lighting is less expensive that you are compromising on effects. Low voltage lighting can deliver light that provides a subtle glow or a strong presence and anywhere in between. 
Know The Differences Between Wash, Bullet, And Well Lighting
Wash lighting is a soft, diffused light that will brighten flat facades, such as the sides of your home or fences and garden walls. Bullet lighting projects a narrow beam that will highlight a specific area of your landscape, such as tree trunks or a garden sculpture. Well lights will illuminate the underside of plants of foliage that are closer to the ground. 
Use LEDs When Possible
The latest light technology is amazing. LEDs are small, efficient, and sturdy. They provide you with up to 40,000 hours, or 20 years of regular use and consume just 1 to 11 watts of power with no filament to break or burn out on you. When compared to the halogen bulbs, which last up to 2 years and drain anywhere from 20 – 60 watts, LEDs are the clear winner.
Go Warm
Choose LEDs that have a warm, rather than cool color (usually about 3,000 K). To ensure you get the brightness you want, pay attention to the lumens. Although LED technology has come a long way in recent years, it still lags a bit behind halogen bulb performance. You might need to use halogen lights to light up a large area like a basketball court or the front facade of your house. 
11 Hardscaping Lighting Ideas
The stars might give you a good run for your money, but hardscape lighting is essential when it comes to lighting up your property at night. We have a ton of photos in our outdoor lighting portfolio, but if you need a little inspiration, we also wanted to share these 11 hardscape lighting ideas.
Shine From Below
Uplighting is a common outdoor landscaping lighting technique that brings a confident ambience to any back or front yard. Uplighting places lights beneath bushes or trees to highlight the branches and leaves from below, creating a magical yard full of light and shadow. In the picture below, the trees and bushes have uplighting that makes them stand out at night, giving this backyard a welcoming gleam that backyard visitors will enjoy. 
Pro tip: make sure you bath the trunk, as well as the leaves, in light. Otherwise, your bush will resemble a floating orb, rather than a well-lighted tree or bush.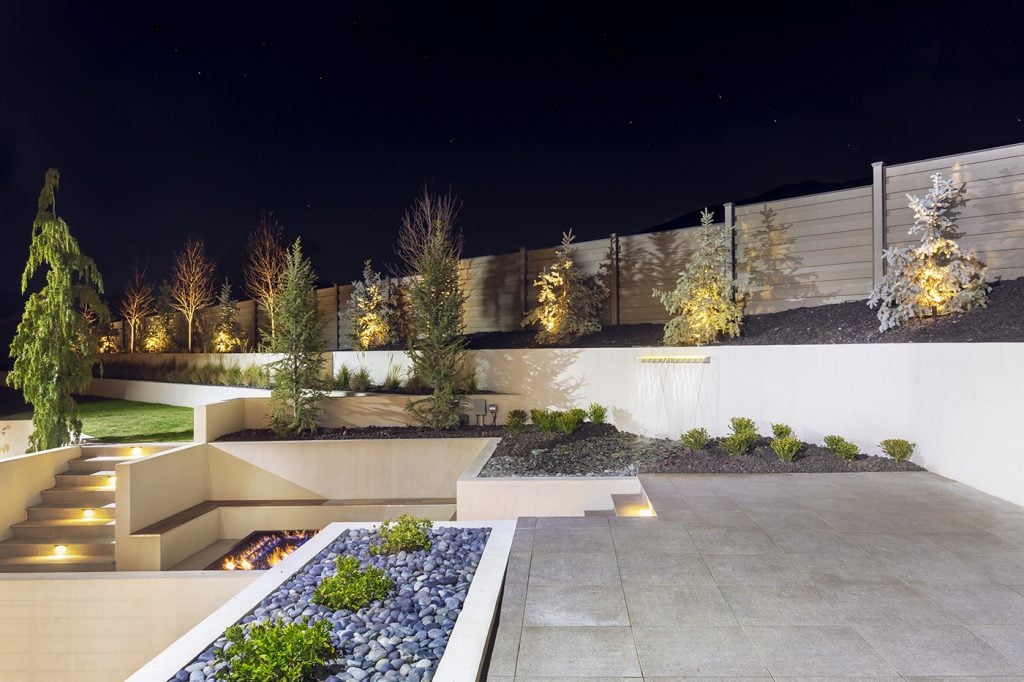 Shine From Above
Almost as common as the uplighting technique, downlighting is when lights are placed under eaves and along fences or house facades to give light to larger structures. This home does a fantastic job of using downlighting to brighten under eave soffit, giving the house a warm, welcoming glow.
Light It Up
An outdoor sports area is a great place to use halogen bulbs to light a large area. When playing sports or large areas around your home that need bright light, spotlights have no equal. Spotlights allow this sporting area to be used night or day.
Light The Path
This beautifully landscaped backyard uses stair lighting to make sure that navigating these stairs after dark is an uneventful journey. Always make sure that pathways and transitions between different areas in your yard are well-lit. Not only will this give your yard a wonderful glow, but it will help visitors safely navigate your yard after dark.
Tucking It Away
This home does a great job of tucking lights under the eaves of the outdoor covered patio and under the stairs. This makes navigating between two different heights of hardscape a piece of cake.
Add Some Twinkle
For some extra pizazz, try adding twinkle lights under outdoor covered patios or strung across fire pits or across pools. These sparkling beauties are now a common part of both indoor and outdoor lighting schemes. The soft, warm glow that these lights give off make this area truly look lit from within. This is a highlight technique that warms up a specific area which is surrounded by darker areas. String lights are a safe addition to any outdoor space that doesn't require digging up existing landscaping to install. They are also long-lasting and outdoor friendly.
Vertical Lighting
Adding lights on the exterior walls of your home has always been a sound lighting strategy. Often placed by doorways and other access points, lighting on exterior walls does double duty by creating ambience but also adding safety for those coming and going. This is one area where you can let your creativity go wild, as there are many different varieties to suit any design style, from traditional to modern.
In Ground And Flush
In ground lighting is one of the best ways to add light to pathways without sacrificing safety. If you have elderly or children traversing your pathways at night, in ground lighting is an excellent option because there are no tripping hazards as the in ground lighting is flush with the ground. This is also one of the best ways to add upscale and elegant lighting to a beautiful yard.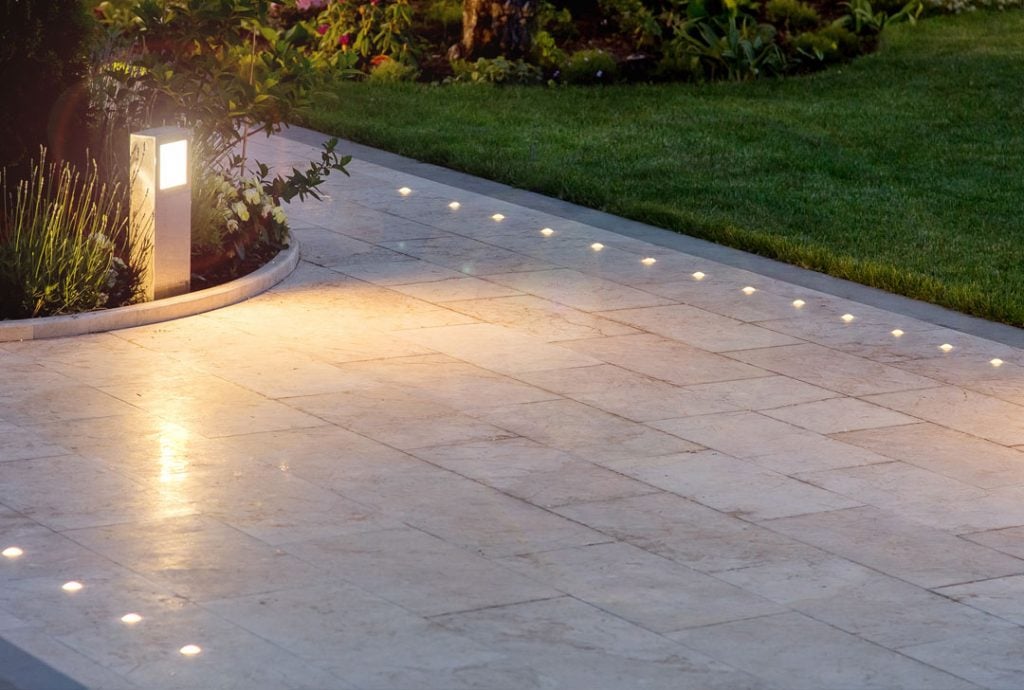 Double Duty–Pavers As Lights
We love all things landscaping that can provide multiple functions. These lights that mimic pavers are the perfect solution to incorporating lighting within your hardscape. Lights like these come in all different shapes and sizes, and can be used to add a creative touch as well as light a well-used path.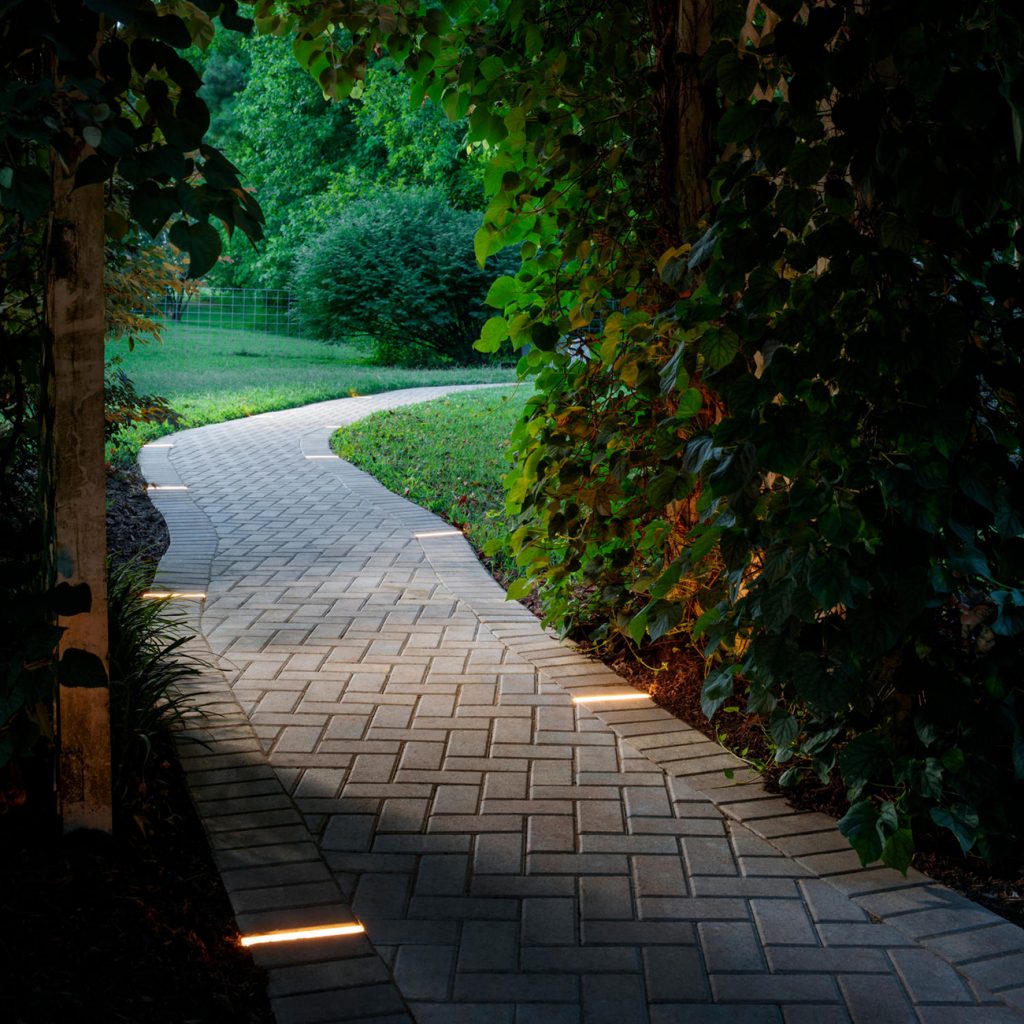 Consider Cross Beams
Many times, landscapes have a particular element that the homeowners would like to highlight, whether this be a fountain, a beautiful tree, or a sculpture. To highlight this type of landscaping element, aim two or more lights at it. The crossing beams reduce the harsh shadows that form when only one light is shining on an object.
Pool Lighting
Pool decking is just one of the many forms of hardscape that homeowners often have in their backyards. It's necessary for safety, as well as for comfort, to light up the pool area. In this picture, the pool area is well lit from within and the firepit gives off a nice, warm glow. We especially like how the owner used colors not traditionally found in lighting to give warmth and depth to the pool. Who wouldn't want to take a midnight swim in this pink pool of shimmering light?
Hardscape Lighting For Landscaping Illumination At Its Finest
Custom lighting turns your yard into a warm, inviting, and safe place you can enjoy long after the sun has dipped below the horizon line. Big Rock Landscaping specializes in landscaping structure design and installation and outdoor lighting which includes lighting concepts, installation, outdoor string light designs, and more!
Big Rock Landscaping is your premier choice for outdoor lighting design and installation. With years of experience, we have countless satisfied customers. We are proud to work with each client and have worked on projects that range from smaller private projects to some of Utah's finest landscaping projects. You matter, regardless of the scope of your project. We pride ourselves on providing efficient, personalized, and professional landscaping and design services from beginning to end. We love to throw around ideas, so give us a call today to discuss your upcoming landscaping project.