A No-Stress Guide to Planning Your Residential Landscaping Project
A residential landscaping project comes with many questions, like, How much should I spend? What makes a good design? And Should I do it myself, or hire someone for the job? Add those to the stress of the actual project, and it can be a little overwhelming.
Whether you're staring at a blank canvas or wanting to redo your current yard, it's hard to know where to begin. We've answered some of the most pressing questions about residential landscaping design ideas, budgets, whether or not to hire out for the job, and how to pick the right firm if you do hire someone. With these tips in hand, you'll feel more excited and less stressed about your landscaping project.
Residential Vs Commercial Landscaping
There are several differences between residential landscaping and commercial landscaping. While both aim to improve the beauty and enjoyment of a property, there are different factors that need to be considered for each. That's why landscaping ideas for a backyard will look very different from those of commercial space.
The main difference between the two comes down to use and access. Commercial landscaping generally has to allow for more walkways, entrances, and accessibility. For this reason, landscaping must be designed to make sure it enhances without impeding use and functionality. On the other hand, residential landscaping design ideas can lean more heavily on lush foliage and greenery, more natural pathways, and a private and secluded feel.
Utilizing a commercial or residential landscaping company can be beneficial when planning and installing a landscaping project. While some companies only focus on one aspect of a project, others, like Big Rock Landscaping, see the project through from the first landscaping design consultation to the final residential landscaping services including installation and finish work. Whether you have a commercial or residential landscaping project, working with the same company from start to finish will ensure that your vision comes to life just as you planned it.
Residential Landscaping Costs
It can be tricky to know how much money to set aside for your residential landscaping costs. Backyard projects alone can range anywhere from a couple of thousand dollars to a couple hundred thousand dollars. That's a big range.
For years, the rule of thumb for determining your landscaping budget has been to spend around 10% of the value of your home, but this percentage has been trending upward recently as people shift from having a "yard" to dreaming of an "outdoor living space" and all of the things that come with it. Now your landscaping budget can include things like irrigation, sprinklers, pools, hardscaping, and structures like pergolas and patios. Now the average landscaping budget is starting at 20% of your home value. Of course, you can always spend more or less than this depending on your end goals, but using this will help you get a better idea for a starting budget.
If you can't afford the backyard of your dreams right now, that's ok. Plan your dream yard in phases, and finish one phase at a time. If you attempt to do your full backyard on a budget, you may find yourself spending more money in the long run as you fix or redo the work. Instead, develop a phased plan that will allow you to finish different projects as your budget allows. Start with the necessary elements that you need for functionality, like patios, pergolas, and hardscaping. Later phases can include more of the lush greenery, the patio furniture of your dreams, and other add-ons.
Ultimately, when planning your budget, be sure to account for material costs, plant costs, design and labor expenses, and furniture costs. You'll also want to think about maintenance costs, to be sure you can afford to keep the space up once it is completed. With these ideas in mind, you can start to get an idea of the scope of your project.
What Are The Main Design Areas Of Residential Landscaping?
Just like there are rules for interior design, there are also elements and principles to follow when designing an outdoor space. If you're setting out to create your own residential landscaping plan, here are some things you'll want to consider:
Cohesiveness:
Even though the various areas of your yard have different functions, you want the whole space to feel unified. Repeat similar colors, plants, and textures throughout all areas of your yard to give the full space a cohesive feel
Balance:
You can decide whether to use symmetrical or asymmetrical balance in your yard. If you go with symmetrical, that simply means your yard is a mirror image of itself. If you choose asymmetrical, your yard will still be balanced, but you will use different elements with the same visual weight to achieve the feel of balance.
Variety:
Avoid visual boredom in your space by incorporating a variety of plants, trees, flowers, and other elements. There is a fine line between a healthy variety and visual chaos, so be careful not to select too many elements, but add some interest by mixing up the space a bit.
Repetition:
Cohesiveness and repetition go hand-in-hand because one way you achieve cohesiveness is through repetition. As you repeat various plants or other elements throughout the space, it will bring a feeling of togetherness and make the area look thoughtfully planned.
Scale:
This is perhaps the trickiest element of them all because plants tend to grow and change shape and size over time. So as you plan for scale in your residential landscaping project, consider what that plant will look like in the future. This will help you select appropriately sized varieties, as well as the right quantity.
And as you plan each of these elements, take into consideration the shape, line, texture, and color and how they all work together. For example:
Shape:
Each plant or element has its own shape. Whether tall and thin, short and boxy, round, spreading, or something else entirely, think about how that shape will look in the space. If it's a plant, consider its appearance in every season—with leaves and without, with flowers, and without. If it's furniture or a more permanent fixture, look at how it fills the space and plays off of the other shapes in the yard.
Line:
Lines are used to draw your eyes to a focal point or define an area, and they are everywhere. Pathways, garden bed lines, and even furniture all have lines. One of the first steps in designing a landscape plan is to establish your garden bed lines.
Texture:
This element is often overlooked. Plants, trees, flowers, and grasses all have textures. Stones, pavers, concrete, wood, and furniture fabrics also have texture. You want to include a variety of textures in your landscape plan without going overboard.
Color:
Too little color in your yard can be boring, but too much can lend a feeling of chaos. When putting together a color palette, start by selecting colors that compliment your house, and build from there. A few strategically placed pops of color can give your yard a little extra depth and interest.
You can read up on more backyard landscaping tips and ideas here.
9 Residential Landscaping Ideas To Inspire
If you're looking for residential landscaping ideas, here are nine outdoor spaces that showcase a variety of styles, spaces, and elements. If you'd like to see more, take a look at the Big Rock Landscaping portfolio.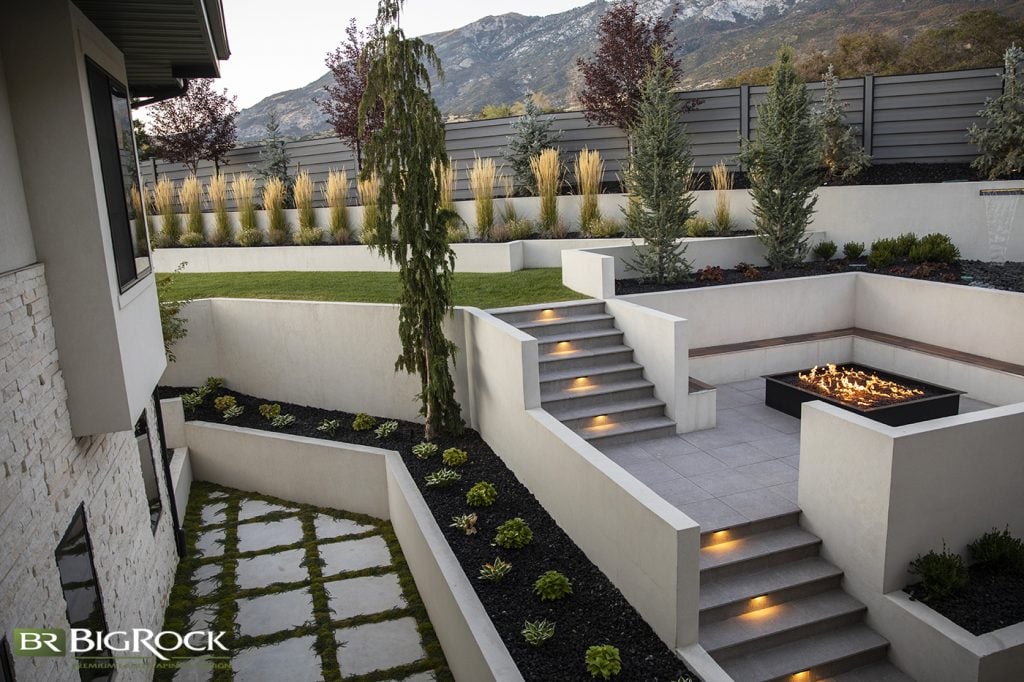 Thinking Of Hiring For Residential Landscaping
Even if you're planning on tackling a lot of your backyard landscaping project yourself, it's still a good idea to hire a professional landscape designer or landscape architect at the beginning of your project. Someone who is familiar with residential landscaping can help you make a plan that is specific to your yard. They will help you assess your property and determine your needs for irrigation, lighting, and other landscaping elements. With that plan in hand, it will make it easier for you to do some of the work yourself.
If you'd rather hire a professional for all of the residential landscaping services, here are six questions to ask when you're searching for someone who's a good fit for your landscape design project.
1. Do You Get Along?
This is rule number one because you want someone you respect, trust, and can communicate with freely. Talk with the candidates in person or over the phone to see how your personalities mesh. Be aware of how responsive they are to your ideas and who is respectful of your goals and schedule.
2. What Is Your Budget?
Your budget will determine who you hire. Do you just need a landscape designer or landscape architect to take you through the initial planning phases, or do you want someone who will also complete the entire process?
3. What Is Their Process?
A quality landscape architect and designer should have a project process in place. They should have steps to follow from start to finish and should communicate regularly about the status and availability of materials and help you understand the unique installation plans for your custom project. 
4. Are They Attentive?
You're not necessarily looking for a new best friend from this project, but you do want someone who will take the time to understand you and your needs, get to know your space, and find out what you want your space to accomplish.
5. Do They Have A Portfolio?
Look through their past landscaping projects to determine if they have completed any other residential landscaping projects that look similar to yours. Do all of their spaces look the same, or are they able to create spaces with varied styles and designs?
6. Do They Come Recommended?
Obviously, referrals from family and friends are preferred, but if you don't have any of those, search for a residential landscape design firm with positive reviews and a history of quality work. You can also check for professional certifications and affiliations that speak to the quality of their work.
Big Rock Landscaping For Your Residential Landscaping Needs
When it comes to residential landscaping, Big Rock Landscaping has the experience, expertise, and the process to manage your project from start to finish. Our award-winning firm has frequently been recognized for our customer service, as well as for our finished products. In fact, we do it all. Take a look at the landscaping services we offer. If you have a residential landscaping project you've been thinking about, give us a call and see how we can help you get started.