Will My Yard Flood? Check For These 5 Red Flags
Flooding in Utah is not a new problem, but with a heavy drought for the last decade, many Utah homeowners are wondering how to deal with too much water rather than not enough.  Don't worry, as Utah's premier landscaping company, we've narrowed down five red flags you can identify to help mitigate or even prevent serious damage to your home.
Preparing your landscape for flooding doesn't have to be overwhelming, and if it does feel like too much, you can always reach out to our team to help you identify problem areas in your yard and offer solutions. 
Check For These 5 Red Flags
1. Poor Drainage
If you notice standing water, soggy or spongey soil, erosion, foul odors or mold, or mildew in your yard, it might be a sign that you have poor drainage. This can lead to slow plant growth, and root rot in your lawn, but more urgently, poor drainage means that your yard doesn't have paths for water to take to leave your yard. This can lead to flooding that not only damages your landscape, but could damage the foundation of your home, outdoor structures, and other property. 
TRENDING: 5 Ways Landscaping Saves Your From Flooding
2. Sloping Yard
Everyone loves a flat yard, but not having a slight grade in your yard could mean trouble in the case of a flood. If your yard is too flat, the water will sit on top of the soil and eventually turn your yard into a soupy, muddy mess. However, simply adding a slope to your yard won't solve the problem. Sloping that directs the water flow to your house rather than away from it can cause huge problems for your foundation, cause flooding in your basement, and damage the exterior of your home. Ideally, you want at least a small slope in your yard that moves the water away from the structure, preferably to the street drainage areas or other designated drainage areas. 
3. Clogged Gutters and Downspouts
The first way to check if your gutters and downspouts are clogged is to think about the last time you cleaned them out. If it wasn't last autumn after the last leaves fell, you probably need to check that they are clear. Other signs you can look for are spilling water over the side of the gutter, the gutters sag, staining on the siding of your home, or you notice birds or pests near the gutters often. Not cleaning your gutters, especially during a flood season, means the water that would normally go into your gutter goes down the side of your home, likely causing damage to the exterior and foundation of your home. 
4. Soil Compaction
Soil compaction means there isn't much space between the individual particles of dirt in your soil- it's so tightly compacted that it is difficult for anything, even water, to seep through the soil. This is why practices like aeration are so important, especially in Utah where drought can make the soil more compacted. You can tell your soil is compacted if the water sits on top of it, but the soil doesn't get softer or spongier. 
RELATED: Your Utah Flooding Preparedness Checklist
Inserting a screwdriver into your soil can tell you how complicated it is—if the screwdriver moves through the soil with relative ease, your soil probably isn't compacted. But if you have to muscle it through the dirt, you probably have a soil compaction problem. This is especially problematic during a flood, it means that soil can't absorb nearly the amount of water it needs to survive and prevent flooding. Rather than acting as a sponge to absorb some of the water, it acts more like a rock where water slides over the top, and all that extra water has to go somewhere else (likely places that could cause damage to your property). 
5. Excess Water Accumulation
Standing water, spongy grass, mildewy or moldy smells, and unhealthy plants are all signs of too much water in your yard. While Utahns may love the idea of too much water, especially after a drought, too much water can cause more problems than it solves. Make sure that the areas of your yard with standing water get proper drainage, and monitor the area closely. You'll also want to ensure that your property in relation to your neighbor's property won't lead to excess water in your yard. It's their responsibility to keep water off of your property, but knowing the areas that might cause problems in a flood will help you mitigate problems for your landscape.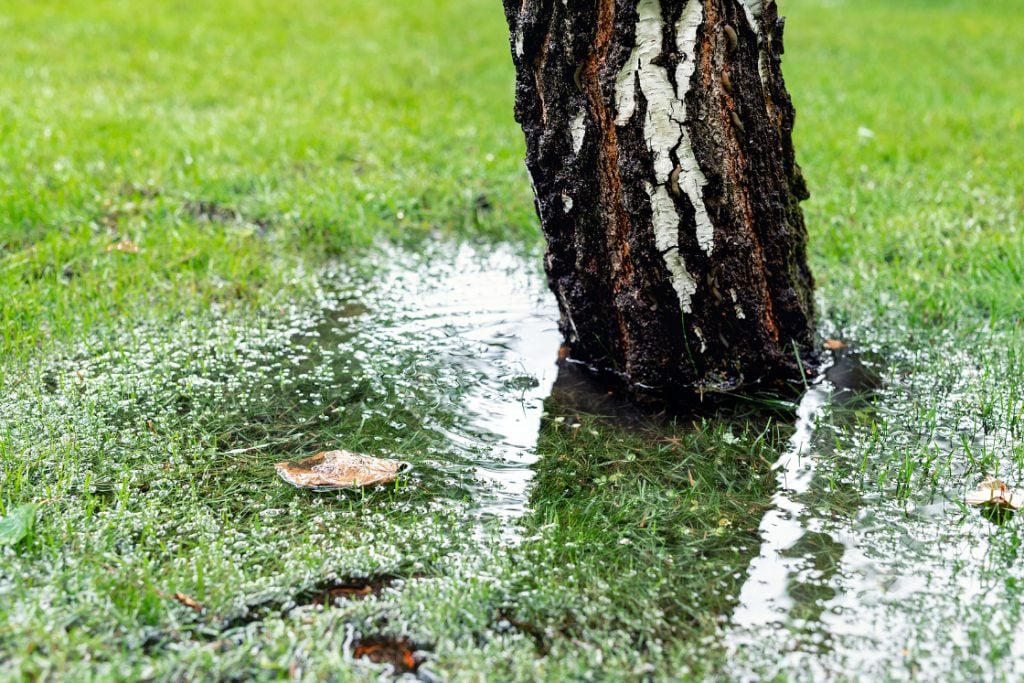 Do These 5 Things to Save Your Yard from Flooding
1. Install a French Drain System
A French Drain System is a relatively simple addition to your yard that can help relocate water from around the foundation of your home, fences, or other structures in your landscape. It is a gravel-filled trench lined with landscape fabric, sometimes with a perforated drain pipe, that is then covered with gravel and sloped to allow water to exit in an appropriate area (a drainpipe, well, or other areas). 
Because the French Drain is just below ground level and sloped, gravity pulls surface water to the pipe and directs it to the appropriate areas of your yard. Theoretically, this is an inexpensive, DIY job, however, deciding where to dig your French Drain and where the water should be deposited requires some expertise. That's why a job like this can be outsourced to a landscape company with experience in your area. 
2. Sandbags Around Window Wells
Adding sandbags around your window wells prevents water from seeping into your basement through the windows. While there are other options like a window well cover or adding drainage to the window well itself, many Utah homes likely won't require that type of flood prevention long-term, so sandbags are a temporary, inexpensive solution to flooding. Make sure that you have a large enough base of sandbags around your windows to support the height of the sandbags so they don't topple over (think pyramid style). Any windows that are near a slope that drains into your home or windows near areas where water gathers should be sandbagged. 
LEARN MORE: What Makes Big Rock The Best?
3. Grass vs Hardscape In High-Risk Areas
Ensure that all areas of your home that have hardscape (think sport courts, patios, decks, or other outdoor living spaces) have appropriate drainage. For example, if your sport court is right up against your house and you don't have a drain, planter bed, French Drain, or other water runoff solution, preemptively consider how you are going to handle any standing water that could accumulate on the sport court. Not sure if you have appropriate drainage? You might need to consult with a professional landscaping company to help.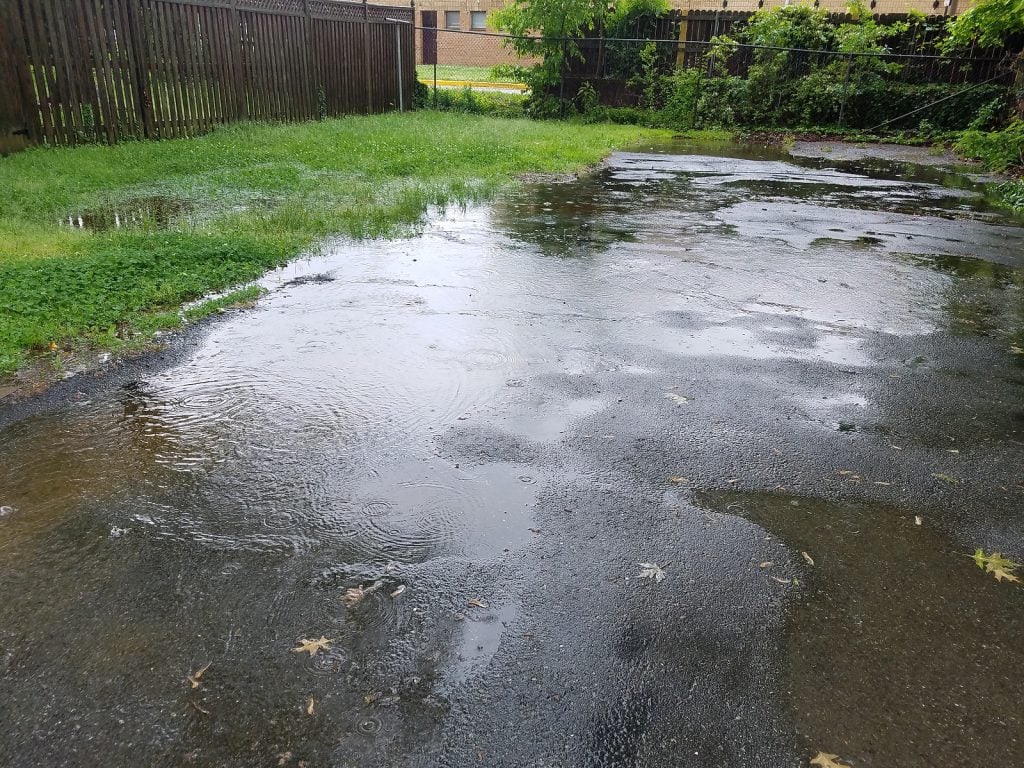 4. Sub Base Under Planting Beds
Adding extra gravel to the base of your planting beds will help with water drainage, ensuring that your soil doesn't get so saturated that water starts accumulating on top of the soil. In high-risk areas (the base of a slope, near your home, near structures, etc) add even more gravel as a base to your planting bed. Make sure to add plants in those high-risk areas, especially near the foundation of your home to help prevent erosion and ensure the soil is healthy and can absorb water.
5. Implement Regular Yard Maintenance
Not only will regular yard maintenance help you improve the overall look of your yard, but regular maintenance will keep you aware of potential issues before they become huge problems. By cleaning out your gutters regularly you avoid water damage to the exterior and foundation of your home. With regular inspection and watering of your garden beds, you'll notice which areas accumulate water so you know where to monitor in case of a flood. By regularly mowing, fertilizing, and aerating your lawn you'll prevent the soil from compacting, ensuring it can absorb water efficiently. Consult with a professional to ensure you have the right drainage systems throughout your landscape plan. 
Turn Flooding Red Flags Into Green Flags With Big Rock Landscaping
Not sure if your yard is flood ready? Feeling a little overwhelmed at all the factors that come with flooding in Utah? Worried you'll be dealing with a flooded basement in the spring? You aren't alone, and your worry is valid. Our team at Big Rock Landscaping is here to help with your flooding worries. Whether you need a landscape professional to help you install a French Drain or you aren't sure if you have enough drainage in your flat yard, we are here to help. Contact us today to find out how we can help ease your mind and prevent damage to your landscape and home.