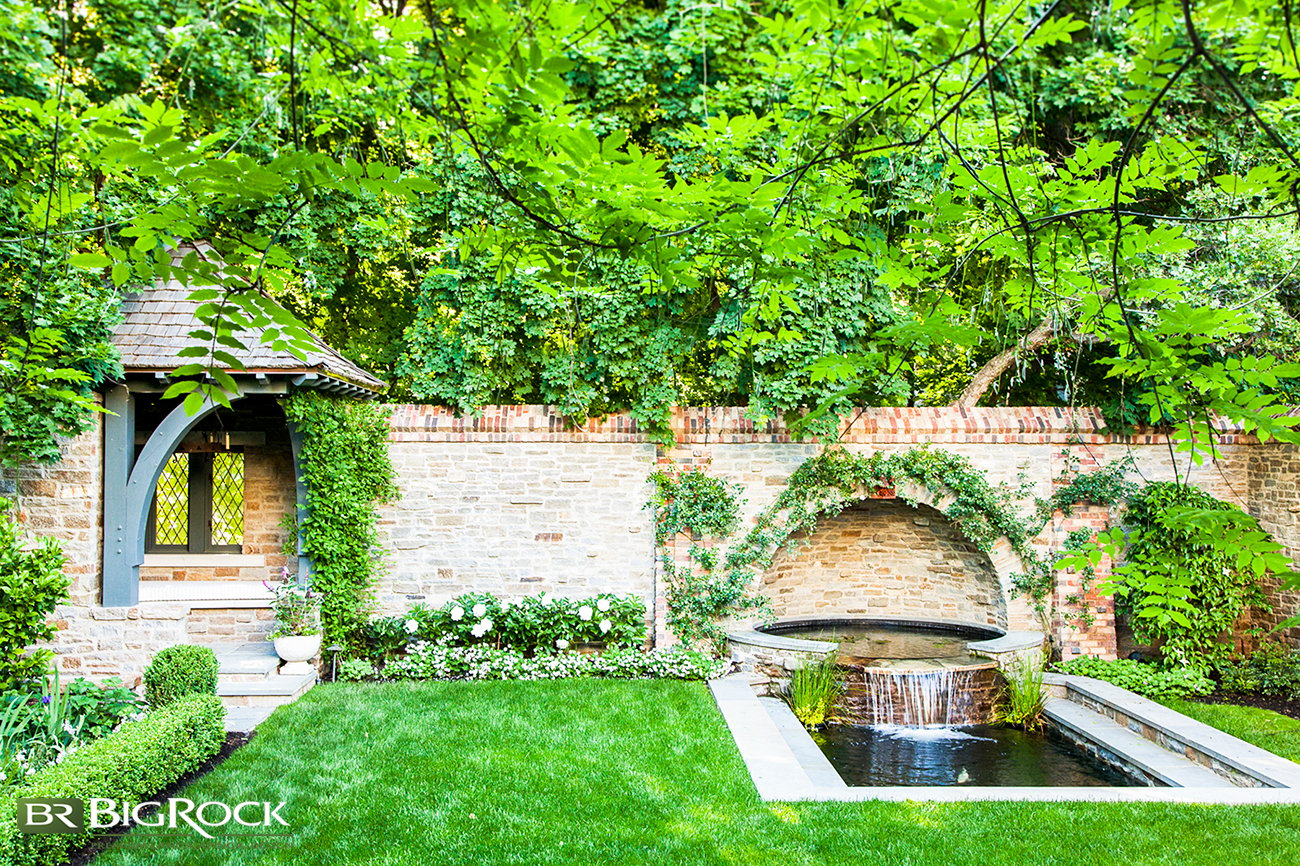 Why You Should Add A Water Feature To Your Landscaping
Adding a water feature to your landscaping is the perfect way to make your home more inviting and beautiful. A well-designed water feature can be a stunning focal point for your yard, and it can also provide a place for you to relax and enjoy nature. 
But even as you read this, you might be wondering if putting in a water feature during a drought is really a smart idea. After all, you just spent hours tearing up the grass in your park strip just to replace it with xeriscape. Let's face it–you can't cheat mother nature. But don't let the dryness of the season put you off–even in times of drought, a modern, properly installed water feature could require less water, over time, than grass spaced over the same square footage.
7 Reasons Why Adding A Water Feature Is A Smart Idea
If you can only find solace in all things green, and the soft trickle of moving water is the only thing that makes you feel alive, a water feature might be the perfect solution that can simultaneously be easy on the eyes while soothing your environmental consciousness. 
Gone are the days of inefficient outdoor water features. In today's world, modern water features are installed with energy-efficient pumps that recycle water through nozzles that minimize water loss. If this gets you thinking about fountains, just know that there are many ways to incorporate water features into your landscape. A water feature can be as simple as a small reflecting pond or as grandiose as a complete water garden. They range in size and complexity, but the standard water features for backyards include ponds, reflecting and ornamental pools, fish ponds, fountains, water gardens, waterfalls or water feature walls, and streams.
Water features are more than just eye candy. Here are seven reasons why you might want to install a water feature this summer.
Helps You Feel Calm And Relaxed
If you've ever been to the ocean, you know how invigorating and relaxing those ocean currents can be. Water features have a similar effect on the psyche. Movement and sound from water create a certain type of mental tranquility. In our screen-fueled, busy lives, a water feature can be just the ticket to creating a restorative space that doesn't require an eight-hour flight.
Adds A Personal Touch
Water features, more than anything else, have the ability to bring your personality and aesthetic into a space. It's also a great way to truly delight visitors that come to your home. Now your yard becomes something truly special instead of the typical backyard lawn and BBQ space.
Creates A Focal Point You Can Create Around
Water features often become the focal point of a landscape, and done right, can create an organic synergy between your home and its surroundings. Like Frank Lloyd Wright, the renowned organic architect said, "No house should ever be on a hill or on anything. It should be of the hill. Belonging to it. Hill and house should live together with each the happier for the other."
TRENDING: Water Features For Your Yard
Enhances The Natural Ecosystem
When you install a water feature, you change the ecosystem of your home for the better. Hummingbirds will stop by just to say hello, and butterflies may stop in for a quick drink. Not only does the increased wildlife add beauty and variety to your space, but it also adds entertainment and learning opportunities for your family.
Low Maintenance
Unless you have a serious green thumb, many of us want to just relax and enjoy our outdoor spaces instead of spending all of our free time maintaining them. A water feature, like an outdoor fish pond or fountain, can give you the aesthetic, natural sounds, and visual interest that you crave without putting in a lot of weekly elbow grease. The water in these types of features recirculates so you don't have to worry about bacteria growth or water loss.
Reduces Noise Pollution
While it's well known that the sound of water skipping down stones or the rush of a river can produce a mental calm, an added benefit to moving water is the potential it has to drown out pesky neighborhood noises, like the sound of cars driving by, backyard neighborhood conversations, or the ever-present bouncing of the next-door neighbor's basketball. Blocking extraneous noises will add to the calm and tranquility of your space.
Brings Texture And Movement
Water has its own unique texture, whether calm and reflective or ripping with a light breeze, water has a fluid and ever-changing texture that can provide a nice contrast to other elements in your yard that are sedentary, like grass or hard-lined architectural elements like fences, pergolas, or retaining walls. A pond or fountain can soften lines and create visual interest.
How To Choose The Perfect Water Feature For Your Property
The benefits of including water features in your landscaping project cannot be overstated. Without a doubt, they can also add a touch of luxury to any home–an often sought-after perk. There are many types of water features–they come in all sorts of shapes and sizes and can be customized to fit any budget. But with so many options on the market, how do you choose the perfect water feature for your property? Here are a few things to consider: 
What is the purpose of the water feature? Do you want it to be purely decorative, or do you also want it to serve a functional purpose, such as providing a water source for wildlife, maybe the parched family pet? 
How much space do you have available? Water features can range from simple tabletop fountains to large ponds and waterfalls, so make sure to measure the available space before sketching out a design or making a purchase. 
What is your budget? Water features can be quite expensive, so setting a realistic budget before shopping around is important. 
How much maintenance are you willing to do? Water features may require some regular cleaning and upkeep. Be sure to choose a model that fits your lifestyle and schedule. By taking these factors into consideration, you can narrow down the field and find the perfect water feature for your property.
How do you allow for environmental concerns, like the current drought conditions, or protect against future drought? Smart designs will account for minimal maintenance and water conservation. With less leakage, the ability to capture rainfall, and recirculation that requires minimal top-off, a water feature can make you feel like you are surrounded by the lush jungle of Costa Rica, rather than sitting on your back porch in the middle of a desert. 
Big Rock Premium Landscaping Are The Water Feature Pros!
We don't normally like to toot our own horn, so we'll let our landscaping awards speak for themselves. Recognized as a company that is committed to excellence in design and customer service, we can comfortably say that Big Rock Landscaping has the best landscaping service across the wasatch front. We have a design process that was designed with YOU in mind, and we work closely with you to ensure that your design aspirations are fulfilled just the way you envisioned. 
When you choose Big Rock Landscaping for your water feature installation, you are choosing a team of skilled professionals with a high level of expertise. When you work with us, you can count on receiving expertly crafted designs, professionalism, and efficiency. All of these elements work together to deliver an outdoor space that will bring you confidence and peace of mind. 
So if the pitter-patter of rain on your roof is a distant memory, and splashing about in puddles after a rain storm has become a rare treat, consider installing a water feature–an environmentally responsible feast for the senses that you can feel good about. Let us do the heavy-lifting for you. We don't mind! In fact, we welcome the challenge, so contact us today to discuss your upcoming water feature project.